These 10 delicious smoothie recipes without yogurt are packed with good-for-you ingredients and are the perfect way to enjoy your favorite fresh fruit and vegetables in one tasty sip.
They're all incredibly easy to prepare, and these healthy smoothie recipes might just become your all-time favorites.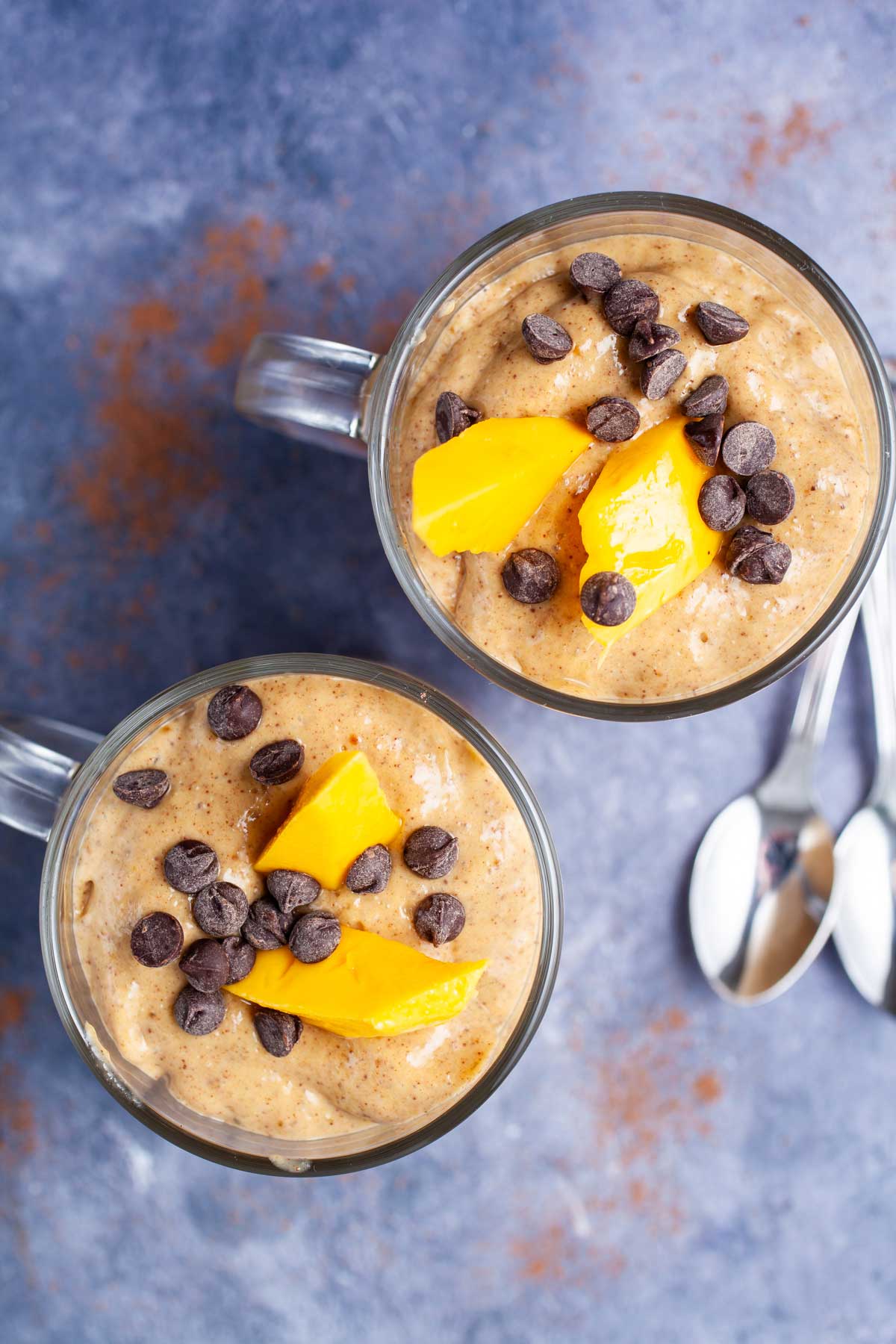 We love a good healthy smoothie recipe to kickstart the morning, enjoy a revitalizing snack during the day, or refuel after a post-workout.
All you need is a good blender and a few minutes to make them. And these are our favorite smoothies we enjoy regularly.
They're also a great addition to pair alongside solid foods. Try these almond flour rhubarb muffins or egg bites for when you're on the go or a protein-rich and filling snack like lupini beans, to name a few.
Like my strawberry smoothie bowl, none of these smoothies have added sugars and are great options to incorporate into a healthy eating routine. Simply pick your favorite ingredients and start there. 
Jump to:
Why You'll Love These Homemade Smoothies
Quick and Convenient: These recipes take just minutes to prepare, perfect for busy mornings or when you need a quick and wholesome snack.
Nutrient-Packed & Energy Boosting: These easy smoothie recipes provide sustained energy, help curb hunger, and are tasty.
No Added Sugar: Enjoy natural sweetness without added sugars, making these smoothies a perfect addition to your diet.
Dairy-Free Options: These recipes skip the yogurt and embrace plant-based alternatives like almond milk, oat milk, or coconut water. Some contain seeds, nuts, or other creamy ingredients like collagen powder.
Try These Great No Yogurt Smoothies
Whether you're following a dairy-free diet or want to switch things up, this collection will give you the most creative and satisfying smoothie recipes with a creamy texture that can be enjoyed anytime throughout the day.
These favorite smoothie recipes are filling, satisfying, and proof that you can thicken a smoothie drink without (Greek) yogurt or dairy milk if you want to.
Chocolate Mango Smoothie
Say hello to your new breakfast BFF – the incredible Chocolate Mango Smoothie! It's like a sip of pure delight that takes just 5 minutes to whip up in your blender. Creamy, rich, and oh-so-filling, this fruit smoothie recipe brings together the lusciousness of mango and the decadence of chocolate in a dance of flavors. And the best part? It's enriched with fiber-rich chia seeds.
Check out this recipe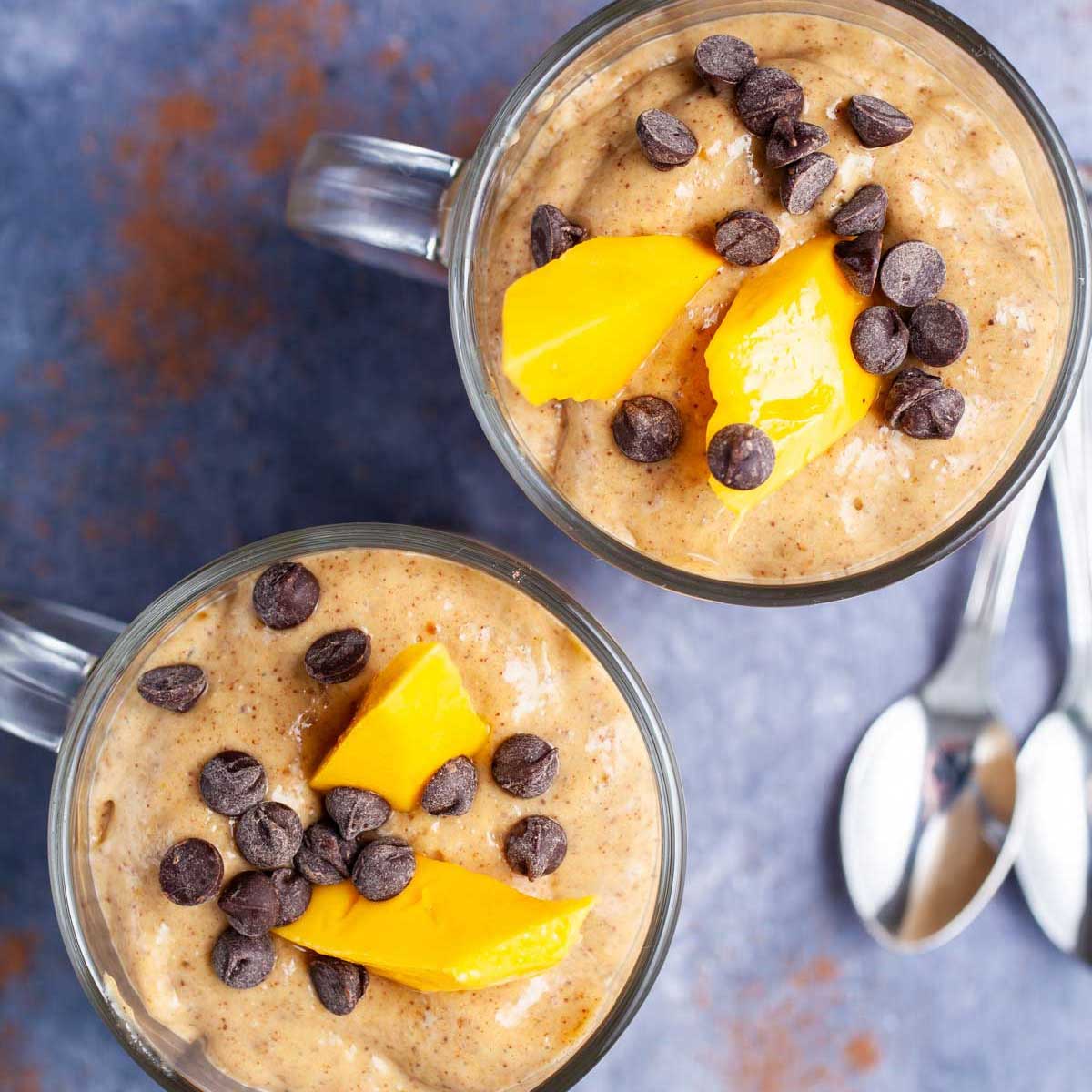 Protein Smoothie
Whether you need a post-workout pick-me-up or a revitalizing morning boost, this smoothie without yogurt has you covered – and you don't need any protein powder. Brimming with protein from hemp seeds, flax seeds, chia seeds, and more, it's naturally sweetened with a banana and orange and blended with plant milk, coconut water and cinnamon powder. Try it once, I promise you'll find yourself blending up another batch of this perfect protein smoothie in no time!
Check out this recipe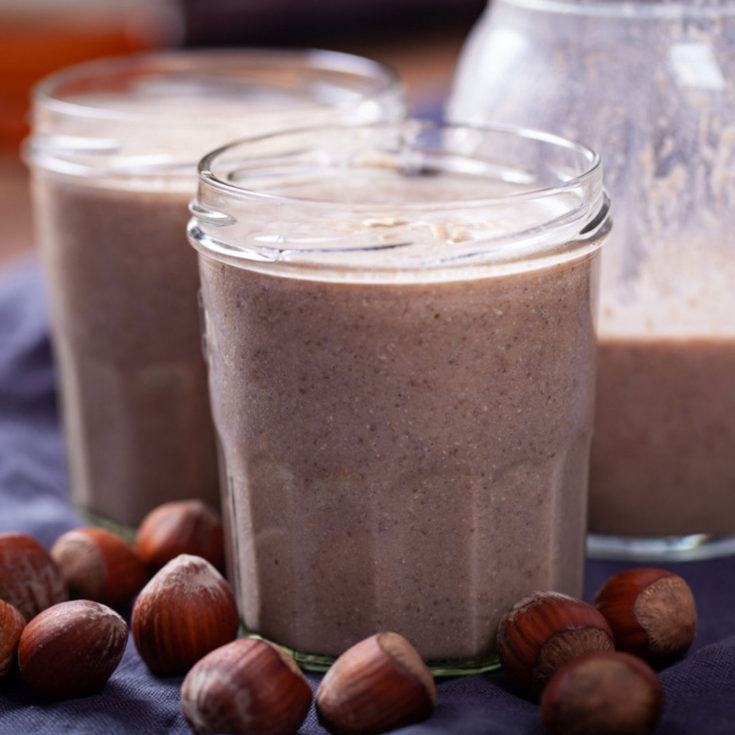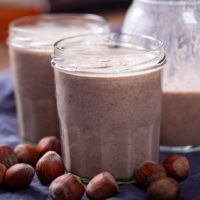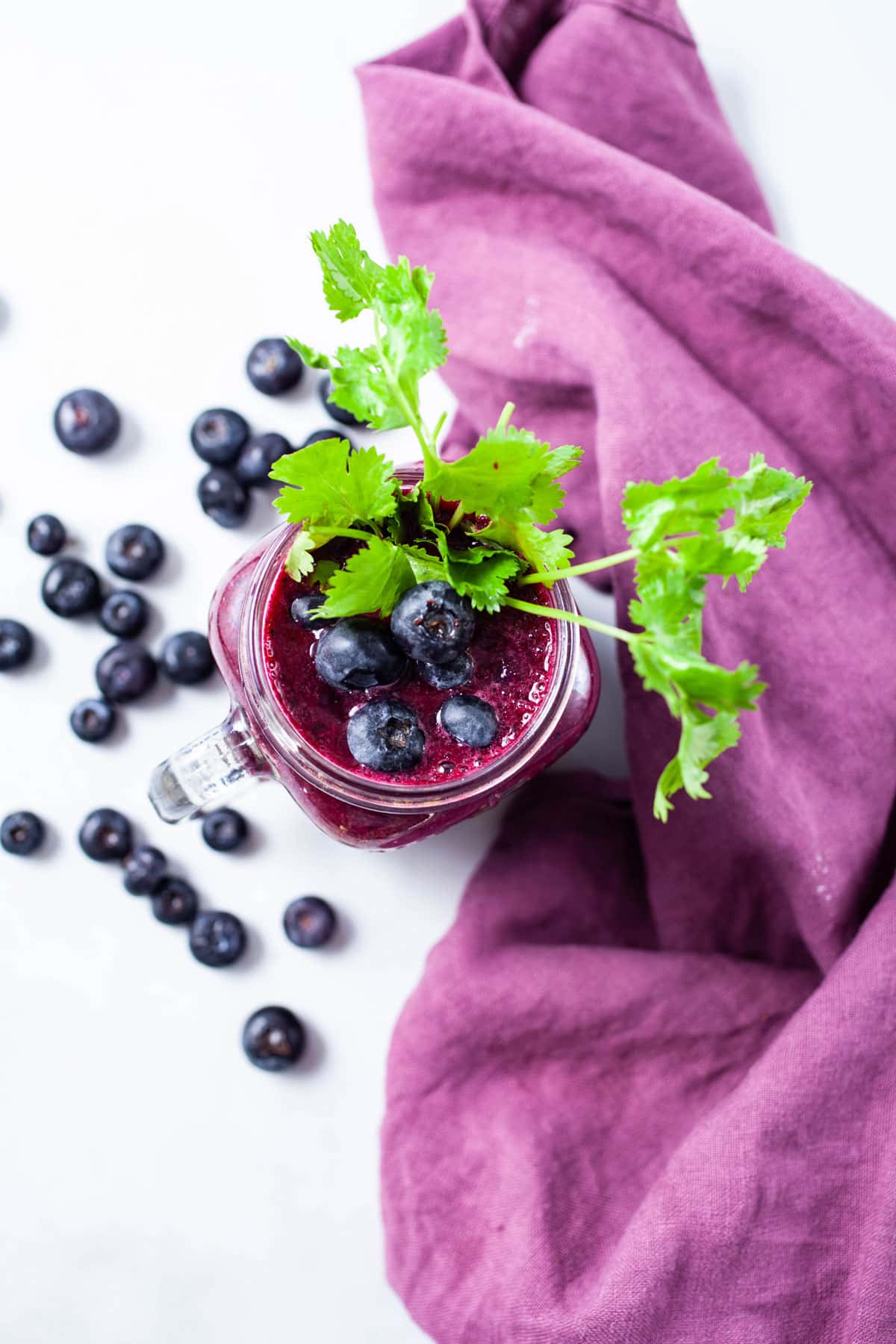 Beet Blueberry Smoothie
The earthy charm of beets finds harmony with the sweet allure of fresh blueberries and a zesty twist of lemon juice (or a combination of lemon and orange juice). This beet blueberry smoothie is more than just a treat for your taste buds – it's a nourishing blend that's wonderfully cleansing. With the addition of cilantro, you get a fresh burst of goodness that takes this smoothie to a whole new level. Frozen berries can also work here, offering you the same burst of fruity goodness all year round.
Check out this recipe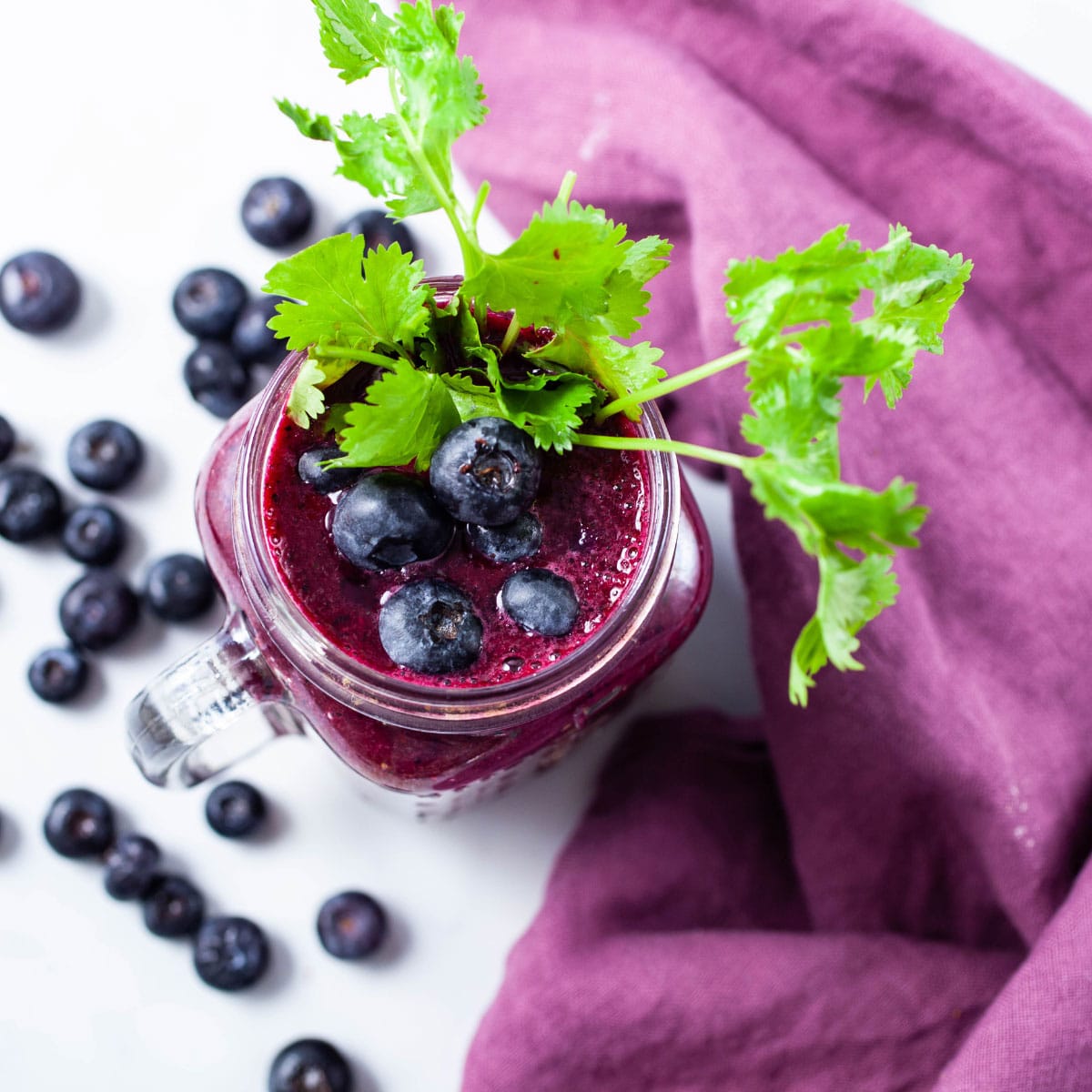 Green Smoothie
Even kids can't resist this green smoothie! Packed with natural sweetness, this recipe is a great way to enjoy the goodness of ginger, turmeric, fresh spinach (or baby kale leaves), and sunflower seeds. Creamy and satisfying, it's an ideal breakfast drink for everyone, made with simple ingredients including frozen banana, dates, and coconut water.
Check out this recipe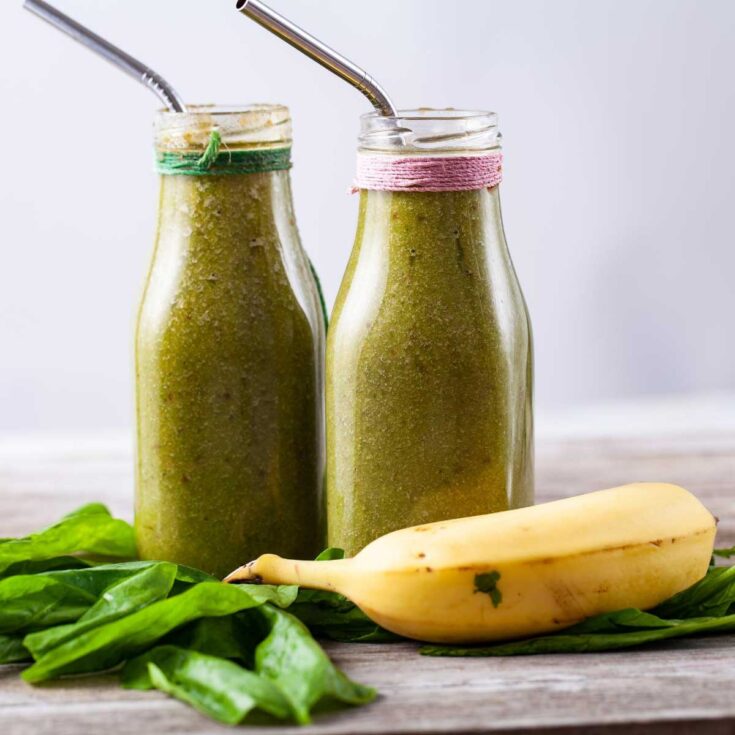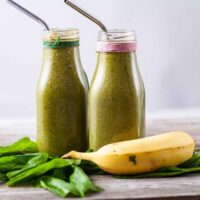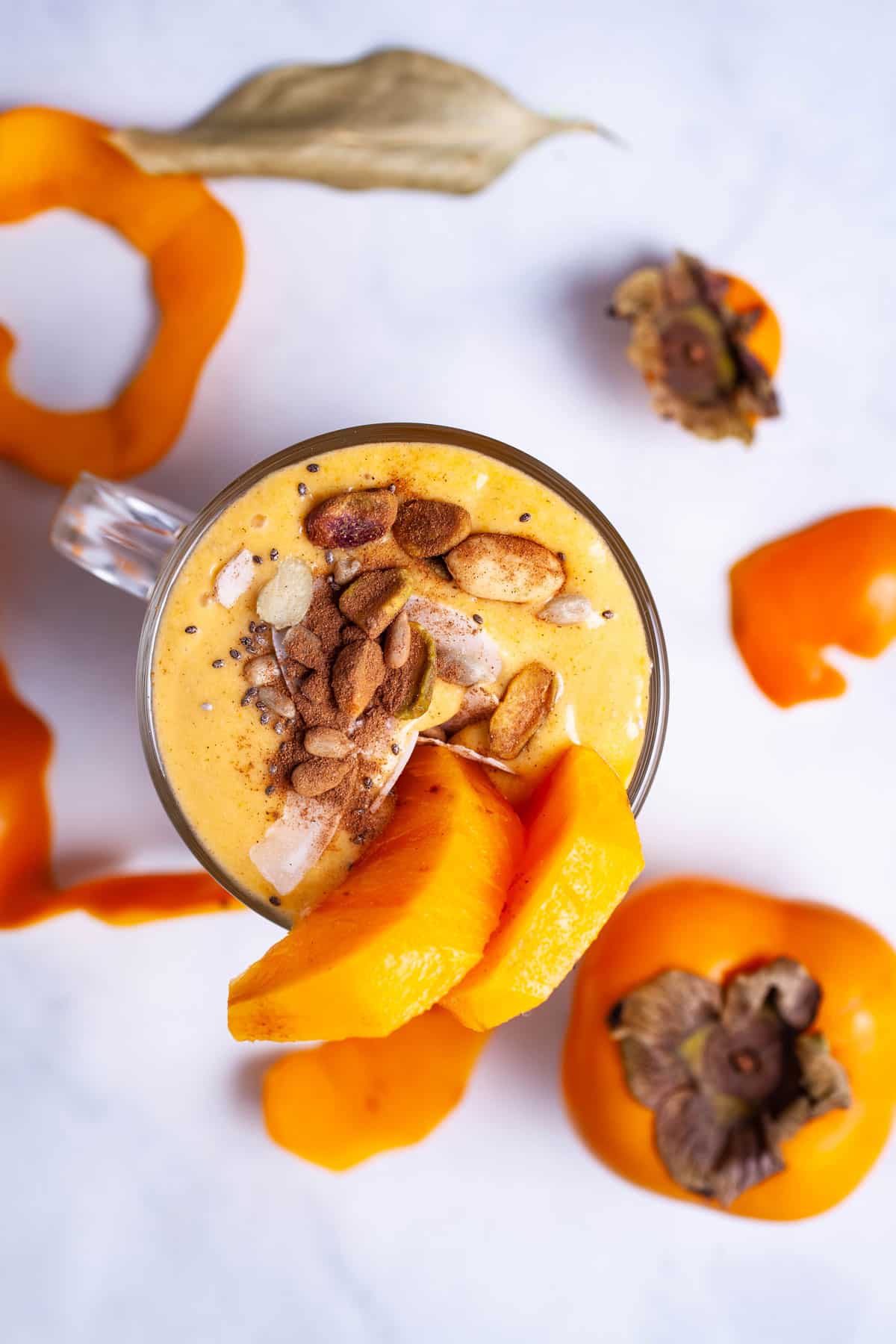 Creamy Persimmon Smoothie
This Persimmon Smoothie is a creamy, 5-ingredient delight rich in dietary fiber and healthy fats. The natural sweetness of persimmons brings fiber and vitamins, while warm cinnamon complements the fruit's sweet taste. With dairy-free goodness and a dose of coconut shreds, it's a quick, nutritious snack for your busiest days. When blending, I usually go for oat milk, almond milk, or coconut milk to add a smooth and delicious touch!
Check out this recipe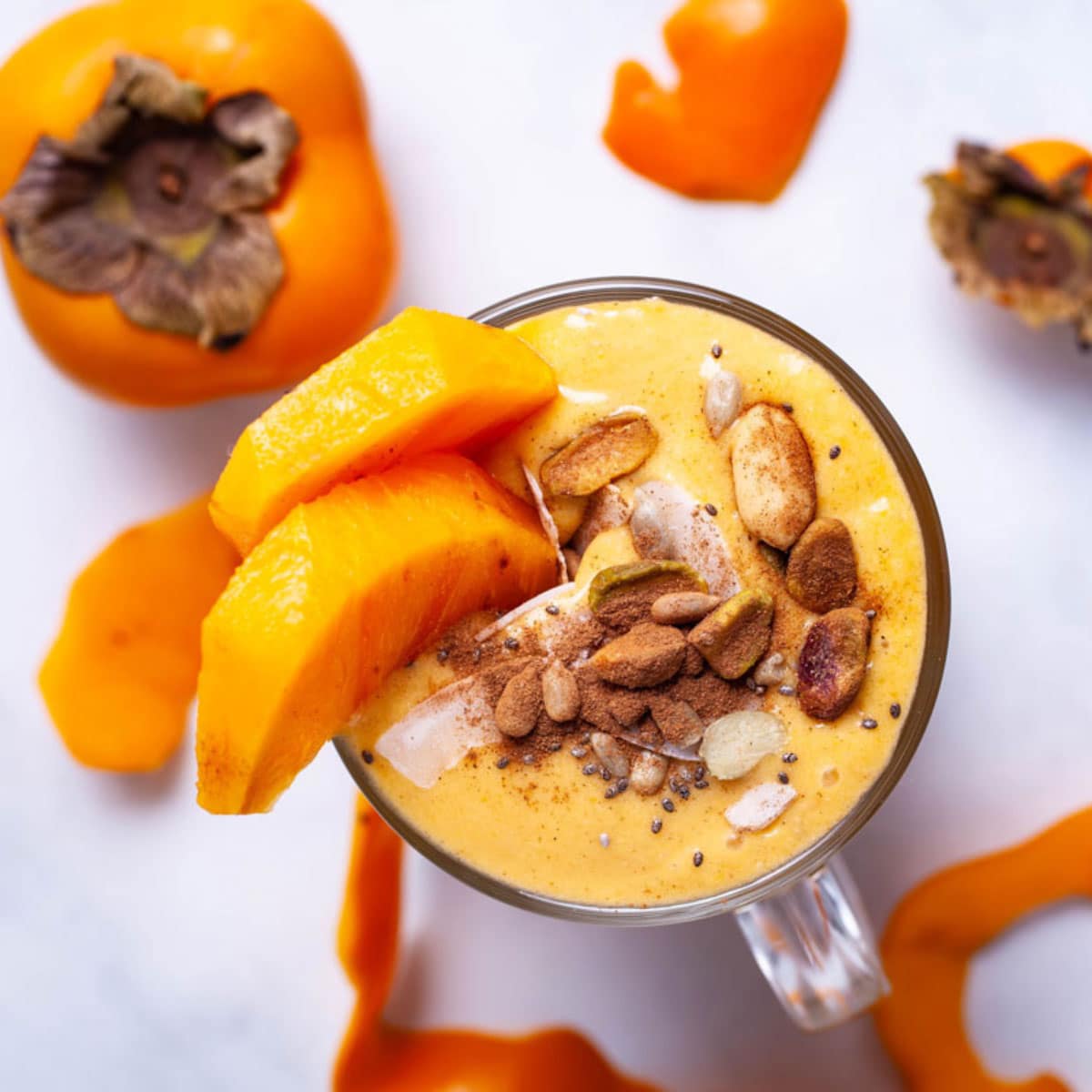 Cantaloupe Melon and Ginger Smoothie
Quench summer thirst with my Cantaloupe Summer Smoothie, a burst of sunshine rich in vitamin C! In 5 mins, blend sweet cantaloupe, frozen peaches, lemon, ginger, ripe banana, and almond milk for a creamy, dairy-free treat. Stay refreshed with its zesty lemon and ginger kick while relishing the fresh and frozen fruit combo.
Check out this recipe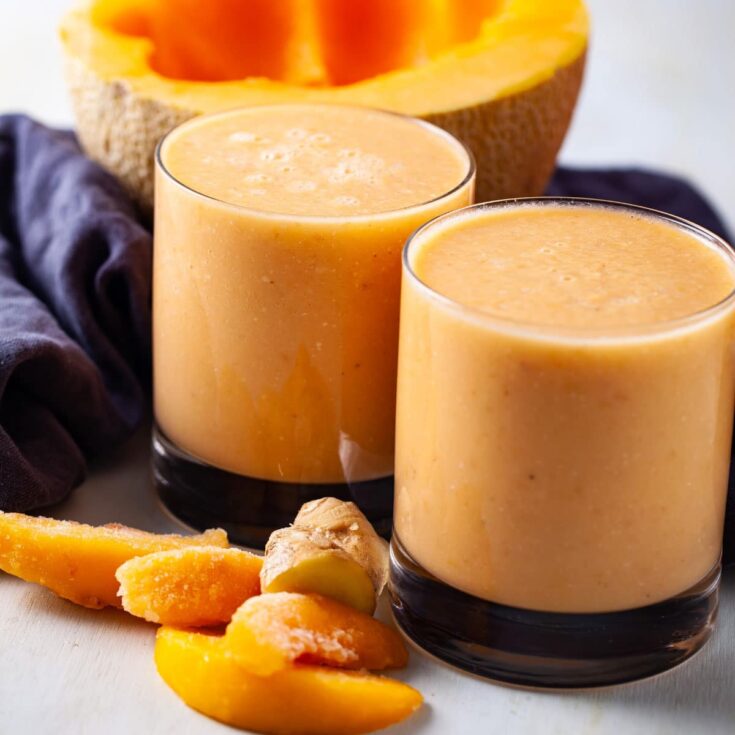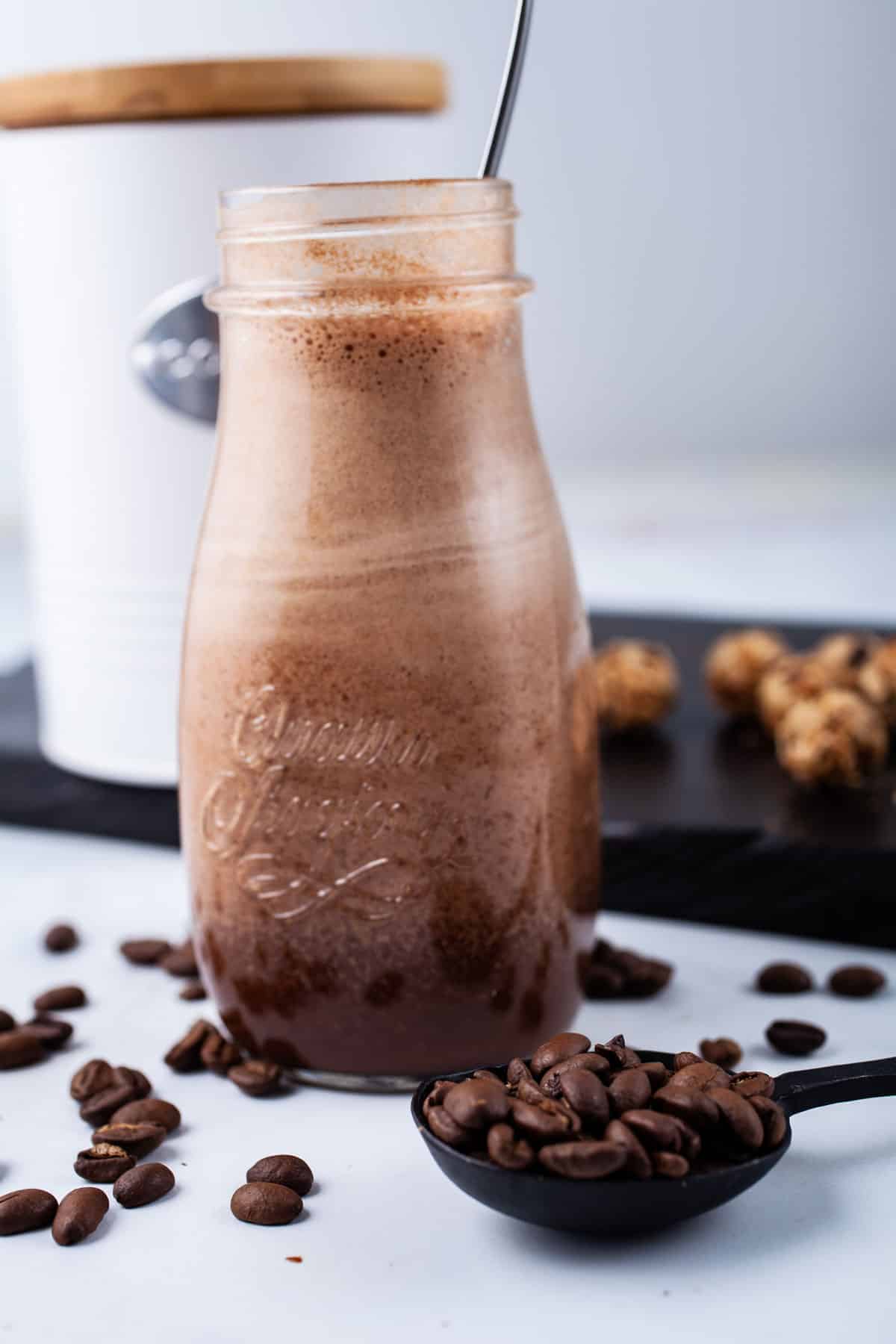 Collagen Coffee Smoothie
If you're on the hunt for a naturally sweet and seriously simple smoothie without yogurt, you're in for a treat. With freshly brewed coffee, a dash of organic cocoa, collagen powder, a date, and almond milk, this recipe is your gateway to a wholesome start to the day. You won't believe how delicious this ultimate protein-packed coffee smoothie is.
Check out this recipe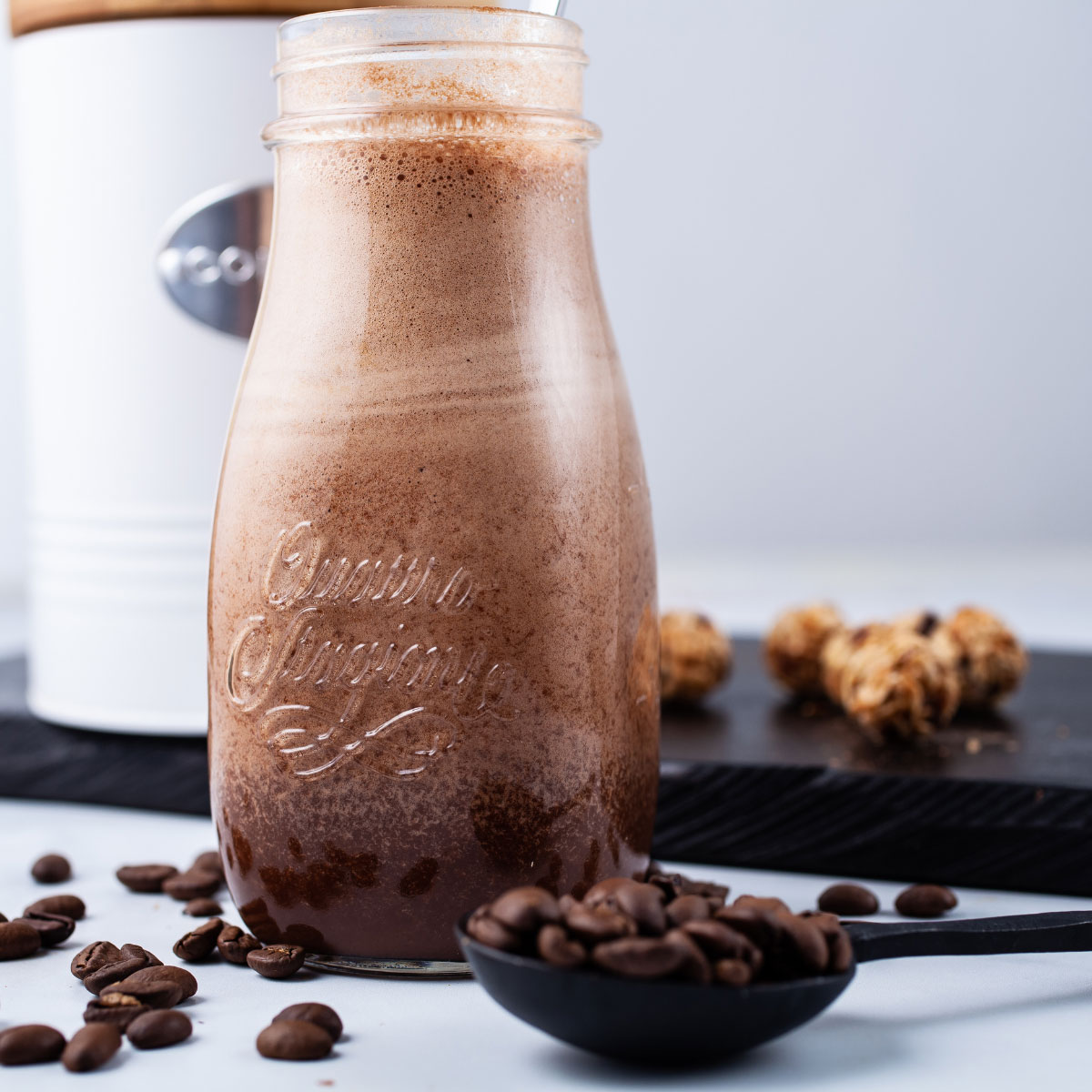 Dairy-free Turmeric Smoothie
Combining the goodness of anti-inflammatory spices like turmeric, ginger, and a touch of black pepper with an array of fresh nutrients, this turmeric smoothie has become my go-to smoothie recipe without yogurt. Not only is it a fantastic breakfast or snack choice, but it also serves as an ideal post-workout refuel option with various add-ons. 
Check out this recipe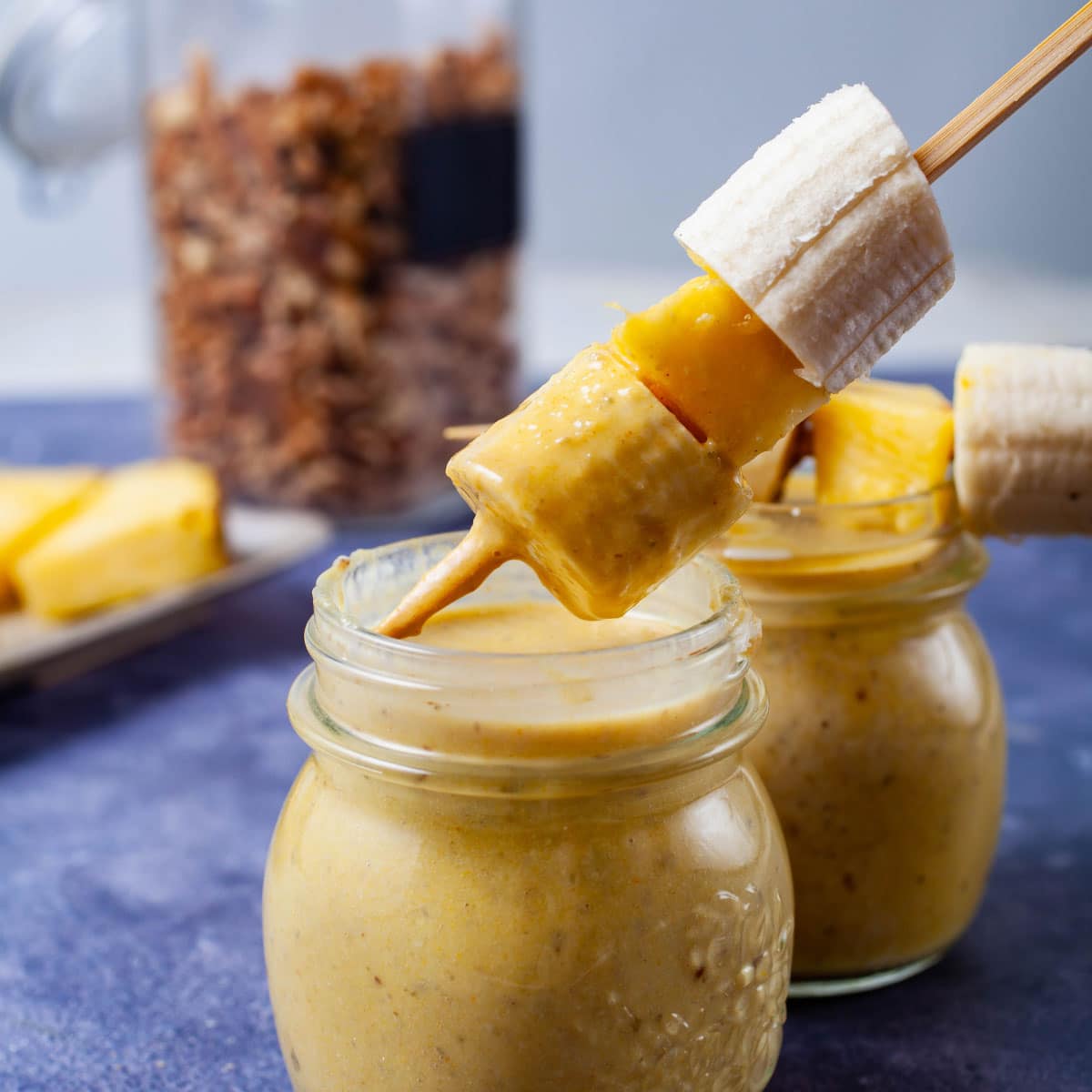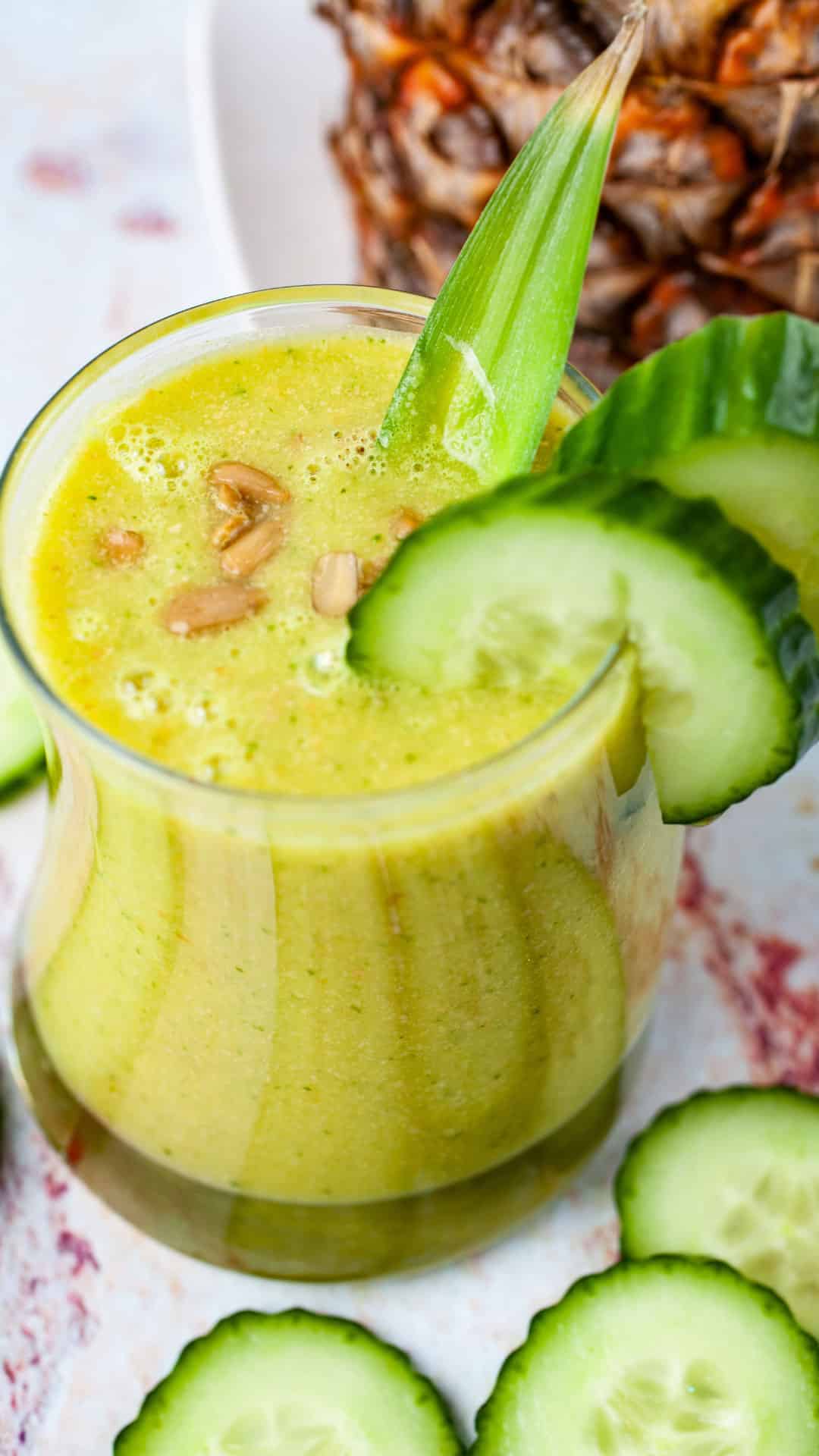 Pineapple Cucumber Smoothie
Savor the Creamy Pineapple Cucumber Smoothie, a dairy-free wonder! Fresh ingredients, seeds, and unsweetened coconut water blend into a creamy delight. The addition of seeds not only lends a satisfying thicker smoothie but also sneaks in healthy proteins, fats, and a touch of nutty goodness.
Check out this recipe
Chocolate Pineapple Collagen Smoothie
This chocolate pineapple collagen smoothie recipe has got your back whether you're craving a protein-packed breakfast boost or a refreshing drink post-workout. It's a delightful blend of rich chocolate and tropical pineapple flavors dancing together in harmony—every sip is a guilt-free pleasure.
Check out this recipe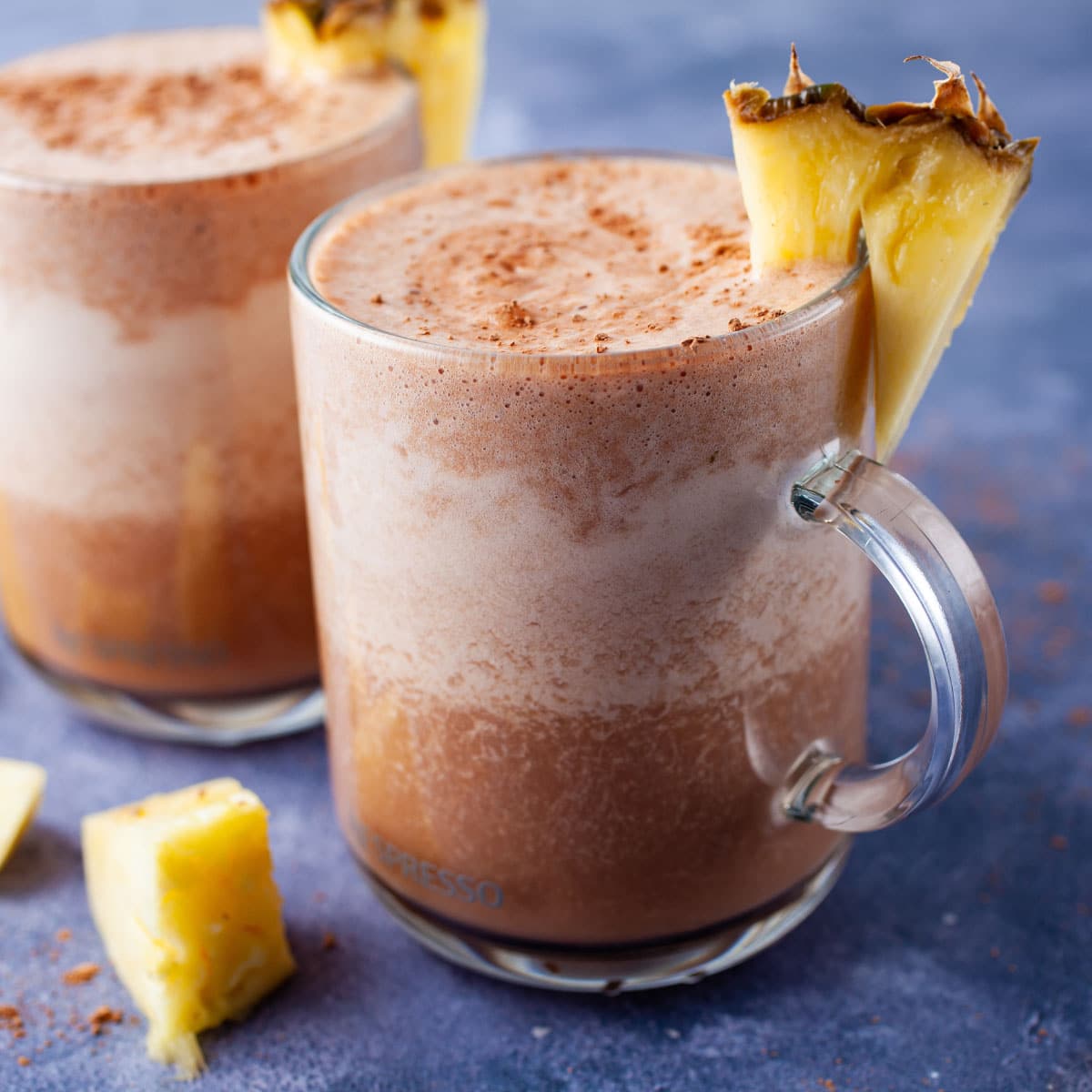 Next time you're looking for a healthy and delicious way to start your day, reach for one of these smoothie recipes without yogurt!
---
Don't forget to subscribe to my Monthly Newsletter!
Want to see a smoothie made out of your favorite fruits or certain leafy greens? Or do you want to see a video on making a particular smoothie? Comment below and let me know! Enjoy!
---