This beautiful green and kid-friendly smoothie drink recipe is my daughter's favorite. It is full of natural sweet flavors, but it still contains all the goodness of ginger, turmeric, fresh spinach (or baby kale leaves), and rich antioxidants from sunflower seeds—a green smoothie drink for both kids and adults whenever you want to enjoy a refreshing snack or creamy breakfast drink.
It all comes together in as little as 5 minutes, and you can easily control its level of sweetness. Plus, it is gluten and dairy-free!
Smoothie drinks, loaded with fresh veggies, fruits, and spices, are, in my opinion, great breakfast or snack options. If your kid(s) are anything like mine, then you know that they take their snacks seriously. Their endless energy requires a little extra nourishment in between meals.
This has become one of my go-to smoothie drink recipes for kids. But it's one I happily love to enjoy as well from time to time.
It's creamy and filling enough for breakfast;
You can easily pack it in thermos container(s) for school lunch, and it will still have a perfect consistency when noon comes around.
Or make it as a quick sweet afternoon snack since this drink is ready in 5 minutes.
It's not only my daughter's favorite green smoothie, but it also is always a hit when neighborhood friends come over to play. So, I hope your family will enjoy this drink too! Plus, you can completely control the sweetness level by adjusting the number of fruits or the amount of coconut water you add.
Smoothie Ingredients
There is so much goodness in this drink:
Fresh spices like turmeric, ginger, and black pepper strengthen the immune system.
Sunflower seeds/kernels and greens such as spinach or baby kale provide a healthy dose of vitamins, minerals, and proteins.
Frozen banana makes this smoothie creamy and deliciously refreshing while adding potassium. Half of a (frozen or fresh) banana is all you need.
A juicy and fibrous orange adds extra vitamin C, or change it up with a grapefruit.
While dates add extra fiber, are rich in iron, and make it a little extra sweet, if needed.
Unsweetened coconut water is full of electrolytes and packed with nutrients. But opt for half coconut water and half regular water.
If you are a big green smoothie and juice lover like me, then the chances are that you don't need any fruits or natural sweeteners to enjoy them. But most kids, in general, have quite a sweet tooth, and so does my daughter. So this drink is exactly that: a refreshing sweet snack or breakfast drink made from mainly fruits and veggies with tons of fiber, healthy proteins, and a few zingy spices.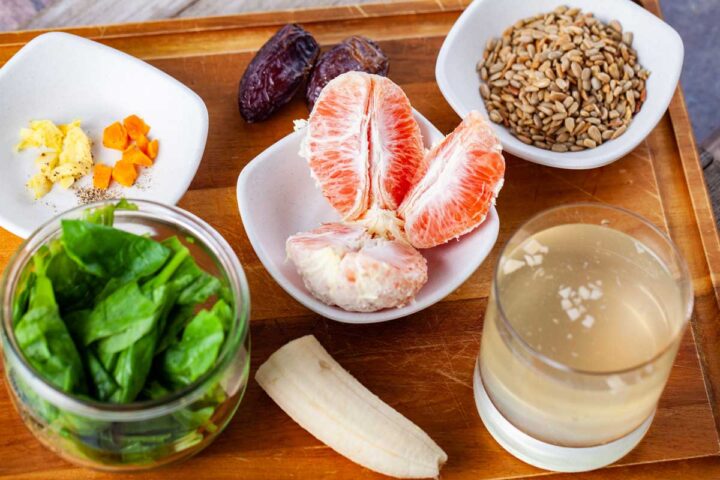 Although we enjoy it more often in the summer, it is a go-to green smoothie recipe for kids and adults you can make all-year-round and even have fun with making it together.
A few tips below on how I make dark green leaves like spinach or kale and spices taste good! And although it is a sweet refreshment, it's one I feel good about offering!
A few notes & tips
Fruits and natural sweeteners
Adding a couple of pitted dates takes away the bitterness of raw dark green leaves and any spiciness of ginger and turmeric.
But taste test first and see if the fruits alone are already sweet enough, or maybe you only need to add one date instead of two.
You might get that little zing from the ginger if you leave out the dates, but that only adds an extra refreshing touch to the drink.
Mixing in citrus fruits such as an orange or a grapefruit also balances out any bitterness that green leaves like kale have when processing it through a blender. Because you are blending whole fruits as opposed to juicing, you are getting the benefits of their fibers as well.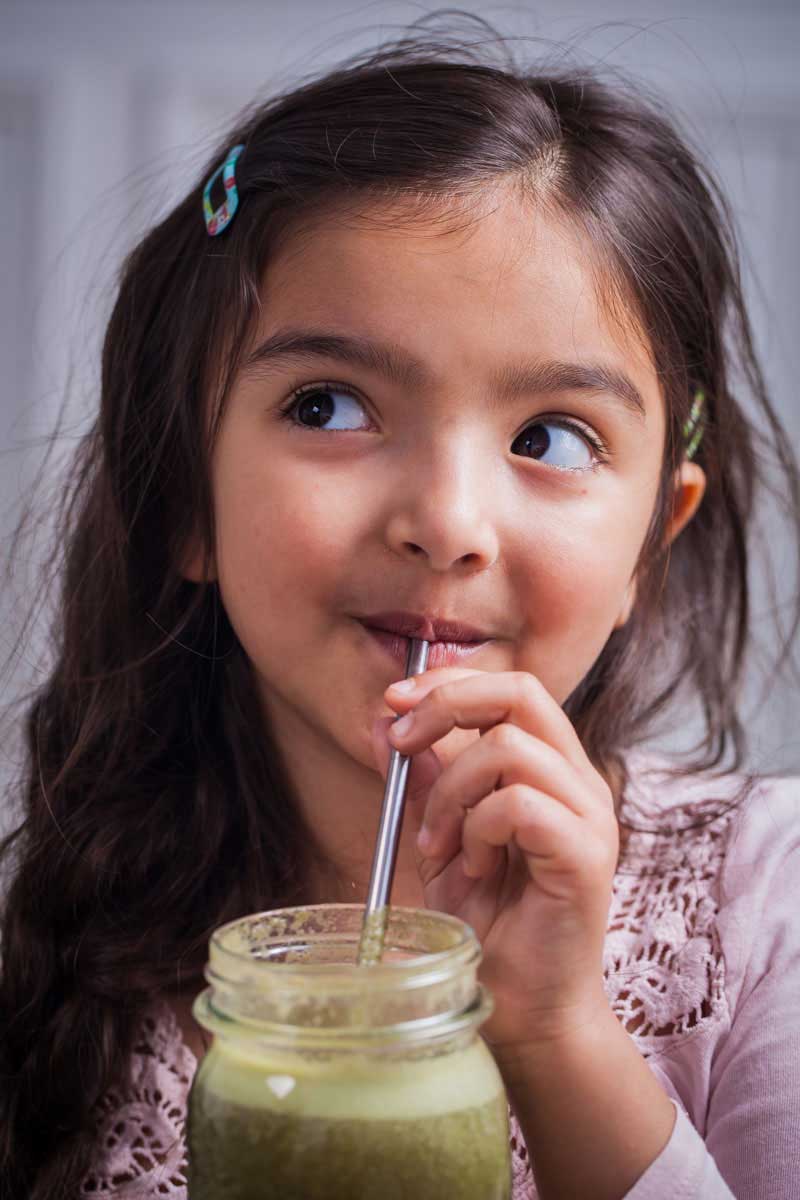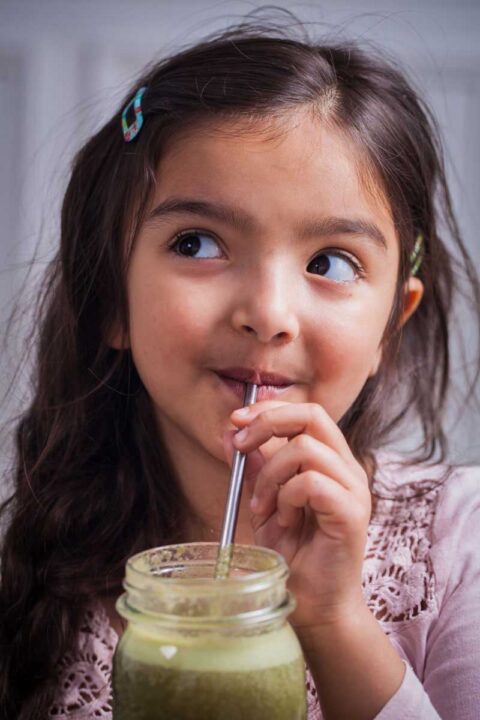 Add something icy, like a frozen banana
Have some of your bananas gotten too soft or browned too much? Just peel, place them in a zip lock bag and freeze them in because they come in handy when making smoothies or homemade ice creams.
Frozen fruits such as bananas or peaches make a smoothie deliciously creamy and add a super refreshing element.
You only need half a banana here.
Another kid-friendly frozen fruit favorite: Peach-Banana Ice Cream Sandwiches with Sweet Cloves.
Mix in superfoods and spices
I sometimes toss in some omega 3 & 6 healthy shelled hemp seeds or sunflower kernels. They are a good source of fiber, zinc, and vitamin E.
And you are also getting the health benefits of ginger, turmeric, and black pepper without noticing their distinctive taste.
Blend it up until creamy
Half of the frozen banana, the sunflower seeds, and the dates will make this drink plenty creamy.
Just make sure to blend everything well until smooth, and you have no chunks left. Trust me on this one; you don't want your kid to find a piece of ginger in their drink—it happened to me once!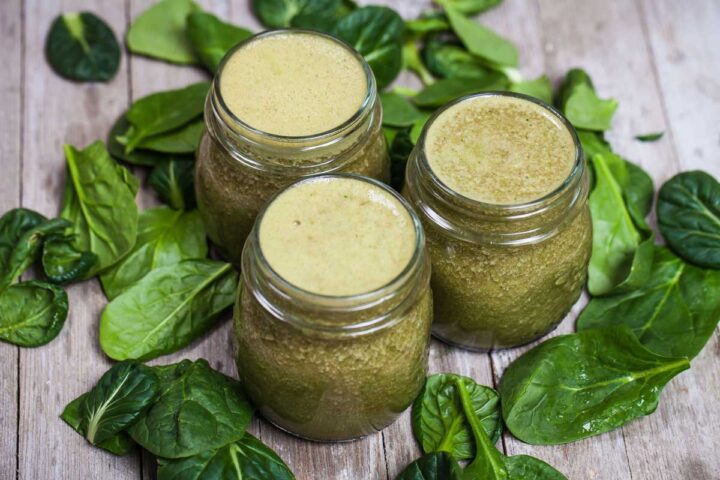 Unsweetened coconut water
We enjoy coconut water now and then. It's a great source of hydration and electrolytes.
I use it as a liquid in this smoothie instead of (plant) milk. Go for an unsweetened version without added sugars or juices—just pure coconut water. And store it in the fridge to get that instant refreshing effect. It adds a sweet and nutty taste.
You can replace half of it with more water if you prefer it less sweet!
These are some good coconut water brands to buy either in store or online.
Make it when you are ready to enjoy it
Okay, I am going a little against the grain here, but to get the maximum benefits of a green juice and fruit smoothie, you should enjoy it immediately or at least the same day!
So, if you pack it for lunch, make it in the morning instead of the night before. I like to prep by washing my veggies in advance, and that saves plenty of time.
My point is, don't treat your healthy green drink like fast food. This recipe is so easy to make and comes together in 5 minutes.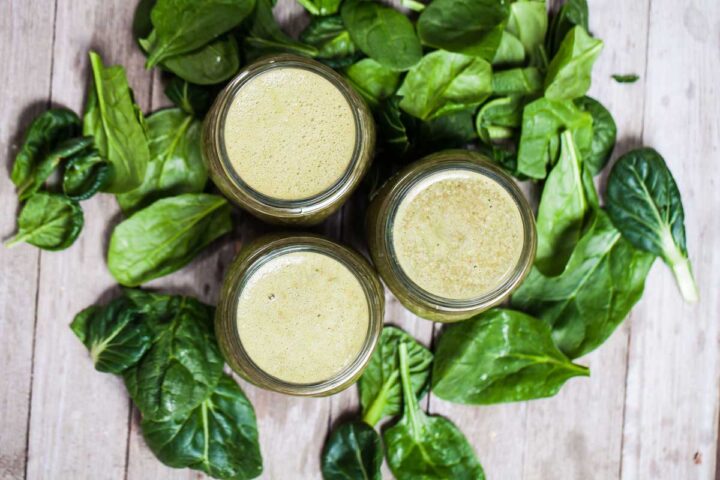 A lot of goodness is in this one beautiful and delicious green smoothie for kids that both of you can enjoy together.
PIN IT! I always love to hear if you tried out this recipe and if it worked for you. Don't forget to subscribe to my Monthly Newsletter!
Watch one of our first videos:
Here are some other creamy and delicious healthy breakfast smoothies that are also kid-friendly:
Now it is your turn to make this lovely recipe!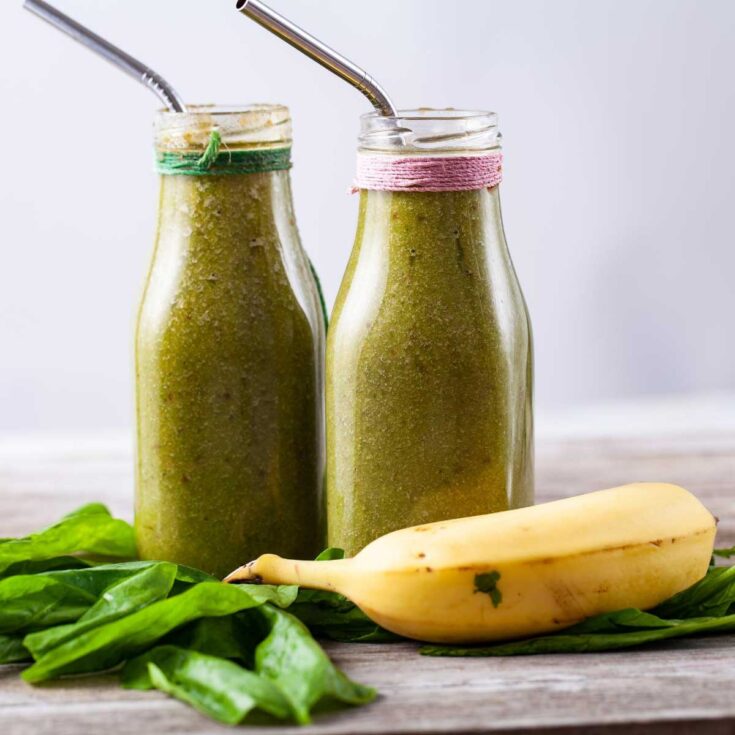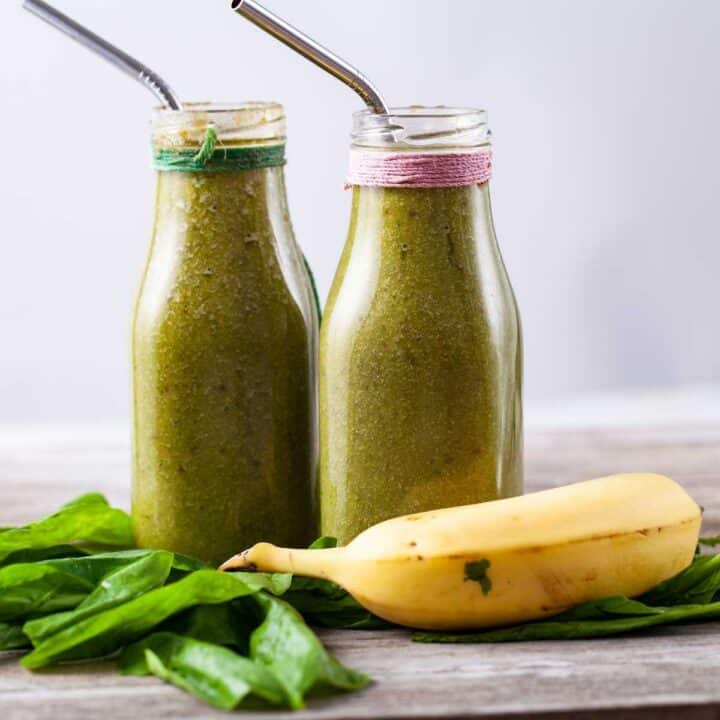 Kid-friendly Green Smoothie Drink
This beautiful green and kid-friendly smoothie drink is my daughter's favorite. It is full of natural sweet flavors, but it still contains all the goodness of ginger and turmeric, fresh spinach, or baby kale leaves—an easy, fast and healthy option for breakfast or snack. Plus it's also a great dairy-free smoothie recipe for adults.
Ingredients
1 ½ cups pure coconut water (unsweetened)
1 ½ cups of water
1 handful baby kale or baby spinach (about one cup packed)
1 orange, peeled
½ frozen peeled banana
¼ cup sunflower seeds (roasted and unsalted)
⅓ small turmeric root (about 1 teaspoon chopped fresh turmeric)
1-inch fresh ginger root (about 1 teaspoon chopped fresh ginger)
1 pinch of pepper
2 pitted dates (optional)
Instructions
Throw all ingredients in a blender or Nutri Bullet.
Blend until smooth and all ingredients are processed.
Enjoy this cool green drink!
Notes
Before adding any dates, taste-test the smoothie drink. The fruits might have provided enough sweetness!
Recommended Products
As an Amazon Associate and member of other affiliate programs, I earn from qualifying purchases.
Nutrition Information:
Yield:

4
Serving Size:

1
Amount Per Serving:
Calories:

150
Total Fat:

1.7g
Saturated Fat:

0.2g
Sodium:

103mg
Carbohydrates:

33.1g
Fiber:

2.7g
Sugar:

27.9g
Protein:

2.6g
Disclaimer: This nutritional data is calculated using third party tools and is only intended as a reference.