This roasted healthy chicken drumsticks recipe is one of those easy sheet pan dinners you can count on to make a flavorful weeknight meal in about 40 minutes.
Juicy, crispy-skinned chicken, flavored with aromatic herbs and spices, is nestled in a bed of crisp, sweet potatoes, red onions, and warm fruity apples.
A Paleo-friendly and Whole30-approved healthy drumstick recipe that you can easily add to your midweek supper rotation.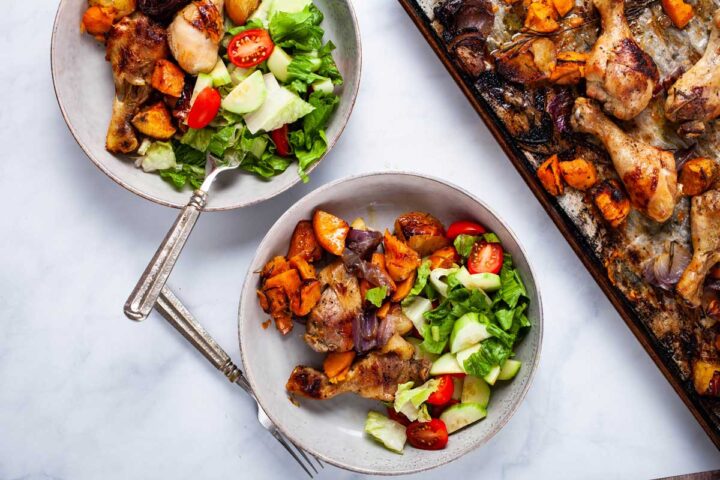 Jump to:
Healthy chicken sheet pan dinner
This one-pan meal is your ally in the game of "what am I making for dinner tonight."
Everything is prepped in 15 minutes, and then you let the simple seasonings and the oven do the work for you.
It's one of those convenient, inexpensive, easy dinners that always result in one flavorful dish.
It's versatile as well. If you're not following a particular diet, you could throw in some cubed rutabaga or cubed white potatoes.
And although the recipe can serve a table of six, it's easily doubled for a larger family.
Any leftovers will serve you well and taste equally good for lunch or dinner during the rest of the week.
Ingredients—a few notes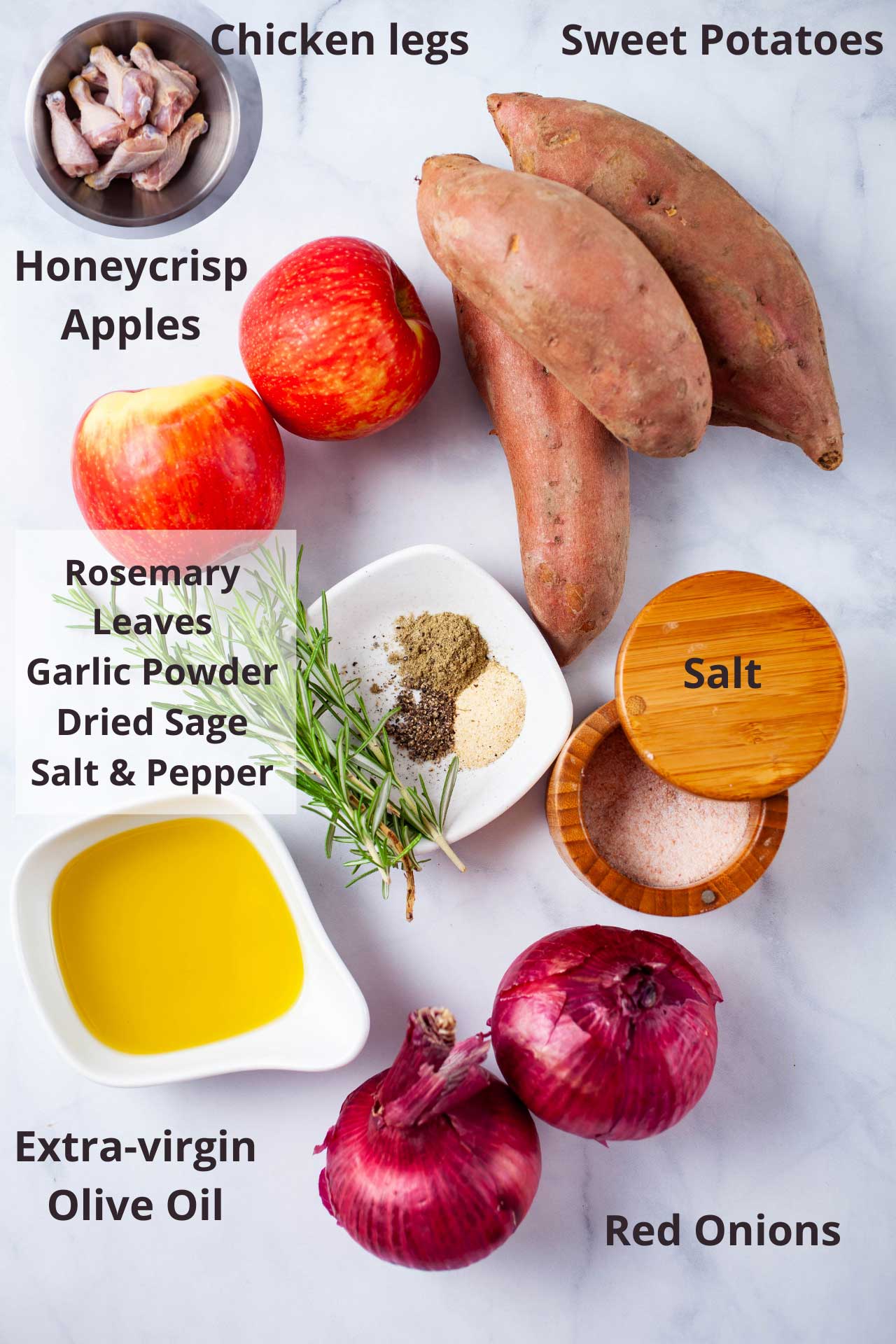 Sweet Potatoes
I usually stick with the sweet Garnet, Jewel, or Beauregard potatoes. A.k.a jams.
They pair incredibly well with an aromatic chicken, Rosemary, and sage and bring out the sweet-savory flavors that make this dish a keeper.
Apples
It's poultry with sage and onions and oven-baked apples—just shy away from applesauce.
Go for a sweet Honeycrisp, a Braeburn, Jonagold, Cortland, or anything naturally sweet that holds well in the oven.
Red onions
When baked, these beautiful red onions turn mild, caramelized, and almost sweet. And they blend in well with the potatoes, adding a delicious creaminess.
Shallots or yellow onions are great substitutions.
Herbs & spices
This chicken drumstick meal relies on classic herbs and spices to add a tasty bite to these skin-on, bone-in chicken legs. I'm using:
Freshly ground black pepper: Feel free to be royal here.
Garlic powder: Don't have this on hand? Toss the chicken and veggies with a few cloves (about three or four) of freshly minced garlic.
Dried sage: pairs well with chicken, and it nicely balances out the sweet flavors of the veggies and baked fruity apples.
Rosemary Leaves: Tuck a few whole leaves here and there around the chicken at the end for an aromatic flavor that balances out any sweetness from the veggies and apples. The dark green needle-like leaves will become crispy when baked and can be crumbled on top of the chicken drumsticks before serving. If you really don't have them on hand, either omit this herb or use half to one teaspoon of dried Rosemary.
Note: Sage, garlic powder, and Rosemary bolster the savory quality of chicken while the flavorful drippings of olive oil complete this one-pan meal.
How to prep this healthy chicken drumsticks recipe for the oven—a few notes
STEP 1: Thoroughly pat-dry the chicken drumsticks with paper towels before arranging them on the sheet. Getting the chicken as dry as possible will help with browning and obtaining crispy skin—season well with sea salt.
I use about half a teaspoon here and the other half for salting the veggies. But feel free to use more or less based on taste.
STEP 2: Arrange the sweet potatoes, apples, and onions evenly in between the chicken drumsticks.
The sweet potatoes are cut slightly smaller than the rest because I like them to come out more crispy and browned around the edges.
The apples and onions are a bit larger and more roughly cut because I want them to soften and their sweet juices to mingle with the potatoes and chicken drumsticks.
Season them here with salt as well.
STEP 3: Everything is then again equally seasoned with the rest of the herbs, and the Rosemary leaves are tucked in here and there across the pan.
STEP 4: The most important step, pour extra virgin olive oil equally over the entire chicken dish before you pop it into a preheated oven.
It ensures that all the spices marinate together, and you'll get a deliciously well-flavored aromatic dish. Make sure that you cover the veggies around the edges as well so they won't burn.
How long does it take for drumsticks to cook in the oven
This dish turns out best when you use a higher oven temperature.
Bake for about 40-45 minutes in 425 degrees preheated oven to get that slightly crispy and browned chicken skin and brown caramelized potato edges.
There is no need to turn the drumsticks over midway, but I advise giving the potatoes a good stir about 30 minutes in to coat them again with some of the pan's juices.
And then continue to bake for about 10 to 15 minutes.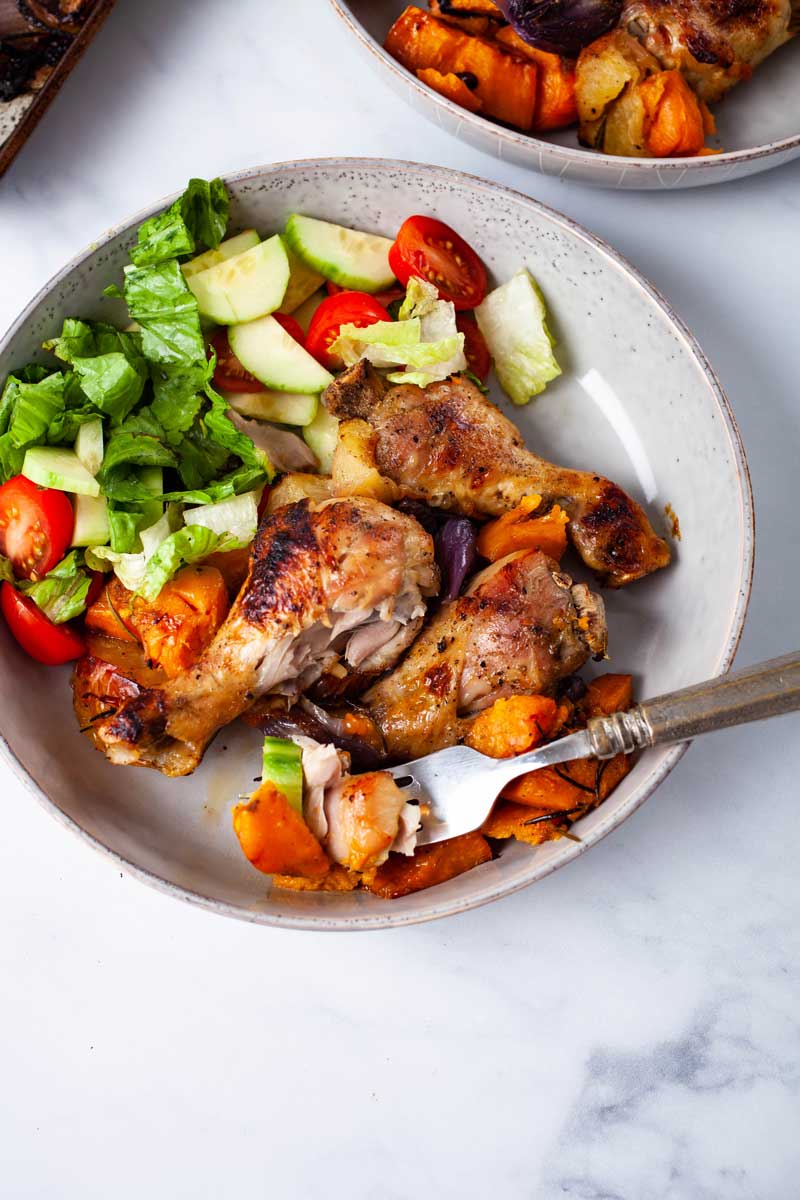 How do I bake chicken legs without getting dry?
Don't be afraid to use enough extra virgin olive oil.
It will keep the chicken deliciously moist inside and add tremendous flavor.
Also, the drumsticks' skin helps hold moisture during cooking. So don't take the skin off chicken legs. If you really want to avoid it, remove it afterward.
For this recipe, don't bake the chicken legs covered because you want that slightly crispy skin and edges around the bones.
How many chicken drumsticks per person
Count at least two per person.
It's normally enough, especially when you serve it with a fresh salad on the side.
But I have some heavy eaters here, so expect some second servings.
About twelve drumsticks should be enough for four to six people.
Leftovers and storage instructions
If you have any leftovers, allow the chicken to cool completely before storing them in an airtight container. Refrigerate for up to 3 to 4 days.
You can reheat everything either covered in a microwave, over the stove with some olive oil, or back into the oven at 350°F for ten minutes or so or until sufficiently heated through.
Serving suggestions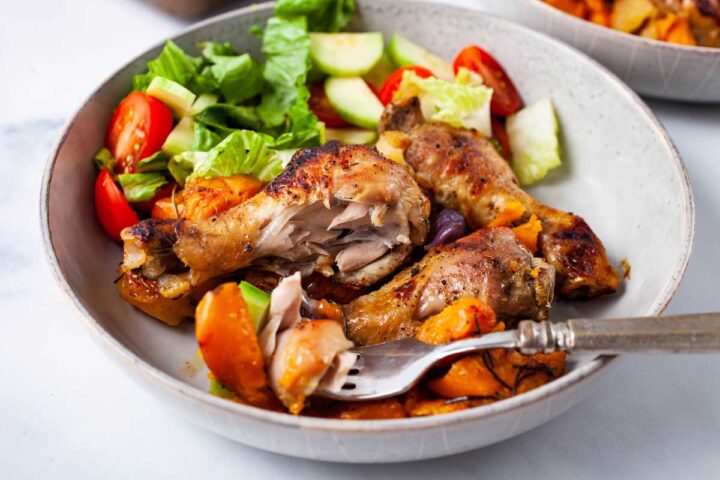 My favorite way of enjoying this dish is with a simple large salad of romaine lettuce, cucumbers, and cherry tomatoes seasoned with some olive oil, lemon juice, and a pinch of salt.
It's a refreshing side dish that comes together in minutes and deliciously compliments this healthy sheet pan dinner.
Extra prepared vegetables, either cold or cooked or maybe a more starchy addition, are all good options. Here are a few ideas.
More flavorful & healthy chicken recipes
Hungry for more? Don't forget to stay connected by subscribing to my monthly newsletter.
📖 Recipe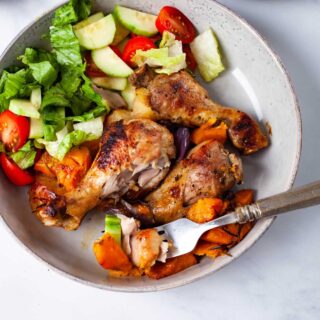 Chicken Drumsticks with Sweet Potatoes & Apples
Mariska Ramondino
A delicious and easy one-pan herb-baked chicken with potatoes recipe that you can easily add to your midweek meal rotation.
Ingredients
3

pounds

chicken drumsticks

12 pieces, bone-in, skin on

3

sweet potatoes

about 2 pounds or 1 kg, cut into 1-inch cubes and roughly the same size

2

large sweet Honeycrisp apples

about 1 pound or 470 grams, cut in half, and then quarter each half

2

medium red onions

about 1 pound or 500 grams, cut in half, and then quarter each half

1

teaspoon

salt and freshly ground black pepper to taste

1

teaspoon

garlic powder

1

teaspoon

dried sage

3-5

fresh Rosemary leaves

⅓

cup

extra virgin olive oil

plus two tablespoons, optional
Instructions
Arrange a rack in the center of your oven, and preheat to 425 °F/ 220 °C

Take a large rimmed baking sheet pan and cover it with parchment paper, set aside. You can also coat it with olive oil instead.

Thoroughly pat-dry the chicken drumsticks with paper towels. Get the chicken as dry as possible, as it will help with browning.

Spread the chicken drumsticks evenly on the baking sheet and season on both sides with salt (about ½ teaspoon).

Arrange the sweet potatoes, apples, and onions evenly in between the chicken drumsticks.

Season the vegetables with the rest of the salt, and then everything with pepper, garlic powder, and sage.

Tuck in fresh Rosemary leaves evenly across the sheet pan, and cover everything with olive oil. You might need two extra tablespoons, if desired, to cover all the edges.

Place in the oven for 30 minutes. Remove from oven, and stir the potatoes and apples.

Return pan to oven and roast for an additional 10 to 15 minutes or until the chicken is fully cooked, its juices run clear (or until an instant read thermometer inserted in the thickest part of the leg reads 165°F.), and the skin of the chicken, and potatoes are sufficiently browned.
Notes
Leftovers: Allow for any leftovers to cool completely before storing them in an airtight container. Refrigerate for 3 to 4 days. Reheat in microwave, over the stove with some olive oil, or back into the oven at 350°F for ten minutes or so or until sufficiently heated through.
Add your own private notes
Whenever you come back to this recipe, you'll be able to see your notes.
Nutrition (% Daily value)
Serving:
2
drumsticks
Calories:
433
kcal
(22%)
Carbohydrates:
35
g
(12%)
Protein:
22
g
(44%)
Fat:
23
g
(35%)
Saturated Fat:
5
g
(31%)
Polyunsaturated Fat:
4
g
Monounsaturated Fat:
13
g
Trans Fat:
0.1
g
Cholesterol:
105
mg
(35%)
Sodium:
183
mg
(8%)
Potassium:
763
mg
(22%)
Fiber:
6
g
(25%)
Sugar:
13
g
(14%)
Vitamin A:
16133
IU
(323%)
Vitamin C:
8
mg
(10%)
Calcium:
60
mg
(6%)
Iron:
2
mg
(11%)
Disclaimer: This nutritional data is calculated using third party tools and is only intended as a reference.