This stracciatella soup (Italian egg drop soup) recipe is made with a rich chicken broth, nourishing vegetables, and a flavorful mixture of Parmesan or Pecorino cheese, eggs, and fresh parsley.
It's incredibly hearty, nourishing, and filling enough to serve as a full meal. So keep it low carb or make it with your favorite Tortellini or Ravioli—this soup won't disappoint!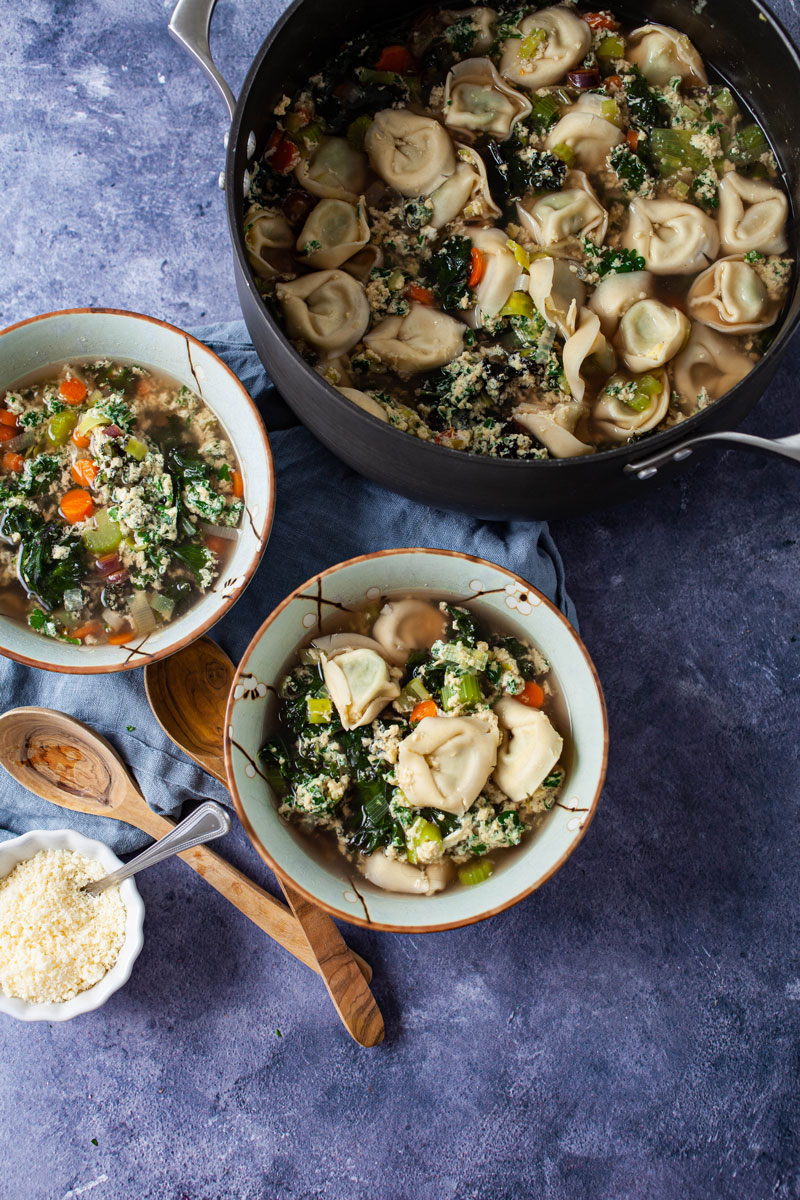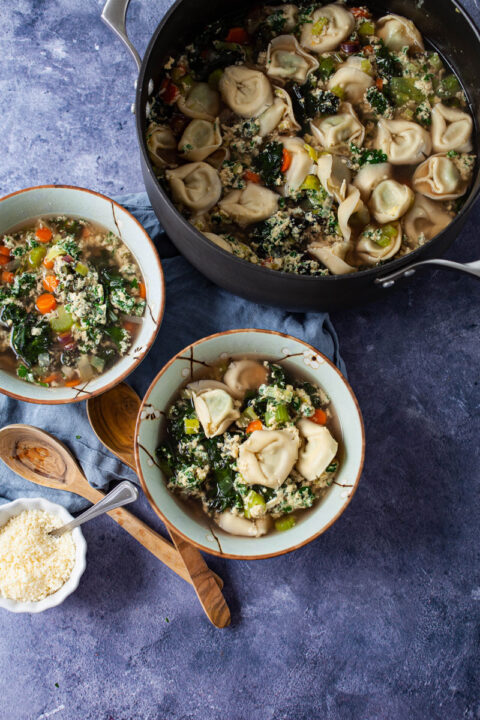 This is one of my favorite soups and versatile enough to keep adding ingredients or tweak it to your liking.
My mother always made this Italian-style egg drop soup with plenty of vegetables and sometimes even shredded chicken (leftovers) to make it a stand-alone nourishing meal with a salad or farmer's bread on the side.
You can choose to add tortellini or ravioli—my daughter's favorite. When we were little, mom used to add Pastina or mini farfalle to make it heartier—perfect for smaller kids.
Or leave out the pasta to keep it low carb and add, as already suggested, shredded chicken or ground Italian sausage or enjoy as-is.
Plenty of options. This tasty homemade version includes a hearty chicken broth, celery, carrots, leeks, kale, grated Parmesan or Pecorino cheese, eggs, fresh parsley, and an option to add in Tortellini or Ravioli.
So let's make this nourishing Stracciatella soup recipe.
What is Stracciatella Soup? You may know it as Stracciatella Alla Romana or Italian egg drop soup. It's a simple soup made usually from a rich meat-based broth. A raw egg-based mixture is stirred during the simmer, creating little shreds or soft egg pockets that are normally deliciously flavored with Parmesan-Reggiano cheese and/or fresh chopped Parsley. Although traditionally a starter soup for Easter with bread on the side, it's one of these recipes that was often adapted and served as a full winter meal with added vegetables, meats, or pasta in my childhood.
How to make Stracciatella Soup—A few notes
What you'll need
Homemade stock will always taste better since its ingredients are simple yet everything is more richly flavored. But if you choose store-bought broths and stocks, go for slow-simmered, unsalted ones, and with minimal ingredients.
Traditionally, we make Stracciatella with good chicken stock, but a hearty bone or beef broth can also work.
Vegetables such as leeks, celery, and deep-colored carrots add nutrition and infuse the stock with tremendous flavor. Carrots add sweetness, as do leeks but with an oniony quality, while celery adds that lovely touch of savory.
They're only simmered long enough so that they're tender but far from mushy.
Texture-wise, I love them finely chopped in my Stracciatella soup—highly recommended.
Although optional, curly or Russian kale is tossed in towards the end and taste amazing in this soup. These dark greens lose their bitterness when cooked and make the Stracciatella soup nutrition-rich and a complete meal.
Although I've never done this, you could replace it with spinach. If you do, stir in the spinach leaves at the very end until wilted (for about one minute) and after you've already added the egg mixture.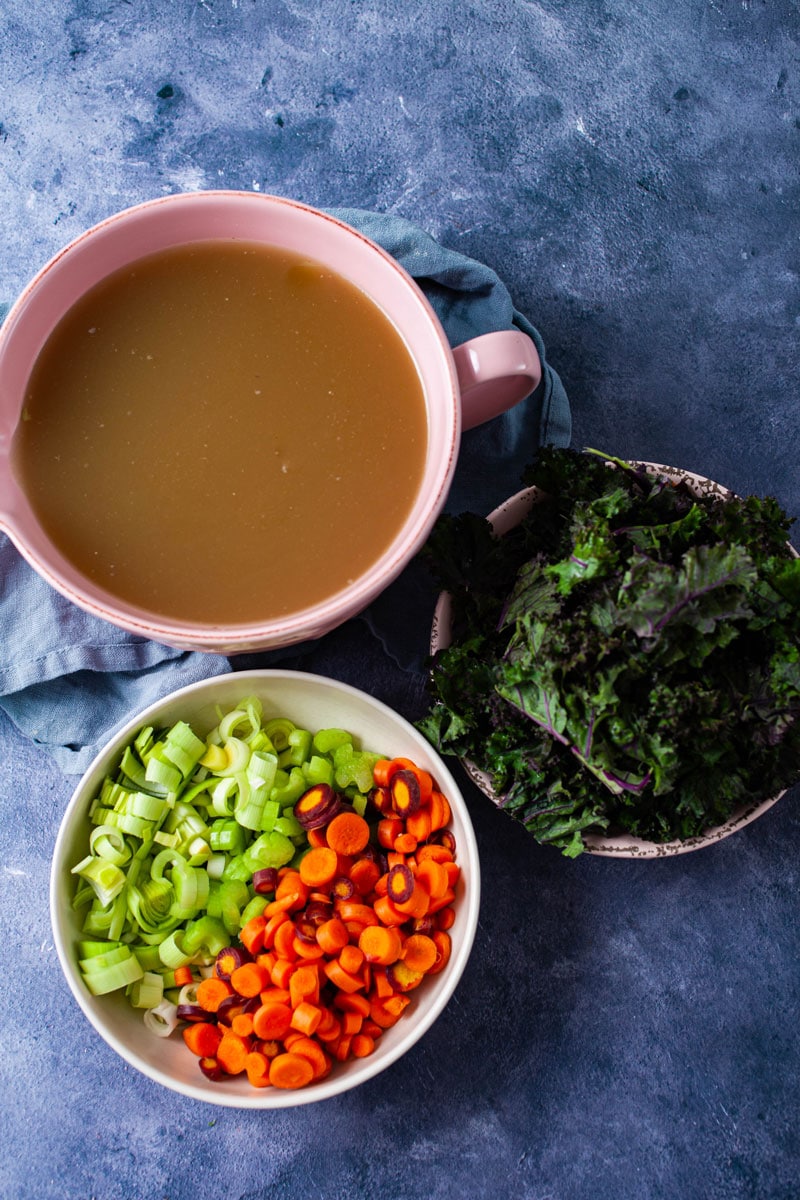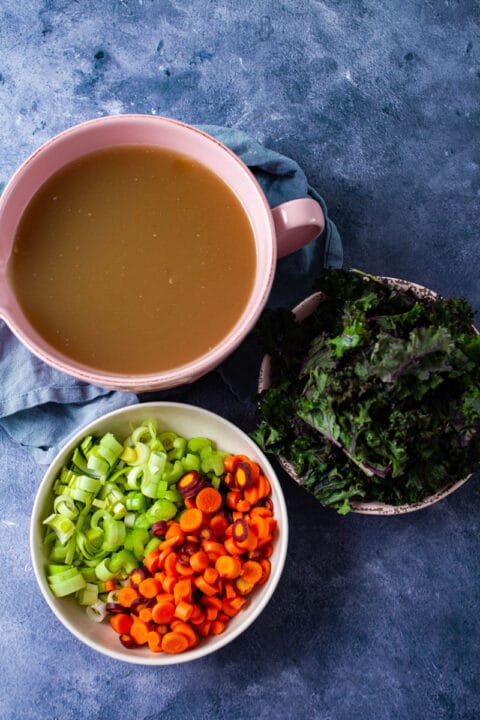 I use freshly chopped parsley, grated Parmesan or Pecorino cheese, and two large eggs for the egg mixture.
If your eggs are rather small, add in a third or enough to cover the parsley.
I wish I could tell you that you can substitute the Parmesan or Pecorino cheese, but this is an Italian egg drop soup, after all. In my humble opinion, nothing compares to the sharp and uniquely bold flavors of these Italian cheeses when it comes to this soup. You don't have to get the best out there, just a decent brand.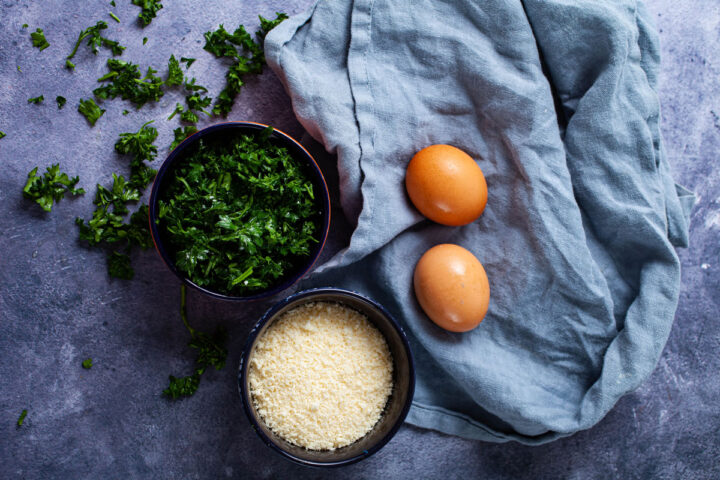 How to add raw egg mixture into the soup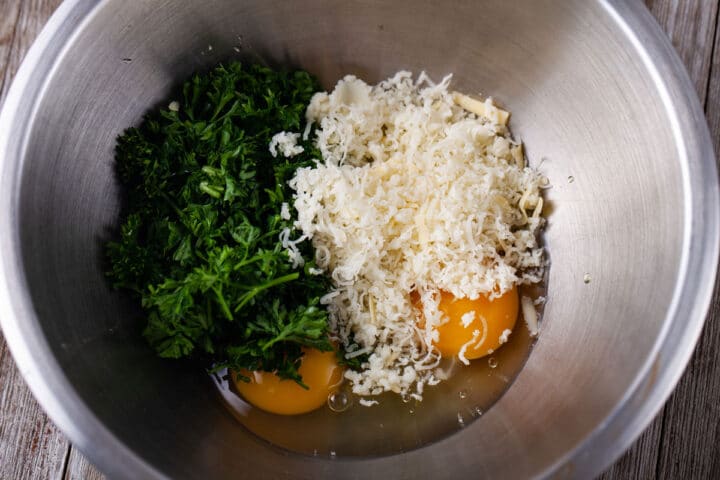 Stracciatella soup is all about that egg mixture seasoned with cheese, and as is my tradition with chopped fresh parsley—so don't skip it.
I know that most like to prevent the eggs from clumping, but traditionally that's how we more often enjoyed this soup—with soft clumps or little shreds of eggs instead of stringy.
But I'll explain how to both techniques.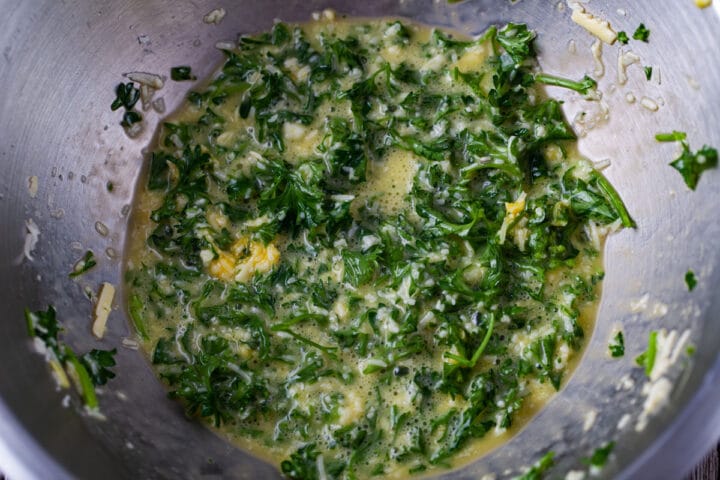 Here are a few things to keep in mind when making the egg mixture and when adding it to the simmering broth.
Go for fresh large eggs. You want a fairly wet mixture so add an extra egg if the parsley and cheese seem to completely overpower the beaten eggs.
Beet the eggs with the cheese and parsley before adding them to the soup.
If you like the eggs to become fluffy clouds or soft clumps—our home version—then avoid overstirring once you add them to the broth. A a few stirs will suffice.
If you prefer a more delicate stracciatella soup where the egg mixture becomes more stringy then slowly pour in the egg mixture while whisking it in the soup until it becomes straggly.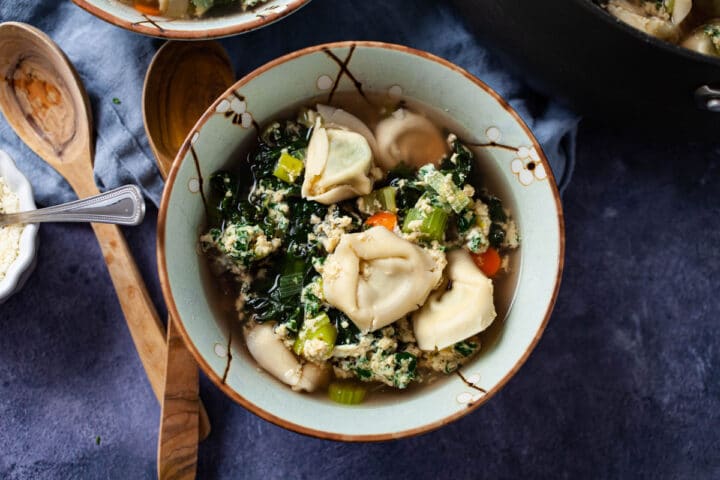 Keep it low carb & gluten-free
There is no need for any pasta to enjoy this soup because it's packed with flavors, incredibly nourishing and filling as-is.
You can make it more wholesome by adding any leftover shredded chicken (chicken stracciatella) or by serving it with a chicken salad on the side to enjoy a low carb Italian Stracciatella soup—a perfect light lunch or dinner and so easy to reheat the next day.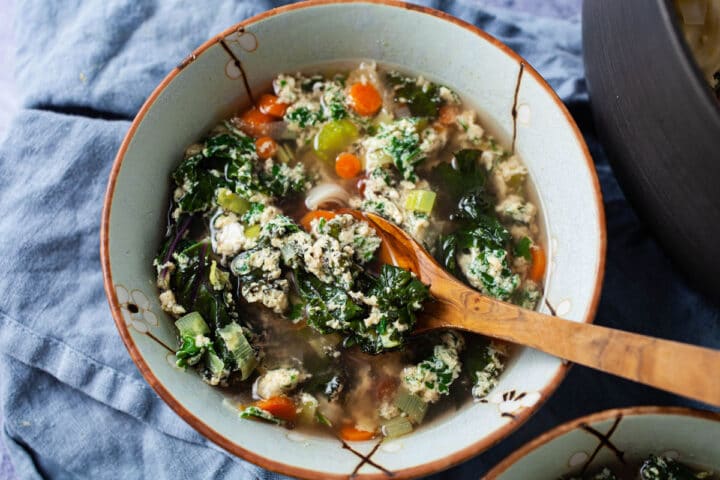 Add Tortellini or Ravioli
For a more hearty dish, add a cheese and spinach or meat-filled tortellini—even Ravioli can work here.
Whether refrigerated or kept in the freezer, the pasta goes straight into the soup and are cooked for a few minutes. And like kale they are added toward the end.
I wouldn't add more than a pack of eight to nine ounces, otherwise the pasta will soak up all the broth (more on that later—see storage).
A Tortellini stracciatella is always very popular amongst kids and a great comforting winter meal.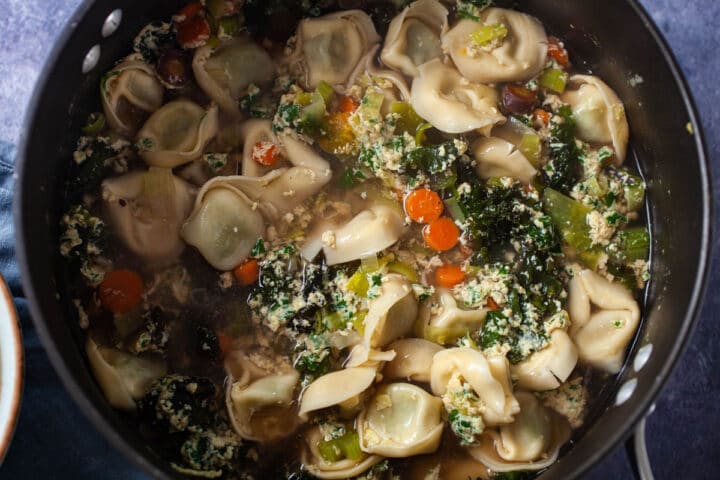 Make-Ahead and Store Stracciatella soup
If you have leftovers, store the soup in an airtight container in the fridge for up to 3 to 4 days.
If you've made it with any pasta, then it's best to store the pasta and soup separate so the noodles won't drink up the broth.
The soup warms up easily on the stove over medium-low heat. When hot, stir back in the noodles and let cook for about a minute. Then serve and enjoy!
I never freeze this soup. Instead, I'll make a big batch of homemade chicken stock, freeze that in smaller portions and only take out what I need to make this hearty Stracciatella soup.
Serving Suggestions
It's a wonderfully filling and savory soup and the flavors are big and fresh. Sometimes I serve it with a few sides like: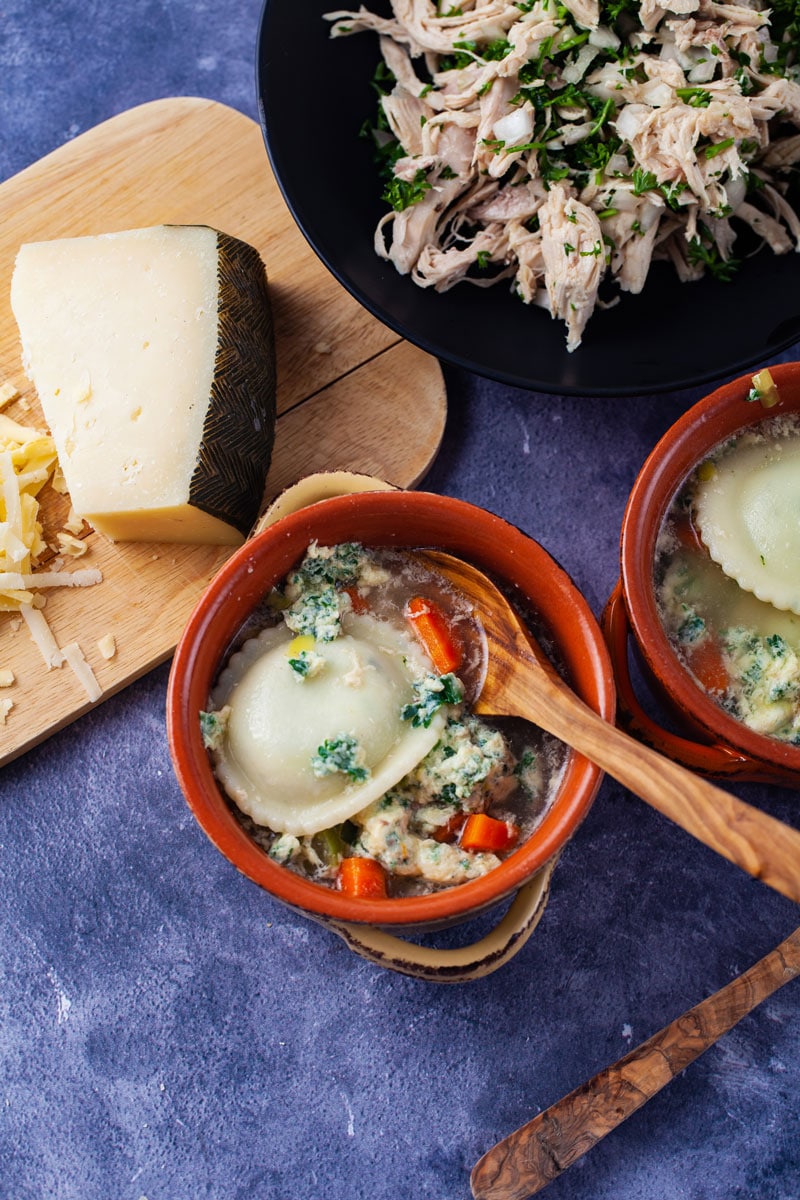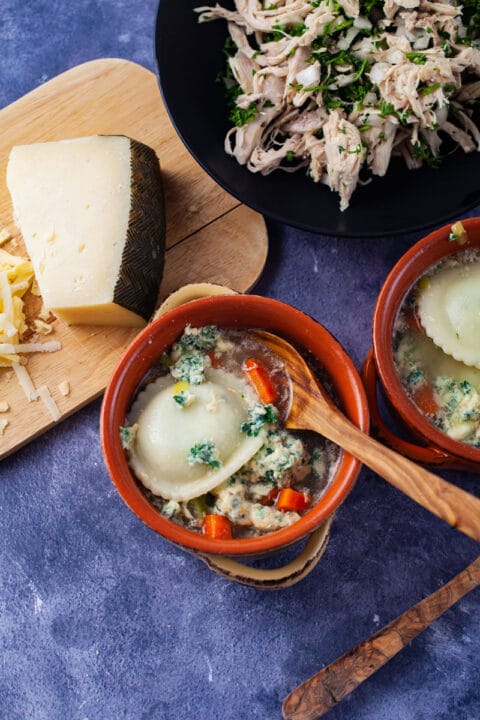 I hope this recipe will go in your soup rotation! Enjoy.
Want to try this dish later? Then PIN IT to your soup board! Then, come and find me on Pinterest for more great recipes! And don't forget to subscribe to my monthly newsletter!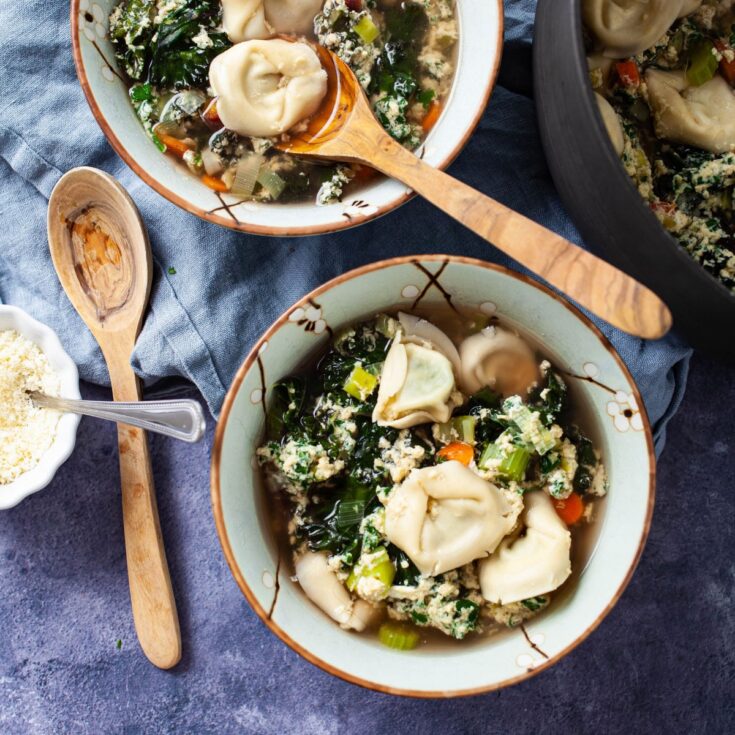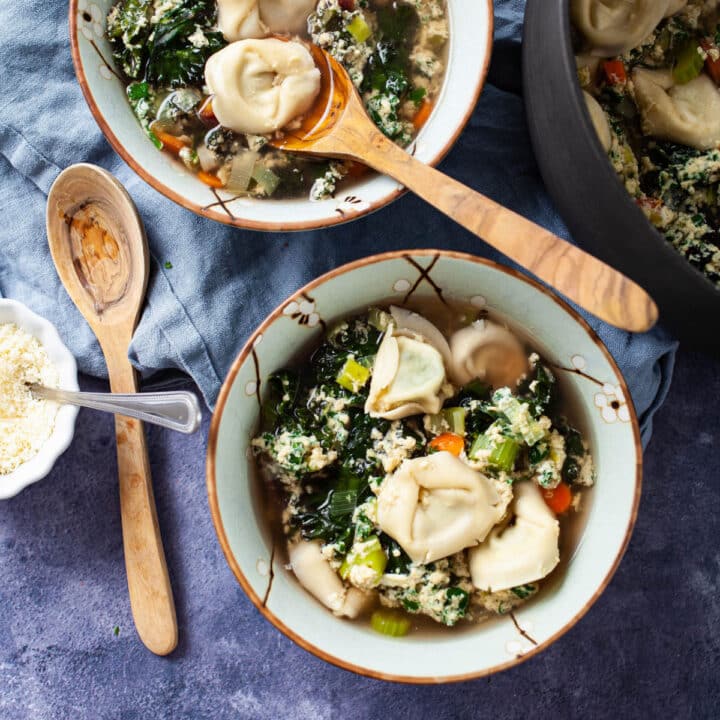 Nourishing Straciatella soup
This stracciatella soup recipe is made with a rich chicken broth, nourishing vegetables, and a flavorful mixture of Parmesan cheese, eggs, and fresh parsley.
Ingredients
8 cups (2 quarts/about 2 liters) homemade chicken stock or robust unsalted store-bought chicken stock
1 cup (140 grams) finely chopped carrots (about 5 small farmer's carrots)
½ cup (70 grams) finely chopped celery (about 1 to 2 celery stalks depending on size)
1 cup (105 grams) packed finely chopped leeks—1 small leek
3 cups packed (110 grams) chopped curly kale (1 small bunch)
2 large eggs (3 if eggs are small)
½ cup (45 grams) grated Parmesan or Pecorino cheese
½ cup (30 grams) packed finely chopped parsley (curly or flat)
Salt and pepper to taste
Instructions
In a large pot, heat the stock over medium-high heat until simmering. Then lower the heat to a gentle simmer. Season lightly with salt.
Meanwhile, prep the vegetables while keeping an eye on the stock.
Add the chopped carrots, celery, and leeks—Cook for 5 minutes.
Then stir in the chopped kale.
Optional: if you want to add pasta like tortellini or ravioli, add it right after you've stirred in the kale.
Let it cook for 5 minutes at a steady simmer. Note: if you add frozen ravioli or tortellini noodles will be ready when floated to the surface and tender.
Meanwhile, in a mixing bowl, whisk the eggs, the cheese, and the parsley until thoroughly combined.
Pour in the egg mixture and give it a good stir. Simmer for about 1 minute more, allowing the mixture to cook and fluff to the surface.
Note—A few gentle stirs when mixing in the egg mixture will result in small little eggy clumps (which we prefer at home). However, if you prefer the egg mixture to be a sheer addition to the soup (more like little shreds), then keep stirring until the egg mixture becomes more stringy.
Season to taste with salt and black pepper.
Serve hot.
Notes
Equipment: minimum 5 QT pot with a lid.
Storage: if you have leftovers, store soup in an airtight container in the fridge for up to 3 to 4 days. Best to keep the tortellini or any pasta and soup separate so the pasta won't drink up the broth.
For freezing, best to freeze the stock without the pasta or stracciatella.
Reheating: The soup warms up easily on the stove over medium-low heat. When hot, stir in the noodles and let cook for about a minute. Then serve and enjoy!
Options: This soup tastes amazing without any pasta. But if you do choose to make it with pasta, I recommend a cheese or spinach-filled Tortellini or Ravioli.
Prep Time: the 10 minutes includes warming up the stock while prepping the vegetables.
Nutrition Information:
Yield:

6
Serving Size:

1
Amount Per Serving:
Calories:

232
Total Fat:

8g
Saturated Fat:

2g
Trans Fat:

0g
Unsaturated Fat:

4g
Cholesterol:

80mg
Sodium:

832mg
Carbohydrates:

26g
Fiber:

2g
Sugar:

7g
Protein:

15g
Nutrition information was calculated with Tortellini noodles.