This hearty and healthy family meal is straightforward to make yet has all the flavors of a comforting homemade chicken stew that everyone loves! It is a great recipe to rely on for those busy weekdays!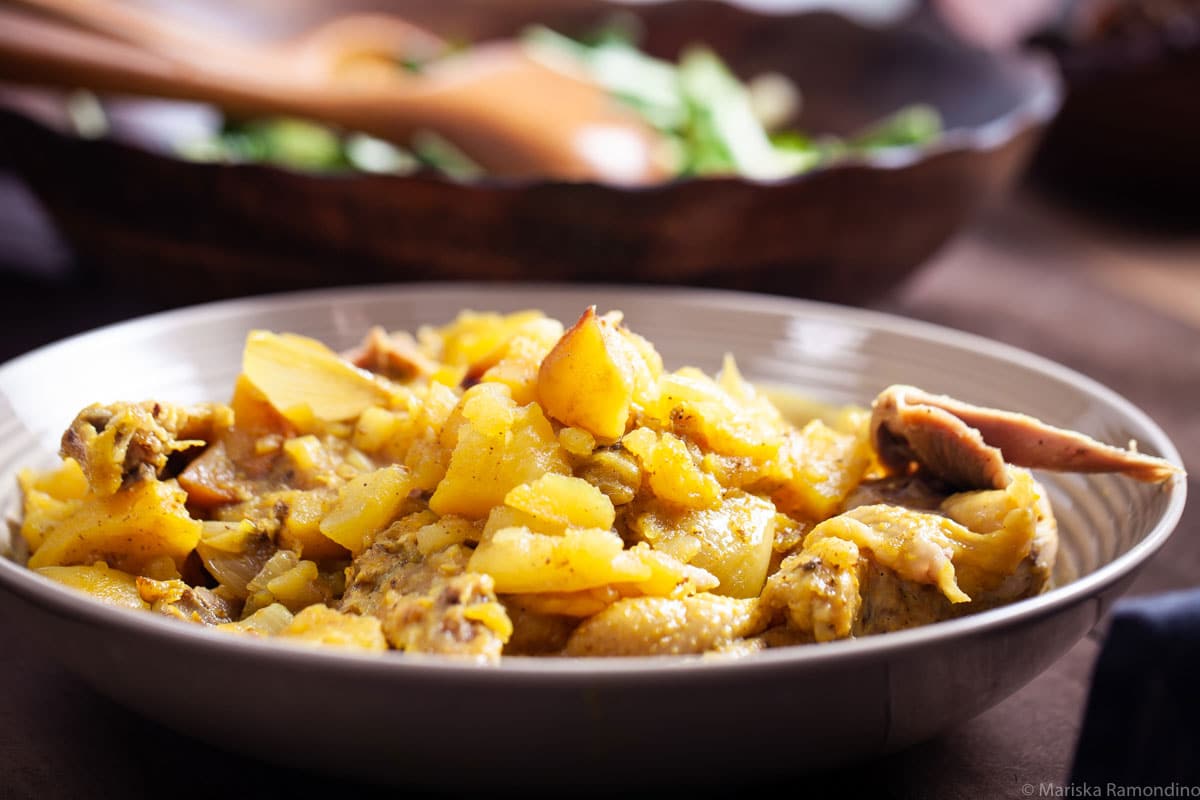 I tend to use my crockpot more in warm spring and summer months than in the winter. I spend so much more time outdoors as soon as the sun is out and the weather is pleasant. But it somehow also feels that life is busier during those seasons.
I used to make a lot of my stews and slow cooking recipes over a stove pot (and mostly during the weekends) until I got a crockpot. And although I can't remember anymore what prompted me to buy one, this kitchen equipment quickly became my friend.
No matter how busy or crazy my week can become, I don't like to take shortcuts when it comes to the quality of food being offered at my home. Enjoying healthy meals and knowing where my food comes from is a form of self-care and caring for the health of my loved ones. And although on most days I love to put my apron on and cook something good, there are also days that it is just a little hard to do. That's when a slow cooker comes in handy!
You can never go wrong with combining chicken and potatoes whether you make it in the oven or a crockpot. This is one of those classic dishes that everyone loves in my family. This easy chicken meal is quickly prepared with a few ingredients either in the morning or during a lunch break. And at the end of the day, you have a comforting meal with a chicken that falls off the bones and deliciously soft potatoes.
Let's look at the simple ingredients that go into this chicken dish!
The only liquid we are adding to the crockpot is olive oil. A little bit to coat the bottom of the slow cooker and the meat. The chicken and the shallots will release enough natural fat and water to keep this dish moist. In the end, you will get a beautiful stew-like meal that has those Italian-style flavors
Place the potatoes and the onions at the bottom first and the chicken on top. You want the vegetables to become incredibly soft while their tastes disintegrate into the overall dish.
Don't forget the shallots. It is a must-have ingredient in this recipe! I mix most of the shallots with the potatoes and one on top of the chicken. They will release their delicious mild sweet flavors while being slowly cooked and almost melt into this stew.
For this recipe, I use three large cloves of garlic. So if you have small cloves, feel free to add one or two more!
Turmeric wonderfully balances the sweet flavors of the onions and adds that golden color to the potatoes.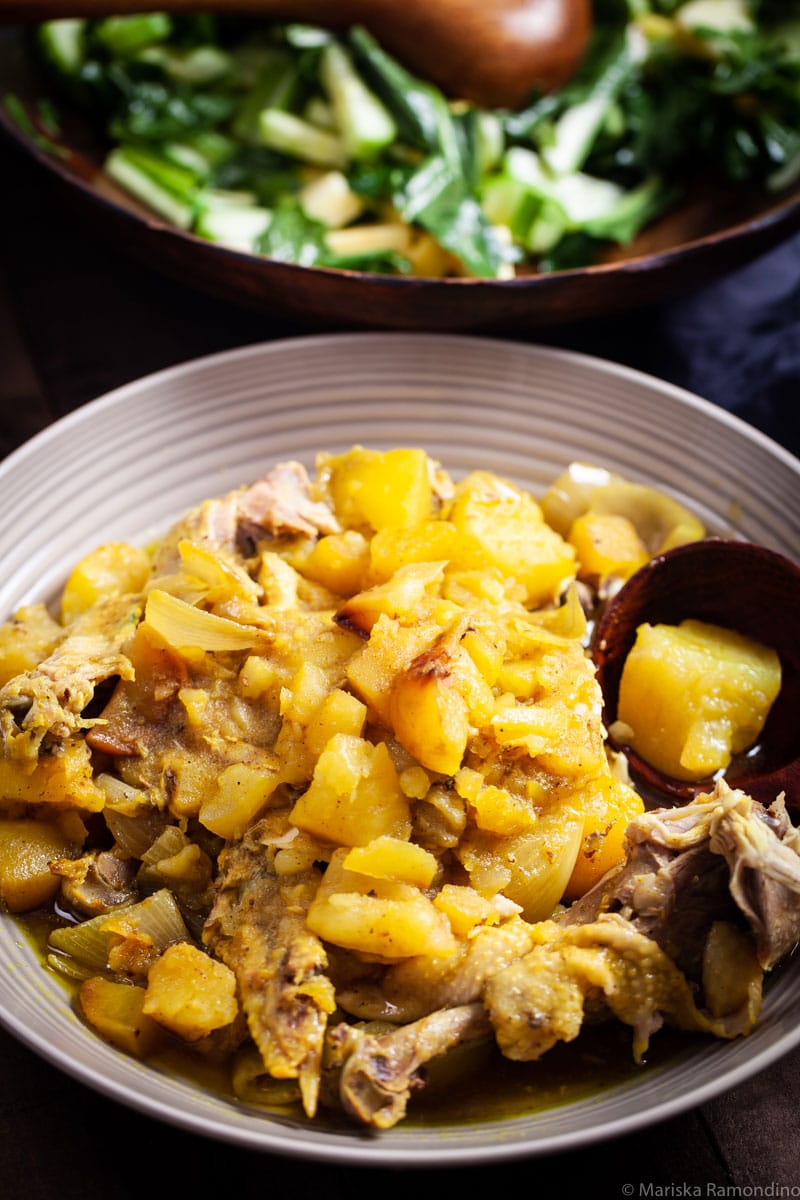 Serving Suggestions
When ready, I transfer everything to a large serving bowl to place on the table. It is as simple as that. The chicken will fall into bits and pieces. At home, we love nibbling on the bones, but it is a personal preference. So feel free to first remove the skin and bones before placing it on the table.
I love pairing it with a large green salad (although not necessary). A raw salad quickly comes together and adds a refreshing bite—see my suggestion in the note section below.
This dish tastes even better the next day (if you have leftovers.) Reheat the desired amount in a pan over the stove. Although you could put it in the microwave, I prefer to heat it the old fashion way.
I hope the easiness of this recipe will inspire you to make it for dinner this week!
Have questions? Leave them in the comment below or message me. You can also FOLLOW ME on Instagram, and Pinterest to see what other fun things I share.
You might also love my healthy and easy slow cooker short ribs recipe, cooked until tender and full of flavors. Again, perfect for those busy weekend nights!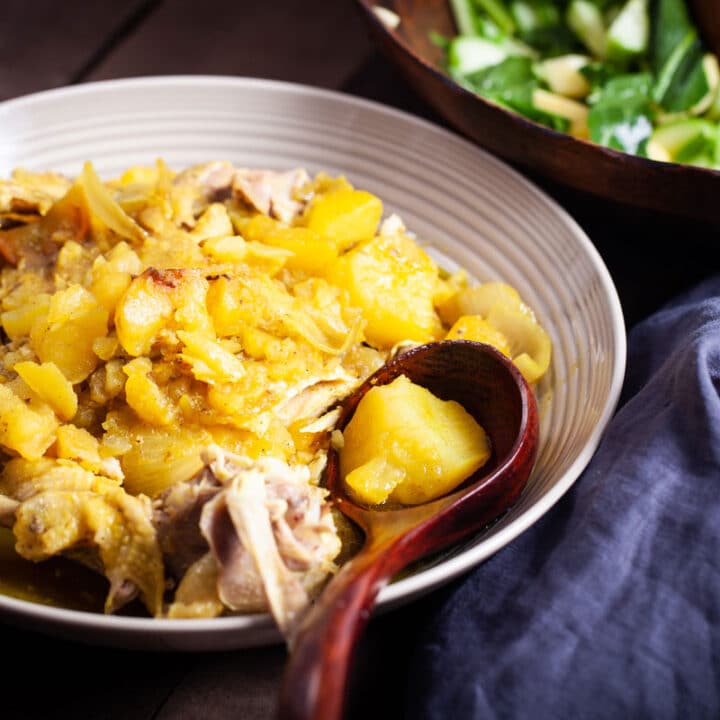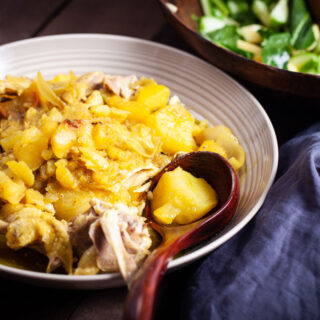 Slow Cooker Sweet Shallots Chicken and Potatoes
Mariska Ramondino
A hearty and healthy one-pot meal that is super easy to make. Just chicken, potatoes, shallots, garlic, and olive oil, seasoned with salt, pepper, and turmeric! A no-fuss and delicious family dinner!
Ingredients
1

whole chicken

about 5 lbs

10

golden potatoes

peeled and quartered (about 3 lbs)

5

small shallots

peeled and quartered

3

cloves

garlic

shredded

6

tablespoons

olive oil

divided

Salt and pepper

1

teaspoon

turmeric
Instructions
Coat the bottom of the crockpot with 3 tablespoon of olive oil.

Add the potatoes, 4 shallots and the garlic. Mix well and season lightly with salt and pepper.

Generally season meat with salt and pepper. Then place the chicken breast-side up on top of the vegetables. Add the remaining quartered shallot on top of the chicken.

Evenly season the top of the chicken with turmeric and the remaining olive oil (3 tbsp).

Cook on low for 8 hours or on high for 5 hours. When the chicken has one hour left adjust salt as needed and continue cooking.
Notes
You'll need a minimum 6 qt slow cooker to fit all the ingredients above.
If desired, serve with a large Italian salad.
Add your own private notes
Whenever you come back to this recipe, you'll be able to see your notes.
Nutrition (% Daily value)
Calories:
408
kcal
(20%)
Carbohydrates:
54
g
(18%)
Protein:
10
g
(20%)
Fat:
18
g
(28%)
Saturated Fat:
3
g
(19%)
Polyunsaturated Fat:
2
g
Monounsaturated Fat:
12
g
Trans Fat:
0.02
g
Cholesterol:
17
mg
(6%)
Sodium:
35
mg
(2%)
Potassium:
1310
mg
(37%)
Fiber:
7
g
(29%)
Sugar:
4
g
(4%)
Vitamin A:
38
IU
(1%)
Vitamin C:
58
mg
(70%)
Calcium:
47
mg
(5%)
Iron:
3
mg
(17%)
Disclaimer: This nutritional data is calculated using third party tools and is only intended as a reference.