You'll love this sweet potato and spicy chorizo stew recipe.
It's incredibly easy to make, full of hearty flavors, made with ground chorizo meat, sweet potatoes, garlic, onions, red bell pepper, and then layered with Mediterranean spices and a rich tomato base.
It is a no-fuss family recipe and a savory-sweet one-pot meal just right for dinner.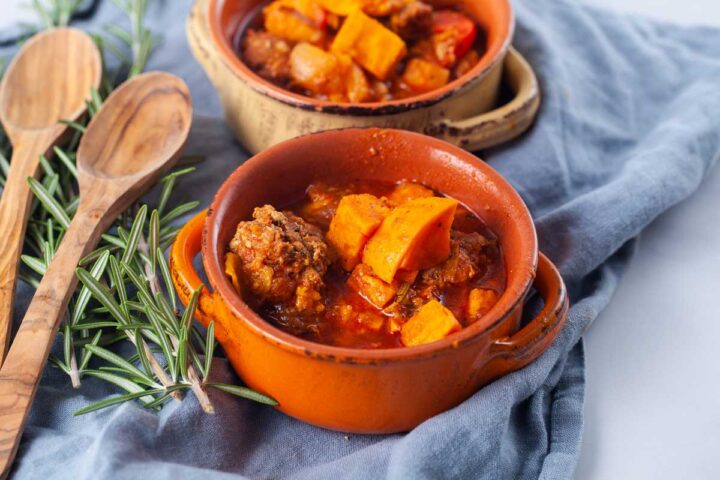 Jump to:
Make sausage stew in the crock pot or instant pot
This hearty chorizo stew dish is often my go-to recipe when I want to throw all the ingredients in a slow cooker or instant pot, especially on busy evenings.
I can then walk away for a bit and finish the rest of my to-do list for that day.
In 15 minutes, all the veggies for this pork stew recipe are prepped, and everything is set up in one pot.
Either use a slow cooker—count 4 to 5 hours of cooking time. The result will be a tad richer, and the meat will be softer than when using an electric pressure cooker.
Or use the instant pot—count one hour of cooking time. The flavors will still be incredible and hearty, just in less time.
The veggies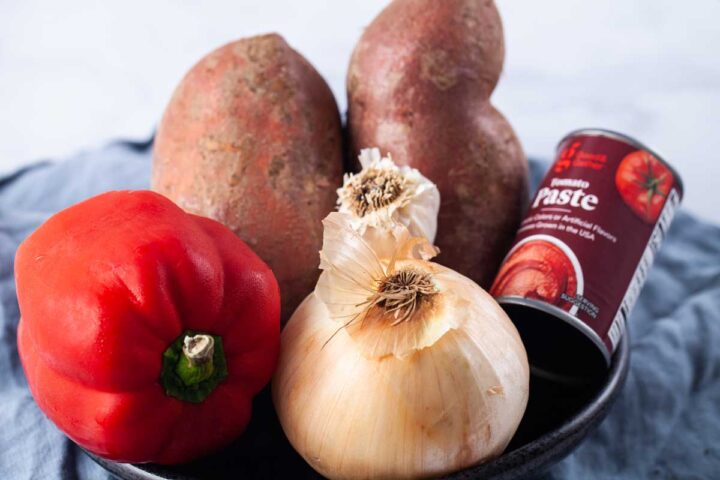 Use two to three large sweet potatoes. You want to count about two pounds for six servings, at least.
Choose a red or orange bell pepper. Their mild sweet flavors will contrast the spicy chorizo meat nicely and pair well with a tomato base.
Garlic and a yellow onion build incredible delicate flavors as a base for this pork stew.
Don't forget the tomato paste. A small 7-ounce tomato can will do. It adds a little color and sweetness and creates a thicker, richer texture. Try choosing a brand with no additional ingredients, extra sugars, or spices.
The spices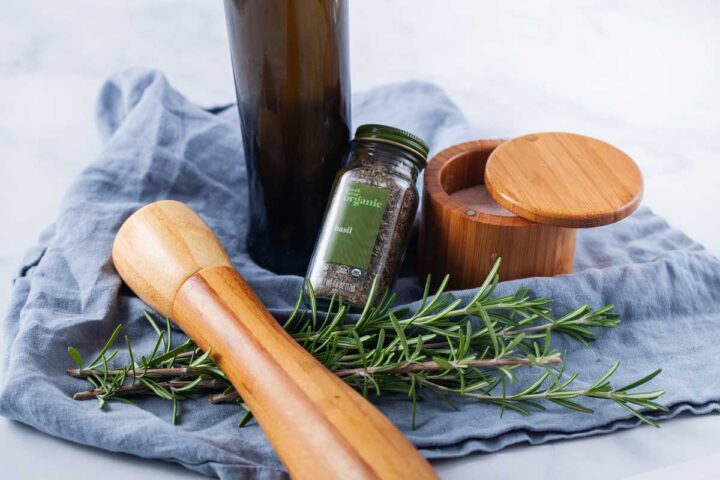 I use simple seasoning that pair well with an already spiced chorizo meat.
Sea salt and black pepper—Chorizo sausages are already spiced, so feel free to be frugal with the suggested amount. When in doubt, season lightly, and you can always taste test near the end of cooking to add more if preferred.
Dried Basil—It might seem like an odd choice, but the herb has a more spicy, minty character that works well with long-simmered or meaty stews like this one.
Dried or fresh rosemary leaves—it's a classic partner for certain meats like lamb or pork, at least in my kitchen. The rosemary's aroma and slightly bitter taste balance the chorizo meat's fattiness.
Extra virgin olive oil—you only need a little to add that incredible Mediterranean aroma and taste. It's a perfect companion for meats due to its robust and peppery taste.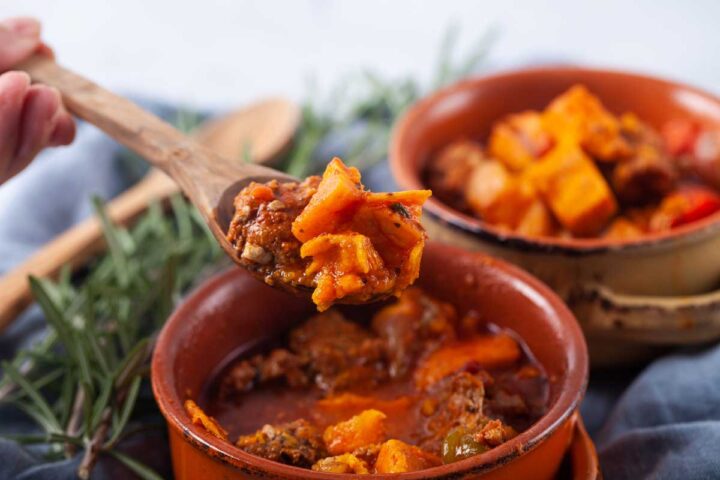 Pork chorizo sausage
Local grocery stores usually offer pork chorizo sausage meat in bulk. Meaning sold without a casing like regular ground beef (Chorizo Ground Sausage.)
If you can't find it, then buy the individual sausages and remove the casings at home.
For this dish, you only want the meaty goodness with the highly seasoned spices of good chorizo (which is often made with smoked paprika and salt) without the casing.
The spices of the pork meat will give extra flavor to the tomato-based sauce and the vegetables.
How to remove the sausage casing
With the tip of a sharp knife, make a lengthwise cut into the sausages' casing—end to end—see pics of how to remove the casing.
Don't cut all the way through; just a shallow cut to pierce through the casing.
Open it or pull back the casing to push out the ground meat.
Break up the meat into smaller chunks.
Tip: it is easier to do this when the sausages are still slightly frozen or cold.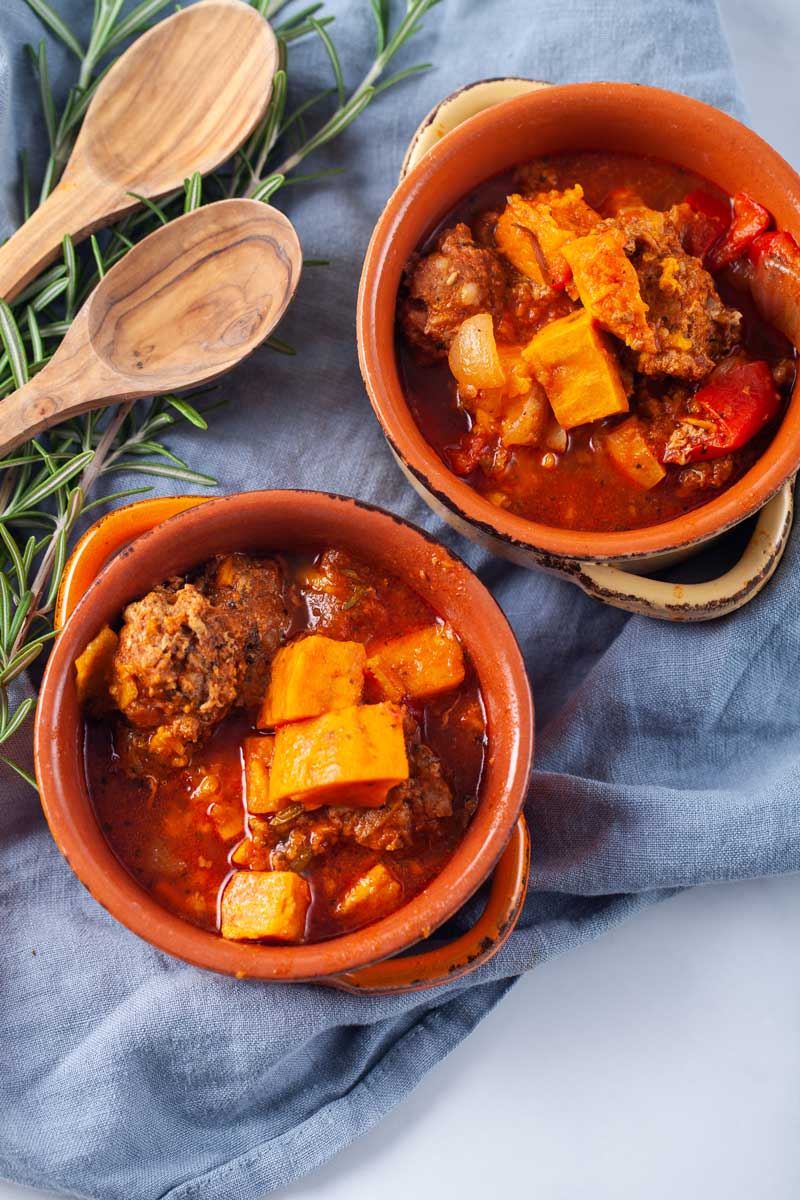 What to serve with a spicy stew
This delicious stew doesn't really need anything. And because it is extremely filling and already loaded with vegetables, I often serve it as-is.
But try adding crunchy and salty plantain chips and some slices of fresh avocado. YUM!
Sweet potatoes, yellow onion, red bell pepper, and tomato paste create a sweet natural contrast to the spicy pork meat.
Combined and seasoned just right, the whole dish bursts with hearty flavors and gives a nice spicy kick at the end.
It's comforting, filling, and incredibly satisfying.
You might also like
Enjoy!
Sharing is caring, so don't forget to PIN IT! Always love to hear if you tried out this recipe and if it worked for you. Don't forget to subscribe to my Monthly Newsletter!
📖 Recipe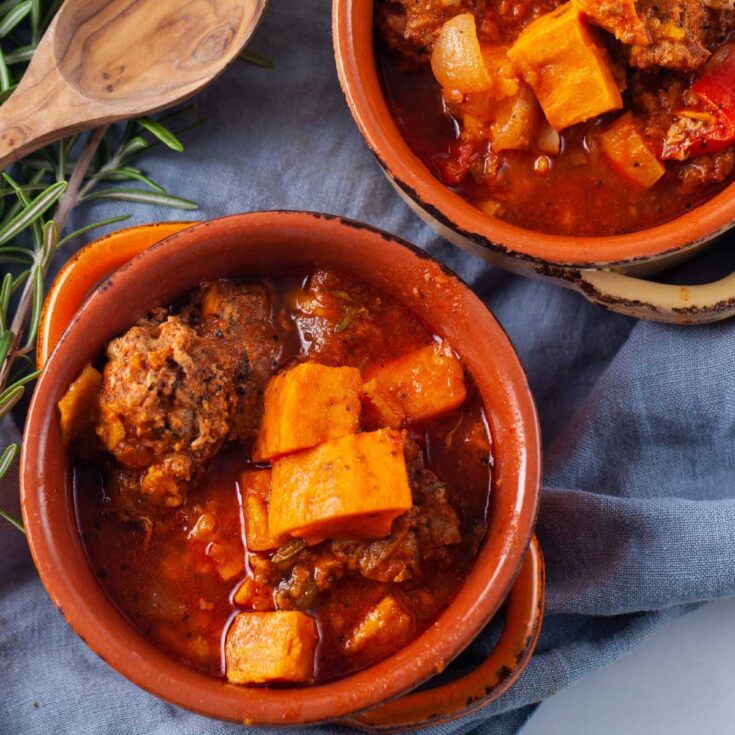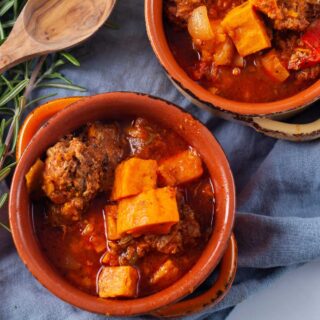 Sweet Potato and Spicy Chorizo Stew
Mariska Ramondino
An easy-to-make chorizo stew that is incredibly flavorful with the perfect blend of vegetables and seasoning. It's an easy "set it and forget it" slow cooker or instant pot recipe that you will love!
Equipment
6-quart Instant Pot
Ingredients
1

tablespoon

olive oil

2

cloves

garlic

chopped

2

large sweet potatoes

peeled and cubed (about 2 pounds or 1 kilo)

1

large yellow onion

coarsely chopped

1

large red bell pepper

chopped

1 to 2

teaspoons

salt

plus more to taste

2 to 2 ½

pounds

pork chorizo sausages in bulk

casing removed (about 7 large sausages)

1

can

tomato paste

7 ounces or 200 grams

1

tablespoon

dried basil

1

tablespoon

dried rosemary

Black pepper

3

cups

water

only if using the Instant Pot
Instructions
Make it With a Slow Cooker
Cover the base of a slow cooker (at least 6-quart) with olive oil.

Arrange the garlic, sweet potatoes, yellow onion, and bell pepper into the slow cooker base.

Season the vegetables with a teaspoon of salt.

Then arrange on top of the vegetables the chorizo meat.

Add the tomato paste. Fill the empty bottle/can of the tomato paste with fresh water and pour over the ingredients.

Season the meat with salt, Basil, and Rosemary.

With a large wooden spoon, stir well to combine all the ingredients.

Season everything royally with pepper.

Cover the slow cooker and cook on high for 4 to 5 hours.
Make it with an Instant Pot
Cover the base of an instant pot with olive oil and press "sauté."

When olive oil is warm, add garlic and onions. Cook and stir for 10 seconds.

Then add the rest of the vegetables and season with one teaspoon of salt—Cook and stir for 2 minutes.

Press the "keep warm/cancel" button.

Add the meat and season with the rest of the salt, Basil, and Rosemary.

Stir in the tomato paste, plus three cups of water.

Season everything with pepper.

Place the lid on the instant pot, ensuring the steam release valve is sealed.

Press the "meat stew" setting.

It will take the instant pot about 7 to 10 minutes to come to pressure before it starts cooking.

When done (cook time is up), quickly release the pressure.

When steam stops venting, and the silver dial drops, carefully open the Pot lid.

Serve immediately with a

salad

on the side.
Notes
Instant pot setting: the Meat/Stew setting is a pre-programmed setting equivalent to cooking at High Pressure for 35 minutes (it will take about 7 to 10 minutes for the instant pot to come to pressure).
Add your own private notes
Whenever you come back to this recipe, you'll be able to see your notes.
Nutrition (% Daily value)
Calories:
430
kcal
(22%)
Carbohydrates:
24
g
(8%)
Protein:
20
g
(40%)
Fat:
27
g
(42%)
Saturated Fat:
16
g
(100%)
Polyunsaturated Fat:
0.3
g
Monounsaturated Fat:
2
g
Cholesterol:
133
mg
(44%)
Sodium:
663
mg
(29%)
Potassium:
635
mg
(18%)
Fiber:
5
g
(21%)
Sugar:
8
g
(9%)
Vitamin A:
12709
IU
(254%)
Vitamin C:
70
mg
(85%)
Calcium:
101
mg
(10%)
Iron:
4
mg
(22%)
Disclaimer: This nutritional data is calculated using third party tools and is only intended as a reference.
This post was originally published in October 2017 and has since been updated with new pictures and new information.