This beautiful chopped mango avocado salad is healthy and incredibly satisfying. It's a perfect lunch option on its own, or serve it with chips or tacos as a mango avocado salsa. You can easily sub in whatever mix of proteins you have on hand, and voila, dinner is served! A nutritious-packed salad that is full of healthy, fresh ingredients, and bursts with deliciously balanced flavors!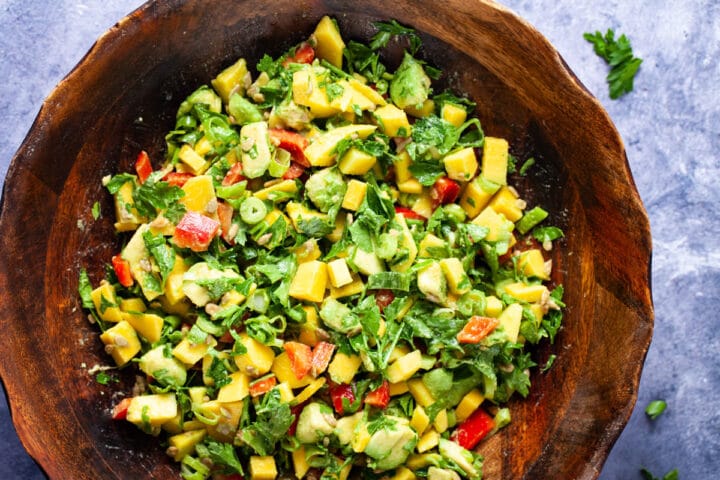 During warmer seasons and whenever mangos are on sale, this mango-avocado salad recipe plays on repeat in my kitchen. It's a go-to dish that is ready in 15 minutes, with an abundance of fresh, mouthwatering fruits and vegetables. Plus it's such a versatile dish.
Different ways to enjoy this salad
As a quick lunch salad, this beautiful bowl pairs well with protein-packed Black or Pinto beans (vegan.) I have also enjoyed this a few times with canned tuna or sardines on the side. Even boiled eggs work well in this creamy veggie bowl.
With a little prep and some suitable storage containers, the next day, leftovers can be your lunch at the office with extra nuts tossed in.
Serve it as a mango salsa with your favorite chips, tacos, or tortillas. I always have organic sprouted corn or gluten-free rice tortillas from Food for Life in the freezer. They quickly warm up over the stove in some olive oil and taste incredibly satisfying when paired with a refreshing salad like this one.
It's also a nourishing and kid-friendly side dish—just leave out the peppers—for picnics or backyard entertaining.
And don't count out dinner. I have enjoyed it before with oven-baked salmon, Turkey, or beef burgers. Any grilled, baked, or sautéed white Fish or chicken breasts are other pairing options you might want to consider.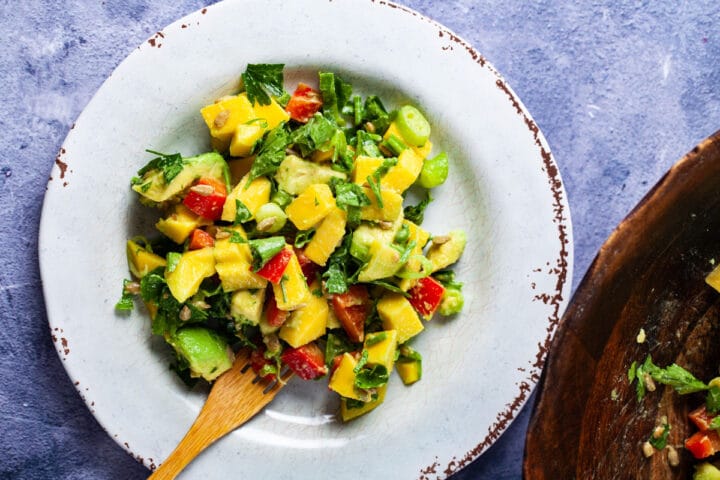 It is going to satisfy your taste buds
The sweet mangos are juicy and sweet, while a small red chile or jalapeno—optional—adds a perfect amount of spiciness.
Ripe avocados and extra virgin olive oil give the salad a beautiful, creamy texture.
Sunflower seeds, red bell pepper, and green onions add some crunchiness at the end of each bite.
It uses simple spices so that the lovely flavors of each ingredient can shine in this dish
Sweet, salty, with a touch of heat, and citrusy flavors all come together in this colorful Mango avocado salsa salad with a creamy and, at the same time, slightly crunchy texture. It's mouthwatering!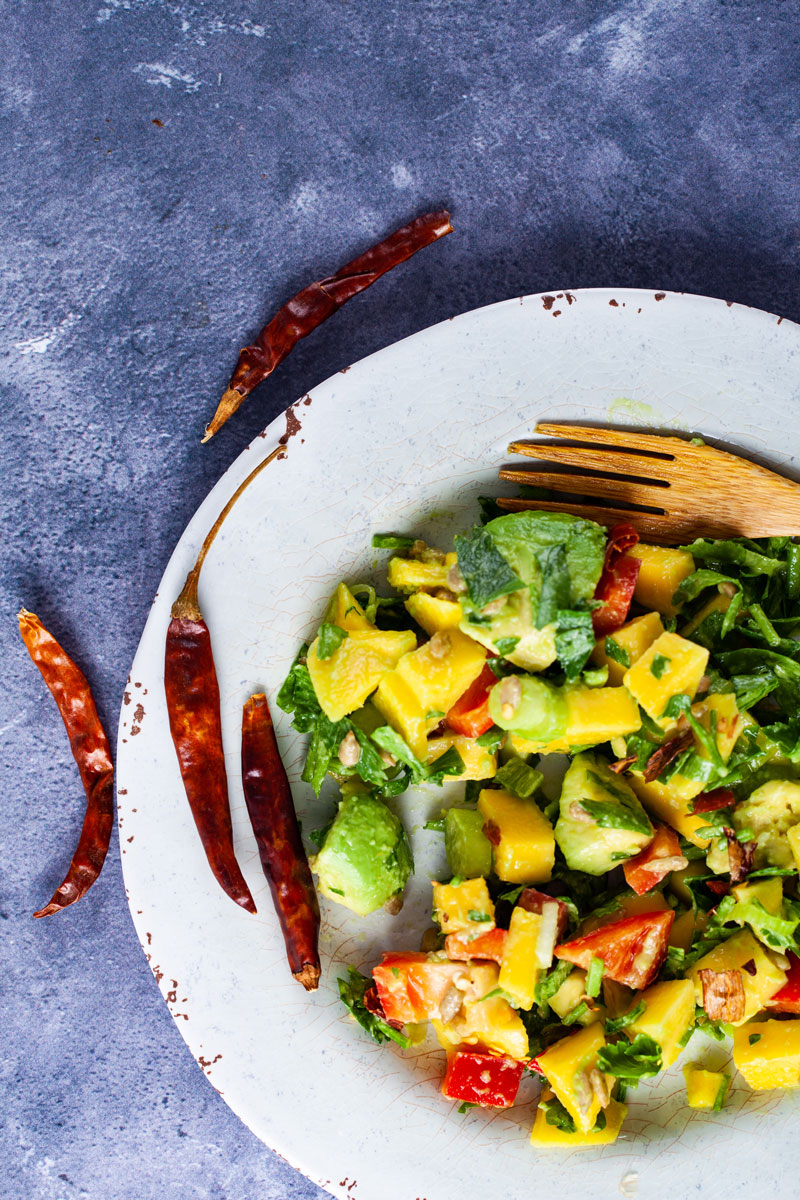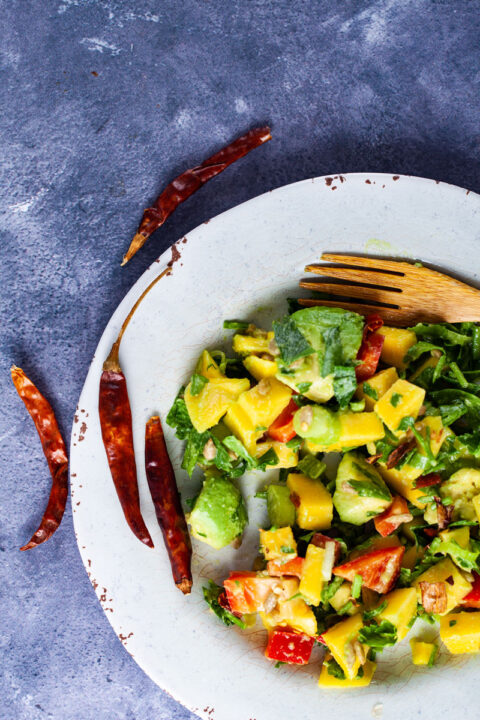 A few tips for selecting the ingredients
Use semi-ripe to ripe mangos in this salad. You want the fruit to have sweet flavors with a soft and juicy texture. You can determine their ripeness by gently squeezing them. You should be able to make a small dent, giving you the feeling that there is soft flesh inside. Some mangoes might even have a sweet and fruity aroma when you smell the stem ends.
To get that delicious creamy texture from the avocados, choose ripe ones. I like to pick avocados that have a dark green skin color, and when gently squeezed, they are only slightly soft. I avoid the ones with blemishes on the skin or almost black because they are a little too mushy.
Don't forget to add roasted, salted, or unsalted sunflower kernels. They have that beautiful crunchy texture with a nutty flavor without overpowering the rest of the ingredients. I love them in this salad.
For the green onions, I use both the green and the white part. The white part has the most intense flavor, so taste test and see for yourself how much of it you want to add. I usually add two whole green onions, finely chopped.
Nothing gives more taste to this nourishing bowl than extra virgin olive oil. It is a must-have ingredient here.
The red chili pepper is optional and can be left out if serving it to kids or people who don't like spicy food. Otherwise, I recommend adding that touch of spice that will beautifully contrast with the other flavors!
Note: If you use dried red chili peppers—I recommend chili de Arbol, similar to crushed red pepper flakes—remove the stems and crumble into flakes with your fingers or use a knife and cut up on a chopping board if you have sensitive skin. Then toss into the mango avocado salad. It is best to let the salad rest for 10 minutes allowing the flavors to come together.
Please let me know how this recipe turns out for you in the comments! I love hearing from you.
Sharing is caring, so don't forget to PIN IT to your Salads or Side Dish Board to save for later! Come and find me on Pinterest for more great recipes!
Nourishing Mango-Avocado Salad
This easy mango avocado salad recipe (mango salsa) is fresh and deliciously creamy. It's sweet and slightly spicy, perfect to serve with chips, on tacos, or simply enjoy as a salad as-is—a must-make recipe!
Ingredients
2 ripe or semi-ripe mangos, peeled and diced
2 ripe avocado, peeled and chopped
2 green onions a.k.a scallions, finely chopped (white and green parts)
1 cup chopped fresh cilantro or parsley
1 cup chopped red bell pepper
2 to 3 tablespoons lemon juice
Salt to taste
1 fresh Red Chile pepper or jalapeño, seeded and minced (optional)
Instructions
In a large bowl, gently combine the mangos, avocados, onions, cilantro or parsley, bell pepper, and sunflower seeds. Coat with olive oil and lemon juice.
With a large spoon, stir the ingredients together. Season with salt to taste and stir again.
If preferred, stir in the pepper (if you like the add some heat.)
Allow the salad to rest for about 10 minutes before serving, allowing the flavors to melt together.
Store any leftovers in an airtight container in the fridge for a snack or next-day lunch—it is good for up to two days.