This healthy baked salmon recipe gets you dinner ready in no time. It's a beautiful buttery and moist fish dish with wonderful flavors and a fun presentation with the baby broccoli. The subtle taste and aroma of dried Basil and chopped shallots nicely add a subtle sweetness. Everything is filling, nourishing, and so easy to make.
Note: A gluten-free and low-carb (Keto) friendly meal.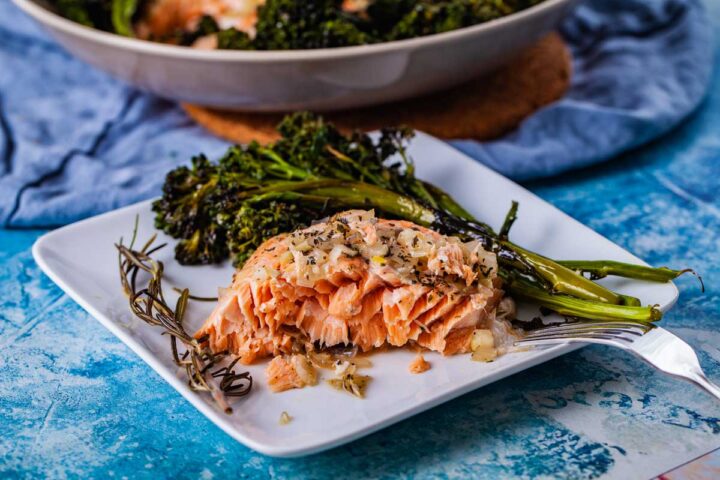 This is one of these healthy easy cleanup dishes that you happily make during the week— it can be on your table in as little as 30 minutes.
But baked salmon will also come through if you want to make something for special occasions, dinner with friends, family gatherings, or date nights come to mind.
It's still fancy enough, yet there is little effort on your end to prep this dish—which leaves some room for making dessert and plenty of time to give your company attention.
And if you are wondering, an equally easy and healthy sweet treat that pairs well with buttery baked salmon for those special occasions is my Chocolate Coffee Mouse, which you can prep the night before. A salmon dinner followed by light chocolaty mousse, yep, that works for me, and I suspect it'll work for you too.
It's not exactly a one-pan dish, but almost. Everything is prepped in 15 minutes and ready to pop into the oven.
The only thing that I still do over the stove is melting the butter in a small skillet and allow it to take on the flavors of the garlic and the shallot before I pour it over the fish. All else comes together very quickly. So, let's have a look.
How to prep the salmon for baking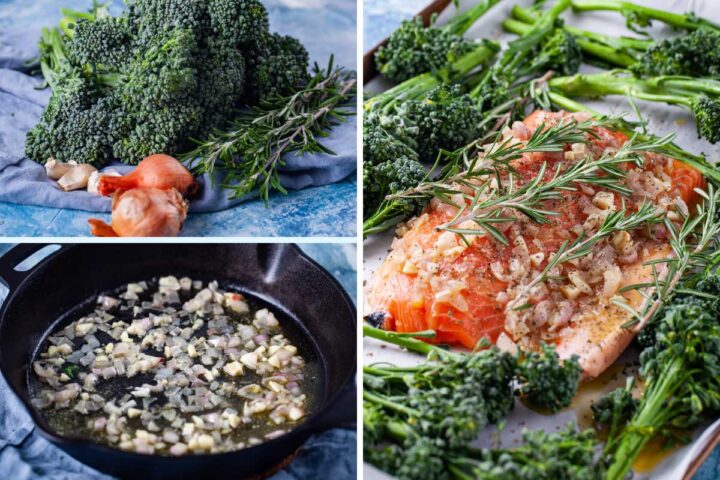 Let the salmon come to room temperature. Just take it out of the fridge and let it rest on the counter for about 15 minutes. It will allow the fish to cook evenly.
Gently pat dry the salmon on both sides with paper towels. It will remove any moisture left from thawing the fish and help bake the salmon faster—plus, it'll get you those crispy edges.
Season the skin with a tad of salt. I leave the skin on as it keeps the fish from drying out while cooking, plus some of my family members think the skin is the best part. If that's not you, you can always eat around it or gently remove it once baked.
Arrange the salmon skin-down in the middle of the baking pan.
Divide the buttery shallot and garlic over the fish.
Flavor further with salt, dried basil, pepper, and then lastly, add the fresh rosemary sprigs on top.
That's it.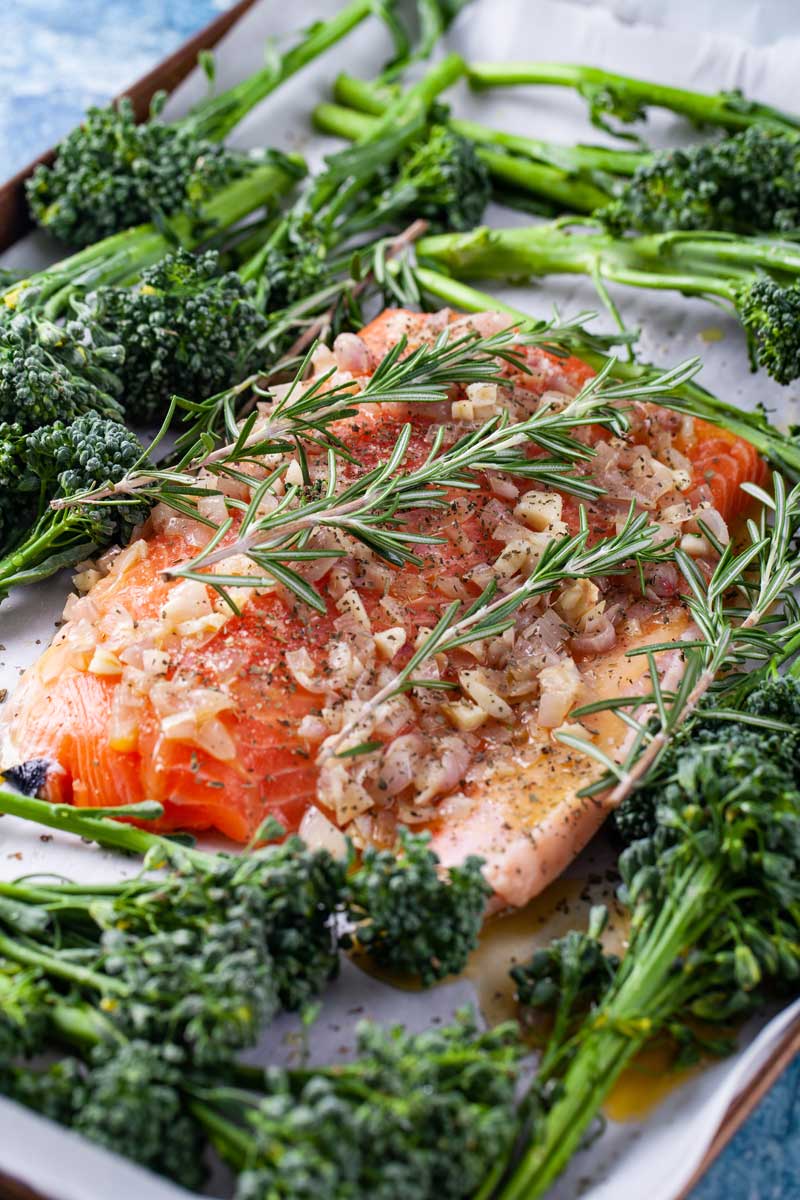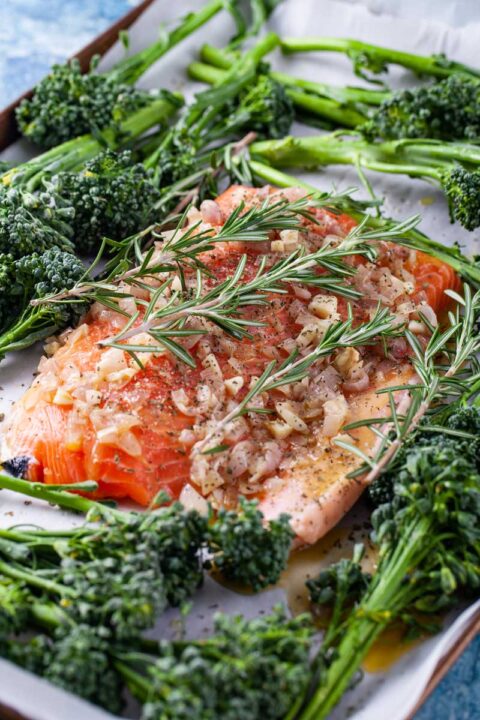 How to prep the baby broccolini
This vegetable, similar looking to broccoli, has more tender stalks and smaller florets. And thus becomes nice and tender with crispy edges in under 20 minutes, making it an ideal vegetable to bake together with a salmon fillet.
Also, their mildly sweet flavor compliments this fatty fish.
So here is how to prep broccolini.
I trim the stalks—just about 1 to 2 inches from the stem ends.
Pat dry baby broccoli after washing. It helps with getting those florets nice and crispy during baking.
Cut large pieces into half to keep them fairly similar in size.
Arrange the baby broccoli around the prepared salmon fillet on the baking pan.
Drizzle olive oil on top—ensure all pieces are coated.
Season with salt and pepper. You can even drizzle a few pinches of dried basil as well (optional.)
Now the dish is ready to go into the oven.
The oven temperature
I like to bake my salmon fillet in 375 degrees preheated oven and am always careful not to overcook it. I have found this to be the ideal temperature for one and a half to two pounds of salmon.
Maybe smaller and individual salmon pieces can withstand higher temperatures, but anything above 375 can easily dry out a large fillet piece as called for in this recipe, if not careful.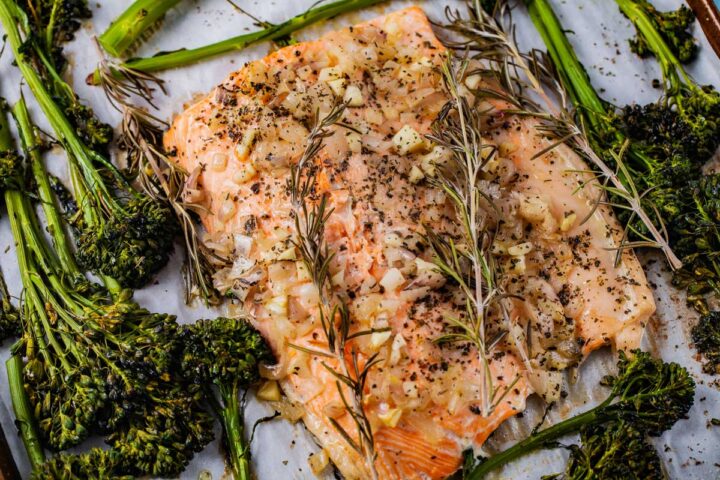 How to tell when baked salmon is done
The consensus is to bake between 4 to 6 minutes per half-inch of thickness. But I think a lot also depends on the oven temperature you use. I usually end up baking my 2-pound of salmon fillet anywhere from 15 to 20 minutes, depending on the thickness, at 375 degrees. And that always works for me.
I am looking for a baked salmon that's cooked all the way through without ending up dry. So, I always check after 15 minutes by poking a fork through the salmon's thickest part and twist it a bit. It should have a pinkish white color on the outside, yet flaky and translucent pink inside.
If the fork twist reveals slightly dark pinkish flesh, it's still raw, and I keep it in the oven for another 5 minutes.
Other side dish recipe ideas
This healthy salmon dish with baby broccoli is already enough to serve as a nourishing family dinner. But if you want to add additional side dishes or offer more choices, then consider making my Jaimacan curried oven-baked potatoes. They can go into the oven a little earlier than the salmon and also bake at 375 oven temperature.
Other great options are: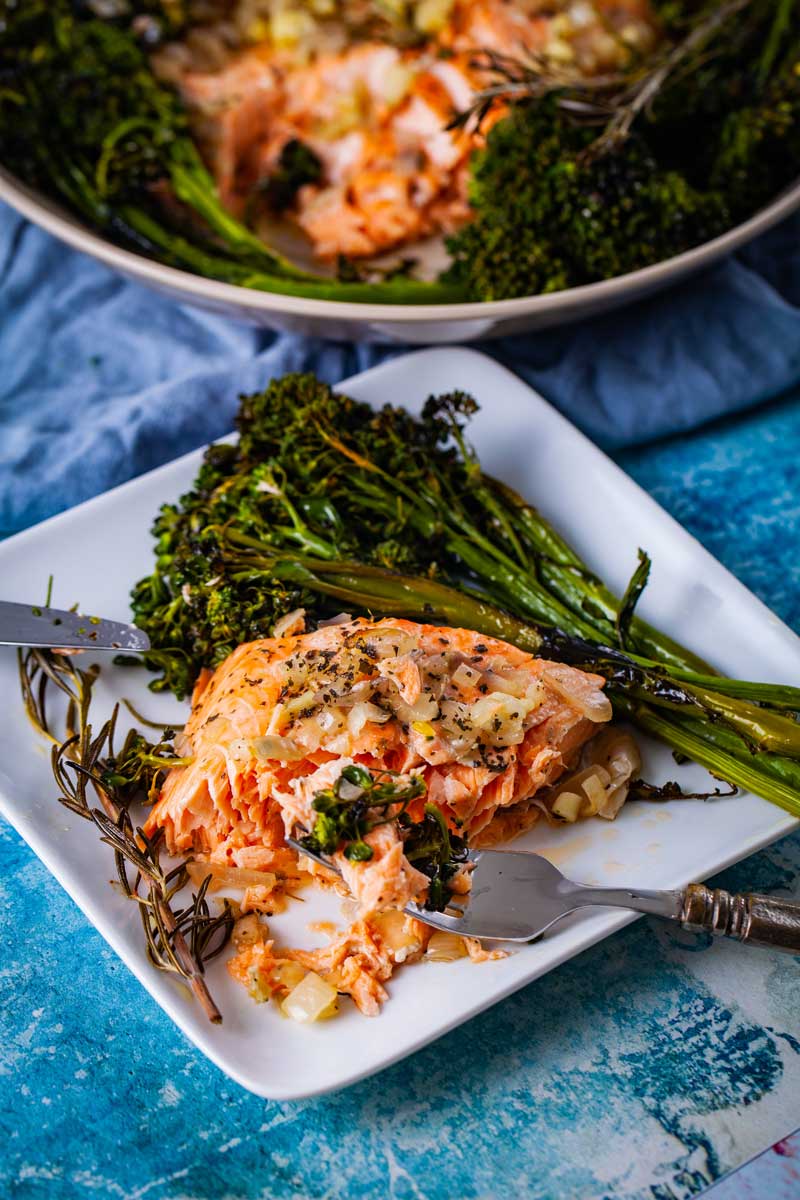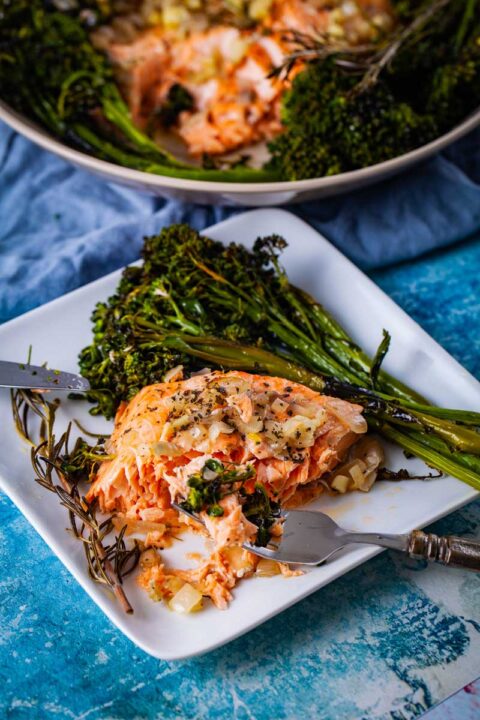 Ideas for leftovers and Reheating
Baked salmon stores well in the fridge for up to 2 days. And one of my favorite things to do with leftover salmon is to toss it in a large green salad. Try my Kale salmon salad with Mozzarella cheese—and yes, chopped cold broccolini can be added in there as well.
Other favorite ways are tossing the leftovers into scrambled eggs or mixing them into vegetable pasta.
You can also reheat the leftovers over the stove.
Place a skillet over low heat;
Add a bit of olive oil;
Then add the leftovers;
And cover the dish.
Stay with it and occasionally stir if you have crumbled your salmon into smaller pieces.
Warming up the leftovers at a low temperature ensures the salmon won't dry out.
A few more notes
When serving, sprinkle with some extra freshly ground pepper, or add a squeeze of fresh lemon, if preferred.
Note that some people like their salmon a bit more silky medium in the center. If that's you, check for your preferred doneness a little earlier than suggested.
Keep this recipe on hand when you are in the mood for baked salmon. It's nourishing and makes you feel full yet light and happy!
Enjoy!
Sharing is caring, so don't forget to PIN IT! Always love to hear if you tried out this recipe and if it worked for you. Don't forget to subscribe to my Monthly Newsletter!
And if you make it, make sure to tag your photos with #mychefsapron on Instagram so that I can see and share your creations!
📖 Recipe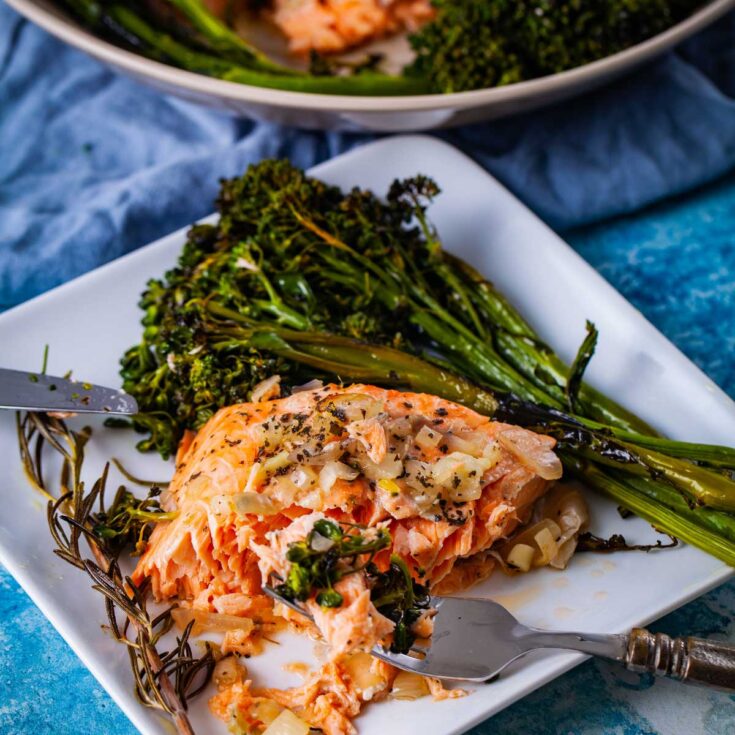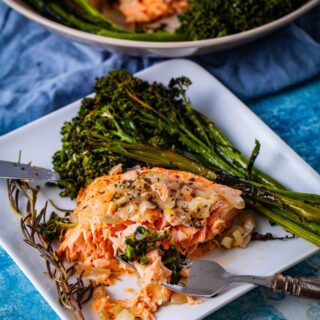 Buttery Baked Salmon with Broccolini
Mariska Ramondino
An easy yet super delicious and healthy baked salmon recipe that gets you dinner ready in no time.
Ingredients
½

cup

real butter

3

cloves

garlic

finely chopped

1

shallot

finely chopped (about ½ cup chopped shallot)

1 ½ - 2

pounds

wild salmon fillet

½

teaspoon

sea salt

plus more to taste

1

teaspoon

dried Basil

Freshly ground black pepper

1

pound

sweet baby broccoli or broccolini

washed and thoroughly pat-dried with a paper towel.

2 - 3

tablespoons

olive oil

2 - 3

sprigs

fresh rosemary
Instructions
Preheat oven to 375 degrees.

Cover a large baking sheet with parchment paper, set aside.

Place a small skillet over medium heat and melt the butter.

Toss in the garlic and onions. Cook and stir for about 30 seconds to release their aroma. Remove from the stove, reserve.

With a paper towel, pat-dry the salmon fillet on both sides.

Sprinkle a pinch of salt on the skin of the salmon fillet.

Then place the fish in the middle of the prepared baking sheet, skin-side down.

Pour the reserved melted butter and onions equally over the salmon fillet.

Season the salmon with half a teaspoon of salt, dried Basil, and freshly ground pepper to taste.

Arrange the baby broccoli around the salmon.

Pour olive oil equally over the broccoli and season with salt and pepper to taste.

Arrange the rosemary sprigs on top and around the salmon.

Place the baking sheet in the center of the oven. Bake for 15 to 20 minutes (depending on the thickness of the salmon) or until the salmon is cooked through. Check at 15 minutes for the desired doneness by poking a fork in the thickest part of the salmon. The fish should be flaky but still, have some translucency but NOT raw in the middle.
Notes
Baby broccoli: after 15 to 20 minutes of baking time, the baby broccoli is ready as well. The florets are slightly crispy and the stems tender.
Add your own private notes
Whenever you come back to this recipe, you'll be able to see your notes.
Nutrition (% Daily value)
Calories:
977
kcal
(49%)
Carbohydrates:
10
g
(3%)
Protein:
83
g
(166%)
Fat:
66
g
(102%)
Saturated Fat:
21
g
(131%)
Polyunsaturated Fat:
13
g
Monounsaturated Fat:
27
g
Trans Fat:
1
g
Cholesterol:
279
mg
(93%)
Sodium:
683
mg
(30%)
Potassium:
1989
mg
(57%)
Fiber:
2
g
(8%)
Sugar:
3
g
(3%)
Vitamin A:
2875
IU
(58%)
Vitamin C:
105
mg
(127%)
Calcium:
147
mg
(15%)
Iron:
5
mg
(28%)
Disclaimer: This nutritional data is calculated using third party tools and is only intended as a reference.
This post was originally published in January 2018 and has since been updated with new pictures and new information.