Treat yourself or your guests with this heavenly light and creamy chocolate coffee mousse recipe—an easy-to-make dessert with only 5 ingredients that looks and tastes luxurious.
Every spoon gives you a delicious dark chocolate flavor with sweet coffee maple undertones—perfect for small dinner parties, date nights, or anytime you want to satisfy your chocolate cravings.
This coffee mousse is made without gelatin or cream. Instead, I'm using only egg whites to make its texture light and fluffy.
And depending on the choice of dark chocolate or sweetener, you can easily make this homemade mousse dairy-free, gluten-free and Keto-friendly.
What can I say, a dessert that combines dark chocolate with coffee and sweetened with only maple syrup? Yep, my kind of treat.
This easy chocolate coffee mousse recipe is incredibly light yet also deliciously creamy. And in no time, with only a few ingredients, you have a fancy sweet that only requires some chilling.
Maybe it is one of the fastest mousses you'll ever make. But for ten minutes, it does require your undevoted attention.
So, let's dig in and discuss ingredients and some key steps to make this healthy and easy chocolate dessert to impress.
What's in this chocolate coffee mousse dessert—Ingredients
There are only four components to this dish, with dark chocolate as one of the base ingredients—which also helps the mousse set firm.
So no gelatin, cream, or any other thickeners are needed here. It's an egg white chocolate mousse only.
Berries are the fifth ingredient, and although only used for garnish, I find them a must to take this chocolate and coffee dessert to the next level.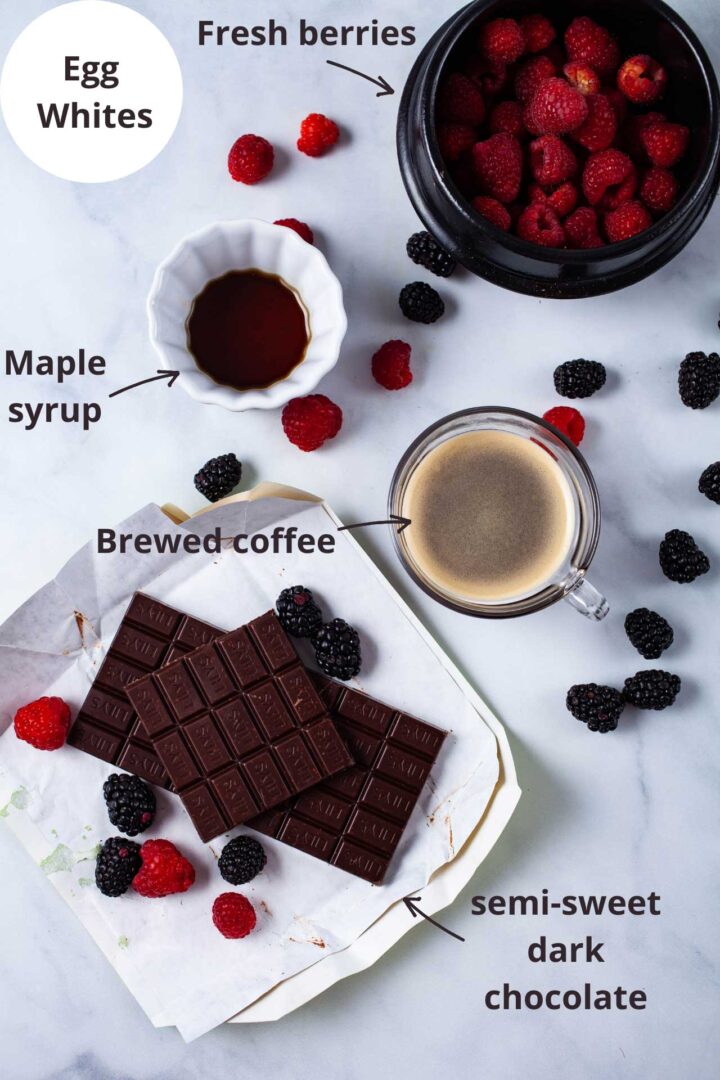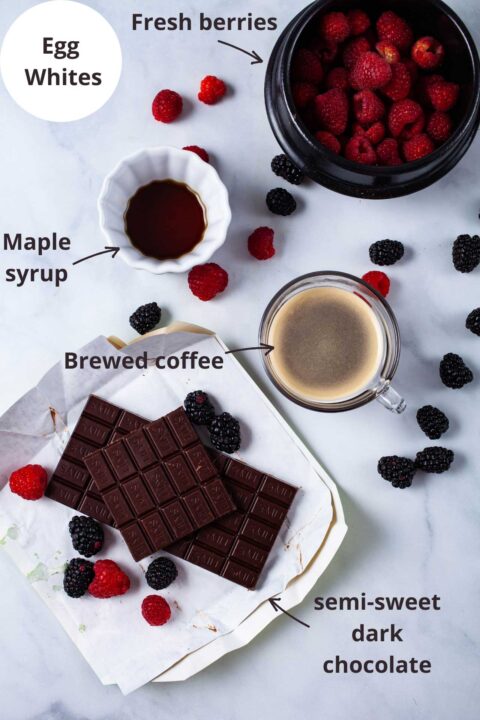 Dark Chocolate
Pick a good quality dark chocolate with high levels of cocoa—anywhere from 70 to 80%.
If you are a sweet chocolate lover, go for 56% instead. But know that there will be plenty of sweetness by adding the maple syrup.
Choose unflavored chocolate bars, unless, of course, you want to change it up.
Flavored chocolate will slightly change the taste of this mousse.
But if you like to experiment, here are some flavors that work well with coffee: almond, hazelnut, vanilla, and mint-flavored chocolate—my favorite.
To keep it dairy-free and low carb or keto-friendly, choose a chocolate brand that uses cocoa butter and no added sugar—I'm suggesting some of my favorites in the recipe notes.
Egg whites
The recipe calls for egg whites at room temperature, which means, remove the eggs from the fridge and let them sit on the kitchen counter for about 30 minutes before using them— it helps with beating egg whites properly to stiff peaks.
You can use carton egg whites versus shelled.
Separating the egg whites from yolks? You can store the yolks in a small airtight container for up to two days in the fridge and easily incorporate them into an omelet—work the egg yolks into some plant milk as the base for a lighter egg dish.
Maple Syrup
One tablespoon is more than enough to add that touch of extra sweetness and caramelized undertones.
If you want to keep it low carb or Keto-friendly, replace it with a maple syrup alternative (see recipe notes).
Brewed coffee
Pick your favored coffee bean—you know, the one you drink regularly.
And if you love vanilla or a hazelnut-flavored cup of Joe, then go ahead—it works great!
Half a cup will give you a decent coffee flavor, but you can tone it down to about three tablespoons for a slight hint of coffee.
Fresh or frozen raspberries, blackberries
This fruit is just for garnish, and I like to add extra chocolate shavings.
Sweet cherries, almond slices (if no nut allergies), strawberries are a few other options that you can use to dress up mini mousse cups and

pairs well with chocolate.
How to make this chocolate dessert a success—a few tips
How to melt the chocolate-coffee mix
Place the chocolate in a small pan over low heat. When the chocolate starts melting, immediately pour in the maple syrup and the coffee.
Continue to melt your chocolate while stirring the ingredients until everything is well combined, and don't let it burn—you got to stay with it to get that smooth, glowy paste infused with coffee and maple syrup.
There is no need to cool the chocolate-coffee mixture completely. Instead, I let it sit off the stove while tending the egg whites.
Beating the egg whites
Beat your egg whites until stiff, meaning until peaks stand straight up when you lift your beater from the mixture (about 5 minutes on medium speed).
It is super easy when you use a stand mixer or electric hand mixer. However, I have whisked it by hand before—in case you want to test your arm strength, go for it.
The key to a stable white foam with beautiful peaks is to use either a glass or metal bowl and wipe it thoroughly clean first. Trust me, any dust, wet, or fatty particles in it will prevent the egg whites from stiffening—I have learned the hard way.
Combining the melted chocolate mixture with the egg whites
When the white foam is ready, immediately combine it with the chocolate-coffee mixture.
BUT, and this is important, start gently by folding small amounts of the chocolate mixture into the beaten egg whites with a spatula. It will give the foam the proper time to temper and adjust to the chocolate base.
Then to get a uniform and beautiful brown mix, I usually use a regular (hand) whisk—never use an electric mixer at this stage—to gently blend everything.
Don't overmix here and work fast yet smoothly because you don't want the foam to deflate too much (it is the only aerator in this recipe that gives this mouse its airy texture.)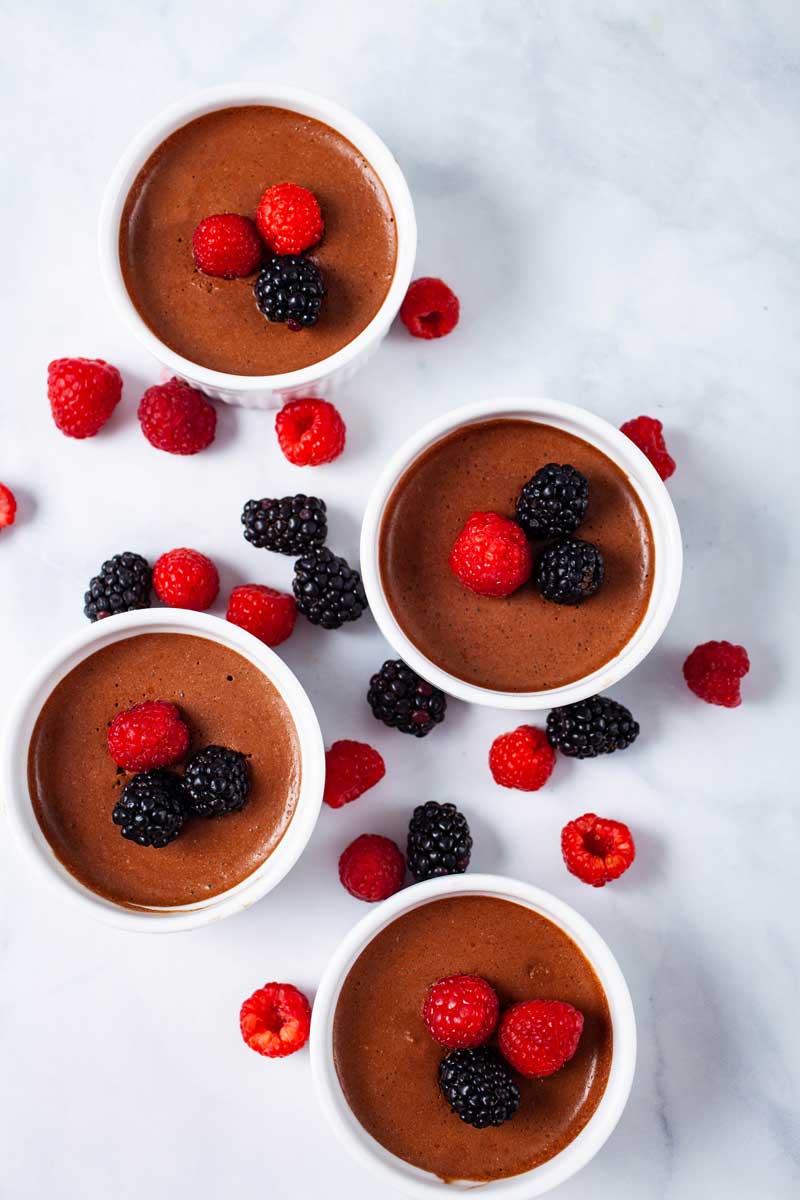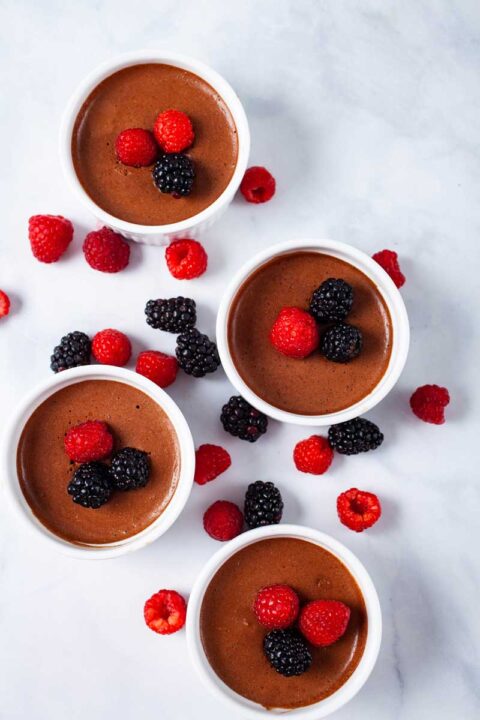 How to best serve this chocolate mousse
I don't want to stifle your imagination. This dessert will taste good no matter how you serve it.

You could even use this recipe to layer it on your favorite cooled cupcakes or as a last-minute add-on to dress up cakes.

But my ideal way is using individual mini cups or bowls because they look gorgeously cute, and this mousse is a delicious dessert on its own.

Ensure that you portion the mousse into your desired serving dishes as soon as it is made and before its set.

It will be runny enough to do so with a small spoon, or you can use a pastry bag to simplify things (not necessary).

Then place it in the fridge to chill.

You can garnish before serving.
How long does the mousse take to set in the fridge
It only takes about 30 minutes to one hour, but I always let it cool for a bit longer—about two hours to obtain a beautiful light and fluffy texture.
If you want to prepare this the day before your event, let it sit overnight for a do-ahead treat.
How long can you keep mousse in the fridge
It will keep well for a few days—up to 4 days max.
I have made this chocolate coffee mousse numerous times now—for fancy occasions or low-key get-togethers.
And it is always a dessert that doesn't disappoint. So now it is your turn to make this mousse recipe and make it your own. Enjoy!
You might also like
Have questions? Comment below or message me. Also, don't forget to stay connected by subscribing to my monthly newsletter.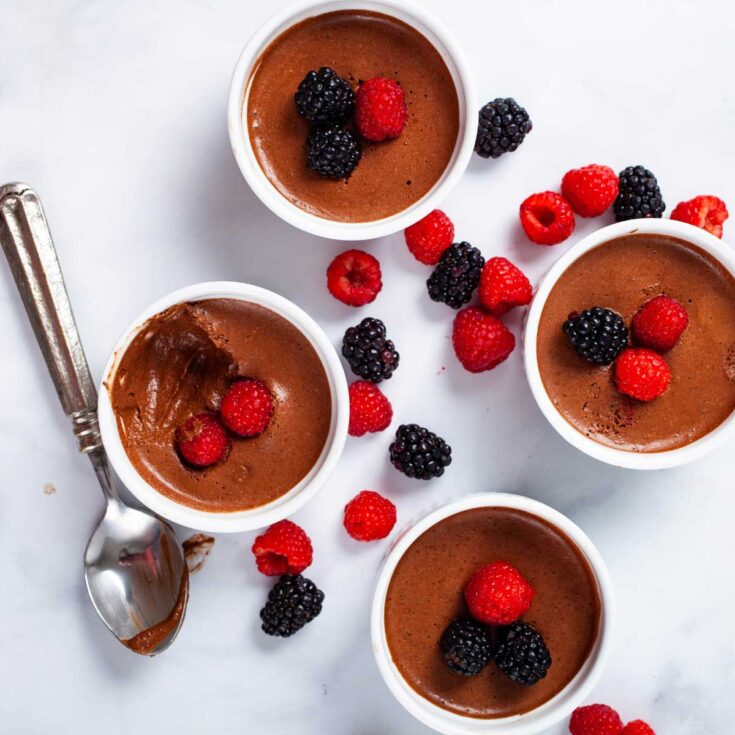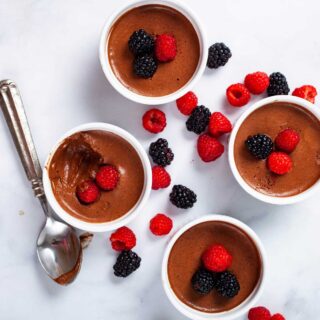 5-Ingredient Easy Chocolate Coffee Mousse
Mariska Ramondino
Make this easy chocolate mousse recipe with only 5 ingredients. This beautiful dessert is a heavenly creamy and a mouthwatering chocolate treat with that hint of coffee flavor. Yet it is also dairy-free and gluten-free—what's not to love!
Ingredients
1

cup

dark 56% to 80% semi-sweet chocolate, broken into pieces, at room temperature, plus extra for garnish

155 grams

1

tablespoon

maple syrup

or alternative to keep it Keto-friendly

½

cup

brewed coffee

90ml

4

egg whites at room temperature

Fresh or frozen raspberries/blackberries to garnish
Instructions
Place a small saucepan over very low heat and add the chocolate. When the chocolate starts melting, pour in the maple syrup and the coffee. Stir continuously until the ingredients are well combined and all the chocolate is completely melted—you should have a shiny dark chocolate paste. Remove from heat; reserve.

Using a stand mixer or electric hand mixer on medium to high speed, beat the egg whites until stiff peaks form (4 to 5 minutes).

Use a (rubber) spatula to scrape the chocolate mixture from the pan and add it to the beaten egg whites in thirds. At first, gently fold in the mix for a few seconds, then use a regular whisk and gently stir until everything is thoroughly blended and you have a beautiful brown mousse. Note: don't overmix here. It is important to work quickly but not vigorously, so the peaked egg whites won't deflate too much.

Divide the mousse evenly into 4 small cups or serving bowl.

Chill in the refrigerator for at least 30 minutes (I usually let it sit for 2 hours, or you can let it sit overnight.)

When ready to serve, garnish with a raspberry and extra chocolate shavings.
Notes
Additional Time: The additional 30 minutes is to allow for the mousse to chill in the fridge! The structure of the mousse will be best when chilled for at least 2 hours.
Equipment: I use the KitchenAid stand mixer. Other great and affordable choices are the COSTWAY stand mixer or the KitchenAid Power hand mixer. No matter the equipment you use, always thoroughly clean and dry your bowl beaters and spatula because any amount of grease can keep your whites from beating properly to stiff peaks.
Serving size: for dinner parties, you can also offer it as a mini treat in mini cups (½ cup per person) that will serve 8.
Chocolate: I love Sea Salt dark chocolate by Lily's (it's also Keto-friendly). Other dairy-free chocolate options are Hu or Theo chocolate bars, to name a few of my favorites.
Maple syrup alternative: if you like to keep it low carb, try a maple-flavored alternative syrup such as the one from Lakanto or Wholesome Yum.
Add your own private notes
Whenever you come back to this recipe, you'll be able to see your notes.
Nutrition (% Daily value)
Serving:
1
cup
Calories:
290
kcal
(15%)
Carbohydrates:
27
g
(9%)
Protein:
6
g
(12%)
Fat:
17
g
(26%)
Saturated Fat:
10
g
(63%)
Polyunsaturated Fat:
1
g
Monounsaturated Fat:
5
g
Trans Fat:
0.04
g
Cholesterol:
3
mg
(1%)
Sodium:
55
mg
(2%)
Potassium:
330
mg
(9%)
Fiber:
4
g
(17%)
Sugar:
20
g
(22%)
Vitamin A:
23
IU
Calcium:
36
mg
(4%)
Iron:
3
mg
(17%)
Disclaimer: This nutritional data is calculated using third party tools and is only intended as a reference.