Are you in a raspberry kind of mood? This creamy smoothie bowl, layered with crunchy sweet oats will spice up your breakfast. You will love the smooth texture of the berry-coconut mixture, combined with the crispy caramel-like oats.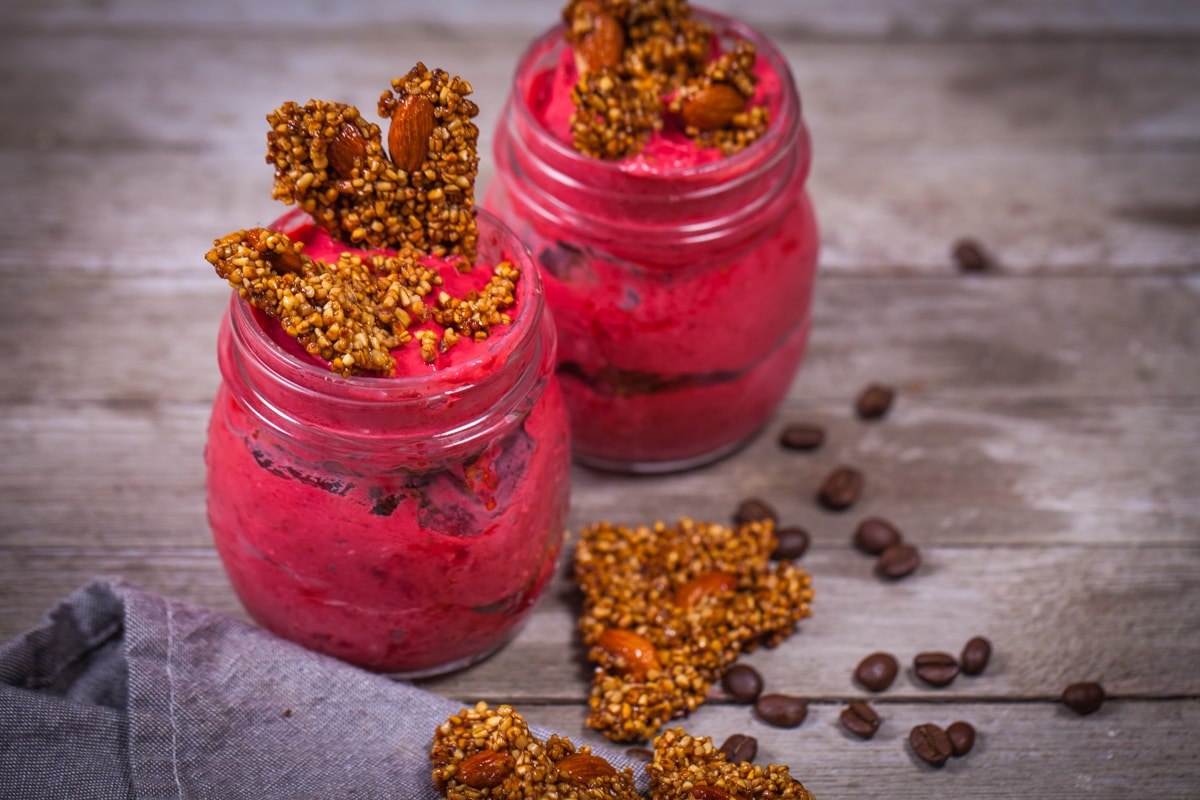 The thick smoothie itself is made with frozen raspberries and comes together in less than 5 minutes. You can opt to top it off with your favorite nuts, seeds, coconut shreds, another type of fruit like bananas. A healthy breakfast can't get any easier than this! But I often compliment it with homemade toasted oats (gluten-free steel cut oats from Bob's Redmill.) I like to prepare the oat mixture in advance and store it in a brown bag or jar. It is handy to have in your pantry for a quick snack or use it as a topping on any other smoothies or desserts. I use (coconut) butter, half a cup of raw agave and almonds to make a nutty and caramel-like crunchy layer of oats. I recommend playing around with the desired amount of sweetness. Maybe use less agave at first and adjust to your taste, maple syrup works well too. If you use a dry sweetener like date sugar, coconut sugar or stevia, the oats will brown faster when toasting them over the stove, so stay with it and frequently stir to avoid burning them.
I love making this recipe for breakfast, and my daughter often enjoys the toasted oats as an after-school snack.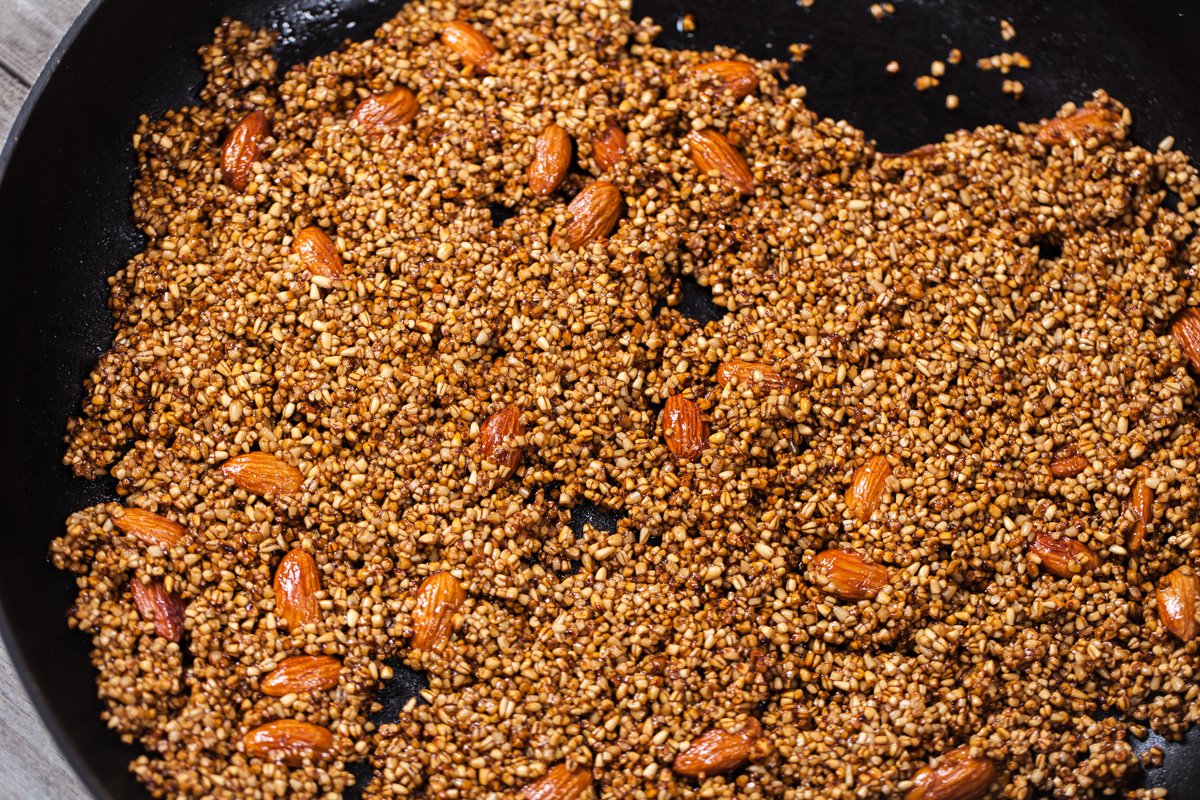 The raspberries add a nice subtle sourness to the smoothie that combines well with the sweeter oats. But strawberries are another fruit that works well in this recipe—it will make it naturally sweeter.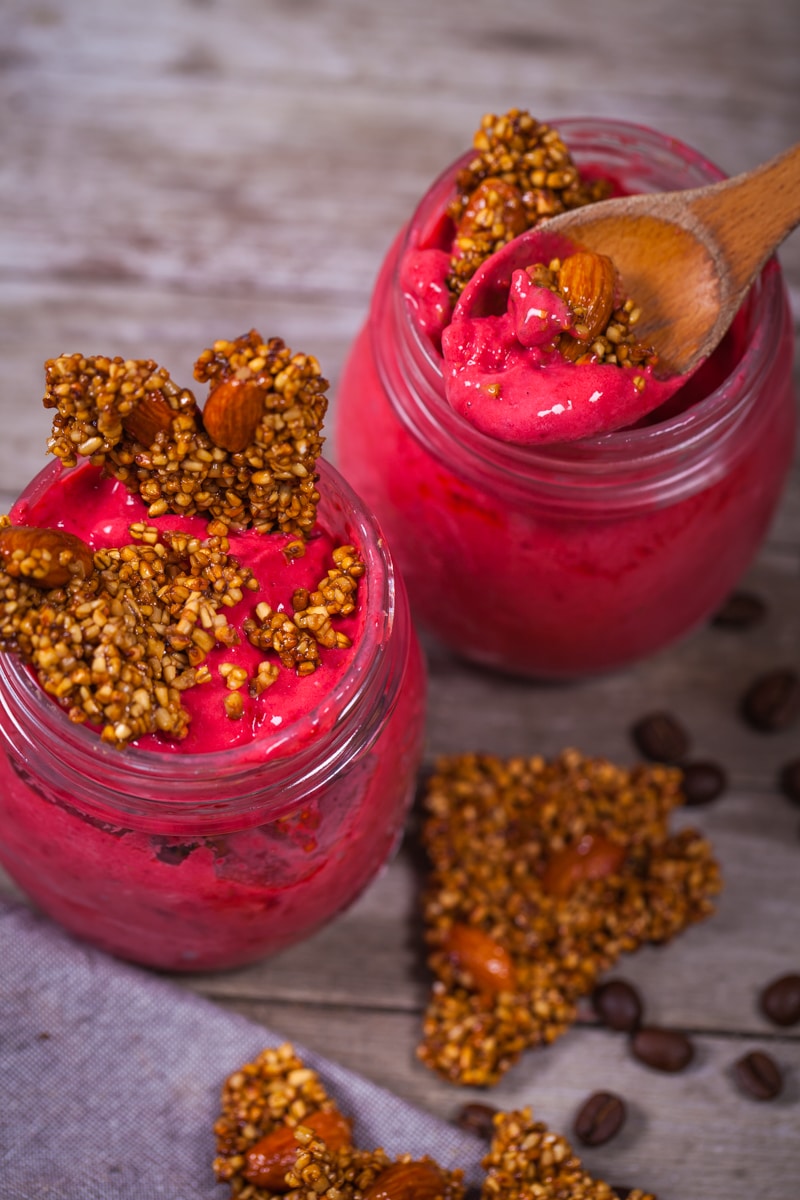 Don't forget to share with me your version of this breakfast smoothie
@mychefsapron
. I love to see it!
Enjoy!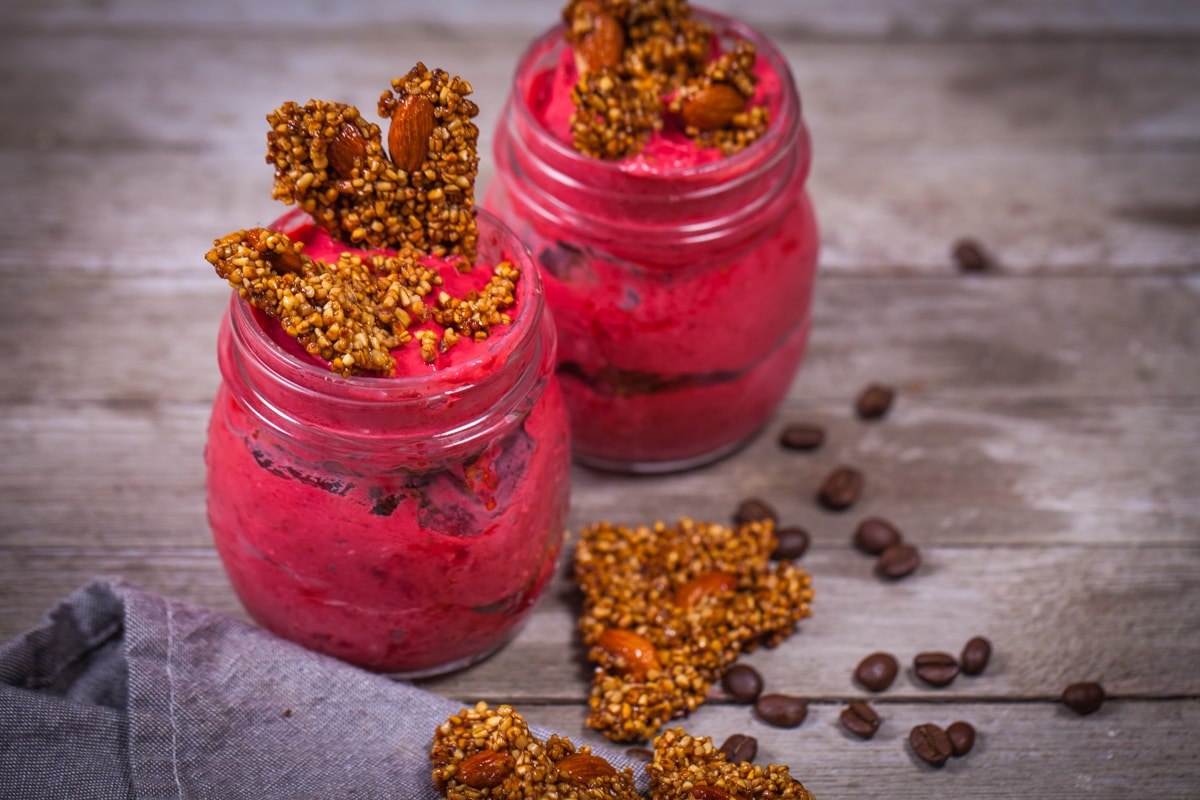 A RASPBERRY-COCONUT BREAKFAST LAYERED WITH TOASTED OATS
A delicious gluten-free, vegan, and healthy breakfast recipe with raspberries and crunchy toasted oats. It is not only made in not time, but it also is incredibly satisfying. So good that it is a healthy dessert for breakfast!
Ingredients
HOW TO MAKE A RASPBERRY SMOOTHIE
1 (10 ounces/284 grams ) bag of frozen raspberries (about 3 cups)
1 cup of coconut milk
2 dates, pitted (optional)
HOW TO MAKE TOASTED OATS
4 tablespoons coconut butter or real butter
2 cups steel-cut oats (gluten-free)
⅓ cup whole almonds
½ cup raw agave or maple syrup
Instructions
MAKE THE RASPBERRY SMOOTHIE
Place all the ingredients in a high-speed blender (like a Vitamix). Blend on high speed into a smoothie.
MAKE TOASTED OATS
Melt the butter in a large skillet over medium heat. Add the oats and the almonds. Stir into the butter. Evenly divide the agave over the oats. Stir occasionally for about 10 minutes or until the oats are brown and crispy.
Turn off the stove but leave the oats mixture in the pan. Let sit for 5 to 10 minutes to dry and cool. Break the large oat cookie into smaller pieces.
HOW TO LAYER THE INGREDIENTS
Take small mason jars. Add first a layer of the raspberry liquid, followed by crunchy oats. Continue layering until full. Top off with extra oats.