This is my favorite homemade crunchy granola recipe with oats, chewy jumbo raisins, sweet apples, healthy seeds, warm cinnamon powder, and coconut shreds. It's gluten-free, refined sugar-free, vegan, and so easy to make. Plus, you can make it nut-free for those with allergies—perfect for breakfast, as a snack straight out of hand, or even as a dessert topping!
Jump to Ingredients, Notes, Substitutions | How to Make Granola Crunchy | Make Granola Clusters | How to Enjoy Granola| How to Store Homemade Granola
I don't often prepare home-cooked food ahead of time. Well, that's to say, I know in advance what I will make during the week, sort of—as most of my meals come together in my mind while shopping for food on the weekends. And I do sometimes rely on leftovers on busier days. But you won't see me chopping and cooking often on Saturday or Sundays to have my fridge crammed with pre-cooked meals.
Oh, I totally see the benefit of it, especially when your weekday schedule is hectic. But most of my weekend activities are filled with doing something outside in nature and catching up on fresh air I often so dearly miss during the week.
Breakfast, however, is the exception, and that's where this homemade granola recipe fits in. There is nothing better—don't mind the exaggeration—than being able to toast pre-made waffles, having overnight chia seed pudding at the ready, or crunchy granola stocked away in glass canisters so that a comforting breakfast is ready in less than 10 minutes.
I often make this crunchy granola recipe on a lazy Sunday afternoon, so I have this easy breakfast option for the coming week or two. Although it also doubles as a snack and, I'll admit, it often never makes it past day seven.
In good conscience, I can't blame only other house members—although a certain someone requires me to find new hiding places in the pantry, and I am running out. But I'm somewhat equally guilty. It's hard to resist homemade baked granola fresh from the oven because it smells fantastic—dangerously so. Once cooled, I suggest storing it immediately away; otherwise, everyone keeps snacking on it.
This recipe is basic enough to add some of your pantry mix-ins and change it up. But I highly recommend giving this recipe a try first. Because I think you are going to love it as much as my family does.
It's perfectly crunchy, and

you can make granola clusters if you want to;

Deliciously flavored with healthy ingredients;

Gluten-free, vegan-friendly, and nut-free for those with allergies;

It's only slightly sweetened with maple syrup (you can use ⅓ cup less if preferred);

And the jumbo raisins add an extra chewy texture that is irresistible.
So, let's look at the ingredients.
Ingredients—Notes

—Substitutions
Old-fashioned rolled oats: I always use certified gluten-free oats. But if you are tolerant to gluten, you can use, of course, regular rolled oats.
One apple: I usually go for a honey crisp. Once baked, this fruit adds a delicious flavor and natural sweetness. And the soft texture nicely contrasts the crunchiness of the oats.
Unhulled sesame seeds: this is optional, but if you have them, toss them in. They have a sweet buttery flavor and add fiber, proteins, and healthy fatty acids.
Large coconut shreds: large flakes become brown, crispy, and don't burn quickly. They also add a naturally sweet flavor.
Jumbo raisins: this is a must-have ingredient for me. Large raisins swell in the oven, but once cooled, become deliciously chewy in texture—no need to soak them first. I use the jumbo raisins from Trader Joe's. Another great option is Turkish apricots—I cut the large ones in half—because they become deliciously munchy, similar to the raisins.
Cinnamon powder: adds a warm and sweet-spicy flavor that works well with the apples too.
Salt: a pinch or two is enough to contrast the natural sweetness of the granola.
Melted coconut oil: compliments the coconut flakes and makes the oats beautifully crunchy. It also prevents the oats and dried fruits from burning.
Maple syrup: I use one cup to add some natural sweetness, but you can opt for ¾ of a cup instead.
Unsweetened and creamy sunflower butter: adds a delicate taste of creamy roasted sunflowers. It's delicious, and it doesn't overpower the rest of the flavors like peanut butter can do. But feel free to swap this with creamy almond butter (if you have no nut allergies.)
How to make granola crunchy
Coat all ingredients equally with coconut oil and nut or seed butter. It ensures that the oats, seeds, and coconut doesn't burn before the granola batch has a chance to bake properly.
Let the mixture bake at 350° for 35 minutes—check and stir halfway through to help it brown evenly, that is, if you don't want large clusters per se. After testing this numerous times, I have noticed that 35 minutes is the perfect baking time to get the desired texture. Don't go for too much longer—just until it's beautifully golden on top—even if the oats still feel somewhat soft. They will crisp up and brown more as they cool.
Let the granola cool completely at room temperature to further harden and get deliciously crunchy. This is a must. You can even leave it covered on the pan overnight, but not necessary.
Like it extra crunchy? Store in an airtight container in the fridge. It preserves the granola's crunchiness. When ready to serve, use a spoon to break it up into smaller pieces.
Make granola clusters
This homemade granola recipe can quickly turn into a snack when turning them into big clumps that you can eat straight out of hand like a cookie. Here are a few things I do to get it that way.
Don't give the oats any space on the rimmed and paper-lined baking sheet. The coconut oil and maple syrup already make everything sticky. So all you have to do is press the mixture down into one thin yet compact layer.
Make sure to press the oat mixture down into a thin and even layer so everything can brown uniformly. If some parts on the baking sheet are unusually thicker than others, the oats won't brown simultaneously, leaving some oats softer than others.
Bake the granola without stirring until beautifully golden on top. Thirty-five minutes is again all you need, at least with my oven. The granola will stick together and beautifully clump.
Be sure to let it completely cool before breaking up the layer of granola into smaller clumps. This is a key step, as the granola further hardens once out of the oven, and it will help the ingredients stick together.
Although not necessary, quick-cooking oats lend themselves really well to make those large granola clusters.
How to enjoy granola
for breakfast
Our favorite way is mixing the granola in some plant milk like hazelnut or hemp milk and add chopped bananas, berries, extra nuts, or seeds.

I also love it mixed in chia seed pudding with extra fruits in the morning. It's delicious.
Also, witch it up by making my healthy plantain for breakfast, topping the cooked fruit with this crunchy granola, nuts, seeds, and your favorite (cashew) yogurt. It's delicious, and everything is ready in 10 minutes.
As a snack
Straight out of the jar, of course.
Preferably with a hot cup of coffee or green tea
Or dunk it on top of sliced apples, or bananas covered with seed or almond butter.
As a crunchy dessert topping
These are just a few ideas!
Shelf Life
It stays fresh for one to two weeks when stored in an airtight container in the fridge or for up to 5 days at room temperature. But I would be surprised if it survives that long!
Enjoy, and also check out my healthy oatmeal cookies and my baked stuffed apples with Belgian raspberry beer also made with gluten-free oats.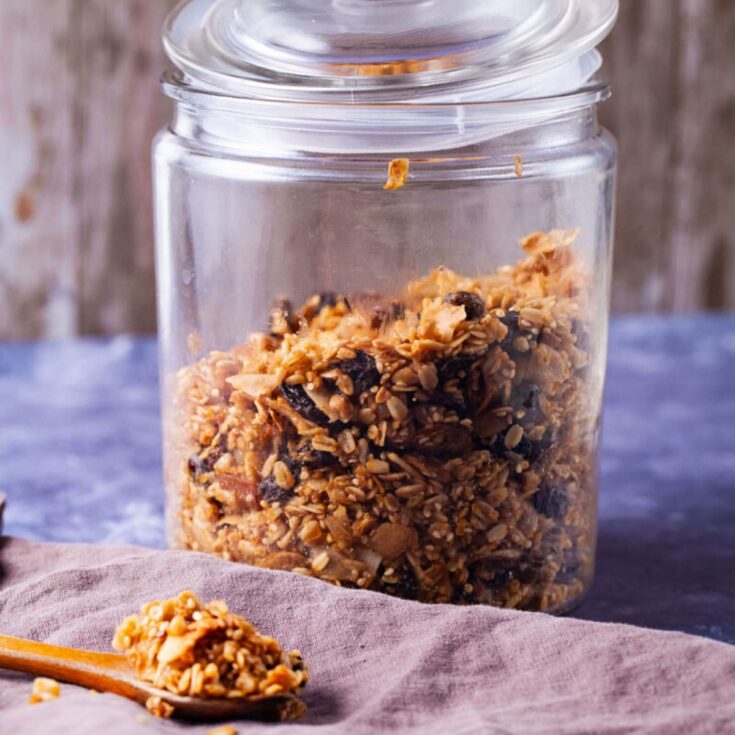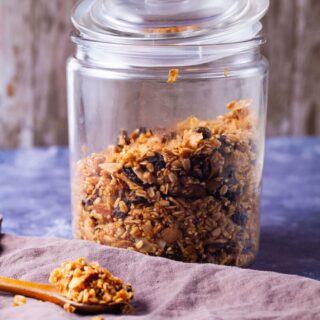 Homemade Crunchy Granola
Mariska Ramondino
This is my favorite homemade crunchy granola recipe with chewy jumbo raisins, apples, healthy seeds, cinnamon powder, and coconut shreds. It's delicious, gluten-free, vegan with tons of tasty ingredients—perfect for breakfast or as a snack or dessert topping!
Ingredients
3

cups

old-fashioned rolled oats

use certified gluten-free oats for gluten-free granola

1

apple

cored, peeled, and chopped

⅓

cup

sesame seeds

1

cup

jumbo raisins

or Turkish dried apricots, large ones cut in half

1

tablespoon

cinnamon powder

A generous pinch of salt

½

cup

coconut oil

melted

1

cup

maple syrup

½

cup

sunflower or almond butter
Instructions
Preheat the oven to 350°F/ 180 °C and line a large rimmed baking sheet with parchment paper.

Place the oats, apple, sesame seeds, coconut flakes, raisins, cinnamon powder, and salt in a large bowl. Stir until everything is well combined

Pour over the melted coconut oil or butter, maple syrup, and sunflower butter. Stir until all dry ingredients are well coated with the wet ingredients. Pour the granola onto your prepared pan and use a large spoon to spread it in an even layer.

Bake for 35 minutes until golden, stirring halfway through. Take out of the oven and allow it to cool. It will further crisp up.

If you want large chunks of granola clusters, spread the granola mixture evenly onto the parchment paper into one thin, compact layer with all the ingredients still sticking together. Then bake the granola without stirring for 35 minutes or until golden.

Store the granola in an airtight container in the fridge or pantry for up to one to 2 weeks.
Notes
RIMMED BAKING SHEET: I use an 11 inch by 17 baking pan. It's the perfect size to hold this amount of granola. Have to use a larger sheet? Then press the granola into an even layer, with as little space as possible between the grains (to allow some clusters to form.) RAISINS: jumbo raising swell up during baking, but once cooled, shrink back and become deliciously chewy. Only have small raisins? Then add them 15 minutes into the baking time (to avoid them from burning.)
Add your own private notes
Whenever you come back to this recipe, you'll be able to see your notes.
Nutrition (% Daily value)
Serving:
0.5
cup
Calories:
245
kcal
(12%)
Carbohydrates:
30
g
(10%)
Protein:
4
g
(8%)
Fat:
14
g
(22%)
Saturated Fat:
8
g
(50%)
Polyunsaturated Fat:
1
g
Monounsaturated Fat:
1
g
Sodium:
7
mg
Potassium:
193
mg
(6%)
Fiber:
3
g
(13%)
Sugar:
11
g
(12%)
Vitamin A:
10
IU
Vitamin C:
1
mg
(1%)
Calcium:
64
mg
(6%)
Iron:
2
mg
(11%)
Disclaimer: This nutritional data is calculated using third party tools and is only intended as a reference.