This hearty Italian red pasta sauce with cannellini beans contains nutritious ingredients that I scrambled together from the fridge and my pantry. But it's one of my family's favorite red pasta sauces. It is a quick and easy dinner recipe that you can enjoy with either (gluten-free) pasta, zucchini noodles, or deliciously soft boiled potatoes! Plus, it is vegan-friendly!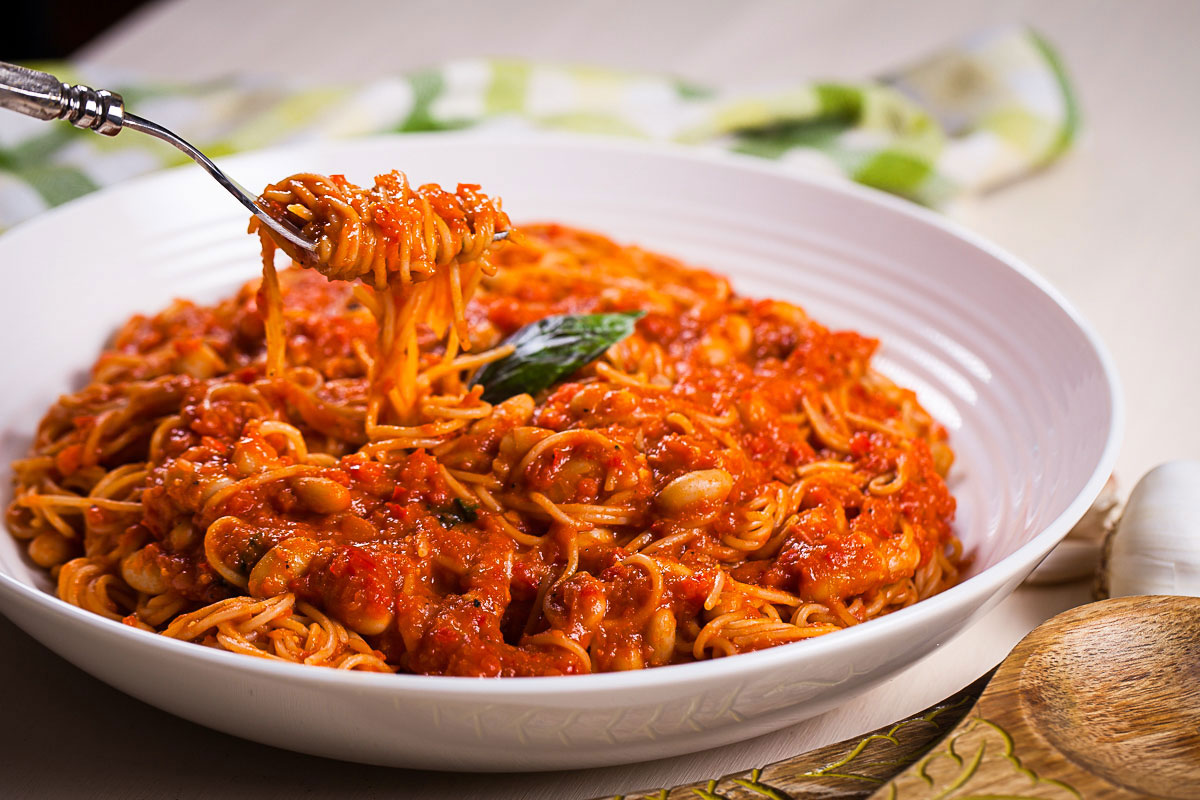 This nutritious and protein-rich Italian pasta sauce is hearty and incredibly satisfying. The recipe is simple, and everything comes together quickly in one large skillet—about 30 to 40 minutes. It is perfect for satisfying weeknight dinner meals. Most of the ingredients you probably already have in your pantry. But this recipe is versatile enough to either swap or leave out a few parts without compromising the rich Italian flavors of this sauce.
RED PASTA SAUCE—INGREDIENTS
Olive oil and garlic is a must
It is all about those first initial steps in a tasty tomato sauce recipe that allows the flavors to build up.
A good quality olive oil makes all the difference and adds a delicate flavor and richness to this vibrant red sauce
Let the garlic release its pleasant aroma in the olive oil for ten seconds before adding the rest of the veggies.
But don't allow it to get brown as it might give your sauce a bit of a sour taste afterward.
Red bell peppers, onions, and cayenne pepper
The vegetables are going to give this sauce an extra natural sweetness.
It beautifully contrasts with the spiciness of the cayenne pepper.
I highly recommend red bell peppers because they are not only sweeter but will give this dish that extra beautiful reddish color.
Soften the onions and bell peppers for at least 15 minutes in the tomatoes to break down their sweet and distinct taste.
When all the flavors come together, you season it based on taste, with salt, pepper, and cayenne pepper (optional).
If you have kids that don't like their food spicy, omit the cayenne pepper.
Sometimes I take out some pasta sauce at the end, for my daughter, and make the rest spicy with red chili peppers at the end—another option.

Best tomatoes for pasta sauce
If you ever been to Italy in summer and tried a homemade spaghetti sauce made with sun-warmed tomatoes freshly picked from the vine, then you know there is nothing else like it.
Those fruits are heavenly sweet, deliciously juicy, and incredibly aromatic.
But I am happy to tell you that there are some good quality brands out there that sell bottles or canned tomatoes that tastes pretty close to the real deal.
I recommend the sweetest and tender tomato and tomato pastes by Jovial or Bionaturae.
Whatever your choice of canned or bottled tomatoes, always check the ingredients. Preferably, you don't want anything added like spices, sugar, or salt, only tomatoes.
A thicker or thinner pasta sauce
If you prefer a creamy, thick tomato sauce, then use strained tomatoes.
Blend the tomato sauce with the cooked vegetables or puree with a hand-held mixer before adding the beans, Basil, and additional seasoning.
You will get that rich, creamy sauce with build-up flavors but without any vegetable chunks.
Otherwise, use diced or crushed tomatoes and omit the blending.
You will get a thinner sauce with a chunkier texture, such as in the picture below.
&
Fresh Basil Leaves
A couple of fresh basil leaves is all you need to enhance the aroma of this sauce.
To balance out the natural sweetness of the vegetables, add a tablespoon of dried oregano (optional.)
Cannellini Beans or White Beans
These protein-rich beans are filling and add great texture.
Always drain and rinse canned beans before combining it with the rest of the ingredients.
Otherwise, it makes the base of the sauce too watery.
Adding the beans, the Basil and little olive oil at the end for an extra 5 minutes makes this dish incredibly hearty.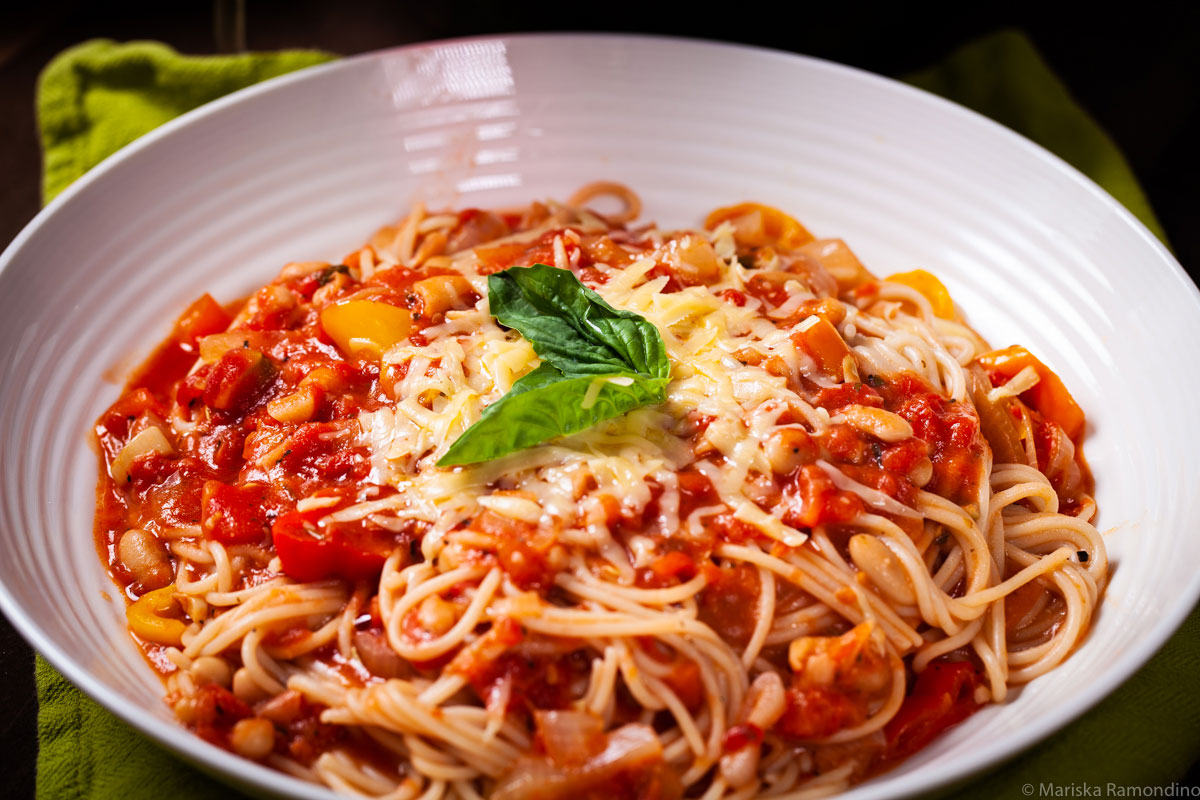 WAYS TO ENJOY THIS PASTA SAUCE
Pair it with (gluten-free) pasta
The amount of the sauce can quickly satisfy six people and is probably enough to serve with a 16 to 24-ounce package of cooked pasta.
So this recipe is perfect for larger families, or you can store the leftover sauce in the fridge for later in the week.
I prefer the thin spaghetti noodles with this sauce, but feel free to chose other shapes like a penne.
I love capellini noodles by Jovial and are an excellent choice for those who follow a gluten-free diet.
It has a great taste, and the noodles don't stick together if you separate them regularly with a fork during cooking.
I start boiling salted water to cook the pasta over high heat when the veggies are simmering in the tomatoes. That way, the noodles will be ready around the same time—give or take.
If the sauce is ready before the pasta, gently simmer it over the lowest heat setting, stirring frequently.
If preferred, serve with a little grated Parmesan cheese—if not vegan!
Pair it with vegetable noodles
This sauce tastes delicious when paired with vegetable noodles like raw spiralized zucchini topped with grated Parmesan (or vegan) cheese.
Pair it with potatoes
Yes, potatoes, either boiled or oven-baked and lightly seasoned with salt.
It even tastes great with baked sweet potatoes or a mix of the two.
Pair it with eggs (non-vegan)
You can use any leftover sauce to make a quick lunch.
Simmer one or two eggs in some tomato-bean base when reheating until set.
Then serve with your favorite green salad or toasted bread.
Pair it with codfish (non-vegan)
If you have enough leftovers, you can use the sauce to add intense Italian flavor to baked or sautéed cod. Simply delicious!
So many options and tasty reasons to make this hearty sauce that can serve as either lunch or dinner!
And if you are looking for more Italian-inspired dishes, then check also my traditional Italian meatballs recipe and my healthy vegetable pasta recipe. Enjoy!
Now go ahead and PIN this on your healthy meals board so you'll have this recipe on hand. If you have questions, leave it in the comments. Always love to hear from you!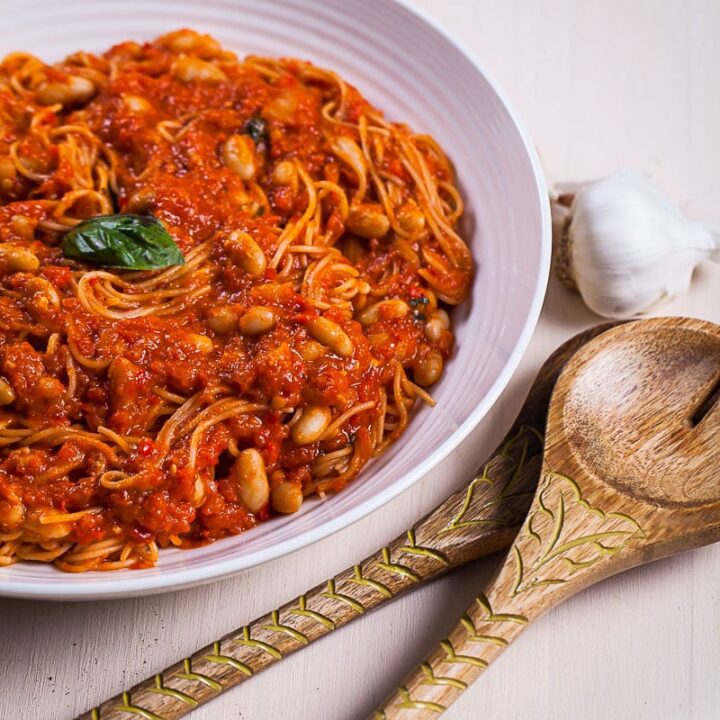 A SWEET AND SPICY RED PASTA SAUCE WITH CREAMY CANNELLINI BEANS
Yield:
6 SERVINGS OR 6 CUPS OF RED SAUCE
A nutritious and delicious homemade Italian tomato sauce that pairs well with (gluten-free) pasta, zucchini noodles, or soft boiled (sweet) potatoes! It's hearty, healthy and vegan-friendly!
Ingredients
2 tablespoons extra virgin olive oil, plus 2 teaspoons
3 large cloves garlic, chopped
2 large red bell peppers, cored and cut into strips (I keep the seeds)
1 large yellow onion, cut into very thin matchsticks
Salt and pepper
1 (24 ounces or 680 grams) can or bottle strained tomatoes, no salt added
Cayenne pepper (optional)
1 (13.4 ounces or 380 grams) can Cannellini beans, no salt added
5 to 6 large fresh basil leaves, teared
1 tablespoon dried oegano (optional)
Instructions
Warm two tablespoons of olive oil in a large skillet over medium heat. Add the garlic—cook and stir for about 10 seconds. Then add the bell peppers and the onion—season to taste with salt and pepper. Cook and stir for 5 minutes. Then add the strained tomatoes. (If you use bottled strained tomatoes, fill the emptied bottle with a splash of water. Reseal it, then shake it enough to loosen any remaining pureed tomatoes.) Pour into the skillet as well. Stir to combine—season to taste with salt, pepper, and cayenne pepper (optional). Let the sauce come to a simmer. Then reduce the heat to low and let the sauce gently simmer, covered, for 15 minutes or until the vegetables are soft. Stir occasionally.
Remove the skillet from the stove and allow to slightly cool. Transfer the sauce to a blender (or use a hand mixer) and puree it. Transfer the pureed sauce back into the same skillet and place over low heat. Add the beans, the basil leaves, and two teaspoons of olive oil. Cook and stir for 5 minutes to allow the flavors to come together.
Serve with capellini pasta, cooked al dente.

Notes
Make your dinner completely grain-free by swapping the pasta with zucchini noodles, or baked or soft boiled potatoes.
(Note: this post was initially published in May 2019. It has been updated to include new info and pictures).