These flourless chocolate-rich brownies will satisfy your sweet cravings. Sweetened with dried fruits only and baked with cocoa powder instead of flour, this healthy fudge brownie recipe is grain-free, sugar-free, nut-free, yet melts in your mouth like chocolate truffles.
When one of my fitness coach friends on Instagram asked for a healthy brownie recipe, I noticed that I never shared one on the blog. So, I think this one is long overdue. My go-to recipe for healthy brownies is incredibly easy to make, and it will satisfy your chocolate cravings guilt-free. It is a no-fuss homemade dessert and ready in less than 30 minutes with only seven ingredients. And because it contains no nuts, it is also an excellent school treat or to bring to potlucks. I always get extra hugs after school when I packed a piece in my daughter's lunchbox, what's not to love!
If you are a serious dark chocolate lover, then this healthy brownie recipe is for you. Each bite will give you an intense chocolate flavor, reminiscent of chocolate truffles with a dense, fudgy texture and deliciously moist.
HEALTHY PALEO BROWNIES:
These brownies are also super healthy because:
I use fiber-rich dates and dried apricots to sweeten this treat. The dried fruits will completely disappear in the gooey batter but will leave a slightly sweet, almost caramel-like taste—no sugar needed.

Instead of flour, I use cacao powder—more on that later—which gives these brownies a dark-rich chocolate flavor. So they are also completely gluten and grain-free!

This treat is also dairy-free because, for this recipe, I use plant milk. Avoid using regular milk. It makes these brownies too heavy.

It is also high in proteins, which makes this ideal if you want an energy-boosting chocolaty snack.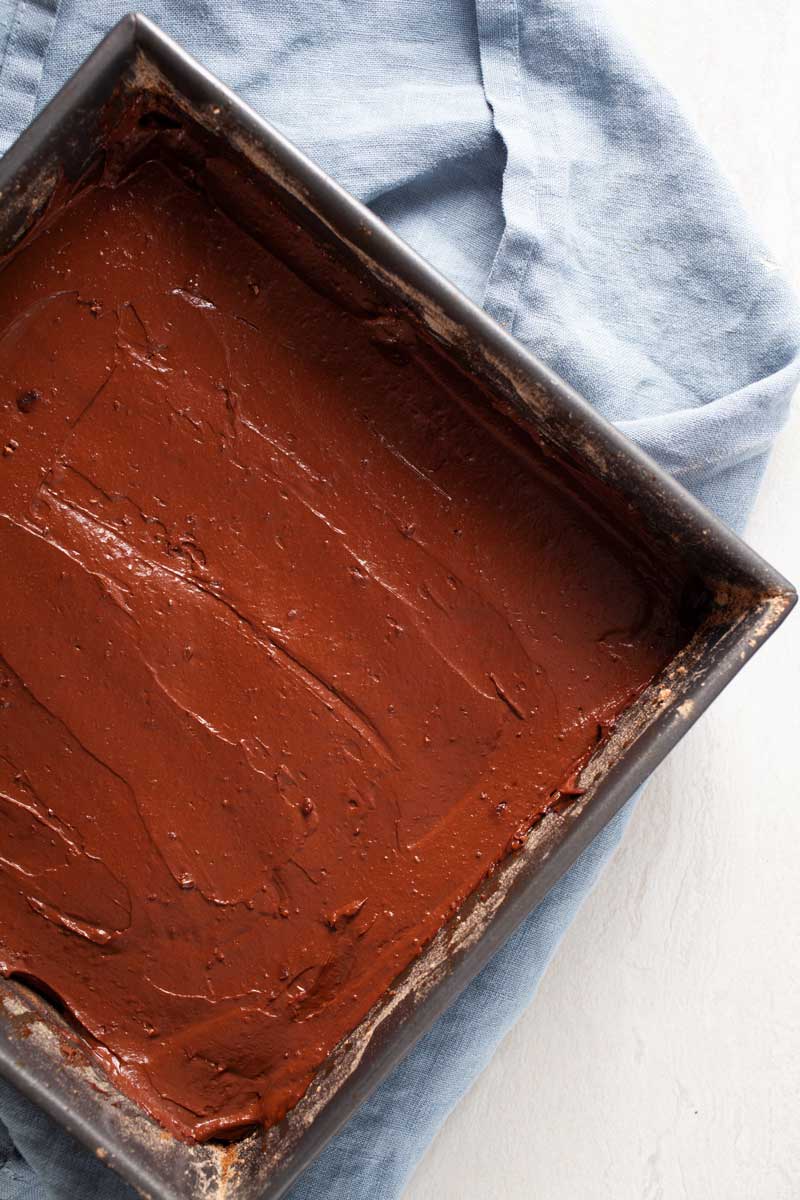 HOW TO MAKE THESE FUDGY BROWNIES AND HOW TO MAKE ADJUSTMENTS:
The sweetener. If you are an 80% dark chocolate lover, then you only need dates to add sweetness to these chewy paleo brownies. But, if you love it a tad sweeter, I highly recommend incorporating dried Turkish apricots to the batter mix. It also adds extra fiber, and it will make these treats deliciously moist. Trader's Joe sells small bags of organic Turkish dried apricots without any added sugars at an excellent price—in case you are wondering where to get them.
The chocolate flavor. These flourless brownies contain no chocolate or chocolate chips. The recipe only calls for real cacao powder to bake these treats and give them that intense pure chocolate taste. The powder also acts as the flour in this recipe. I have used cocoa or cacao powder interchangeably—read about the difference between the two. But If you opt for cocoa, choose a full-flavored one with deep chocolate flavors perfect for baking. I have used a non-alkalized cocoa powder before from

Shiloh Farms

for this recipe, and it tastes divine.

The liquid. You can use any plant milk. I prefer pea milk to add extra protein, almond milk, or even flax milk. If you are not sensitive to dairy, you can substitute it with regular milk. Although I think regular milk makes these brownies a bit too heavy.
Eggs. They are one of the main ingredients in this recipe to give it structure, bind everything together, and help lift the batter during baking.
A tad of salt. It reduces any bitter flavors and nicely balances the sweetness in these brownies.
Coconut Oil—for richness and tenderness, of course. But you could use real unsalted butter instead as well.
The equipment. Use

an 8-inch square baking pan

to get the perfect thickness. Once baked, cut the brownie into either nine squared treats or 18 mini brownies—each mini piece is enough to satisfy your sweet cravings with a cup of green tea or coffee.
HOW TO STORE CUT BROWNIES
Store leftovers in an airtight container in the fridge and enjoy for up to five days. Or freeze leftover squares wrapped in baking paper and placed in an airtight container for at least a month. They defrost in a couple of minutes, but they taste even better when frozen, in my opinion. TRY IT!
TIME TO BAKE BROWNIES
Make these gluten-free decadent, rich chocolate brownies now or PIN it to your healthy treats board for later!
Don't forget to also check out some of my other healthy and grain-free treats and subscribe to my Monthly Newsletter. Enjoy!
How to make Healthy Brownies without Flour
Yield:
9 large or 18 mini Brownies
Additional Time:
10 minutes
Delicious gluten-free, refined sugar-free, nut-free, and flourless brownies! This guilt-free treat is easy to make and will satisfy your sweet cravings! They taste like chocolate truffles!
Ingredients
15 to 20 Medjool dates, pitted
15 dried Turkish Apricots
½ cup coconut oil, plus some more to grease the baking pan
1 cup pea milk or any other plant milk
4 eggs
2 cups cacao or cocoa powder, plus some more to cover the baking pan
½ teaspoon sea salt
Instructions
Preheat oven to 350 degrees.
Place the dried fruits, coconut oil, milk, and eggs in a high-speed blender. Blend into a paste.
Transfer the paste into a bowl. In batches, stir in the cacao powder and sea salt until no powdery lumps remain, and you have a dark brown paste. If you find it hard to break down all the cacao powder by just stirring, place the batter briefly back into the blender and mix for a few seconds until you have a beautiful shiny and chocolatey paste.
Grease the baking pan with some coconut oil. Shake in a little cocoa or cacao powder and tap out the excess. With a spatula spread the chocolate mixture evenly in the prepared baking pan.
Bake in the oven for 20 minutes or until a toothpick inserted comes out dry. Let it cool for about 10 minutes before cutting it into squares!
Notes
Equipment: 8-inch square baking pan

(Note: this post was initially published in November 2018. This post has been updated to include new info and photos)