An energy-boosting, protein-packed collagen coffee recipe that is low in calories with delicious chocolate mocha flavors and a naturally sweet taste.
It is ready in 5 minutes with only 5 ingredients, and you can make it with your regular morning cup of joe or cold brew coffee.
A delicious and great way to start your day, or enjoy it as a post-workout drink.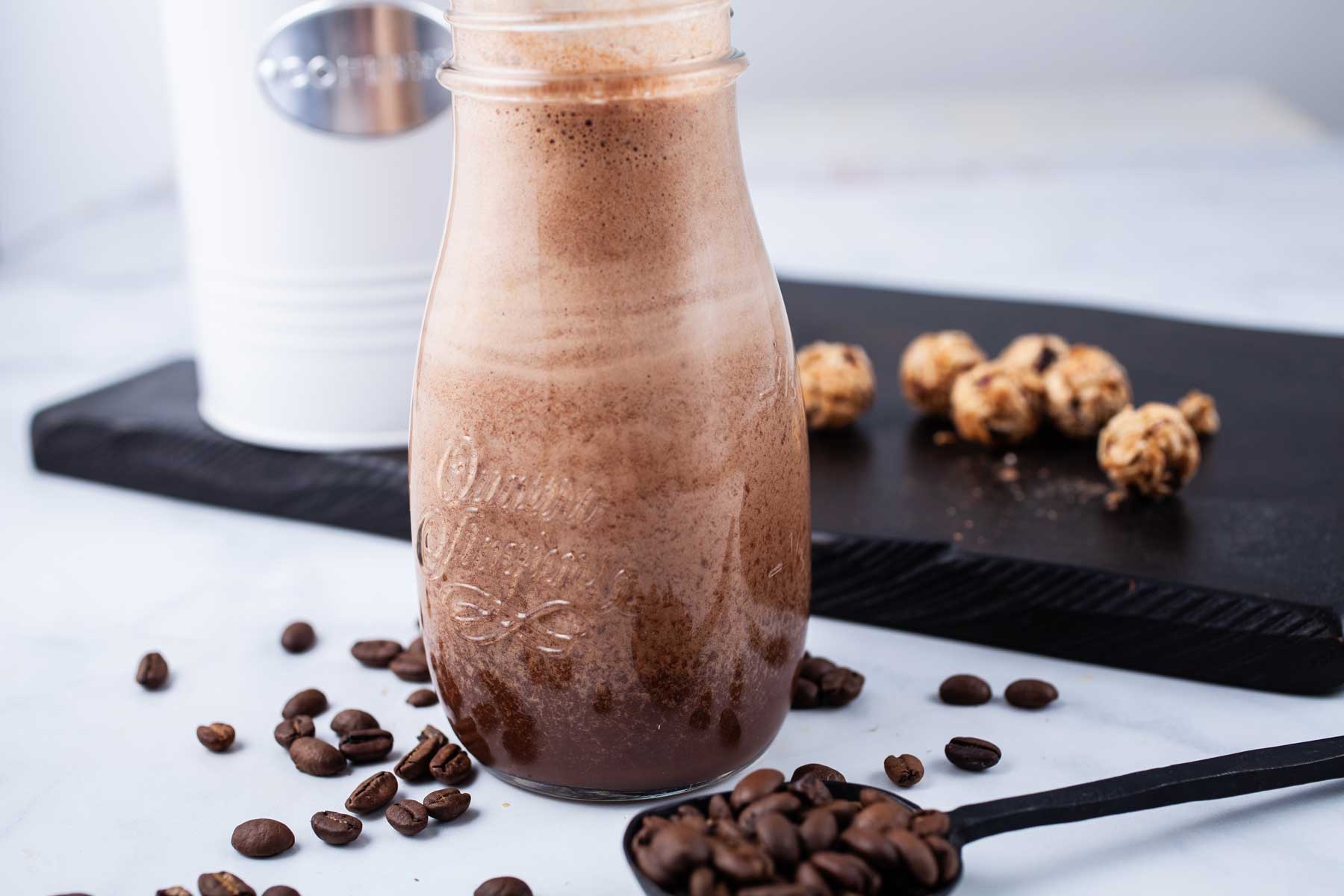 This is my favorite morning coffee drink. It's like a coffee chocolate smoothie but much healthier and fortified with collagen powder.
Similar to my chocolate pineapple collagen smoothie, it's creamy, incorporates collagen peptides powder, and adds just the right amount of sweetness.
Jump to:
Recipe Feature
This delicious drink comes together with only 5 ingredients.
You can make it with hot coffee of choice or iced coffee.
It's easy, super creamy, filling, and satisfying.
It contains healthy collagen supplements.
Only natural sweeteners are added and optional.
It's a healthy coffee smoothie to start your day.
Ingredients & Substitutions
See the recipe card for full information on ingredients and quantities.
Let's make this lovely collagen latte, and for a more satisfying start to your day, pair it with this quick 10-minute healthy plantain breakfast.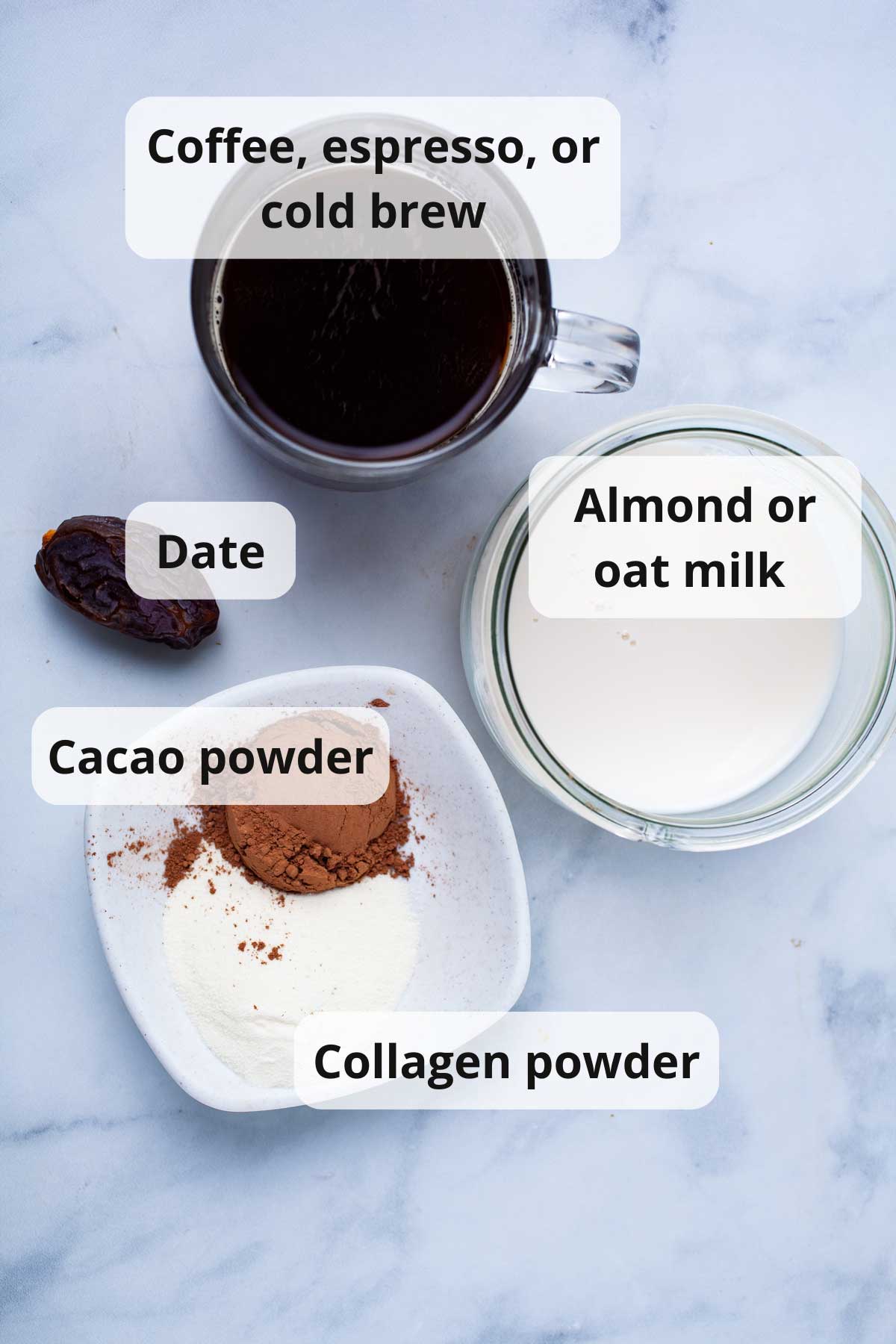 Coffee: Use your favorite brewed cup of coffee or espresso or make it with any leftover cold brew for an iced coffee smoothie.
Collagen powder: Great options are unflavored collagen peptides from either Vital Proteins or grass-fed collagen peptides from Garden of Life. They add essential amino acids and a lovely creaminess.
Cacao powder: You can also use unsweetened cocoa powder. Dark chocolate flavors combined with the rest of the ingredients create a lovely mocha flavor.
Dates: Use one or two based on preference to add a subtle sweetness.
Milk of choice: I prefer unsweetened almond milk. But any other plant milk will do. Oat milk or cashew milk are great alternative options. If you have no dietary issues with dairy products, then go for regular milk, if preferred.
Note: Dates are less sugary than maple syrup or other sweeteners. Plus, they are high in fiber and antioxidants and help increase energy levels. Like my 5-minute cold brew latte, dates are my favorite way to sweeten this collagen coffee recipe.
How to Make This Collagen Smoothie
See the full recipe with measurements in the recipe card.
Note: Brew your favorite coffee or use a cold brew. If using hot coffee, pour it first into a cup, releasing any hot steam and allowing its temperature to come down a bit.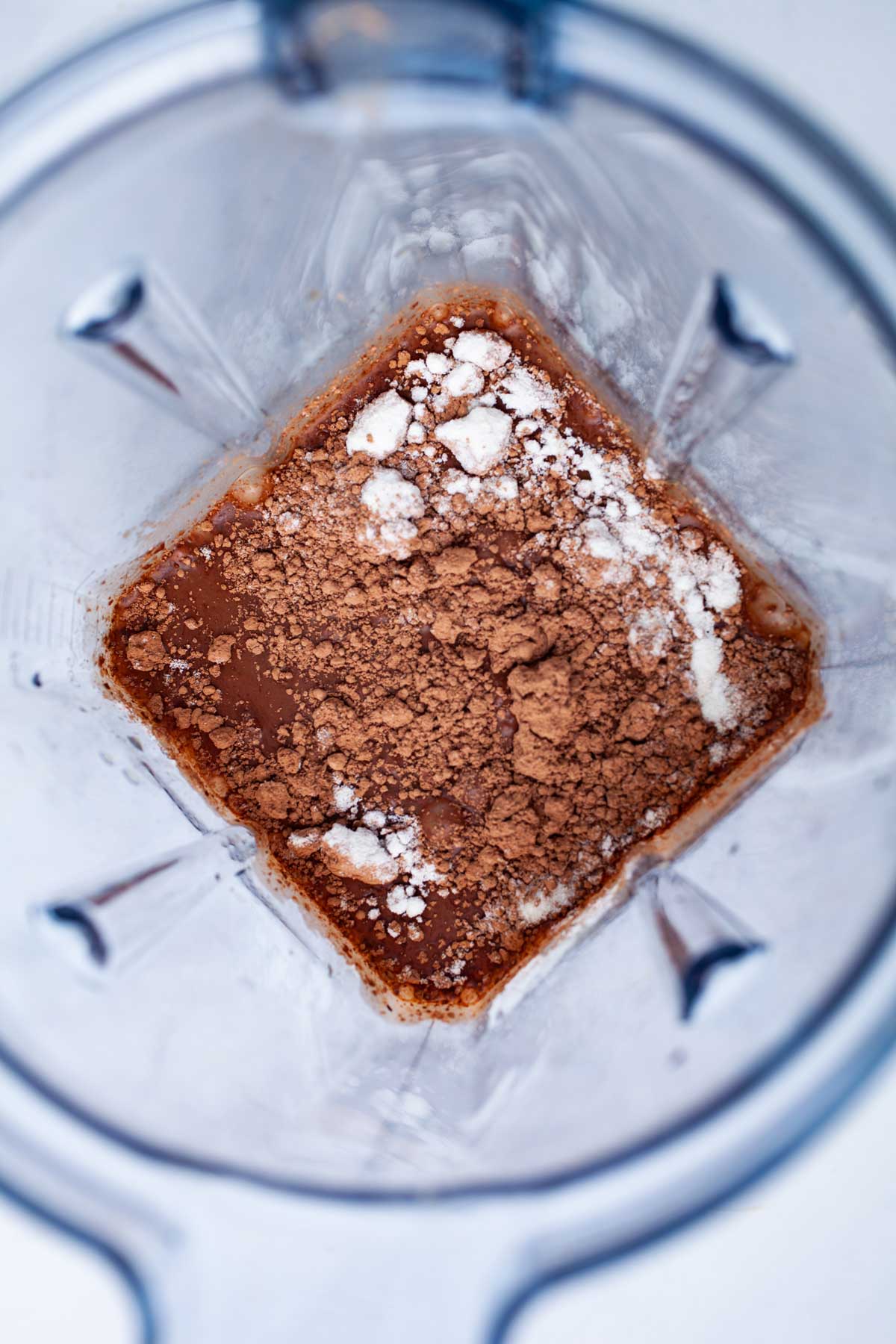 Step 1: Place coffee, cacao powder, milk, date, and collagen peptides in a blender.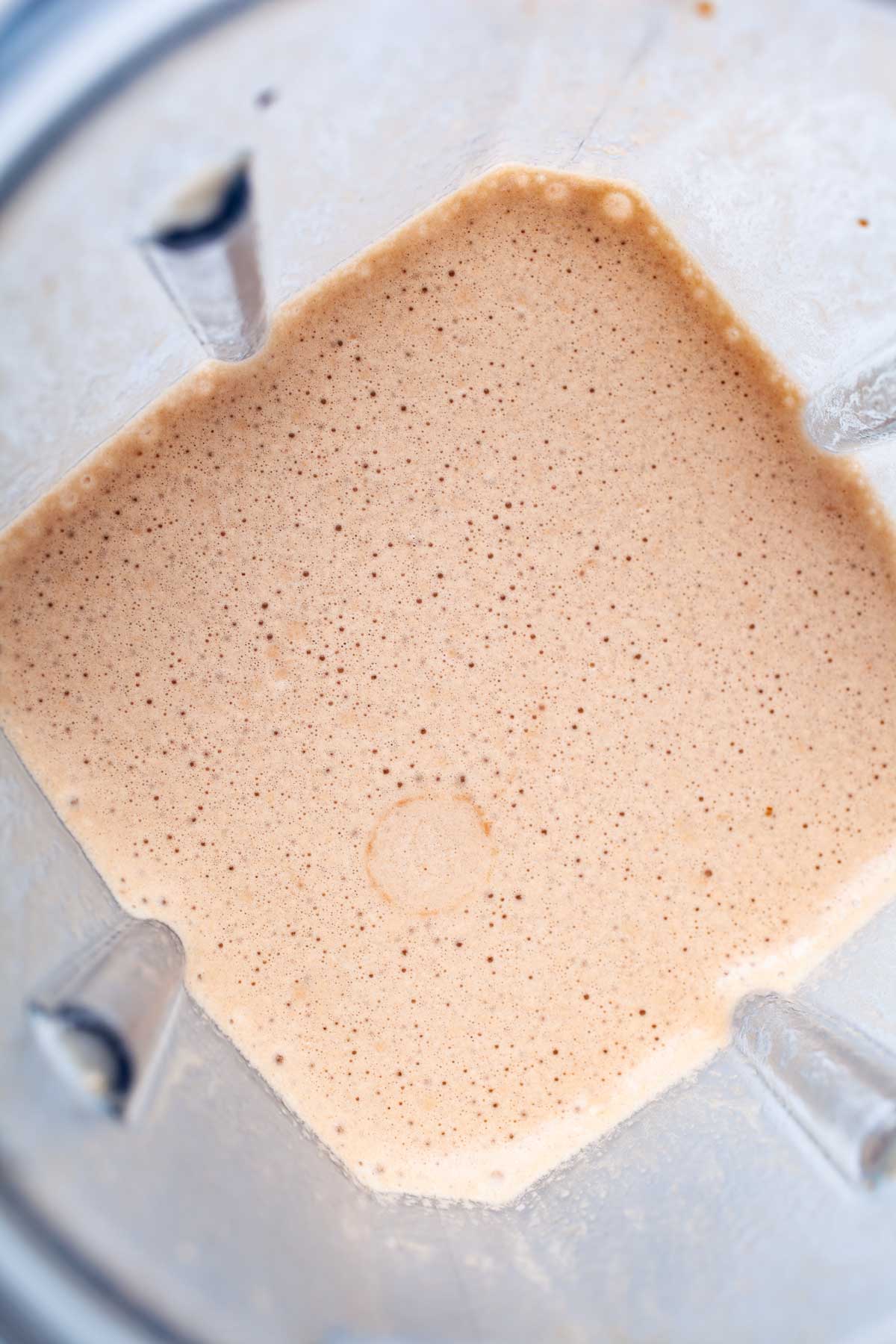 Step 2: Blend until smooth, frothy, and creamy. Ensure no bits of dates are left.
Serve and enjoy!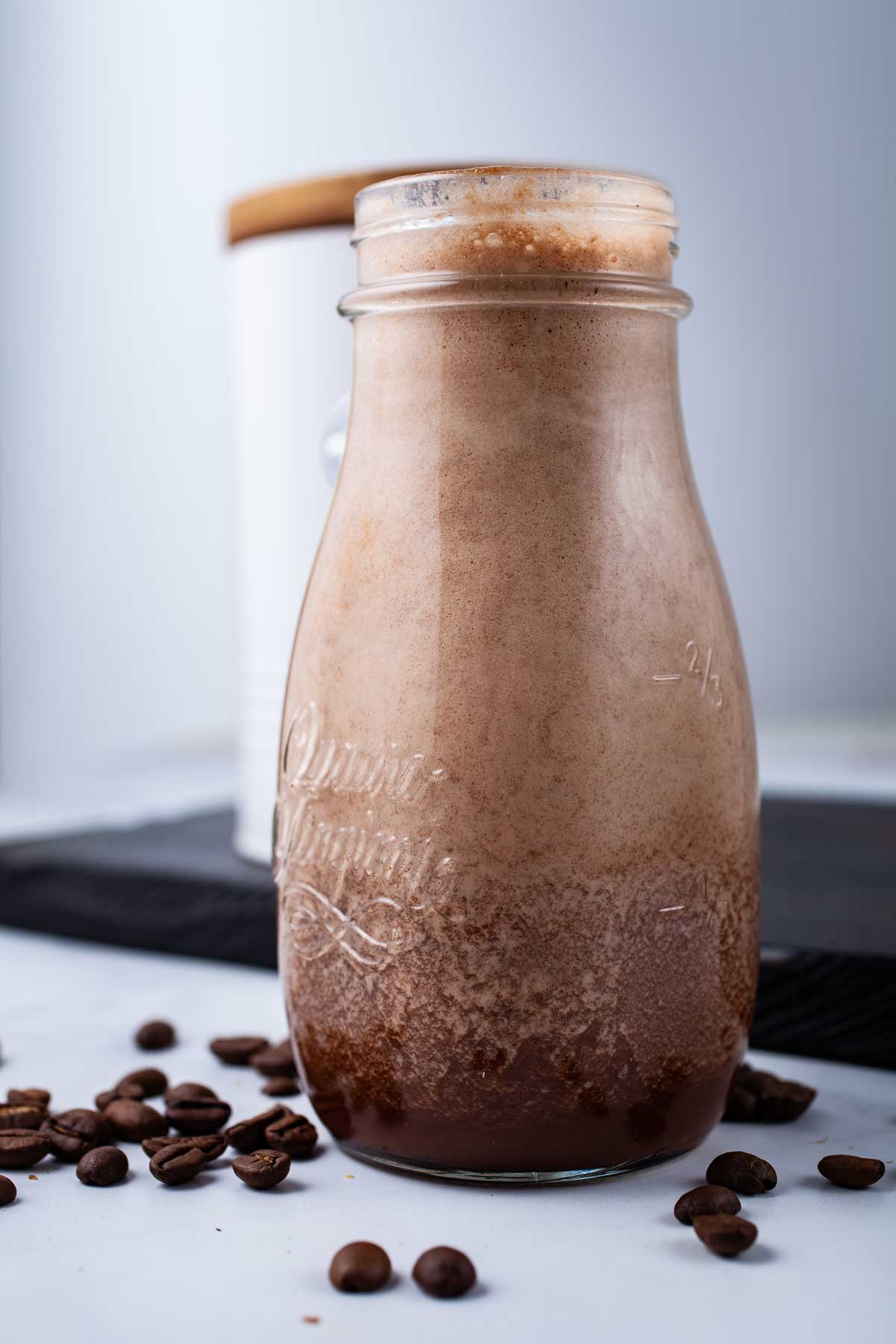 Serve this coffee chocolate shake in your favorite mug or a small glass jar.
Variations
Add a pinch of ground cinnamon or vanilla extract to change the flavors.
Try adding fresh mint leaves (2- 4 small leaves) to the blender to create a coffee chocolate mint smoothie with collagen protein. It's delicious.
Or add extra healthy fats to the blender. A tablespoon of coconut oil or a tad of grass-fed ghee or grass-fed butter, if dairy is not an issue, are quality fats that make this collagen coffee recipe more like butter coffee.
Note: Don't forget to check out my recipe on how to make homemade bone broth for breakfast to switch things up.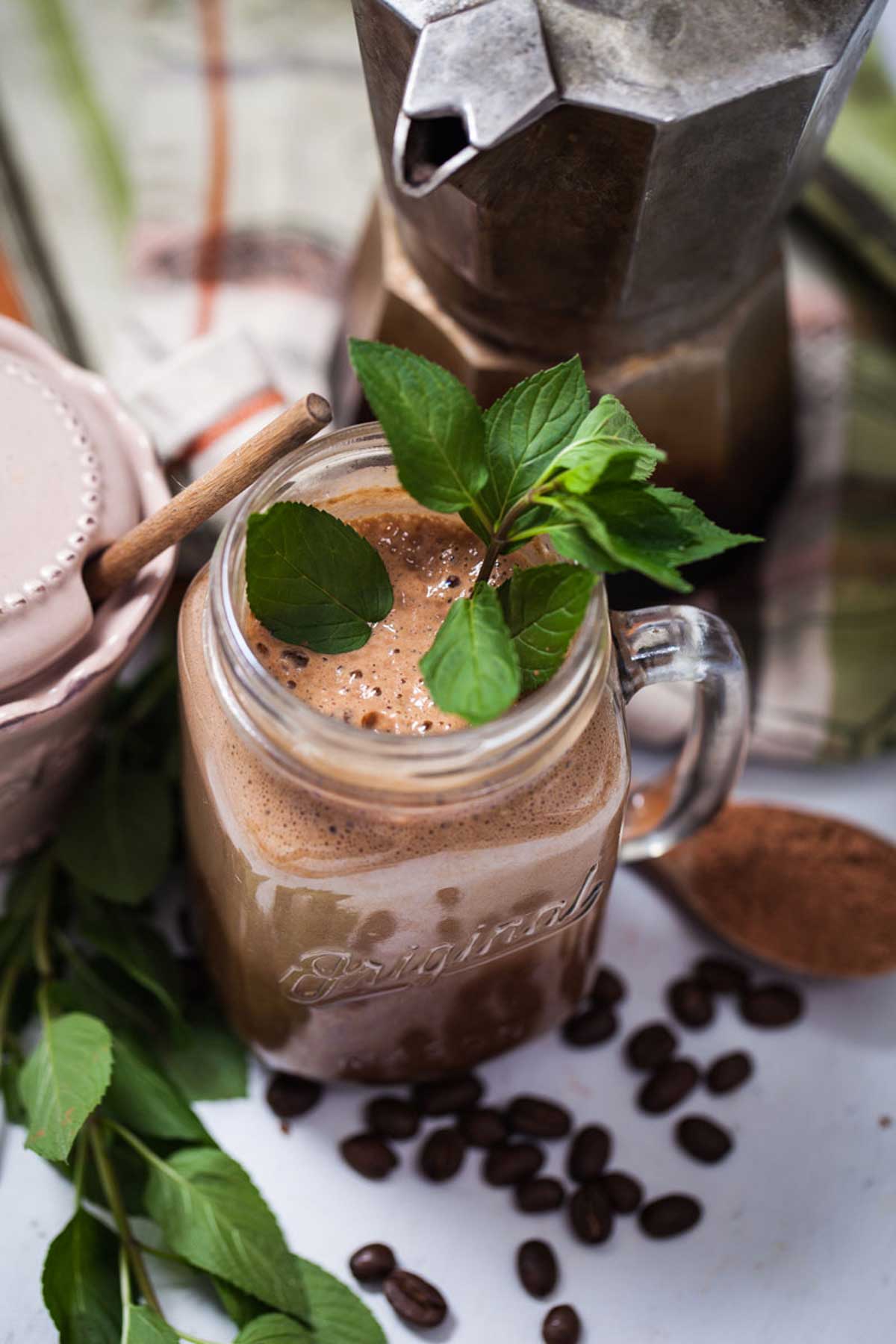 Recipe FAQs
How to store this collagen coffee recipe
Either enjoy immediately or store in the fridge for up to 2 days. It tastes delicious super cold too, and refreshing during warm summer months.
Can I make this coffee smoothie with a decaffeinated coffee brew?
Yes, absolutely. It tastes the same but without caffeine.
This coffee date smoothie with collagen supplementation is one of my favorite things to make in the morning to boost my energy.
The best part, it's comforting, delicious, and the easiest way to start your day! Enjoy!
Recommended
---
Don't forget to subscribe to my Monthly Newsletter!
Your shares and ratings are valuable to me and so much appreciated. It'll help me create more content you and others can enjoy!
---
📖 Recipe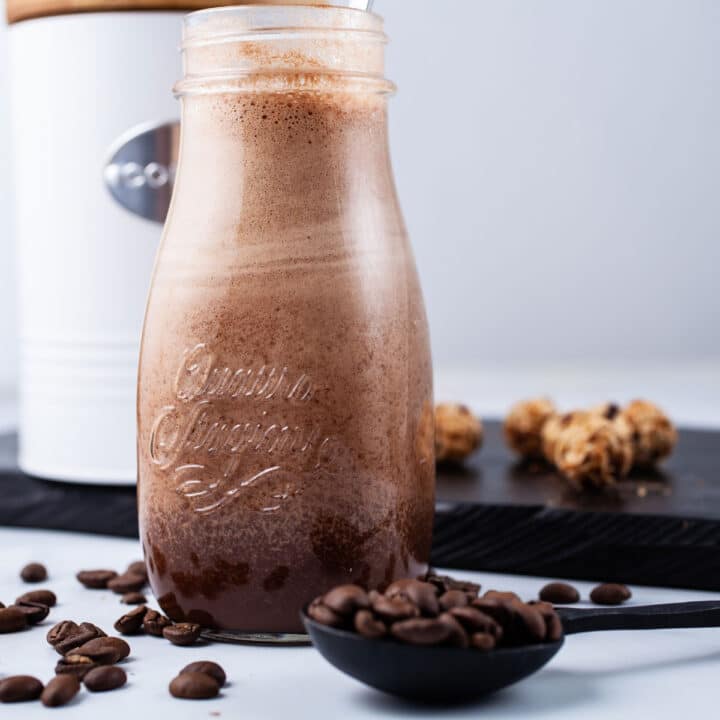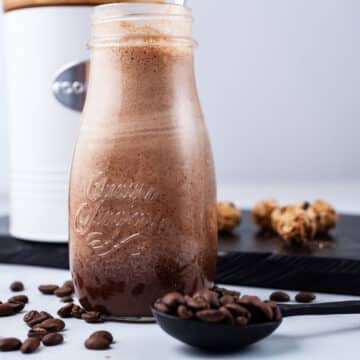 Easy Collagen Coffee Recipe (Healthy Coffee Smoothie)
Mariska Ramondino
Try this energy-boosting coffee collagen smoothie recipe with a delicious chocolate mocha flavor that you can make on the spot. It's creamy, frothy, dairy-free, and tastes amazing!
Ingredients
1

cup

coffee

freshly brewed and a bit cooled at room temperature (219 ml) or cold brew.

1

tablespoon

organic cocoa or cacao Powder

unsweetened (5 grams)

2

tablespoons

collagen powder

0.35 ounces or 10 grams

½

cup

almond milk or milk of your choice

120 grams

1

pitted date

or 2 if you prefer a naturally sweeter taste.
Instructions
If using freshly brewed coffee instead of a cold brew, pour the hot coffee into a cup, releasing any hot steam. Let it sit until its temperature has come down and it's no longer super hot, just warm or luke warm.

Place all ingredients in a high-speed blender.

Blend everything until frothy and smooth. Make sure any dates are completely pulverized and integrated into the drink.
Notes
Storage: Store any leftovers in a mason jar with a lid or an airtight container in the fridge for 1 to 2 days. Give it a good stir again before consumption.
Coffee: You can use a cup of freshly brewed coffee and let it slightly cool down until no longer hot (warm or lukewarm), or use leftover cold brew coffee.
Collagen: I use unflavored collagen peptides for this recipe from either Vital Proteins or grass-fed collagen peptides from Garden of Life, my favorites.
Healthy Mocha Smoothie: The dates combined with nutty almond milk, dark chocolate flavors from cacao powder, and coffee gives this smoothie a delicious mocha taste. Collagen powder in this coffee smoothie will make it extra creamy as well. 
Add your own private notes
Whenever you come back to this recipe, you'll be able to see your notes.
Nutrition (% Daily value)
Serving:
1
Calories:
47
kcal
(2%)
Carbohydrates:
4
g
(1%)
Protein:
6
g
(12%)
Fat:
1
g
(2%)
Saturated Fat:
0.2
g
(1%)
Polyunsaturated Fat:
0.4
g
Monounsaturated Fat:
1
g
Sodium:
102
mg
(4%)
Potassium:
119
mg
(3%)
Fiber:
1
g
(4%)
Sugar:
2
g
(2%)
Vitamin A:
0.3
IU
Vitamin C:
0.01
mg
Calcium:
82
mg
(8%)
Iron:
0.4
mg
(2%)
Disclaimer: This nutritional data is calculated using third party tools and is only intended as a reference.