These energy-boosting protein-packed smoothies are low in calories yet full of health benefits. It is packed with vital dietary supplements and ready in 5 minutes. Enjoy for breakfast or as a post-workout drink. I share two incredible flavors. Both will appeal to chocolate lovers, but one is more fruity, and the other one has the beautiful aroma of coffee. Pick your favorite. These smoothies have become the go-to morning drink that not only increases my energy, improves my skin and hair, boosts my metabolism, but also has improved my overall wellbeing. Enjoy!
I love working out before my day starts. A 30-minute HIIT class immediately wakes up my body. It is my moving meditation because releasing those happy endorphins first thing in the morning allows me to tackle any hectic day ahead. A quick cold shower is another one of my morning habits—some of your faces might cringe now, but my body loves it. Maybe a topic for another article, if you are interested. Although a breakfast lover, I don't consume it immediately after my workout. Breakfast is something I enjoy much later when my first signs of hunger creep in—usually around 11:30 am. But that's when my body can use a healthy and nutrient-packed drink that is easy to make, especially on those days that I don't have a lot of time.
These protein-rich smoothies both contain dark, creamy cocoa powder but have such distinctive flavors. One is made with freshly brewed coffee—deliciously frothy and smooth—while the other, albeit still creamy and chocolaty, contains more fruity and lemony undertones. Pick your favorite!
Let's take a closer look at the three main ingredients that make these smoothies.
Protein-rich
Super creamy
Filling
Add healthy supplements
I always have a box of grass-fed gelatin in my pantry because I often like to add a tablespoon to my post-workout smoothie or coffee. It is a quick way to add collagen in general to my diet and helps with
repairing my muscles (when lifting heavy weights),
improving my sleep,
keeping my skin healthy
maintaining healthy bones,
improving my digestive system after a prolonged period of travel and
relieving constipation (primarily when limited from enjoying healthy homemade foods on my journeys).
My go-to brand is Great Lakes, and I love the non-flavored, pasture-raised, grass-fed collagen.
Unflavored gelatin (orange can) is best used if you want to gel food.
Collagen hydrolysate (the green can) is best used to dissolve in cold or warm liquids.
Note: want to make delicious homemade bites with collagen? Check out my Creamy Coconut and Protein-Rich Dark Chocolate Covered Bites. You might like them as much as my family does!
My daughter and I are allergic to regular milk. We occasionally enjoy almond or coconut milk. Lately, we have been adding pea milk to the mix, and it has a beautiful creamy consistency. Ripple brand is my favorite! Their pea milk contains a good source of calcium, protein and comes in different flavors. I always get the unsweetened version. You can buy a pack of 4 cartons here. If you prefer the bottled ones like me, look in the milk section at either Whole Foods or Target (other grocery stores might have it too.)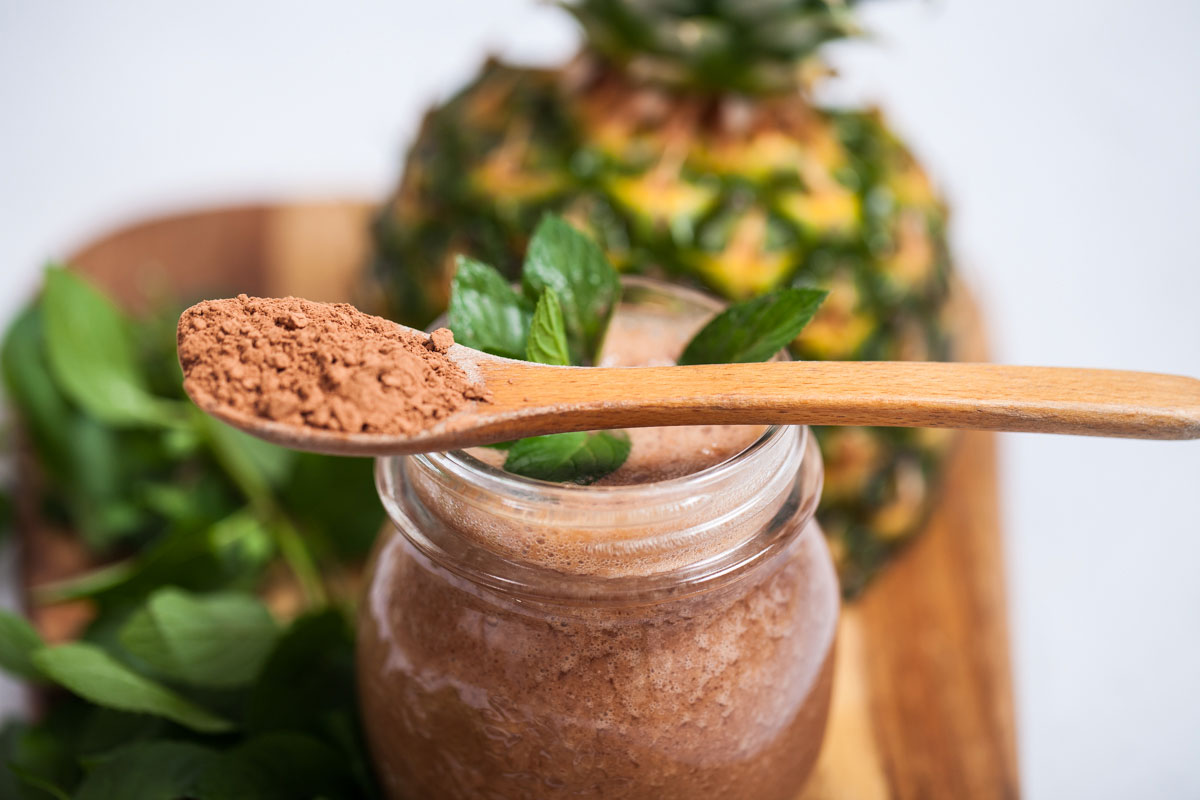 A good quality cocoa powder gives any smoothie a creamy chocolate flavor without adding any sweetness. Besides taste, it contains many health benefits and makes these smoothies delicious. I love the NOW Foods Organic Cocoa Powder, unsweetened, and use it often in baking treats or making warm cacao in the winter.
If you make them, let me know which one is your favorite. Have questions? Simply comment below or message me. Also, don't forget to FOLLOW ME on Instagram and Pinterest to see what other fun things I share.
Energy-Boosting Collagen and Cocoa Smoothie
Mariska Ramondino
Try these energy-boosting collagen smoothies recipes with a delicious and low carb coffee flavor and the other with a fruity pineapple infusion. They are dairy-free, gluten-free, and taste amazing!
Ingredients
Pineapple Variety
2

cups

cubed fresh pineapple

½

lemon

peeled

1

tablespoon

organic Cocoa Powder

1

tablespoon

unflavored gelatin powder

1

package

orange flavored vitamin C powder

0.3 oz (optional)

½

cup

pea milk or almond milk

2

cups

water
Coffee Variety:
1

cup

coffee

freshly brewed

1

tablespoon

organic Cocoa Powder

1

tablespoon

unflavored gelatin powder

½

cup

pea milk or almond milk

2

drops

liquid stevia

or more to taste

4

leaves

fresh chocolate mint

optional
Instructions
Pineapple Variety
Blend everything in a high-speed blender (like a Vitamix) until frothy and smooth. Enjoy immediately.
Coffee Variety
Place all ingredients, except the coffee into a high-speed blender. Pour the hot coffee into a cup, allowing some of the hot steam to release. Then transfer the coffee also into the high-speed blender. Blend everything until frothy and smooth. Enjoy immediately!
Notes
Nutrition posted is for coffee variety.
Feel free to change up the fruit and flavors!
Add your own private notes
Whenever you come back to this recipe, you'll be able to see your notes.
Nutrition (% Daily value)
Calories:
55
kcal
(3%)
Carbohydrates:
3
g
(1%)
Protein:
8
g
(16%)
Fat:
2
g
(3%)
Saturated Fat:
0.4
g
(3%)
Polyunsaturated Fat:
1
g
Monounsaturated Fat:
1
g
Sodium:
182
mg
(8%)
Potassium:
194
mg
(6%)
Fiber:
2
g
(8%)
Sugar:
0.2
g
Vitamin A:
9
IU
Vitamin C:
0.1
mg
Calcium:
165
mg
(17%)
Iron:
1
mg
(6%)
Disclaimer: This nutritional data is calculated using third party tools and is only intended as a reference.