This classic and savory bone broth recipe is a flavor-packed drink that will warm you up during cold winter days. And it is a versatile stock to add richness to soups, quick weeknight dinners, enjoy for breakfast or as a quick pick-me-up afternoon sip. I share with you some of my favorite recipes to enjoy this bone broth!
Homemade bone stocks have been part of my regular diet since I was a kid. When I came down with a cold or the flu, my mom would make her special chicken soup recipe.
The soup would simmer for hours on the stove, releasing warm and savory aromas throughout the kitchen. She served the broth hot as a drink before dinner and used leftovers as a base for other hearty soup recipes. I remember helping my mom separating the meat from the bones—nothing was wasted. We gnawed on the cooked chicken bones to suck out the bone marrow and used the meat to make a chicken salad with chopped shallot, some sea salt, and olive oil. In the winter long-simmered stews, broths, and soups like these were just part of our diet.
Today, I make these types of broths or soups with the convenience of a slow cooker. It has become essential equipment in my kitchen, especially in the winter. It requires less attention than a Dutch oven on a stove pot, but still slowly builds up all the flavors of the stock.
You might like:
There are so many ways to make and enjoy a long-simmered bone broth. But I am going to share with you a classic recipe that I often like to make during the winter months—plus, how to use the broth in some of my favorite alternative ways.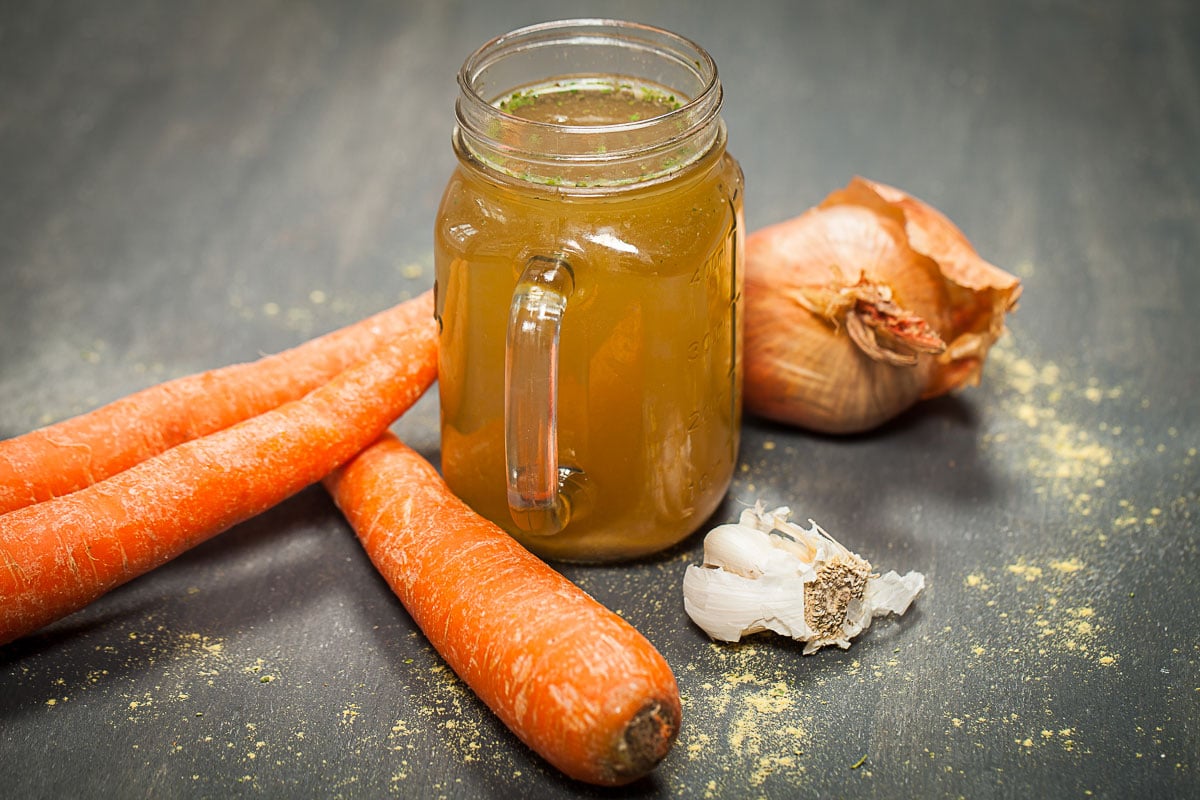 BONE BROTH—BASIC INGREDIENTS
Vegetable scraps: I often make my broth with vegetable scraps from leftovers in the fridge. In the end, you are going to strain the stock and discard the vegetable solids anyway. You can use the ends, peels, roots, stalks, and leaves from vegetables such as carrots, shallots, onions. Other great options to add flavor are celery and leeks. Yellow onions, scallions, and celery are my favorites to add to a broth, so sometimes I throw in the whole vegetable. The sweetness of a yellow onion and the buttery heartiness of celery add a beautiful richness and extra flavor!
Don't forget garlic: because garlic softens during the long simmer time, its intense flavors become sweeter and more mellow. Its distinct taste perfectly balances out all the other characteristics of the broth.
Soup bones: I love buying soup bones that become soft when making the broth like chicken, Turkey, or pork necks—they also are very cheap. But feel free to use beef bones, knuckles, marrow bones, short ribs, etc. Go for what is on sale at your local farmer's market.
Vegetable Broth and Seasoning: This type of seasoning is optional, but I love Vegetable Broth and Seasoning from Seitenberger. It is a healthy seasoning mix that instantly adds a deep flavor.
Apple Cider Vinegar: a mild-flavored apple cider vinegar helps to extract minerals from the bones, and the acidity helps balance out the flavors.
Herbs: Feel free to discover which herbs you like best. You can't go wrong with adding dried or fresh Thyme and Rosemary sprigs.
FAVORITE WAYS TO ENJOY BONE BROTH!
Homemade bone broth can easily replace ready-made stock for hearty soups, stews or add heartiness to rice or quinoa dishes. But here are a few of my favorite ways to enjoy leftover bone broth.
For Breakfast:
Reheat a cup of bone broth, pour it into a mug and enjoy like your cup of coffee—add additional seasoning to taste. It is incredibly satisfying. My husband, who loves his cup of Joe in the morning doesn't mind replacing it now and then with this hearty broth. Better yet, pair a bowl with my Parsley and Anchovy Mini Frittatas for Sunday brunch!
Sometimes I love making a quick breakfast bowl with wheat and gluten-free cream of Buckwheat (Try Cream of Buckwheat from Pocono). This organic cereal is ready in no time. Cook it in water over the stove according to package directions. When soft, add a cup of bone broth and some cheese. Let it softly simmer until cheese is melted and the liquid is hot (it will cook away a little). You can even stir in an egg until fluffy but still moist. This cheesy and protein-rich breakfast is hearty and incredibly filling.
For Lunch or a Quick Dinner:
Make my savory Asian-inspired Noodle dish—Creamy Sweet Potato and Buckwheat Noodle Soup—with leftover bone broth (gluten-free.) It is incredibly easy to make, yet this dish is filling, comforting, and delicious.
As an afternoon pick-me-up drink:
Drink it like a cup of hot tea in the afternoon or before your evening meal. Add a little extra Vegetable and Broth Seasoning while reheating it over the stove and some fresh chopped Parsley leaves to help stimulate the appetite and improve digestion. Enjoy!
Have questions? Simply comment below or message me. Also, don't forget to stay connected either on Instagram, Facebook, and Pinterest to see what other fun things I share.
Yield:

8 Servings
HOW TO MAKE AND ENJOY A CLASSIC BONE BROTH
A delicious homemade bone broth drink made in a crockpot—perfect for breakfast, a pick-me-up afternoon drink, or as a base for a hearty soup!
Ingredients
2 cups vegetable ends from carrots, shallots or green onions
1 large yellow onion, peeled and coarsly chopped (you can also use celery instead)
3 cloves garlic, crushed
3 pounds pork neck bones or chicken necks
2 tablespoons apple cider vinegar
1 teaspoon Vegetable Broth seasoning or sea salt
Black pepper ( 4 turns with the pepper mill)
1 or 2 fresh Thyme or Rosemary sprig
Instructions
In a 6 QT slow cooker, cover first the bottom with all the vegetable ends, the onion and the garlic. Add the neck bones and pour the vinegar over the bones—season with salt or vegetable broth seasoning and pepper. Then throw in the fresh sprigs.
Cover everything with water but leave about 1-inch space between any liquid and the rim of the pot. Cook on low for 8-24 hours.
When ready, allow the broth to cool. Remove the big pieces of meat with a large slotted spoon, then strain the stock into a large bowl. Transfer the liquid to airtight containers and refrigerate up to 4 days or freeze up to 3 months.
Notes
After refrigeration, always skim off the fat that has congealed on top before reheating or using it as a soup or stew base.