This classic and savory slow cooker bone broth recipe is a flavor-packed drink that will nourish and warm you up during cold winter days.
Enjoy for breakfast, as a quick pick-me-up afternoon sip, or use this bone broth as a versatile stock to add richness to soups, stews, sauces, and other quick weeknight meals.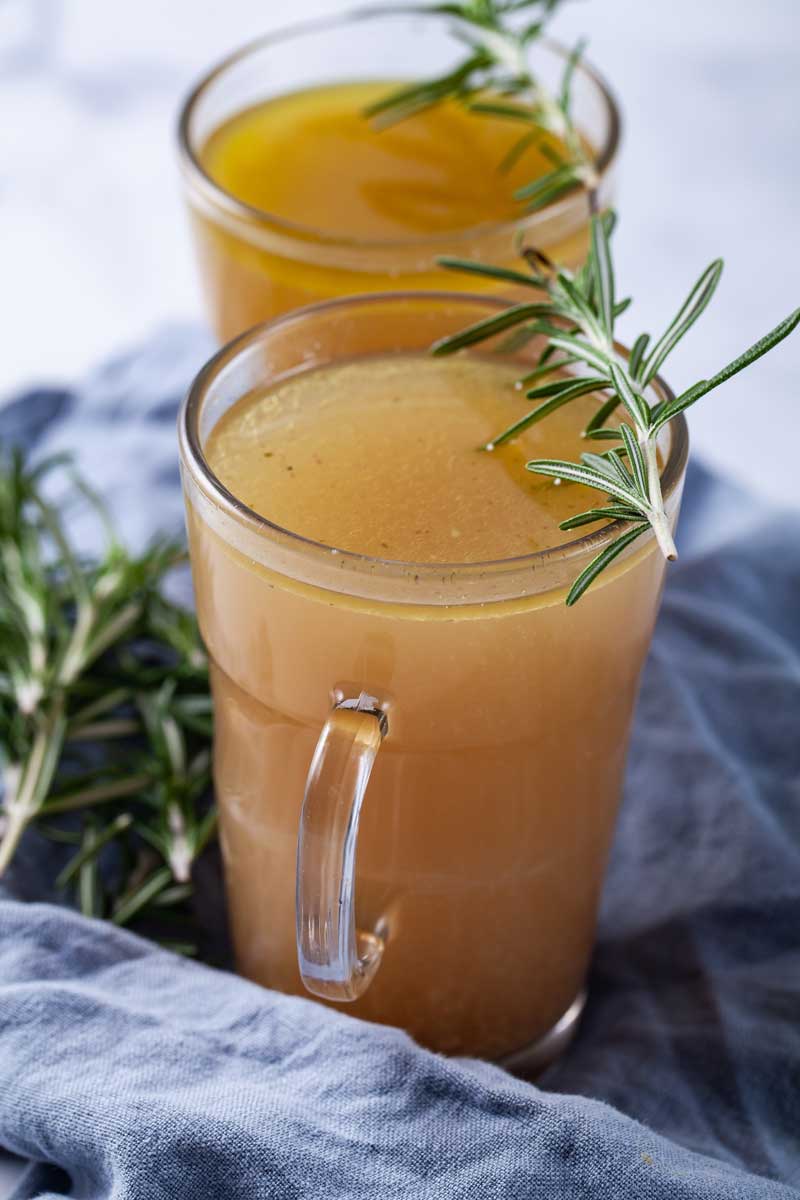 This slow cooker bone broth recipe is cooked with raw vegetables and enough meat on bones to produce hearty flavors!
It's also healthy, delicious, easy to make, and great for a low-carb or Paleo lifestyle.
Here's everything you need to know about how to make bone broth in a slow cooker.
For homemade chicken broth and shredded meat, check my How To Poach a Chicken recipe and 35 easy homemade recipes for chicken broth.
Jump to:
Nothing beats the homemade stuff
Okay, I know there is nothing new about making bone broth. Homemade long-simmered (bone) broths or stocks have been around for a long time.
And like a good old chicken soup, it's a great remedy for preventing a nasty cold, restoring strength after you get that ugly flu, or taking in extra minerals and nutrients.
It's also a perfect recipe to use up any vegetable scraps or dress up other meals. There are so many different ways to use homemade broth.
These days, it's so easy to grab good-quality bone broth or stock from the grocery store shelf or get them online.
So if you don't want to make your own or have some in your pantry for those times you need a quick fix, then I have some suggestions for you below.
But, if you love making soups and stews at home or enjoy drinking bone broth for breakfast or as an afternoon pick-me-up, nothing beats the homemade stuff.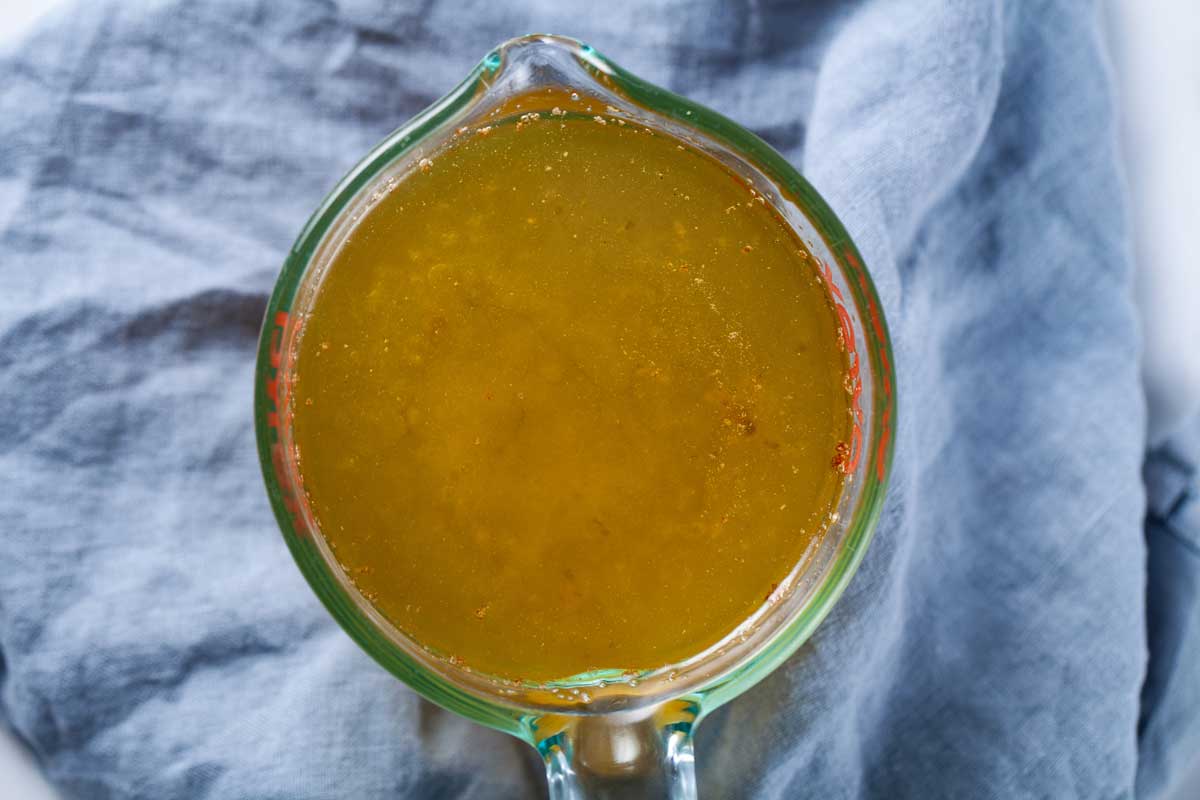 Broth vs. Stock vs. Bone broth
Believe me; I use these words interchangeably at home.
The difference between a broth and stock is pretty straightforward, but we somehow added the term bone broth to the mix over the years.
And the debates in the online culinary world were on fire, at least for a while. So what's the difference?
Note: that I am referencing information passed on to me in the family kitchen.
What is stock?
A good stock usually refers to an ingredient made with primarily (roasted) animal bones, associated connective tissue, and some vegetables, often onions, carrots, and celery.
It is then simmered long enough on the stove to extract its rich collagen, minerals, and flavors.
Typically it's minimally seasoned, and the strained liquid is often used as a base to make other dishes.
Usually, I don't use a cooked stock immediately. More often, I let it cool completely and then refrigerate it overnight.
Then I skim off a thick layer of fat congealed at the top, creating a lighter version of the stock—it's just how we did it at home.
Once cooled in the refrigerator, good stock gels, and depending on the bones and the length of simmer time, it can range from a little to very gelatinous after cooking the liquid.
But that gelatin melts again once reheated.
What is broth?
A broth is an already deliciously flavored liquid by simmering meat with or without its bones, aromatic vegetables, and herbs in water over the stove until the meat is soft.
Like my fall-of-the-bone poached whole chicken recipe. I simmer a whole chicken with vegetables and herbs until the meat is super tender.
Some of the meat I keep in the broth for soups, and some you can use for pasta dishes or make a chicken salad recipe.
Usually, the broth turns into a hearty (chicken) soup—like my Stracciatella soup.
Even fish or vegetables with herbs can become a good broth base to extract their flavor.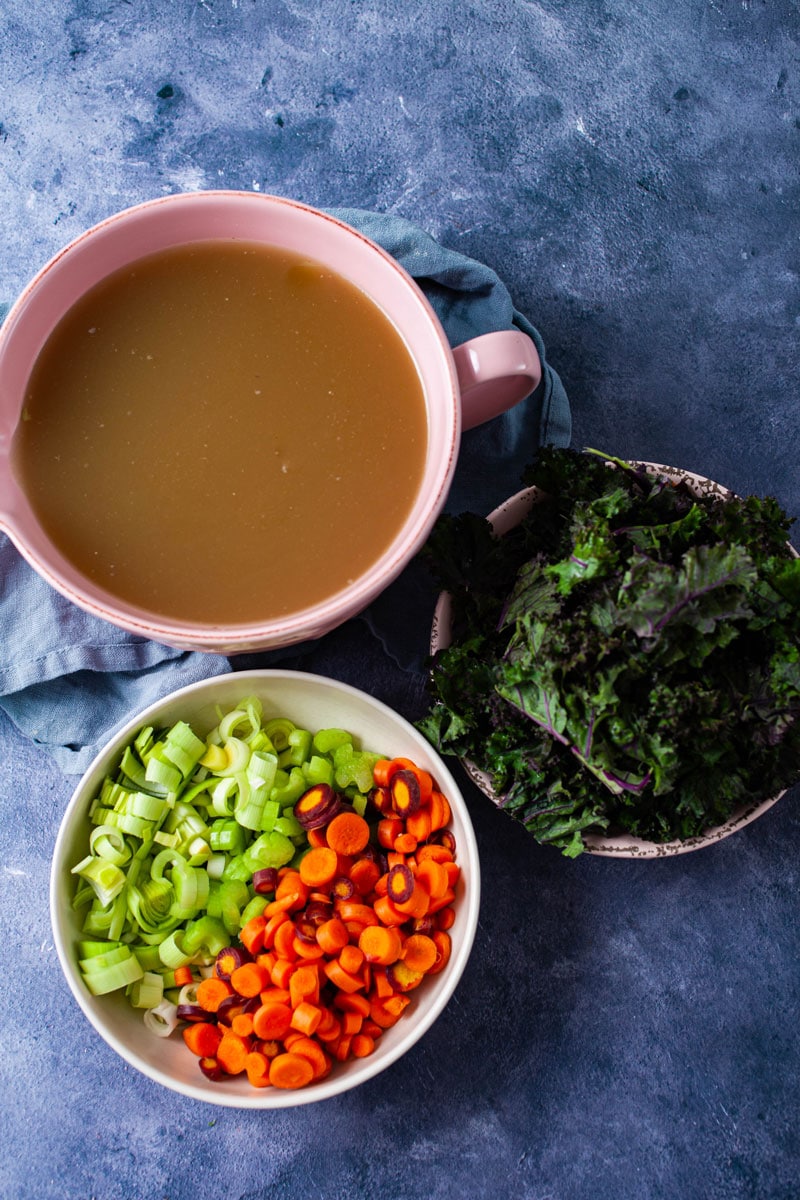 So what is bone broth?
For some, bone broth is simply a long-simmered stock. But for me, it's a bit of a mix between a stock and a broth.
Like a good stock, I simmer animal bones for several hours in water.
But I use raw meaty bones (or bones with some meat on them) and season it more heavenly with aromatic veggies and herbs, so it becomes off the bet a delicious drink to consume on its own.
A good bone broth is richer in flavor, plus the meaty bones are a delicious nibble in itself.
I also usually simmer a bone broth much longer (at least 8 to 24 hours) or to the point where the bones almost fall apart.
It's a collagen-rich stock that is nutritious and incredibly savory.
Let's tackle this great bone broth recipe together.
Equipment you'll need
A slow cooker or Crock Pot is the ideal kitchen equipment if you're going for a thicker stock with 24 hours of slow simmer time.
It's convenient, requires less attention than a Dutch oven or a stove pot, and slowly builds up all the stock's flavors.
Best bones to buy
You want this bone broth recipe to be so tasty that you can sip on it for breakfast (and you want to because it's savory, hearty, and satisfying).
But you won't get those rich flavors with bare bones alone (without meat).
So go for bones with a small amount of meat clinging to it. And I love to throw in some marrow bones as well.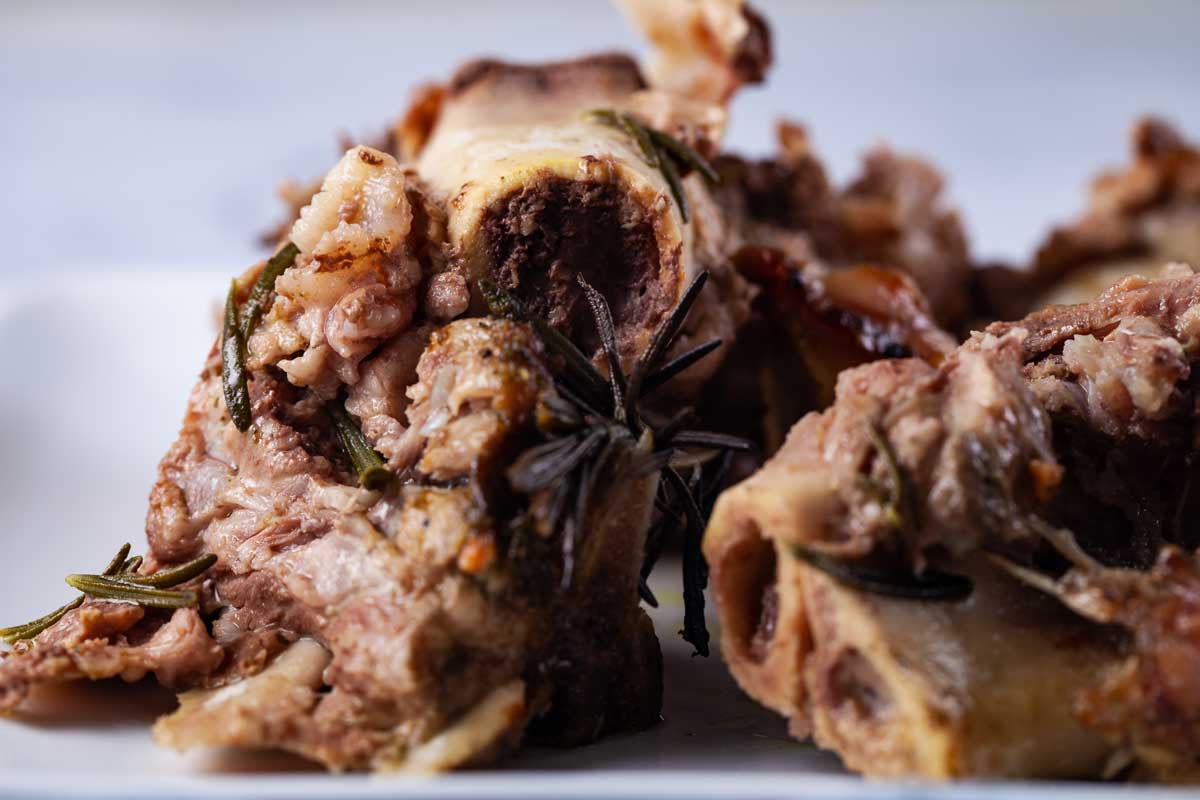 My favorites are:
Soup bones that still have a bit of meat on them. Usually, I go for beef, pork bones, or oxtail.
You can also go for marrow and knucklebones. I prefer to mix them with other meatier bones to give the broth lots of collagen and a richer body.
Meaty short ribs or neck bones (chicken neck bones here are my favorite)
You can also use big beef bones from a roast you made (leftovers).
If you're using bones that don't have any meat, throw in some meaty cuts to give it that hearty slurping flavor.
Note: buy bones with some or still enough meat on them. It is key to a great bone broth that's deliciously nutritious and tasty.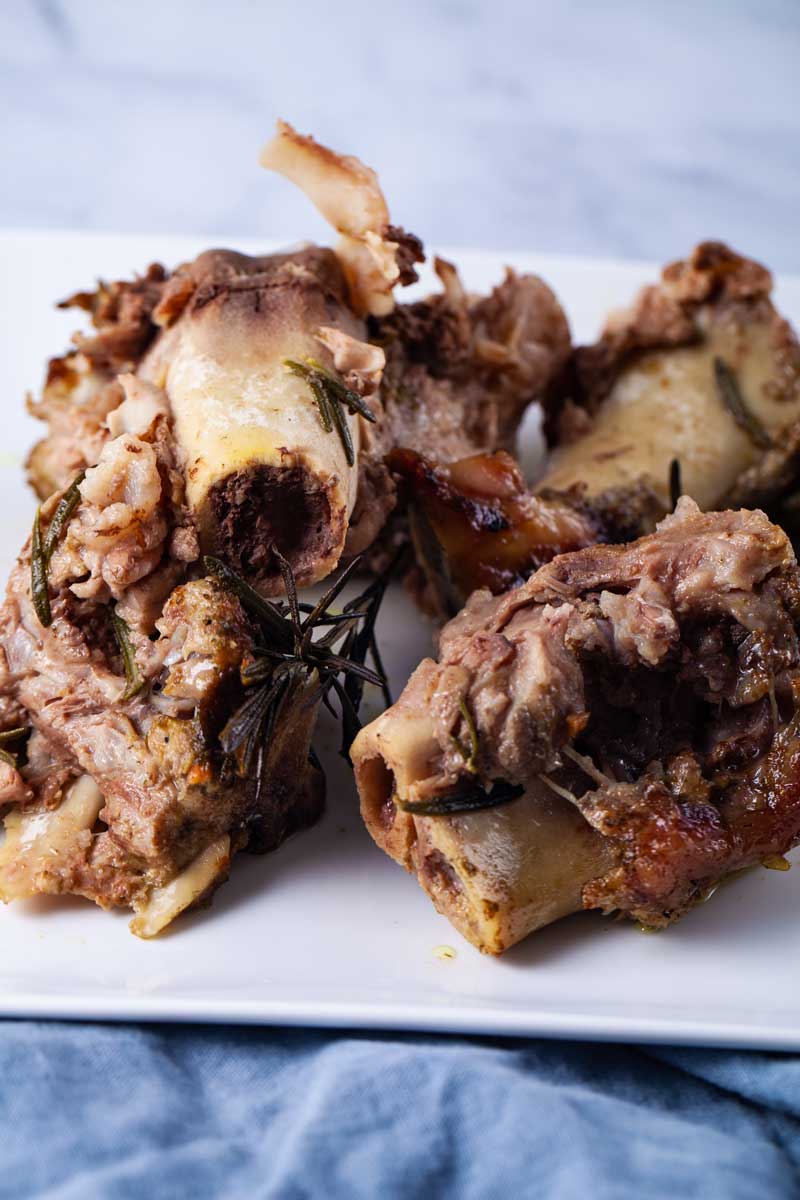 Other Ingredients
There are so many ways to make and enjoy a long-simmered bone broth.
I am sharing a classic recipe I like to make during winter.
So, let's look at the other ingredients you'll need to flavor this broth.
Vegetables or vegetable scraps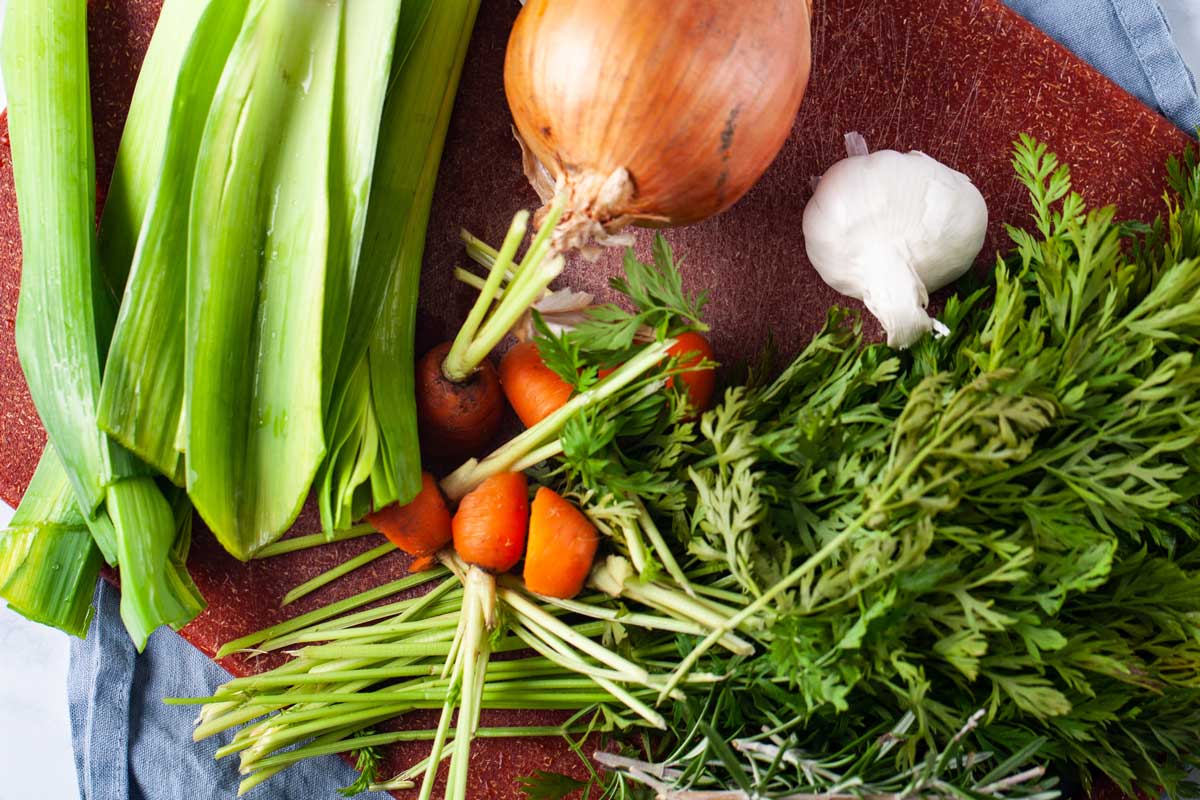 I often make my bone broth with vegetable scraps from leftovers in the fridge. Ultimately, you will strain the stock and discard the vegetable solids anyway.
You can use the ends, peels, roots, stalks, and leaves from vegetables such as carrots, shallots, and onions.
Other great options to add flavor are celery and leeks.
Yellow onions, scallions, and celery are my favorites to add to a broth, so sometimes I throw in the whole vegetable.
Note: The sweetness of a yellow onion and the buttery heartiness of celery add a beautiful richness and extra flavor!
Herbs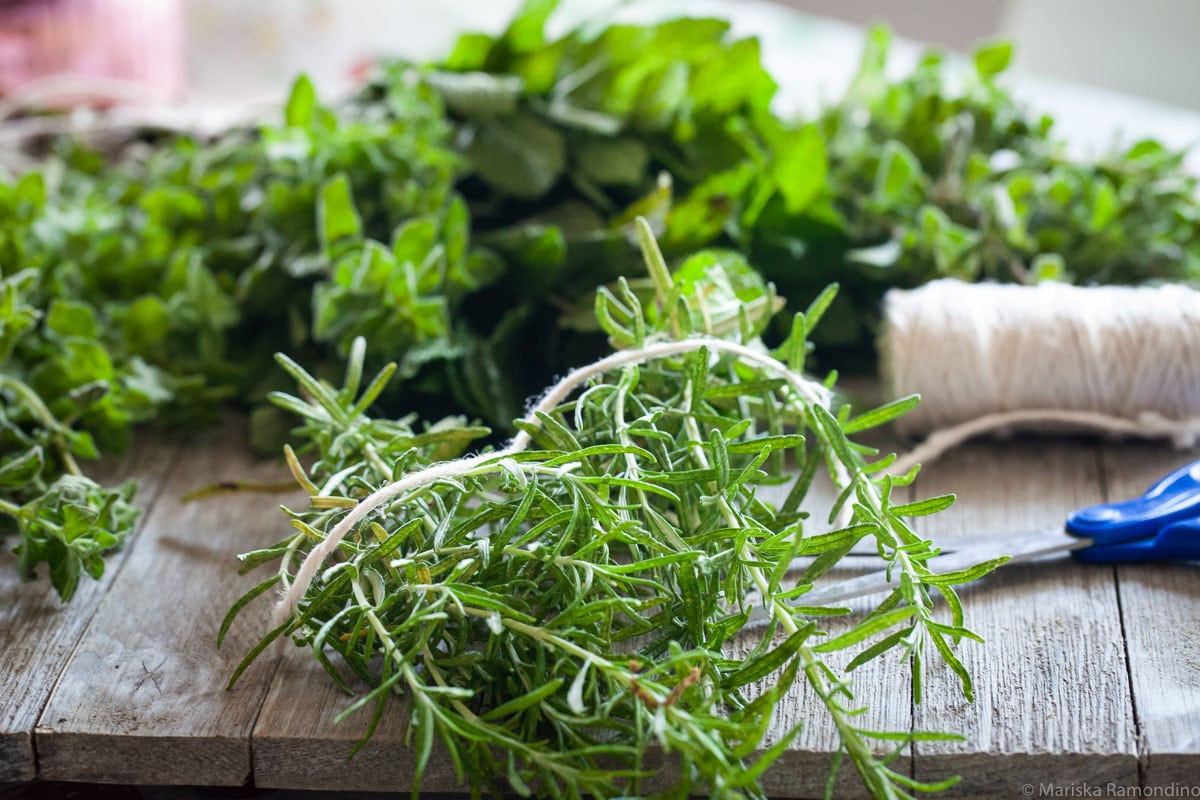 Feel free to discover which herbs you like best. You can't go wrong with adding dried or fresh herbs like Thyme and Rosemary sprigs.
I highly recommend garlic. And although botanically a vegetable, I use it as a herb here.
Note: Garlic softens during the long simmer time, and its intense flavors become sweeter and more mellow. Its distinct taste perfectly balances out all the other characteristics of this broth.
Seasoning
Vegetable Broth Seasoning or Vegetable and gluten-free Bouillon Cubes: This type of seasoning is optional, but I love adding a healthy seasoning mix that instantly adds a deep flavor and makes the bone broth a worthy drink.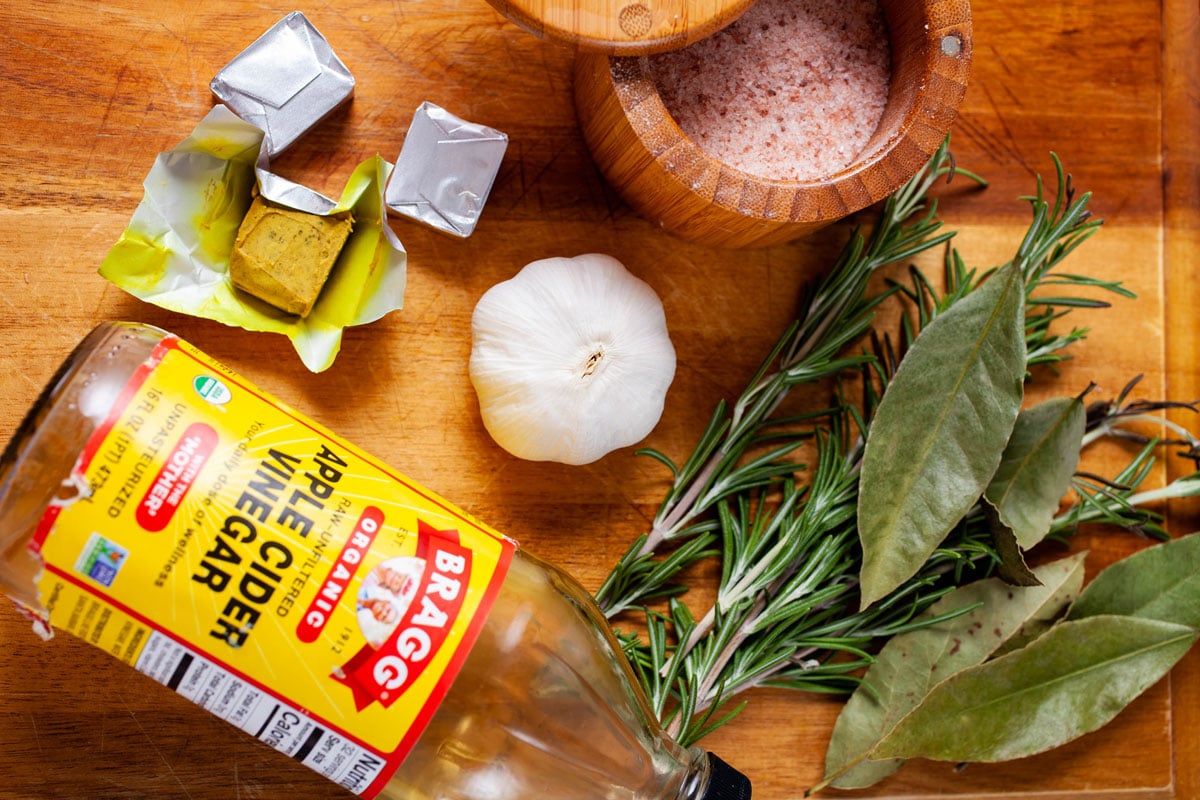 Mild-flavored apple cider vinegar is said to extract minerals from the bones due to its acidity.
I just like it because a touch of this fermented liquid helps balance out the overall flavors and fattiness of the broth.
Instead of apple cider vinegar, you could also use some tomato paste to add a different but nice balanced and sweet taste.
Sea salt or Himalayan salt
I don't put a lot of salt in my broth, just enough to give it some taste and as an extra nutrient.
You can opt to add some salt later based on preference when serving the broth individually as a drink or when using it as a base for other dishes.
Additional things you can add to increase the flavor
Green onions
Leeks
Carrots
Pepper
Whole peppercorns
Red pepper flakes
Parsley
Bay leaves
Sage
Ginger
Turmeric
Onion powder
Note: Often, when drinking bone broth, I tend to sprinkle it with some fresh chopped parsley and cilantro or season it a bit more with black pepper or even a touch of grated Parmesan cheese. Find what you like best.
Should I roast my bones first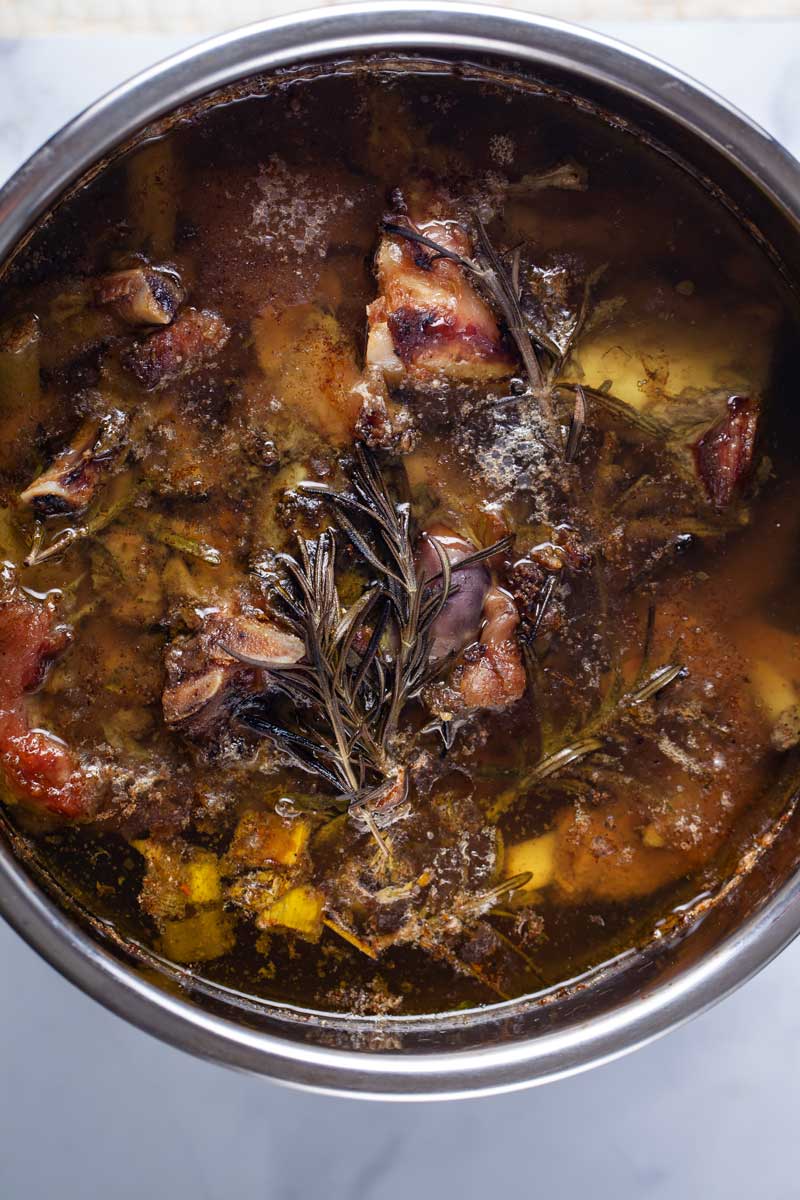 I DON"T, but there is no right or wrong here.
It heavenly depends on what type of bones you will use to make your bone broth. Let's have a look.
Plan to use bare bones only?
If you plan to use a lot of bare bones without much meat, I can see why you would want to roast the bones first.
You will not extract much flavor from slow-cooking bones alone, and roasting them will deepen the stock's aroma and color.
If you prefer to roast them first, simply rinse your bones, place them on a rimmed baking sheet, season with some salt and olive oil, and then roast in a preheated oven of 400 °F until golden brown (about 25 to 30 minutes).
Note that roasting your bones will result in a different flavor.
Plan to use meatier bones?
Since I prefer to use bones with bits of meat still on them—and I highly recommend you do—I like to make bone broth without roasting the bones first.
The final result is a slightly lighter flavored broth and nicer for sipping.
Also, I love how the meatier parts of the bones become deliciously tender after a long simmer.
Those meatier parts offer a deeper flavor to the broth but also become a succulent bite when taken out earlier.
Note: Shred any meaty parts, season it with salt, oregano, and olive oil, then enjoy it as-is or with some Italian bread.
How long to cook bone broth in the slow cooker
Usually, I let the broth simmer in the slow cooker for anywhere from 6 to 12 hours. Most of the time, I am pretty satisfied with how the broth turns out at around the 8-hour mark.
I would not go longer than 24 hours. After that, you won't get any more benefits flavor-wise, and you'll start to lose a lot more liquid.
But my motto is to check the broth and trust your senses.
A meaty and soupy smell, a beautiful deep brownish color, fall-off-the-bone meat with softer bones, and a delicious taste test will let you know whether your bone broth is good enough for you.
How to enjoy this hearty broth
Here are a few of my favorite ways to enjoy it.
Sip broth in a mug for breakfast. Reheat a cup of bone broth, pour it into a mug, and enjoy it like your cup of coffee—add additional seasoning to taste, if preferred. It is incredibly satisfying.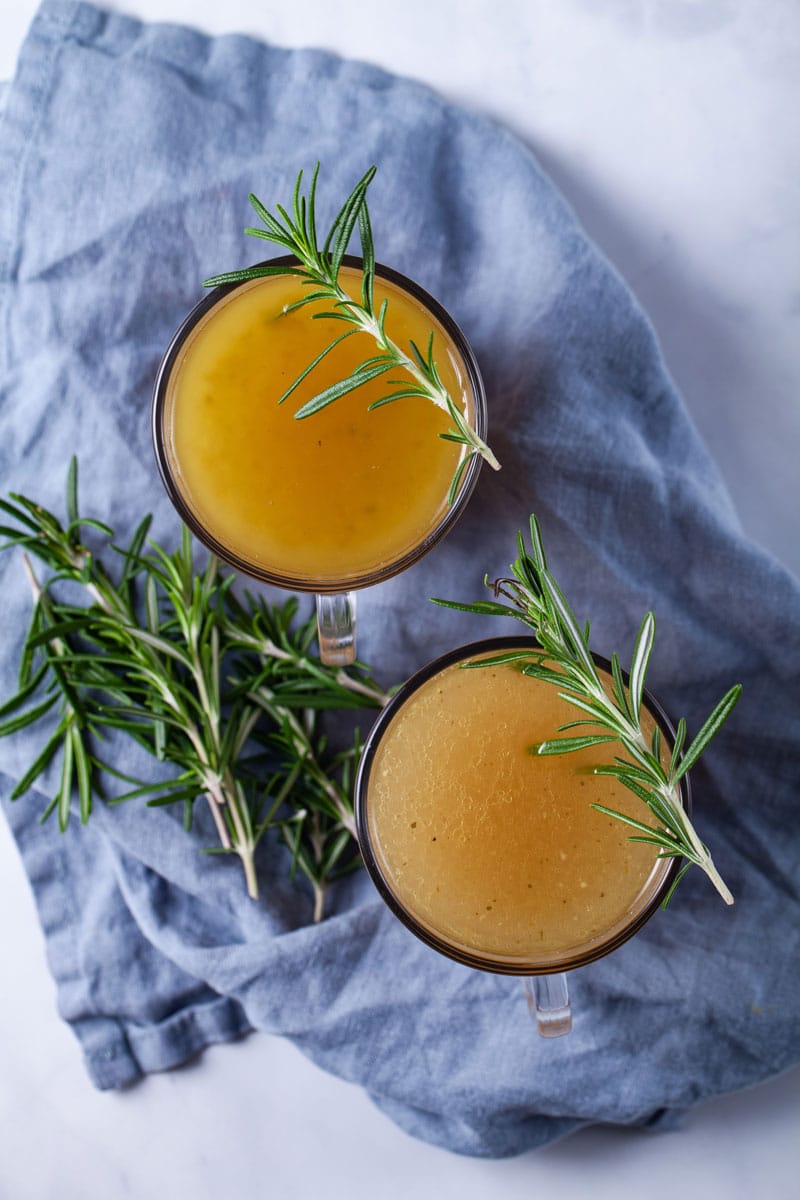 Pour a cup of broth as an afternoon pick-me-up drink. Drink it like a cup of hot tea in the afternoon or before your evening meal. Add a little extra Vegetable and Broth Seasoning while reheating it over the stove and some fresh chopped Parsley leaves to stimulate the appetite and improve digestion.
Use bone broth as a base for lunch, brunch, or a quick dinner.
Here are a few dishes that turn into a delicious meal with (leftover) bone broth.
Bone broth for dogs
If you have a canine friend at home, then the broth's incredible aromas will make your dog want to join in on all that goodness.
I know that our dog, Porthos, certainly goes crazy for homemade bone broth. I usually use a couple of tablespoons to flavor his lunch or dinner.
If you plan to make this with your dog friend in mind, then you have to leave out the onions and any vegetables related to onions, like leeks and scallions.
I would go with chicken neck or beef bones, and keep it simple with your choice of vegetables and choose carrots or celery.
I always use a bit of garlic. It is NOT bad for dogs in very small amounts. But when in doubt, leave it out.
How long will it keep in the refrigerator
About 3 to 4 days. After removing the meaty bones, I let the slow cooker bone broth cool at room temperature and then strain the liquid before I store it in the fridge.
I always skim off any fat that has hardened at the top before reheating the broth or using it in other dishes.
If you don't consume it in the next few days after making the bone broth, store it in the freezer.
Freezing instructions
Once cooled, I strain the liquid and store it in glass mason jars or glass food storage containers. Leave enough room at the top for the broth to expand.
The broth keeps well in the freezer for about 6 months. Defrost by placing it in the fridge the night before.
Recipe FAQ
Where to buy quality bones?
I usually get mine at my local farmer's market—often, I can order them in advance online.

But if you ask for soup bones at the butcher stand in your local grocery store, they'll most likely have them in the back and will gladly sell them to you. 

I encourage you to get either organic bones, 100% grass-fed beef bones, or bones from a pastured chicken. The small extra cost is so worth it for your health and difference in taste.

Sometimes you can find the healthiest and most reasonably priced sustainable food online.
Can I make the bone broth in an instant pot?
While it is possible to use a pressure cooker or instant pot, I've noticed that the broth did not have the same richness and deep flavors as when you use a slow cooker or crock pot.

If you must use an instant pot, your best time is 2 hours on a high-pressure setting.
Can I cook bone broth on the stove?
If you plan to be at home the whole day or have a lazy Sunday, you can make this recipe on the stovetop and in a large enough pot ( 8 QT ). Count for a minimum of 8 to 12 hours of gentle simmer time.

I am not keen on leaving the stove on overnight. So, if I use the stovetop method, I prepare everything in the morning and keep an eye on it while doing other things at home.
Can I get bone broth at the grocery store?
Nothing beats homemade bone broth, but if you want something quick at the ready for those exceptionally hectic days, you can certainly find it at the grocery store.

Look for "Bone broth" in the aisle with all the stocks, broth, and bouillons. Or some stores carry fresh bone broth in the freezer.

It usually lasts for a week in the fridge or one year in the freezer.

I love Brodo. They use bones from cooperatives and family farms from 100% grass-fed animals in open pastures and are free of antibiotics and hormones.
Their poultry (chicken and turkey) are certified organic, raised on pasture, and fed a vegetarian diet free of GMOs, antibiotics, chemical fertilizers, and pesticides.

They have various choices and flavors to choose from, but it all comes down to what you like.
Recommended
---
Have questions? Simply comment below or message me. If you make this recipe, please leave a comment and a starred review below. Thank you!
Don't forget to subscribe to my Monthly Newsletter!
---
📖 Recipe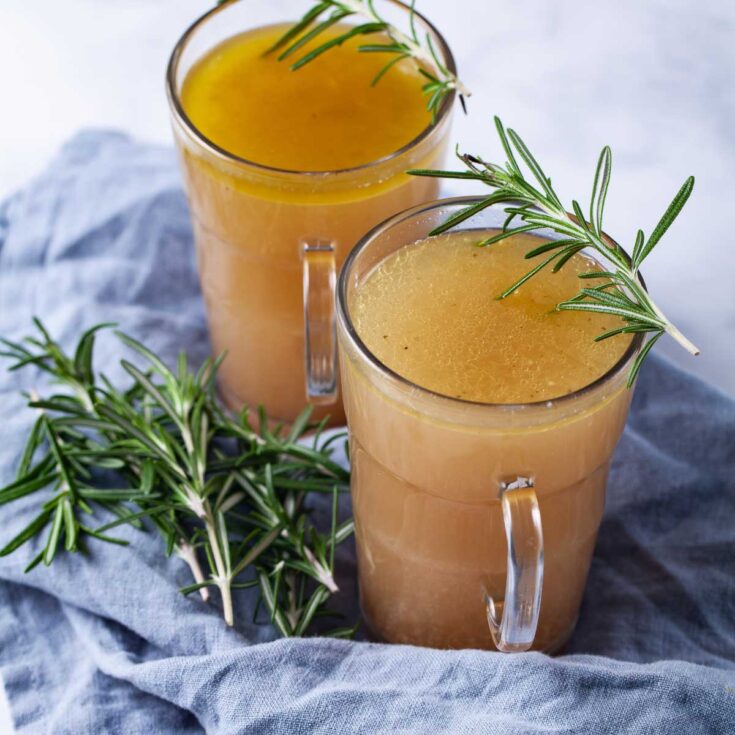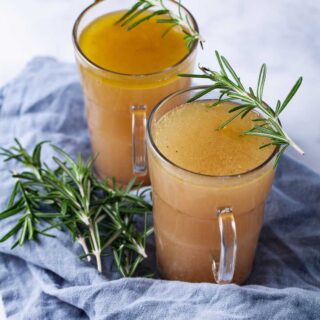 Slow Cooker Bone Broth
Mariska Ramondino
A hearty homemade bone broth drink made in a crockpot—perfect for breakfast, a pick-me-up afternoon drink, or as a base for a delicious soup!
Ingredients
3

cups

vegetable ends from carrots, shallots, green onions, or dark green ends of leeks

1

large yellow onion

peeled and coarsely chopped (you can also use celery instead)

3

cloves

garlic

crushed

3 to 5

pounds

beef bones or beef marrow bones

if preferred, you can also use pork neck bones or chicken necks

2

tablespoons

apple cider vinegar

2

cubes

vegetable bouillon

optional

Black pepper

10 turns with the pepper mill

2-3

sprigs

fresh Thyme or Rosemary

2

tablespoons

sea salt
Instructions
In an 8 QT slow cooker, cover the bottom with all the vegetable ends, the onion, and the garlic.

Add the meat bones and pour the vinegar over the bones—season with salt or vegetable broth seasoning and pepper. Then throw in the fresh sprigs.

Cover everything with water but leave about 1-inch space between any liquid and the pot's rim or fill the pot to its maximum capacity.

Throw in the vegetable bouillons (optional)

Cook on low for 8 to a maximum of 24 hours.

When ready, allow the broth to cool. Remove the big pieces of meat with a large slotted spoon, then strain the stock into a large bowl.

Transfer the liquid to airtight containers and refrigerate up to 4 days or freeze up to 6 months.

Immediately enjoy the meat bones or peel off the soft meat and enjoy in casseroles, omelets, etc.
Notes
After refrigeration, always skim off the fat congealed on top before reheating or using it as a soup or stew base.
Add your own private notes
Whenever you come back to this recipe, you'll be able to see your notes.
Nutrition (% Daily value)
Calories:
250
kcal
(13%)
Carbohydrates:
2
g
(1%)
Protein:
2
g
(4%)
Fat:
26
g
(40%)
Saturated Fat:
0.01
g
Polyunsaturated Fat:
0.01
g
Monounsaturated Fat:
0.001
g
Sodium:
1788
mg
(78%)
Potassium:
29
mg
(1%)
Fiber:
0.3
g
(1%)
Sugar:
1
g
(1%)
Vitamin A:
86
IU
(2%)
Vitamin C:
2
mg
(2%)
Calcium:
8
mg
(1%)
Iron:
1
mg
(6%)
Disclaimer: This nutritional data is calculated using third party tools and is only intended as a reference.