From comforting soups to hearty mains, dive into a world of flavor with this carefully curated list of 35 amazing recipes using (homemade) chicken broth.
Perfect for lunch, dinner, or get-togethers!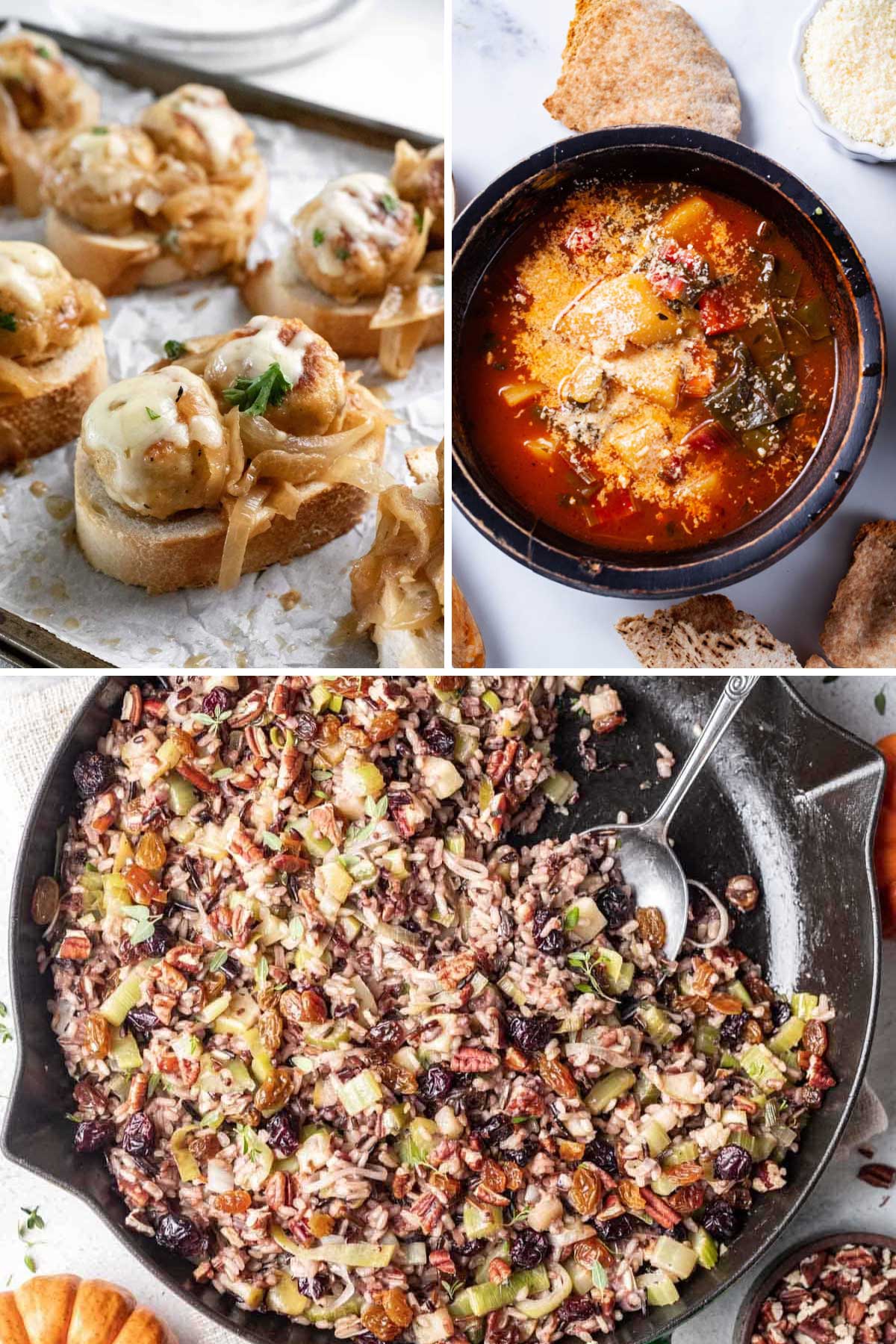 Savory chicken broth is a kitchen staple not just for making amazing soups and stews. It can infuse many different types of dishes with a rich, deep flavor.
It's a go-to ingredient that can bring warmth and depth to countless meals. I hope you enjoy my compilation of recipes using chicken broth, showcasing how versatile and transformative it can be in your kitchen.
So, if you're curious to see what you can whip up with chicken broth, keep reading. You're in for some delicious surprises!
Jump to:
Homemade Versus Store-Bought Broth
Yes, store-bought chicken broth or stock can save you a lot of time.
However, here are a few reasons to convince you to make your own quality homemade broth and why it matters so much for any recipe you make.
Flavor Depth: Homemade broth often has a richer, more genuine flavor. When you make it at home, you control the ingredients.
Nutritional Value: Some store-bought broths skimp on actual chicken, relying more on flavorings, and might contain additives or high sodium levels. At home, it's just pure, straightforward goodness - no additives in sight.
Customization: Making your own broth means you get to adjust the flavors. Want it to be more herbaceous? Add thyme or rosemary. Prefer a hint of spice? Throw in some peppercorns.
Full Control over Salt Levels: Many store-bought versions, even those labeled as "low-sodium," can still contain a considerable amount of salt. By making it at home, you control the sodium, allowing your dish's other flavors to shine and ensuring a healthier result.
Economic: Making chicken broth at home is cost-effective, especially if you use every part of the chicken to make weekly meals.
Freshness Factor: Nothing beats the taste of fresh homemade chicken broth. The difference in vibrancy and depth of flavor is undeniable.
Whether you're whipping up a soup or a sauce, the broth you choose sets the stage. So, go ahead, and give homemade a shot, or if you're picking one off the shelf, choose wisely.
Check out my poached whole chicken recipe that, next to cups of broth, also promises tender shredded chicken and leftover chicken bones to make potentially homemade chicken stock.
Easy Recipes With Chicken Broth
Dive into the following list of great recipes using chicken broth that turns your meals from mundane to marvelous.
Nourishing Stracciatella Soup (Italian Egg Drop Soup)
This stracciatella soup recipe is traditionally made with a rich chicken broth, but you can also use bone broth. Featuring a medley of nutritious vegetables and a flavorful combination of parmesan or pecorino cheese, eggs, and fresh parsley, this soup is a delicious and satisfying meal. You can keep it low-carb or add some pasta like Tortellini or Ravioli. This soup is sure to leave you feeling full and satisfied.
Check out this recipe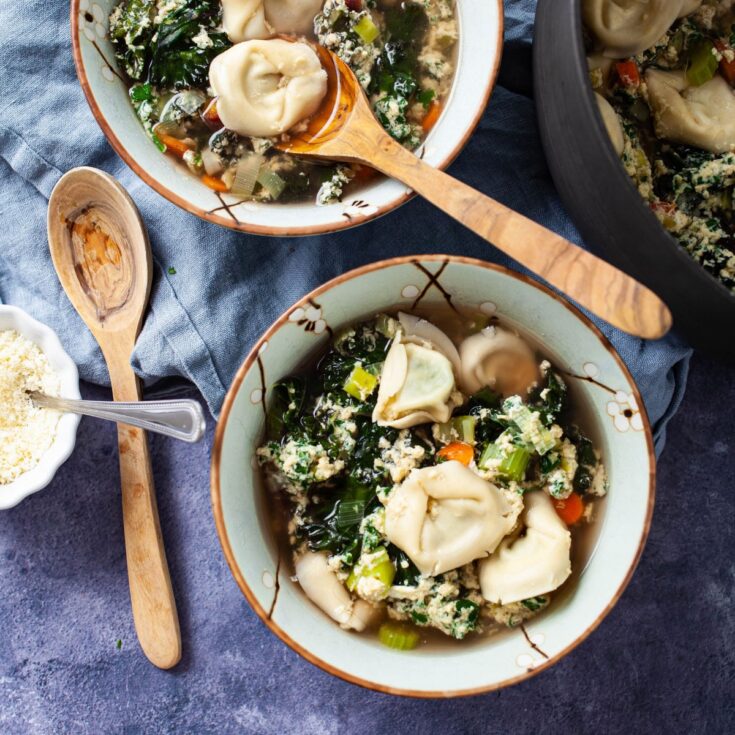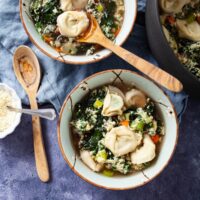 Tender Curry Bison Meatballs
These succulent Curry Bison Meatballs take a dip in a luscious light curry coconut sauce with flavorful curry powder and vegetable bouillon. You can make them with a vegetable or chicken broth as a base. In just 40 minutes, you'll have a hearty and healthy comfort meal.  Serve them as an appetizer or a main course.
Check out this recipe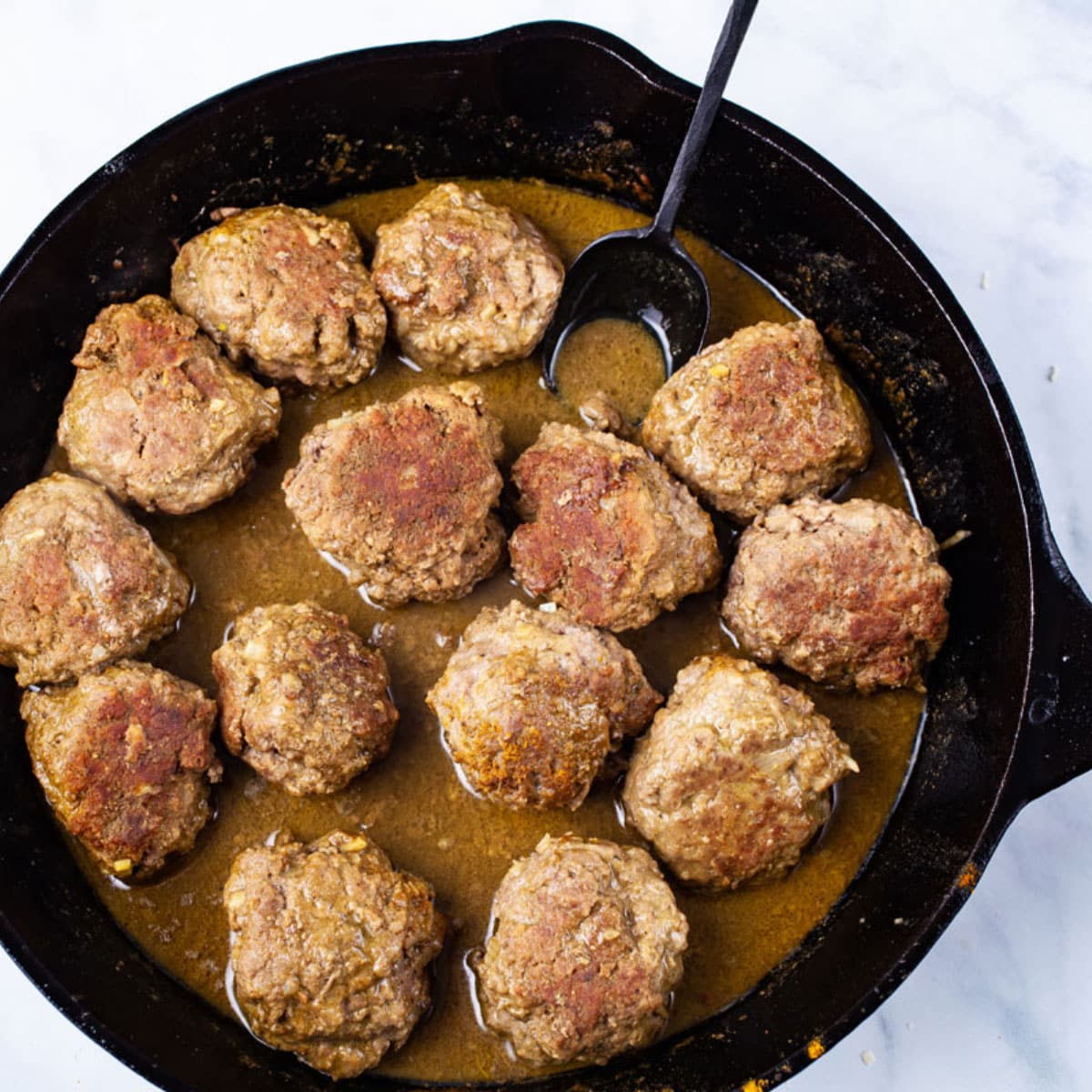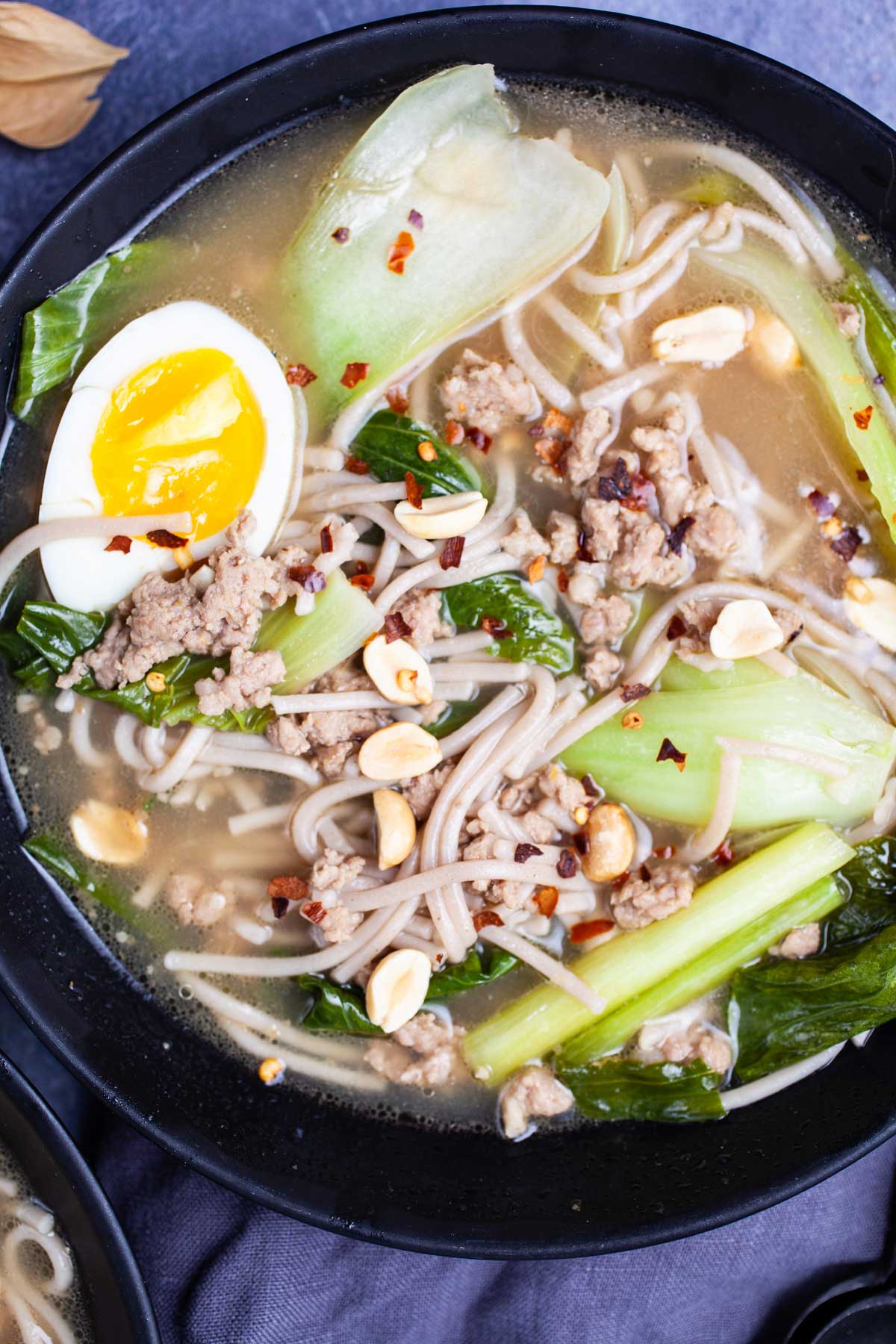 Ginger Bok Choy Noodle Soup with Pork
This bok choy soup is hearty, nourishing, and full of flavor. The base is made with ginger, garlic, lemon zest, and chicken broth, and it's packed with healthy vegetables and nutrients. It's perfect for a quick and nutritious weeknight meal. Plus, it is gluten-free, dairy-free, and ready in less than 30 minutes!
Check out this recipe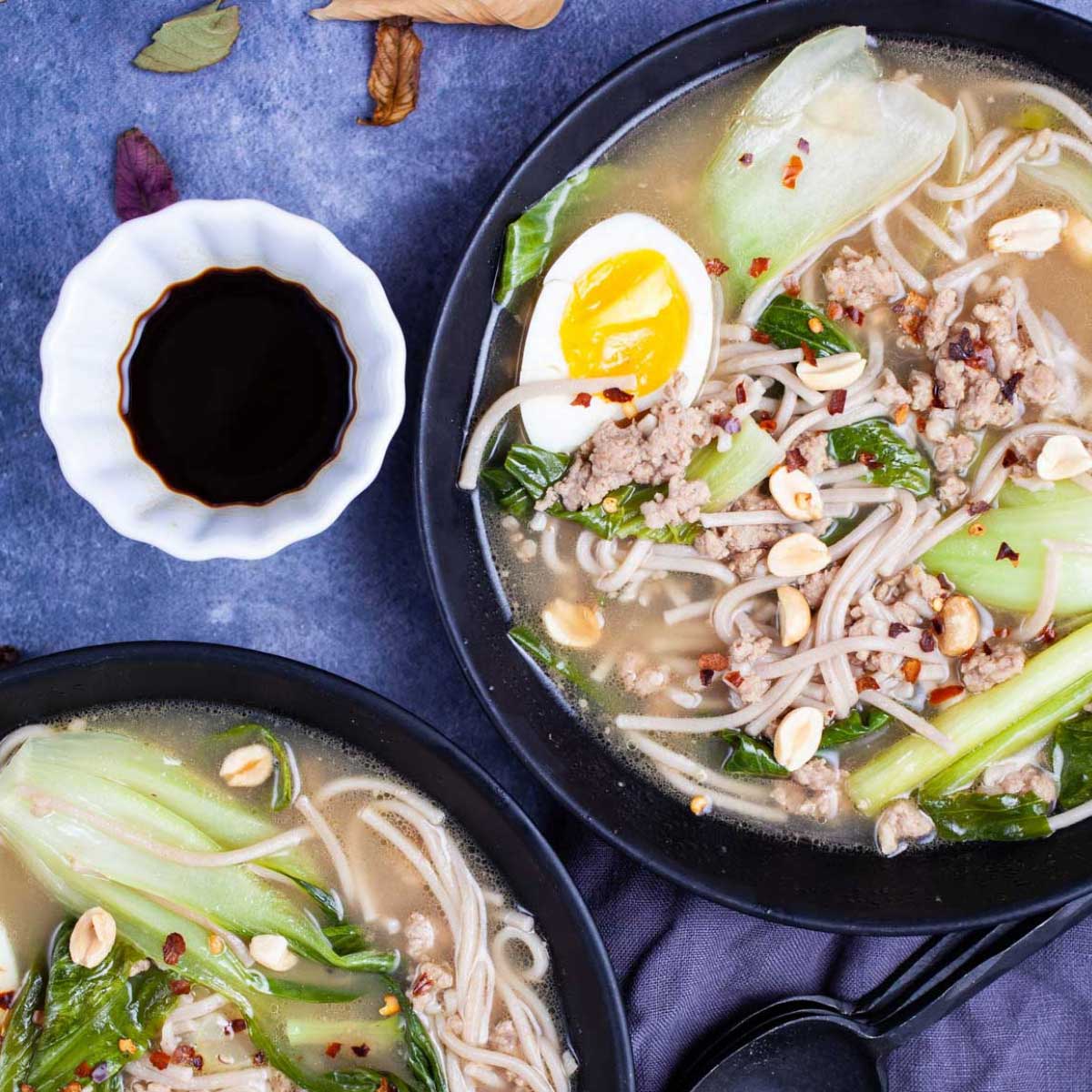 Homemade Vegetable Soup
Packed with fresh veggies and a generous helping of potatoes, this vegetable soup is more than a meal. It's a warm hug in a bowl. Make it with a vegetable or for a richer flavor with chicken broth. Whether you're a stove-top enthusiast or an Instant Pot wizard, I have instructions for both. Top it off with fresh herbs, a sprinkle of parmesan, or some crusty bread. Make a big batch because the leftovers are lunchtime saviors all week long.
Check out this recipe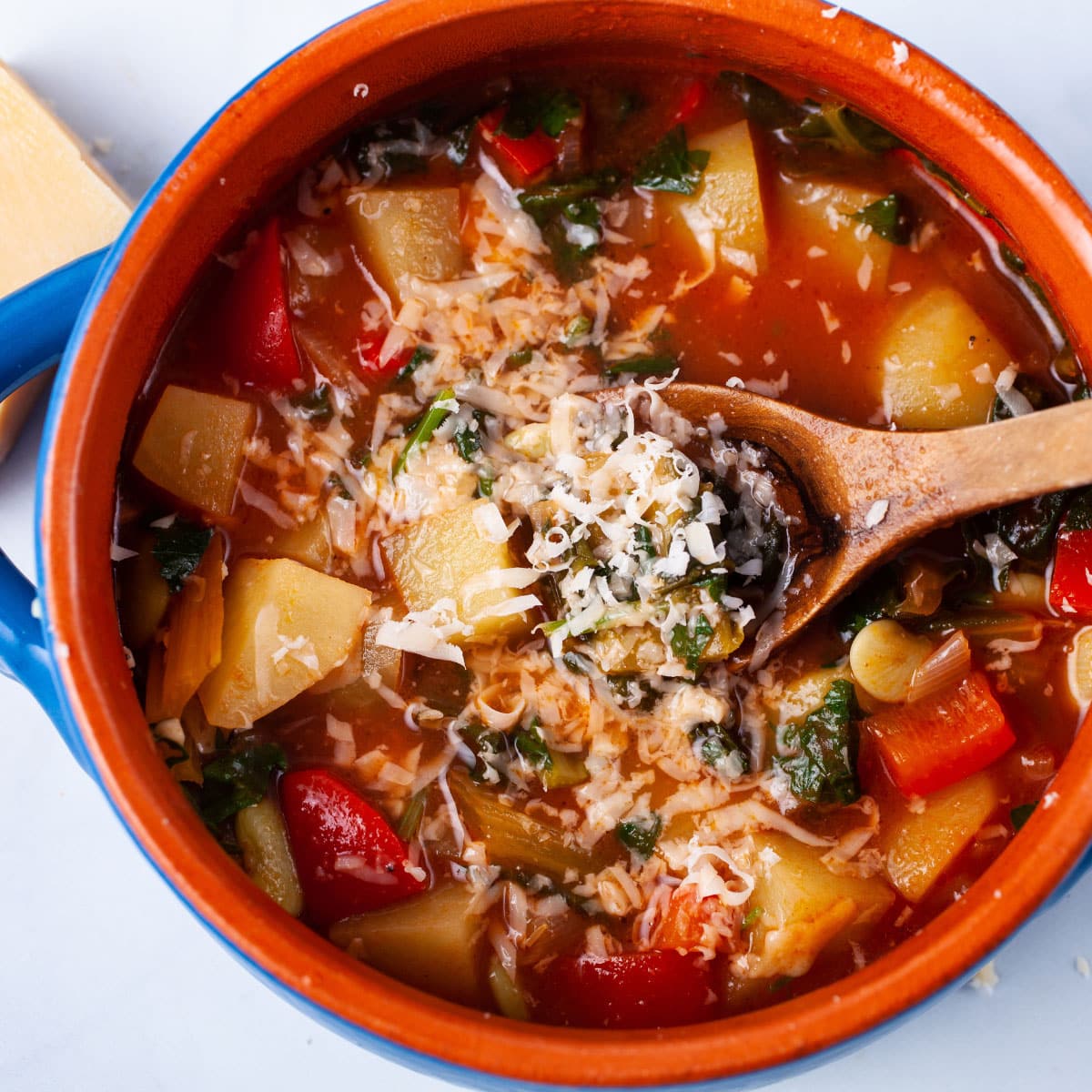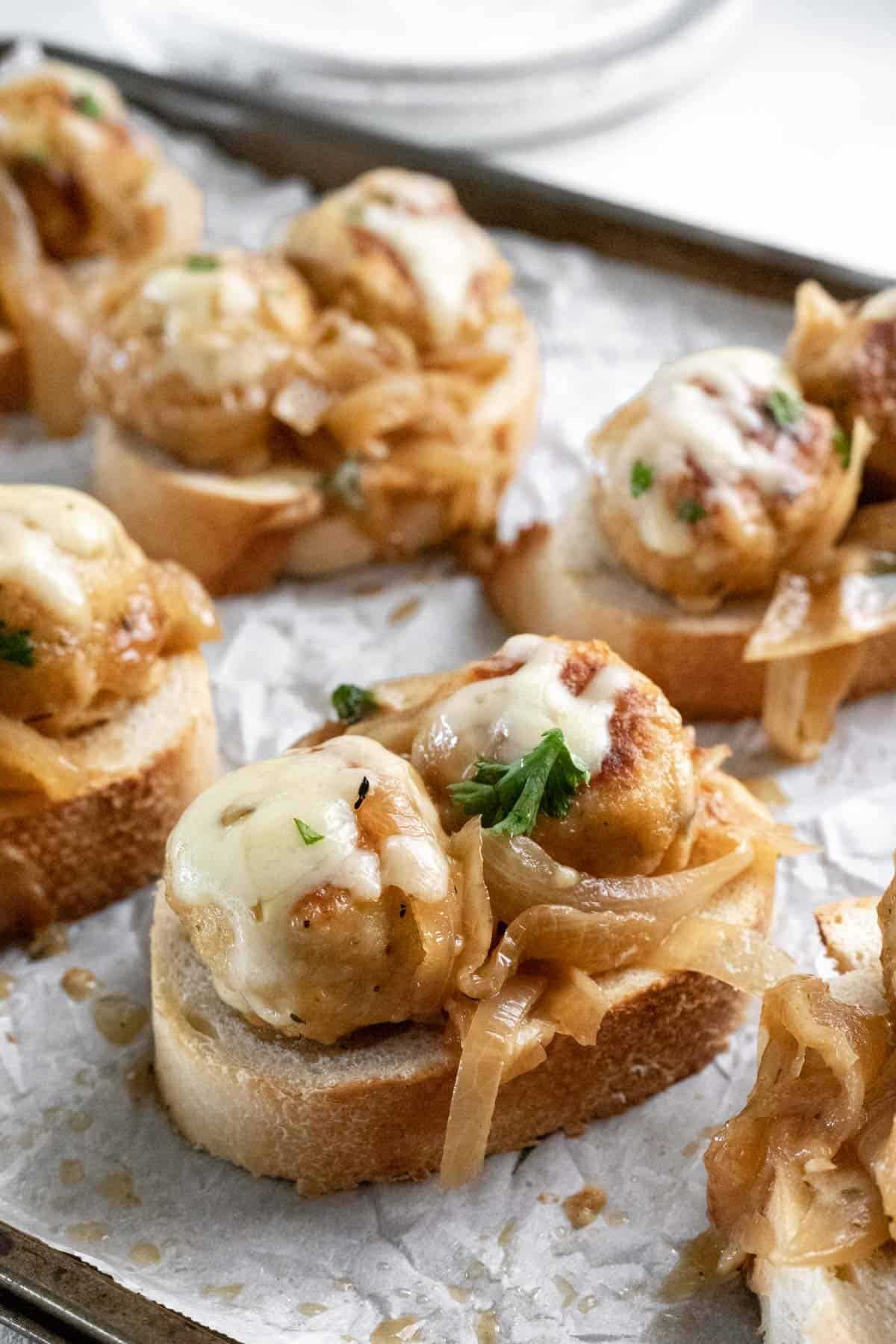 Cheesy French Onion Ground Chicken Meatballs
Ground chicken meets caramelized onions and melted gruyere to bring the comforting essence of French onion soup into bite-sized meatballs. Baked to perfection and finished with a savory sauce, these meatballs provide a unique twist on a classic favorite. Serve alongside roasted veggies or mashed cauliflower for a complete meal.
Check out this recipe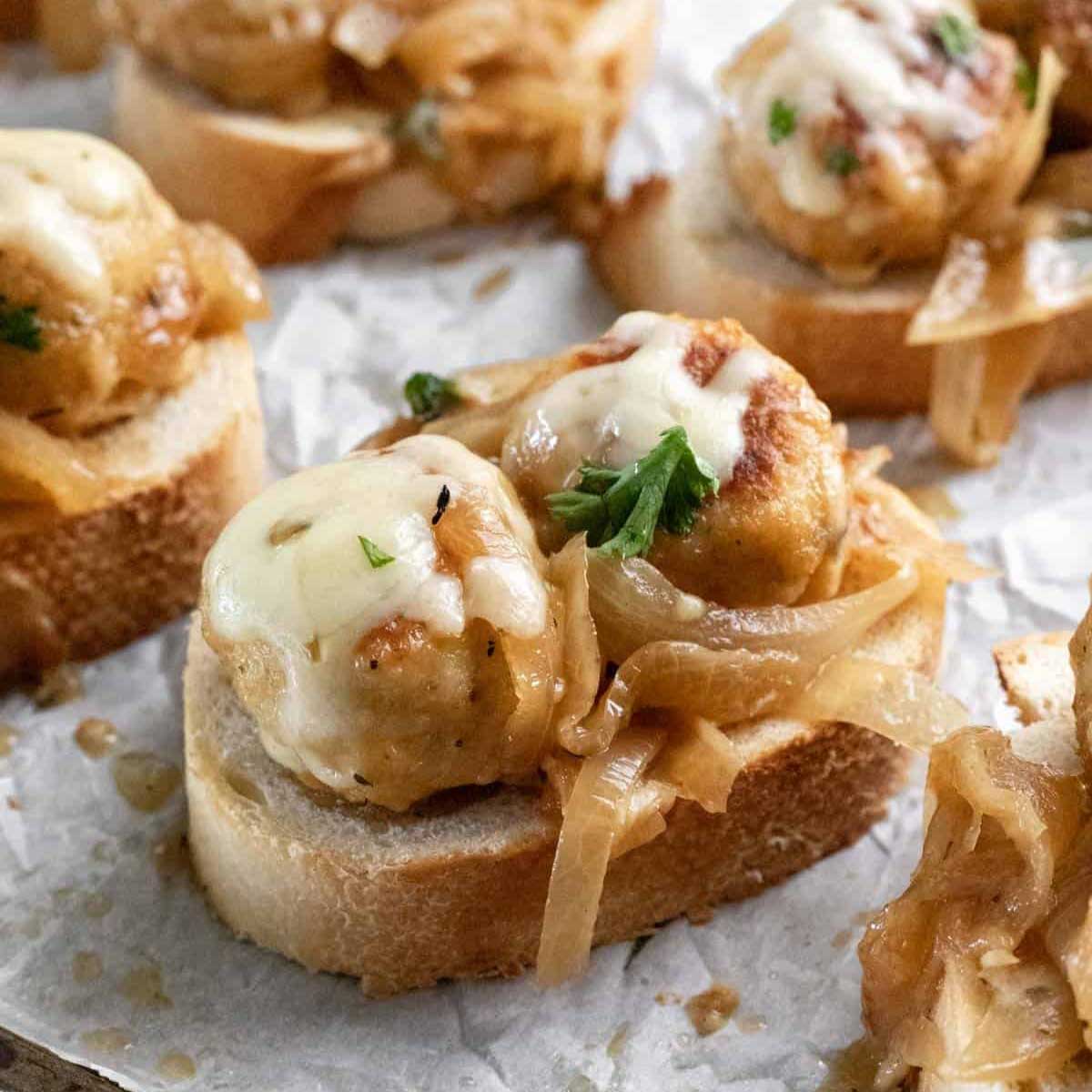 Classic Gluten-Free Stuffing
Soft gluten-free bread cubes combined with aromatic celery, onions, and garlic create a comforting stuffing perfect for festive dinners. The added touch of parsley enhances its appeal. Pair it with roast turkey or a savory pot roast for the ideal holiday spread.
Check out this recipe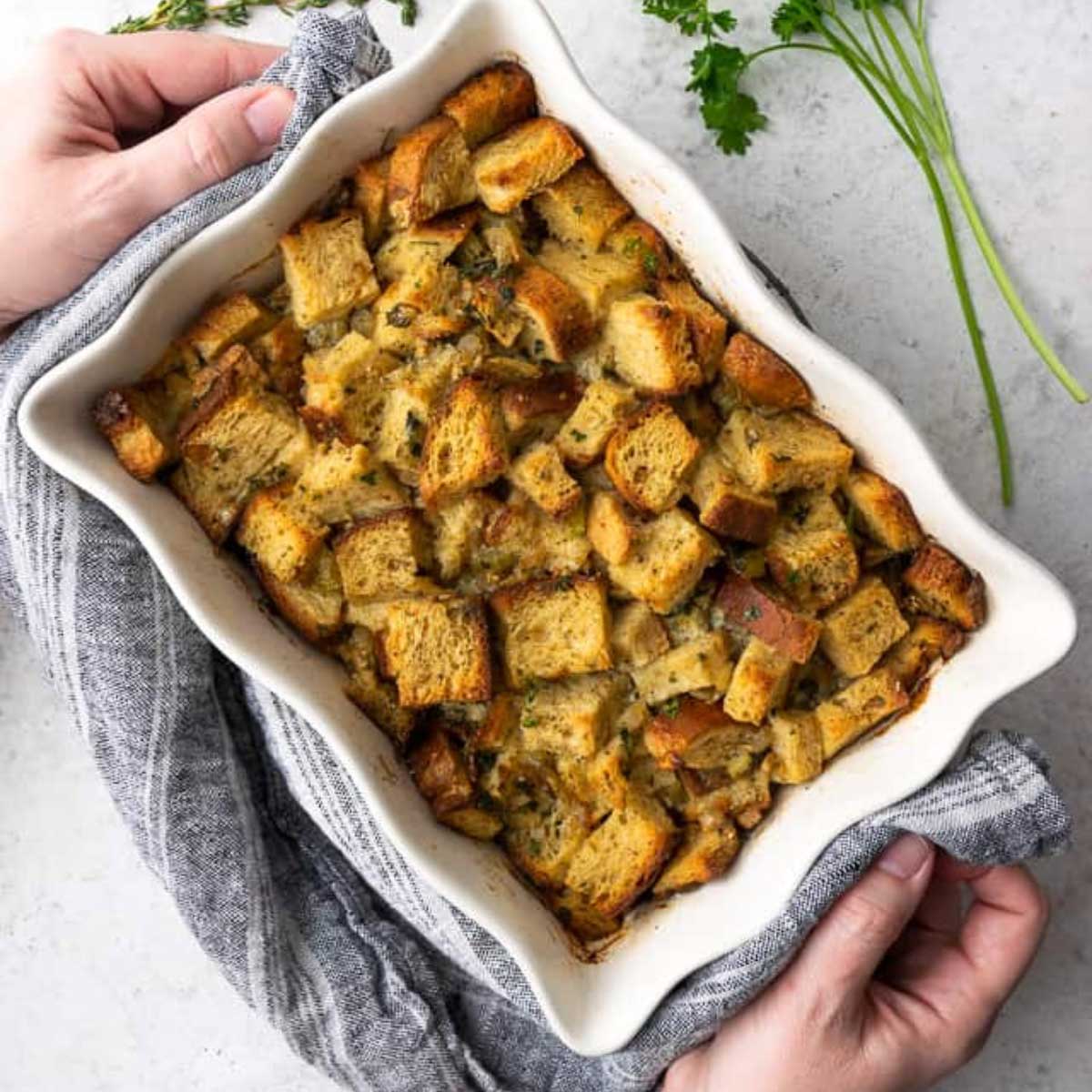 Pear and Curry Butternut Squash Soup
Butternut squash and fresh pears unite with a touch of curry powder to create a flavorful soup ideal for the fall season. While it might sound like a unique mix, these ingredients come together harmoniously in this easy-to-make dish. To complement this soup, consider pairing it with artisan bread or with my gluten-free drop biscuits.
Check out this recipe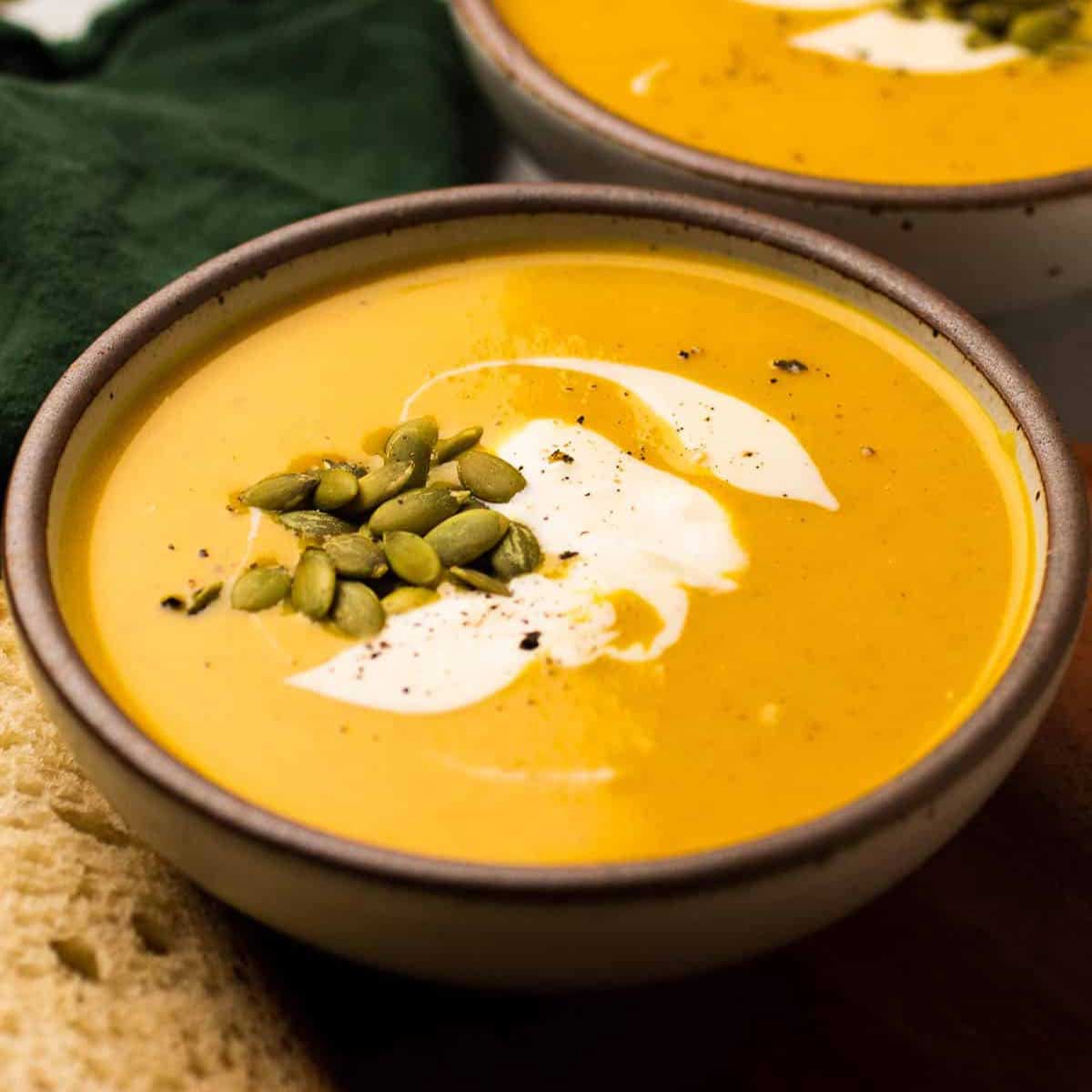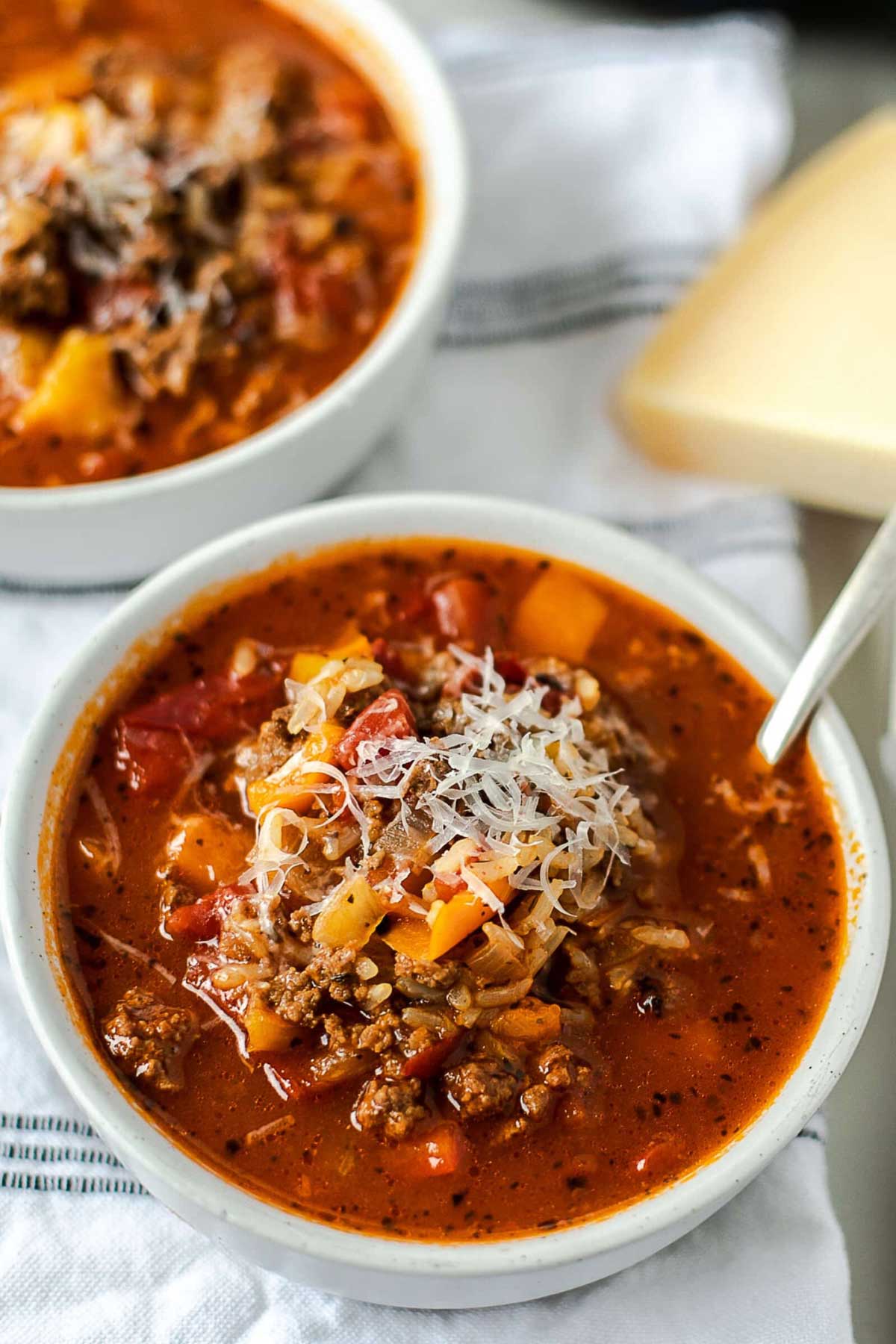 Instant Pot Stuffed Pepper Soup Recipe
Made with sautéed ground meat, rainbow bell peppers, and a handful of pantry staples, this stuffed pepper soup recipe is quick, easy, and perfect for a busy weeknight. Serve this brothy soup with a slice of crusty whole-grain bread for dipping or a fresh green salad dressed with a light vinaigrette to balance out the robust flavors.
Check out this recipe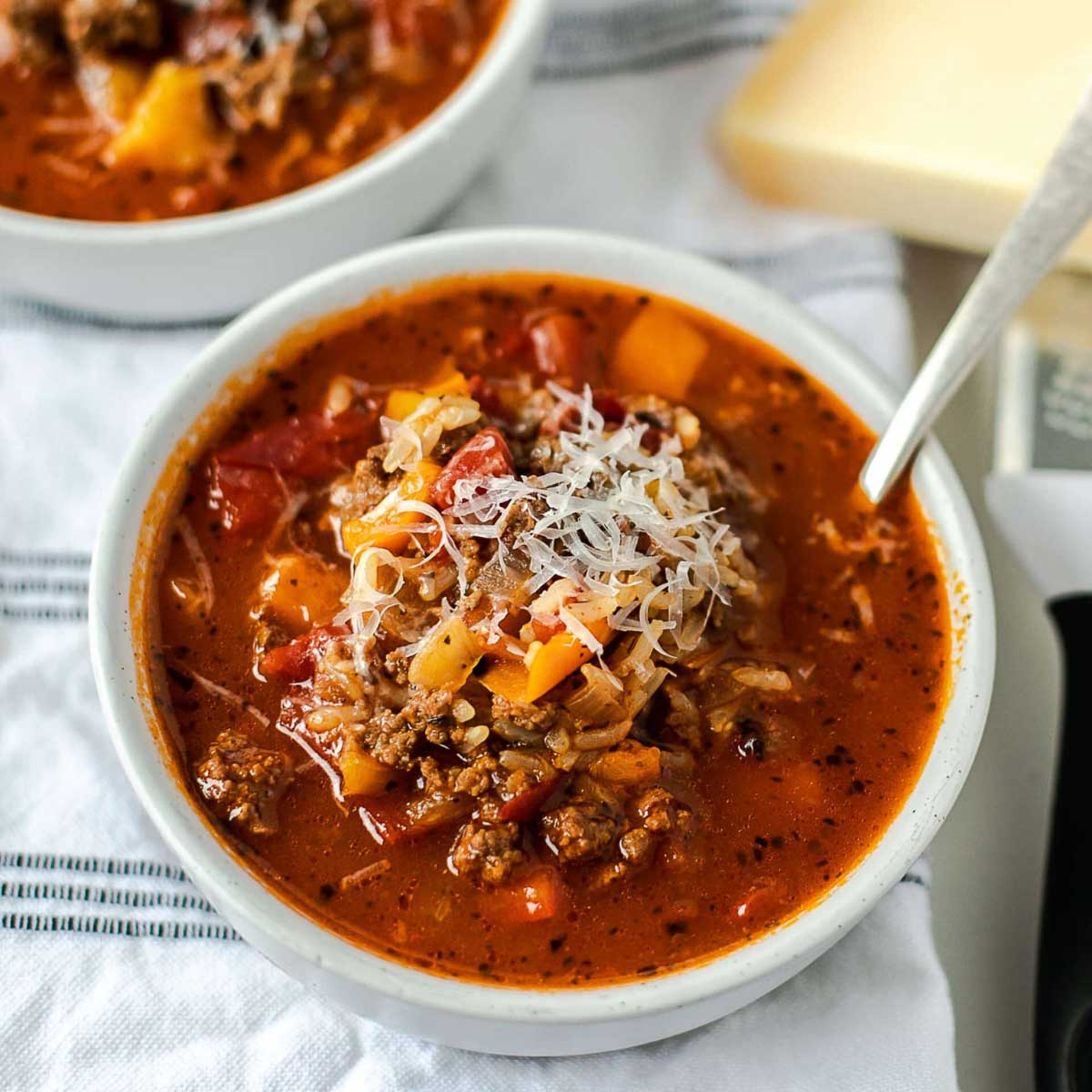 Chicken and Butternut Squash with Parmesan Sauce
Tender chicken thighs meet the sweetness of roasted butternut squash in a creamy parmesan sauce, tinged with garlic and fresh thyme. This one-skillet dish is perfect on its own, or pair it with steamed green beans or a crisp side salad for a well-rounded meal.
Check out this recipe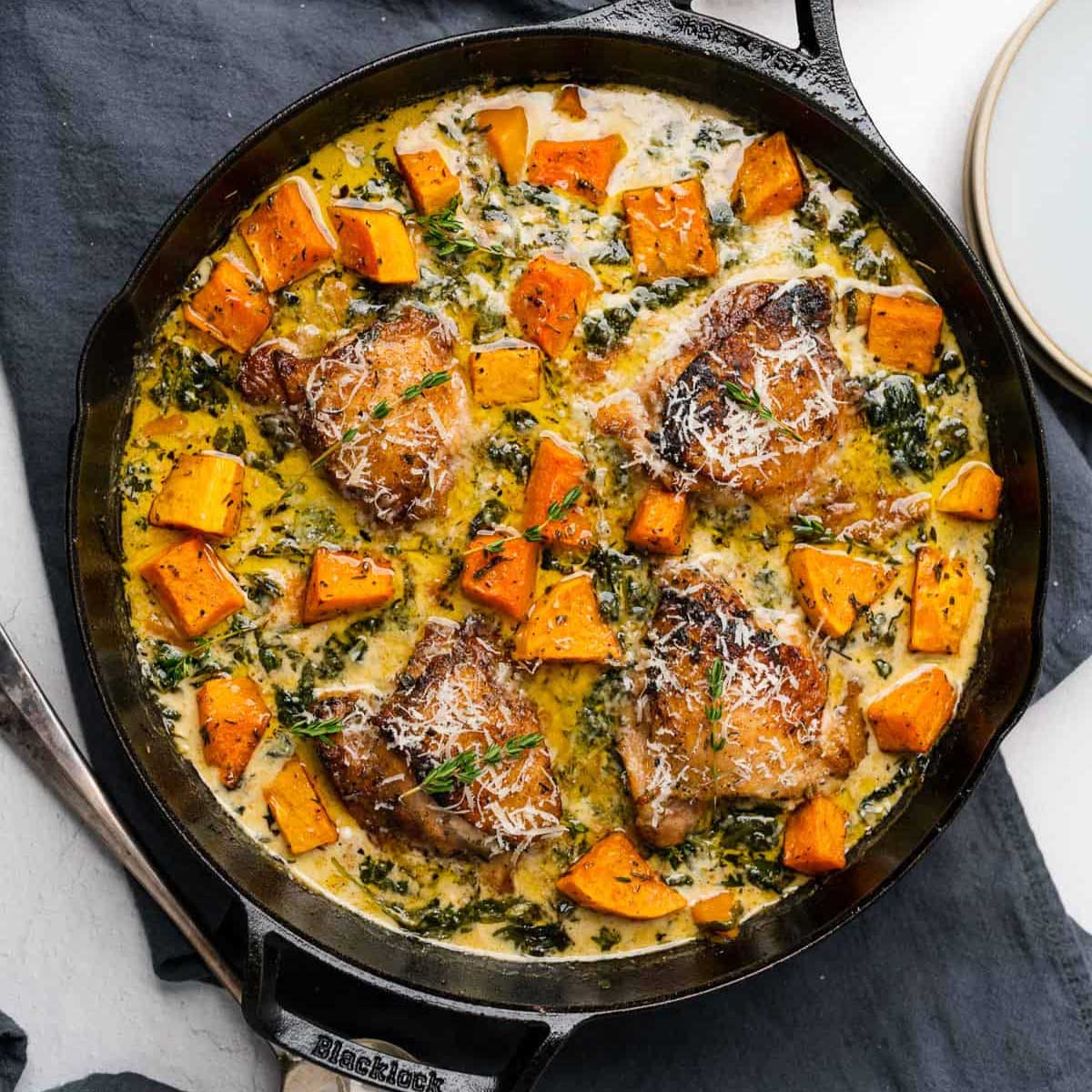 One Pot Chicken and Rice with Brussels Sprouts and Bacon
Combine tender chicken and aromatic rice in this one-pot delight, accentuated with the crunch of Brussels sprouts and the savory hint of bacon. For a well-rounded meal, consider serving with a fresh green salad or steamed vegetables.
Check out this recipe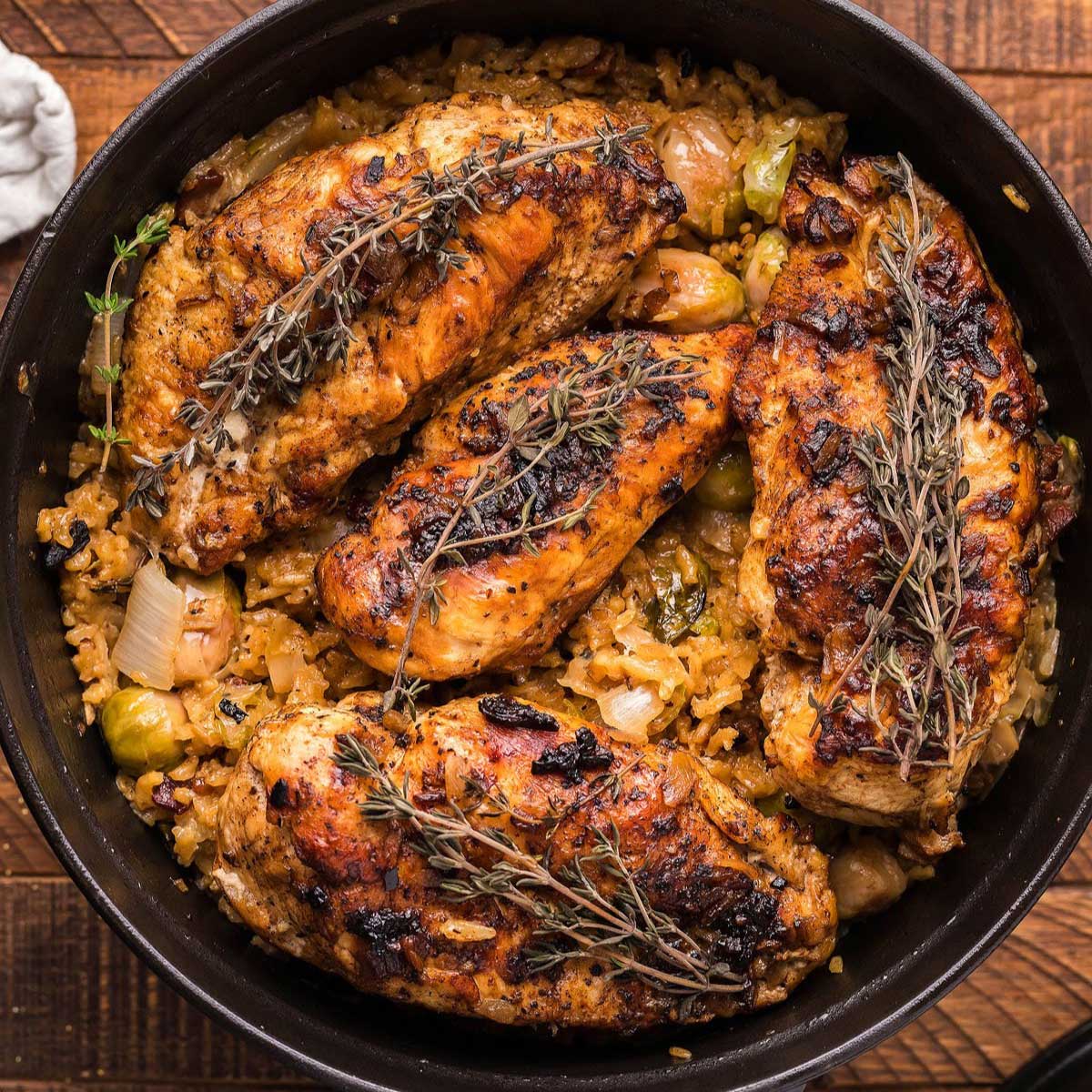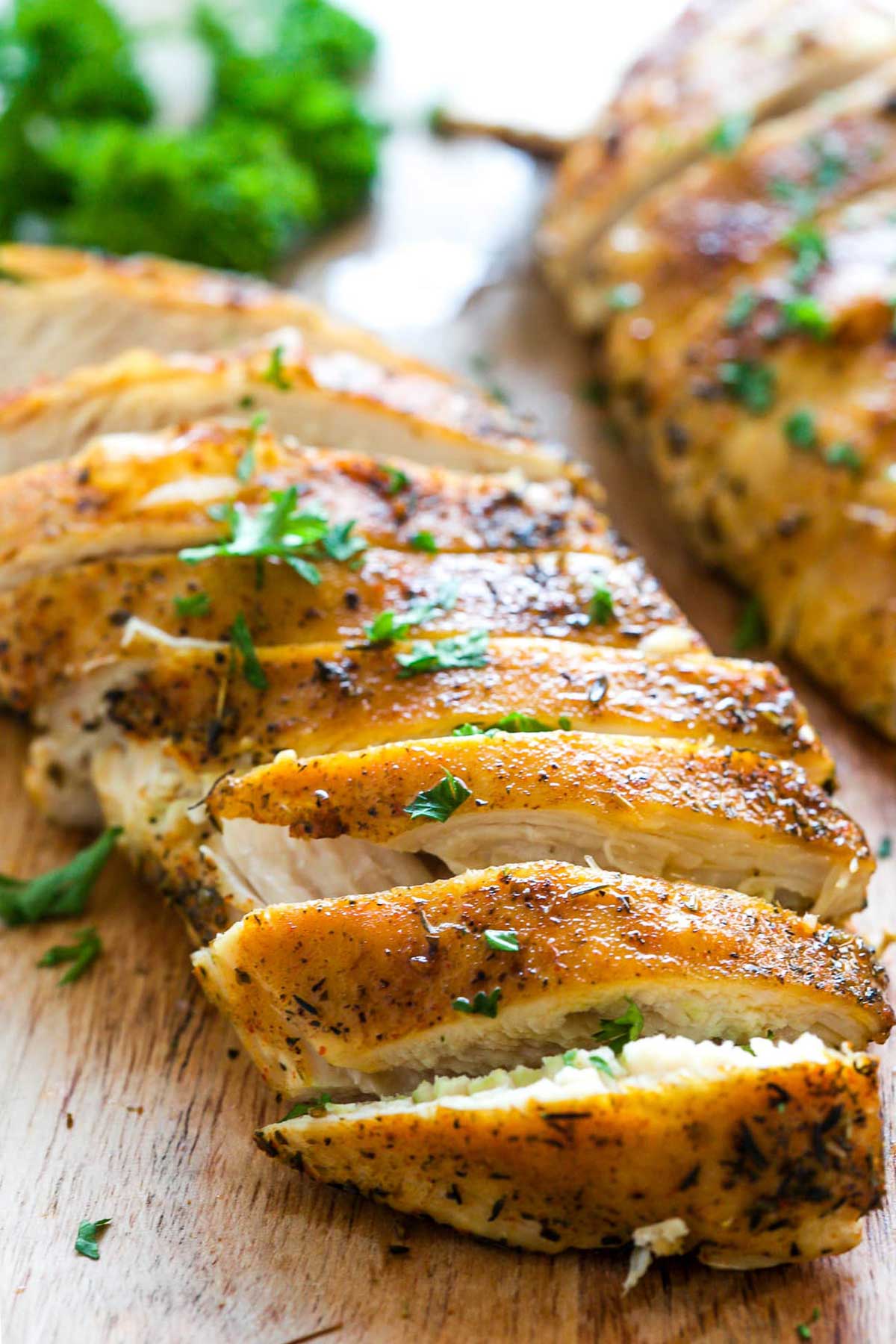 Instant Pot Chicken Breast
A low-carb, juicy, flavorful chicken that practically melts in your mouth. And the best part? It's so easy to make! With just a handful of basic ingredients and less than 30 minutes, you'll have a show-stopping meal. This tender chicken pairs perfectly with roasted or steamed vegetables like green beans, asparagus, broccoli, or a crunchy spicy cucumber salad.
Check out this recipe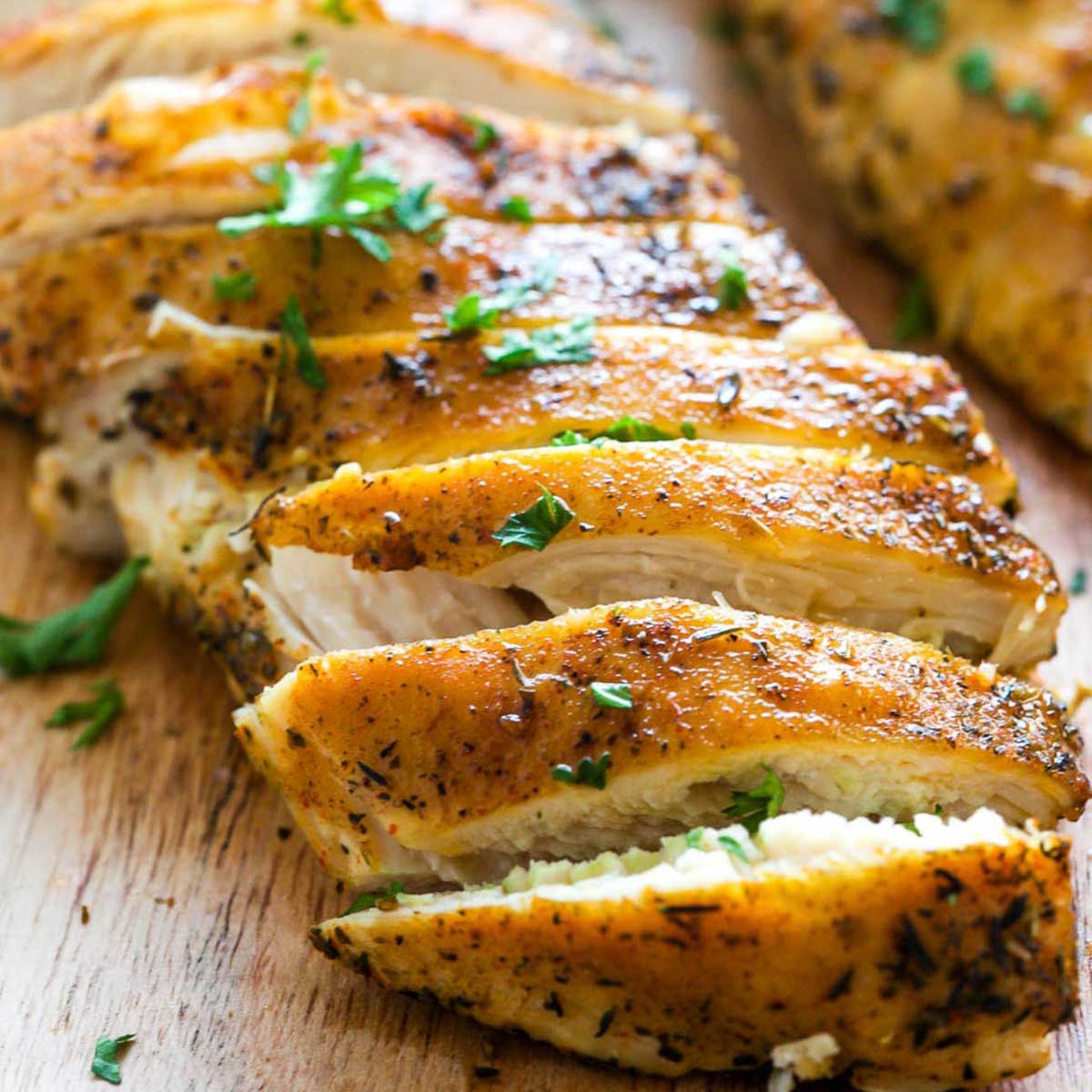 Keto Cauliflower Au Gratin
This Keto Cauliflower Au Gratin is a cheesy, flavorful side dish with just 8 simple ingredients. The cauliflower is seasoned with a sprinkle of salt, a dash of pepper, a hint of garlic, and a touch of parsley, all crowned with a generous layer of shredded Swiss cheese. Serve alongside grilled or cast-iron roast chicken or steak for a low-carb feast.
Check out this recipe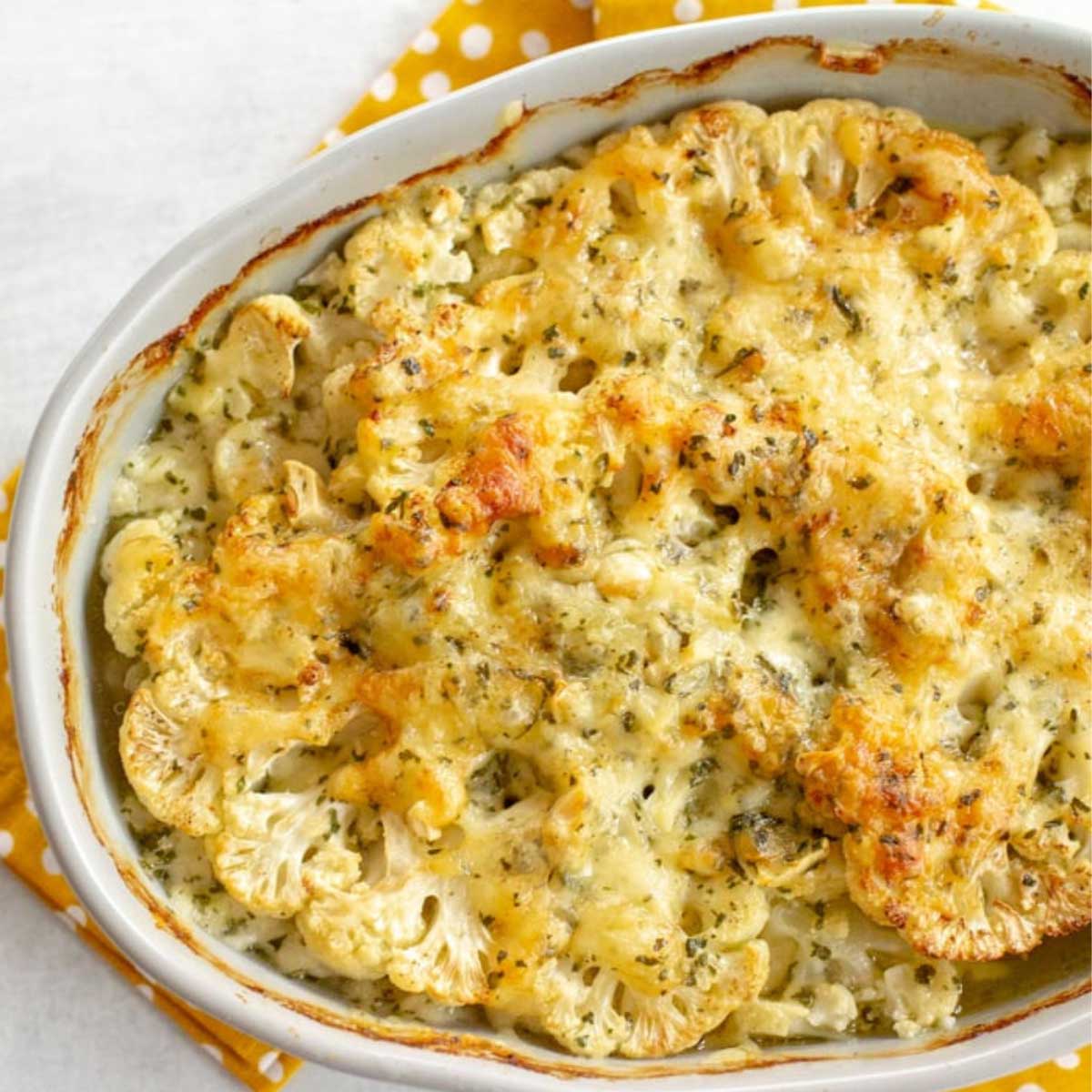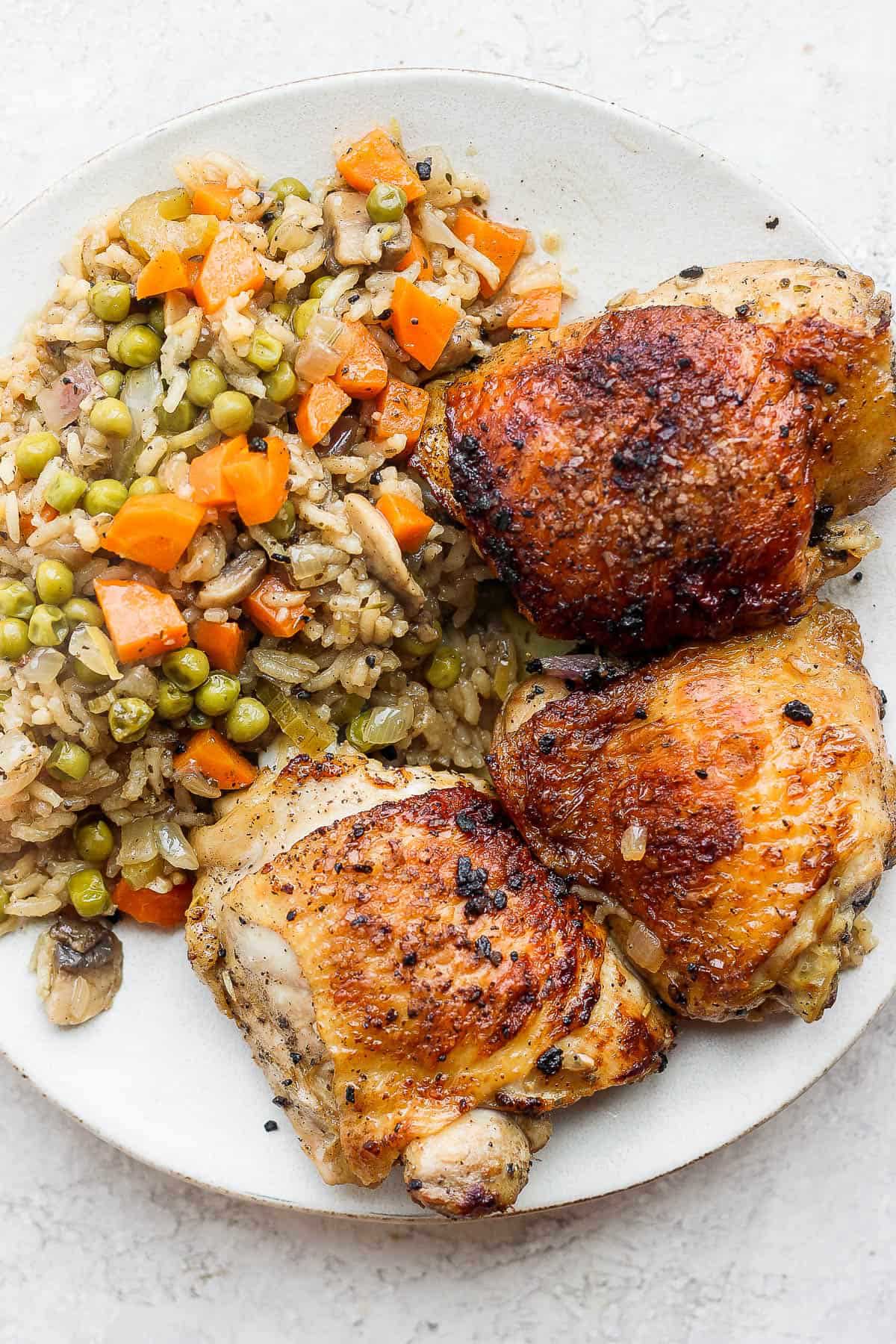 Baked Chicken and Rice
Combining simple ingredients like lemon zest, soy sauce, and Italian seasoning, this Baked Chicken and Rice is a kid-approved delight. Chicken broth enhances its rich, savory notes, making this dish a standout. The best part? Everything comes together in one pan, simplifying your weeknight dinner routine.
Check out this recipe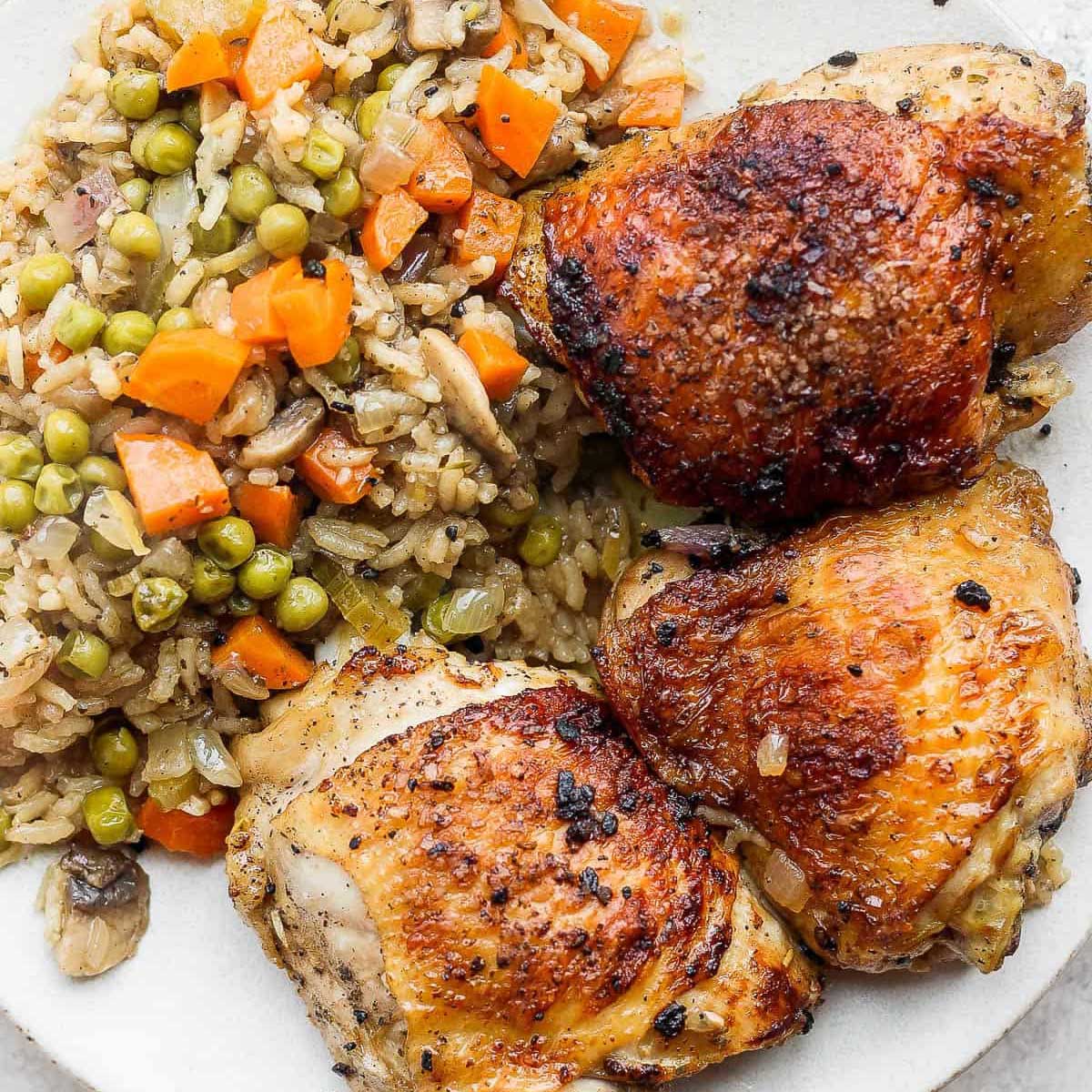 Butternut Squash Quinoa Salad
Roasted butternut squash, quinoa, kale, toasted walnuts, dried cranberries, chicken stock, and a zesty orange vinaigrette make this nutrient-packed salad a winner. Serve it warm as a side or cold for meal prep. It's the perfect dish for any occasion, be it Thanksgiving, Christmas, or just a craving for something tasty and healthy!
Check out this recipe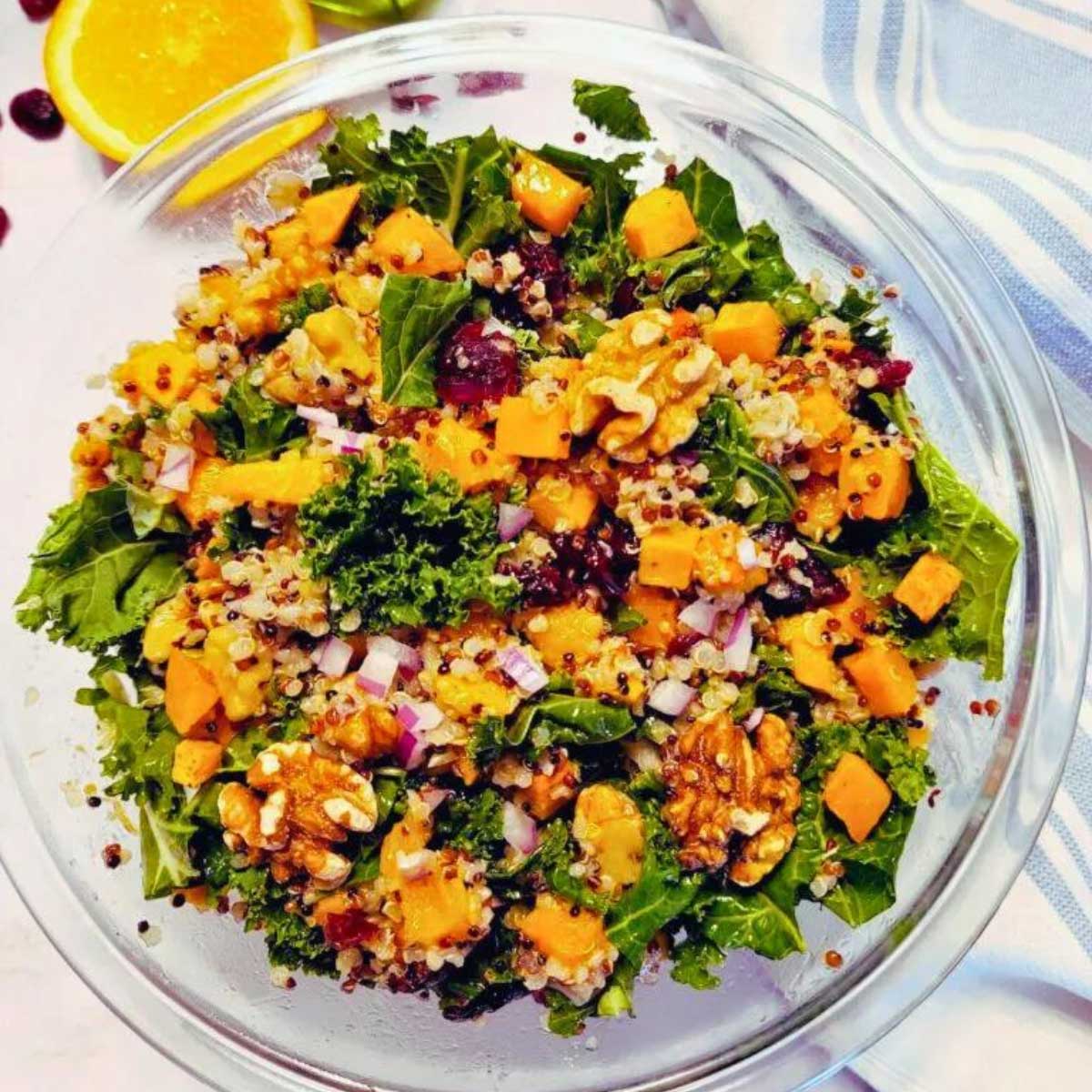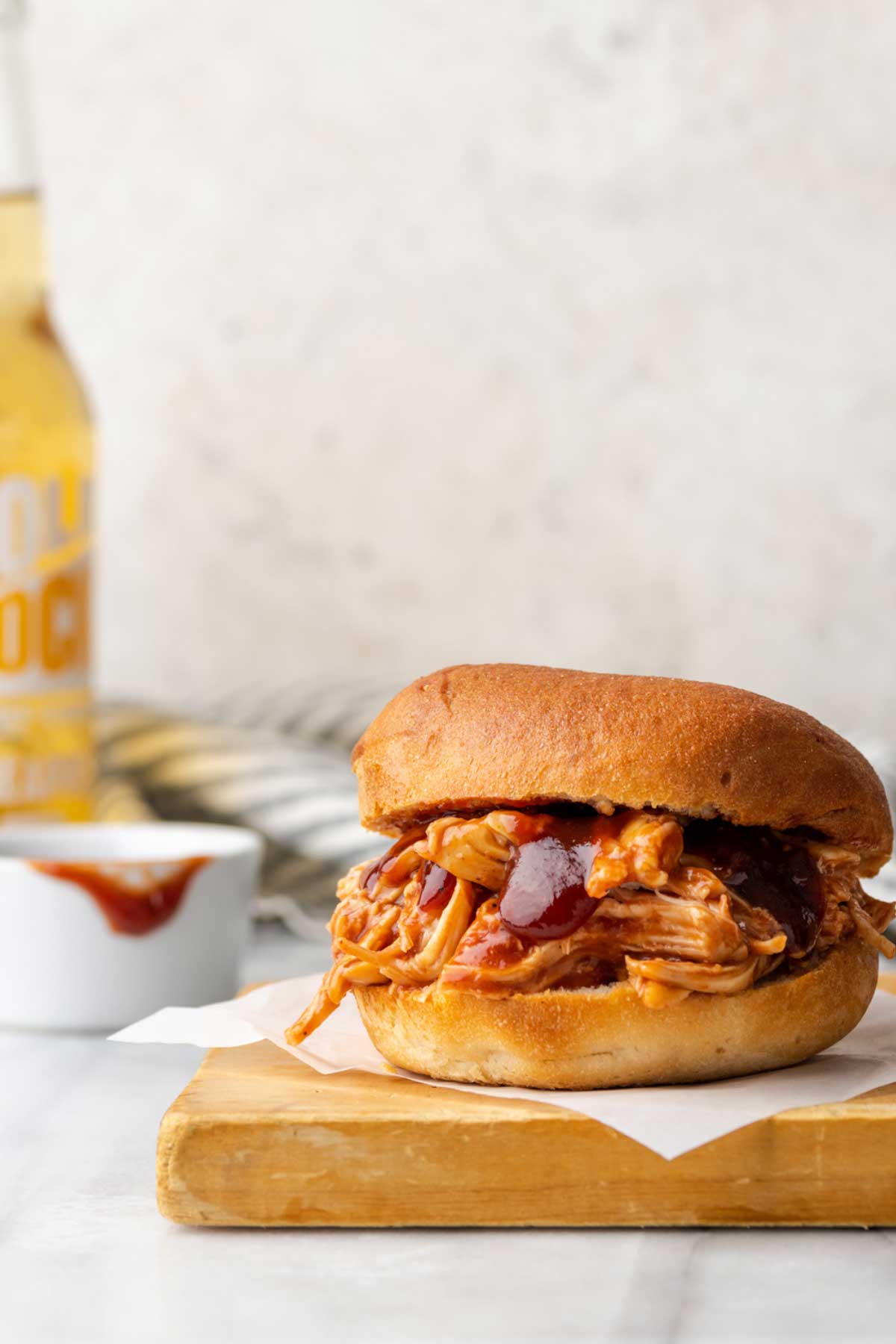 Instant Pot BBQ Chicken
Using chicken breasts and some pantry staples, prepare a flavorful BBQ chicken right in your Instant Pot. With just five minutes of hands-on time, it's a practical choice for weeknight dinners. This versatile dish can stand alone or be a tasty filling for sandwiches, quesadillas, and nachos, reminiscent of those cherished sub sandwiches or pizzas.
Check out this recipe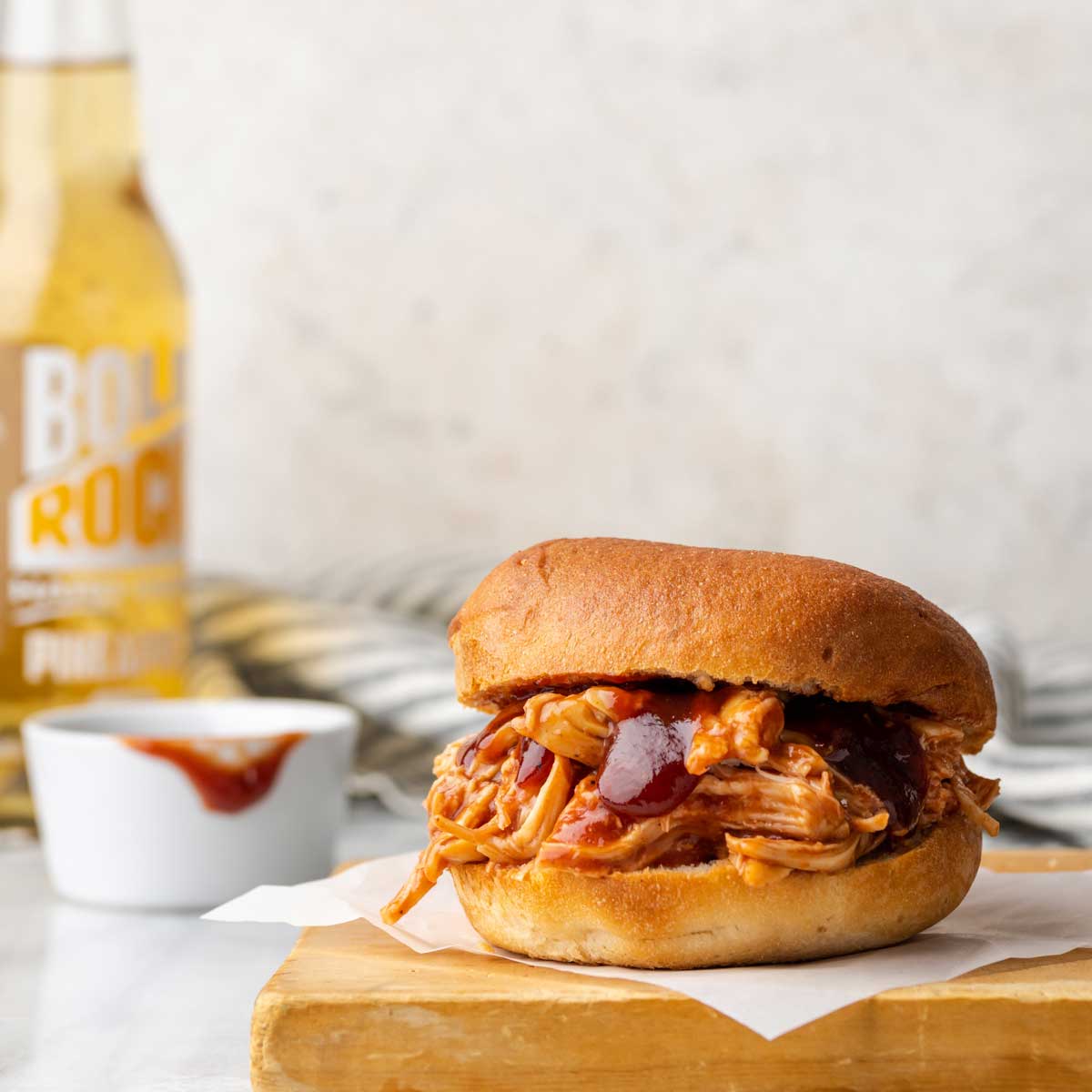 Slow Cooker Collard Greens
Tender Collard Greens are slow-cooked in a Crock-Pot, seasoned just right to emphasize a rich, less bitter flavor profile. The hearty chicken broth infuses the greens, elevating the taste depth. You could serve your slow-cooker collard greens with these slow-cooker beef short ribs and black-eyed peas for a classic Southern meal.
Check out this recipe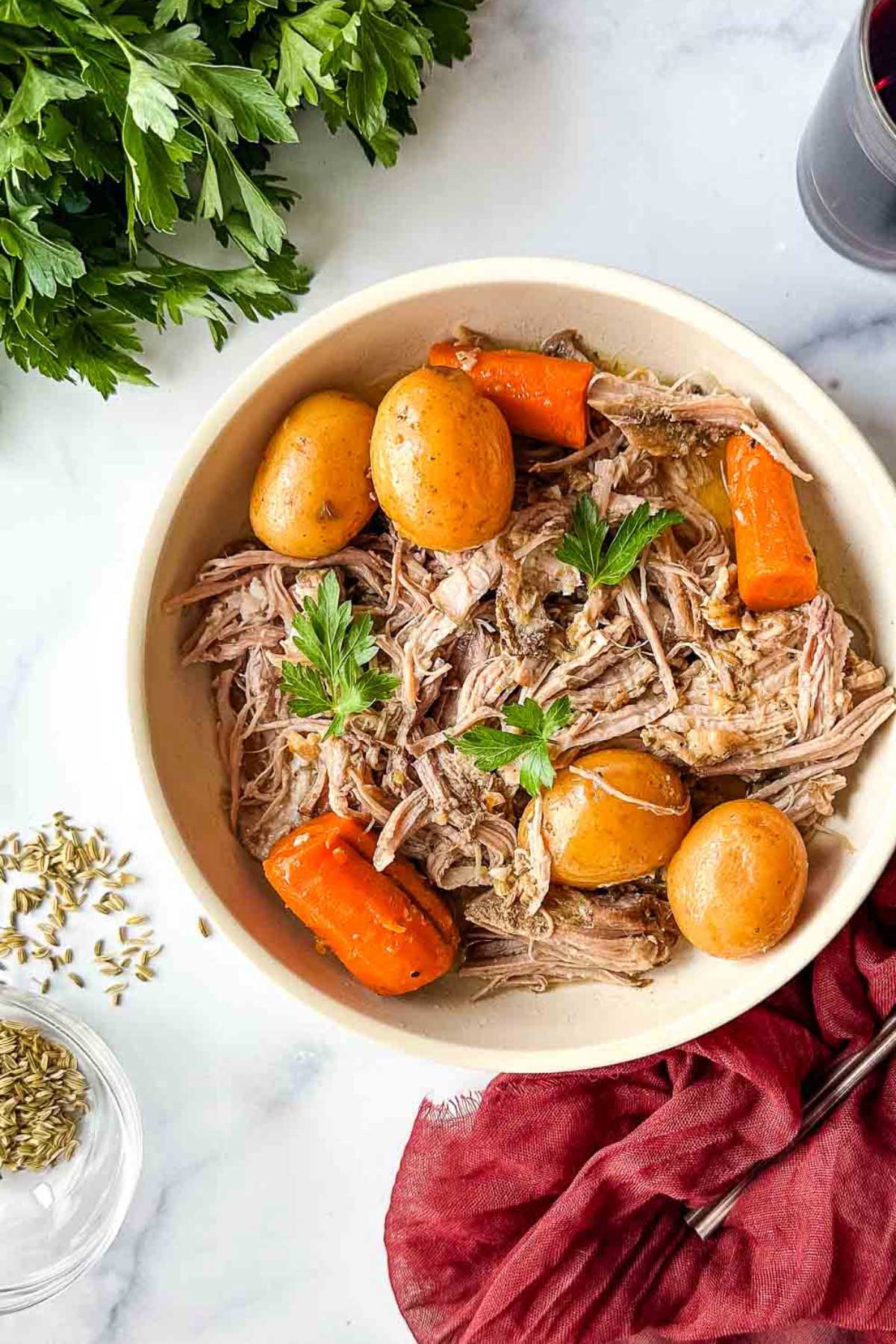 Slow Cooker Italian Pork Roast
This Italian Pork Roast uses a flavorful mix of pork butt, garlic, potatoes (or sweet potatoes as an alternative), carrot, and white wine, seasoned just right. A highlight is the chicken stock, which infuses the dish with a depth of flavor, turning it into a comforting dinner choice. After a quick sear to lock in those spices, the crockpot takes over, ensuring a melt-in-your-mouth roast. Pair it with these sautéed Brussels sprouts.
Check out this recipe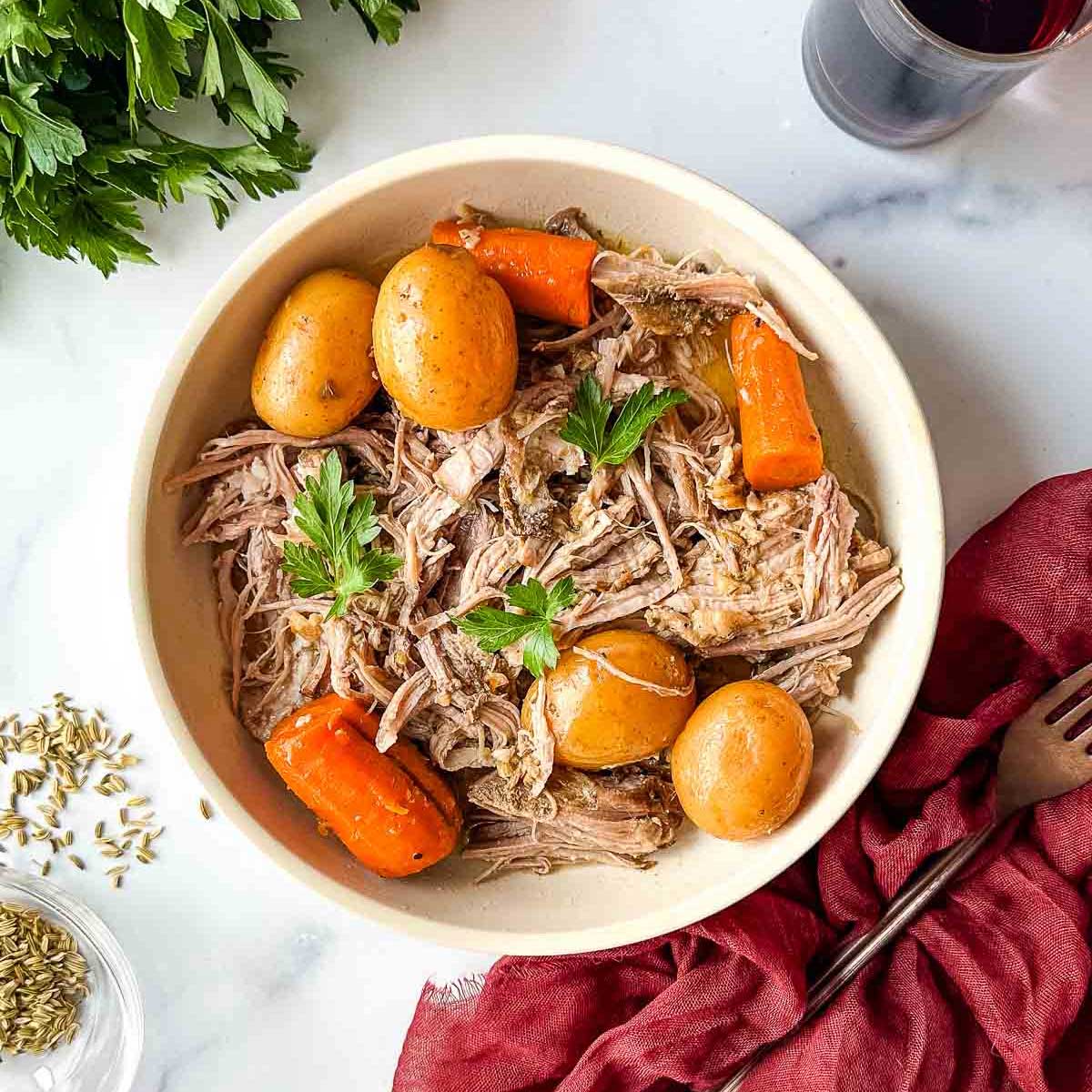 Zuppa Toscana Soup
A mouth-watering and nutritious Zuppa Toscana soup that does not contain dairy and uses only six real food ingredients! The soup is complemented by adding coconut milk, which enhances the flavor and pairs perfectly with the spicy sausage. Serve with my gluten-free drop biscuits.
Check out this recipe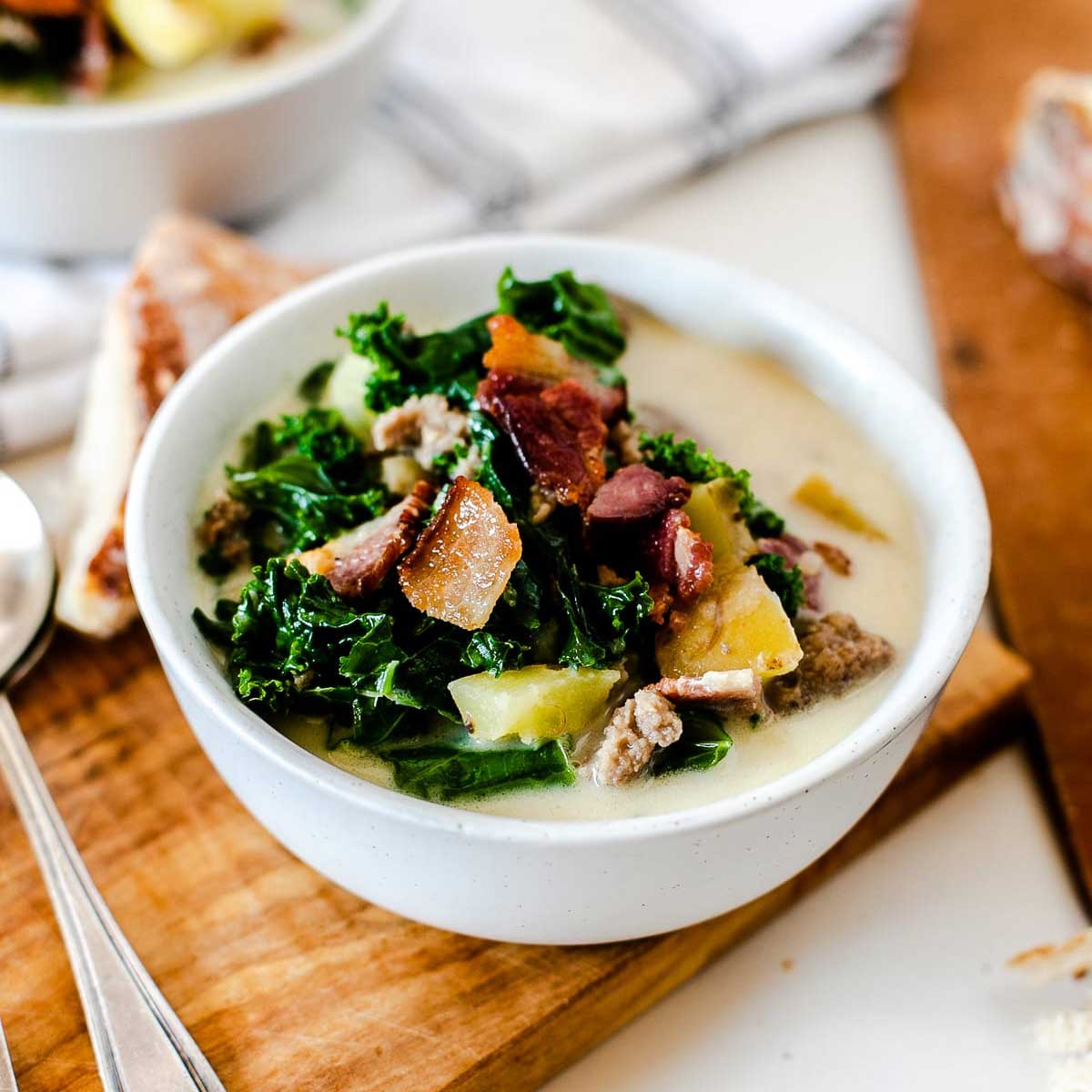 Instant Pot Chicken Gnocchi Soup
This recipe for Instant Pot Chicken Gnocchi Soup is the ultimate comfort food and a lighter version of the famous Olive Garden soup. Imagine a rich and creamy broth filled with fresh vegetables, tender gnocchi, succulent chicken, and a sprinkle of bacon. Enjoy this warm and delicious soup with your favorite bread for the perfect dunking experience.
Check out this recipe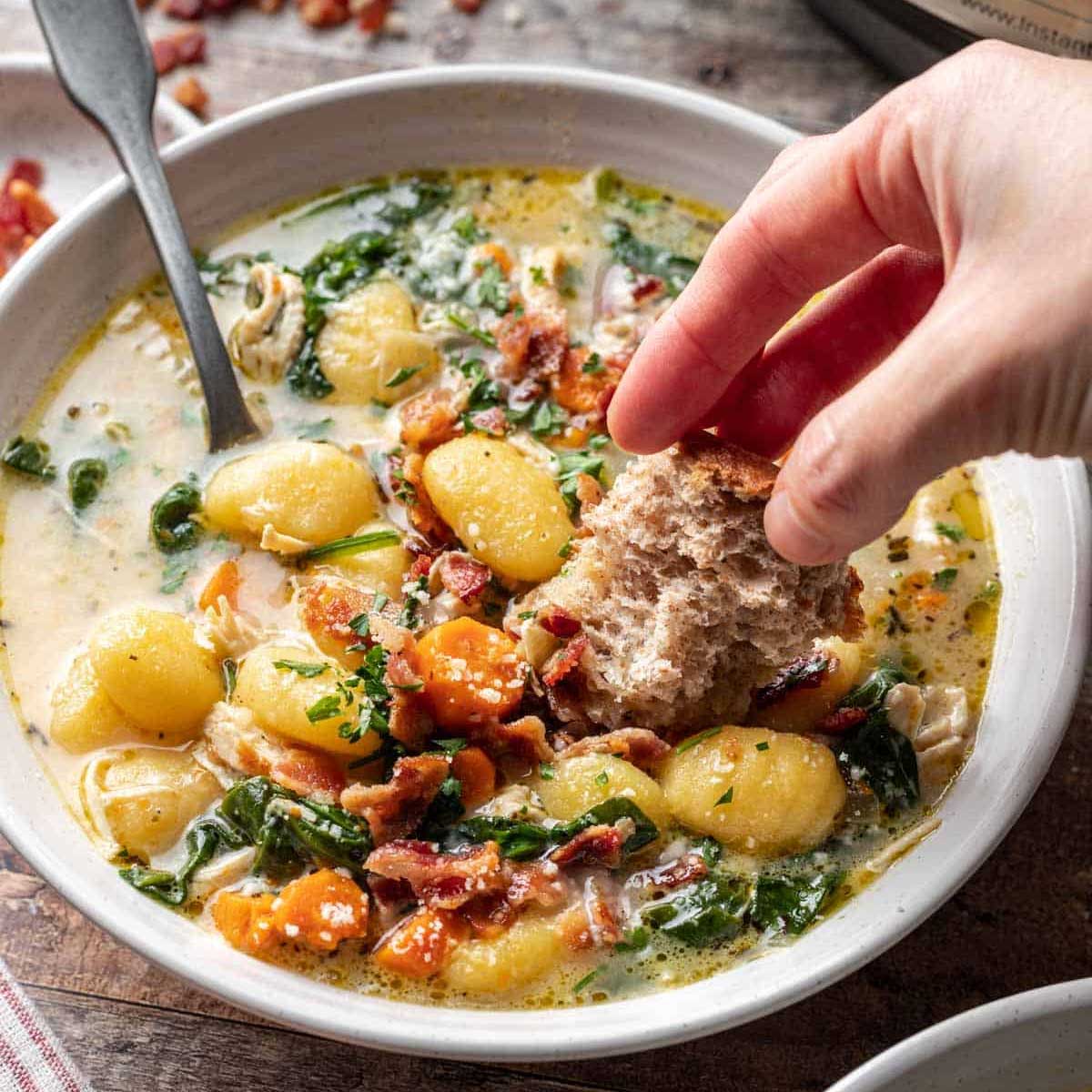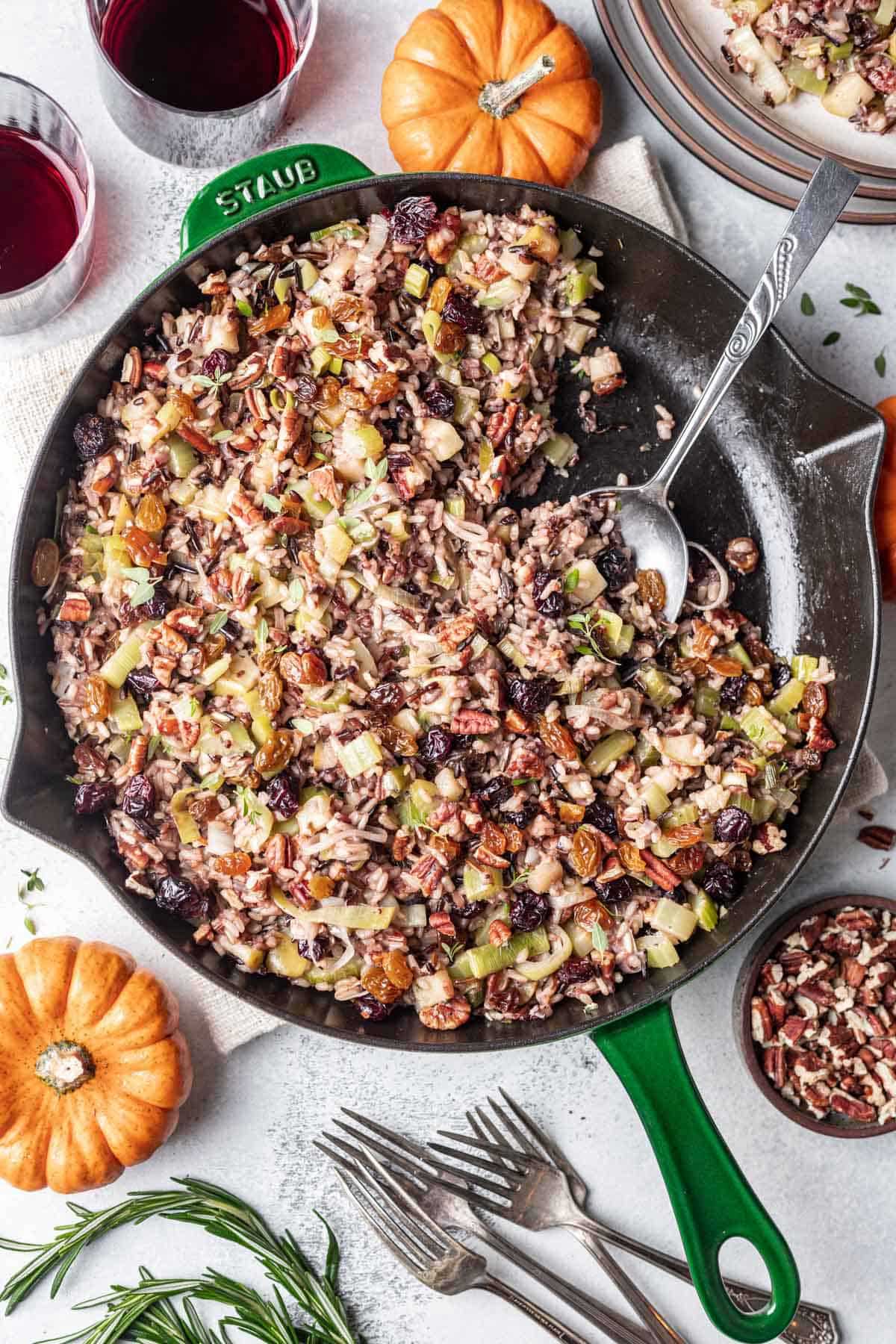 Wild Rice
This wild rice is a great way to add a nutty, hearty twist to your holiday spread. Packed with a blend of nutrient-rich rice, fruits, veggies, and a chorus of flavorful herbs, it's your secret weapon for balancing out the Thanksgiving extravaganza. Cooking the rice for Thanksgiving in chicken broth as opposed to water creates a more flavorful dish and keeps the rice from tasting bland. 
Check out this recipe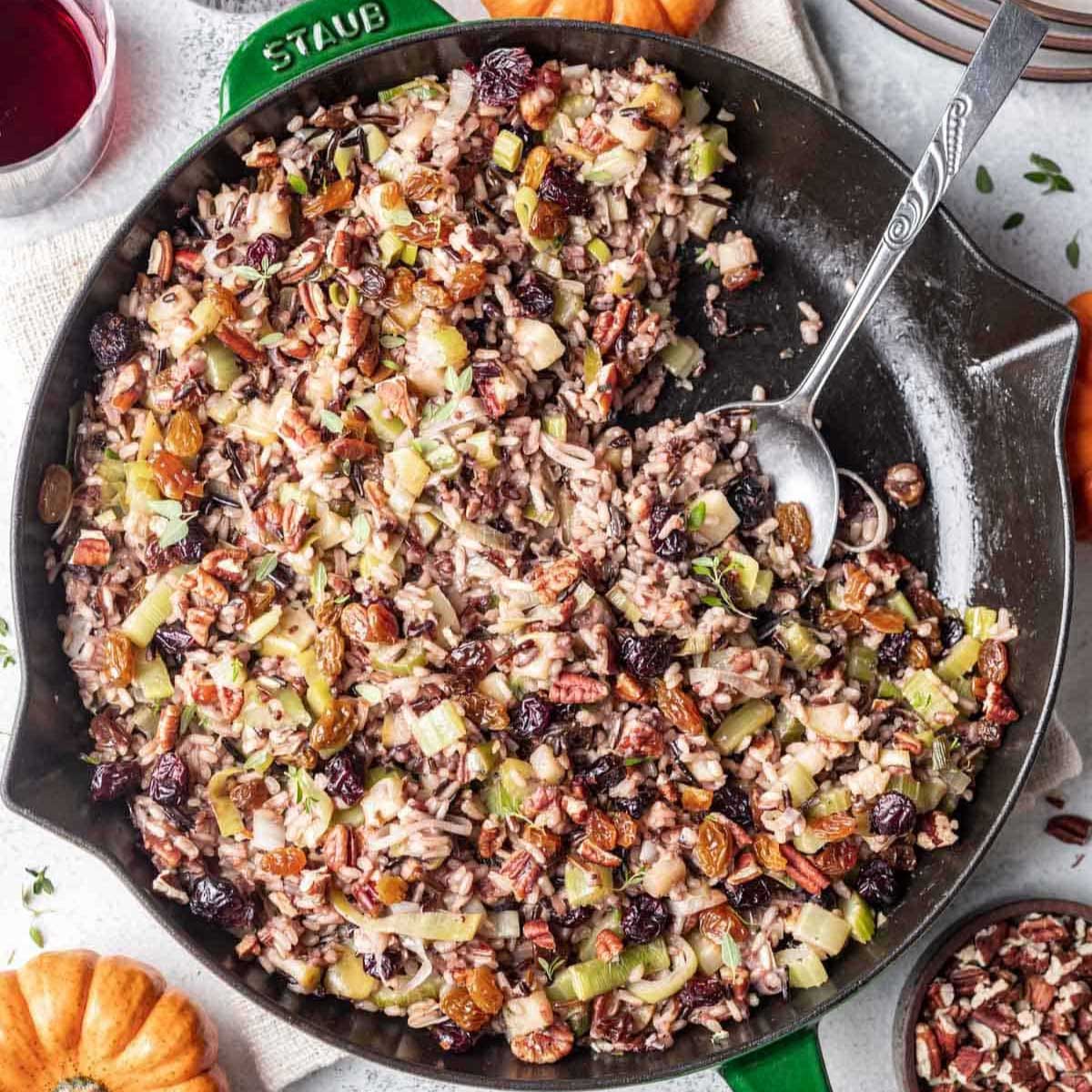 Rosemary Garlic Chicken Recipe
A quick, flavorful rosemary garlic chicken recipe that you can make for a 30-minute dinner with thinly sliced seared chicken breasts and a light, tangy garlic and rosemary sauce that's perfect for busy weeknights. Complement with steamed, roasted asparagus, green beans, or roasted baby bok choy.
Check out this recipe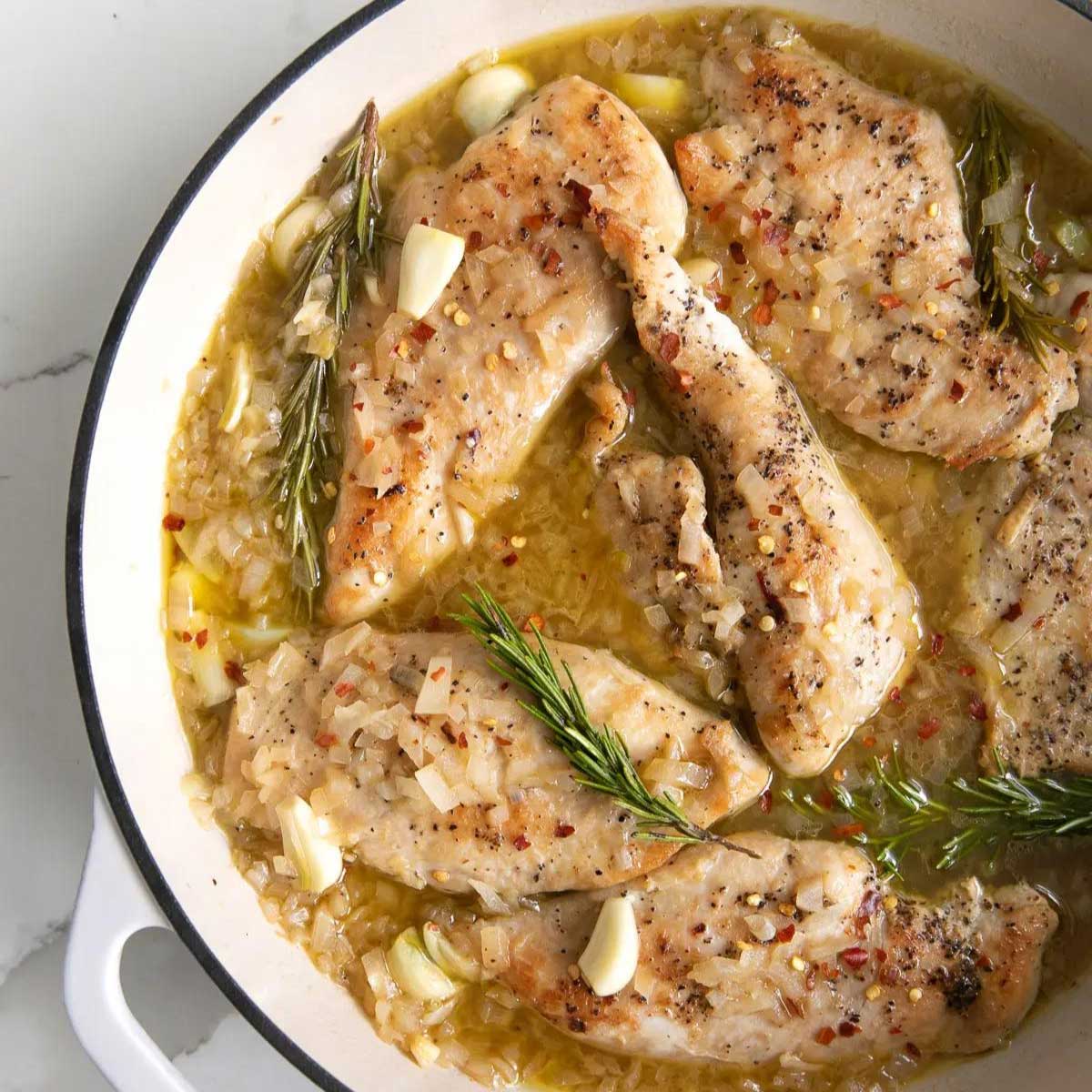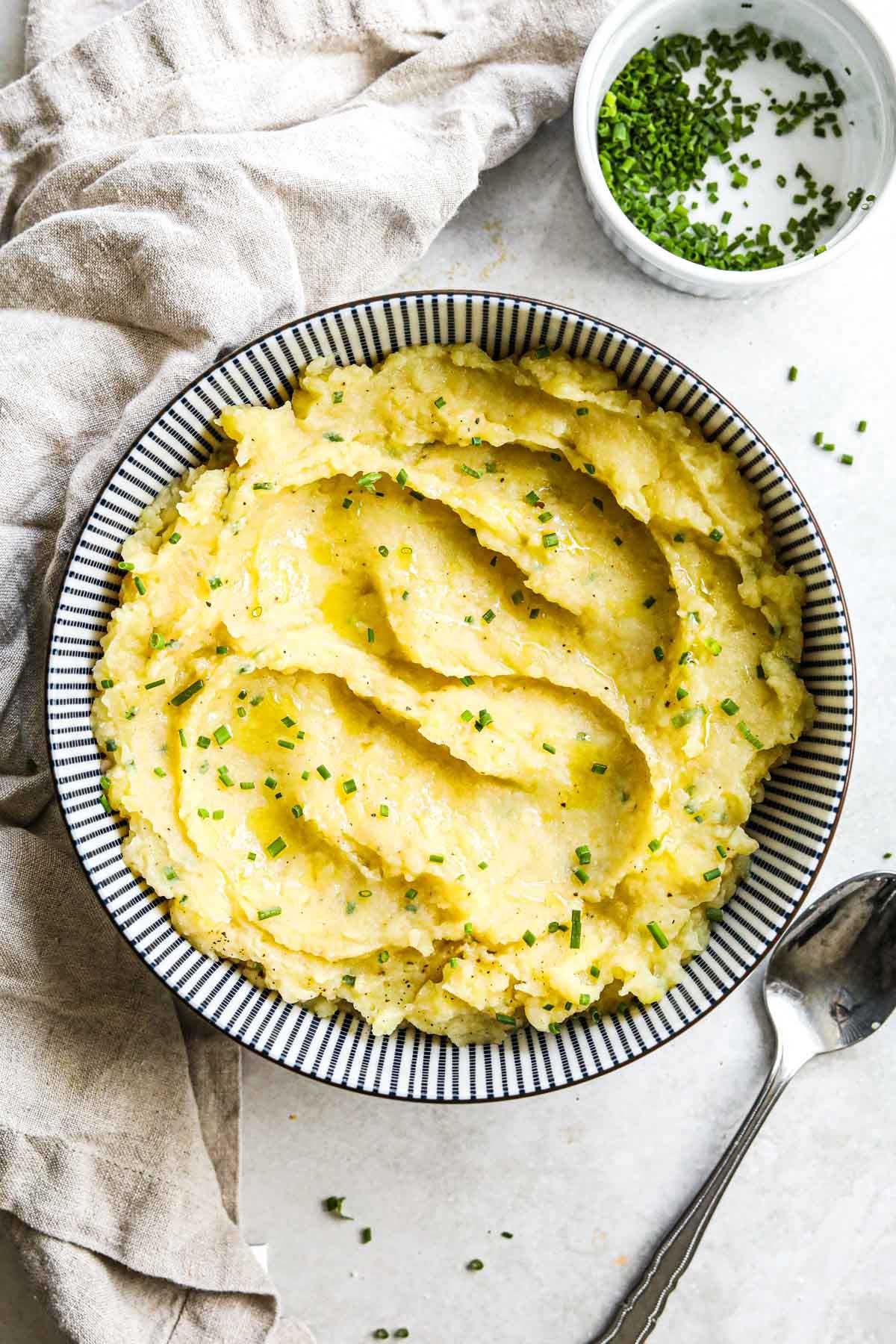 Dairy-Free Garlic Mashed Potatoes
This Dairy-Free Garlic Mashed Potatoes is a creamy delight! Made using Yukon potatoes and a hint of chicken stock or broth for depth, it's further seasoned with garlic, salt, pepper, and chives. Perfect alongside a juicy chicken roast or as part of a festive spread.
Check out this recipe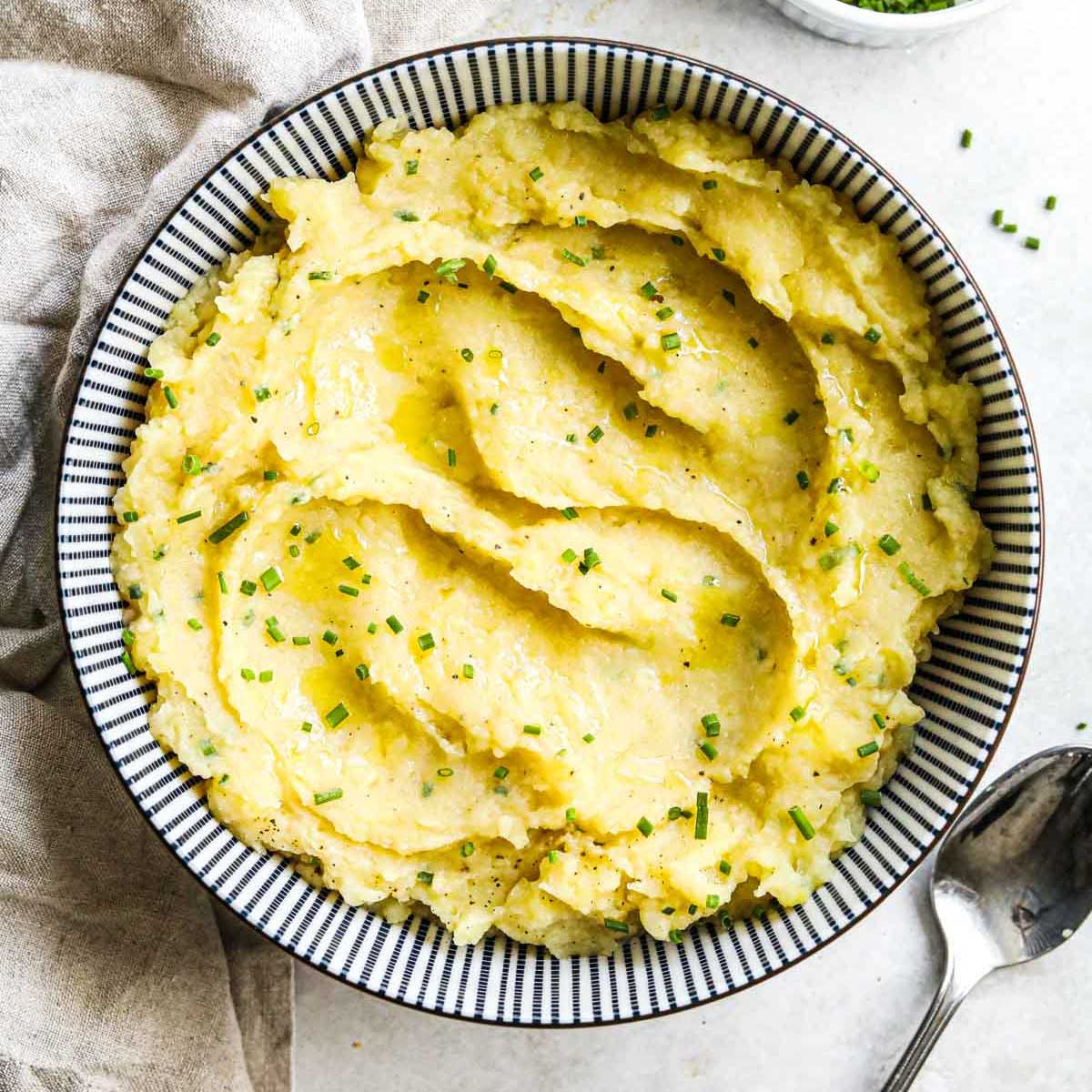 Coq au Vin
Chicken Coq au Vin is a classic French dish that showcases the technique of cooking chicken low and slow in a rich, flavorful liquid. This recipe involves browning the chicken and cooking it in a Dutch oven with bacon, red wine, chicken broth, mushrooms, etc., until tender and juicy. Serve it with oven-baked potatoes or French bread for a gourmet experience.
Check out this recipe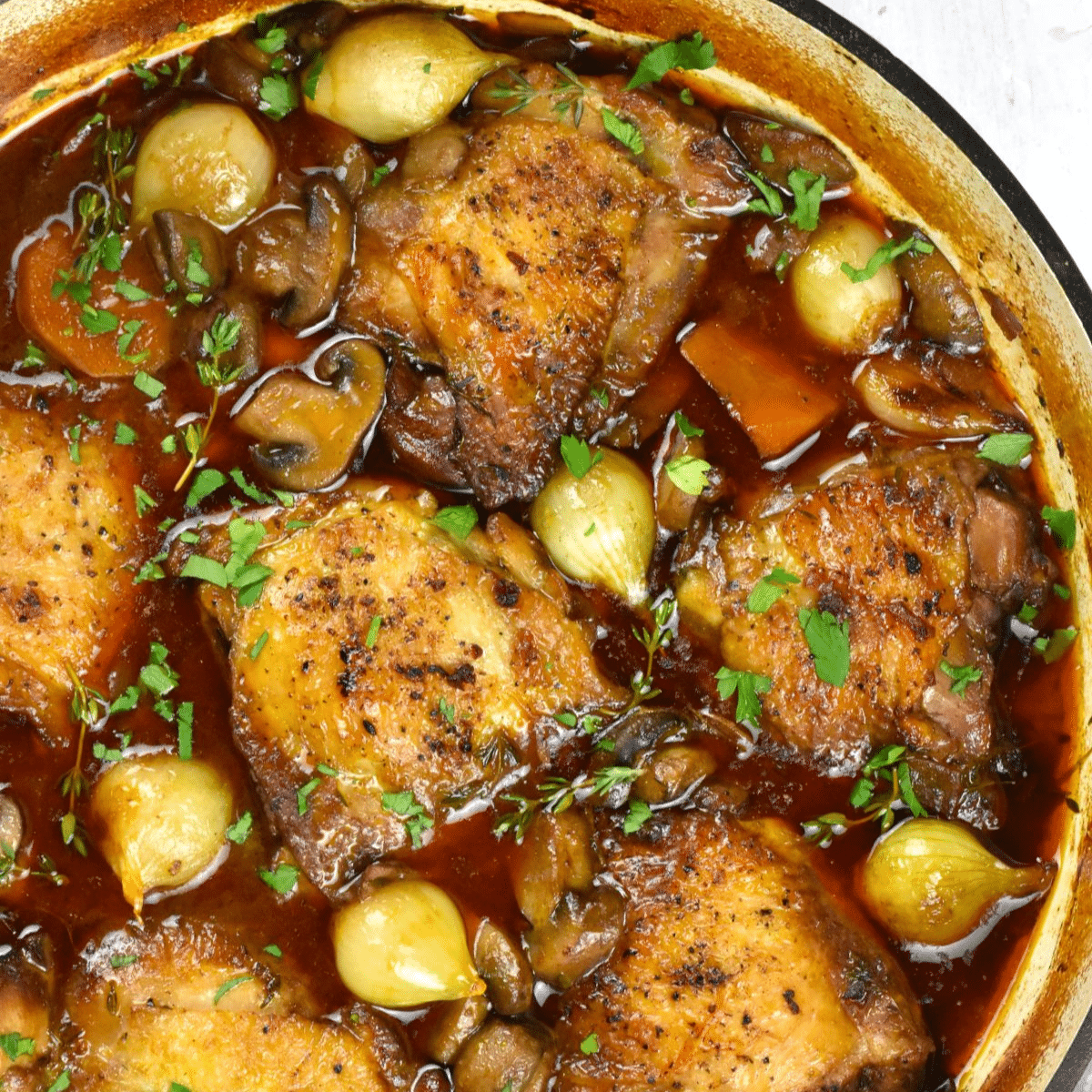 Creamy Carrot and Cauliflower Soup
Cozy up with this creamy carrot and cauliflower soup, a delightful, dairy-free dish perfect for chilly winter evenings. This one-pot wonder is healthy, creamy, and suits various dietary needs, including Whole30 and Paleo. It is best served with grain-free rolls or roasted vegetables.
Check out this recipe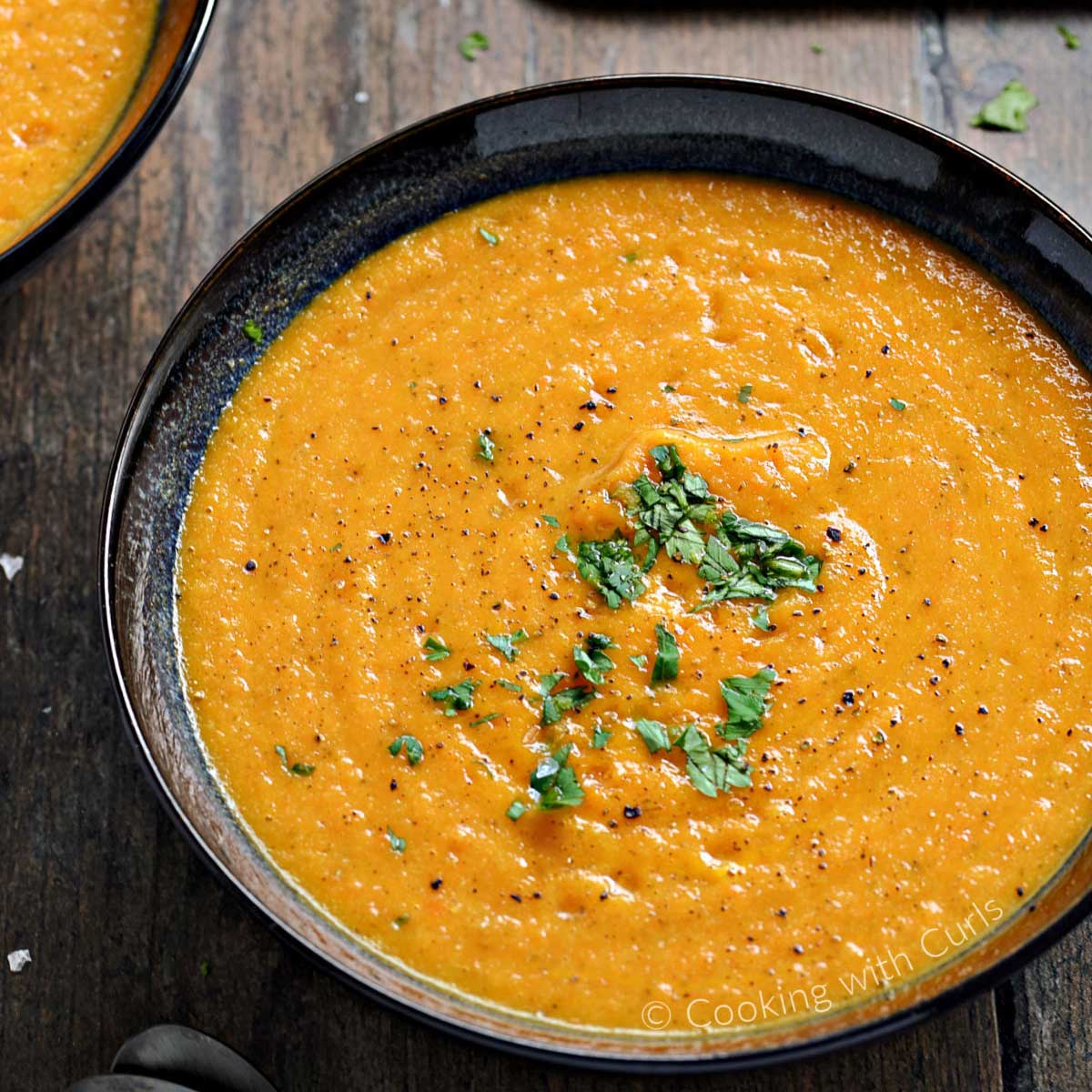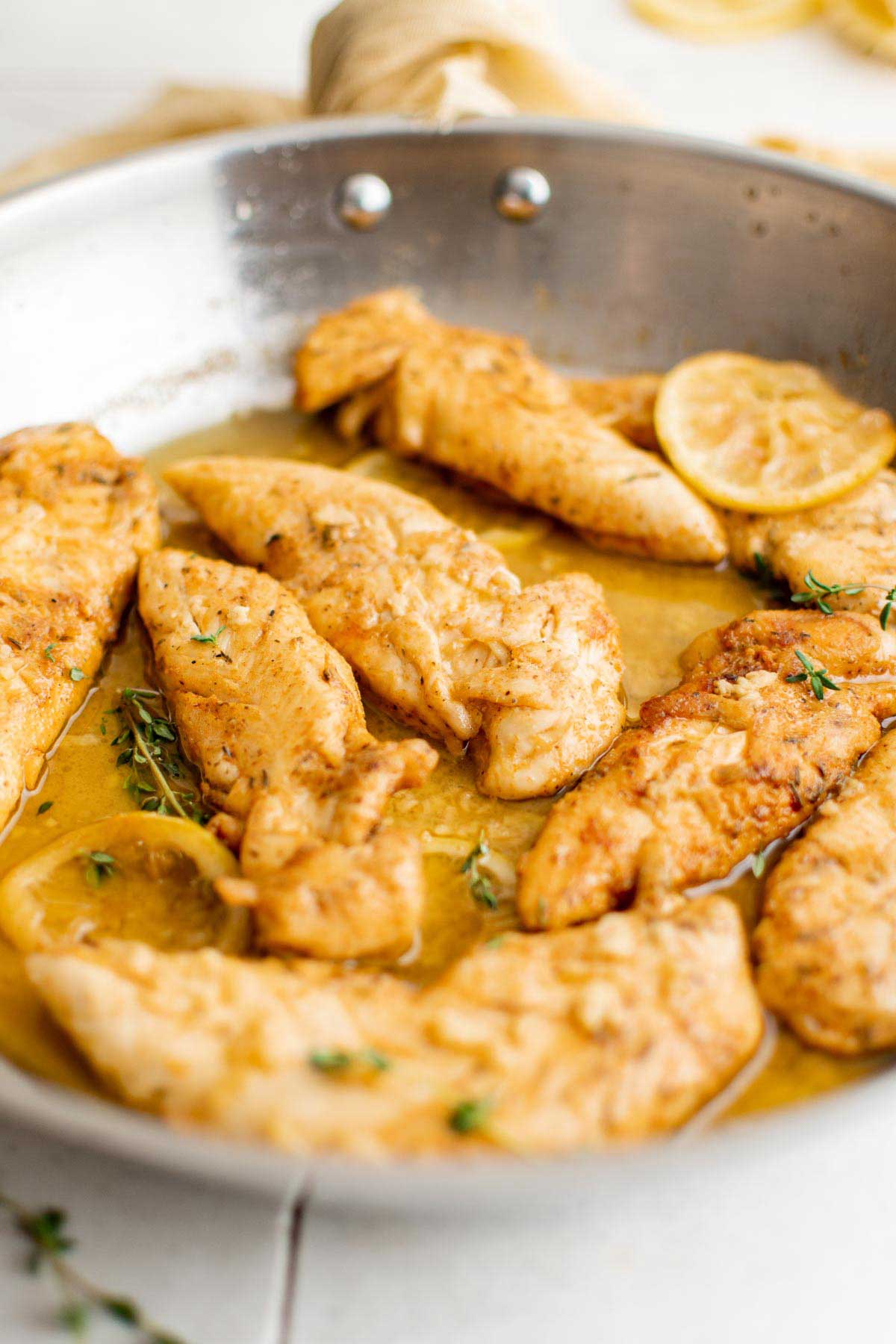 Stovetop Lemon Garlic Butter Chicken Tenders
Lemon Garlic chicken strips, ideal for those on Keto, low-carb, or Gluten-Free diets, are cooked in a zesty lemon garlic butter sauce enriched with chicken broth. Ready in 15 minutes, these tenders serve as a versatile base for numerous sides, making weeknight dinners a breeze.
Check out this recipe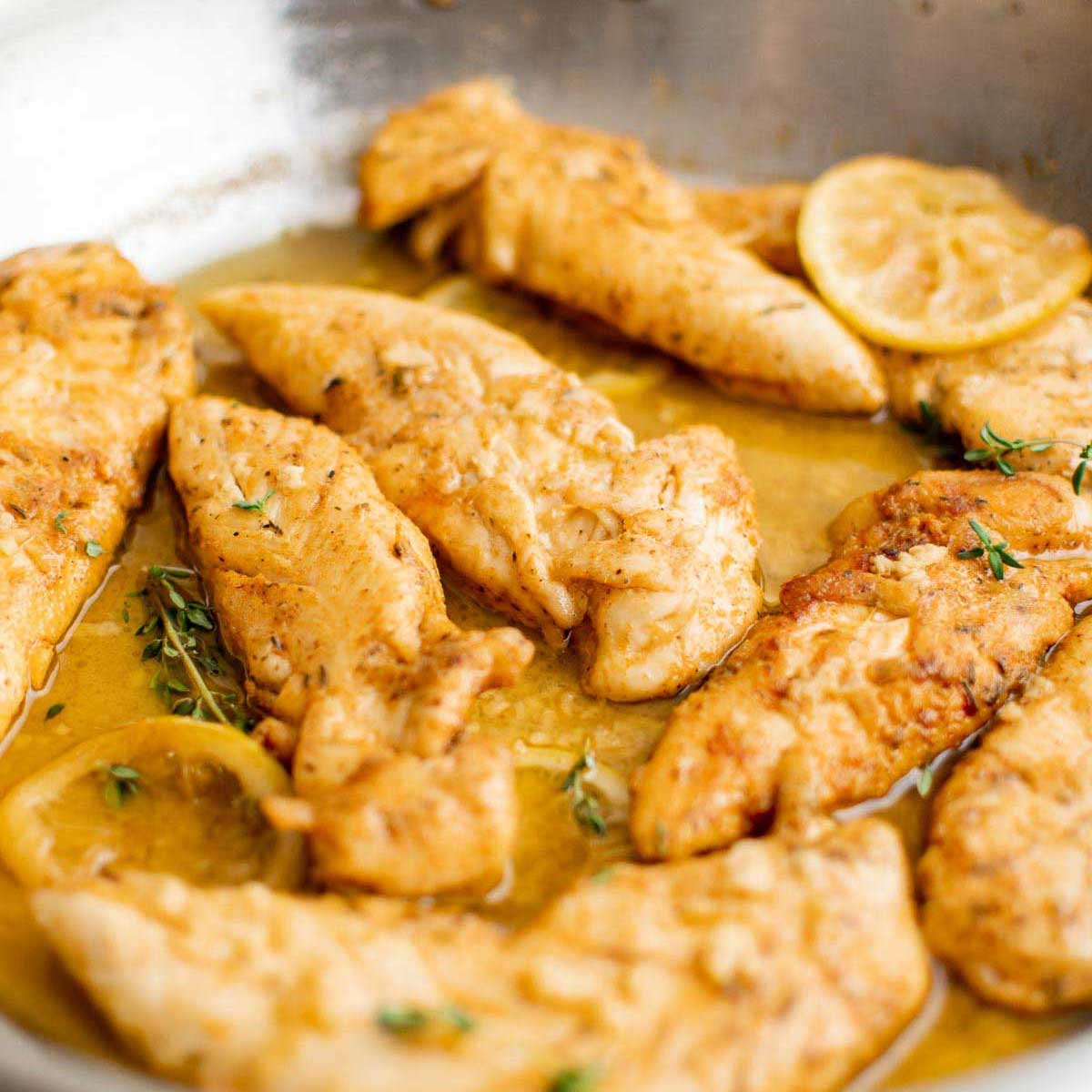 Chicken Quinoa Skillet
In just 30 minutes, whip up this Chicken Quinoa Skillet, a mix of juicy chicken, zucchini, broccoli, and tomatoes. Alongside the nutrient-rich quinoa, it's a hearty and filling dish that caters to low-carb and gluten-free preferences. You can serve this with a salad or some roasted vegetables for a balanced and satisfying meal.
Check out this recipe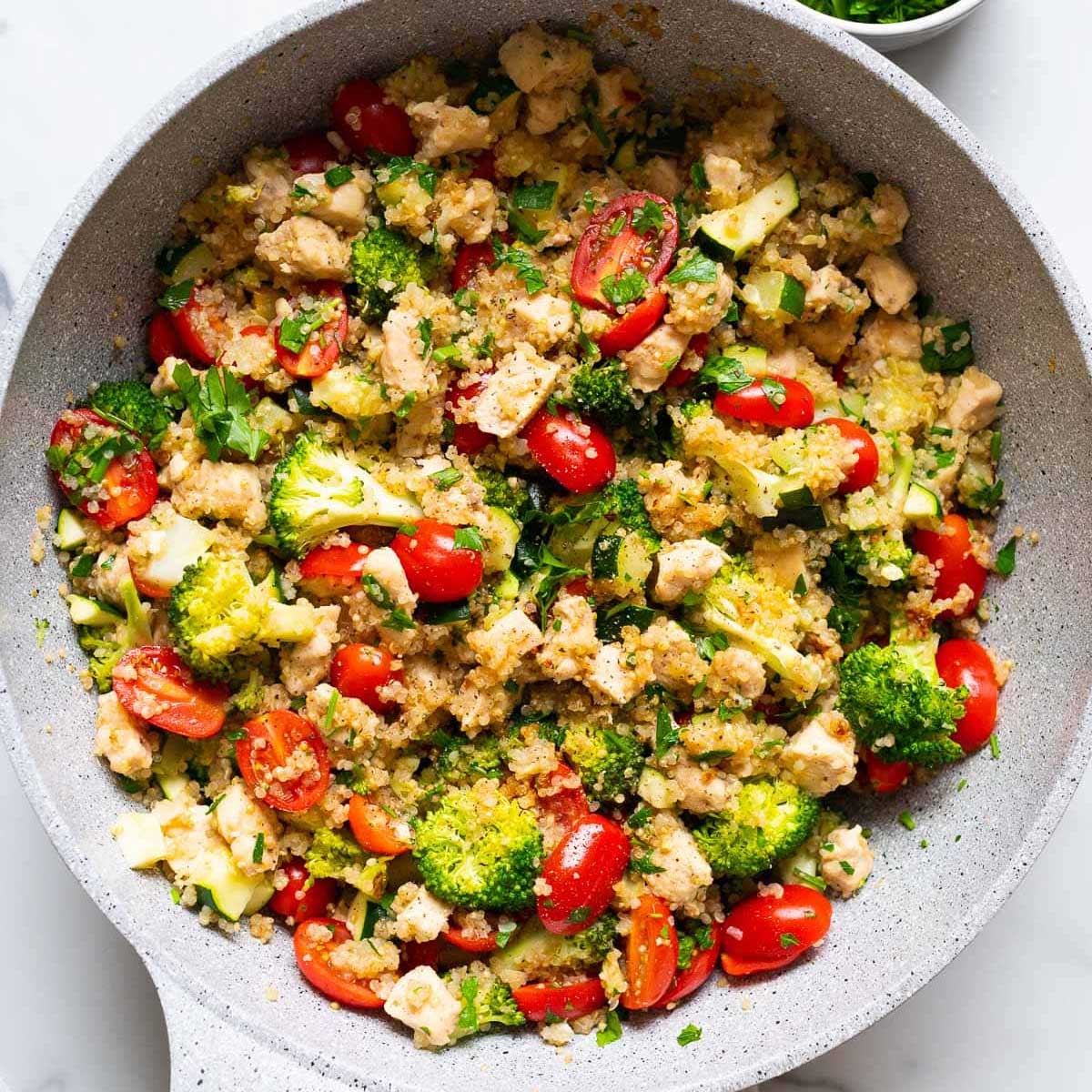 Chicken Quinoa Soup
Chicken Quinoa Soup is a go-to meal to recover from a cold, detox, or simply enjoy something cozy and delicious, and this one's a winner. Made with tender carrots, softened onions, and juicy chicken meatballs in a hearty broth to comfort you. Pair it with a light kale salad, and you've got a satisfying meal that's perfect for chilly days or when you're feeling under the weather. 
Check out this recipe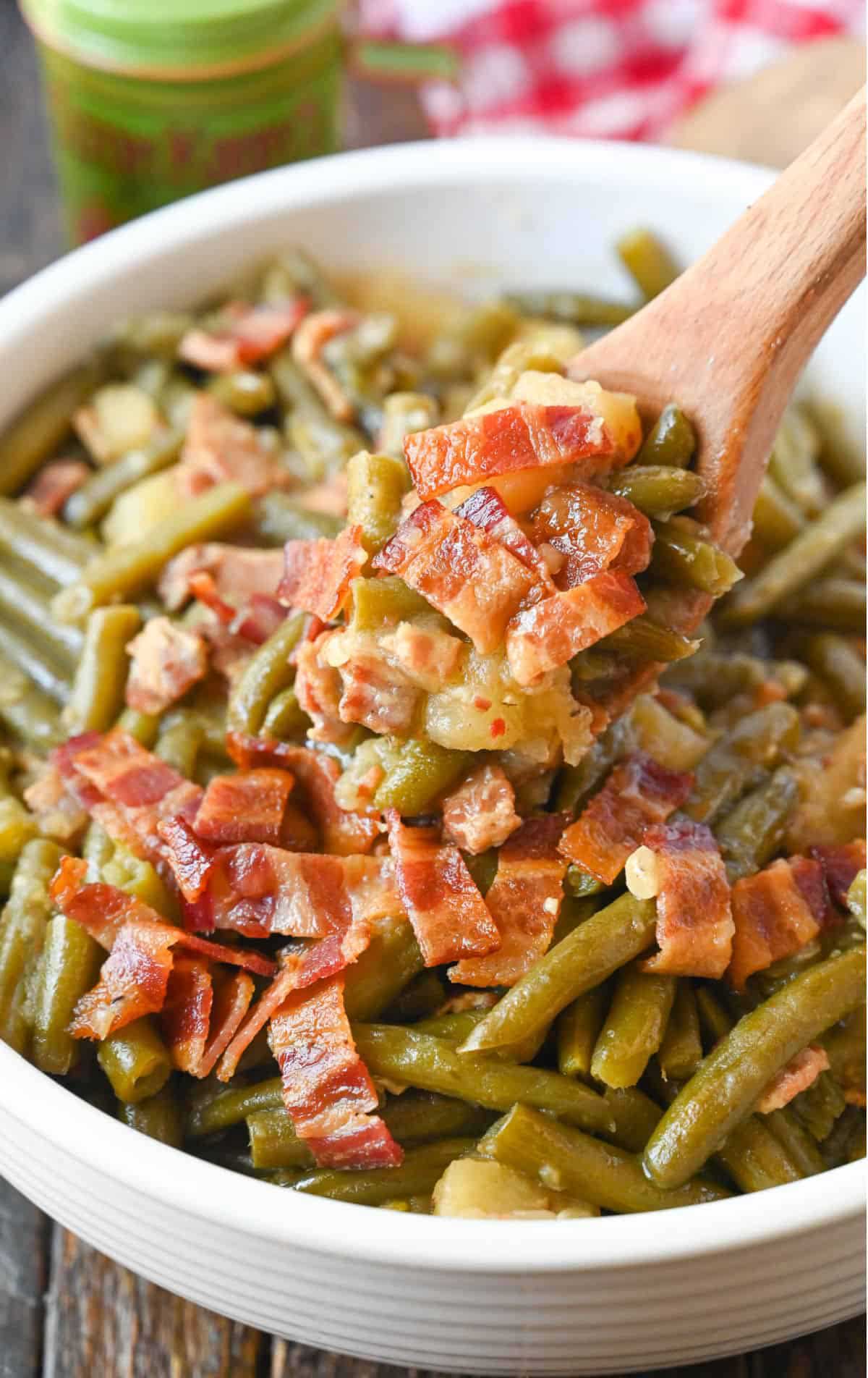 Slow Cooker Southern Green Beans
This is a simple yet utterly delicious dish that's perfect for feeding a crowd. With just a handful of ingredients, slow-cooked with onions, garlic, and the smoky goodness of bacon, these crock pot green beans are a game-changer. When it comes to pairing, this dish is extremely versatile and can go well with dishes like honey ham or beef short ribs.
Check out this recipe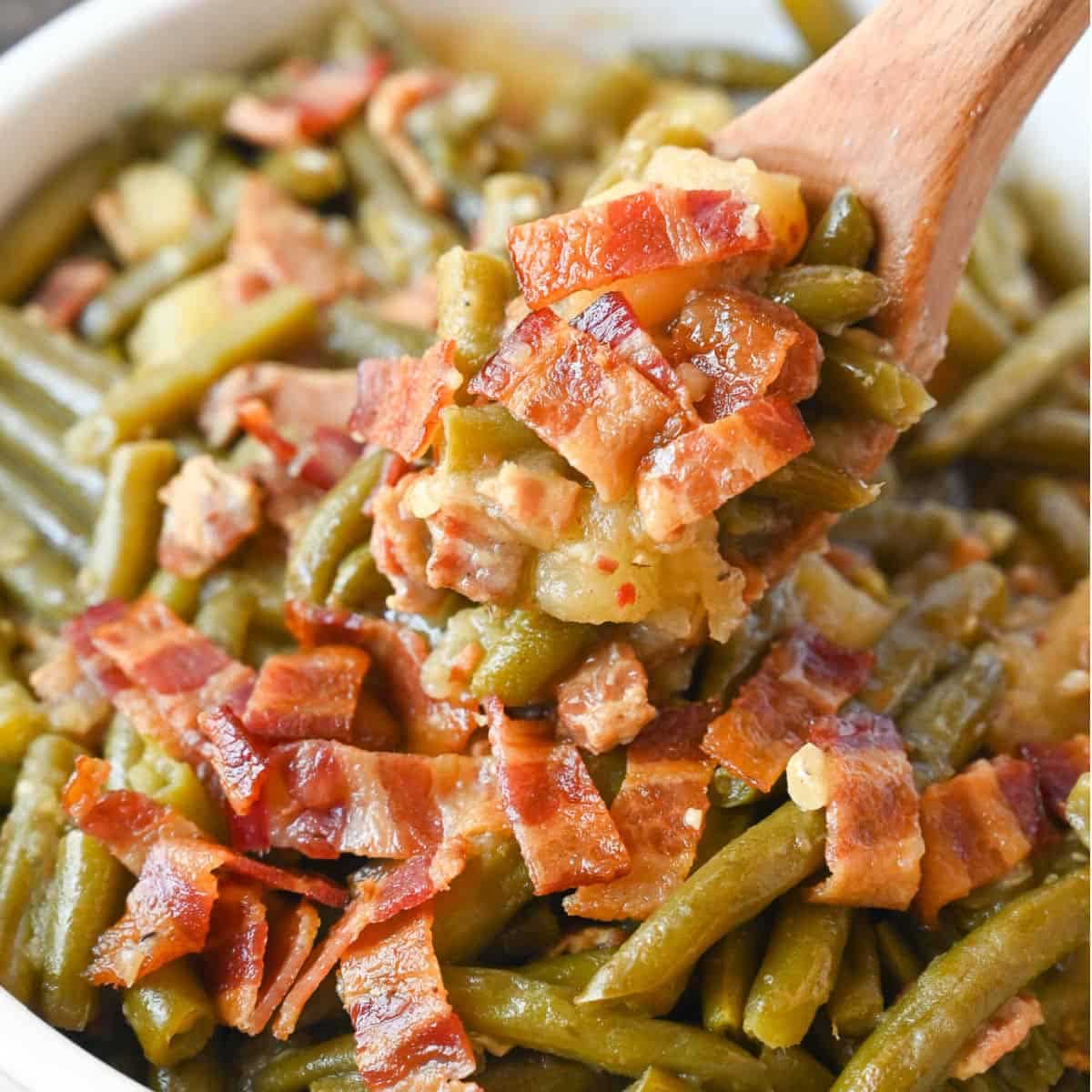 Sweet Potato Chicken Soup
Hearty, healthy, and ready in under 30 minutes, this chicken soup with sweet potato makes a perfect meal for any time of the day! Plus, it's a triple threat, being Whole30, gluten-free, and paleo-friendly. This light yet incredibly satisfying soup will keep you full for hours.
Check out this recipe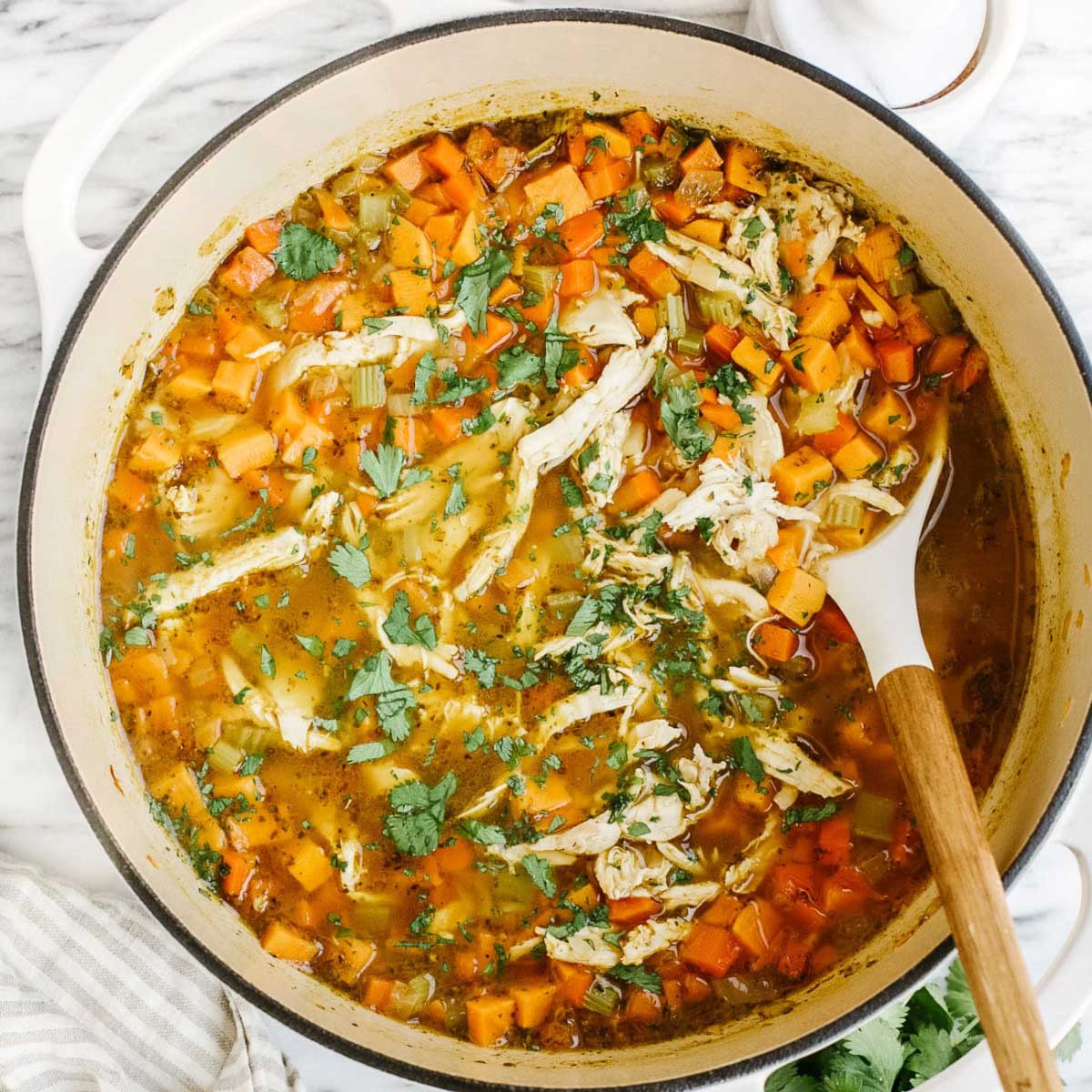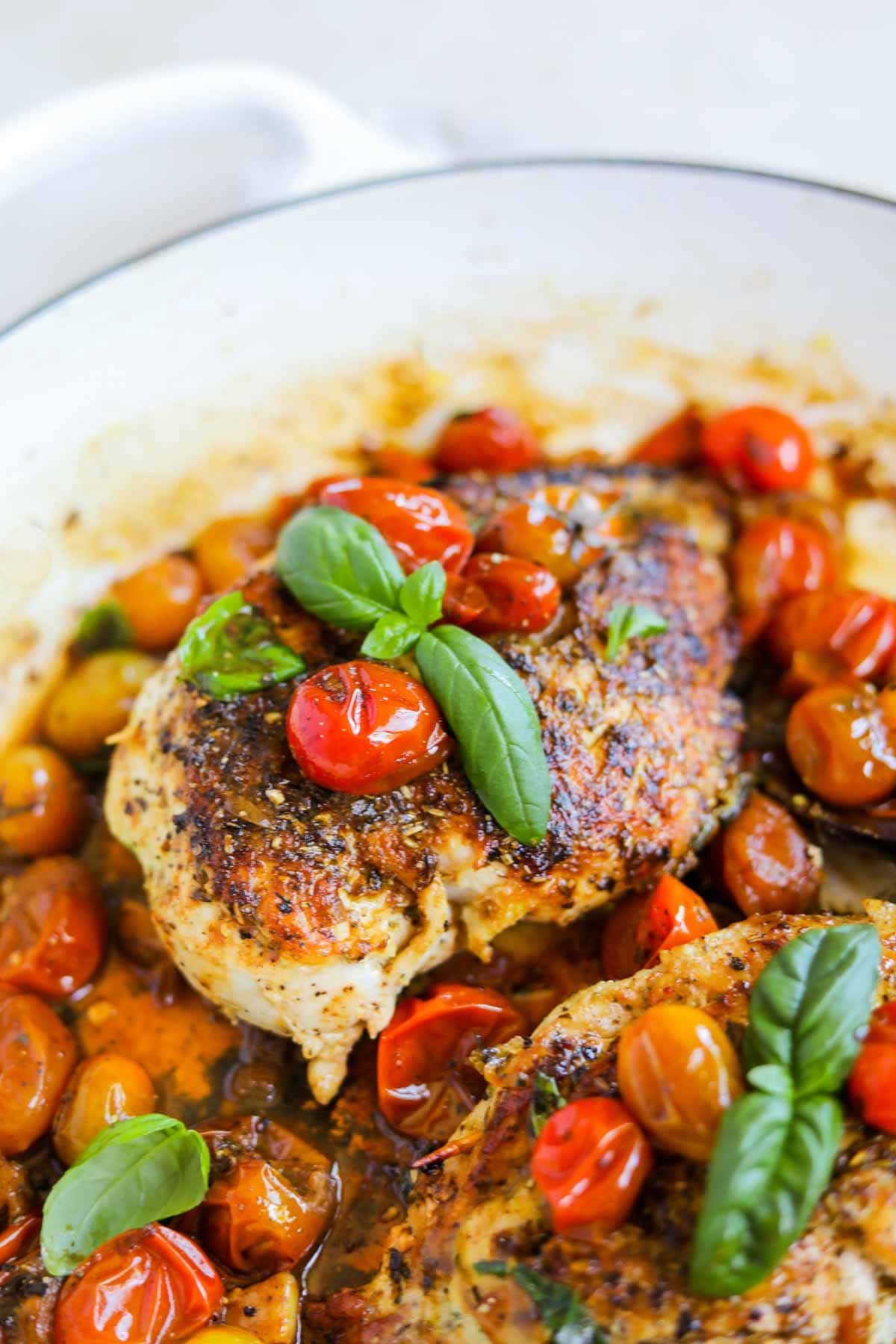 Mozzarella-Stuffed Chicken Pomodoro
Italian-seasoned chicken filled with mozzarella and pesto bathed in a flavorful tomato sauce. This family favorite one-pan wonder is ready in just 30 minutes. Pair it with spaghetti or garlic bread.
Check out this recipe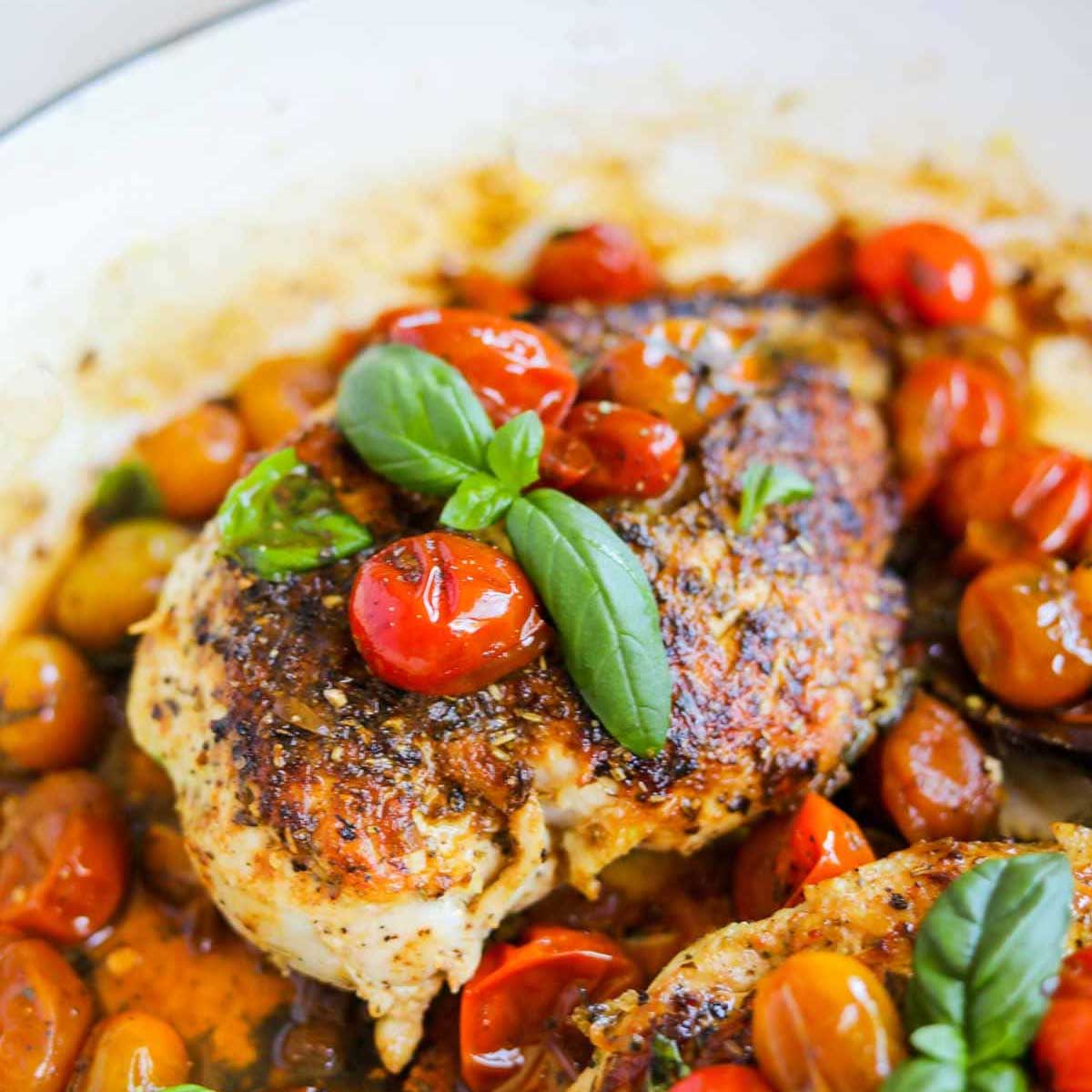 Curry Meatballs
Moist, flavorful meatballs infused with garlic, turmeric, and arrowroot powder. The creaminess is achieved with chicken broth and almond milk, enhancing the depth of flavors. Even picky eaters will be tempted by this dish. Pair it with steamed jasmine rice or a vibrant green salad for a dinner-time favorite, with the whole family asking for seconds.
Check out this recipe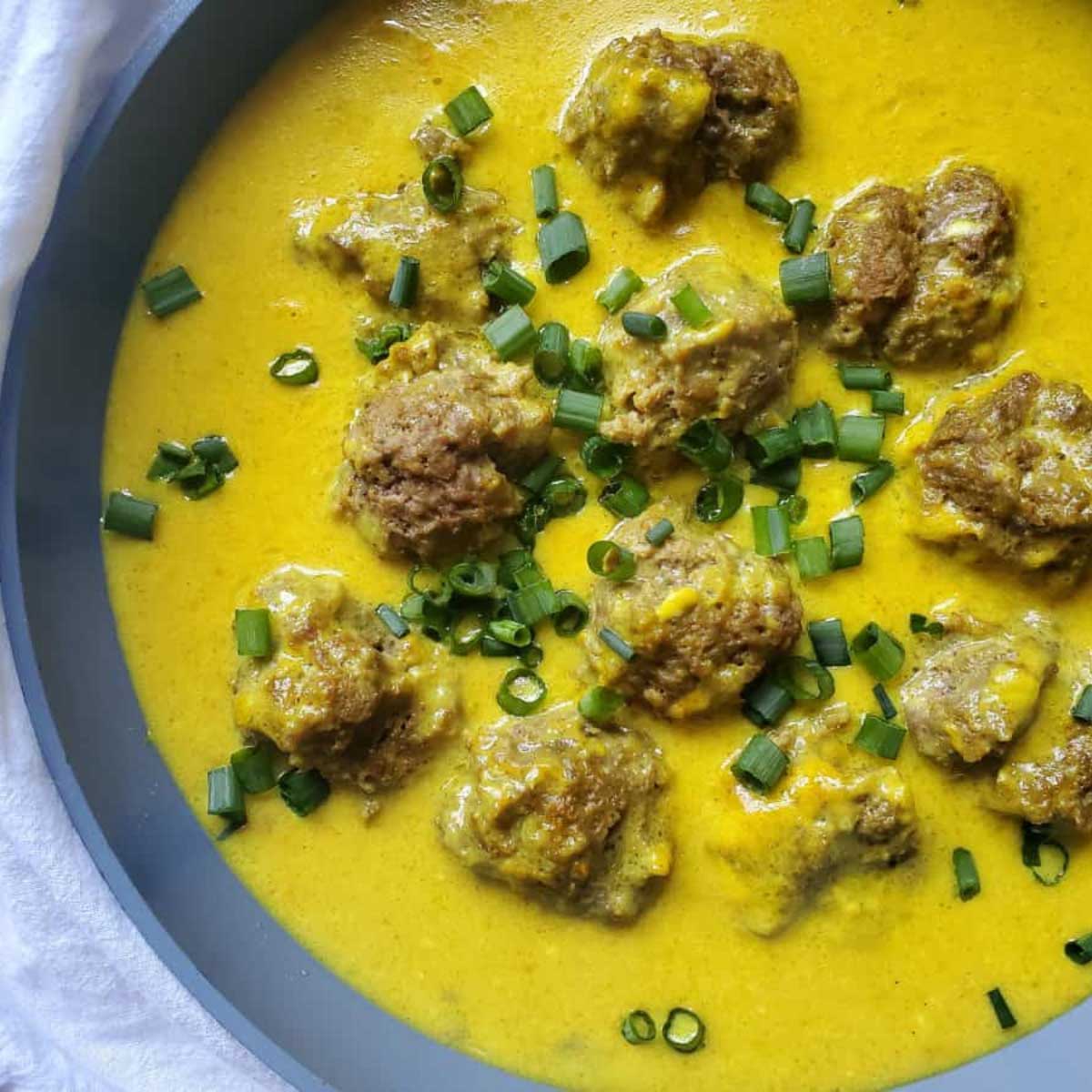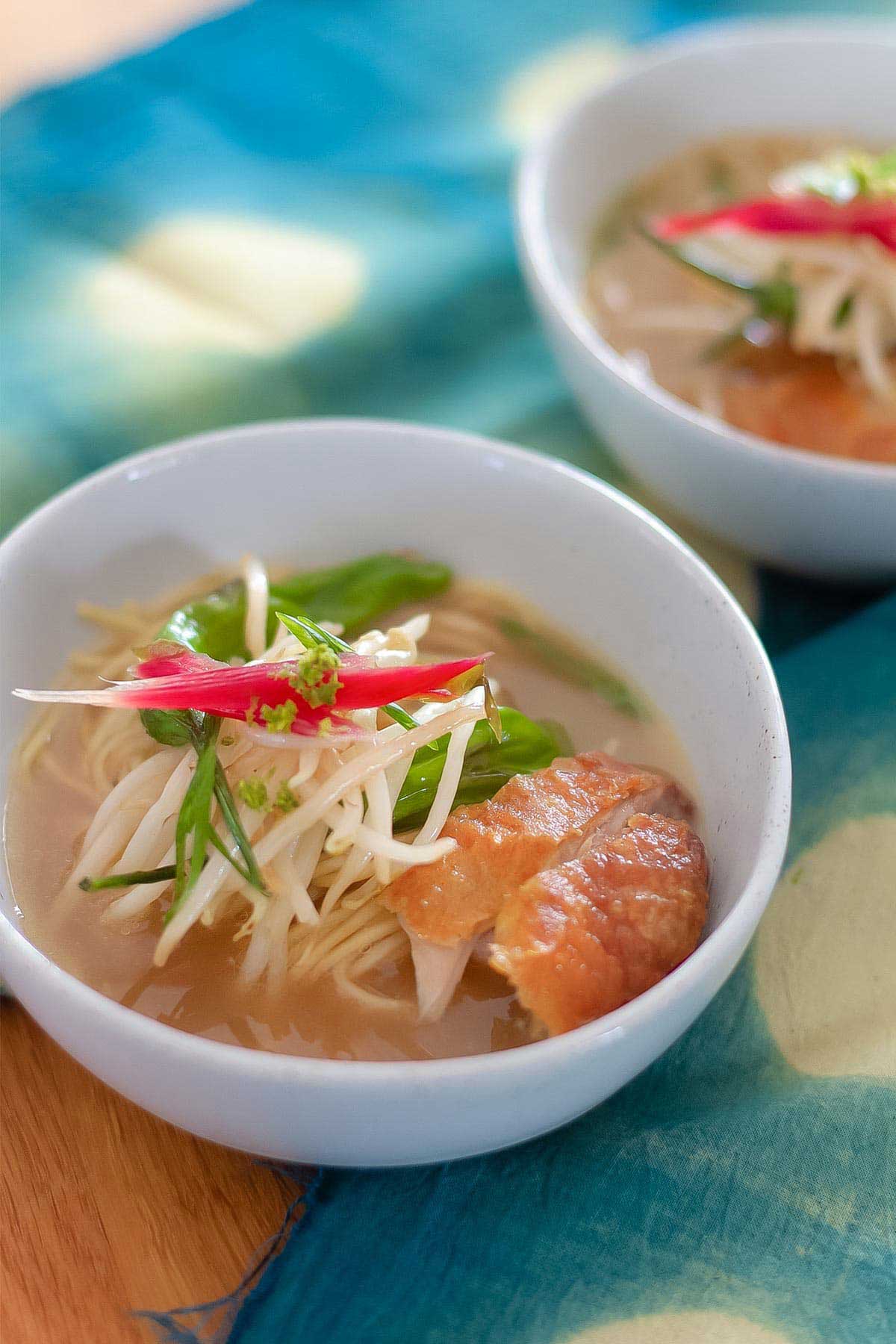 Yuzu Ramen with Roasted Turkey and Shishito Peppers
This yuzu ramen is perfect if you have leftover turkey as it combines the roasted turkey with stir-fried bean sprouts and pickled Swiss chard stems, all topped with the zing of blistered shishito peppers. The light chicken shio broth deepens the flavor, ideal for a quick ramen fix. Serve with gyoza or edamame.
Check out this recipe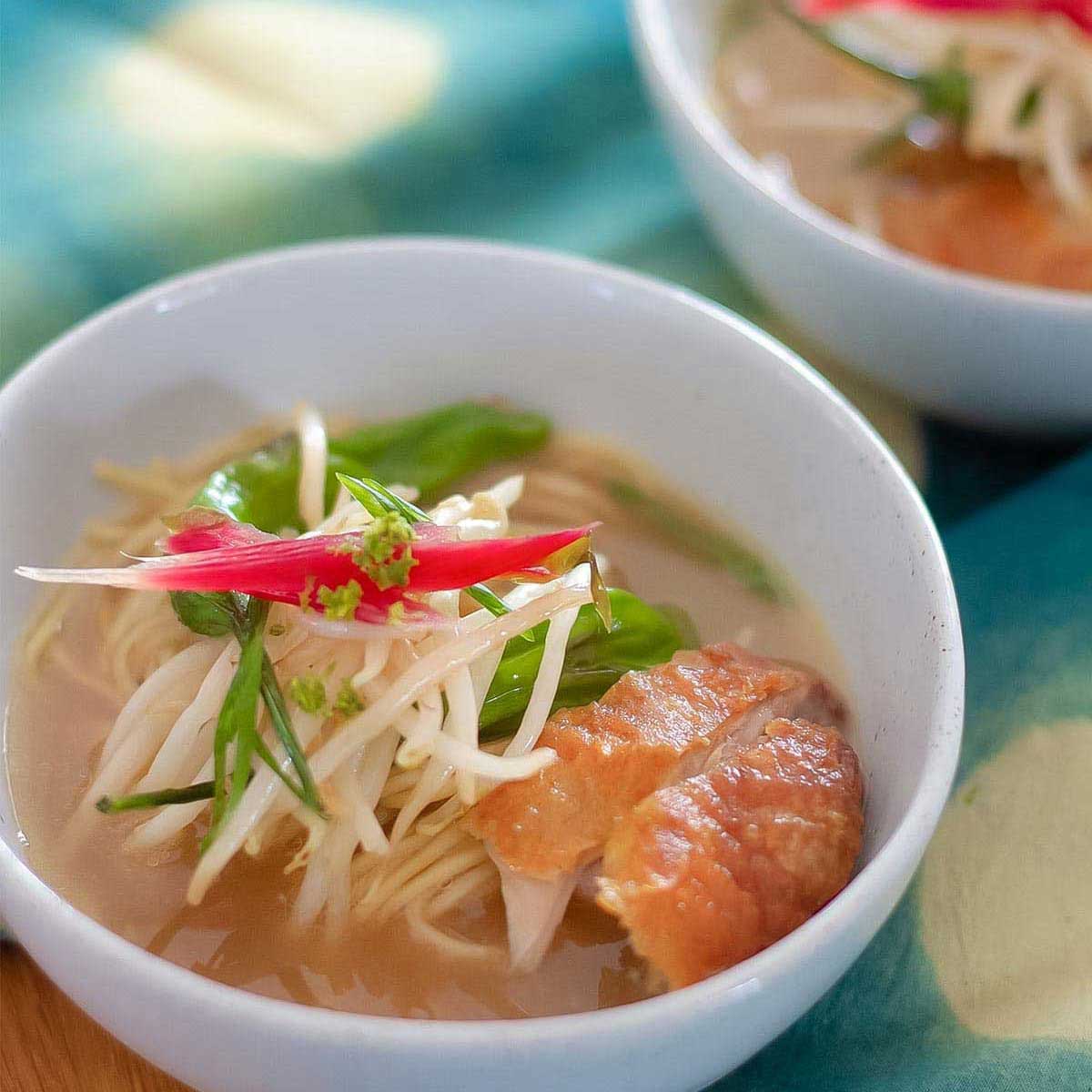 Tom Kha Gai Recipe (Thai Coconut Chicken Soup)
The Tom Kha Gai Recipe is a delicious combination of sweet, tangy, and savory flavors. It features a rich base of coconut milk, along with protein-packed chicken and a variety of fresh herbs and aromatics. All of this is cooked in a flavorful chicken broth. For a complete meal, you can pair it with some spring rolls.
Check out this recipe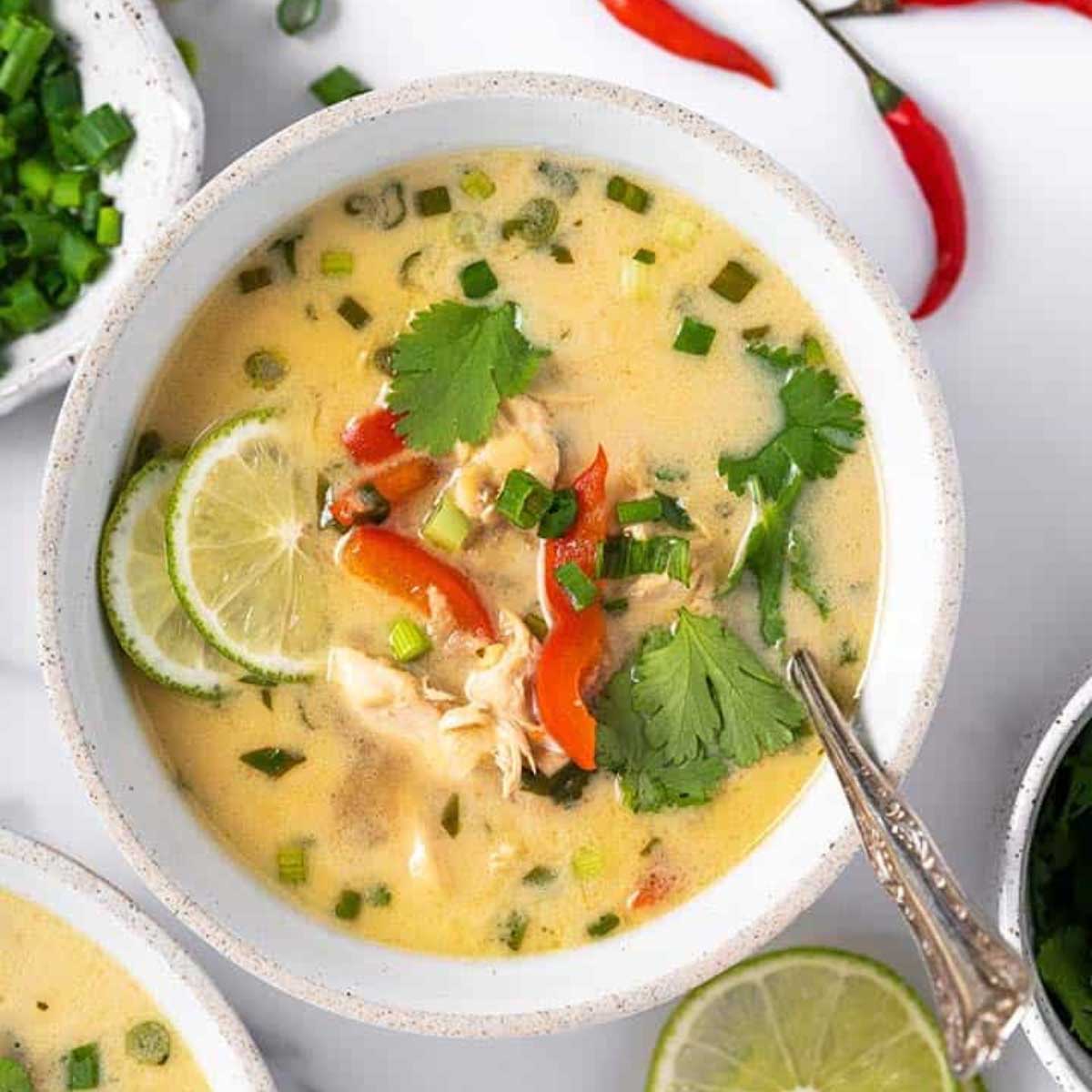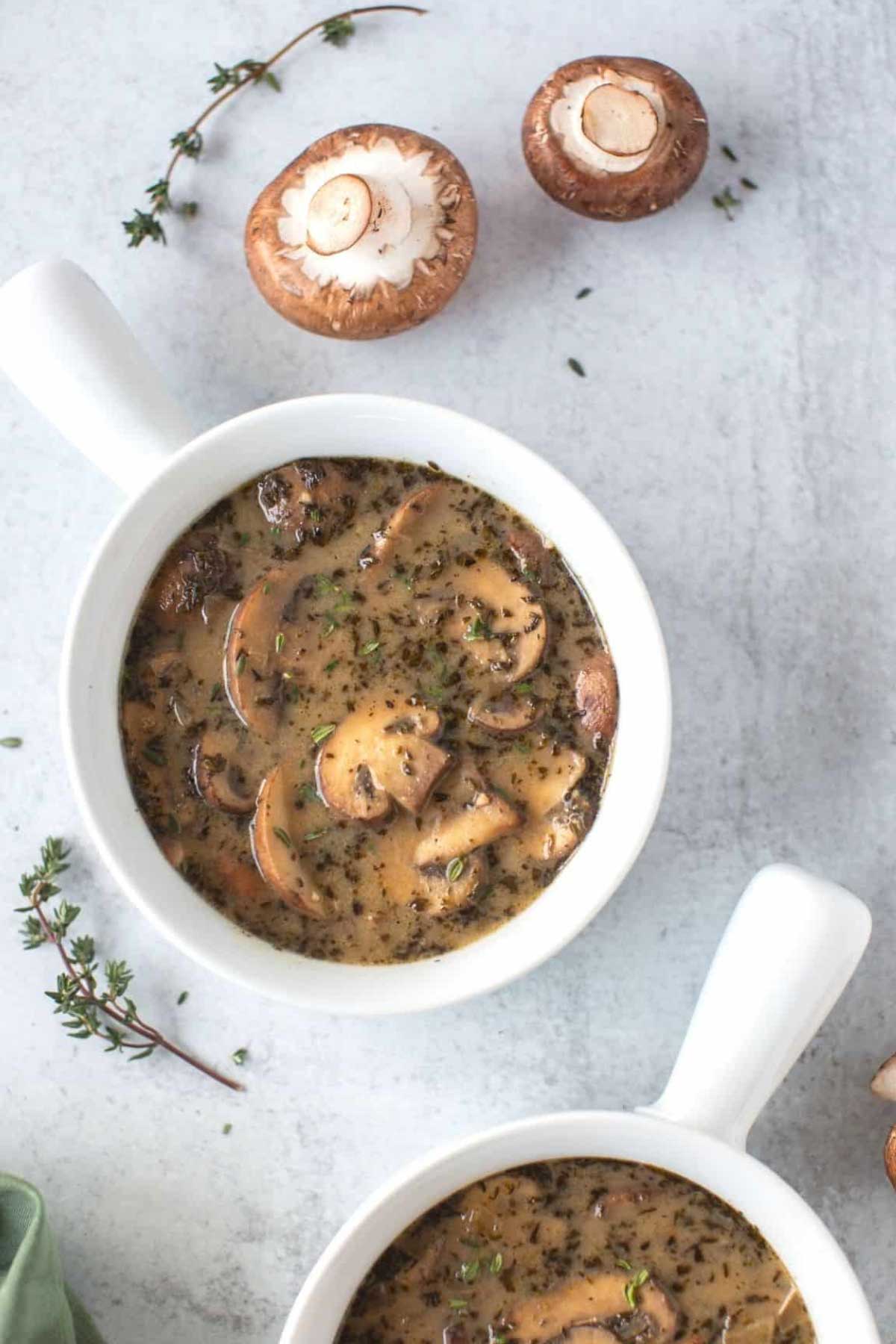 Healthy Mushroom Soup
Combine fresh mushrooms, coconut milk, and seasonings to create this easy, nutritious soup. Offering a delightful alternative to the usual canned cream of mushroom, its rich flavor profile is everyday-friendly and fit for special occasions. It is best when paired with crusty bread or a light salad.
Check out this recipe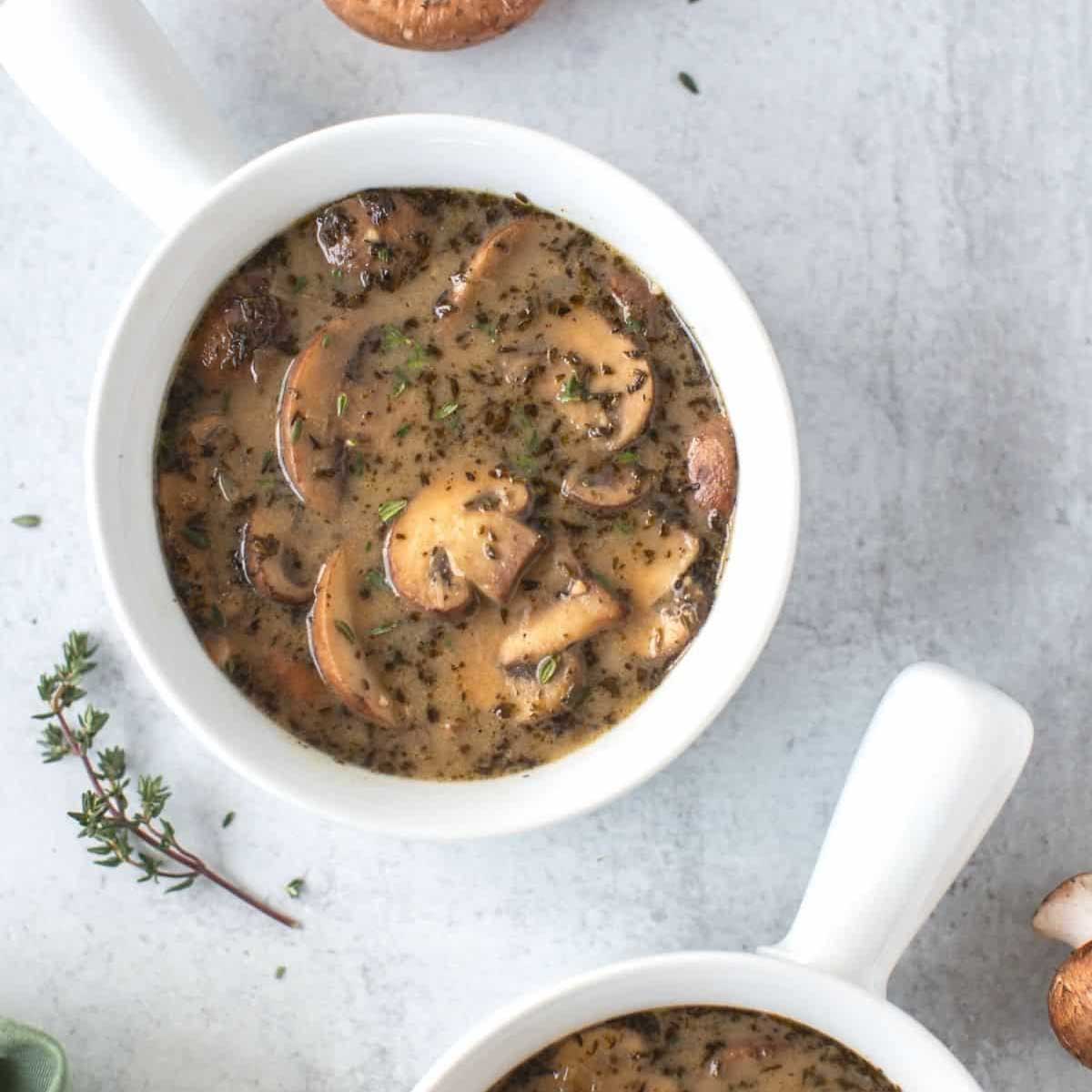 Wonton Soup
Thin and delicate wontons filled with rich and savory fillings, floating in a delicious broth and infused with the subtle aroma of green onions. Simple yet tasty, this classic comfort dish is even better when paired with stir-fried greens or steamed buns. 
Check out this recipe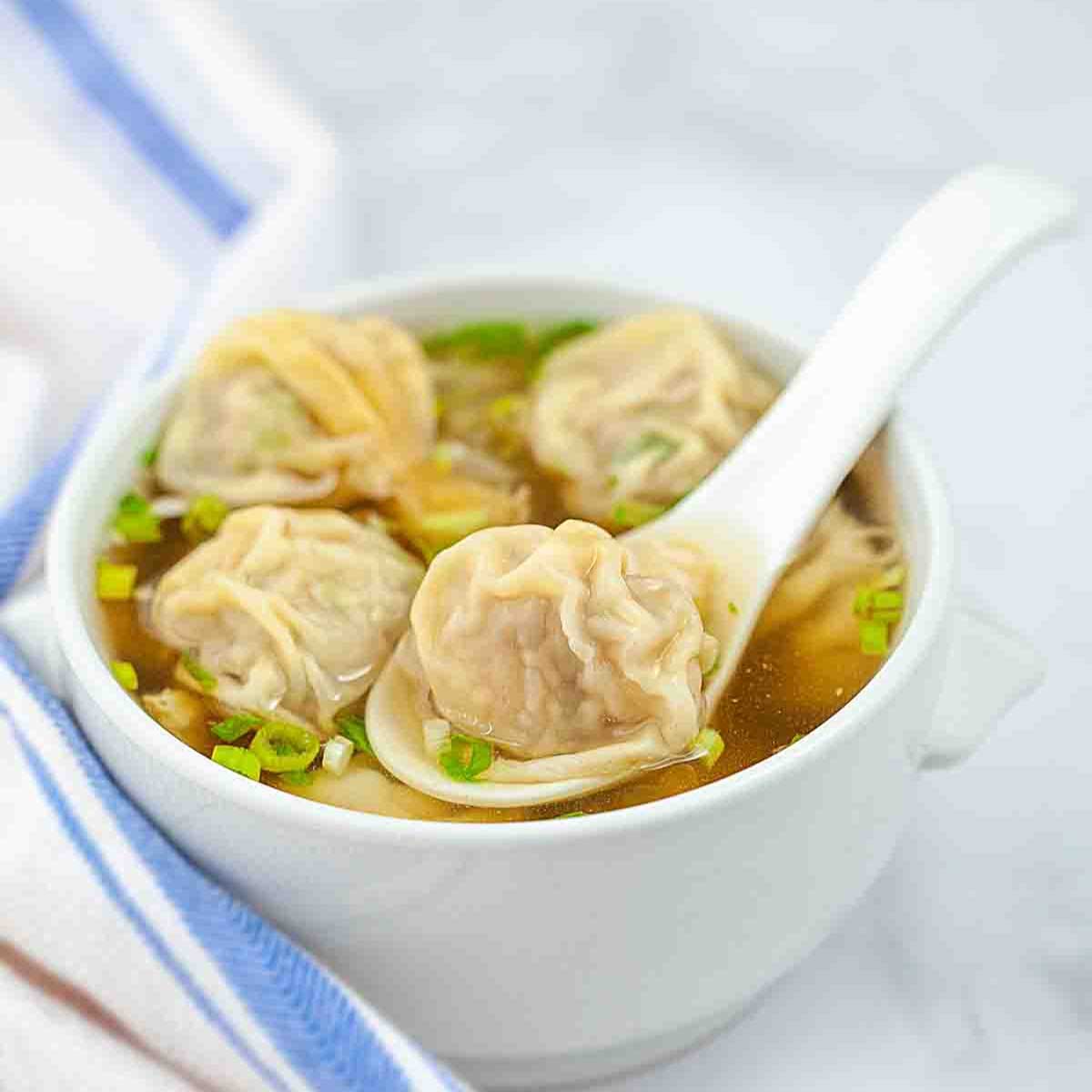 FAQs About Chicken Broth
Got questions about chicken broth? I've got answers!
Why use chicken broth instead of water?
Water is, well, just water. It offers hydration but no inherent flavor. Chicken broth, on the other hand, infuses dishes with a rich, savory taste.

By choosing broth over water, you're elevating the dish's complexity, transforming a simple meal into something comforting and richer.

What is the difference between chicken stock and broth?
While both are close siblings, there's a nuanced difference. Chicken stock is made from simmering chicken bones, resulting in a gelatinous, rich liquid.

Broth, meanwhile, is lighter and is made by simmering chicken meat or a whole chicken. Stock offers a deeper, more robust flavor, whereas broth is often more saline and aromatic.

Is chicken broth thick or thin?
Chicken broth, in its essence, is a light, thin liquid. Its consistency is similar to water but carries a golden hue and a burst of savory flavor.

However, its thickness can be tailored by reducing it on the stove, transforming it into a more concentrated, slightly thicker version.
How long is chicken broth good in the fridge?
For homemade chicken broth, its aromatic charm is best enjoyed within 3-4 days when stored in the fridge.

However, if you're planning on extending its shelf life, consider freezing it. If you're using store-bought chicken broth, the shelf life can vary; so, it's a good idea to check the packaging for specific storage instructions.

Remember, if you're ever in doubt, give it a quick sniff; a sour or off-putting smell is a clear sign it's past its prime.

More Favorite Recipes You Might Like
---
Chicken broth stands as a game-changer in the kitchen, lending its rich flavors to a vast array of dishes. From simmering soups to delectable mains, cooking with chicken broth infuses meals with that extra touch of depth and warmth.
So next time your dish needs a boost, turn to recipes with chicken broth and watch as it transforms from ordinary to extraordinary.
Don't forget to subscribe to my Monthly Newsletter!
What's your favorite recipe that includes chicken broth? Share in the comments below, and let me know!
---