This oven-roasted baby bok choy (Chinese cabbage) recipe is hearty and just a tad tangy-sweet with a beautiful tender-crisp texture. Serve it as a side dish that pairs well with protein-centric main dishes, or it can also be the base of a healthy lunch or light dinner just topped with eggs.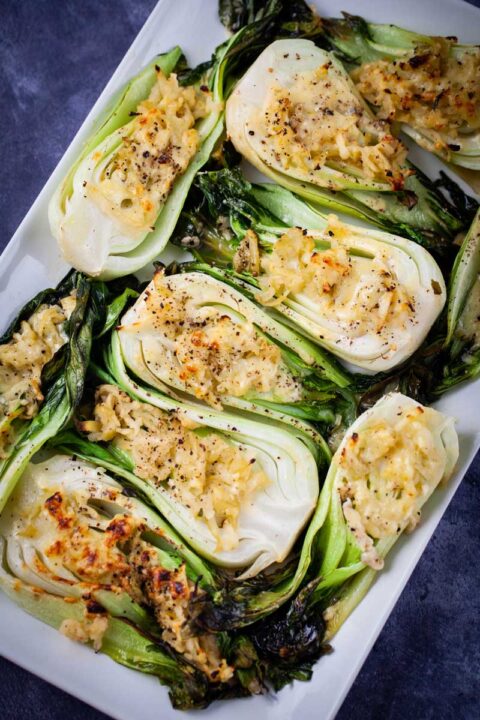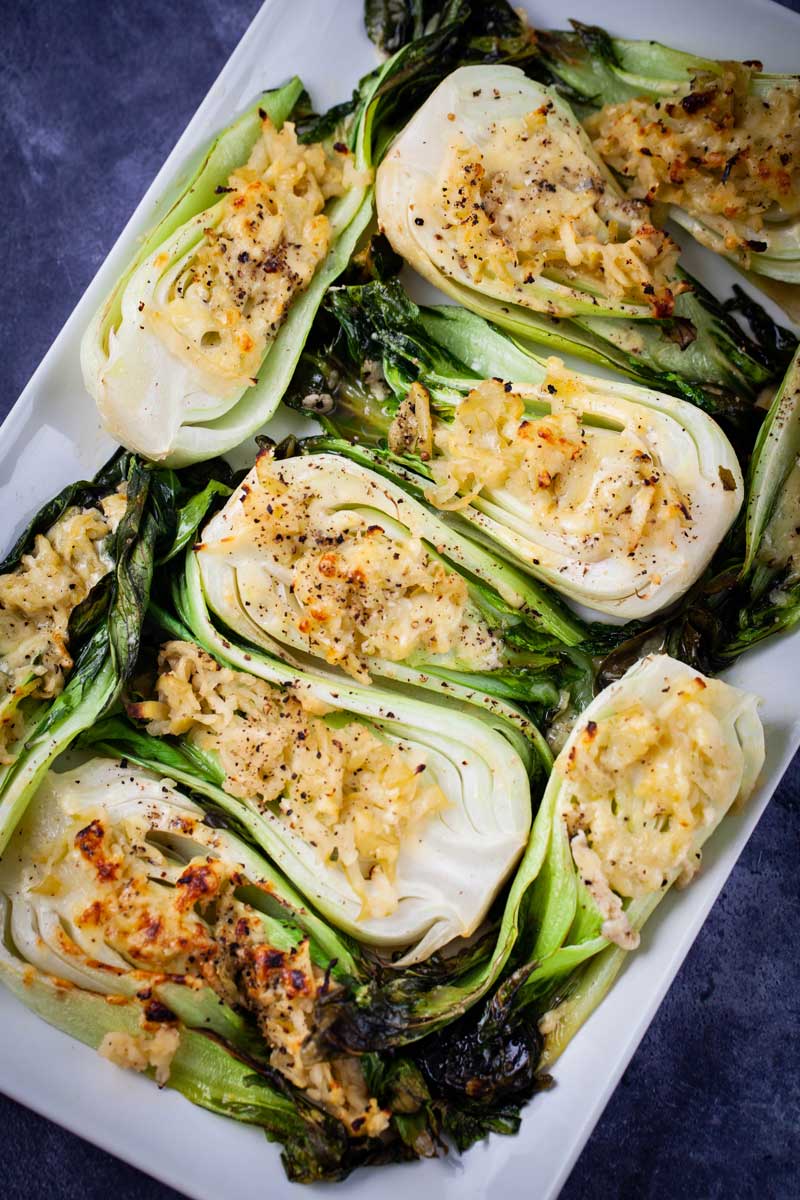 This roasted baby bok choy recipe with its hearty and sweet grated toppings has a delicate cabbage flavor, with slightly crispy leaves, crisp-tender cores, and a delicious sweet cheesy crust on top. All you need are a few ingredients and 10 minutes in a very hot oven.
It's not your typical Asian-inspired side dish that you might expect when bok choy comes to mind. But I am not going for that. It's more of an apple, cabbage, cheese combo that usually everyone loves but done a bit differently here in that I use grated apple and cheese as a topping to create a naturally sweet and cheesy flavor. It all melts into a comforting bite with a hearty tasting layer that compliments this Chinese cabbage.
It pairs incredibly well with protein dishes such as The Easy Buttery Wild Salmon or my Spicy Beef Short Ribs recipe. You can keep it simple by serving it over cooked black Japonica rice or pairing it with eggs prepped your favorite way—more on that later.
I prefer to use baby bok choy, the small-sized and more well-known Chinese type of (baby) cabbage, for this recipe. Although smaller than regular bok choy, their green leaves are tender with a sweeter flavor and become deliciously crisp in the oven when coated with olive oil. Plus, they look beautiful when presented on the table.
Ingredients & a few tips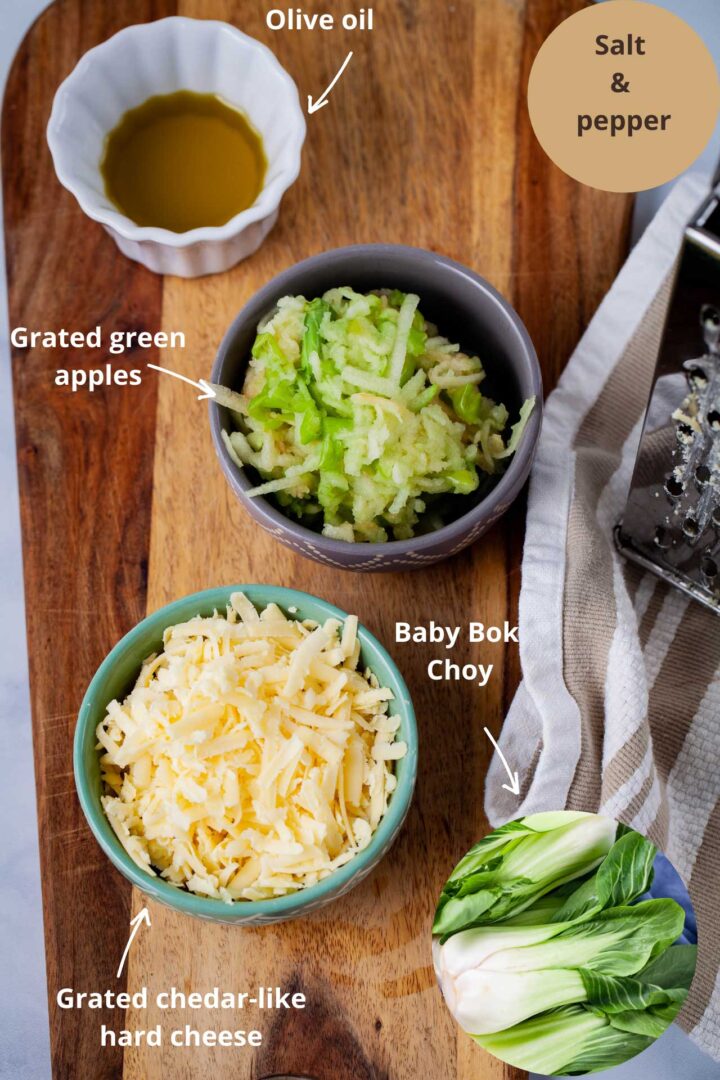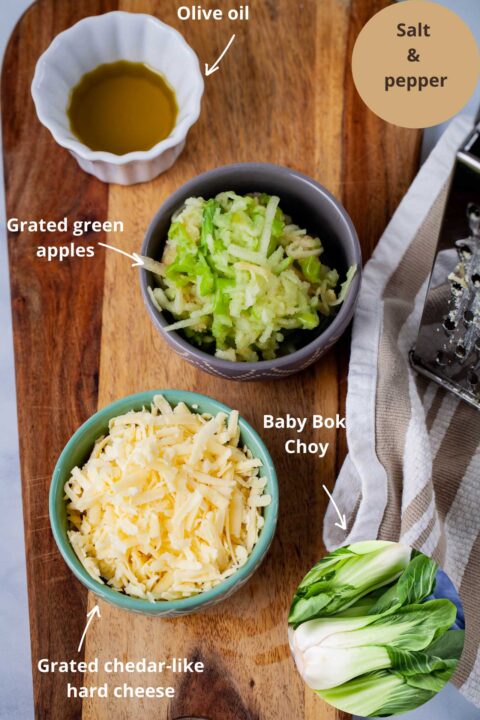 Baby bok choy: Purchase pieces of bok choy with firm white stalks and bright, crisp greens. When ready to prep them, remove and discard any parts or leaves that might have discolored in the fridge, but otherwise, leave the vegetable intact as much as possible. Then wash and pat dry both the leaves and the stems, and no need to trim the bottom. To clean them thoroughly, either swish them in a bowl of water and gently rub any dirt or debris that sits in between and on the leaves or rinse each piece under running water. Don't forget to check the base of the stalk where dirt usually collects. Cut them lengthwise in half and try to make them roughly the same size to cook evenly.
Olive oil: Preferably, you want to brush the green leaves with olive oil first and sprinkle the rest on top of the prepared vegetable. It gives a hearty flavor and ensures that the leaves become deliciously crispy and won't burn in a 450 degrees oven.
Hard cheese: An aged cheddar or Parmesan cheese are my favorites. But you can also go for a vegan gourmet cheddar to keep it dairy-free. The most important thing is that you chose the one you like. Most hard cheeses beautifully melt in the oven and create a delicious golden crust.
Apple: I suggest Green Granny Smith apples that are not too sweet because you don't want the apple to overpower this dish. The idea is to add an acidic element to the fatty cheese and a refreshing bite to this crunchy vegetable.
Salt and black pepper: It's all effortlessly seasoned with sea salt and black peppercorns—be royal with the pepper. It will not make this side spicy; it will only enhance and balance out the flavors.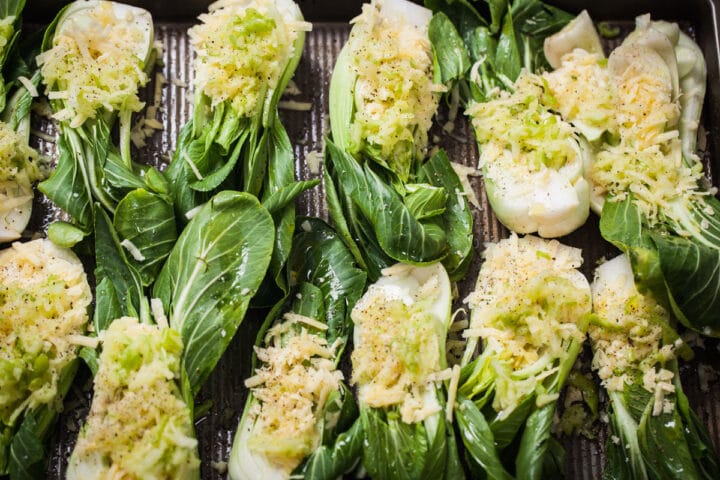 Because it is such an easy recipe and comes together in no time, it is a great side to make during busier weeknights. But when served on a more fancy plate, it can also easily become a beautiful vegetable side to serve when you entertain friends and family. It is a lot easier to focus on the main dish or dessert when your vegetable dishes are super simple to make.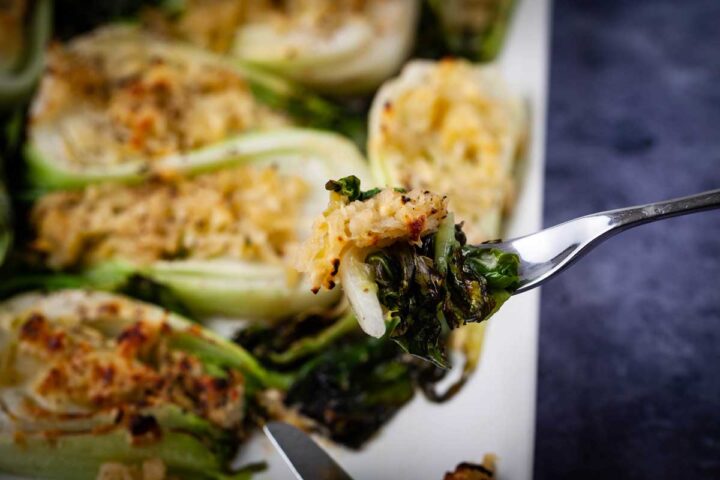 Bok choy and eggs
Almost any roasted vegetable thrown together with a poached or fried egg can become a quick lunch— no exception here. Add some sweet and sour pickles on the side and you have a tasty low carb meal.
This can even work for light dinner, and if you want something more substantial than add some cooked brown rice that will easily blend in with the egg. It's a great way to enjoy this roasted baby bok choy recipe as a light meal in the easiest way possible.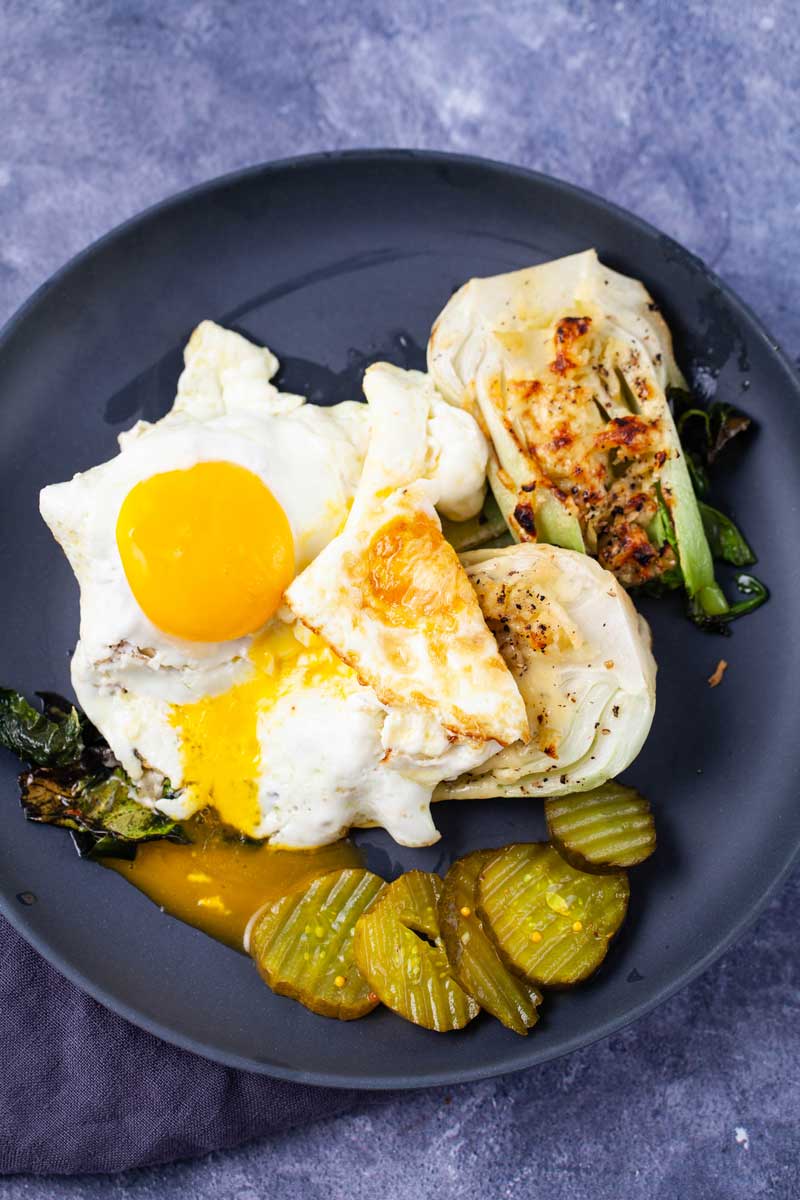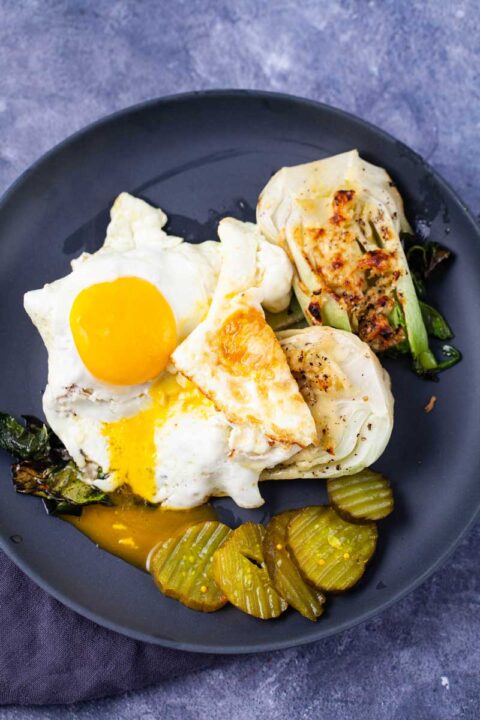 Storage
Store the roasted bok choy in the fridge using an airtight container for up to three days and reheat in the microwave or for a few minutes over the stove.
So you can make this baby bok choy recipe easily for dinner one evening and then quickly add nutrition to your weekday lunches the next day.
More healthy cabbage dishes you might like
If you are looking for other dishes containing vegetables from the cabbage family, try these sautéed Brussels Sprouts. A tad creamy and topped with roasted and crunchy sunflowers, this plant-based dish is on your dinner table in less than 30 minutes.
Or try an easy version of creamy mashed cauliflower, a lighter dish you can try now and then in lieu of mashed potatoes but still creamy, cheesy and incredibly easy to make.
One of my reader's favorites, sweet kale-apple salad with creamy avocado pesto, is always a nutritious and simple salad that you can just as easily make into a more substantial lunch with some olive-oil-packed tuna mixed in.
Enjoy!
Don't forget to subscribe to my Monthly Newsletter!
📖 Recipe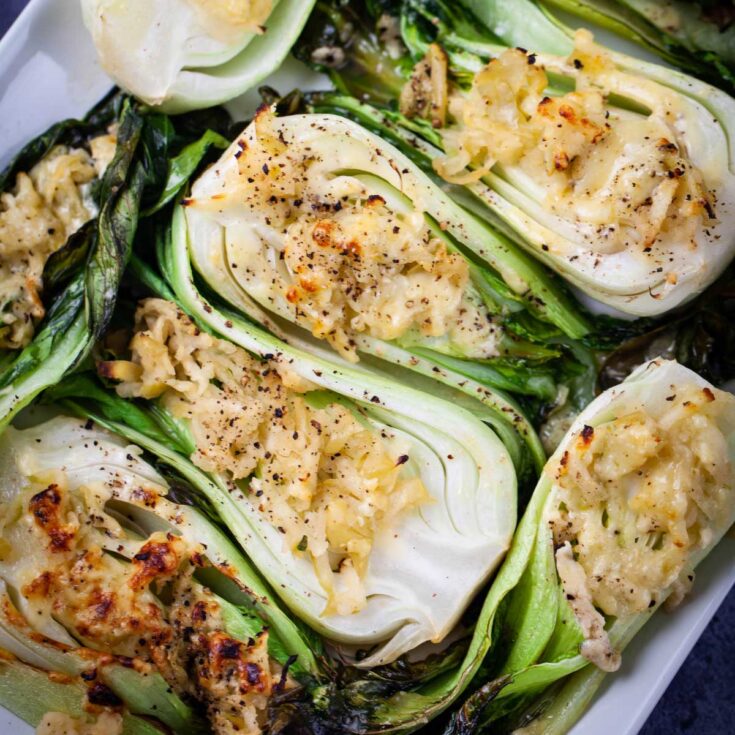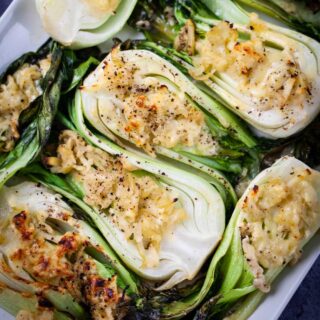 Sweet & Hearty Roasted Baby Bok Choy
Mariska Ramondino
This roasted baby bok choy (Chinese cabbage) recipe is ready in 25 minutes—hearty, tangy-sweet with a wonderful tender-crisp texture.
Ingredients
6

bunches

Baby Bok Choy

cleaned and cut in half lengthwise—see note

3

tablespoons

olive oil

divided

1

cup

grated hard cheese

Parmesan cheese, or vegan gourmet cheddar

1

cup

grated apple

Salt and pepper to taste
Instructions
Preheat oven to 450 degrees.

Cover the bottom of a large rimmed baking sheet with one tablespoon of olive oil.

Arrange the bok choy on the baking sheet cut sides up.

Divide the grated cheese and apple equally on top of the bok choy and a little between the leaves.

Season to taste with salt and a few grinds of black pepper.

Sprinkle the remaining two tablespoons of olive oil on top of the vegetables and the leaves' ends.

Tip: use a pastry brush to ensure that all leaves are covered with olive oil (feel free to use maybe one extra tablespoon of olive oil than suggested).

Place in the oven for 10 minutes or until the leaves become wilted and slightly brown and crispy, but the vegetable is still tender-crisp.

Put bok choy on a platter or serving dish. Enjoy!
Notes
Baby Bok Choy: If some vegetables are larger than others, cut them lengthwise in thirds to make them roughly the same size, so they cook evenly. How to Clean Baby Bok Choy: Rinse thoroughly in cold water to remove any grit in between the leaves and the bottom base. Pat-dry with a paper towel.
Add your own private notes
Whenever you come back to this recipe, you'll be able to see your notes.
Nutrition (% Daily value)
Calories:
138
kcal
(7%)
Carbohydrates:
3
g
(1%)
Protein:
6
g
(12%)
Fat:
11
g
(17%)
Saturated Fat:
4
g
(25%)
Polyunsaturated Fat:
1
g
Monounsaturated Fat:
6
g
Cholesterol:
11
mg
(4%)
Sodium:
268
mg
(12%)
Potassium:
38
mg
(1%)
Fiber:
1
g
(4%)
Sugar:
2
g
(2%)
Vitamin A:
186
IU
(4%)
Vitamin C:
1
mg
(1%)
Calcium:
200
mg
(20%)
Iron:
0.2
mg
(1%)
Disclaimer: This nutritional data is calculated using third party tools and is only intended as a reference.