You got to make this coconut and kale chip recipe for cozy movie nights. It is light, crispy, and very addictive with its sweet-salty seasonings. Because my family can't stay away from it, I always make a big batch in the oven so everyone can munch away through the whole movie!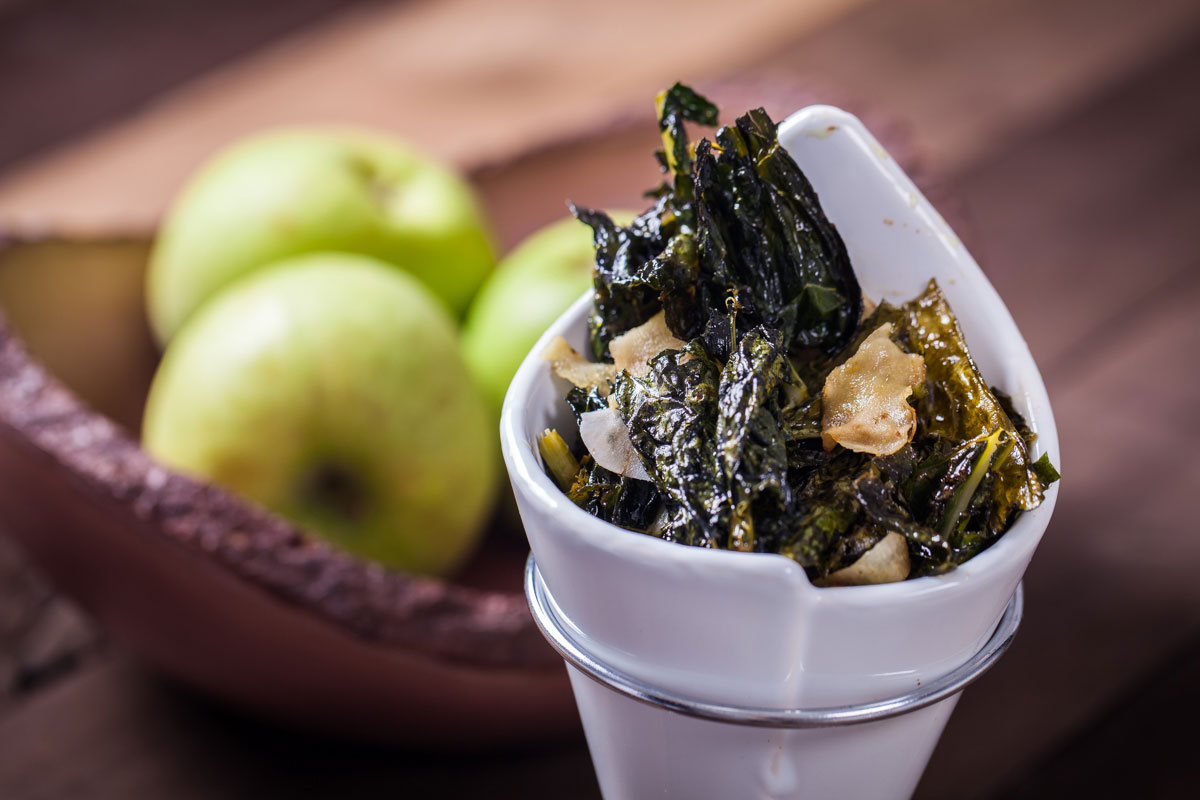 Do you love movie nights? I do, and I always try to come up with new healthy snack ideas. At home, we love planning evenings were as a family we try to catch up on films we did not see in theaters or binge-watch on our favorite Netflix show. And we love making those evenings cozy and fluff up the pillows, position the ottomans to rest our legs, throw some silky blankets on the couch, lit the fireplace (well at least on colder days) and, of course, place healthy snacks on the table.
This time I am sharing our favorite Coconut and Kale Chips recipe, and it is super easy to make.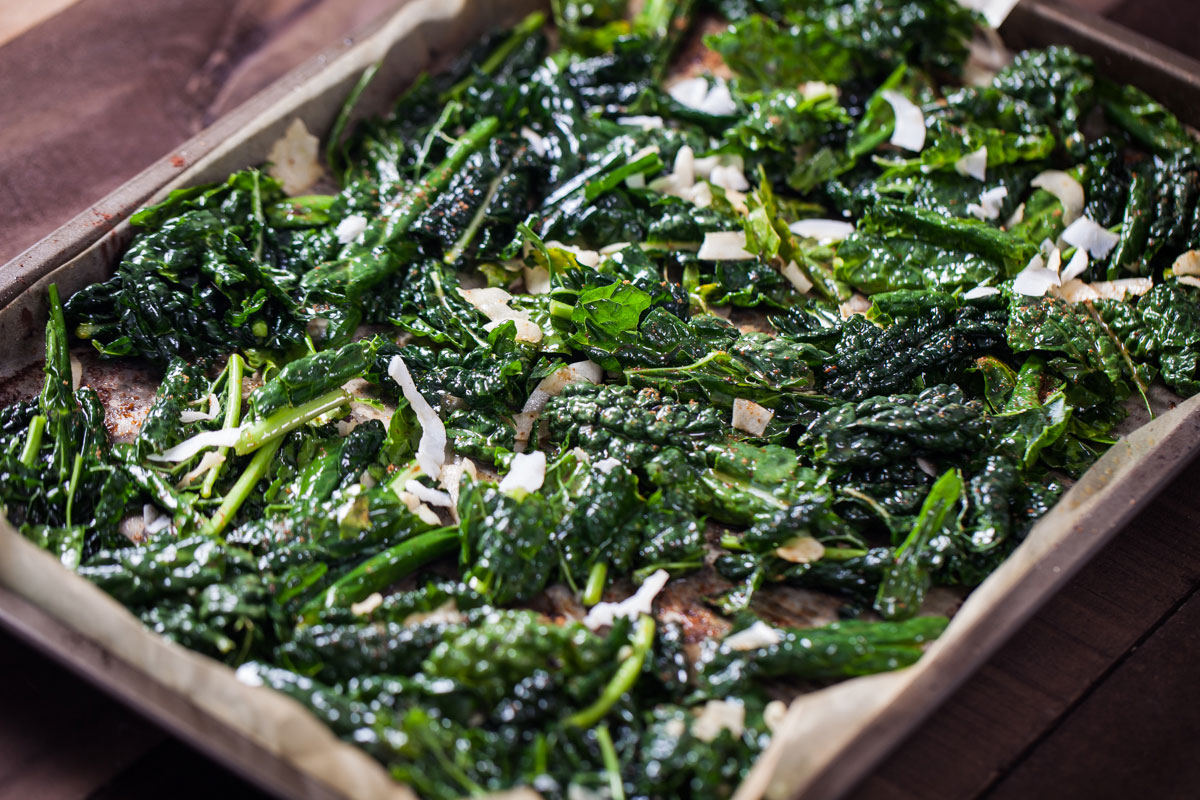 I have tried making this treat before, and I'll admit that I wasn't very successful at first. The first few batches were either too soggy or burned. I learned the hard way that making these leaves crispy heavenly depends on the length of baking time, chosen oven temperature, and the chosen seasonings. So let's dive in!
HOW TO MAKE THIS HEALTHY COCONUT AND KALE CHIPS
Choose dinosaur kale, also known as Lacinato kale (Black Kale). The harder texture of these leaves helps with creating that delicious crisp texture. It makes all the difference.
Mix in unsweetened coconut flakes for an extra crunch and natural sweetness.
Use Stevia powder (or coconut sugar) together with sea salt as a seasoning to get that incredibly sweet and salty combo.
You have to toss the leaves with some oil to help develop crunchiness, and I love the more robust taste of healthy olive oil.
Lastly, add fresh orange juice. It adds that perfect citrusy finishing touch and enriches the natural sweetness of the Kale chips.
If you haven't noticed yet, I love my snacks savory and sweet at the same time! YUM!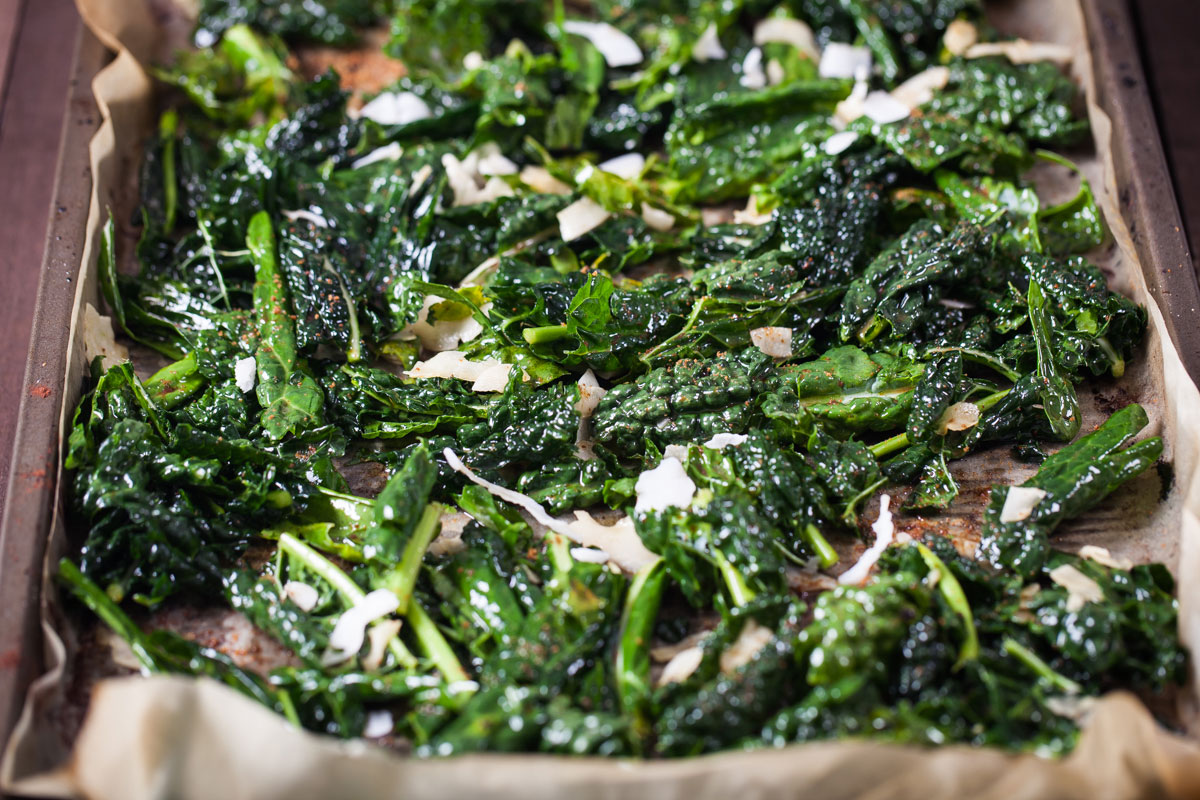 HOW TO PREPARE THE KALE AND BAKE THEM IN THE OVEN
You want to dry the kale leaves after rinsing them with water because otherwise they will not crisp enough in the baking time given.
It is important to gently massage the dinosaur leaves with the olive oil and the juice and evenly divide it amongst the green leaves and coconut flakes.
The same goes for the seasoning. Distribute it evenly!
Because I am slightly coating the kale with orange juice, I bake the leaves on lower oven temperature and a tad longer. This way, it will obtain that beautiful and perfect bite of a great vegetable chip.
Allow the chips to sit a little once out of the oven so they can further crisp up as they cool.
If you have any leftovers, which I doubt, then simply brown-bag it and store at room temperature for up to two days. At home, I either enjoy them the next day:
as a healthy snack
tossed in my salad, or
topped on oven-roasted potatoes (or sweet potatoes) when ready.
I hope you enjoy this seriously tasty treat on your lazy days at home!
If you make this recipe, please let me know! Have questions? Simply comment below or message me either on Instagram, Facebook, and also check Pinterest to see what other fun things I share.
Happy Movie Night, friends!
Here are some other healthy snacking ideas:
SOFT AND WHOLESOME FEEL GOOD COOKIES
PUMPKIN PIE SPICE ENERGY BALLS
HOW TO MAKE HEALTHY BROWNIES WITHOUT FLOUR
GOLDEN HEALTHY AND GRAIN-FREE MANGO COOKIES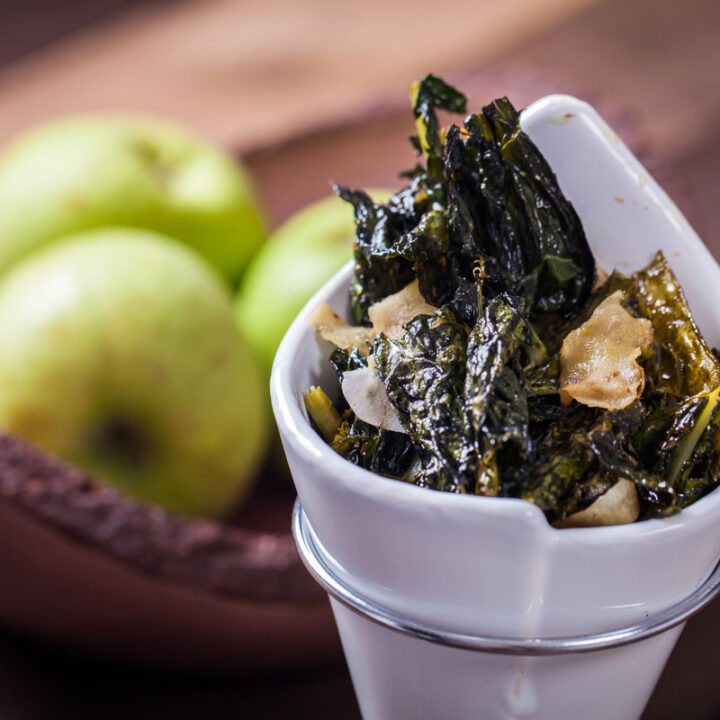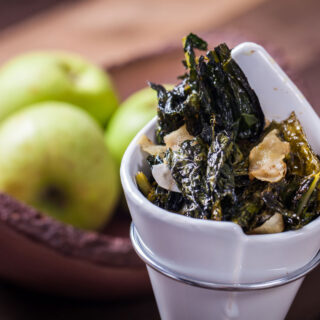 Coconut and Kale Chips
Mariska Ramondino
Make this sweet and salty coconut and kale chips baked until deliciously crispy for your next movie night snack!
Ingredients
3

large bunches

dinosaur kale

about 30 leaves

3

tablespoons

unsweetened coconut flakes

3

tablespoons

olive oil

½

orange

juiced

2

pinches

sea salt

2

pinches

stevia powder or 2 tbsp of coconut sugar

or as preferred
Instructions
Preheat the oven to 250.

Rinse and thoroughly dry kale. Tear the kale into smaller equally-sized pieces. Discard the large thicker stems.

Place the kale in a large bowl and toss in the coconut flakes. Drizzle with olive oil, orange juice. Use your hands to massage the kale and distribute the oil and juice evenly until well coated.

Season kale with salt and Stevia. Use your hands to toss and distribute seasonings evenly.

Spread the kale over two large baking sheets (or ensure that there is enough room for the kale to touch as little as possible to get crispy). Bake for 30 minutes, then lightly toss or turn kale around. Sprinkle more Stevia to taste (only if you prefer sweeter kale chips). Bake for another 10 to 15 minutes or until crispy.

Remove from oven and let slightly cool. Enjoy immediately or store covered at room temperature for 2 to 3 days.
Notes
If you have any leftovers, which I doubt, then simply brown-bag it and store at room temperature for up to two days. At home, I either enjoy them the next day:
as a healthy snack
tossed in my salad, or
topped on oven-roasted potatoes (or sweet potatoes) when ready.
Add your own private notes
Whenever you come back to this recipe, you'll be able to see your notes.
Nutrition (% Daily value)
Calories:
126
kcal
(6%)
Carbohydrates:
3
g
(1%)
Protein:
0.4
g
(1%)
Fat:
13
g
(20%)
Saturated Fat:
4
g
(25%)
Polyunsaturated Fat:
1
g
Monounsaturated Fat:
8
g
Sodium:
196
mg
(9%)
Potassium:
53
mg
(2%)
Fiber:
1
g
(4%)
Sugar:
2
g
(2%)
Vitamin A:
112
IU
(2%)
Vitamin C:
9
mg
(11%)
Calcium:
10
mg
(1%)
Iron:
0.2
mg
(1%)
Disclaimer: This nutritional data is calculated using third party tools and is only intended as a reference.