Deliciously soft on the inside and lightly crispy on the outside, these flourless mango cookies are the perfect healthy treat and irresistible. Pair them with your favorite cup of coffee or tea for breakfast, or enjoy them as an afternoon or evening snack. They are gluten and refined sugar-free! A wonderful cookie for kiddos and adults.
It's no secret. I love a good healthy treat that is super easy to make, satisfies my sweet cravings, and contains nutrient-rich ingredients.
These flourless cookies give you a deliciously sweet and bursting mango flavor with each bite—seriously addictive. Their texture is soft, almost a bit chewy with a subtle crunchy exterior!
And because I am making them without flour, they are, of course, entirely grain-free and gluten-free. Also, I am using only nut butter oils (but I'll also share a nut-free option below) and natural sugars—6 simple ingredients make tasty mango cookies that won't disappoint.
So, if you are trying to avoid gluten, dairy, wheat, or just want a good tasting flourless cookie, you're going to love this recipe.
Let's bake these incredibly mango flavored "soft batch" cookies.
A few notes on the ingredients
Plantain
I love using ripe plantains in my baked goods to make them grain-free or to make flourless plantain pancakes.
When mashed or blended, these fruits give these cookies an excellent moist and firm texture without the need for any flour. And that lends itself to speedy baking. When combined with the rest of the ingredients—which only takes 5 minutes—I simply drop the dough on the cookie sheet, and then they pop into the oven. That's it.
For this, you only need one sizeable semi-ripe plantain. The dried mango flavor will overpower the taste of this banana fruit, so I'm mainly using it for the texture.
Note: Go for plantains with yellow skin—maybe some brown spots here and there—that have the sweet aroma of bananas and feel soft yet not mushy when placing some pressure on it with your thumb.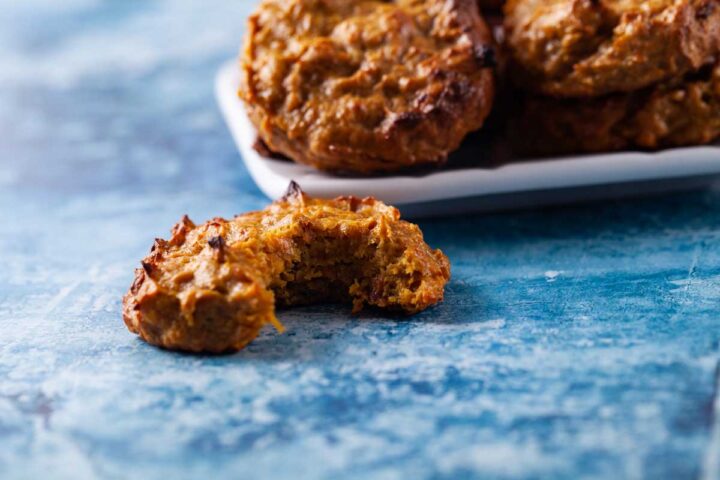 Nut butters
I am using the creamy texture of different kinds of nut butter to bind the ingredients in this cookie dough.
One of my favorite combos is silky almond butter with toasty and earthy Tahini Butter. Try to go for natural unsweetened spreads; otherwise, these cookies will turn out a tad too sweet.
Crunchy almond butter is a great option too and perfect for those who want a bit of a contrasting texture. Each bite into your soft cookie will surprise you with crunchy almond pieces.
A great nut alternative is Sunflower seed butter. I recommend the salted version (although optional) because it wonderfully balances the dried mangoes' sweetness. It's also relatively easy to find and is the closest spread in flavor and texture to nut butter—it's nutty, smooth, and silky.
You could swap almond for peanut butter, but because peanuts have such a dominant flavor, it subdues somewhat the beautiful fruity mango taste. So, keep that in mind when you use it instead of the kinds of butter suggested in this recipe. But you might like that better.
I've made them many times using and testing different combinations and spreadable nut butter. They all gave me a flourless mango cookie that stands out.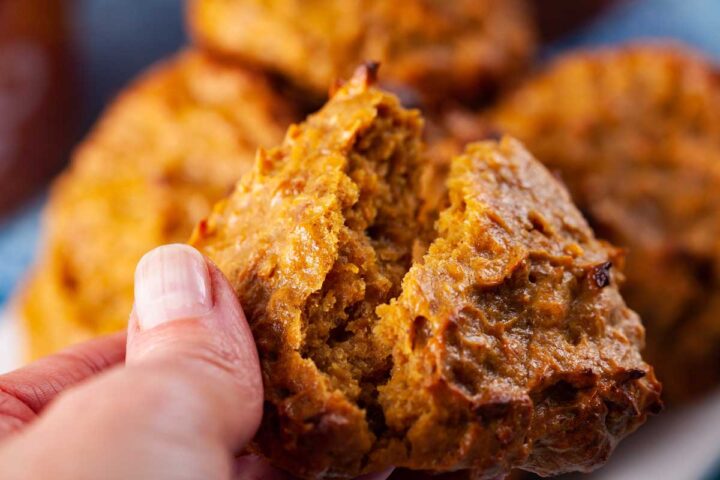 Dried mango
An 8-ounce package of dried mango slices equals two packed cups. Here also, I recommend going for unsweetened mango. This dried fruit is naturally already sweet enough, no need for any added sugars. Plus, the sweetened version, almost taste...well a bit unnatural.
You can opt for half a cup more if you want to make the mango flavor more intense without altering the cookies' texture. Plus, when mixed with Tahini—a nutty yet slightly bitter butter—the fruits' sweetness is beautifully balanced once the cookies are baked.
Eggs
You'll need two large eggs for these healthy mango cookies. I assume that you could make these with flax eggs, but I have not yet tested that. If you're going for an egg-free cookie, let me know how they turn out!
Sweetener
I love using Lakanto classic monkfruit sweetener to boost the cookie dough's sweetness. Sometimes I switch it up and use organic whole leaf stevia powder but in lesser quantities—a small amount goes a long way.
Although the dried mango and sweet plantain already give these cookies a naturally sweet taste, some of that flavor is lost during baking. So, I always add an alternative sweetener to the mix.
Another great unrefined sweetener that can work in this recipe is coconut sugar.
Note: not all stevia are created equally. If you can opt for an organic whole leaf brand that does not contain any additives or bulking agents.
So many ways to enjoy these cookies
The obvious: as a snack, dessert, or breakfast. These healthy cookies are high in protein and full of fiber, and a perfect grab and go morning treat. But a healthy one, of course!
They are also great as a school snack (if you used the seed butter only) or as an after-school snack. My daughter loves them with a warm cup of plant milk.
Also, I often enjoy them by adding or dipping the cookies into my chia seed pudding. You should try this. It just becomes another topping.
If you love pro-biotic unsweetened or Greek yogurt, then these cookies naturally add texture and sweetness.
Storage
I'll admit that they don't last long in my household. Usually, I save them in a cookie jar or box for up to two days. Or keep them in the fridge for up to 5 days.
But since this flourless healthy mango cookie recipe only takes 5 minutes to make and 20 minutes to bake, you'll have a new fresh batch ready in no time.
Have a large family or want to serve them for entertaining, double the ingredients to make 20 cookies!
Now make these mango treats!!! You are going to love them!
More healthy treats you might like
For peanut butter lovers, try my flourless, gluten-free, grain-free peanut butter cookies. Another soft and healthy type of cookie that feels good to eat.
If you want to keep it gluten- and egg-free, then give my oat cookies a try. They are soft on the inside with crispy brown edges—just perfect as a snack or on-the-go breakfast.
The easiest cookie you can bake is my flourless Speculoos cookies. With only six ingredients, this healthy treat comes with warm spices and is only sweetened with fiber-rich dates.
Lastly, you've got to try my flourless brownies. Sweetened with dried fruits only and baked with cocoa powder instead of flour, this chocolate-rich delight melts in your mouth like truffles.
Don't forget to subscribe to my Monthly Newsletter!
📖 Recipe
Mango Cookies (Gluten-free, Grain-free)
Mariska Ramondino
These mango cookies are so simple to make but deliciously soft with a burst of fruity mango flavor with each bite. They are also grain-free, gluten-free, dairy-free, and refined sugar-free—a perfect healthy treat.
Ingredients
2

eggs

at room temperature

8

ounces

unsweetened dried mango slices

1

large, medium ripe plantain

2

tablespoons

heaping Tahini

3

tablespoons

heaping almond butter

⅓

cup

monk Lakanto classic fruit sweetener

or 5 pinches of Now Better Stevia powder
Instructions
Preheat oven to 350 degrees.

Line a large baking pan with parchment paper.

Place all the ingredients except for the sugar in a high-speed blender or a food processor and blend high until smooth.

Remove the content from the blender into a mixing bowl. Stir in the sugar or Stevia until well combined.

Place one heaping tablespoon of the cookie dough on the lined baking pan. You can also use a 2-inch ice cream scoop, fill up, then flatten at the top of the scoop, so you get a dome shape.

Once dropped on the baking sheet, use your finger to slightly flatten them a bit until the dough is evenly spread into a round cookie shape.

Keep enough space between the cookies.

Repeat until all mixture is used up—you should get 10 cookies.

Place in oven and bake for 20 minutes or until golden brown.

Take out of the oven and let them cool! Enjoy!
Notes
A great nut alternative is Sunflower seed butter. I recommend the salted version (although optional) because it wonderfully balances the dried mangoes' sweetness. It's also relatively easy to find and is the closest spread in flavor and texture to nut butter—it's nutty, smooth, and silky.
Add your own private notes
Whenever you come back to this recipe, you'll be able to see your notes.
Nutrition (% Daily value)
Serving:
1
cookie
Calories:
153
kcal
(8%)
Carbohydrates:
28
g
(9%)
Protein:
4
g
(8%)
Fat:
5
g
(8%)
Saturated Fat:
1
g
(6%)
Polyunsaturated Fat:
2
g
Monounsaturated Fat:
2
g
Trans Fat:
0.003
g
Cholesterol:
33
mg
(11%)
Sodium:
15
mg
(1%)
Potassium:
149
mg
(4%)
Fiber:
2
g
(8%)
Sugar:
15
g
(17%)
Vitamin A:
2639
IU
(53%)
Vitamin C:
7
mg
(8%)
Calcium:
38
mg
(4%)
Iron:
2
mg
(11%)
Disclaimer: This nutritional data is calculated using third party tools and is only intended as a reference.