Are you a peanut butter lover and looking for a soft, healthy cookie that also feels good to eat? If so, then I have an excellent recipe for you. These No Flour Peanut Butter Cookies are easy to make and are the perfect gluten-free, grain-free snack to pair with your favorite hot drink. They are super nutrient-dense and can pass as a breakfast—or crumble one in your oatmeal bowl. I am also sharing an egg-free, vegan version and show you how different they look! So, let's make this delicious feel-good baked treat!
Note: baking cookies for field trips, birthday parties, or preschool? You'll be happy to know that sunflower butter can replace the peanut butter in this cookie recipe—nutritious and allergen-friendly.
We call them Feel Good cookies at home because each bite melts in your mouth, and healthily gives you a satisfying feeling!
These lovely looking peanut butter cookies are incredibly soft and are only slightly sweet due to the dates and a bit of Molasses (more about that in a bit and how to replace this ingredient.)
Sometimes I make them egg-free, and although the structure changes a bit, they still taste incredible. So, we'll look at how to make them both ways.
They are also super easy to make. Combining all the ingredients takes little effort, and they only need to bake for about 10 to 15 minutes in the oven.
It's a convenient recipe to have on hand when you crave a healthy treat that quickly comes together. I often make a fresh batch during the week. But you can prepare them over the weekend because they stay soft and delicious for at least up to 7 days—see all storage options below.
How to make peanut butter cookies without flour
Ingredients and substitutions
cacao powder (or carob powder)
dates and molasses (or maple syrup)
coconut oil
plant milk (if you want to keep it dairy-free)
drippy natural peanut butter
eggs or Bob's Red Mill egg replacer
cinnamon
baking soda and salt
Cacao or Carob Powder
Using cacao powder will add a hint of chocolate taste that goes so well with peanut butter. But it also acts as a substitute for flour and gives these baked goods that solid structure. You don't need much though—¼ cup is enough—because you still want that delicious peanut butter flavor to come through.
Pure Carob powder is another ingredient I often experiment with and is excellent for gluten-free, dairy-free, and grain-free baking. A few times, I've used it when I ran out of cacao powder—a perfect replacement in this recipe—and produced a similar tasty cookie.
You know me by now; I often like to use dried fruits in cookie recipes to give it a naturally sweet taste. Here I use a combination of Medjool dates and Unsulphured dark blackstrap molasses.
Soft Medjool dates add a beautiful caramel-like note and a good dose of fiber, while dark molasses give these homemade cookies a unique mild sweet flavor and a beautiful dark color.
This date-molasses mixture works well here and keeps the cookies chewy and soft. I use Unsuphured blackstrap molasses—a good source of calcium and potassium—but you can easily substitute it with honey or dark maple syrup. Just keep in mind that these substitutions might make the cookies a tad sweeter.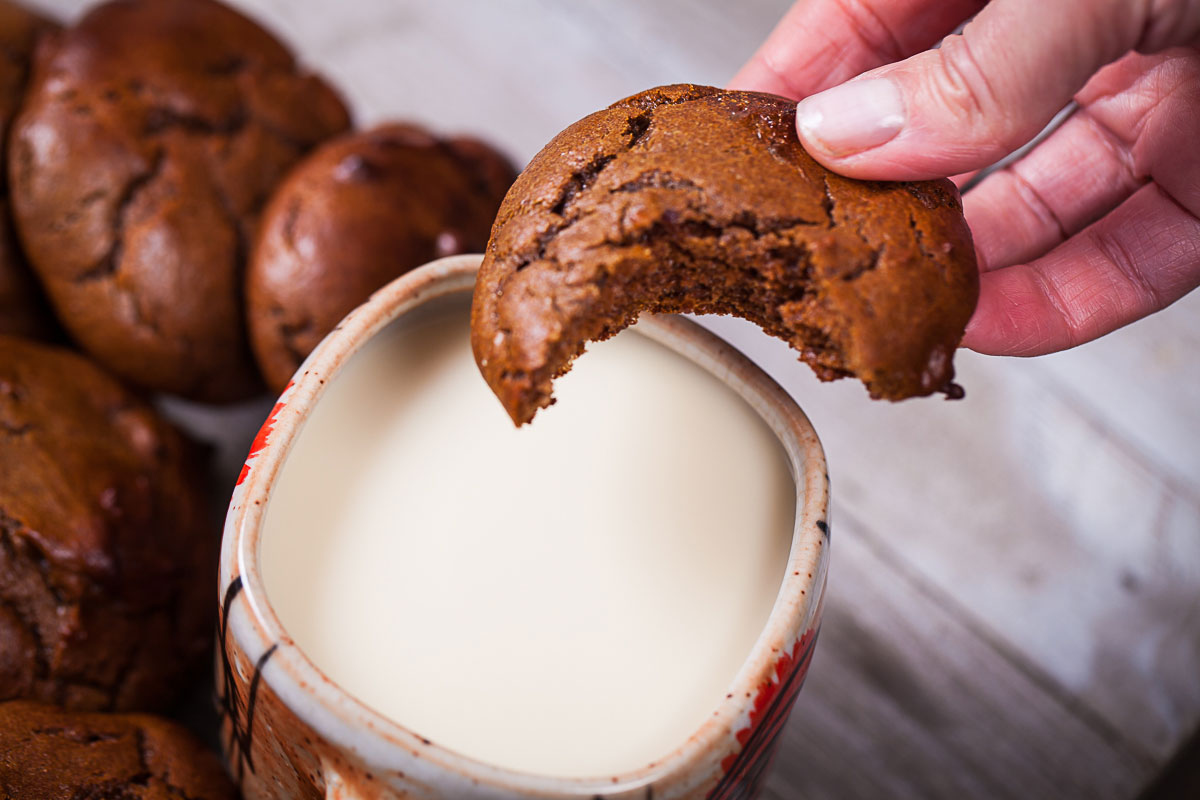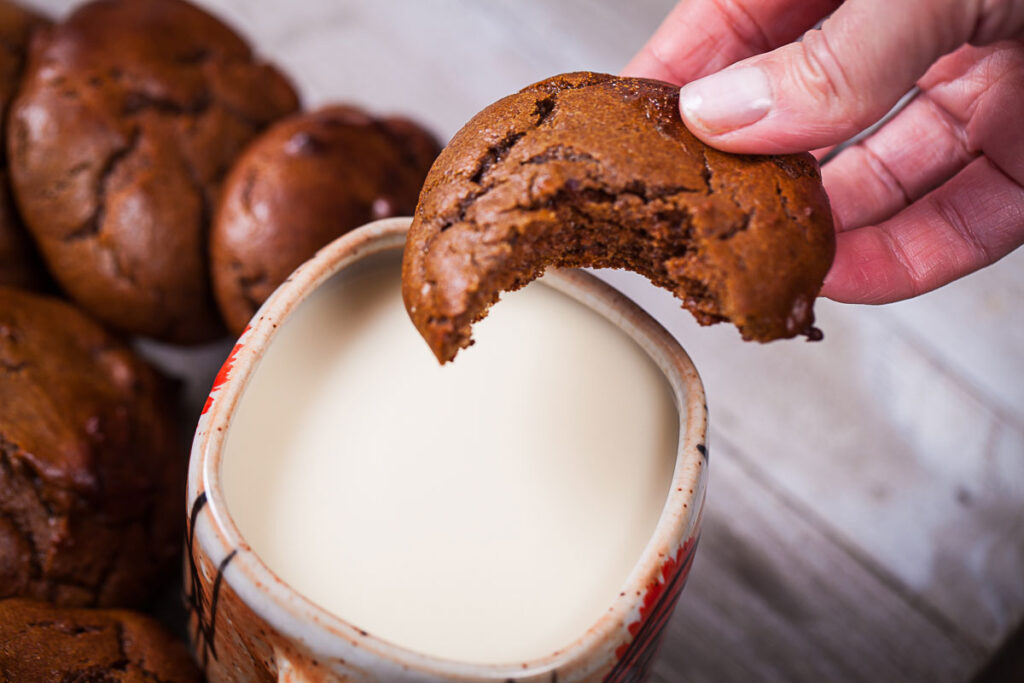 Plant Milk
You can use flaxseed, any nut milk, or even unsweetened vanilla pea milk.
They are all dairy-free and great for baking. I have used these kinds of milk interchangeably in this recipe. But feel free to swap them with regular milk if dairy is not your concern.
You want the creamy, drippy one with minimal ingredients to make that smooth cookie dough batter. If you use crunchy peanut butter, the chunks of real peanuts will surprise you with each bite—my favorite.
I love organic dark roasted peanut butter from Santa Cruz or the 365 Everyday Value wholefoods brand.
Make it Egg-free and Vegan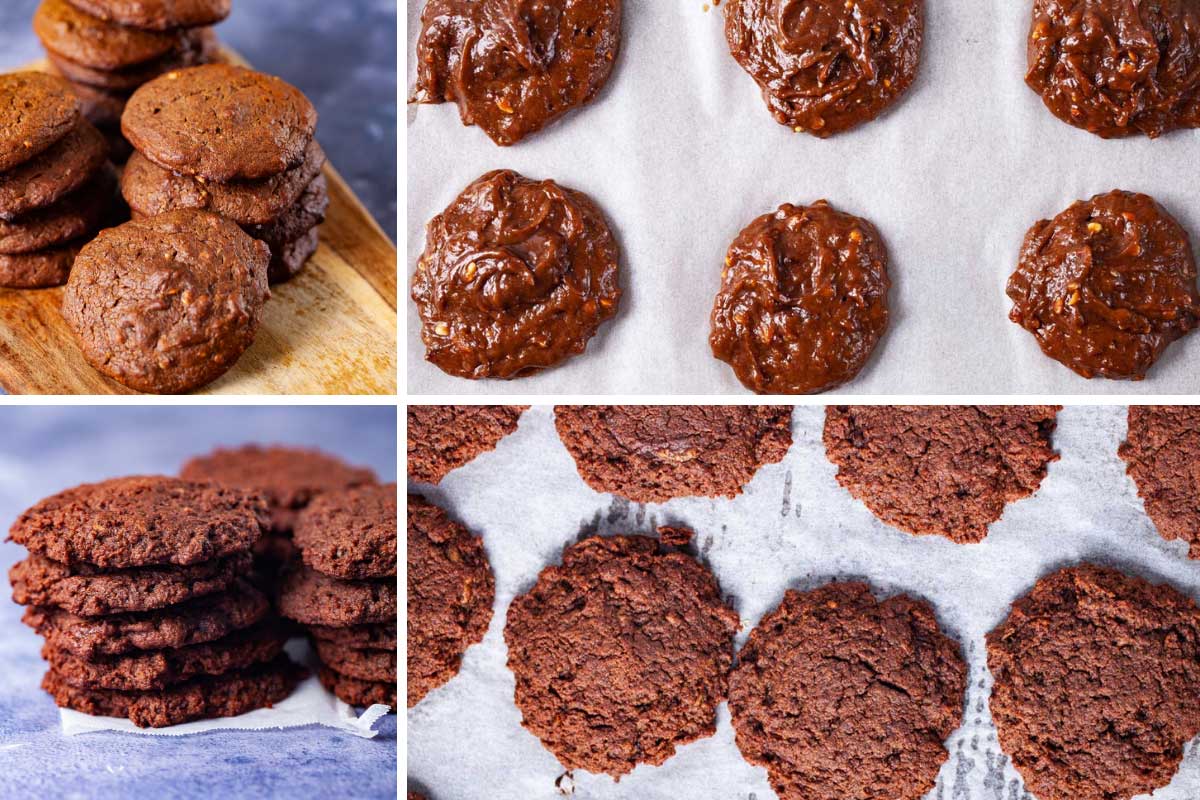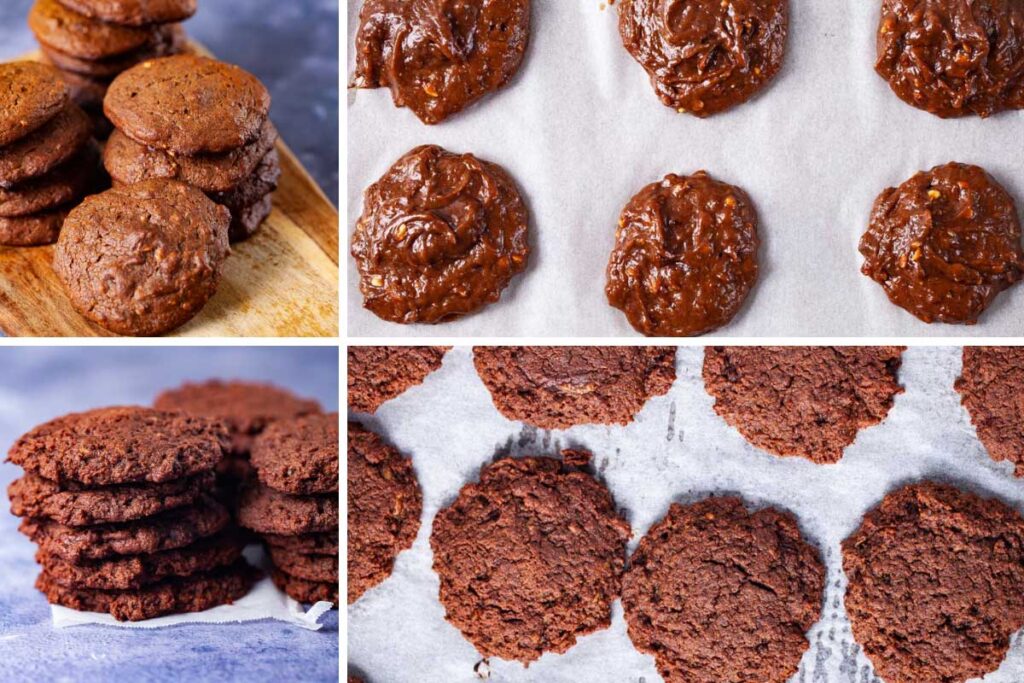 Although both equally delicious, the cookies will look and taste a bit different when using no eggs (see picture.)
The batter will be a bit less wet and runny, while the texture will be more crumbly. You will have to let the cookies completely cool down before serving. Otherwise, their form won't hold.
Although there are different ways of replacing an egg (the famous chia or flax egg), Bob's Red Mill egg replacer is, in my opinion, the best choice in this recipe to keep these peanut butter cookies from falling apart.
Baking Soda versus Baking Powder
At home, I make these cookies, usually with baking soda. Cacao powder and molasses contain some acid that can react with this leavening agent. But at times, I have used the same amount of baking powder instead. As you can see from the pictures, it will affect how the cookies look, but it didn't change the delicious taste of these peanut butter cookies. So feel free to use whatever you have on hand in your pantry.
Storage and Shelf Life
I doubt that these treats will last long, but if you have more self-control than me, store them in an airtight container on the counter or in the fridge for up to 7 days. Freeze them for more extended storage!
Let's Bake
These no flour peanut butter Cookies are a guilt-free treat in my book. And they often disappear as soon as they come out of the oven.
Enjoy them with a cup of coffee or tea in the morning.
Grab one as a pick-me-up snack in the afternoon.
Or offer them to your guest. They look beautiful on the table.
Or surprise your kids with a special after school treat.
Go ahead, make that cookie! And enjoy!
Like healthy, wholesome treats? Then you are also going to enjoy some of my other baked goods:
Want to try these Cookies? Then PIN IT to your Healthy Cookie board to save for later! Come and find me on Pinterest for more great recipes! And don't forget to subscribe to my monthly newsletter!
(Note: This post was published in January 2018 and has been updated to include new info and photos)