These warmly spiced Speculoos cookies are one of my favorite healthy treats. They are super easy to make and incredibly aromatic. The warm spices combined with the intense caramel taste of pureed dates give these soft baked goods irresistible flavors—perfect for the Holidays or with your favorite warm drink.
I love a healthy cookie that combines a hint of natural sweetness with warm spices. These treats are slightly crispy on the outside. But, once you bite through, you get a more chewy texture that releases the Speculoos spices and caramel flavors.
I have some beautiful memories that involve Speculoos cookies from my half-Dutch-Belgian childhood. In Belgium and The Netherlands, we celebrate Sinterklaas (Saint Nicholas)—a Holiday on the 5th of December—and Speculoos (or Speculaas) cookies are a big part of that celebration. You can get them year-round in stores, but during the Holidays, bakeries will have beautiful freshly baked batches in all sorts of Holiday shapes. You have the nice crunchy and the softer-baked kind (my favorite). My homemade Speculoos Cookies is a more traditional recipe in case you want to try them too. But I wanted to make an incredibly easy Speculoos cookie that is also gluten-free, a lot healthier, and put together in less than 30 minutes.
SPECULOOS SPICES
Speculoos spices are merely a mixture of cinnamon, cloves, nutmeg, anise, ginger, white pepper or licorice, and cardamom. In Belgium and The Netherlands, you can buy small packages that contain a mix of all these spices—which makes it very easy to bake these cookies. These prepackaged spice bags may differ somewhat in flavor depending on the brand. Sometimes they have added more cinnamon, while others prefer to add more cloves or licorice instead of white pepper. Want to make your own? Here is a Speculaas mix recipe you might like. But today, you can easily purchase these spices online from local brands such as King Arthur Flour Speculaas Spice. In this recipe, I am adding extra cloves to give a distinct warmth to the cookie flavors—totally optional but highly recommended.
THE MAIN INGREDIENTS IN THESE SPECULOOS COOKIES
Creamy almond butter—I am not using any flour, but I am going for nut butter instead. Sunflower butter is an alternative option in case you are allergic to almonds.
One egg is enough to hold the structure of these cookies. I have not yet tried it with a chia egg. If you do, please let me know how they turned out.
Medjool dates—to add natural sweetness. Although ten Medjool dates might seem a lot at first, know that some of that sweetness will get lost during baking. The main reason I like to use this dried fruit is that of its intense caramel flavor. It pairs well with the warm spices and makes these cookies incredibly chewy on the inside, which makes it a perfect coffee or tea treat.
Together with the spices, you place everything in a high-speed blender until the dough has a nice sticky consistency—ensure you pulverize all the cloves.
PRESERVES OR JAMS
It is optional, but these cookies not only look pretty, but they taste so good when you add Fig Preserves or raspberry jam in the center (thumbprint). Look for spreads made with 50 to 70% fruit, if possible. Explore and see what you like best!

NOTE: also check out SpreadTheLove jams and use my 20% discount code above (affiliate link.)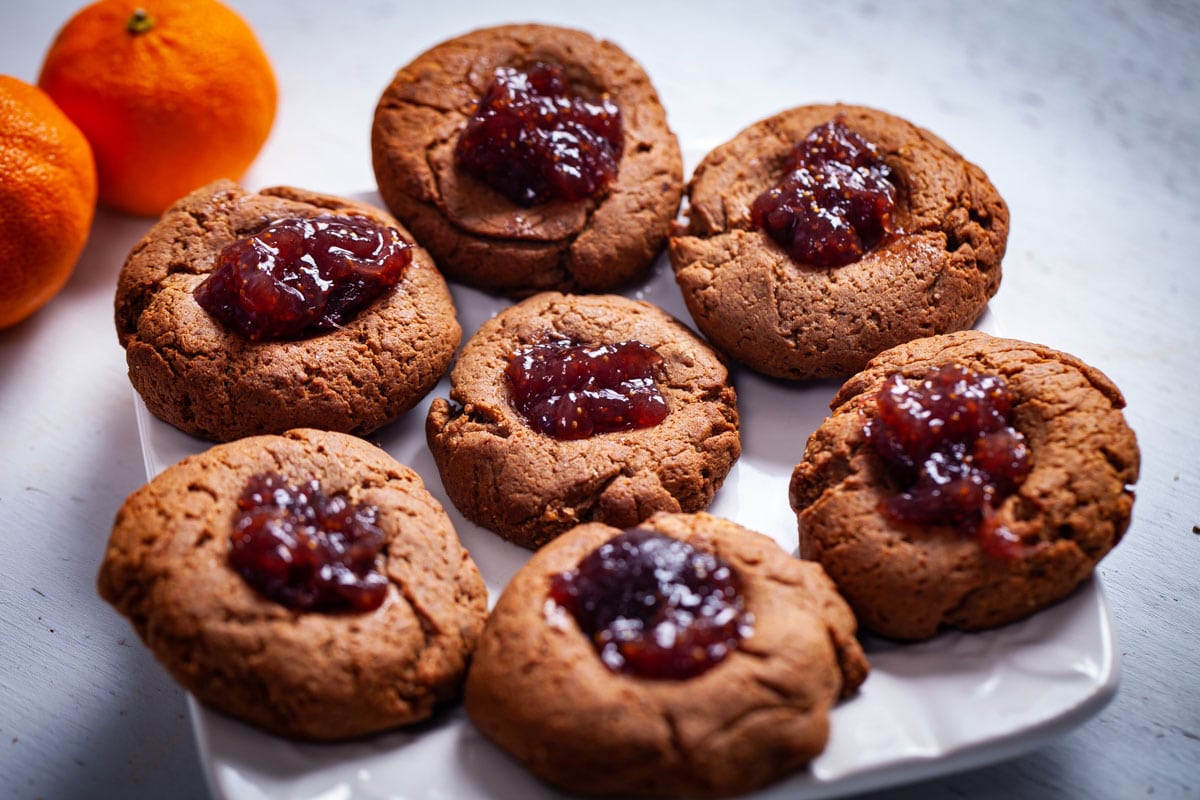 HOW TO STORE THESE SPECULOOS COOKIES
These cookies don't last very long in my house—two days max. But if they survive after they come out of the oven, I usually place them in an airtight container and store them in the fridge for up to 5 days.
Enjoy!
YOU MIGHT ALSO LIKE
Did you make the recipe? Tag @mychefsapron on Instagram. I want to see your creations!
THE MOST DELICIOUS GLUTEN-FREE SPECULOOS COOKIES
These delicious homemade Speculoos cookies are also gluten-free, dairy-free, and refined sugar-free. An easy healthy cookie recipe you will love!
Ingredients
1 cup almond butter
1 egg
1 teaspoon cloves
10 dates, pitted
Fig Preserve or Raspberry jam
Instructions
Preheat the oven to 350 degrees F/ 180 degrees C.
Place all the ingredients in a high-speed blender. Blend until you get a sticky brown paste; transfer into a bowl.
Take a large baking sheet and cover with parchment paper. Scoop up a tablespoon of the cookie dough. Roll into a ball and then slightly flatten. Place on the prepared sheet. Repeat with the rest of the mixture. Ensure the cookies are spaced well apart. With your thumb, put a dent in the middle of the cookie dough balls. Bake in the oven for 20-25 minutes.
Take out of the oven. While still hot, make the dent in the middle of the cookies a little larger (they may have shrunk in the oven) with the back of a teaspoon. When cooled, fill the dents with one teaspoon of the Fig preserve or jam.
Enjoy immediately or place in an airtight container and store in the refrigerator for up to 5 days.