Ready to make irresistible Speculaas cookies (Speculoos) or the original Biscoff Cookie?
You totally should put these buttery and spiced treats on your baking list this Holiday season or whenever you want to give the gift of unique homemade cookies.
This easy Speculaas recipe gets you about 50 crunchy and warm spiced biscuits.
Traditionally, special carved wooden molds shape these Speculaas cookies, often mirroring Windmills (hence the name Dutch Windmill Cookies) or Speculaas figurines.
But they can take any form, and I am keeping it simple here, focusing more on obtaining that deep lovely spiced flavor.
So, you don't need any wooden molds for this recipe.
They have a simple unified shape instead.
I'll give you the option to make creative shapes—perfect for baking with kids.
Plus, there is so much more you can do with a Speculaas spice mix.
Let's bake!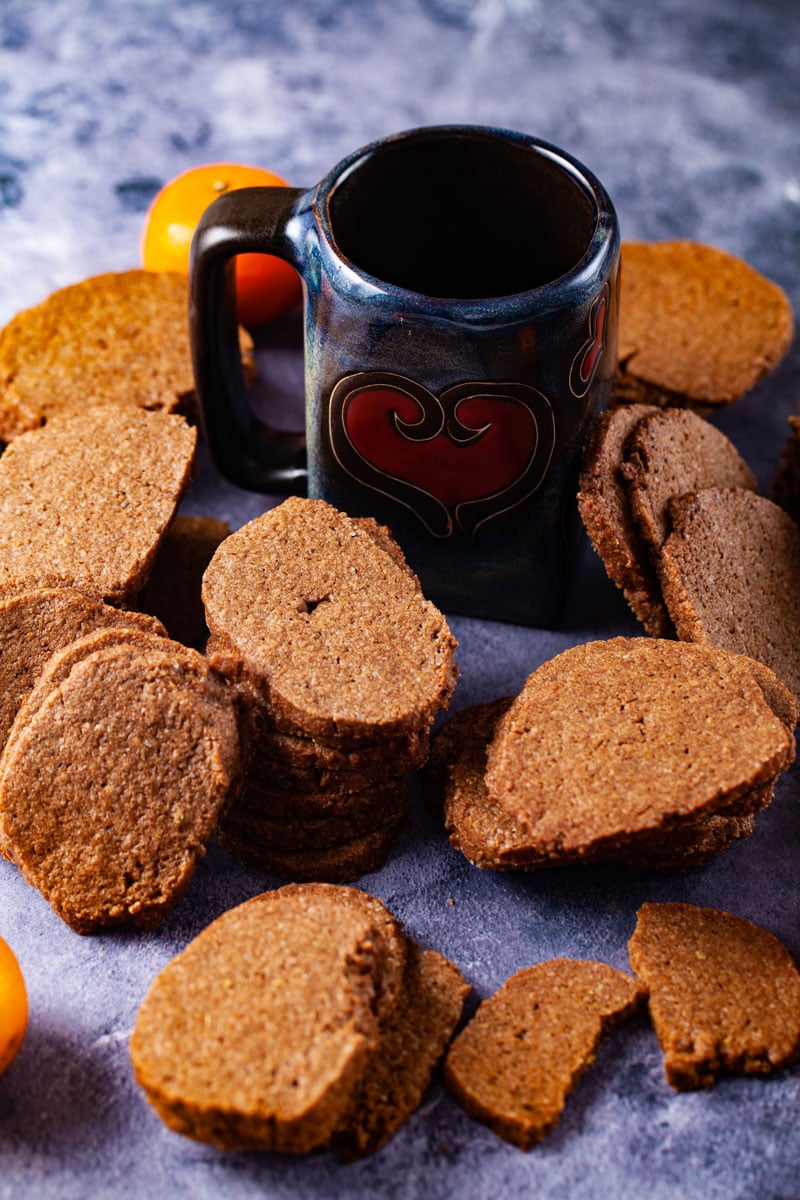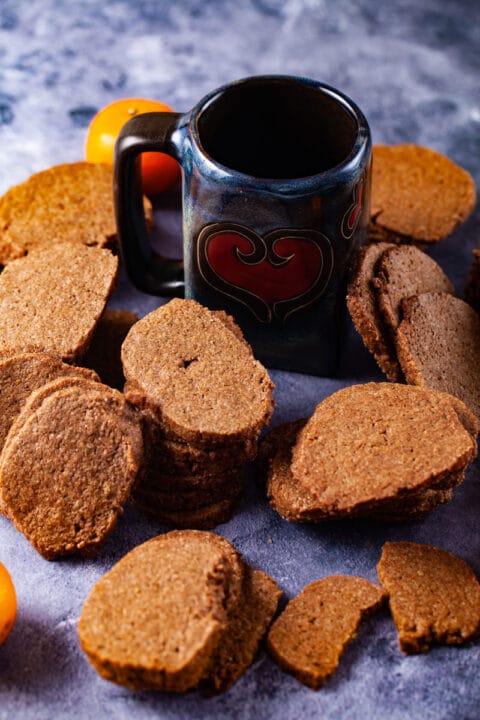 What are Speculaas Cookies
They're sweet and buttery biscuits infused with a lovely (Speculaas) spice mix—specerijen in Dutch.
As someone who grew up in Belgium, we enjoyed Speculaas more traditionally during the Holidays. Specifically to celebrate St Nicholas (Sinterklaas) on December 6th, and through Christmas, bakeries shops would showcase their best-baked version of Speculaas in their vitrine.
Originally from Holland, these spiced biscuits come in all kinds of beautiful shapes, ranging from thin and crispy to thick and soft, with slivered almonds or without. Even the spice mix can differ, using anywhere from three—at least cinnamon, ginger, and cloves—to sometimes nine different spices.
I was also lucky enough to live close to the Belgian-Dutch border and a short drive away from those Dutch Christmas markets—a real treat—which often had a more extensive selection and some still traditionally baked in wooden molds.
I'm sharing one of my aunt's recipes for Speculaas cookies. It uses six spices, giving them a deliciously rich and deep flavor.
You don't need the use of any special molds, cookie stamps, or cookie cutters unless you want to take your baking creativity to the next level, and I'll give you the option.
But the warm festive flavors of these biscuits do not need any specialty shapes to grace your cookie box or gift something unique to friends and family—they'll be spreading the joy this Holiday season regardless.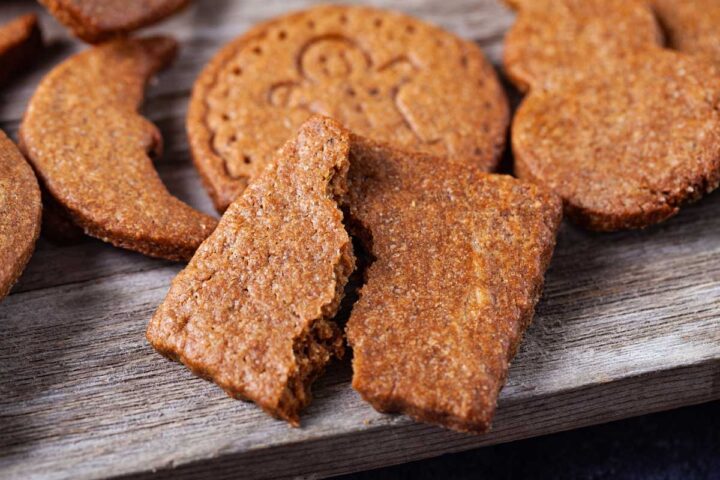 The Speculaas spice mix in this recipe
I'm using a lovely and almost equal blend of
ground cinnamon
ground nutmeg
ground clove
ground ginger
ground cardamon
ground white pepper
Some may include mace spice or coriander seeds, but it's not something I traditionally put into my homemade blend.
On the other hand, anise seeds are another spice I like to mix in from time to time. And I highly recommend it if you already have it in your kitchen cabinet. They add a subtle sweet aroma but won't overpower the rest of the flavors.
Only have whole spices at home? Then, grind them yourself using either a coffee grinder or a food processor and then sift using a fine sieve. It will even result in a more intense flavor.
Mix those spices with dark brown sugar and butter, and you get a beautiful brown cookie with rich caramelized and sweet spiced flavors—a gourmet-like treat perfect for dipping in your favorite warm drink!
Other Ingredients—A few notes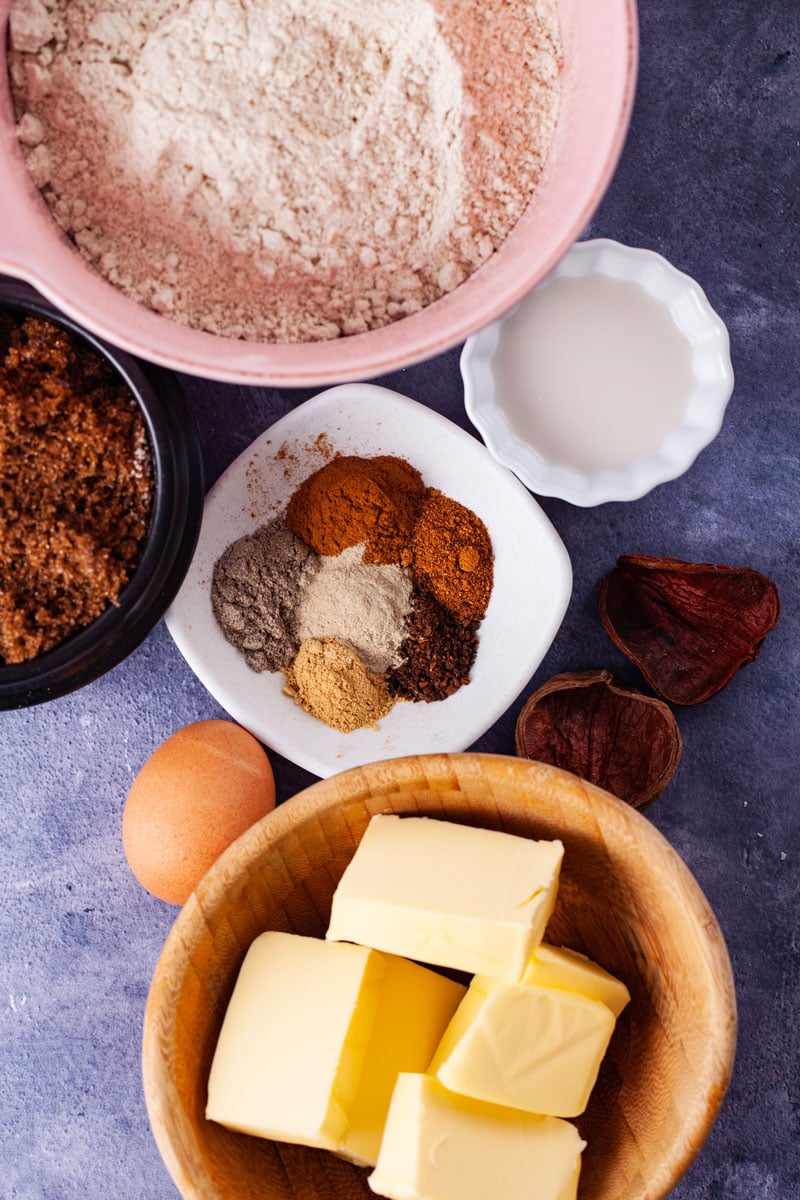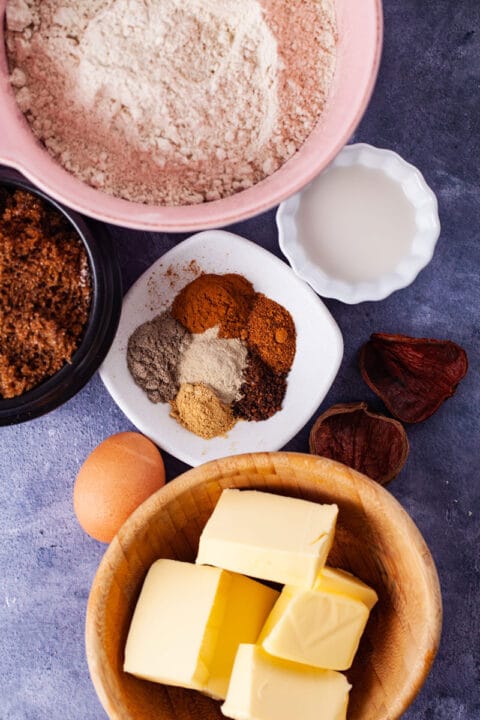 Flour
The recipe calls for whole Spelt flour. I prefer it over regular flour because it has slightly more protein, a naturally sweet flavor, and although not gluten-free, it has a lower gluten content. It also contains a broad array of nutrients.
It's so easy now to buy this whole grain either in the organic section of your local store or online. I always store it in the refrigerator to prolong freshness.
When mixed with the spices, Spelt flour creates a more complex flavor and adds a lovely texture.
Sugar
An essential ingredient is dark brown sugar with molasses flavor—I use dark organic sugar from Wholesome.
Traditionally, I made the cookies with brown Vergeoise, a baking sugar from beet sugar with a particular caramel-like taste. But it is hard sometimes to get it here in the US.
Over the years, I have relied on moist organic dark brown sugar rich in natural molasses to get that "authentic" speculoos taste, and it works just as well.
Note: Ensure that the flour, spices, and brown sugar are well combined before adding any liquids.
Butter
Go for a real organic unsalted butter either at room temperature or melted. Melting the butter lightly over low heat on the stove makes it easier to knead or mix it into the dough.
Don't skimp on this ingredient. A good-quality butter doesn't have to be expensive but will make all the difference as those buttery flavors will come through once these Speculaas cookies are baked.
How to make homemade Speculaas cookies
It's an easy recipe, but you only have to factor in extra time for the dough to harden and rest to obtain that deep and lovely spiced flavor. So a bit of patience will pay off when it comes to baking Speculaas.
Other than that, I'll give you two options:
Making cookies in an easy, unified shape—the least amount of work;
Or using cookie cutters or cookie stamps to make them extra festive.
Mixing the dough
You can use a stand mixer to do the work for you, but I prefer to knead all the ingredients into a rough ball by hand—it's quick, easy, and I love how you can feel the dough forming.
At first, you'll get a crumbly mixture. But as you keep mixing or kneading, it all quickly sticks together.
Don't overdo the kneading part. Work your dough just enough until it forms a rough ball. Otherwise, it will get too soft and crumbly.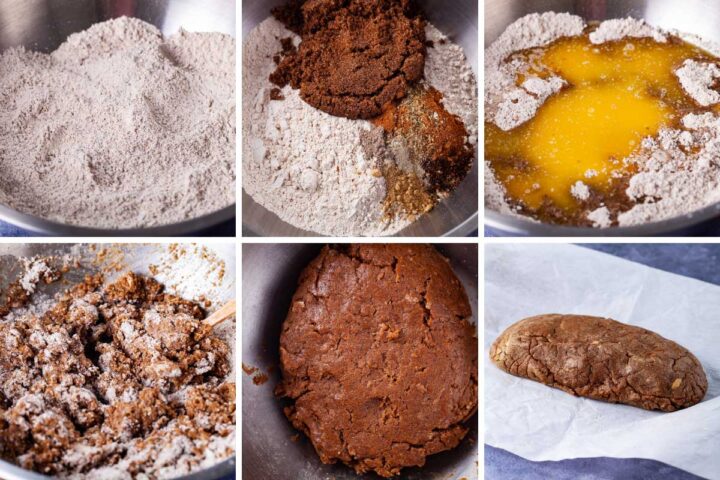 Resting the dough
The Speculaas cookie dough should be wrapped in parchment paper and then refrigerated for at least 2 hours or preferably overnight. There are two reasons for that:
The ball of dough is initially too soft to handle;
Plus, resting the dough for a specific amount of time creates a richer spiced Speculaas flavor.
Note: the original family recipe calls for the dough to be covered and stored overnight in a cool and dry place. But then again, our winters were cold in Belgium. So, if you don't have a cool place to rest the dough, store it in the fridge. Just know that the dough will be hard when you take it out. So, if you plan to roll it out to create unique shapes using cookie cutters, let the dough sit on the counter first for about 15 to 30 minutes. It will then be easy to roll out without it cracking.
Make easy Speculaas biscuits
For speed, don't make special shapes but rather stick to a unified one. It shaves off about twenty to thirty minutes of the overall baking time or even more because:
There is no need to wait for the dough to soften once taken out of the fridge
There is no rolling and cutting it into individual shapes.
Here is what to do to get the same uniform appearance as in the pictures below:
Before the dough goes into the fridge to rest overnight, roll it into a 15-inch long cylinder-like shape (see picture below.)
Store in the fridge covered to rest overnight. Here I recommend the overnight process versus only two hours to allow the dough to harden sufficiently.
After the resting period, when ready to bake the cookies, remove the dough, place it on a cutting board and cut it into one-fourth inch thick slices with a bread knife.
Let the baking begin. You might have to bake in batches, even if you use a large baking sheet.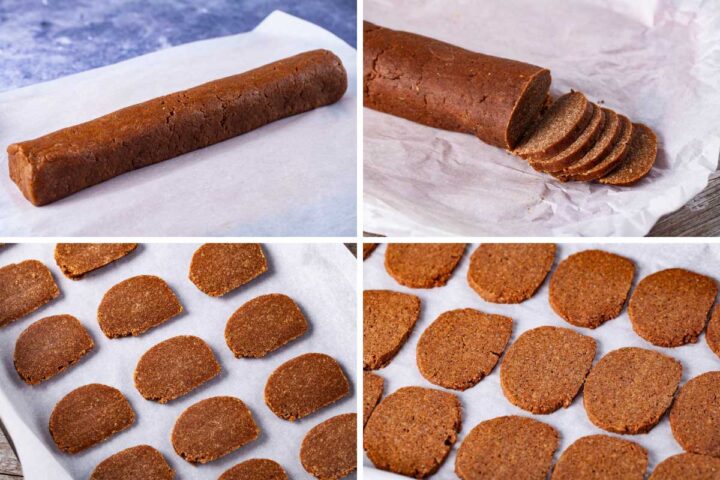 These buttery and spiced speculoos cookies pair lovely with a cup of coffee or tea, and they are still beautiful enough to gift.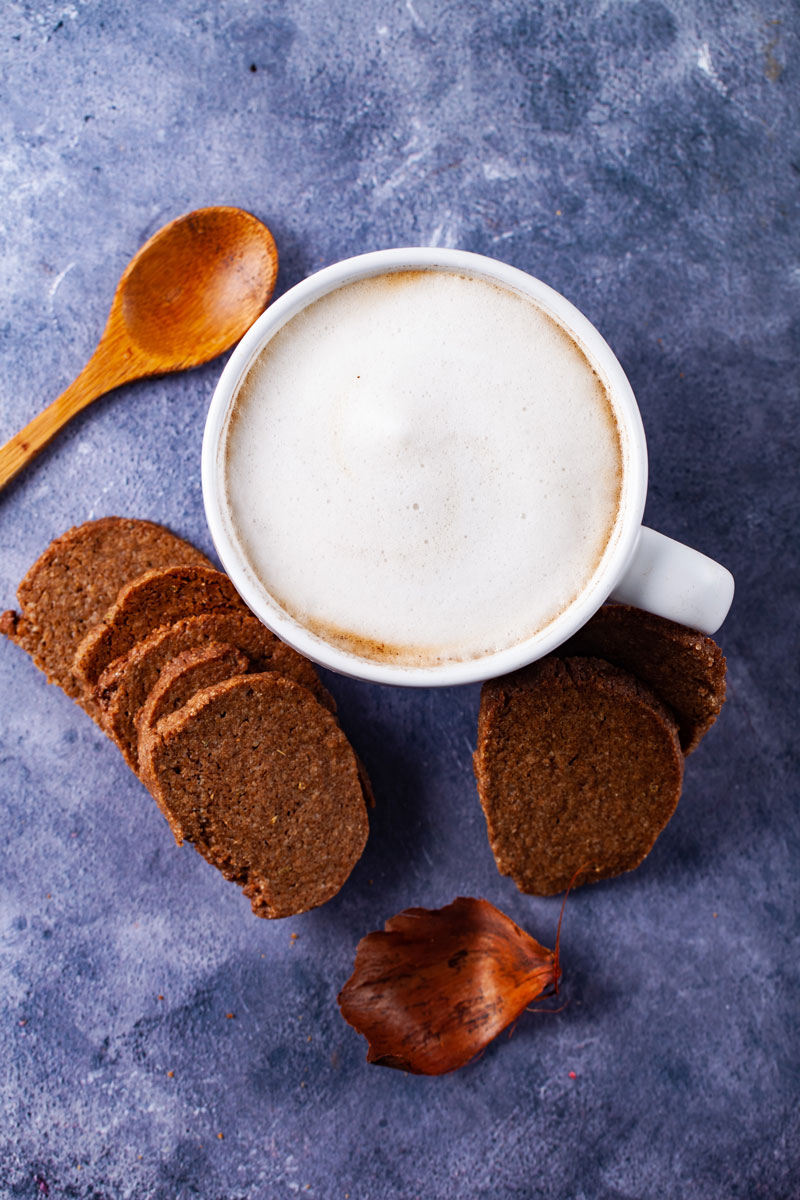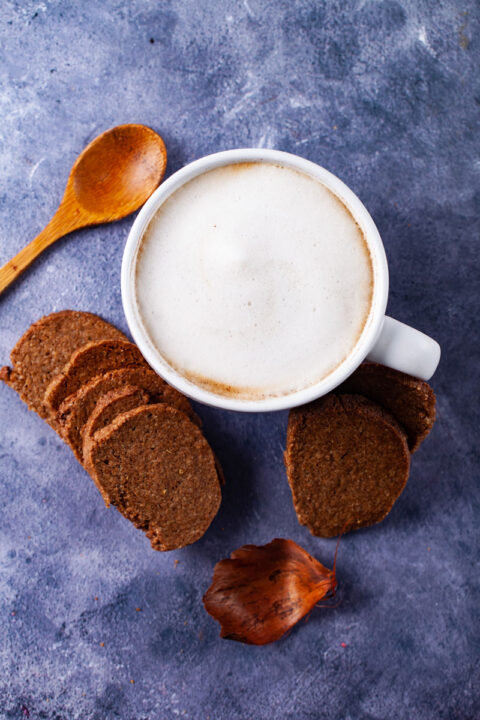 Make special shapes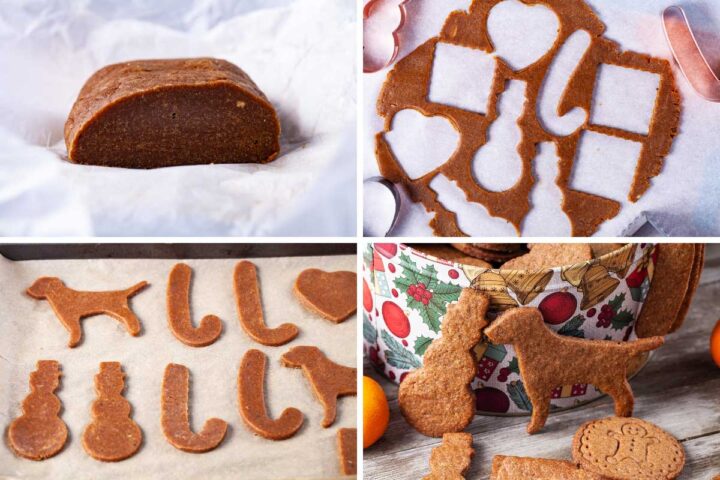 If you want to cut some beautiful or "in the spirit of Holiday" cookie shapes, then here is what you need to do:
After the resting period, remove the dough from the fridge about 15 to 30 minutes before rolling.
I like to cut the dough into three equal pieces for easy handling.
Flatten the first piece with the palm of your hand until somewhat softened, and you feel you can start rolling it out.
Then roll it out on a lightly floured work surface (I use a cutting board) into an about one-fourth inch thick sheet.
Then use your cookie cutters, engraved rolling pins, or cookie stamps to cut and make the shapes you want.
Gather the remaining scraps of dough, knead it again into a ball, roll it out again to create new shapes.
Now let the baking begin.
While the first batch is in the oven, you do it all over again with the second and eventually third batch of dough: rolling, shaping, baking.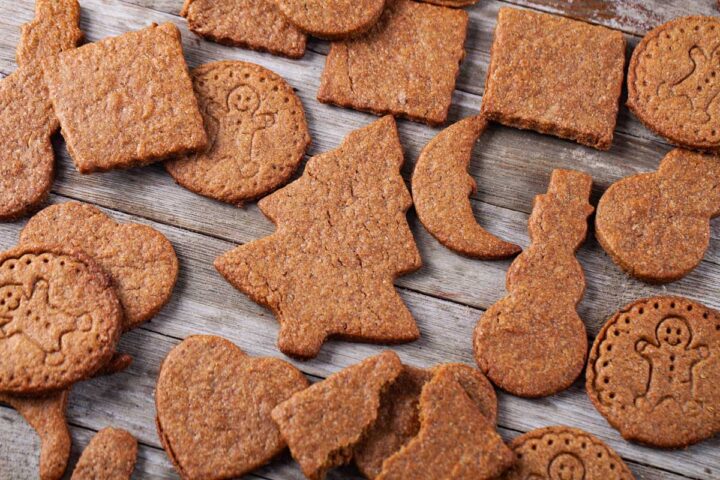 Note: traditionally, Speculoos cookies were shaped using wooden cookie molds that left an imprint on the surface of the biscuits. Famous shapes include Dutch windmills or the figure of Saint Nicholas, animals, or just everyday life scenes.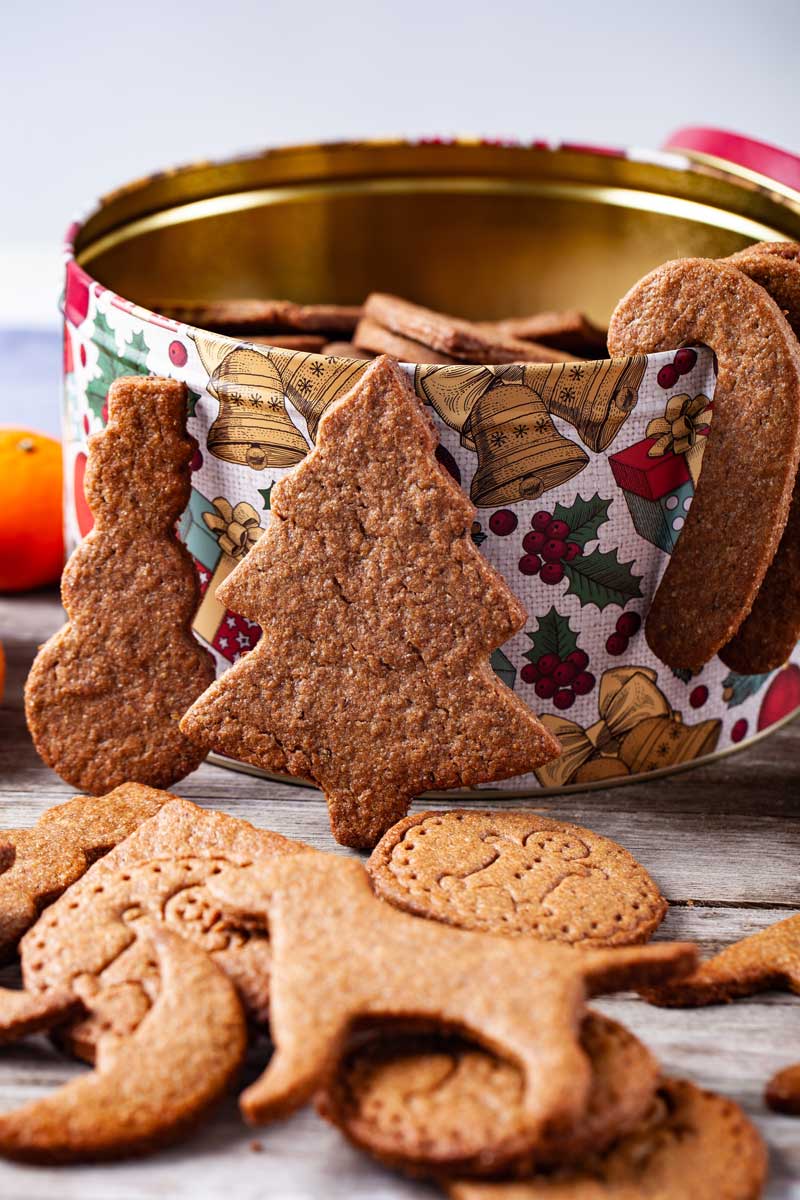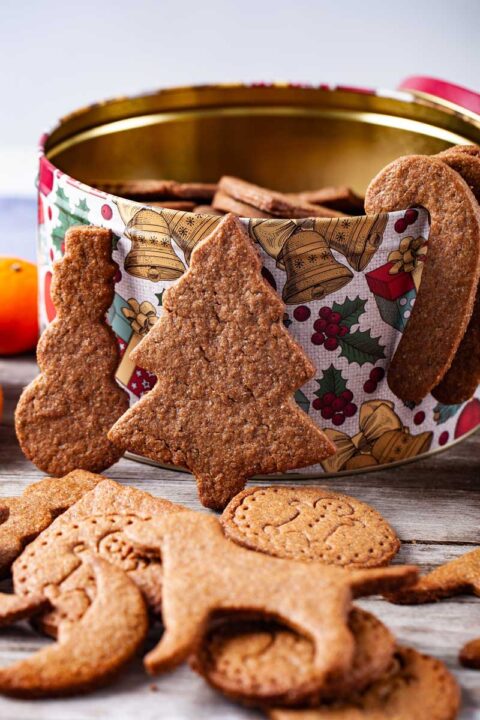 How do you store Speculaas
If stored sufficiently in an airtight container and covered in a dry, dark place, they should last you several weeks.
Usually, I keep them in a large covered tin box lined with parchment paper and leave it on the kitchen counter so anyone who passes through my kitchen can quickly grab one during Christmas and New Year.
More good reasons to make these spiced biscuits
Crisp, spicy, buttery, and not too sweet, Speculaas cookies are an ideal coffee-dipping treat—just a tiny crunchy indulgence full of warm flavors.
They're a beautiful and thoughtful holiday gift and ship well when stored in tin boxes.
These homemade Biscoff cookies make your whole house smell like Christmas, and everyone will love them.
More easy spiced Holiday treats
If you're looking for a spiced yet simpler and healthier cookie recipe that is also flourless and thus gluten-free?
Try these Easy Thumbprint Cookies that you can make with a pre-made Speculaas spice mix or warm spices like cinnamon, pumpkin, or apple pie spice. They come together in no time and are also dairy-and refined sugar-free.
You might also like my buttery buckwheat Chocolate chips cookies. They are soft with a light crumble and deliciously spiced—always a big hit amongst kids and adults alike.
Another lovely treat is the pumpkin pie spiced energy balls. They are irresistible, and their caramel-like flavors also go well with either Speculaas or chai spices.
Enjoy and don't forget to subscribe to my monthly newsletter!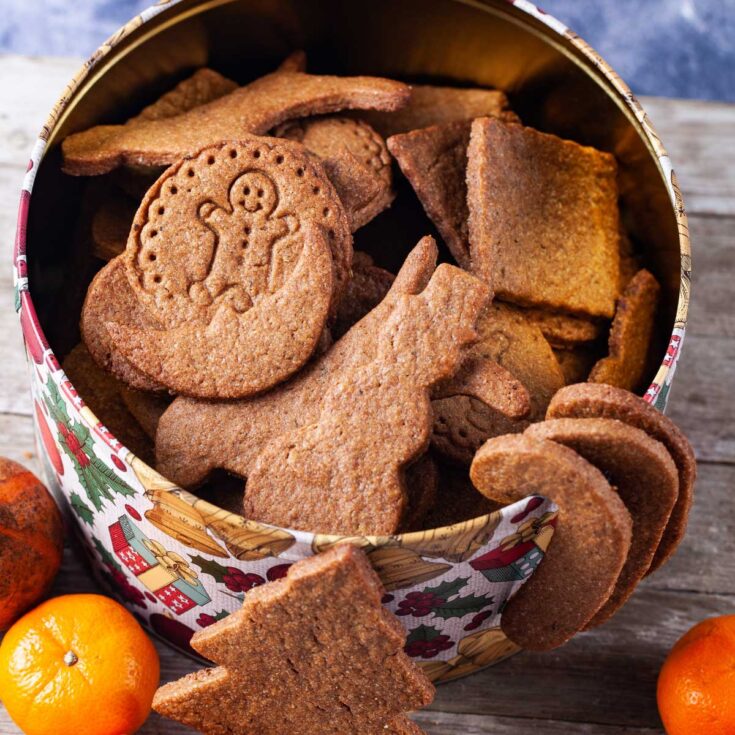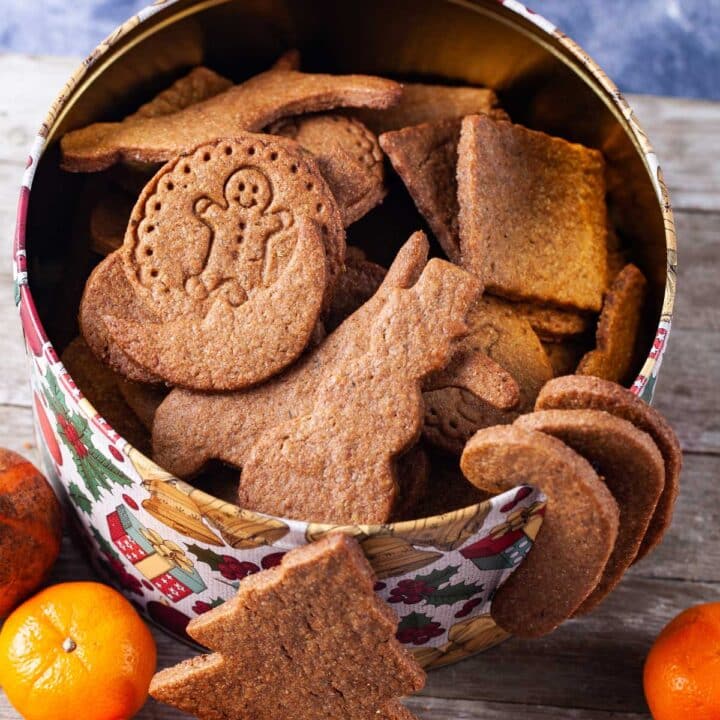 Speculoos Cookies
Additional Time:
2 hours
30 minutes
This traditional homemade and simple Belgian/Dutch Speculoos (Speculaas) cookie butter recipe will produce delicious spiced cookies that will brighten your Holiday table!
Ingredients
2 teaspoons ground cinnamon
1 teaspoon ground nutmeg
1 teaspoon ground clove
1 teaspoon ground ginger
1 teaspoon ground cardamon
1 teaspoon white pepper
1 teaspoon anise seeds (optional)
4 ½ cups or 500 grams Spelt flour, plus more to flour the work surface
1 ¾ cups or 300 grams dark brown sugar
8 ounces or 227 grams (16 tbsp) butter (I use pure Irish unsalted butter from Kerrygold to make these cookies), melted or at room temperature
⅓ cup or 75 ml preferably organic milk
1 egg
Instructions
Make the dough
Combine first the dry ingredients: spices, flour, and sugar.
Make a dent in the middle with your fist and add butter, milk, and the egg.
Combine with your hands, or use a stand mixer until the dough comes together.
Transfer the dough onto a lightly floured work surface and gently knead together into a rough ball.
From here, you choose whether you want cookies with special cut-out shapes (method 1) or just a simple uniform look (method 2.) The first method will take longer to roll out the dough and use cookie cutters to form your shapes.
Method 1: make cookies with special shapes.
Continue from step 4 of making the dough.
Pat the dough further into a more oval-shaped ball.
Wrap with parchment paper and refrigerate for 2 hours—you can still choose to let it rest overnight for a deeper flavor but not necessary.
Preheat the oven to 350 °F/180 °C with the rack adjusted to the middle position.
Remove the dough out of the fridge about 15 to 30 minutes before rolling.
Cut the dough into three equal pieces for easy handling.
Flatten the first piece with the palm of your hand until somewhat softened.
Then roll it out on a lightly floured work surface (I use a cutting board) into an about ¼-inch thick sheet.
Use your preferred cookie cutters to cut out the shapes you want and immediately transfer them to a large parchment paper-lined baking sheet.
Gather the remaining scraps of dough, knead it again into a ball, roll it out again to create new shapes.
Bake for 15 minutes. Take out and let slightly cool before transferring them carefully to a cutting board or large clean kitchen towel to further cool (they will get harder). This will free up your baking sheet to bake the next batch.
While you bake the first batch of cookies, repeat the whole process of flattening, rolling, and shaping the second batch of dough, and then ultimately, when the second batch is in the oven, you will do the same with the third batch of dough.
Method 2: Make uniform-looking cookies without special shapes—no rolling out the dough, but dough requires hardening overnight.
Continue from step 4 of making the dough.
Place the batter onto a lightly floured work surface and start rolling into a 15-inch long cylinder shape (see picture above.)
Cover and wrap with parchment paper.
Place it in the refrigerator overnight to sufficiently harden and for a deeper flavor.
Preheat the oven to 350 °F/180 °C with the rack adjusted to the middle position.
Take the cookie batter out of the fridge—the texture should be solid—and place it on a cutting board.
Immediately cut into thin slices (about ¼-inch thick) with a bread knife.
Place the cookie slices on a large parchment paper-lined baking sheet and bake for 15 minutes.
You might have to bake the cookies in multiple batches.
Take out and let cool for at least 10 minutes (they will get harder).
Store in a tin box or air-tight container.
Notes
When stored in a tin box or air-tight container at room temperature, they will last for at least 2 weeks and keep their delicious flavors.
Nutrition Information:
Yield:

50
Serving Size:

1
Amount Per Serving:
Calories:

69
Cholesterol:

4mg
Sodium:

5mg
Carbohydrates:

15g
Fiber:

1g
Sugar:

7g
Protein:

2g
Disclaimer: This nutritional data is calculated using third party tools and is only intended as a reference.
This post was originally published in December 2016 and has been updated with new pictures and new information.