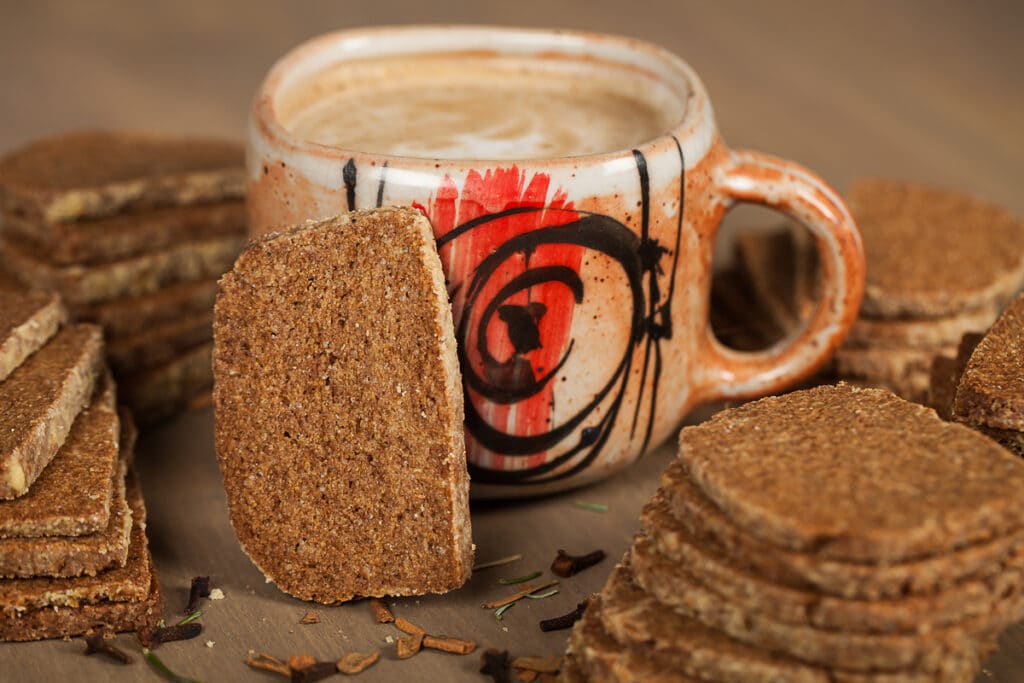 Speculaas cookies are real Holiday cookies to me, and we only make it once a year. We often bought them at big Christmas markets in Maastricht (the Netherlands) together with small peppermint cookies—I grew up in Belgium next to the border with the Netherlands. Christmas markets were always lovely and cozy in Maastricht and one of my favorite spots during this time of the year.
It pairs lovely with a cup of coffee or tea, and they are nice to gift. Although we used to make these cookies fairly thick, over the years, they have become thinner—just a small crunchy indulgence full of warm flavors.
I store the cookies in a tin box, and I leave it on the kitchen counter so anyone who passes through my kitchen can quickly grab one during Christmas and New Year. Enjoy!
Yield:

65 TO 70 COOKIES
SIMPLE HOMEMADE SPECULAAS COOKIES
This is an original homemade and simple Belgian/Dutch Speculoos (Speculaas) cookie butter recipe!
Ingredients
2 teaspoons grounded cinnamon
¼ teaspoon ground nutmeg
1 pinch ground clove
½ teaspoon ground ginger
¾ teaspoon ground cardamon
5 cups or 625 grams organic Spelt flour, plus more to flour the work surface
1 ½ cups or 200 grams organic dark brown sugar
8 ounces or 227 grams (16 tbsp) butter (we use pure Irish butter from Kerrygold to make these cookies), melted or at room temperature
⅓ cup preferably organic milk
1 egg
Instructions
Combine first the dry ingredients: spices, flour, and sugar.
Make a dent in the middle with your fist and add in butter, milk and the egg. Combine with your hands or using a stand mixer.
Place the batter onto a lightly floured work surface and gently knead together into a rough ball. Start rolling into a 15-inch baguette. You can keep the form of the baguette as-is or square it out a little (to obtain the shape of the cookies as in the picture). Cover and place it in the refrigerator for at least 2 hours—or overnight for a deeper flavor.
Preheat the oven to 350 °F/180 °C.
Take the cookie batter out of the fridge—it should be hardened. Cut into thin slices (about ¼-inch thick).
Place the cookie slices on a large baking sheet and bake for 15 minutes. You might have to bake the cookies in multiple batches. Take out and let cool for at least 10 minutes (they will get harder).
Store in a tin box or air-tight container.