This creamy and healthy Mango Lassi recipe is a beautiful twist to the classic. The refreshing drink is made with healthy probiotic yogurt and infused with hemp seeds and ginger.
Fresh semi-ripe mangoes and a tad of Stevia powder or maple syrup add a natural sweetness that beautifully balances the sour taste of fermented yogurt!
Serve it as a morning smoothie, or a refreshing afternoon drink.
Plus, I share a dairy-free and vegan option that's just as delicious.
Now and then, especially during warmer seasons, I love making a refreshing mango lassi drink. It is probably the sweet mango flavors combined with tangy yogurt that make this blended concoction so unique.
Most people are familiar with this popular drink. But just in case you're not...
What is mango lassi
Lassi is a yogurt-based drink (very popular in India and Pakistan).
Recipes can differ vastly from sweet to salty and from simple to infused with beautiful spices such as cumin, coriander, and cardamom.
Mango lassi is one version—albeit a popular one—with mangoes blend in with yogurt and a consistency similar to a fruit smoothie or milkshake—deliciously creamy and refreshing.
If you love mangoes, this drink recipe is a great way to enjoy them.
What does it taste like
In my world, perfect mango lassi bursts with semi-sweet mango flavors balanced with slightly sour and tangy notes enhanced due to fermented yogurt.
Although I love my lassi on the sweet side, I'm not fond of too many added sugars overtaking the taste of the fruits.
This healthy and super easy homemade version is an alternative twist to the classic mango lassi and a basic recipe that you can experiment with and change according to your tastebuds.
Let's make it!
How to make a mango lassi—ingredients
The Yogurt
A lassi is only as good as the quality of your yogurt. Go for a traditionally fermented yogurt with no added sweeteners, thickeners, or other flavors added. I love plain organic Bulgarian yogurt; it has a refreshing tart flavor and all the benefits of healthy probiotics (live acidophilus.)
Its taste will allow the sweet mangoes to take over and become the star in this drink.
Probiotic yogurt has a creamy and a liquid part. Make sure that you stir well before using it in this recipe, so you get the right thickness—not too thick or too liquidy.
The Mangoes
I prefer to use semi-ripe mangos, which I store in the fridge for a day or two before making this healthy drink.
Semi-ripe mangos look like ripened ones but don't have that rich sweet smell yet and still feel slightly firm (but no longer hard). They are less juicy with a semi-sweet and somewhat sour taste. You can find them easily in stores since most mangos have to sit after purchase for a couple of days to ripen further.
Please don't focus on the peel's color because not all mangoes change color when they ripen.
Love your lassi very sweet? Use ripe mangoes. They are soft on the outside with a heavenly sweet smell and are incredibly juicy on the inside. I always use the riper fruits when I make lassi for my daughter or guests.
Additional sweeteners
I love adding maple syrup instead of honey because it gives a unique, almost caramel-like woody flavor that tastes delicious in this drink.
A little goes a long way, so start first with one tablespoon and taste test before adding more.
Play around with adding sweets to this drink; you might prefer less of it.
You can also add stevia powder instead of syrup, which also works well.
Ginger and Hemp Seeds (highly recommended)
A little fresh ginger adds a slightly tart, almost half lemony taste that balances out the sweetness of the fruits and maple syrup.
It is optional, but I highly recommend it.
I started to add hemp seeds to the mix when offering the smoothie in the morning to my daughter. It just makes this drink exceptionally creamy and nutritious with healthy fats, proteins, and minerals.
Make it dairy-free and vegan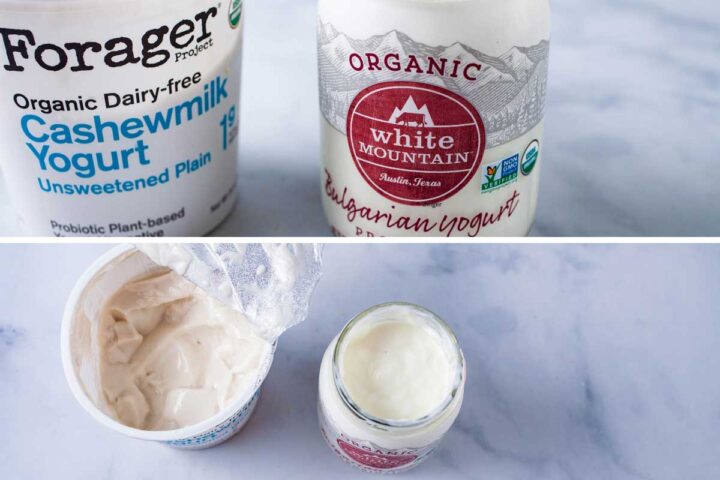 You certainly can make a dairy-free and vegan-friendly mango lassi and it tastes equally delicous.
You can use any plant-based yogurt you like. However, I prefer a cashew milk yogurt which taste does not overpower the flavors of the fruits and makes this drink extra silky.
Note: a plant-based yogurt might make the consistency a tad thicker than when using regular (fermented) yogurt.
Several ways to enjoy this drink
You can enjoy this lassi anytime during the day as a refreshing drink or as a breakfast. It is fresh, filling, and incredibly satisfying.
If you are trying to lose some weight or tone up, don't be afraid to add a little traditional fermented yogurt to your diet. It keeps you regular and maintains a healthy gut. Just swap the maple syrup for stevia powder.
Serve it chilled in a cute glass, dress it up with extra mango slices or fresh chocolate mint leaves, and you have a beautiful beverage to serve to guests.
Now all you have to do is make this basic recipe and make it your own! Enjoy!
Storage
Store leftover mango lassi in the fridge for up to three days. It won't necessarily go bad after that, but it won't taste as fresh. Make sure to store it in a covered glass and give it a good stir before enjoying it again.
More mango-flavored recipes or healthy drinks you might like to try
When mangoes are in season, try my nourishing mango-avocado salad. It's incredibly satisfying and bursts with deliciously balanced flavors.
A lovely gluten-and refined sugar-free treat is these flourless mango cookies—a perfect afternoon snack or for when you want something sweet with your cup of coffee or tea.
And here are few healthy and refreshing drinks, that you might love as well! Enjoy!
Have questions? Simply comment below or message me. Also, don't forget to stay connected by subscribing to my monthly newsletter.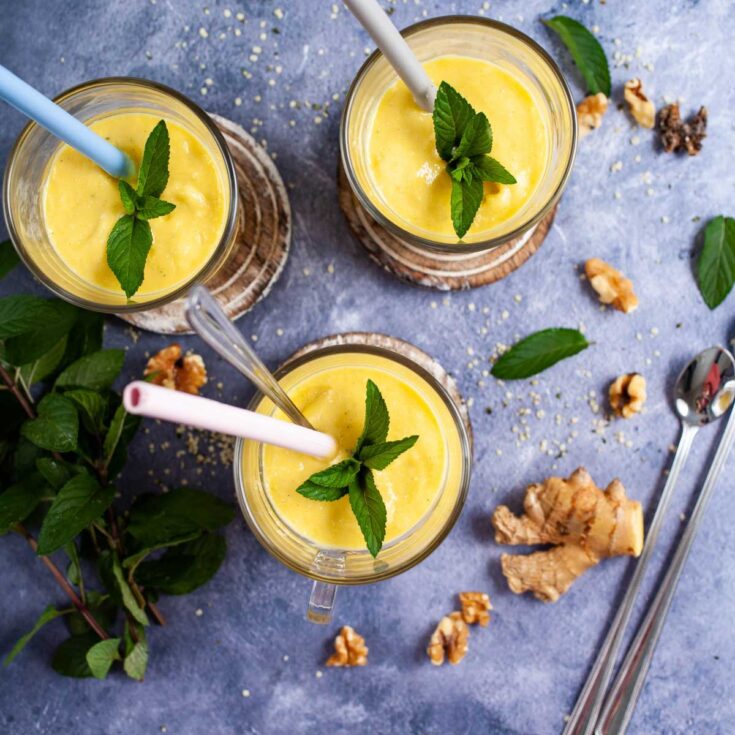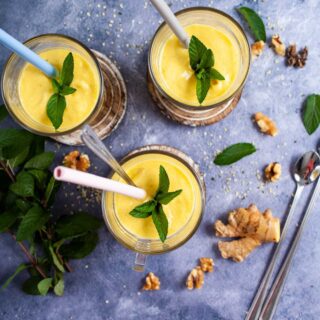 Sweet and Sour Mango Lassi
Mariska Ramondino
A delicious and healthy mango lassi made with probiotic yogurt, semi-sweet mangoes, ginger, hemp seeds, and natural sweetener (with a vegan dairy-free option)!
Instructions
Peel and cube the chilled mangos.

In a blender, blend all the ingredients. Continue to mix until all hemp seeds have been pulverized and disappeared into the liquid. The drink should have a smooth and creamy texture.

Suppose you are using a high-speed blender. Then start first on the lowest speed setting, then gradually move up to the highest speed option.

If the mangos were stored in the fridge, the drink would be cool enough to enjoy immediately. Otherwise, chill in the fridge before serving.

Enjoy with a

reusable straw

and garnish with chocolate mint leaves (optional).
Add your own private notes
Whenever you come back to this recipe, you'll be able to see your notes.
Nutrition (% Daily value)
Serving:
1
cup
Calories:
149
kcal
(7%)
Carbohydrates:
26
g
(9%)
Protein:
4
g
(8%)
Fat:
4
g
(6%)
Saturated Fat:
1
g
(6%)
Polyunsaturated Fat:
1
g
Monounsaturated Fat:
1
g
Cholesterol:
8
mg
(3%)
Sodium:
30
mg
(1%)
Potassium:
295
mg
(8%)
Fiber:
2
g
(8%)
Sugar:
23
g
(26%)
Vitamin A:
1200
IU
(24%)
Vitamin C:
38
mg
(46%)
Calcium:
102
mg
(10%)
Iron:
1
mg
(6%)
Disclaimer: This nutritional data is calculated using third party tools and is only intended as a reference.