It's a healthy chicken salad recipe that's nutritious, easy to make, deliciously infused with extra-virgin olive oil, sea salt, and lime juice, and then packed with sweet shallots and healthy herbs.
Enjoy as-is, or top it with some add-ons like creamy avocado or hard cheese bits, or make it into a healthy low-carb version of the classic chicken salad sandwich!
Either make this recipe with juicy and tender shredded chicken you prepare at home for planning any weeknight meals or use leftover chicken (preferably a combo of white and dark meat—see recipe note).
There is only one chicken salad that I remember growing up with. It's the one where all the soft meat is removed from the bones of a poached whole chicken (see recipe note) and then deliciously infused with olive oil (because that's how my Italian grandma did it) and tossed in a salad bowl with fresh herbs and onions.
It guarantees succulent and flavorful tender chicken and is a great way to plan or meal prep your healthy lunches or any light dinners for the week.
You can also easily replicate this recipe with any leftovers from roasted bone-in, skin-on whole chicken, or chicken breasts (or whatever parts you like) to avoid dry chicken meat.
First, I loosely shred the meat by hand before dressing it up with a quality extra virgin olive oil and then complement it with sweet, thinly sliced shallots and aromatic fresh herbs. A bit of lime juice lifts the whole dish amongst simple seasonings such as a few sea salt pinches and cracked black peppercorns.
It's definitely a traditional no-mayo chicken salad and one so worth making if you love those fresh and hearty Mediterranean flavors.
Ingredients and a few notes
Lime—Although lime juice imparts a unique, refreshing element to the salad, don't sweat it if you have to replace it with lemon juice. It's maybe just a tad sweeter but still deliciously citrusy and adds a nice balance to the salty flavors and oily texture.
Cilantro—My grandmother always used Parsley, but over the years I've added cilantro to the mix and use it more often now as the main herb. Choose whatever you like best or maybe even mix in a bit of both.
Shallots—It's my favorite onion in this homemade chicken salad. They add a deliciously sweet and mellow oniony flavor. But you could just as well use finely sliced red onions or finely chopped green onions, especially if you enjoy a punchier taste.
Optional add-ons
Turn this into more of a salad with chicken rather than a chicken salad by
Adding more parsley and/or cilantro than suggested;
Throwing in a few chopped Basil leaves and fresh Rosemary (highly suggested);
And topping it off with creamy avocado and a more aged hardy cheese;
Sometimes, I even throw in small red cherry tomatoes or serve them on the side (perfect for when you want to make a chicken sandwich).
Make it a low carb chicken sandwich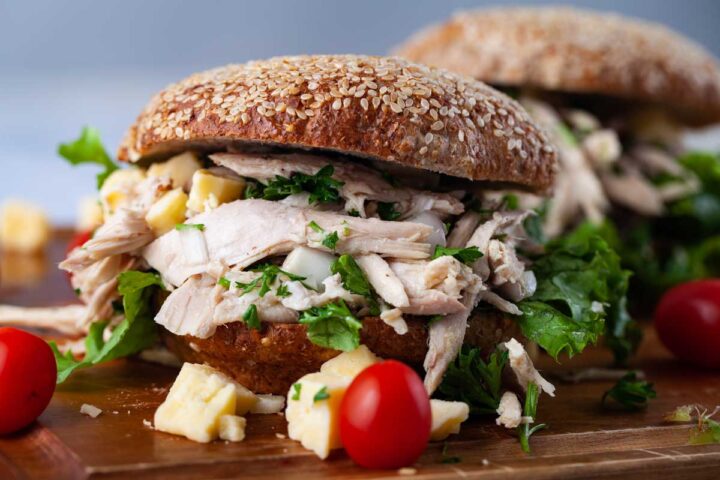 If you're looking for a simple light dinner option, then make chicken salad sandwiches. Add some extra olive oil on crusted bread and half a cup of the salad on top. Sprinkle it with crushed red pepper flakes if you enjoy some heat or extra freshly cracked black pepper.
You still can keep it healthy, low carb, and super simple if you wish to do so by opting for frozen bread brands that are either sprouted, gluten-free, or even suitable for Keto-diets, and you can quickly pop into a toaster.
Storage
You can store any leftovers in an airtight container in the fridge (without any added avocado) for up to 5 days.
Other serving ideas
It's one of those dishes that really pairs well with any green salad (it's time to post some of my favorite recipes on the blog soon) or a simple vegetable side to make it a more substantial but still light meal.
But besides serving it as a lighter dinner, it's a perfect potluck dish to bring and share with a larger group. A crusty baguette makes a great add-on for this homemade chicken salad.
Or pair it with a refreshing mango salad during warm summer months for outdoor dining in your backyard or this cucumber avocado quinoa salad.
Serve it with a refreshing pineapple mocktail or piña colada.
And for colder days, serve it with a warm cup of savory broth or Stracciatella soup (posted soon on the blog—I promise)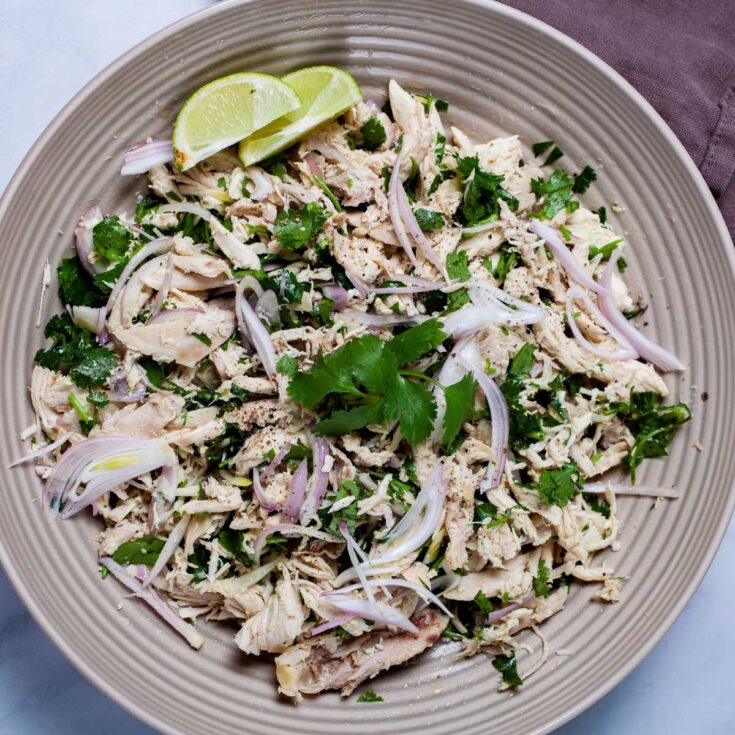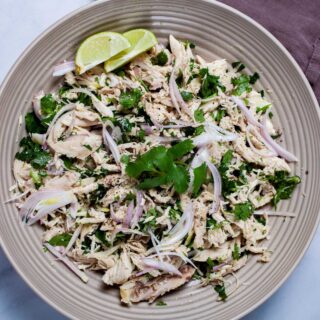 Healthy Homemade Chicken Salad
Mariska Ramondino
A healthy chicken salad that is nutritious, easy to make, and deliciously infused with olive oil and healthy herbs. Enjoy as-is with any side dish, or make it into a healthy low-carb version of the classic chicken salad sandwich!
Ingredients
To make the salad
4

cups

cooked shredded chicken

588 grams

1

large shallot

finely sliced (about ½ cup)

1

cup

chopped fresh cilantro or parsley leaves

or both

¼

cup

extra virgin olive oil

or more as desired

Salt and black pepper to taste

½

lime

plus more to garnish
Optional Add-Ons
5 - 7

fresh basil leaves

chopped

1 - 2

teaspoons

chopped fresh Rosemary

1

small avocado

cubed

½

cup

cubed hard cheese of your choice
Instructions
Place chicken in a large serving bowl. Using your fingers, make sure the pieces of meat are sufficiently pulled apart and shredded.

Add the thinly sliced onion and cilantro. If you choose to add all or one of the add-ons, throw them in now.

Toss all the ingredients gently with your hands or large wooden salad spoons (salad servers).

Season royally with extra virgin olive oil, the juice of half a lime, salt, and black pepper to taste. Toss gently again to ensure the olive oil and seasonings are equally divided.

Taste and add more salt, pepper, or olive oil. Toss again and taste until seasoning is just right for you.

Serve with extra lime wedges on the side.

Make it a full meal with a large salad or

kale salad

on the side or serve on (low-carb) bread to make chicken sandwiches.
Notes
How to make shredded chicken that is moist and full of flavor: My favorite way of meal prepping moist and juicy shredded chicken is by poaching a whole chicken. This takes an hour or two, but you can do this in the evening or during the weekend to prep delicious and easy meals for during the week. Once the chicken is sufficiently cooled, I pull the meat off the bones with my fingers and store the shredded chicken meat in an airtight container in the fridge for later use. You can also make this chicken salad immediately and store it seasoned in the fridge for up to 5 days (without any avocado).
But this recipe is also a great way of using any leftover chicken, especially from any homemade bone-in, skin-on roasted chicken, or storebought rotisserie chicken.
Add your own private notes
Whenever you come back to this recipe, you'll be able to see your notes.
Nutrition (% Daily value)
Calories:
333
kcal
(17%)
Carbohydrates:
5
g
(2%)
Protein:
26
g
(52%)
Fat:
23
g
(35%)
Saturated Fat:
5
g
(31%)
Polyunsaturated Fat:
3
g
Monounsaturated Fat:
13
g
Cholesterol:
79
mg
(26%)
Sodium:
136
mg
(6%)
Potassium:
420
mg
(12%)
Fiber:
3
g
(13%)
Sugar:
1
g
(1%)
Vitamin A:
408
IU
(8%)
Vitamin C:
6
mg
(7%)
Calcium:
89
mg
(9%)
Iron:
2
mg
(11%)
Disclaimer: This nutritional data is calculated using third party tools and is only intended as a reference.
PIN IT for later! Don't forget to subscribe to my Monthly Newsletter!