This beautiful cast-iron roast chicken is filled with creamy Brie and deliciously flavored with Rosemary, garlic, onions, Italian seasoning, and the sweet-tart juices of fresh oven-roasted grapes.
It all goes into one oven-safe skillet—simple, easy, yet big in flavors.
The recipe card has step-by-step instructions with pictures.
But I encourage you to read through all my helpful tips first for making this cast-iron roast chicken the best way.
Jump to:
Reasons to make this unique cast-iron roast chicken
There is nothing easier than roasting a chicken in the oven for dinner.
The pan juices in this cast iron roast chicken recipe are INCREDIBLE.
It's a classic tried-and-true whole roast chicken.
You can even make it for special occasions.
Because chicken for gatherings around the Thanksgiving table or for Christmas makes sense when you make it extra special—move over, Turkey.
Best yet, everything is prepped in 10 minutes, and then you let the oven do its magic.
What makes this a delicious chicken recipe
Fresh herbs like Rosemary, roasted garlic cloves, onions, and extra-virgin olive oil combined with Italian seasoning give this beautifully-browned roasted whole chicken lovely comforting flavors.
Creamy Brie filling and sweet grapes tossed alongside the chicken create delicious pan juices.
Those grapes caramelize when roasted, adding lightly sweet undertones to the savory flavors, while the Brie adds a heavenly buttery consistency.
Let's make it!
Helpful tips for making a good roast chicken
Let the chicken rest at room temperature for around 10 minutes before prep time. It ensures the meat cooks evenly.
Then pat the chicken dry with paper towels. Don't skip this step. I even go inside the cavity of the chicken and thoroughly dry it. It will result in beautiful crispier skin and ensure no extra liquid interferes with those flavorful caramelized pan juices.
Season every surface of the chicken generously with salt—yep, even inside the cavity and in between the wings. Chicken needs a good amount of salt to develop beautiful flavors and a juicy texture.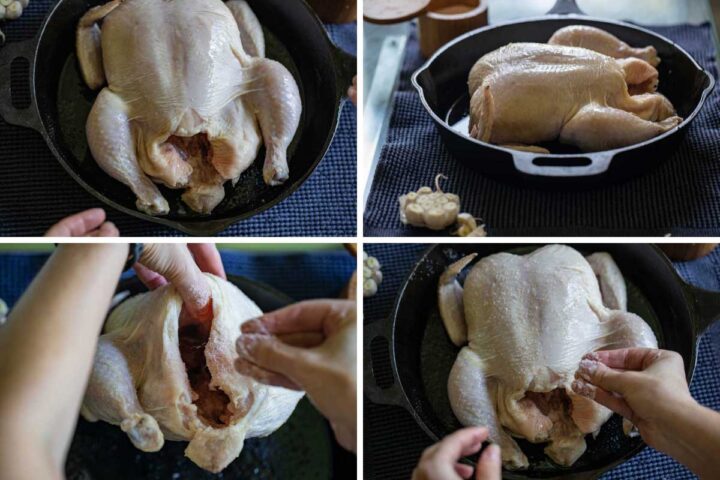 Pro tip: I like to season the chicken directly in the pan so that any extra sprinkles of salt that don't fall on the chicken will go into the skillet.
Don't skimp on the fat. It creates a beautiful brown and crispy chicken skin and offers a lot of flavors and juicy pan drippings.
Leave the bird alone in the oven. No need to baste it. Let the oven do its work and roast long enough for the flavors to develop (more on that later).
Let the roasted bird rest before carving. Once taken out of the oven, the cast iron pan will be extremely hot, and the chicken will still continue to cook a bit longer. Wait for about 10 minutes for the juicy chicken to settle further and for the flavors to come together before serving.
What to do with chicken giblets
Some whole chickens come with giblet parts. They are usually stored in a paper bag inside the cavity.
Remove the giblets from the bag. Discard the bag.
Here at home, we consider them tasty little treats and are added to the pan alongside the chicken.
Season them with salt and pepper and add them to the roasting pan. It's delicious!
The best herbs to season this chicken
Besides salt, I'm relying on simple Italian seasoning that will give tremendous flavor to a roasted chicken and its crispy skin.
Use a blend of dried oregano, Basil, and Marjoram. If you already have pre-bought Italian seasoning on hand, you can use 1 tablespoon of that instead.
Fresh Rosemary leaves add an incredible aroma, and the oven-roasted needles can be cracked and served on top of the chicken.
Don't forget to also season the onions, garlic, and grapes in the pan.
Generously use freshly ground black pepper to round off the dish.
Note: Italian seasoning is a blend of ground herbs that you can buy ready in the grocery store and adds wonderful Mediterranean flavors. But you can also mix equal parts of all or some dried oregano, marjoram, thyme, rosemary, Basil, and sage.
What to put inside the chicken cavity
Always generously sprinkle salt on the inside of the chicken so the seasoning can work its magic past the skin.
I'm also filling the cavity with garlic cloves, onions, Brie, and grapes for this recipe which will create incredible flavors and delicious chicken juices.
Chicken and Brie & how to add it
Brie has a mild flavor but is also buttery and slightly fruity, creating a beautiful creamy texture that pairs lovely with well-seasoned chicken.
I divide it evenly between the wings, inside the cavity, and chicken legs (slightly opened up with a small incision) to create concentrated pockets of creamy goodness.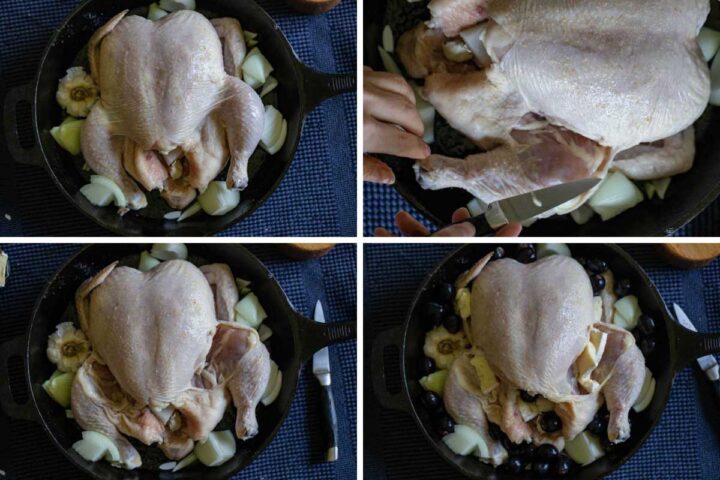 Chicken and grapes for incredible pan juices
A combination of onions, garlic, and grapes are added to the large cast iron skillet and, together with olive oil, will create incredibly flavored juices that are
naturally sweet,
slightly thick,
and delicious when topped on the carved chicken.
How long to roast a whole chicken
Count about 15 minutes per pound of chicken. So for a 4 pound of chicken, that equals about 1 hour to get crispy-browned skin and juicy, tender meat.
Note: This recipe works best with either 3 ½ pounds or up to 5 pounds of chicken to get the best results with the suggested oven setting and measured ingredients.
How to check for doneness
If you count about 15 minutes of oven time per pound of chicken, you'll have beautifully crispy-browned chicken skin and tender, juicy meat on the inside—no pinkish colors.
If still unsure, carefully remove the skillet from the oven and check in between the cut leg joints—you shouldn't see any pink or rosy colors and only clear juices.
Serving suggestions
How to reheat leftovers
My preferred way is to shred the meat into bite-sized pieced and cut through some of the boney parts (if any are left).
Place everything in a large enough skillet on the stove over medium heat.
Cook and stir until the pieces are sufficiently warmed up (taste test).
Add an extra tablespoon of olive oil to the bottom of the pan to prevent the chicken from drying alongside any remaining bits of pan gravy.
Another great way to use leftover chicken is by making a healthy, flavorful chicken salad from the shredded chicken meat and chicken mayo sandwiches or adding them to nourishing soups.
Make it a festive dinner for the Holidays—Menu suggestion
This cast-iron roast chicken recipe is always a hit with my family—it's a favorite for sure, especially for Sunday dinner.
And if you are celebrating the Holidays with a smaller group of people, then this festive chicken dinner can easily replace Turkey without getting any complaints—or think Christmas or New Years' table.
So, here is a lovely entertaining dinner idea—just a suggestion—for when you have company over or want to make something extraordinary without feeling rushed or stressed.
More delicious recipes you might like
---
Don't forget to subscribe to my Monthly Newsletter!
Have questions? Simply comment below or message me. If you make this recipe, please leave a comment and a starred review below. Thank you!
---
📖 Recipe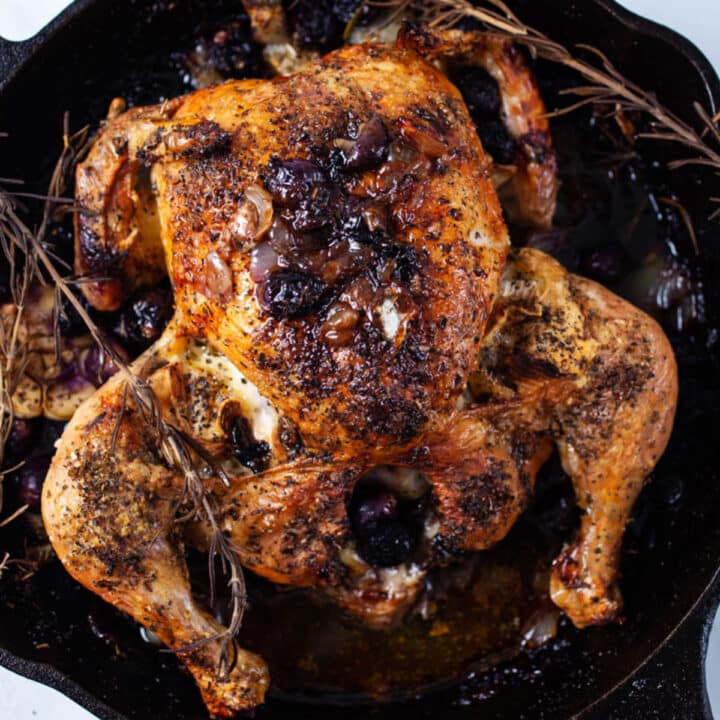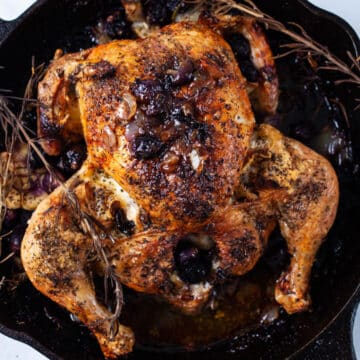 Unique Roasted Whole Chicken
Mariska Ramondino
A deliciously and beautifully-browned whole roast chicken with garlicky, oily grape pan juices and stuffed with creamy Brie—perfect for family dinners and festive enough for the Holidays.
Ingredients
¼

cup

extra-virgin olive oil

plus more to grease the oven-safe skillet

1

whole chicken

4 to 5 pounds (1.8 to 2.3 kilos)

Sea or Kosher salt

2 to 3 teaspoons or more to taste

1

head

garlic

½

cup

packed cubed Brie

98 grams

1

large yellow onion

coarsely chopped (290 grams)

2

cups

whole black seedless grapes

315 grams

1

tablespoon

Italian seasoning*

Freshly ground black pepper

3

sprigs

rosemary
Instructions
Arrange a rack in the center of your oven, and preheat to 425 °F/ 220 °C

Take a large oven-safe skillet (I use a cast-iron skillet) and rub a small amount of oil onto the pan (one tablespoon should be enough); set aside.

Thoroughly pat-dry the whole chicken with paper towels which will help with browning.

Transfer the chicken breast side up to the reserved oven-safe skillet.

Season every surface of the chicken generously with salt, including inside the wings.

Rub some salt inside the cavity. I use 2 to 3 teaspoons of salt to season the whole chicken. As you season the chicken in the skillet, some of the oil will rub off the chicken, which is okay.

Cut the head of garlic crosswise in half. Arrange one half cut side down in skillet (I always use the bottom part). Take the garlic pieces out of the other (top) half, and arrange them inside the chicken cavity.

Arrange the onion pieces around the chicken in the oven-safe skillet. Stuff some inside the cavity.

With the chicken breast facing up, slice partly through the skin that connects the legs to the breast (see picture). Season the meat inside also with some salt. You will use these openings for the Brie filling.

Take the pieces of Brie and arrange them between the chicken legs, wings, and a few pieces inside the cavity.

Now arrange the grapes around the chicken and on top of the onions and garlic in the oven-safe skillet. Stuff some pieces inside the cavity.

Season the onions and grapes with a few extra pinches of salt.

Then season the chicken evenly with Italian seasoning.

Season everything generously with black pepper

Drizzle ¼ cup of extra-virgin olive oil over the chicken.

Arrange the fresh Rosemary sprigs in the pan around the chicken.

Transfer to the oven and roast until the chicken is beautifully browned and done. Count 15 minutes per pound of chicken, so for a 4 pound of chicken, roast for 1 hour.

To check for doneness, I carefully remove the skillet from the oven and check between the cut leg joints. It needs more time if you see any pinkish colors.

Let it rest for a few minutes before carving and serving.

The pan juices will be incredibly flavorful and should be served together with the meat or any side dishes like mashed potatoes or

cauliflower mash

.

Remove the Rosemary leaves. Crumble some of the dried needles and place them back into the pan (optional)

Serve with olive oil and grape juices on top of the meat, some roasted garlic on the side, and divide some of the more buttery Brie pieces.

This beautiful roasted whole chicken recipe is unique enough to serve on festive occasions—think chicken for Thanksgiving or Christmas!
Notes
*If you don't have Italian seasoning, replace it with 1 teaspoon of dried oregano, 1 teaspoon of dried basil, and 1 teaspoon of dried marjoram. These are all beautiful herbs to season the chicken.
Helpful Tips
Some whole chickens are sold with giblet parts. Season them with salt and pepper and place in the oven-save skillet alongside the chicken—these parts deliciously flavor in the pan juices and become soft, delicate treats.
If it's a good Brie, you don't need to remove the rinds; it's edible, but you won't taste it in this recipe.
I count about 15 minutes of oven time per pound of chicken. My chicken always turns out beautifully browned with crispy skin and wonderful flavors but still juicy inside.
Leftovers: I usually cut and shred the meat and bone pieces, then simply reheat them over medium-high heat on the stove in a skillet with extra olive oil. It makes the chicken pieces super crispy.
Add your own private notes
Whenever you come back to this recipe, you'll be able to see your notes.
Nutrition (% Daily value)
Calories:
229
kcal
(11%)
Carbohydrates:
15
g
(5%)
Protein:
8
g
(16%)
Fat:
16
g
(25%)
Saturated Fat:
4
g
(25%)
Polyunsaturated Fat:
2
g
Monounsaturated Fat:
9
g
Trans Fat:
0.02
g
Cholesterol:
29
mg
(10%)
Sodium:
94
mg
(4%)
Potassium:
277
mg
(8%)
Fiber:
4
g
(17%)
Sugar:
1
g
(1%)
Vitamin A:
171
IU
(3%)
Vitamin C:
3
mg
(4%)
Calcium:
80
mg
(8%)
Iron:
1
mg
(6%)
Disclaimer: This nutritional data is calculated using third party tools and is only intended as a reference.