You will love these easy-to-make rhubarb compote recipes (stewed rhubarb recipes). Make them every time Rhubarb is in season or with frozen Rhubarb.
They can complement many breakfast recipes like waffles or pancakes, classic cake recipes, or a cheese or Mezze board.
I even use it to sweeten chia puddings, yogurt parfaits, or homemade biscuits.
And kids will love it when mixed with mashed potatoes or mashed cauliflower.
Let's look at my favorite stewed rhubarb flavors!
Jump to:
I grew up with compote, regularly showing up on our kitchen table.
As a kid, it was one of my favorite side dishes to make a vegetable mash with green cabbage or kale taste good—my mom is a genius.
You can transform any fruit into a sweet compote over the stove with little effort.
There is no fancy equipment or canning involved, and it will keep up to two weeks in the refrigerator to pair it with...well, just about anything that can use some fruity flavors.
And although maybe, as a topping on toast, pancakes, ice cream, or yogurt comes first to mind, compote truly shines—in my humble opinion—when paired with heartier flavors complementing meat dishes or cheese spreads.
It's that versatile.
Rhubarb (considered a vegetable), paired or not with other fruits, is one of my favorite ingredients to transform into a condiment with the help of a few herbs or sweeteners.
Today we're making healthy sweet rhubarb recipes. It's ridiculously simple, nothing fancy, but so good!
What is a compote
If you are less familiar with it, compote is a sauce mostly made with a simple fruit(s), either fresh (or frozen), cooked briefly in some juice on the stove until it obtains a thicker or spreadable texture.
The vegetable or fruit flavors can be elevated by complimenting herbs, spices, and a sweetener of choice.
In contrast to a jam, compote's texture is soft and slightly runnier. It's also not meant to be canned.
It's one of those recipes you make whenever you feel like having some on hand, and you know you will consume it in a fairly short amount of time.
Start with Rhubarb—fresh or frozen
When is Rhubarb in season?
It is not very often that I find fresh Rhubarb in stores. At least not where I live.
But mid-spring and early summer is the prime season to see these fleshy reddish stalks in local grocery stores.
That's when field-grown Rhubarb hits the market.
Sometimes I am lucky enough to find Greenhouse-grown Rhubarb anywhere from late winter to early spring, but I think it heavenly depends on your location.
So when I see the fresh stalks sold by the pound, I immediately take advantage of them and enjoy them while I can.
Depending on where you live, you can also find them at farmer's markets. I usually get them from Whole Foods. They always have fresh Rhubarb stalks when in season.
You can also use frozen Rhubarb
There is no need to defrost the vegetable.
Your mixture might take a few extra minutes to come to a boil, but it works just as well, and it should have the same soft texture once warm as with fresh Rhubarb stalks.
What does Rhubarb taste like
The watery, crispy vegetable stalks have a strong tart taste and are very stringy. But their flavor pairs heavenly when balanced with the right amount of sweetness.

As a kid—I grew up in Belgium—we used to get plenty of fresh Rhubarb from our neighbors' garden.
I remember peeling the stalks with our hands and immediately dipping them lightly into a pot of brown sugar or honey—highly recommended!
How to make stewed Rhubarb (a few tips)
When using fresh rhubarb stalks, cut off the thick ends of the stalks—know that only the stalks are edible. Always discard its leaves.
If tough, peel off the thin skin—I always do. Use a sharp paring knife, slip it under the skin at the end of a rhubarb stalk, and then pull it off string by string.
Cut the peeled Rhubarb into chunks.
Start with melting a bit of real butter in a pot over medium heat before adding the Rhubarb. It adds richness and a lovely glossy softness to the compote.
Use coconut butter if you wish to keep it dairy-free.
Add fresh or frozen rhubarb chunks either alone or in conjunction with other recommended fruits (see recipes below).
The unique pairing of Rhubarb with certain fruits and herbs makes each rhubarb sauce so unique.
You need a small amount of a sweetener (based on taste) to balance Rhubarb's tarty flavors.
Choose from maple syrup, Stevia powder, or Monkfruit sweetener (sugar-free) to sweeten the compote naturally.
You need a bit of liquid to make stewed Rhubarb. Use water, or if you cook Rhubarb without added fruits or herbs, I highly recommend grapefruit juice.
Always let the rhubarb mixture come to a boil before stirring any herbs or spices.
Maintain a steady simmer at first to further break down Rhubarb and any fruits used.
Stir occasionally, while breaking down the bigger pieces of fruit with a wooden spoon.
Always taste and add more sweetener if you prefer a sweeter compote.
After a brisk, steady simmer, allow the rhubarb mixture to gently simmer over a lower heat for about 25 to 30 minutes, pot half-covered, or until the Rhubarb and other chosen fruits have nearly broken down.
Flavor variations
Here are a few healthy rhubarb recipes to choose from:
A simple rhubarb sauce with fresh or frozen Rhubarb, butter, your choice of sweetener, and some water or grapefruit juice (highly recommended)
A beautiful and classic blend of Rhubarb, pears or apples, and cloves.
A lovely combination of Rhubarb, sweet apricots, and sprigs of fresh Rosemary.
And a minty strawberry rhubarb recipe.
Spices such as cloves and fresh herbs like Rosemary subtly enhance the flavors of Rhubarb.
And each chosen fruit adds its unique qualities to the compote.
Rhubarb Sauce sugar-free
This is probably the best compote recipe for a low carb or Keto diet.
Chunks of Rhubarb are stirred in melted butter, then slowly cooked in either water or grapefruit juice and sweetened with Monkfruit sweetener or Stevia.
It's delicious!
Rhubarb-Pears-Cloves
This classic combo and its heavenly smells remind me a bit of the Christmas season.
The sweet and vinous character of pears pairs well with Rhubarb and milds down the tartiness of this vegetable.
A touch of cloves adds warmth and richness and goes exceptionally well with a wooden caramel-like sweetener like maple syrup.
But feel free to use Monkfruit sweetener to keep it sugar-free.
The result is an aromatic compote that is slightly sweet with a rich and almost a buttery flavor—mouthwatering good!
Note: Instead op pears, try Golden Delicious apples. They are naturally sweeter than their relative the pear and might require less maple syrup.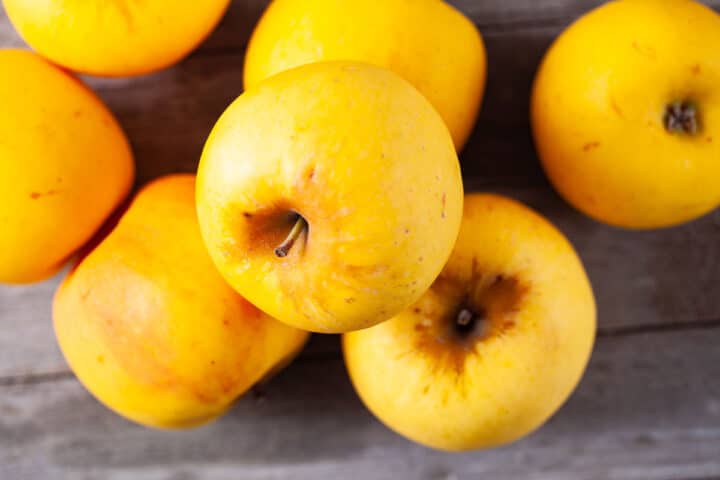 Rhubarb-Apricots-Rosemary
Apricots are another fruit that pairs well with Rhubarb and is less explored than the Rhubarb strawberry sauce combo.
Although apricots flavor is a more natural balance between sweet and sour, they have floral notes with a silky, almost creamy texture that goes well with Rhubarb and Rosemary.
This lightly sweet blend works perfectly as a topping for desserts or complimenting an appetizer or brunch table.
It is just another one of my favorites that I think you will love too.
Rhubarb Strawberry Sauce with Mint
Rhubarb and strawberries share specific flavor notes that make them a great match for making compote or jams.
But add a few freshly torn mint or chocolate mint, and it naturally amplifies strawberries' sweetness and adds a refreshing flavor to Rhubarb.
Leave out the mint, and you have a lovely rhubarb pie filling. Add it, and it pairs deliciously with beef, lamb, or oily fish recipes.
Great ways to use Rhubarb Compote
Don't know what to do with rhubarb compote? I use it on pretty much anything. Well almost.
It is delicious on its own as a light dessert after dinner or as a snack.
But here are a few of my favorite suggestions:
Add some complexity
Add a touch of warm brandy, rum, or semi-sweet wine to the Rhubarb-Pears combo.
Or a liqueur such as Cointreau to the Rhubarb-Apricots for an adult party at home.
FAQ about these rhubarb sauce recipes
How long can you keep rhubarb compote?
Although it is meant to be consumed relatively soon after making it, it will keep up to two weeks in the fridge.
Can I freeze rhubarb compote?
Yes, you can.

I hardly ever do because it's so easy to make a fresh batch on the spot.

But you can make a big batch and then freeze it in smaller portions to enjoy long after rhubarb season is over (up to 6 months).
How to store rhubarb compote?
I like to store them in jars with a lid or airtight container, leaving half an inch of headspace—use freezer jars if you plan to freeze them.

Allow the compote to cool first and settle into the jar before screwing on the lid or closing the container.

Then refrigerate.

Should you peel rhubarb stalks before cooking?
Although you don't have to, I always lightly peel them and remove the tougher strings before using them to make the compote.
Please let me know which rhubarb sauce is your favorite in the comment below or simply message me.
Craving for more fruity desserts or recipes, don't miss this simple-cranberry-clementine spread, my pineapple-apple-mocktail, the no-bake mascarpone fruit, and amaretto tart, or my grain-free avocado strawberry cheesecake in a cup.
📖 Recipe
Rhubarb Stewed Recipes
Mariska Ramondino
Incredibly delicious and easy-to-make rhubarb stewed recipes that can complement any breakfast or grazing table, yummy desserts like chia seed pudding or yogurt parfaits, even savory meat dishes, or add them to sweeten your baking.
Ingredients
Rhubarb Sauce
3

tablespoons

real butter or coconut butter/oil

to keep it dairy-free

1 ½

pounds

unpeeled rhubarb*

1 - 1 ½

cups

fresh grapefruit juice

juice of two large grapefruits—see note

½

cup

maple syrup or ¼ cup Monkfruit sweetener

sugar-free
Rhubarb Compote (with apple or pears)
3

tablespoons

real butter or coconut butter/oil

to keep it dairy-free

1 ½

pounds

unpeeled rhubarb*

2

large yellow apples or ripe pears

coarsely chopped

½

cup

maple syrup or ¼ cup Monkfruit sweetener

sugar-free

1

cup

of water

20

whole cloves

about 1 teaspoon or ¾ teaspoon ground cloves
Rhubarb-Apricots Compote
3

tablespoons

real butter or coconut butter/oil

to keep it dairy-free

1 ½

pounds

unpeeled rhubarb*

¾

pound

fresh apricots

about three to four large apricots or about 2 to 2 ¼ cups of sliced apricots

1

teaspoon

Stevia powder or ½ cup of maple syrup or ¼ cup of Monkfruit sweetener

1

cup

of water

2

sprigs

fresh rosemary

chopped
Rhubarb-Strawberry Sauce (compote)
3

tablespoons

real butter or coconut butter/oil

to keep it dairy-free

1 ½

pounds

unpeeled rhubarb*

3

cups

chopped fresh strawberries (about 13 strawberries)

400 grams

1

teaspoon

Stevia powder or ½ cup of maple syrup or ¼ cup Monkfruit sweetener

1

cup

of water

1

tablespoon

freshly chopped mint

go up to 2 tablespoons if you like a stronger mint flavor
Instructions
Base Directions (FOR ALL):
In a large pot, melt the butter over medium heat.

Add the rhubarb and chosen fruits (apples, pears, apricots, or strawberries) and coat with your choice of sweetener (maple syrup, Stevia, or Monkfruit sweetener).

Stir in the water or grapefruit juice.

Change the heat to medium-high, cover the pan, and let the rhubarb mixture come to a boil.

As soon as the liquid has come to a boil, stir in the herb ingredient (cloves for apples or pears; rosemary for apricots, mint for strawberries)

Then reduce the heat to maintain a steady simmer.

Cook for about 5 minutes to allow the fruits to break down, stirring occasionally. While stirring, break down the bigger pieces of fruit with a wooden spoon.

Taste and add more sweetener if you prefer a sweeter compote.

Then reduce the heat to low and simmer gently for about 25 to 30 minutes, pot half-covered, or until the rhubarb and other chosen fruits have nearly broken down. Stir occasionally.

Enjoy immediately or allow to cool slightly before storing the compote in tightly sealed jars.

Refrigerate for up to two weeks.

Notes
*Rhubarb: Use about 4 to 5 large stalks to yield 5 cups of lightly peeled and coarsely chopped fresh or frozen rhubarb (or about 610 grams).
Nutrition is for Rhubarb Sauce only.
If you like a more chunky compote texture, reduce the simmer time to only 10 to 15 minutes or until you get the desired consistency.
For a thicker consistency, use less water or liquid.
Add a touch of warm brandy, rum, or semi-sweet wine to the Rhubarb-Pears combo or a liqueur such as Cointreau to the Rhubarb-Apricots for more complex flavors.
Add a chocolate mint instead of spear mint to the rhubarb-strawberry sauce for a touch of natural chocolate flavors.
Note on sweetener: start with a small amount and work your way up to the suggested amount in the recipes. You might prefer a less sweet compote and it's so easy to add extra sweetener at the end.
Note on grapefruit juice: try 1 cup of fresh lemon juice instead, but you might have to add more sweetener to offset the sourness.
Add your own private notes
Whenever you come back to this recipe, you'll be able to see your notes.
Nutrition (% Daily value)
Serving:
1
cup
Calories:
230
kcal
(12%)
Carbohydrates:
41
g
(14%)
Protein:
2
g
(4%)
Fat:
7
g
(11%)
Saturated Fat:
4
g
(25%)
Polyunsaturated Fat:
0.4
g
Monounsaturated Fat:
2
g
Trans Fat:
0.3
g
Cholesterol:
18
mg
(6%)
Sodium:
65
mg
(3%)
Potassium:
658
mg
(19%)
Fiber:
3
g
(13%)
Sugar:
34
g
(38%)
Vitamin A:
357
IU
(7%)
Vitamin C:
43
mg
(52%)
Calcium:
164
mg
(16%)
Iron:
1
mg
(6%)
Disclaimer: This nutritional data is calculated using third party tools and is only intended as a reference.