I am sharing the easiest nice cream flavors that you can make in under 5 minutes. It's the perfect dairy-free frozen treat to satisfy your sweet cravings guilt-free. Plus, you can make them creamy with a lovely soft serve-like consistency with or without frozen bananas—Vegan, and Paleo-friendly!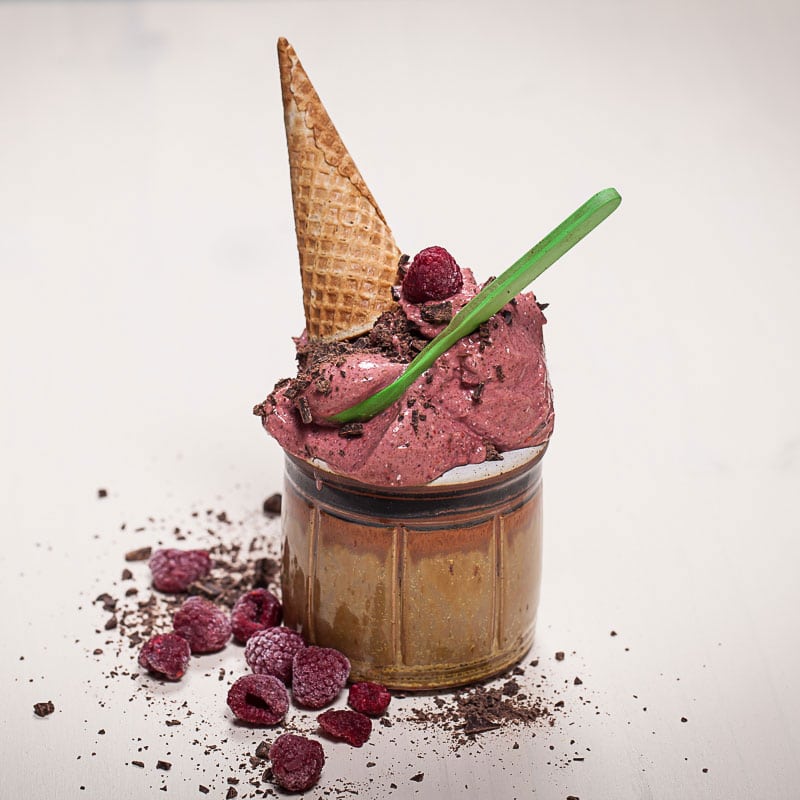 MAKE THE HEALTHIEST NICE CREAM DESSERTS IN UNDER 5 MINUTES
Dessert at my house is often an afterthought. I'll bake cookies, cake, or make a fruit tart on occasion. But a lot of times, we skip dessert during the week or finish a meal with a piece of dark chocolate. That is until the weather starts to change and gives us warm, sunny days, and a craving for ice cream desserts. There is no better treat than the one you can concoct in less than 5 minutes, enjoy lazily on your patio, and is healthy too. Fruity and creamy nice creams fit that bill. There are so many flavor combos you can make. But today I will share the ones we enjoy at home the most, the basic formula to make them with or without frozen bananas, and how to make them super creamy.
WHAT IS NICE CREAM
Nice cream is a delicious fruit-based, dairy-free, and vegan dessert that doesn't contain any added sugars. The original nice cream might have been fruits mixed with a frozen banana-base to give this treat its creamy texture. Sometimes I still make it that way if I have some frozen bananas on hand. But you can get that same creamy texture with a few tablespoons of coconut cream or milk. So, let's look at the ingredients that make quick and easy ice cream desserts.
Note: you will need a powerful blender or food processor to make nice cream recipes.

NICE CREAM WITHOUT FROZEN BANANAS
FROZEN FRUITS
You'll need a bag or two of your favorite frozen fruits to make this healthy dessert. Whatever fruits you choose will dominate the flavor of your ice cream, so go for the ones you love most.
Here are some of my all-time frozen fruit favorites and not necessarily in that order:
Dark sweet cherries: they are incredibly sweet-tasting, and their color is so beautiful and irresistible.
Wild blueberries: always a kids' favorite.
Raspberries: they are heavenly sweet with an almost light citrus-like taste.
Strawberries or a bag of berry mix: a mixture of berries is always a winner.
Chopped mangoes: perfect if you like a more tropical flavor—an excellent choice in summer.
Peaches: creates a delicate sweet floral taste.
DRIED FRUITS
The frozen fruits in itself are already sweet, but not enough, in my opinion, to call it ice cream.

For something more delightful, you can add Medjool dates. You only need 7 (about a cup) of them to make it dessert-worthy sweet. It also adds a hint of a caramel-like flavor and fiber!
But you can also use black raisins or even dried apricots—see flavor combo.

Any of these dried fruits add tons of natural sweetness without even noticing their usually distinctive taste.

Note on dried apricots. Go for the very ripe dark-orange colored Turkish fruits. Trader's Joe sells them, or you can find them easily online. They are deliciously sweet instead of the more sour tasting bright orange ones—the sweet-tangy taste pairs well with frozen peaches.

Try one of the flavor combinations below.
COCONUT CREAM
It makes for one creamy ice cream dessert just like frozen bananas do. I always store my organic coconut cream (full fat) in the fridge. The congealed and hardened thick cream sets on top while the liquid part settles at the bottom—only use the fatty part. You want to add a creamy touch and smooth out the taste of the frozen fruits without making the ice cream liquidy.
That's it! These three ingredients are all you need to make creamy vegan ice cream. But there are a few tricks to get the right texture and to make blending easier.
THE BLEND—A FEW TIPS
Place the dried fruits and coconut cream at the bottom of the blender. The softer parts go through the blades first and create a pasty base making it easier to combine the hard frozen fruits.

If you use a Vitamix, use the tamper tool to rotate the ingredients and use your highest setting at the end for a few seconds, or until everything looks creamy.

If you use a food processor, fit it with an "S" blade. You might need to stop and scrape the machine down once or twice to make sure everything keeps moving and blending.

Work fast; otherwise, the fruits begin to lose their frozen consistency.
NICE CREAM WITH FROZEN BANANAS
Instead of using coconut cream, use frozen bananas to obtain a soft serve-like texture. Or use both as I sometimes do.

Throw three or four peeled bananas—the very ripe ones with a few brown spots—in a zip-lock bag and keep them in the freezer.

It is an excellent base for making quick and creamy desserts instead of using coconut cream.

Make sure that you peel off the skin before freezing them in. You won't get the peel off otherwise.

Best to freeze bananas overnight to get a more solid consistency.

I use them less often unless I tend to make more luxurious ice cream, like pairing it with a few tablespoons of peanut butter, 4 Medjools dates, and topped with chunks of chocolate—a bit more decadent but so good and still simple.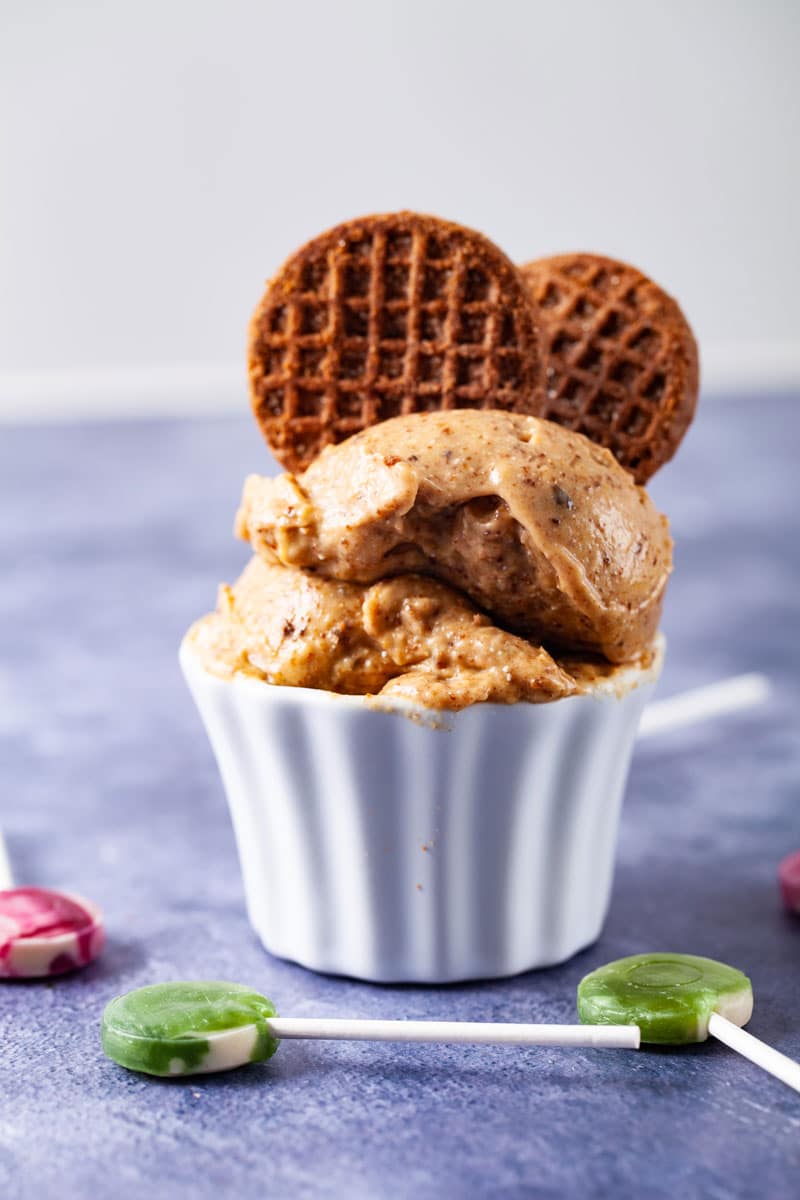 NICE CREAM FLAVORS AND TOPPINGS I LOVE
You can go fancy with your nice cream recipes and add herbal flavors like Basil, mint, make it nutty with butter, or chopped nuts as a topping or go a bit fancy with vanilla extract and cacao powder. The fun is in experimenting with this.
But I share a few nice cream flavor combos that I love the most, and you can make in no time as a quick weeknight treat—delicious, healthy, guilt-free, and super simple!
Very Berry: 1 (10 oz/284 grams) pack frozen berry mix, strawberries, or blueberries, 7 Medjool dates, 3 to 4 tbsp coconut cream. Top it with crushed pecans or chocolate bits.
Tropical: 1 (10 oz/284 grams) pack frozen mango pieces, 5 Medjool dates, 3 to 4 tbsp coconut cream. Top it with dried and fine coconut shreds.
Floral: 1 (10 oz/284 grams) pack frozen sliced peaches, 1 cup black raisins or dried apricots or a mix of both, and 3 to 4 tbsp coconut cream. Top it with homemade cookies, or Einkorn Crispy Cocoa Cookies by Jovial—they happen to be also accidentally vegan.
Raspberry or cherry-chocolate: 2 cups frozen raspberries or cherries, 2 frozen bananas, 5 pitted dates, 3 or 4 tablespoons coconut cream. Top with dark chocolate chunks or shavings—a combo of frozen bananas and coconut cream to make it extra creamy!
BOWL OR CONE, AND DARK CHOCOLATE
Serve your creamy creations in small bowls filled with plenty of dark chocolate chunks or your topping of choice.

But, I'll admit that If you have kiddos, they will be asking for a

cone.

I always add some extra toppings at the bottom of the cone before filling it up with ice cream. You will love that special surprise at the end as my daughter does.

If you are a chocolate lover, use extra shaved or crushed chocolate chunks in addition to your toppings—adults might like chocolate infused with chili pepper—another great option! I always go for dark chocolate with 70 % cacao, or if you want to keep it Paleo or vegan-friendly, choose Hu chocolate Gluten-free snacks—insanely delicious.
STORING NICE CREAM
To enjoy its super creamy consistency, you should make this dessert right before serving. But if you have leftovers, then store in an airtight container and keep it in the freezer. When ready to scoop some out next time, let it sit for a minute at room temperature to soften the texture a bit. The ice cream can become quite hard when refrozen.
Enjoy!
YOU MIGHT ALSO LIKE
Now go ahead and PIN this to your HEALTHY FROZEN TREATS or HEALTHY DESSERT board so you'll have this recipe on hand. And don't forget to follow me on Pinterest. If you have questions, leave it in the comments. Always love to hear from you! And don't forget to subscribe to my monthly newsletter!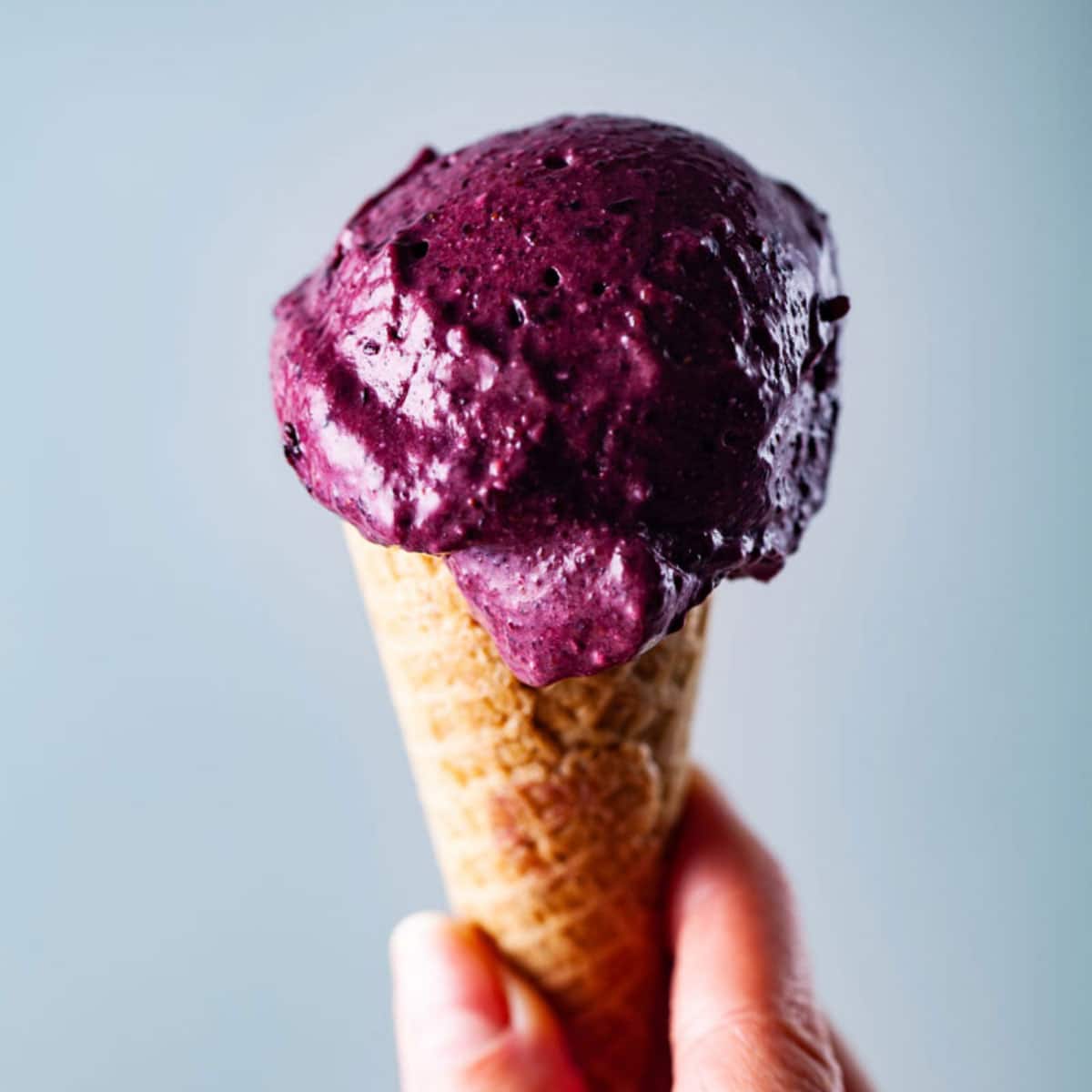 HEALTHIEST ICE-CREAM-(PALEO,-VEGAN,-DAIRY-FREE)
Yield:
7-8 scoops (about ½ cup per scoop or 4 cups total)
The easiest and healthiest nice cream recipes that you can make under 5 minutes. It's creamy, dairy-free, vegan, and paleo-friendly. Plus you can make these frozen treats with or without frozen bananas.
Ingredients
5 to 7 pitted (Medjool) dates, about one cup. You can also use black dried raisins or dried sweet apricots, depending on the fruits you use—see flavor combos above
About 2 cups or 1 (10 oz/284 grams) pack frozen fruits of your choice
Toppings of your choice—see my favorite easy and simple flavor combos above.
Instructions
Place first the dates and the coconut cream into a high-speed blender or food processor. Then add the frozen fruits. If you use frozen bananas, break them into three pieces and throw them also in the blender.
Turn the blender on, starting with the lowest speed setting, then turn up the power to the highest speed setting. For a Vitamix, use the tamper tool to rotate the ingredients. Blend until you get a beautiful creamy consistency with no fruit chunks left.
Place some shaved dark chocolate or other toppings at the bottom of a small bowl or preferred ice cream cone. Then scoop your nice cream into the bowl or cone (I usually count two scoops per serving). Top off with some extra toppings and enjoy!
Notes
Note: the description above shows you how to make nice cream with a Vitamix, but you can adapt the technique depending on the appliance you own.
(Note: this post was initially published in May 2017. This post has been updated to include new info and photos)