This healthy homemade Peanut Butter is such a lovely flavored nut butter—it might just become one of your favorite. Warm cinnamon, vanilla undertones, and chocolaty flavors swirl together in creamy homemade peanut butter—and it all takes a few minutes to make. Spread it on bread, use it to sweeten desserts, or make peanut butter cookies, enrich your chia pudding, or drizzle some on your pancakes and waffles! Finger-licking good!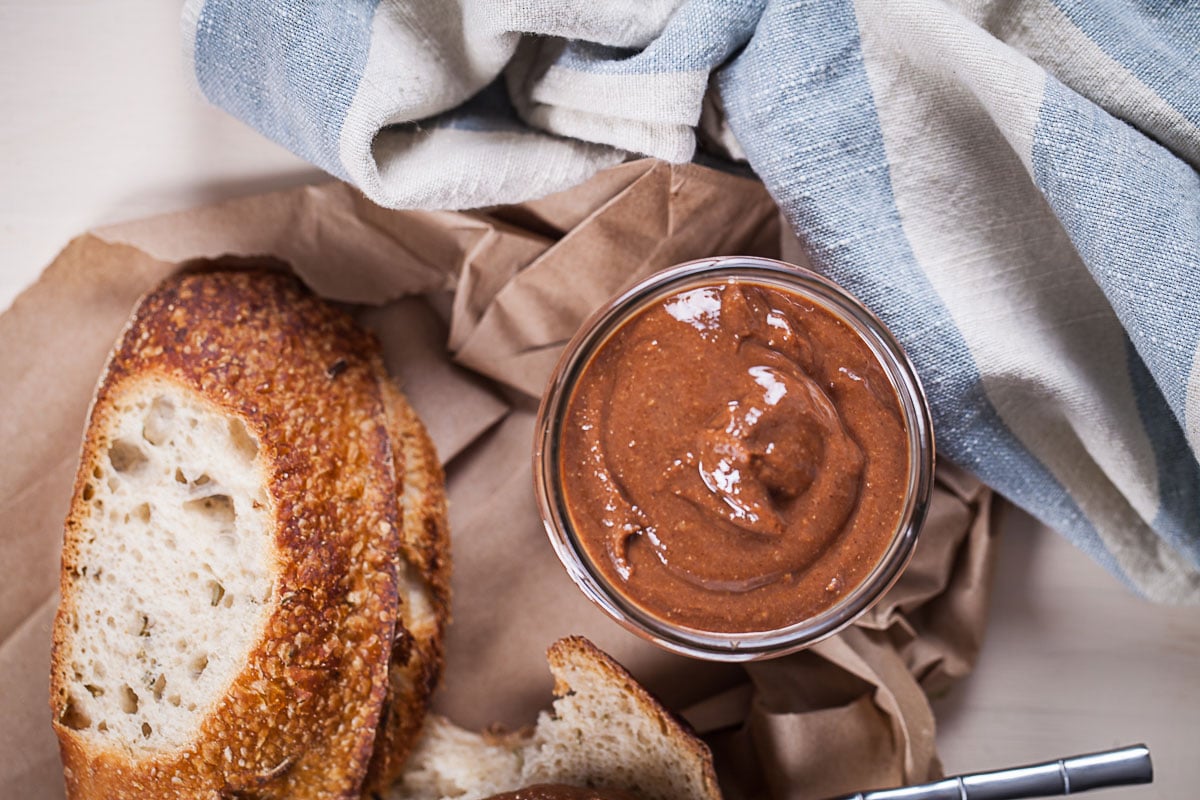 FLAVORED HOMEMADE NUT BUTTER
I'll admit, for me, peanut butter doesn't need anything else other than 100% peanuts—preferably roasted because it gives an even richer flavor. And that's how I often make it at home. But with this recipe, I am going more for a "Nutella"-like mix with chocolate flavors and rich, warm undertones.
I think this chocolatey peanut butter is almost like a holiday version—deliciously creamy, a bit festive, and utterly irresistible.
Everything comes together in mere minutes unless you are roasting the peanuts yourself—still easy. It is often more economical to buy raw peanuts in bulk, so check out this video and recipe for instructions on how to roast them at home—in case you want to give it a try.
THE FLAVORS—A FEW NOTES
With the right amount of some spices, a tad sweetness, and cacao powder, you get delicious, shall we say, healthy peanut butter Nutella!
Cinnamon Powder: a cinnamon flavor is homey, warm, naturally sweet, and one of the best aromatic choices to add to a chocolatey and nutty spread.
Vanilla-extract: adding a bit is enough to enhance the chocolate flavors of cacao powder. You could leave it out if you are going for a Keto-friendly spread or opt for a no Sugar Added Pure Vanilla Extract.
Cacao powder: you could substitute this for unsweetened cocoa powder.
Salt: This is optional, but a little—like ½ teaspoon—is enough to improve the flavors of the nuts and enrich the chocolatey taste.
Sweetener: adjust this ingredient based on taste by leaving out the agave or lower the amount of Stevia. Agave or maple syrup is optional if you are trying to avoid all sugars. But if you want to make a Nutella-like spread, then at least use a little—especially if you are using it as a dessert-like butter. My favorite sweetener in this recipe is the flavored Now BetterStevia, which gives this nut butter an extra dark chocolate flavor.
Other options to use as a sweetener is the no-carb, no-sugar, no-calorie sweetener, monk fruit (if you want to make it Keto-Friendly)
A special note on agave or maple syrup! Always mix this in after you have made your creamy peanut butter and stir it in by hand. Processing any syrup in the blender or food processor with the rest of the ingredients results in sticky nut butter.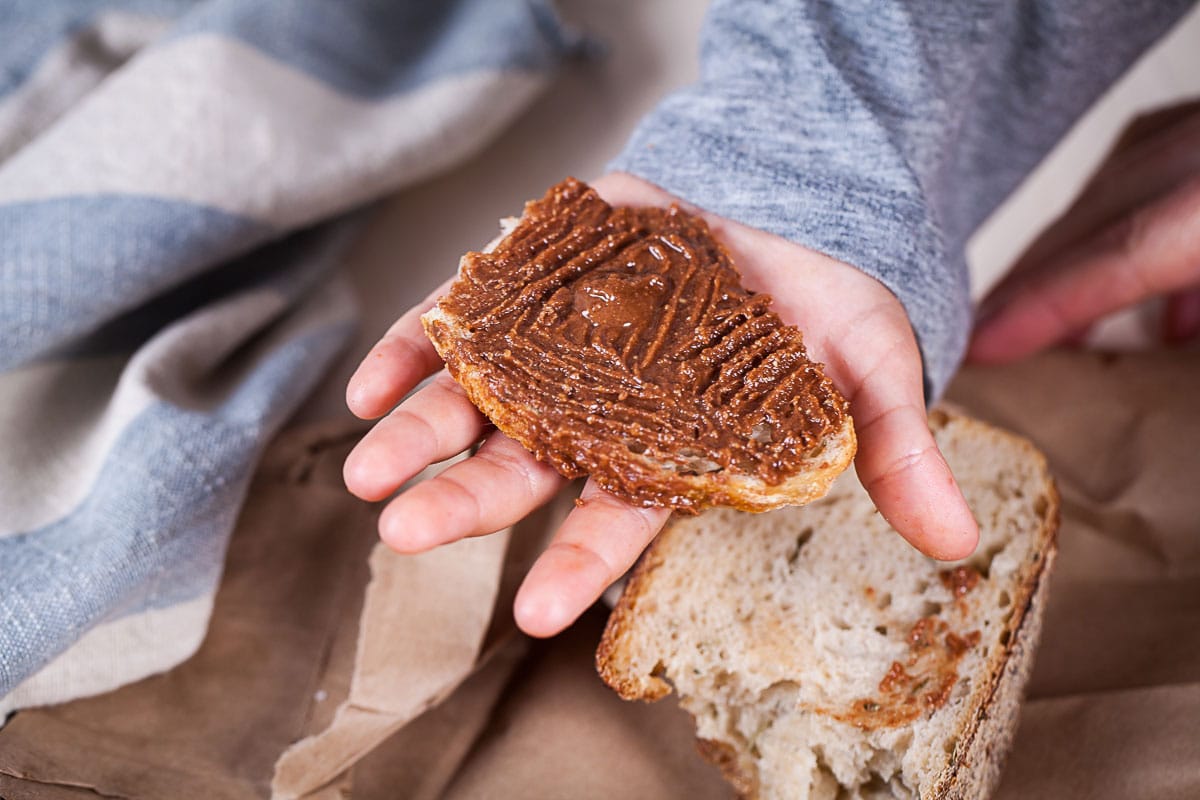 HOW TO MAKE AND STORE HOMEMADE PEANUT BUTTER - TIPS
Because this nut butter is so easy to make, I often prefer preparing a small fresh batch for the week instead of a large amount. The recipe gives you two cups of this peanut butter delight, definitely enough for up to two weeks.
Blending: Everything, except for the syrup, goes into the blender, and you'll see the nuts go through a few stages. It starts with a crumbly consistency, then as you keep going for 3 minutes, you'll get creamy goodness that might be good enough for you. Or keep going for two more minutes to make it softer and smoother—your choice.
Add extra virgin coconut oil: it helps increase the level of creaminess.
If you use a Vitamix blender: you have to push the nuts into the blades with your tamper. I usually rotate it and make sure that I get all the corners of the container. You kind of need to butcher the nuts at first, but this ungentle process is what releases their oils and start making everything creamy.
Storage: The peanut butter stays super creamy when stored in an airtight container at room temperature. It keeps well for up to one or two weeks. You can save it for longer in the fridge, but I have to admit that this nut butter becomes less creamy and hardens a little, although the flavor is still delicious.
OTHER NUT BUTTER DELIGHT RECIPES
Enjoy!
If you would like to subscribe, please feel free to do so. And don't forget to PIN this to your HEALTHY BREAKFAST BOARD and follow me on Pinterest to see what other fun things I share.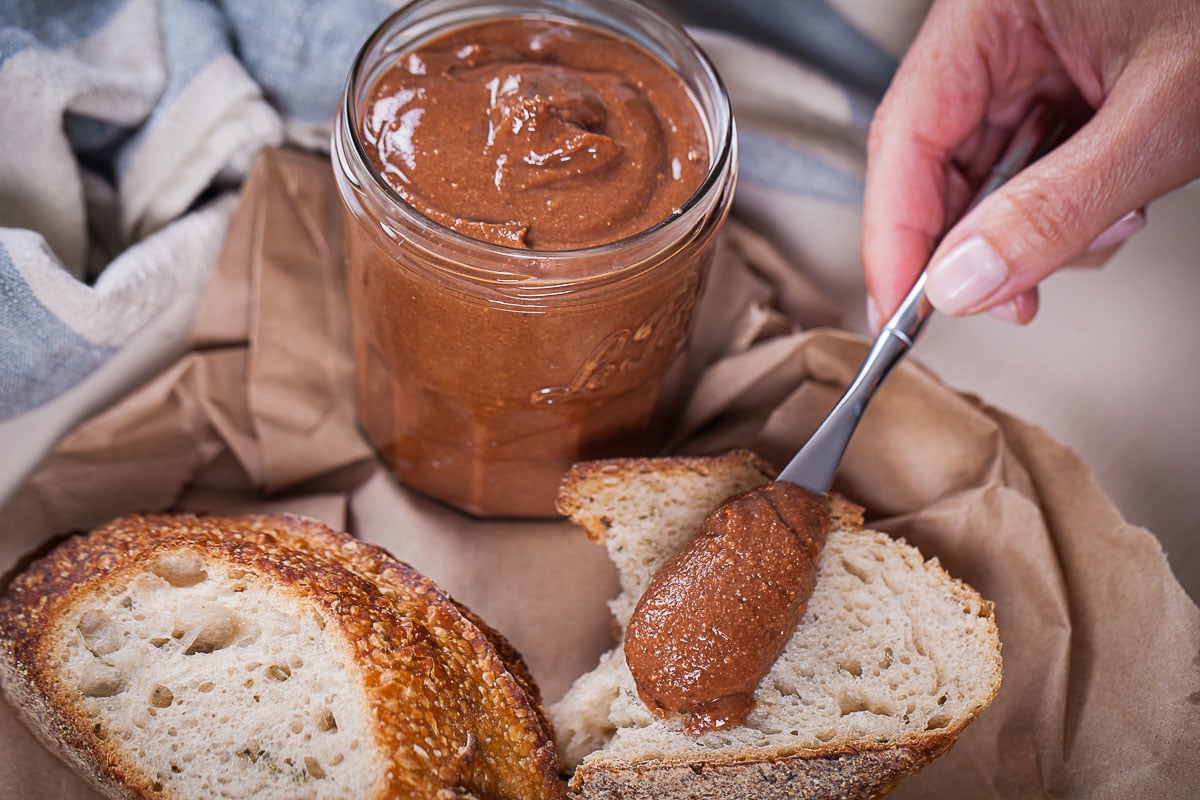 A CACAO-CINNAMON-VANILLA PEANUT BUTTER DELIGHT
This homemade Peanut Butter is a healthy "Nutella"-like mix with chocolate flavors and rich, warm cinnamon undertones—a holiday version of deliciously creamy and utterly irresistible peanut butter. Spread it on bread, use it to sweeten desserts, add flavor to chia puddings, or drizzle on pancakes or waffles!
Ingredients
3 cups dry roasted peanuts
¼ cup extra virgin coconut oil
3 tablespoons cacao powder
1 tablespoon cinnamon powder
1 teaspoon vanilla extract
1 teaspoon to one tablespoon raw agave (optional and based on preference)
Instructions
Place all the ingredients, except the agave, in a high-speed blender (like a Vitamix) or food processor. Start blending on the lowest speed setting and immediately switch to the highest speed setting. Blend everything until the mixture is creamy. If using a Vitamix, rotate the accelerator (tamper) tool to push the nuts and the rest of the ingredients down.
Transfer the creamy, brown nut butter to a medium-sized bowl. Add one tablespoon raw agave and stir until thoroughly combined.
Enjoy immediately or transfer to an airtight container/jar. Store at room temperature to keep the butter creamy. Best when consumed within two weeks.
Notes
Equipment needed: a powerful food processor or blender.
Recipe originally posted September 2017 but updated to include new information.