Sometimes you need a basic recipe like this hearty bok choy noodle soup to make your weeknight dinners as simple as possible. It's a warm, nourishing Turmeric spiced broth with fresh vegetables, healthy proteins, and noodles of your choice—my favorite is the gluten-free sweet potatoes and buckwheat noodles from King Soba.
And you can easily customize it by using vegetable broth instead of chicken broth, adding more veggies, maybe some leftover chicken, be more generous with Turmeric, or make it low carb with Shirataki noodles.
Once in a while, I'll make this soup for dinner, more often when I still have homemade chicken broth in the fridge, and I want to change things up with the leftovers. There are no obscure ingredients here. It's a simple and healthy noodle soup that's also easily customizable.
The Turmeric infused broth is light, nourishing, and incredibly hearty. I usually make it more substantial with hard-boiled eggs—optional, of course, and if it weren't for that, it would be a one-pot-meal. Or instead, stir in a beaten egg or two at the end for about a minute, creating a richer texture.
Noodles always go over well with my family, as do slurp-encouraged soups—it's supposed to help with the intensity of the broth's flavor, so I've read—and maybe that's why this simplified concoction of a bok choy noodle soup is a favorite here at home.
Notes on some Ingredients
Lemongrass—I usually find mine in my local Asian store. However, I am starting to see them pop up more often in large grocery stores. If you can find it, you only need one stalk of fresh lemongrass. Well, only a bit of that, remove the woody outer leaves and then grate or mince a small amount until you get about a tablespoon. The rest you can store tightly wrapped in the fridge for up to 10 days or freeze it for long-term storage or when you make your next bok choy noodle soup.
Baby Bok Choy—Depending on their size, you only need two or three pieces. Try to pick out the ones with firm white stalks and bright, crisp greens. When ready to prep them, remove and discard any parts or leaves that might have discolored in the fridge. No need to trim the bottom, but you can if you want to. I use every part of the bok choy in this noodle soup. Cut the small ones lengthwise in half and bigger vegetables in thirds. To clean them thoroughly, either swish them in a bowl of water and gently rub any dirt or debris that sits in between and on the leaves or rinse each piece under running water. Don't forget to check the base of the stalk where dirt usually collects.
Broth or stock—of course, it tastes best with a homemade chicken broth. And if you have some stored in the fridge or freezer, then this bok choy noodle soup is a great way of using it up. If you go for a store-bought broth, choose one that is minimally flavored with no tomatoes. And if you opt for a vegetable broth, you'll want a thin, watery, rather a bland-tasting one—never thought I would say this on the blog—of celery and onions so that you can control the flavors.
Green onions—you can chop them, but I keep them rather long and just cut them in half or thirds, which works best if you use chopsticks to eat the noodles and veggies—remember, you're slurping the broth or serve with a spoon on the side.
Pick your noodles
The noodles are thrown in the soup for about 5 to 6 minutes in the end together with the baby bok choy and green onions. I've made this before with
Brown or black rice noodles (gluten-free). They are ready in 5 minutes and keep a nice firm-tender consistency that works well in this soup.
But my favorite is the sweet potato and buckwheat noodles from King Soba. They also cook in 5 to 6 minutes, are incredibly tasty, and contain no wheat or gluten. Add them to the simmering broth, letting everything cook together until ready.
Or keep it low carb with shirataki noodles.
If you're going for dried sweet potato starch noodles (can be found in most Asian supermarkets), I suggest cooking them separately as they will suck up too much of the soup's liquid (in my experience). Then add them to the bowl and cover with the golden soup. They do create a nice thick and rich consistency.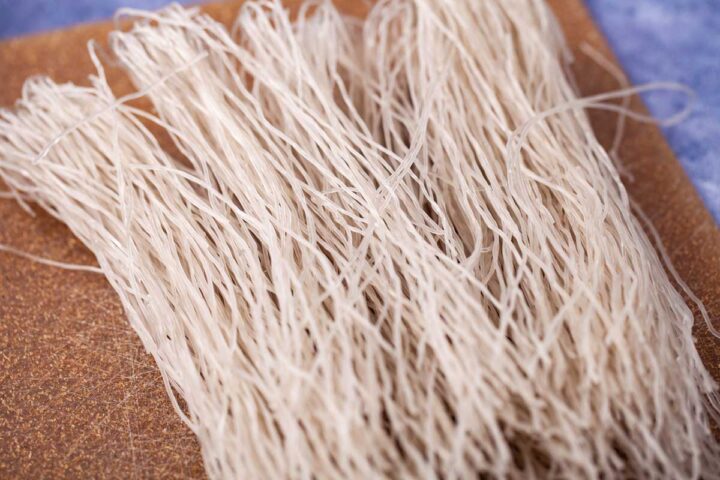 Simple spices
Olive oil or avocado oil—you only need a bit of healthy oil in the beginning to release the aroma of the lemongrass, ginger, and garlic.
Tamari gluten-free soy sauce (reduced sodium) or liquid aminos—a soy sauce gives this soup a rich taste. I would start with ¼ of a cup and then add more only if needed after a taste test. Having a bottle in the fridge is always handy for flavoring soups, meat dishes, or just adding an in-depth flavor in general.
Turmeric powder—I start with 2 teaspoons of ground turmeric, but you can go up to one tablespoon if preferred. This spice adds beautiful golden color to the broth, and it's warming and aromatic with slightly bitter undertones, creating a delicious hearty bok choy noodle soup.
Recipe Variations
Use additional quick-cook veggies: add spinach, kale, or frozen greens to make it a more vegetable-rich dish.
Make it vegan: Use vegetable stock and replace the egg with bits of tofu for extra protein.
Drizzle in a beaten egg or two: it gives the broth a thicker and creamier consistency.
This healthy bok choy soup is best served the same day and hot. Enjoy!
PIN IT for later! Don't forget to subscribe to my Monthly Newsletter!
Hearty Bok Choy Noodle Soup
A hearty and simple Baby Bok Choy noodle soup with a nourishing turmeric spiced broth, green onions, and topped with hard-boiled eggs.
Instructions
In a 5 QT soup pot, heat olive oil over medium heat.
Add the garlic, ginger, and lemongrass. Cook and stir for 1 minute (you should smell the lemongrass)—do not let it brown. Season with two teaspoons Tamari.
Stir in (homemade) chicken stock or broth and let it come to a steady simmer.
Add the noodles, baby bok choy, and green onions. Season with the rest of the Tamari and turmeric powder.
Cook for 5 to 6 minutes. Maintain a steady simmer, and don't let the soup come to a boil.
Taste test and add more Tamari or Turmeric powder if preferred.
Serve hot with either half or one full hard-boiled egg cut lengthwise in half (see note).
Garnish with toasted sesame seed.
Notes
How to boil eggs: Place eggs in a small saucepan and cover with water. Bring water to a full rolling boil over high heat, pot covered. Then turn off the heat and remove the pan from the stove. Let the eggs sit for 12 minutes. When time is up, drain the eggs and submerge them with cold tap water to cool the eggs in the same pan. You might have to refresh the water once over to sufficiently cool them or add ice cubes to the water. When cool enough to handle, roll the eggs softly to make multiple breaks in the shell to peel. Cut each hard-boiled egg lengthwise in half.
Nutrition Information:
Yield:

6
Serving Size:

1
Amount Per Serving:
Calories:

477
Total Fat:

20g
Saturated Fat:

5g
Unsaturated Fat:

12g
Cholesterol:

210mg
Sodium:

979mg
Carbohydrates:

39g
Fiber:

4g
Sugar:

4g
Protein:

35g
Disclaimer: This nutritional data is calculated using third party tools and is only intended as a reference.
This post was originally published in April 2017 and has been updated with an updated recipe, new pictures, and new information.