This bok choy soup recipe combines aromatic spices, flavorful seasoned ground pork, and rice noodles with a bountiful amount of tender bok choy to create the most delicious soup.
It's hearty, nourishing, gluten-free, dairy-free, and ready in less than 30 minutes. If you're looking for a soup full of healthy vegetables and tons of flavor, this is the one for you.
And for the bok choy lovers, check out this sweet and hearty roasted bok choy recipe.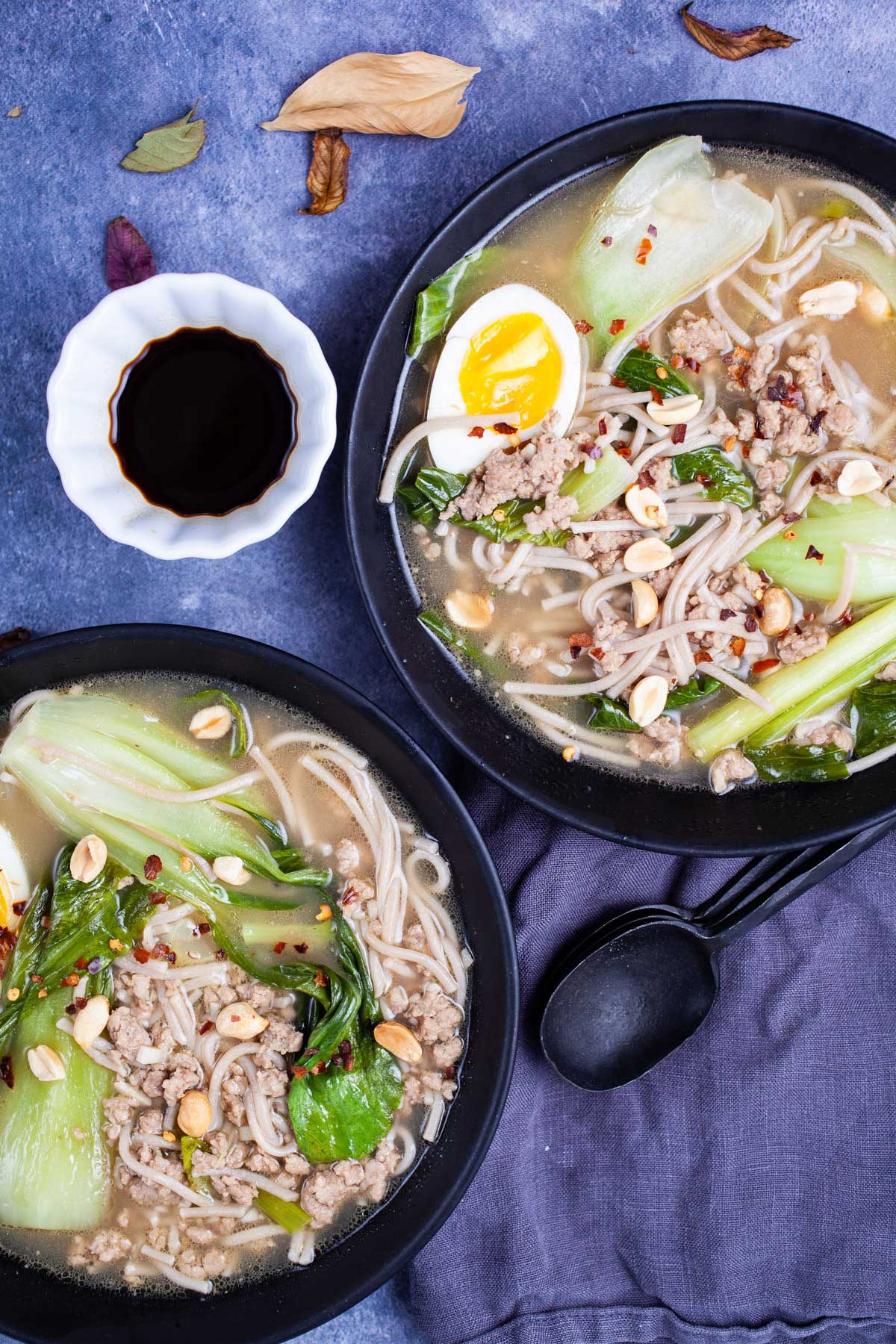 Bok choy is a type of Chinese cabbage that wilts beautifully into this sumptuous, comforting soup.
What I love most about this simple recipe is that it's incredibly easy to make.
This one-pot nutritious meal is also a fantastic way to sneak in some veggies and extra nutrients, as I do with my homemade vegetable soup, protein-rich pea soup, and butternut zucchini with rosemary soup.
The base of the soup is ginger, garlic, lemon zest, and store-bought or homemade chicken broth (your choice).
Each additional ingredient is then added and seasoned in layers in a large pot creating comforting flavors and one amazing hot soup.
Let's make it!
Jump to:
Why You'll Love This Bok Choy Soup
So incredibly easy - This soup takes nearly no time to prep, and it comes together quickly on the stovetop.
Comforting - It's like a warm hug in a bowl.
Great for so many occasions - Meal prep the base of this soup without the noodles, quickly put it together on a busy weeknight, or serve it as a starter for an at-home date night.
Ingredients & Notes
See the recipe card for full information on ingredients and quantities.
For the best bok choy soup, you'll need these simple ingredients that are easy to find at most local grocery stores or an Asian market.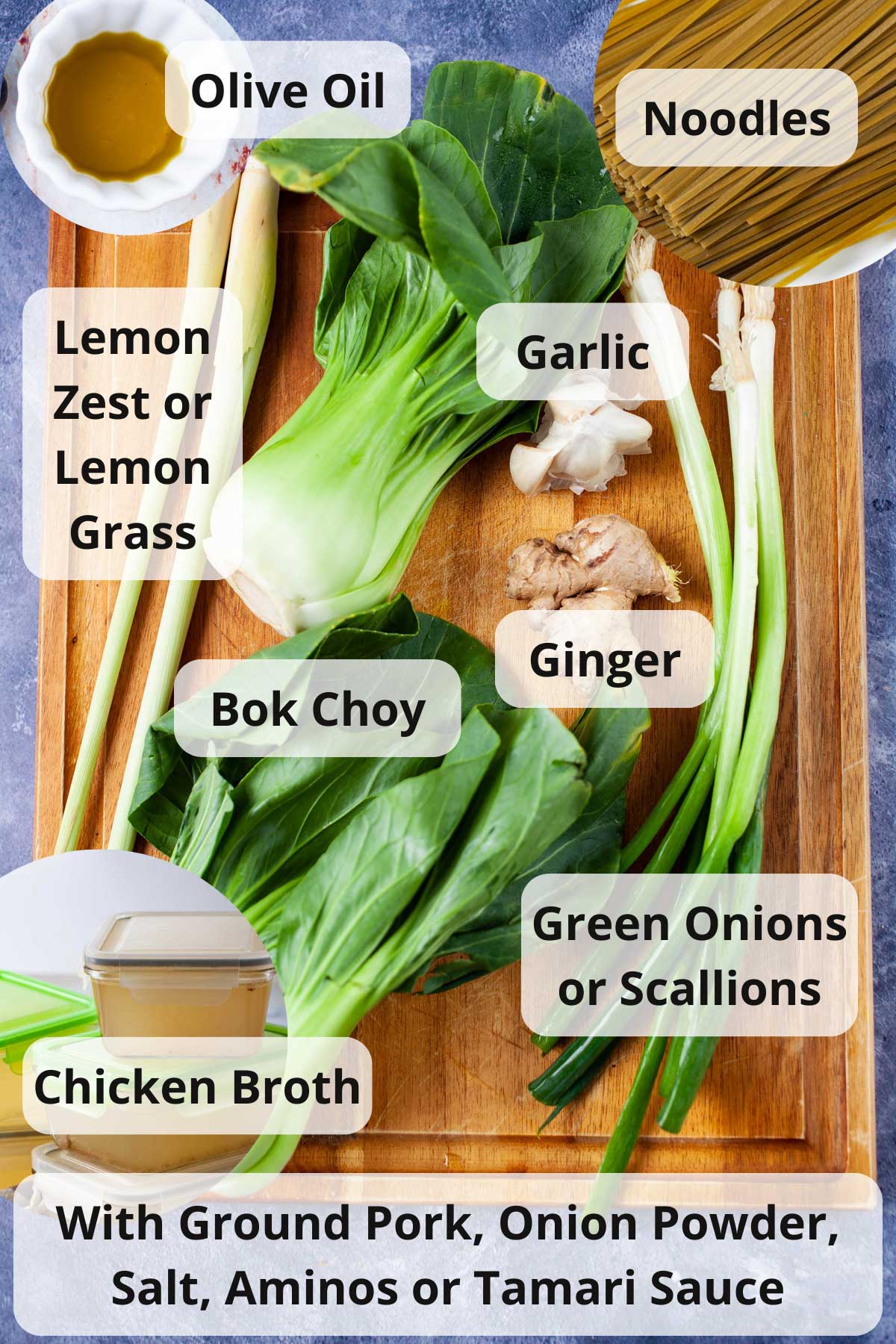 Ground pork: This meat cooks quickly and adds a savory, meaty flavor.
Olive oil: Use a high-quality variety. You can also substitute other neutral-flavored oils like avocado oil.
Garlic: Fresh garlic cloves lend their pleasantly pungent flavor to the base of the soup.
Grated fresh ginger: Ginger warmly spices up the soup.
Lemon zest: Adds a bright flavor to the base.
Coconut aminos: This gluten-free alternative to soy sauce adds umami flavor.
Chicken or vegetable stock/broth: Chicken broth imparts a rich, comforting flavor.
Rice or sweet potato noodles: Rice or sweet potato noodles are perfect for a gluten-free soup.
Baby bok choy: Fresh bok choy adds flavor, texture, and a pop of color to this hearty soup. Use this variety rather than mature bok choy for a subtle sweet flavor.
Green onions or scallions: Slice them into thirds or make quick work of prepping them by using kitchen shears.
Additional seasoning: Salt, black pepper, onion powder.
Additional add-ons: Hard-boiled eggs, roasted peanuts, and crushed red pepper flakes for garnish and for a touch of extra spice.
Step-By-Step-Instructions
See the full recipe with measurements in the recipe card.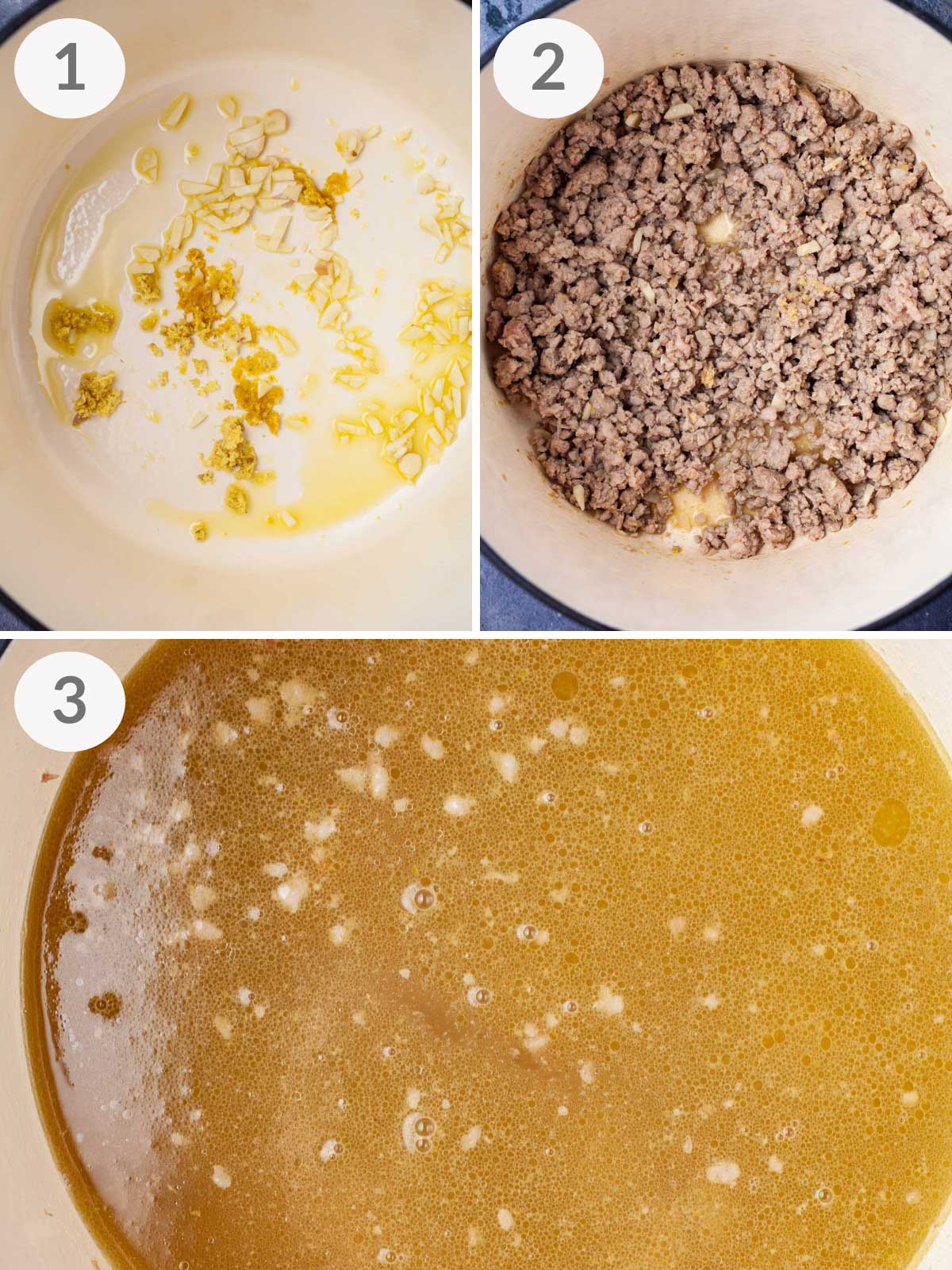 Step One (Picture 1 above) - Add garlic, ginger, and lemon zest to a large pot drizzled with olive oil over medium-high heat. Cook and stir until the garlic becomes fragrant.
Step Two (Picture 2 above) - Add the ground pork. Cook and stir briefly before adding salt and onion powder and breaking up the pork with a wooden spoon.
Step Three (Picture 3 above) - Once the pork is nearly finished cooking, add the chicken broth and season with coconut aminos or Tamari. Bring to a simmer.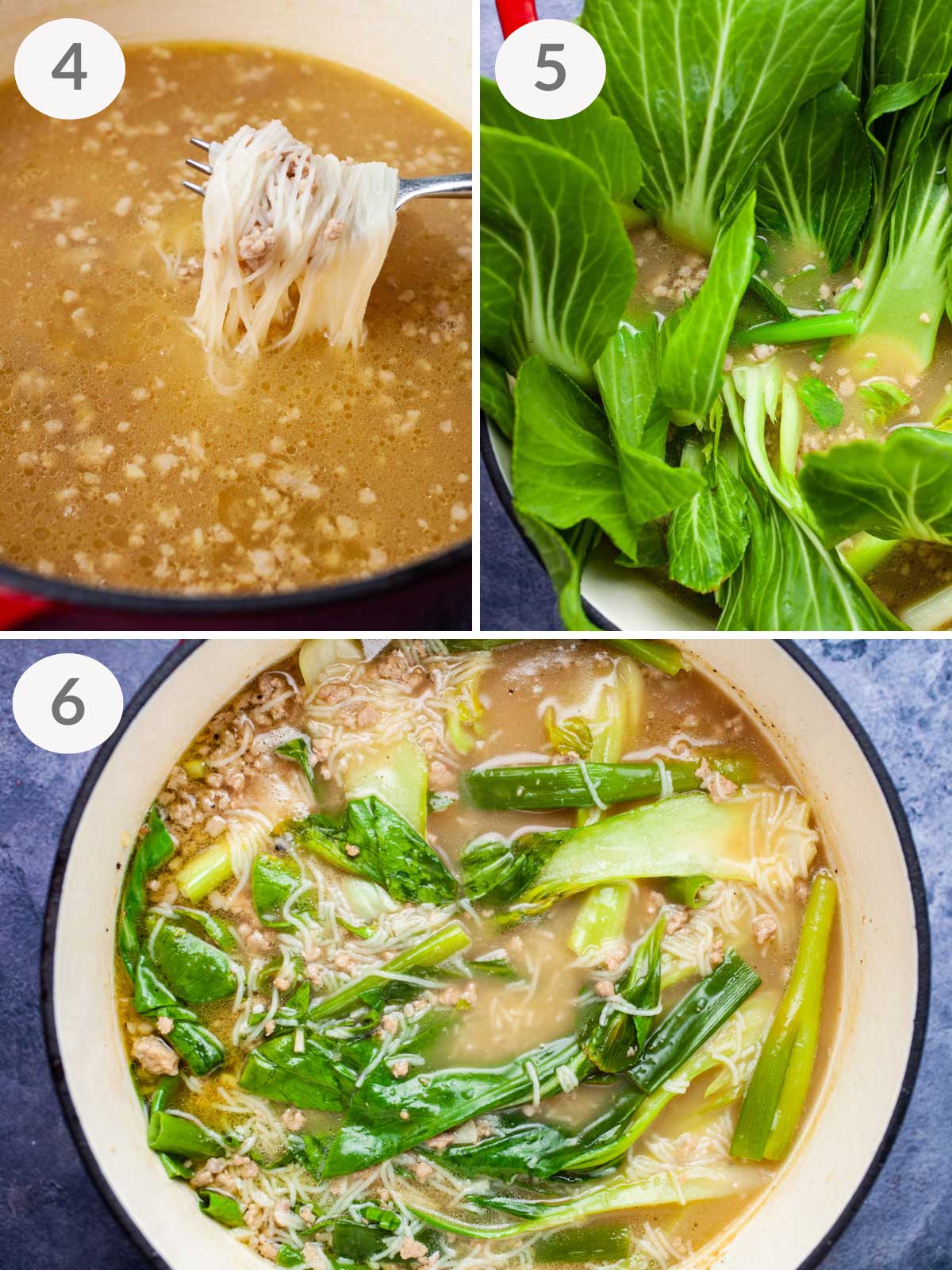 Step Four (Picture 4 above) - Add the noodles and cook briefly until almost ready (5 minutes).
Step Five (Picture 5 above) - Add onions and bok choy stems first and allow to cook briefly (2-3 minutes) before also submerging the bok choy leaves.
Step Six (Picture 6 above) - Season again with coconut aminos or Tamari, salt, and royally with black pepper.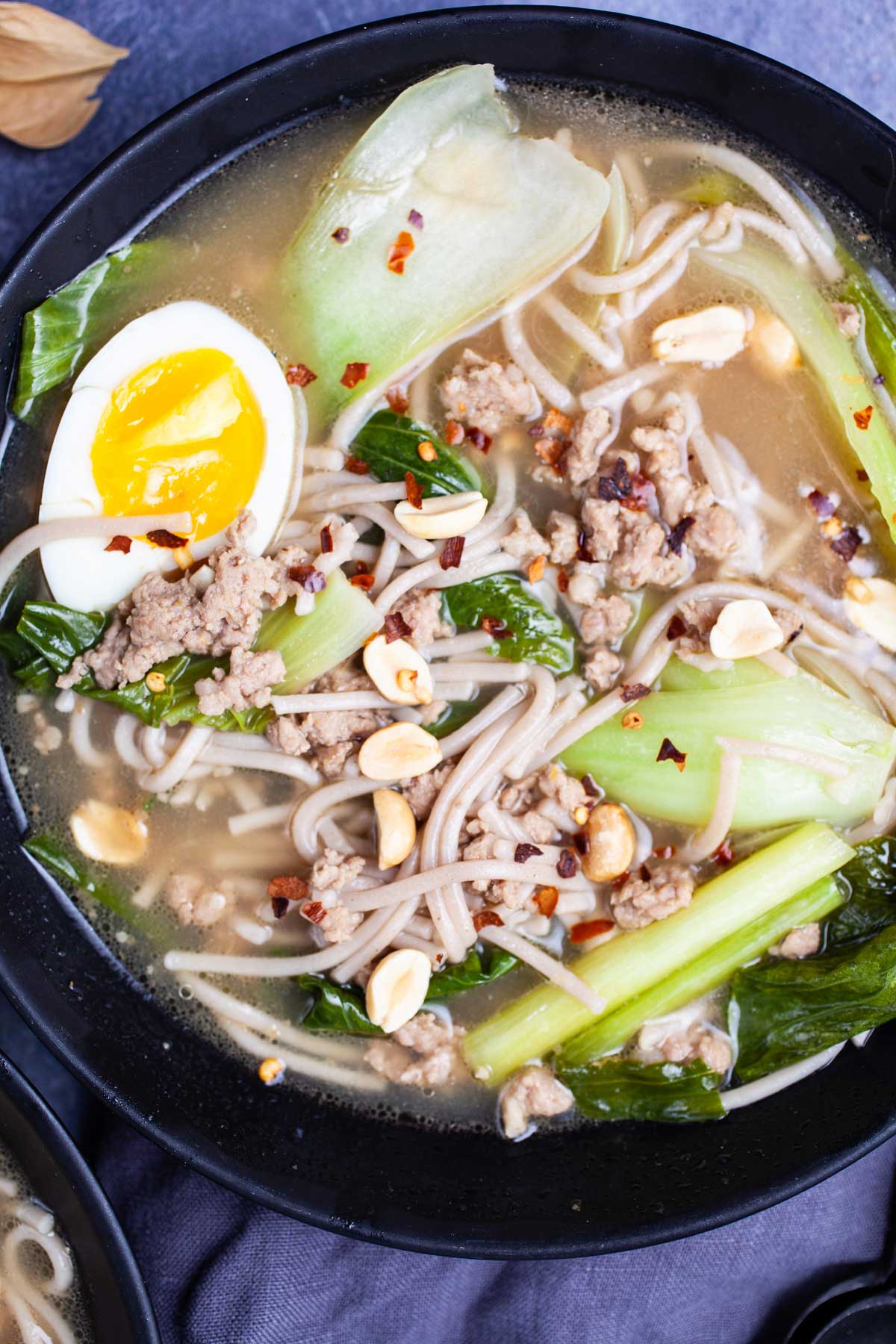 Garnish with peanuts, boiled egg, and crushed red pepper flakes before serving.
Substitutions
Flavorful broth: While (homemade) chicken broth lends its signature flavor to the soup, bone broth or vegetable broth are great alternatives.
Oil: Avocado is another healthy option that is a neutral-flavored oil if you want to substitute it for olive oil.
Noodles: You can substitute any noodles, from cauliflower or lentil-based varieties to shirataki noodles, soba noodles, udon noodles, or ramen noodles, depending on your dietary preferences. Be sure to pay close attention to package directions to achieve the desired consistency.
Lemon Zest: Lemongrass is a great alternative.
Coconut aminos: While the recipe calls for coconut or liquid aminos, you can use Tamari or gluten-free soy sauce if on hand or preferred.
Meat: Substitute ground beef, ground turkey, ground chicken, or your favorite plant-based alternative. Or throw in cooked shredded chicken from your meal prep.
Garnish: Sprinkle sesame seeds or drizzle with your favorite chili oil or oyster sauce to switch things up. 
Variations
This bok choy soup is easy to customize, and here are a few ideas:
Vegetables: Add other veggies that cook quickly in soup. Leafy greens like spinach and kale are a good option, or you can add shiitake mushrooms, a frozen vegetable blend, or your favorite vegetables to add more plant-based nutrients.
Vegan: Easily transform this into a vegan or vegetarian bok choy soup by using vegetable stock and omitting the meat and egg. For extra protein, substitute tofu for the egg and a meat alternative for the pork.
Creaminess: For a thick, rich broth, whisk a beaten egg into the soup.
Heat: Add some spiciness with chili paste or your favorite spice. I love sprinkling crushed red chili pepper flakes at the end.
Recipe FAQs
How to store bok choy soup?
Store bok choy soup for up to 3 days in an airtight container in the refrigerator.

You can also freeze it in a freezer-safe container for up to 3 months. I suggest cooking the noodles separately and adding them when you're ready to enjoy.

Otherwise, the noodles will drink up the broth. Reheat the soup in a pot on the stove.
How to clean bok choy?
Make sure your bok choy is clean by swishing it in a large bowl or pitcher of water.

Then thoroughly rinse under the faucet while checking for any remaining dirt in between the leaves.
What is the difference between bok choy and baby bok choy?
These two are both related -- the only difference is age.

Baby bok choy is not full-grown, and it tends to be sweeter than its full-size bok choy counterpart.
More Soup Recipes You Might Like
This healthy bok choy soup is best served hot. Enjoy!
---
Don't forget to subscribe to my Monthly Newsletter!
Your shares and ratings are valuable to me and so much appreciated. It'll help me create more content you and others can enjoy!
---
📖 Recipe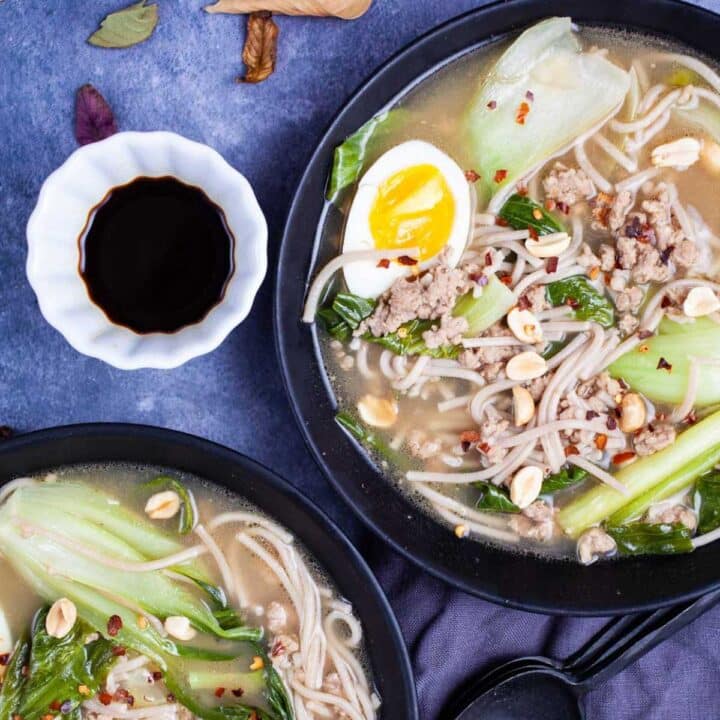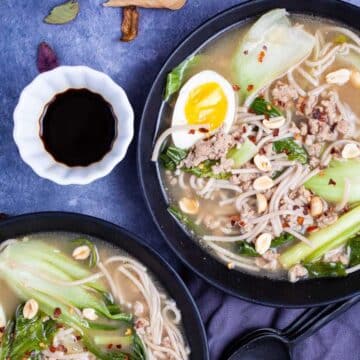 Easy Ginger Bok Choy Noodle Soup With Pork
Mariska Ramondino
This hearty and easy Ginger Bok Choy Noodle Soup with Pork is a nourishing blend of vibrant bok choy, green onions, spicy and zesty seasoning, comforting noodles and hard-boiled eggs for garnish all in one bowl.
Instructions
In a 5 QT soup pot, heat olive oil over medium heat. Spread the oil over the surface of the pan.

Add the garlic, ginger, and lemon zest. Cook and stir for 1 minute—do not let it brown.

3 cloves garlic,

½ tablespoon minced or grated fresh ginger,

½ teaspoon lemon zest

Stir in the ground pork. Cook and stir for 5 minutes, breaking down the meat with a wooden spoon. The meat should be almost fully cooked.

1 pound (454 grams) ground pork

Season with ½ teaspoon salt and onion powder.

Pour in (homemade) chicken stock or broth. Cover the pot and let the liquid come to a steady simmer—season with 2 tablespoons coconut aminos.

2 (32 ounces/ 946 grams) cartons chicken or bone broth

When the broth has come to a steady simmer, add the noodles. Cook for 5 minutes, separating and sticky noodles with a fork.

1 (8 ounces/227 grams) pack rice noodles, Soba noodles, or Buckwheat sweet potato noodles (see note)

Maintain a steady simmer, and don't let the soup come to a boil.

With a few minutes left until the noodles are done cooking (usually 7 minutes), add the bok choy and green onions.

2 large heads baby bok choy (15 ounces/425 grams),

5 to 6 scallions or green onions, cut in thirds

Submerge the roots of the bok choy first, with the leaves sticking out. Then about 3 minutes in, submerge the leaves into the soup and cook for 1 to 2 minutes more.

Season with 1 tablespoon coconut amino, ½ teaspoon salt, and royally with black pepper. Taste test and add more seasoning as desired.

Pour into your favorite bowl and serve hot with either half or one full hard-boiled egg cut lengthwise in half, roasted peanuts, and crushed red chili pepper flakes, if desired.
Notes
How to boil eggs: Place eggs in a small saucepan and cover with water. Bring water to a full rolling boil over high heat, pot covered. Then turn off the heat and remove the pan from the stove. Let the eggs sit for 12 minutes. When time is up, drain the eggs and submerge them in cold tap water to cool them in the same pan. You might have to refresh the water once to cool them or add ice cubes. Roll the eggs softly when cool enough to handle, and make multiple breaks in the shell to peel. Cut each hard-boiled egg lengthwise in half.
Notes on Broth: My Crock Pot bone broth or Homemade chicken broth imparts a rich, comforting flavor to this soup recipe. If you find yourself with leftover broth or are curious about other ways to use it, check out these homemade recipes using chicken broth. 
Notes on Noodles:
Brown or black rice noodles (gluten-free). They are ready in 7 minutes and keep a nice firm-tender consistency that works well in this soup.
But my favorite is the sweet potato and buckwheat noodles from King Soba. They cook in 5 to 6 minutes, are incredibly tasty, and contain no wheat or gluten. Choose your favorite.
Or keep it low-carb with shirataki noodles.
If you're going for dried sweet potato starch noodles (found in most Asian supermarkets), I suggest cooking them separately as they will suck up too much of the soup's liquid (in my experience). Then add them to the bowl and cover with the golden soup. They do create a nice thick and rich consistency.
Storage:
Store bok choy soup for up to 3 days in an airtight container in the refrigerator.
You can also freeze it in a freezer-safe container for up to 3 months. I suggest freezing the broth without the noodles and bok choy to maintain the best texture.
Make enough noodles and bok choy to enjoy the soup in one or two settings. Then freeze any leftover soup broth.
When ready to enjoy, reheat the soup in a pot over the stove and add the desired amount of noodles and fresh bok choy.
Add your own private notes
Whenever you come back to this recipe, you'll be able to see your notes.
Nutrition (% Daily value)
Calories:
309
kcal
(15%)
Carbohydrates:
10
g
(3%)
Protein:
20
g
(40%)
Fat:
22
g
(34%)
Saturated Fat:
7
g
(44%)
Polyunsaturated Fat:
2
g
Monounsaturated Fat:
10
g
Cholesterol:
148
mg
(49%)
Sodium:
816
mg
(35%)
Potassium:
994
mg
(28%)
Fiber:
3
g
(13%)
Sugar:
4
g
(4%)
Vitamin A:
12746
IU
(255%)
Vitamin C:
129
mg
(156%)
Calcium:
329
mg
(33%)
Iron:
3
mg
(17%)
Disclaimer: This nutritional data is calculated using third party tools and is only intended as a reference.