This beautiful Butternut Squash-Zucchini soup is hearty, healthy, and incredibly easy to make. Simple ingredients come nicely together to create a creamy vegetable soup that is filling enough to serve as a full meal. Offer it in cute small bowls that contrast the beautiful yellowish fall color, and you have an excellent appetizer for big family gatherings.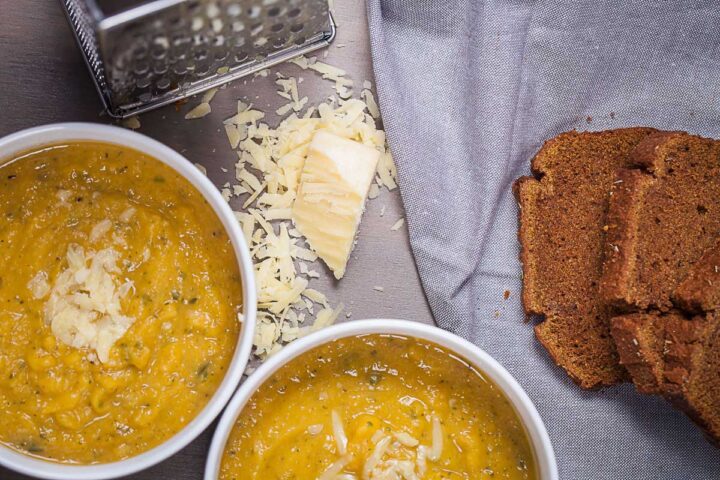 This Butternut squash-zucchini soup proves that simple ingredients can make savory comfort food.
It's the perfect balance of naturally sweet and hearty flavors, while olive oil, aromatic garlic, rosemary, and Parmesan cheese (optional) add a delicious Italian touch.
I love making a big batch of this fall soup because it is incredibly easy to make on the stovetop, and any leftovers taste even better the next day.
There is no need for a lot of seasoning either. The trick is to saute the vegetables for a few minutes in olive oil to allow their natural flavors to come together before adding any liquid.
Cooked Cannellini beans are added at the end as a source of protein and to add an extra creamy consistency.
Note: beans are often a favorite non-meat source of proteins. However, beans contain levels of lectins that can cause digestive issues when not correctly soaked or cooked. If you try to avoid lectins, you can pressure-cook beans at home to inactivate them. But if you still want to enjoy the ease of using canned beans, buy a brand like EDEN. They soak, rinse, and pressure-cook specific bean varieties.
Simple Ingredients
This wholesome dish contains simple ingredients.
Butternut squash and zucchini are a perfect match in this vegetable soup and add a naturally sweet taste.
While cannellini beans offer a good source of protein, they are fiber-rich and don't add a lot of extra calories.
Try using olive oil to make the base of this soup. It makes all the difference.
The aroma of garlic and the lovely fragrant of Rosemary further balance the sweet veggie flavors and make this soup incredibly hearty.
You only need water as a liquid, and everything is flavored with salt and pepper.
This beautiful soup is quite thick in texture, which I love. But if you prefer a thinner consistency, then add an extra cup of water then the suggested amount.
Make sure, though, to always taste the broth and add any additional seasoning if preferred.
The Butternut Squash-Zucchini Soup offers sweet and savory Autumn flavors, with a creamy texture that is both comforting and satisfying!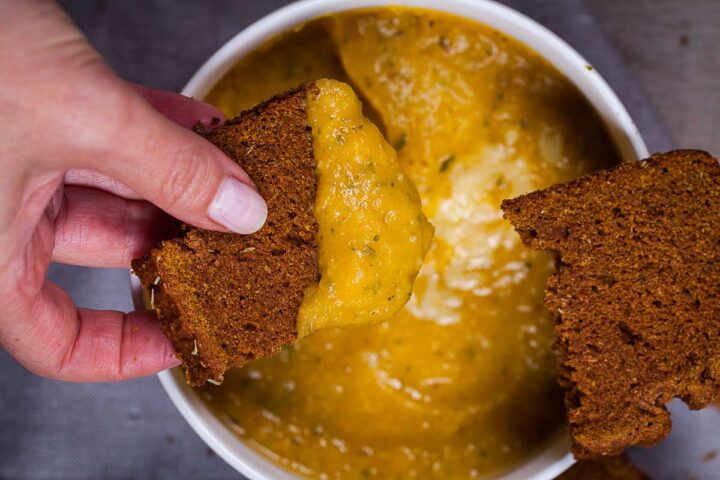 SOUP SERVING SUGGESTIONS
It makes an easy meal during the week, especially because you can quickly reheat this soup the next day either for lunch or dinner.
But I have also offered it during special occasions or the Holiday season by serving it in beautiful small bowls as an appetizer or starter dish.
It's filling enough and terrific on its own. But I often enjoy it with freshly grated Parmesan cheese (omit if you like to keep it vegan-friendly.) I love the sweet taste and nuttiness of this cheese.
Another great option— and similar in texture like cheddar— is Kerrygold Dubliner cheese. It adds incredible flavor to this recipe and is much cheaper than a Parmesan cheese. You can get it in almost any store, even at Target.
Change it up with a different type of garnish:
Toasted pumpkin seeds or nuts (like chopped Brazilian or Macadamia nuts)
A dollop of (dairy-free) sour cream
Extra freshly ground black pepper
Or stir in a handful of freshly chopped parsley or spinach leaves when reheating the soup the next day and simmer for a couple of minutes.
Sometimes, I mix in homemade leftover bone or vegetable broth (to keep it vegan-friendly), which makes it a little thinner but adds extra minerals.
These are just a few suggestions!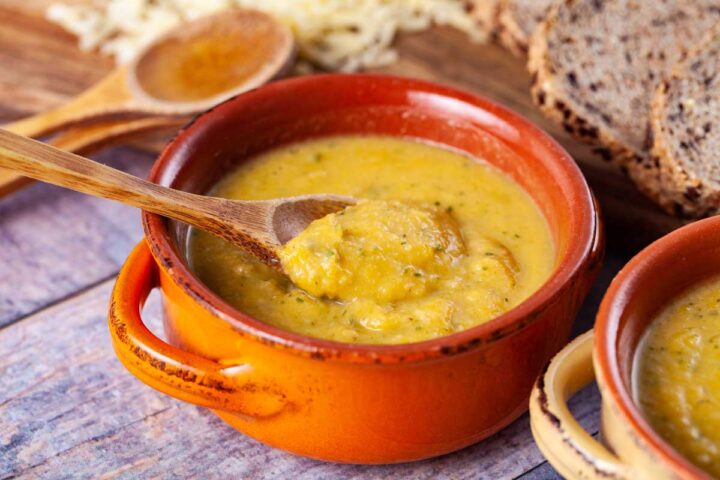 Leftover Soup
It is so easy to reheat a cup of this soup for lunch or light dinner during the week and pair it with a quick salad or farmer's bread.
You can also freeze it in individual portions and defrost overnight or reheat directly from frozen for those lazy days too.
Also perfect on nights when there is nothing edible in the house.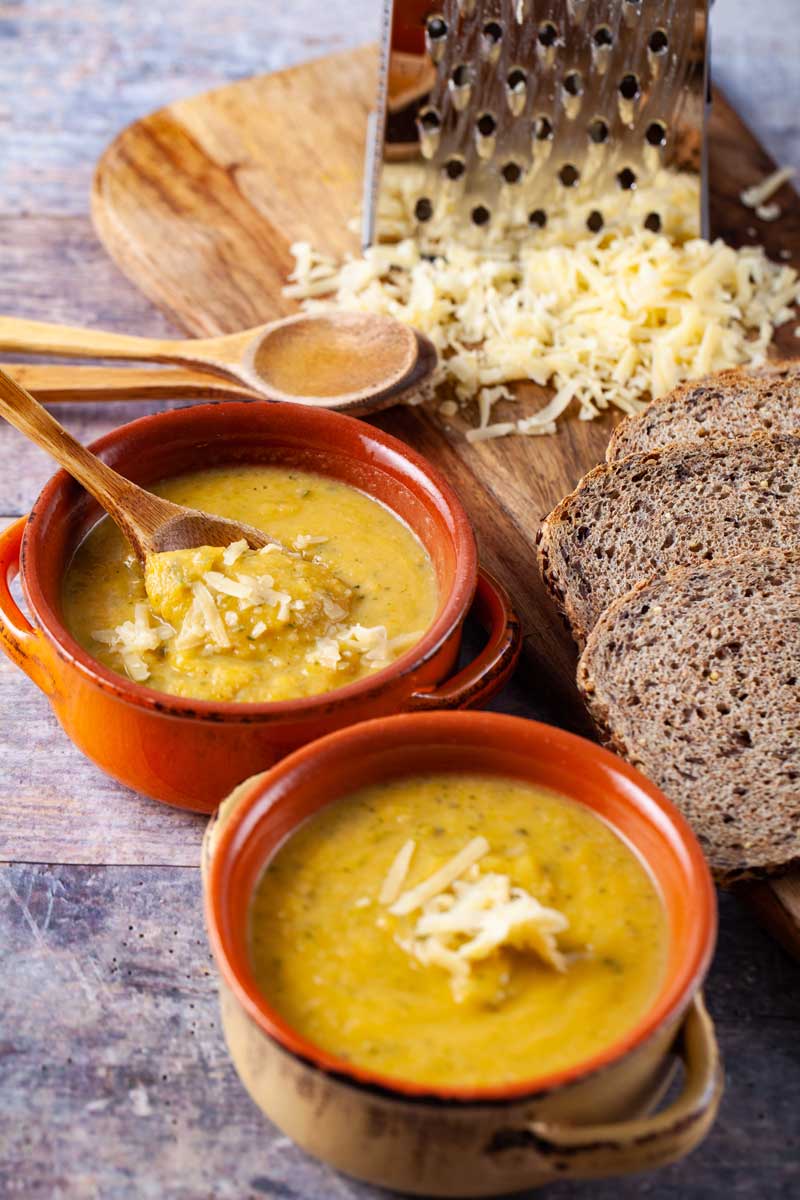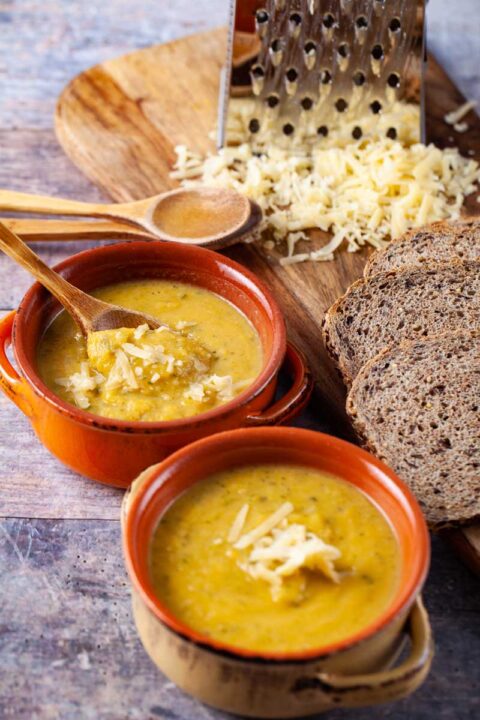 Enjoy! I hope you will love it as much as my family does.
MORE SOUP INSPIRATIONS
Sharing is caring, so don't forget to PIN IT! Always love to hear if you tried out this recipe and if it worked for you. Don't forget to subscribe to my Monthly Newsletter!
And if you make it, make sure to tag your photos with #mychefsapron on Instagram so that I can see your creations!
📖 Recipe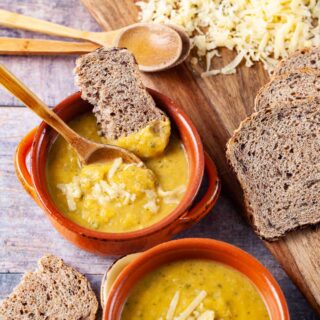 Healthy Butternut Squash, Zucchini and Rosemary Soup
Mariska Ramondino
Hearty butternut squash and zucchini soup recipe with Rosemary, garlic, and cannellini beans. Deliciously creamy, healthy, and filling! A perfect hearty soup recipe for dinner!
Ingredients
3

tablespoons

olive oil

3

cloves

garlic

chopped

5

cups

peeled and cubed Butternut squash

about 1 ½ pounds or 650 grams

5

cups

packed cubed unpeeled zucchini

about 1 pound or 500 grams, ends removed

Salt and pepper

1

tablespoon

dried Rosemary

2

cups

fresh water

1

can

cannellini beans, no salt added

13.4 ounces or 380 grams

1

cup

grated aged hard cheese

plus more to garnish (optional)
Instructions
In a 5 to 6 QT pot, add olive oil and heat over medium heat.

Add garlic—cook and stir for ten seconds to release its aroma.

Stir in the vegetables. Season royally with salt, pepper, and one tablespoon of dried Rosemary. Cook and frequently stir for 5 minutes.

Pour in the water (the water should barely cover the vegetables). Cover the pot and bring to a steady simmer. Simmer for 20 minutes and stir on occasion. You might have to lower the heat to maintain a simmer and prevent the liquid from boiling.

Stir in the beans and continue to simmer for another 5 minutes or until the squash is soft. Taste the broth and season with more salt or pepper, if needed.

Remove the pot from the stove and stir in the cheese until completely melted into the soup. With a hand mixer, puree the vegetables until you get a beautiful yellow-orange soup. Serve with extra grated cheese.
Notes
You can also use a blender to puree the soup.
In that case, allow the soup to cool for a few minutes before blending.
And never fill the blender more than halfway with hot soup.
So you'll have to work in batches.
Cover the blender with a folded towel and hold it down while blending
Repeat with remaining soup
Reheat if necessary.
Add your own private notes
Whenever you come back to this recipe, you'll be able to see your notes.
Nutrition (% Daily value)
Serving:
1
cup
Calories:
213
kcal
(11%)
Carbohydrates:
25
g
(8%)
Protein:
10
g
(20%)
Fat:
9
g
(14%)
Saturated Fat:
3
g
(19%)
Polyunsaturated Fat:
1
g
Monounsaturated Fat:
5
g
Cholesterol:
9
mg
(3%)
Sodium:
216
mg
(9%)
Potassium:
778
mg
(22%)
Fiber:
5
g
(21%)
Sugar:
4
g
(4%)
Vitamin A:
9562
IU
(191%)
Vitamin C:
33
mg
(40%)
Calcium:
250
mg
(25%)
Iron:
3
mg
(17%)
Disclaimer: This nutritional data is calculated using third party tools and is only intended as a reference.