This healthy, hearty vegetable soup is not only easy to make, but it is also so good for you. It is loaded with healthy vegetables, and the potatoes make this a satisfying comfort bowl that you can quickly turn into a full meal. Leftovers pack great for lunch or reheat whenever you need a quick, nutritious meal during the week. Let's make some soup!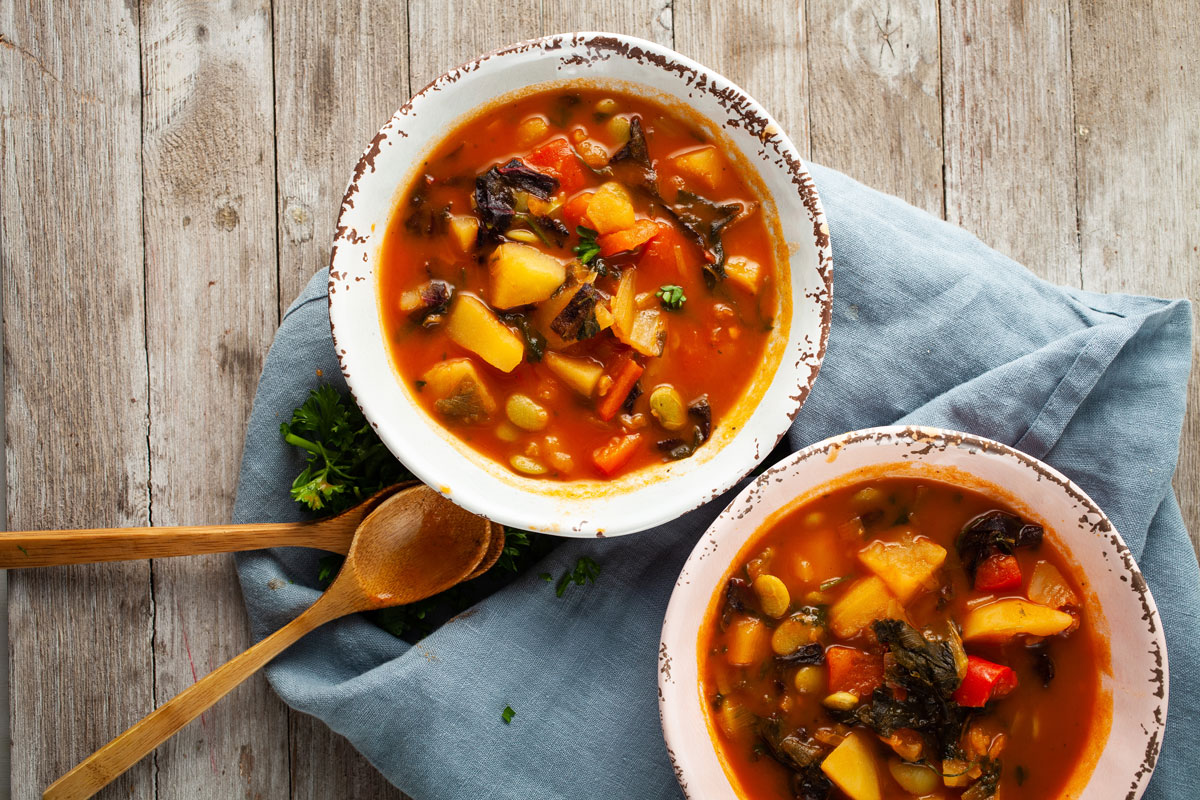 There is nothing more comforting than making a nourishing warm soup on a cold day—especially when everything goes into one pot, and the flavors of the vegetables work well together.
This healthy, hearty vegetable soup recipe is a mix between my aunt's Italian vegetable Minestrone and my secret love for potatoes—well, I grew up in Belgium where you can't escape this root vegetable.
This soup is also vegan, unless—and I highly recommend this—you sprinkle some Parmesan cheese on top, which, aside from the Italian flavor, also thickens this dish.
But no cheese is needed to savor this hearty pottage. So let's talk about ingredients and flavors!
How to make this vegetable soup from scratch—notes
Develop the flavors:
As my aunt used to say, a pivotal step to a good vegetable soup is to cook the main vegetables in olive oil first, which releases their individual flavors before adding any liquid.
For this dish, the potatoes will also release some of their starches in the olive oil and slightly thicken the soup—this recipe contains no flour and is gluten-free.
Go for raw red or new potatoes:
Because they will keep a firm bite, contain fewer starches, and don't overpower the rest of the ingredients like Russet potatoes can do.
Dice up the vegetables:
Yep, the veggies will be nice and chunky, but you want them on the small side because the texture is as important as taste.
Simmer, don't boil the soup:
When you add the liquid, you want to bring it up to and maintain a steady simmer and not boil it. The liquid will otherwise evaporate too quickly, and you will also lose the opportunity to let the ingredients build their unique flavors—a good simmer creates one tasty soup.
Layer the seasoning:
I like to add a few pinches of salt in the beginning and then add the black pepper and white onion powder at the end when I can taste the soup.
It is a personal preference, but if you follow the recipe, don't be too heavy with the salt from the start. A few pinches here and there are enough to build up the flavors. You can always add more salt later when you get the chance to taste-test.
Leave the Swiss Chard and Parsley til the end:
These healthy veggies will fill your bowl with beautiful colors, and they taste amazing in this soup, but they need minimal cooking time. The chard only needs about 5 to 7 minutes (with stems) while I throw in the parsley last minute to add its pleasant aroma.
And yep, I use both the chard leaves and stems. They go into this soup finely chopped.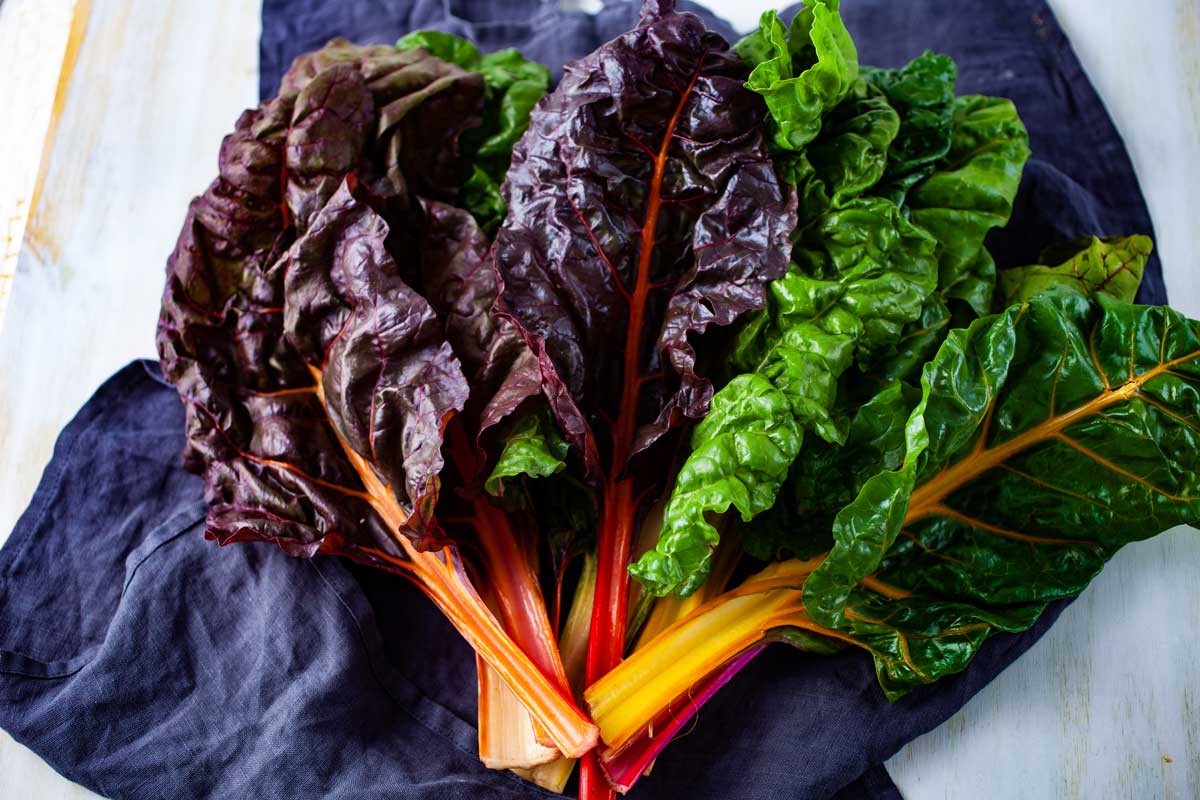 A few extra notes and tips
Vegetable broth: for this recipe, I use store-bought stock. But not all are made equal. Avoid the ones with cane sugar or extra additives. You want the core ingredients to be...well, veggies and herbs so you can control the soup's flavors.
Tomato Paste: the same goes for tomato paste. Choose one with no salt or other additives added as it will affect the taste of your soup. I prefer the Bionaturae. Their tomato paste is as good as it gets without making it yourself. They are also affordable and come in glass containers.
Make it for dinner
This is such a filling dish that I served it more than once for dinner. Especially on weeknights when I have little time to prepare a full meal. Here are some sides I like to pair it with: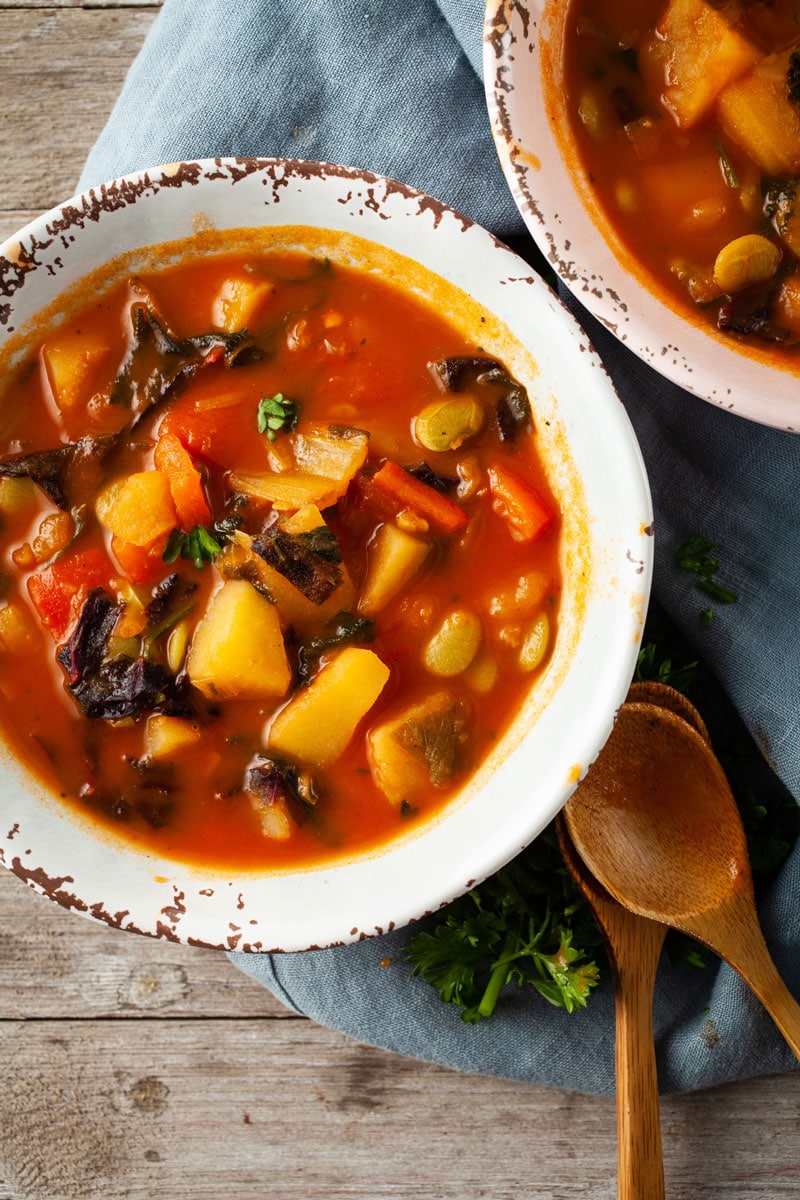 Storing tips
I store cooled leftover vegetable soup into individual airtight glass containers. It lasts at least for up to 3 to 4 days in the fridge. Reheat it directly on the stove over low heat. I use a stainless steel thermos to pack reheated soup for (school) lunch.
Other soup or stew dishes you might like
Try also my Butternut-squash Zucchini and Rosemary Soup. It is incredibly hearty, deliciously filling, and super easy to make.
Love potato stews? Then I suggest this hearty and gluten-free vegetable stew recipe (vegan). It's beautifully seasoned, contains tons of vegetables like butternut squash, asparagus, onion, and spinach. And it all comes together in one pot over the stove.
Other favorites are this Healthy Carrot Shallot Soup with fresh Parsley, the protein-rich pea soup, and the Red Kuri Squash Soup.
Time to make this hearty soup
Make this easy homemade vegetable soup or PIN it to the Soups & Stews Board for later! Don't forget to subscribe to my Monthly Newsletter. Enjoy!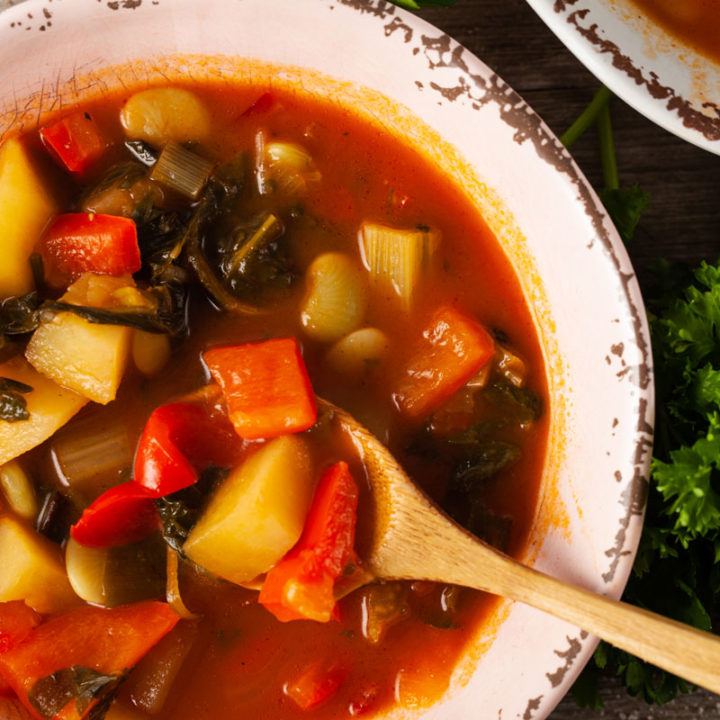 HOMEMADE VEGETABLE SOUP (HEARTY & HEALTHY)
An easy homemade vegetable soup that is healthy, hearty, and full of healthy vegetables. It is also incredibly filling, perfect for lunch or dinner paired with farmer's bread or a salad on the side.
Ingredients
3 tablespoons olive oil
3 scallions or spring onions, stem ends removed and chopped
1 ½ pounds (640 grams) red potatoes, peeled and cut into small ¾-inch chunks
1 red bell pepper, chopped
2 cups water
1 ½ cups frozen baby lima beans
5 large rainbow chard leaves and stems, finely chopped (about half of a bunch)
1 cup chopped fresh Parsley
Salt and Pepper
Instructions
Heat the olive oil in a large pot over medium heat. Add the onions and a pinch of salt. Cook and stir for one minute to release their aroma. Stir in the potatoes, bell pepper and a few pinches of salt. Continue to cook for 5 minutes more, stirring frequently.
Add the vegetable broth, water, the tomato paste, and the lima beans. Cover the pot and increase the heat to high to bring to a steady simmer. Once simmering, reduce the heat back to medium, partially cover the pot and cook the vegetables for 20 minutes or until the potatoes are just tender.
Stir in the chard and season to taste with salt, pepper, and white onion powder. Cook for 6 to 7 minutes, stirring occasionally. At this point, the lima beans should be soft too.
Add the parsley and cook for one more minute. Remove from heat and Serve!
Notes
Equipment: a 6-quart (5.6 L) stockpot with lid.
Nutrition Information:
Yield:

6
Serving Size:

1
Amount Per Serving:
Calories:

191
Total Fat:

7g
Saturated Fat:

1g
Unsaturated Fat:

6g
Sodium:

445mg
Carbohydrates:

27g
Fiber:

7g
Sugar:

4g
Protein:

7g
Disclaimer: This nutritional data is calculated using third party tools and is only intended as a reference.