Make this hearty vegetable stew that is beautifully seasoned and contains tons of vegetables like butternut squash, asparagus, onion, and spinach. Starchy potatoes and plant milk make this dinner creamy and incredibly satisfying. It is a perfect meal for colder winter evenings!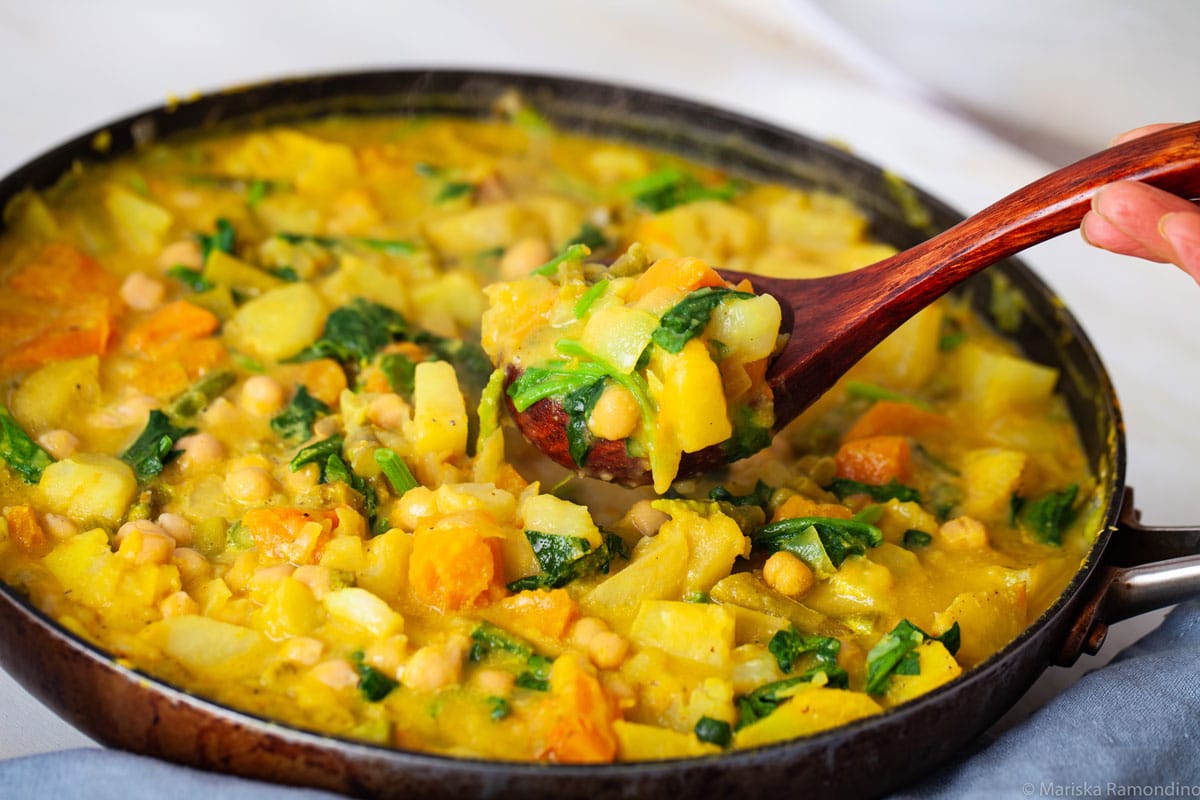 I love this plant-based stew, and it is a favorite with my family, as well. It all deliciously comes together in one large skillet while building up the flavors—a satisfying dinner. If you have any leftovers, it even tastes great the next day. Just quickly reheat over low heat or in the microwave. Take it for lunch at work or pack it in a soup container for your kids at school.
What I love most about these types of stews is that you can easily customize the recipe with ingredients you have in your fridge and with seasonings you have on hand. There is not a lot of measuring and weighing either. And the more you make it, the faster this dish comes together. So, let's have a look at what makes this stew incredibly delicious and how to substitute certain ingredients.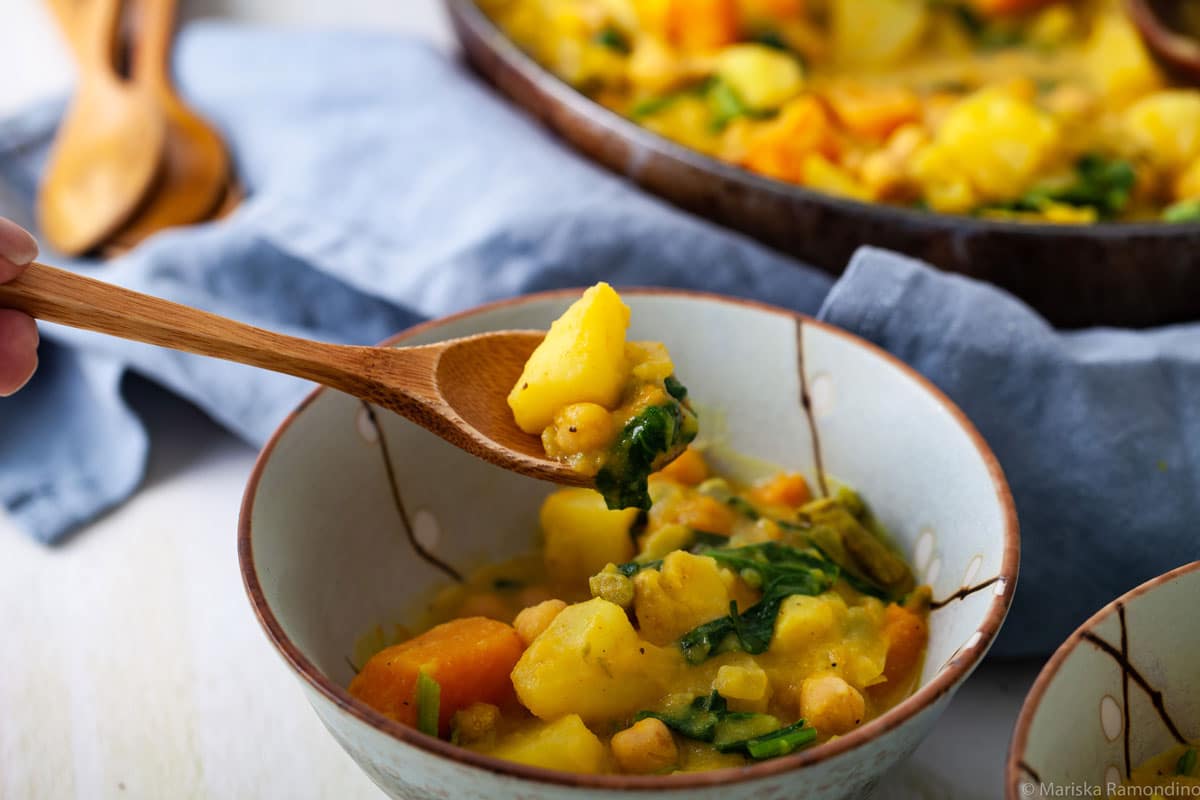 TIPS FOR MAKING THIS DELICIOUS VEGETABLE STEW
Choose the right potatoes
Gold Yukon potatoes or Russet Burbank are my favorites in this stew. There is no fast rule here, and I suggest to go with what you love. But I found that these potatoes still hold their firmness while releasing enough starches to thicken the sauce naturally. Usually, Russet potatoes easily break down in soups and stews, but I have tested it numerous times with the Burbank potatoes. They still maintain a nice bite when not overcooked and have an almost buttery flavor—my kind of vegetable.
The best plant milk
Choose one that is relatively creamy. I prefer either unflavored pea or almond milk. Others like flax, rice, or hemp milk are a bit too thin for this dish—but feel free to try it out yourself. Maybe stir away from plant milk that can easily overpower the overall taste, such as peanut or coconut milk. You want the vegetables to shine in this dish.
Chickpeas are optional
The chickpeas were an afterthought in this dish. It definitely adds extra protein to a hearty meal, and I love their fibrous bite. Although I have not tried it before, I imagine that canned cannellini beans could work as well.
Nutritional yeast makes it extra creamy
I'll admit that I am a bit obsessed lately with adding this to my cooked vegetables. Besides that, it is packed with nutrients such as B-vitamins, folic acid, zinc, selenium, and protein; it also adds tons of flavor to this stew—almost cheesy, umami-like but much lighter and heartier. A couple of tablespoons is enough to add richness to this stew.
Don't have it on hand? An alternative option is to add some powdered vegetable broth or parmesan cheese if you don't mind dairy.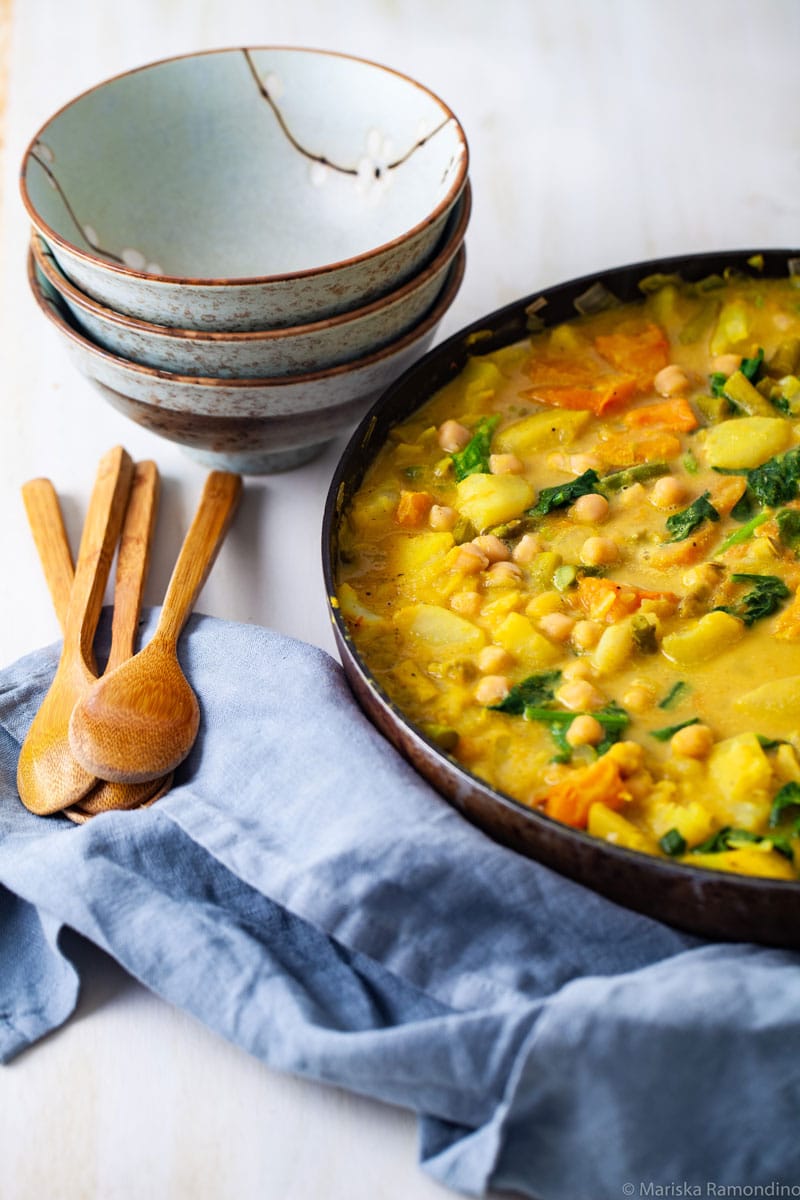 SUBSTITUTE INGREDIENTS IN THIS STEW
Oil
You don't need a lot of fat, just a little to coat the bottom of the pan for sauteeing the veggies at first. I have used coconut oil and olive oil interchangeably, and both work well.
Greens
Asparagus and spinach give a unique taste and texture to this dish. But you can leave out the asparagus and swap the spinach for chopped kale leaves. If you use kale, make sure to remove any hard stems and cook it a bit longer at the end until soft. I also don't give specific measurements for these veggies. Go with what you have in the fridge. I usually use half a bunch of each, but it doesn't matter if you use a bit more or less.
Squash
Butternut squash adds such a pleasantly sweet and nutty taste. It is one of my favorite winter vegetables. Again, you can use more or less, but I like to add half of one chopped squash, give or take. You can't find butternut squash than grab another winter squash or replace it with two large sweet potatoes.
Onions
A large yellow onion adds a touch of sweetness when cooked. Shallots or spring onions are great options too.
Herbs
Turmeric will give this stew a slightly spicy touch and a beautiful yellowish color. But I have used curry powder or saffron before, as well. Know that using the same amount of curry powder will make it spicier. So use a little less at first and taste test.
Garlic powder adds a sweeter and milder taste than fresh bulbs and works beautifully in this vegetable stew. I highly recommend having this on hand because it can add tons of flavor to many dishes. But if you don't have any, try some onion powder instead—still good.
I hope you will make this incredible flavorful vegetable dish and let me know what you think. Enjoy!
MORE SAVORY AND FILLING DISHES YOU MAY LOVE
Have questions? Simply comment below or message me.
Or PIN IT for later and follow me on Pinterest to see what other fun things I share.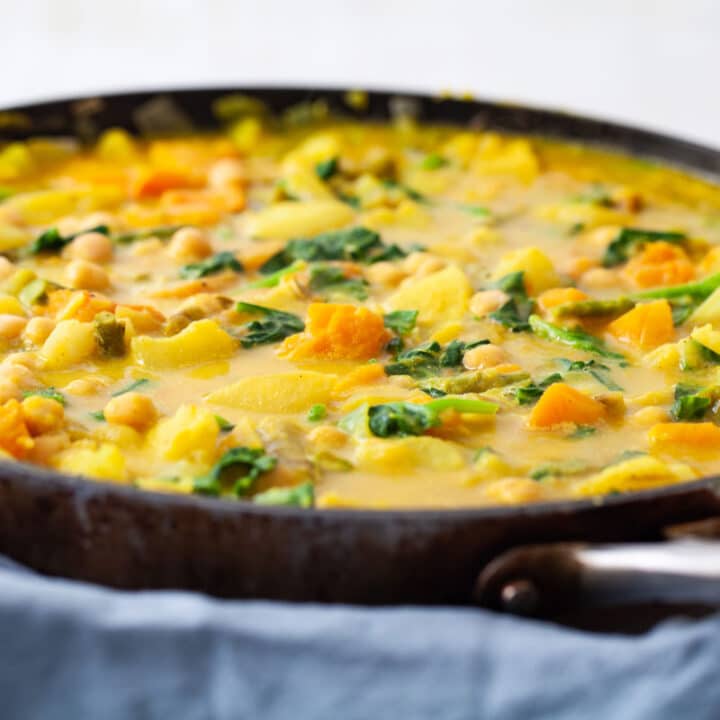 ONE HEARTY VEGETABLE STEW RECIPE (VEGAN, GF)
This is one hearty vegetable stew that is beautifully seasoned and contains tons of vegetables. Starchy potatoes and plant milk make this dinner creamy and incredibly satisfying. A perfect meal for colder winter evenings!
Ingredients
1 tablespoon coconut oil
1 yellow onion, peeled and coarsely chopped
½ of a butternut squash, peeled and coarsely chopped
1 bunch of asparagus, chopped
2 ½ pounds potatoes, peeled and chopped (either Yukon Gold or Russet Burbank)
Sea salt and pepper
2 cups plant milk (like pea or almond milk)
2 teaspoons garlic powder
1 teaspoon turmeric powder
½ of a bunch of spinach, thoroughly washed and coarsely chopped
3 tablespoons nutritional yeast
1 cup of drained canned chickpeas (optional)
Instructions
In a large skillet, cover the bottom with the coconut oil and heat over medium-high heat. Add all the chopped vegetables except the spinach. Season everything with one teaspoon of sea salt. Cook and frequently stir for 5 minutes.
Then cover the pan and let it further cook for 5 minutes.
Remove the lid and pour the plant milk equally over the vegetables. Stir everything well to combine. Season with garlic powder, turmeric powder, a good amount of pepper, and some salt to taste.
Let the liquid come to a simmer. Cover the pan and cook for 10 minutes or until the potatoes are soft. Lower the heat, if necessary, to maintain a gentle simmer.
Then remove the lid and stir in the spinach. Let it cook for a couple of minutes, uncovered. Season with nutritional yeast and more salt to taste, if needed.
Stir in the chickpeas (optional) and let them simmer with the stew for a minute or two.
Remove from the stove and serve immediately
Garnish with some more nutritional yeast, if preferred.