This healthy roasted beets recipe is just delicious. The earthy flavors of these softened veggies combine well with sautéed dandelion greens and naturally sweet and crunchy pecans.
The beets are first tossed in a lightly seasoned buttery concoction before they go into the oven. It deliciously caramelizes these vegetables and complements the beets' sweet flavors after roasting. You can toss in some golden potatoes (or sweet potatoes to keep it Paleo-friendly) and shallots—optional. Then they are married with sautéed dandelion greens and pecans into a mouthwatering veggie dish.
Enjoy as-is, make a filling, nourishing bowl by adding a few extras, or serve as a side to many heartier dishes. It's a delightful vegetable-rich meal that is also gluten-free and vegetarian-friendly. Plus, you can easily keep this Paleo and vegan approved!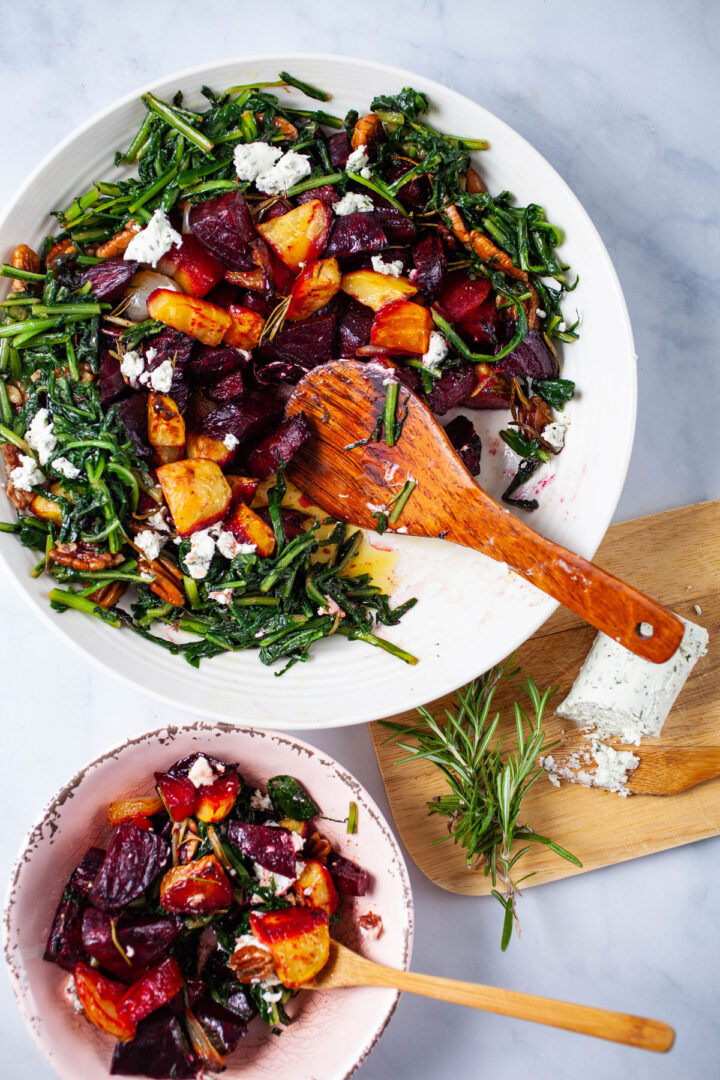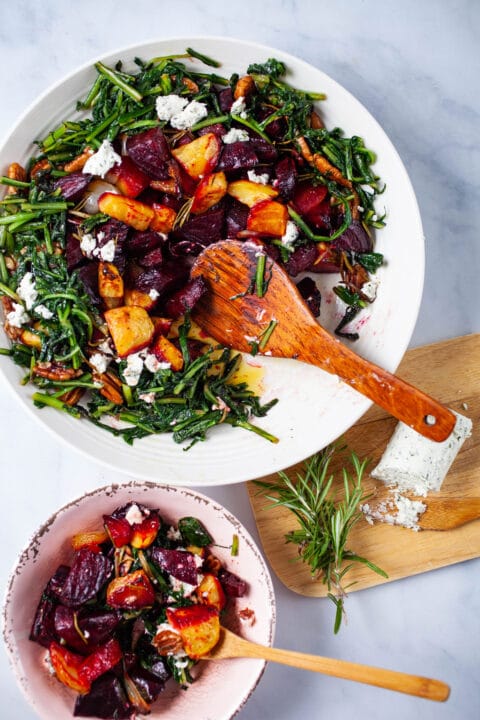 Vibrant vegetables
I love roasted beets! Roasting transforms these beautiful colored vegetables into crunchy and tender deliciousness. It enhances their earthy and sweet flavors, making them so versatile—I often enjoy leftovers as a snack on toast or toss them in salads. And they are incredibly nourishing, loaded with vitamins and minerals, are low in calories, and have significant health benefits.
In this easy beets recipe, I pair them with another vitamin-rich favorite, dandelion greens, because they round out the lightly sweetened and buttery flavors of beets.
It's unnecessary, but if you are not a fan of their slightly bitter taste, quickly blanch the dandelion greens before sautéing them. It's an easy and quick cooking method and removes most of its bitter flavor (see the recipe for instructions.)
If you prep the dandelion greens, and pecans near the end of the beets' roasting time, you can get this dinner ready in under 45 minutes.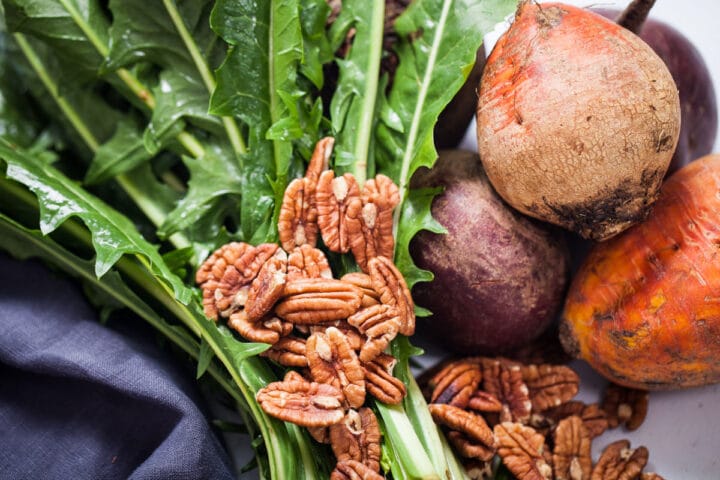 Ingredients, notes, substitutions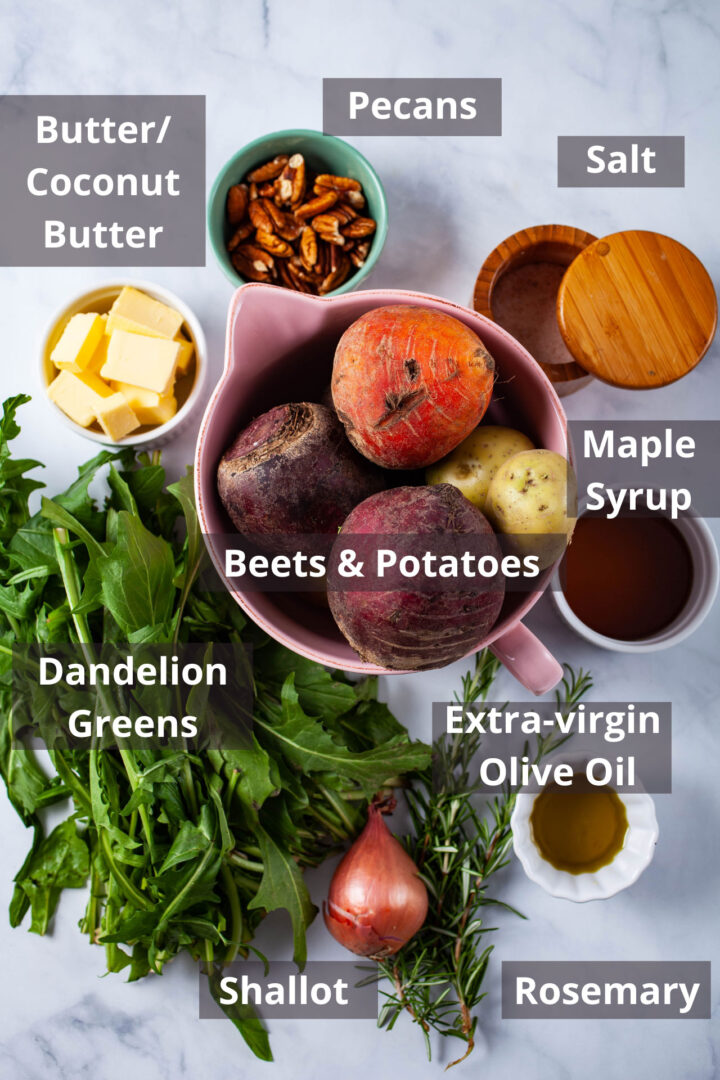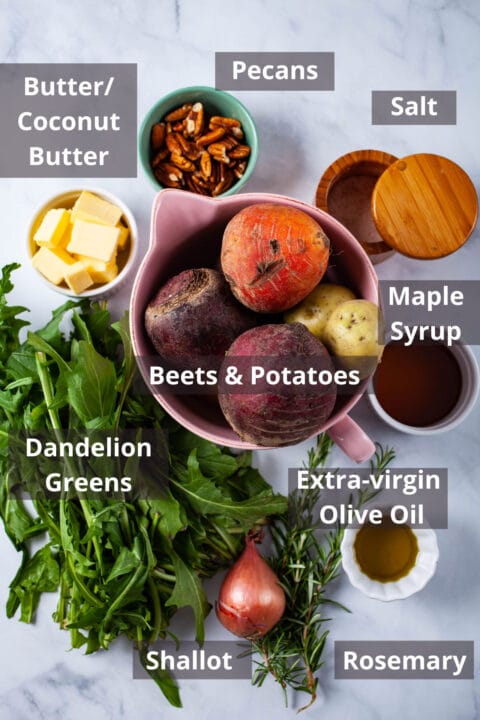 Beets
Go for mostly red beets as they are sweeter, and those flavors even deepen during storage. But I often throw in a golden beet or two. They have a more mellow flavor, are even a bit less earthy, but the combo works well here, and a bit of contrast in color looks beautiful on the table.
Sometimes, I even throw in a few golden potatoes—who doesn't love roasted beets and potatoes (swap them for sweet potatoes to keep it Paleo-friendly).
Dandelion greens
I grew up with this vegetable, so I don't mind its slightly bitter undertones. But you can quickly mild down any bitterness by blanching them for a few minutes—I've included the instructions in the recipe.
The sauté is kept simple with just olive oil and some salt as the greens are meant to harmonize with the flavors of roasted beets. You could toss in some of the beet greens as well if you picked bunches of beets with their leaves still attached.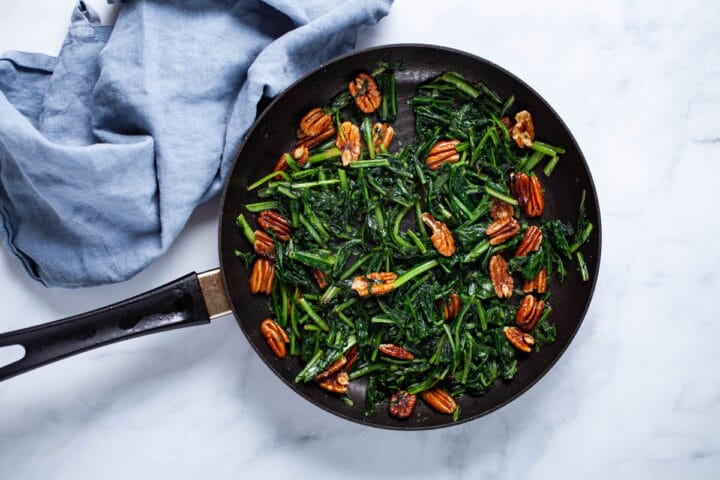 Pecans
I've chosen them in this dish for their crunchy texture and distinctively sweet buttery flavor. This humble nut is also a powerhouse of vitamins, minerals, and antioxidants. They complete this dish. Walnuts can be a great substitution as they are buttery as well. But they will be naturally less sweet.
Butter
You can swap real butter with coconut butter—for my vegan friends. I have used both, and each type of butter works well in this recipe.
Salt
A tad of sea salt is all you need to balance the natural favors of this vegetable dish.
Maple Syrup
I've used raw coconut crystals ( or coconut sugar) before instead of maple syrup. Both add a subtle sweetness and that hint of caramel to roasted beets.
If you use the coconut sugar, stir it first into the melted butter, allowing the crystals to dissolve before coating the vegetables with the buttery mixture.
Extra-virgin olive oil
It's the oil's delicate flavors that will bring out the best of Dandelion greens.
Shallot
Originally, I did not include it in this recipe, but I started making some changes over the years and noticed that one to 2 shallots adds a delicious subtle aroma to the overall dish.
Rosemary
Although not necessary, I highly recommend adding chopped fresh Rosemary leaves. They retain their flavors after roasting, adding tons of aroma and a subtle crunchiness.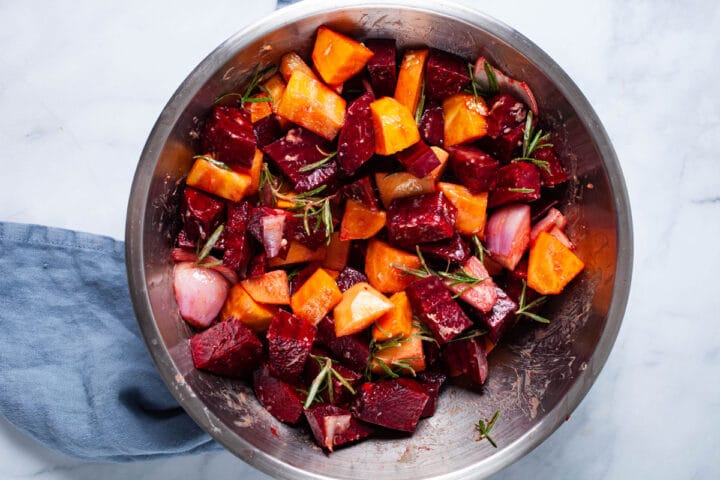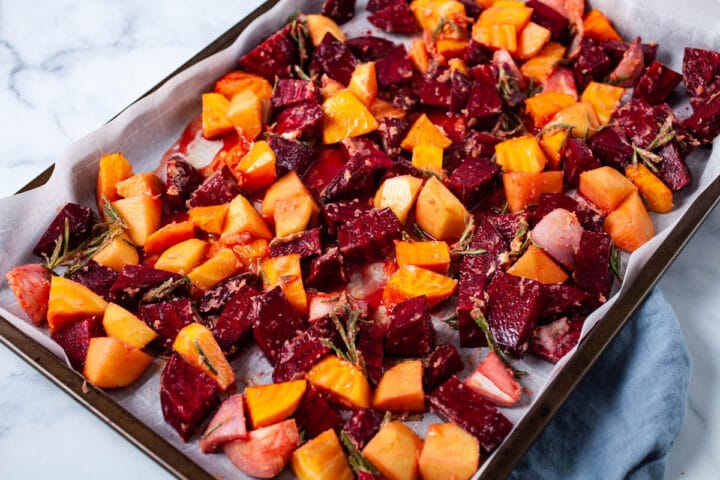 Do you have to peel beets before roasting
In this recipe, I peel, cut, and then roast the beets because beets' skin has an inherently bitter flavor. But you don't have to. You can remove their skin after cooking and then chop them up.
If you decide to leave the skin on before you pop them in the oven, rinse and gently scrub the beets under cool water to remove any dirt. Then place them on a larger rimmed baking sheet lined with parchment paper and coat the beets with some olive oil. Or place them all in a covered baking dish—another option.
This method may take a bit longer—40 to 60 minutes. Check the beets regularly after 40 minutes to test their doneness. Once cool enough to handle, cut off the stems and tails, and remove their skin with either your fingers or by using the edges of a paper towel to rub the skin away. It will easily slide off—a few soap washes will take the red beet color off your hands. Now you can chop and prepare the beets with the warm buttery mixture.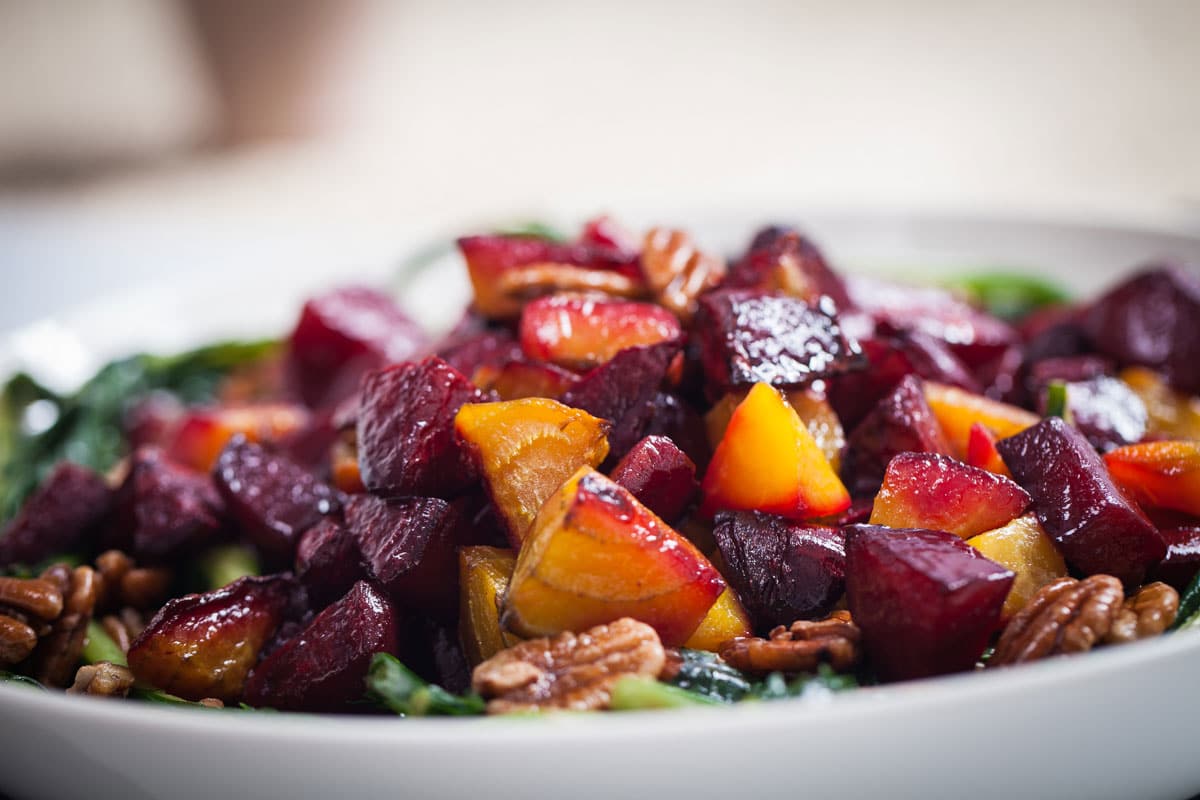 What goes with roasted beets for dinner
Enjoy this oven-baked vegetable dish as-is. It is incredibly filling, nutrient-dense, and I often enjoy it as the main meal.
But what I love most about these healthy roasted beets with dandelion greens is that you can make it into something entirely new when blended with a few other ingredients or served as a side dish.
Here are a few suggestions that you might love as well.
Make roasted beets and goat cheese salad
Crumble some soft plain or herbed goat cheese on top. It will melt into the sweet roasted beets with crunchy nuts, and the slightly bitter greens balance this healthy lunch or dinner.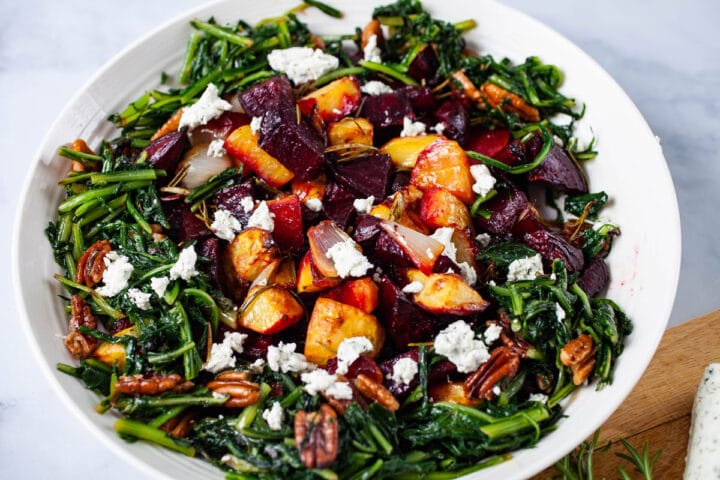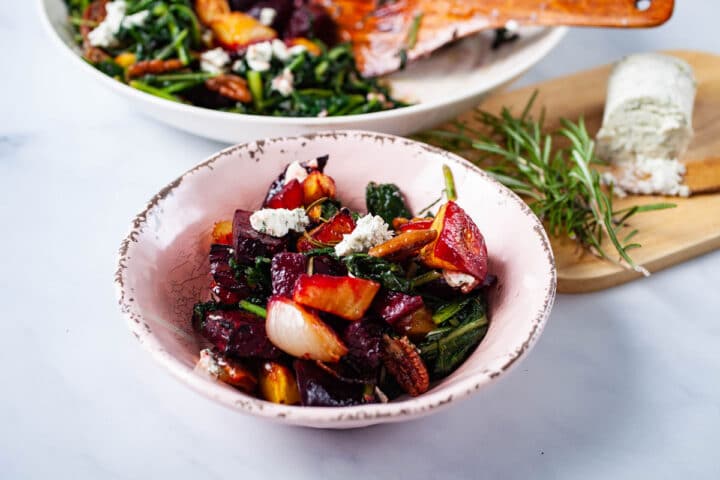 Try other cheeses
Try salty feta, fresh mozzarella, or a sharper cheese like Manchego to add different flavors or switch it up.
Serve on toast for lunch or breakfast
Toasted walnut, seed, or Ezekiel bread comes to mind. It tastes even better with scrambled or fried egg(s) on top to make it into a hearty lunch—a great idea to finish up any leftovers.
Make vegetarian-friendly macro or nourish bowls
You can turn this healthy roasted beets dish into a vegan and vegetarian-friendly macro or nourish bowls by adding something more substantial like a handful of cooked black Japonica rice or forbidden rice to each serving.
Black rice has such a nutty and sweet flavor, and you don't need much to enrich the seasoned vegetables. It is a perfect meal-in-a-bowl containing dark leafy greens, veggies, healthy fats, proteins, and complex carbohydrates.
Serve as a side with meat or fish
The strength of buttery beets with sautéed dandelion greens and pecans is that this dish can easily become a vegetable side when served with extra quality proteins. And if you ever wonder what meats go well with roasted beets, try salmon, bunless burgers, short ribs, or a pot roast.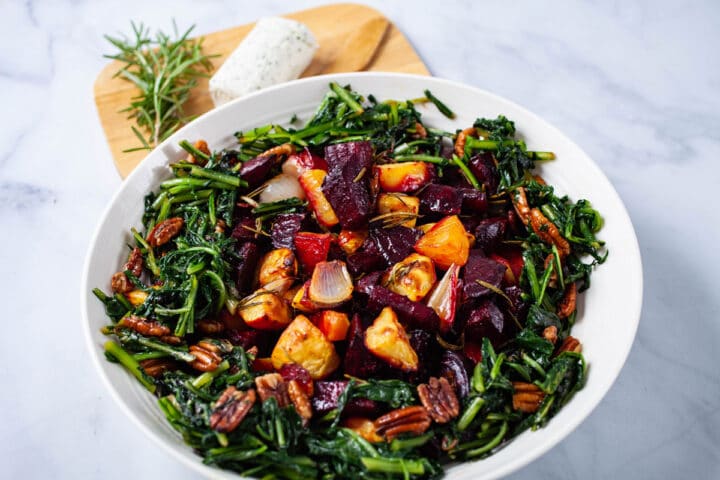 Other recipes you might like
Want to try this dish later? Then PIN IT on your healthy meals board! Come and find me on Pinterest for more great recipes! And don't forget to subscribe to my monthly newsletter!
📖 Recipe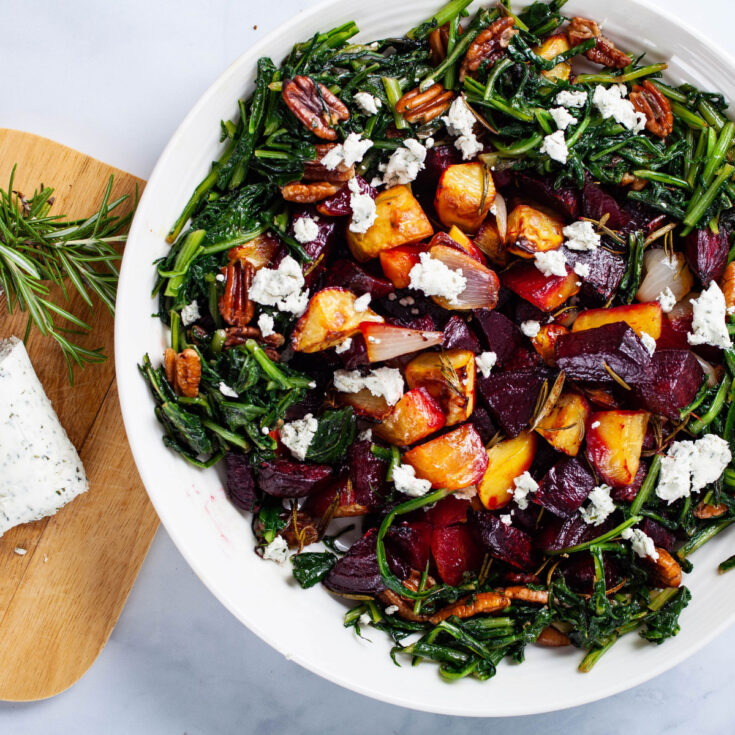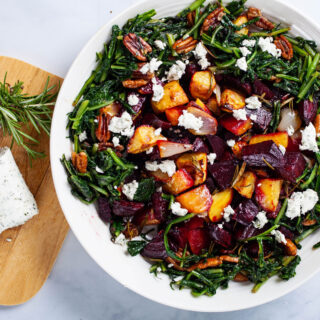 Beets for Dinner
Mariska Ramondino
Make this delicious roasted beets recipe with sautéed dandelion greens and natural sweet pecans. Enjoy as-is, topped with goat cheese, feta, or egg, as a side dish next to bunless burgers or serve with cooked black rice to make a beautiful and filling nourish bowl.
Ingredients
3

pounds

raw beets, peeled and cubed (small pieces)

1.5 kilograms

2-3

golden potatoes, peeled and cubed (or sweet potatoes)

optional

1 to 2

shallots

peeled and quartered (optional but recommended)

½

cup

organic butter or coconut butter (to keep it vegan-friendly.)

114 grams

2

tablespoons

maple syrup (you can also use coconut crystal)

50 ml

1

standard bushel

dandelion greens

205 grams

1

cup

pecan halves or chopped

60 grams

3

tablespoons

extra virgin olive oil

divided

Salt to taste

Fresh Rosemary sprigs

3 to 5 sprigs, leaves removed from stems and chopped
Instructions
Arrange a rack in the center of your oven, and preheat the oven to 400 ℉ or 205 ℃.

Take a large rimmed baking sheet and cover it with parchment paper; set aside.

In a small saucepan, melt the butter over low heat. Stir in the maple syrup.

Place the beets, shallots (and potatoes, if using) in a bowl and pour over the butter mixture. Season with ½ teaspoon salt and chopped rosemary leaves. Stir until all beets are well coated with the mixture and the herbs.

Place the coated beets on a large rimmed baking sheet and spread out. Bake for 35-40 minutes. Check the beets after 30 minutes and make sure they don't burn (I usually keep them in for exactly 35 minutes); reserve.

Prepare the dandelion greens and pecans 10 minutes before the end of the beets' baking time (ideal).

Place a medium bowl of cold water next to the stove. In a small saucepan, bring water to a rapid boil. Boil the dandelion greens for 1 to 2 minutes and immediately transfer to the bowl of cold water (blanching). Blanching the greens before preparing removes some of the dandelions' bitter flavors.

In a medium-to-large sauté pan, heat one tablespoon of olive oil over medium heat. Stir in the pecans and cook for about one minute, stirring occasionally. Add the blanched dandelion greens and coat with 1 to 2 tablespoons of olive oil—Cook and stir for 2 to 4 minutes. Season lightly with salt.

Place the sweet and buttery beets in the middle of a large serving plate surrounded by the sautéed dandelion and pecans. Enjoy!
Notes
Alternative options: add 2 to 3 golden potatoes, peeled and cubed or more as preferred.
Other serving suggestions:
Top with either crumbled goat cheese, feta cheese, Mozarella, or a sharper cheese like Manchego.
Serve with scrambled or fried eggs on toasted (walnut) bread.
Make a nourishing vegan-friendly bowl by serving it with cooked black Japonica rice on the side.
Serve as a side dish with bunless burgers, short ribs, salmon, or a roast.
Add your own private notes
Whenever you come back to this recipe, you'll be able to see your notes.
Nutrition (% Daily value)
Calories:
711
kcal
(36%)
Carbohydrates:
59
g
(20%)
Protein:
10
g
(20%)
Fat:
52
g
(80%)
Saturated Fat:
18
g
(113%)
Polyunsaturated Fat:
8
g
Monounsaturated Fat:
24
g
Trans Fat:
1
g
Cholesterol:
61
mg
(20%)
Sodium:
455
mg
(20%)
Potassium:
1616
mg
(46%)
Fiber:
14
g
(58%)
Sugar:
31
g
(34%)
Vitamin A:
863
IU
(17%)
Vitamin C:
34
mg
(41%)
Calcium:
103
mg
(10%)
Iron:
4
mg
(22%)
Disclaimer: This nutritional data is calculated using third party tools and is only intended as a reference.
(Note: this post was initially published in November 2016. This post has been updated to include new info and photos)