This healthy roasted beets recipe is just delicious. The earthy flavors of these softened veggies combine well with sautéed dandelion greens and naturally sweet and crunchy pecans. Enjoy as-is or serve as a side to make a beautiful and filling nourish bowl. It's a delightful vegetable-rich dish that is also gluten-free, Paleo, and vegetarian-friendly. Plus, swap one ingredient, and it's vegan approved!
This simple gluten-free vegetable dish contains only 6 ingredients. If you sautée the dandelions greens and pecans near the end of the beets' roasting time, you can get this dinner ready under 45 minutes.
VIBRANT VEGETABLES
I love roasted beets! Roasting transforms these beautiful colored vegetables into a crunchy and tender deliciousness. It enhances their earthy and sweet flavors, which makes them so versatile—I often enjoy leftovers as a snack or toss them in salads. And they are incredibly nourishing, loaded with vitamins and minerals, are low in calories, and have significant health benefits.
In this easy recipe, I pair them with another vitamin-rich favorite, dandelion greens, because they go well with the lightly sweetened and buttery beets. It is not necessary, but if you are not a fan of their slightly bitter taste, quickly blanch the dandelion greens before sautéing them. It's an easy and quick cooking method and removes most of its bitter flavor (see the recipe for instructions.) Every part of this vegetable is edible. You can chop them up or leave them in their original form—the greens kind of swirl on your fork like linguini (that's how we eat it) and transform into vegetable noodles.
A FEW HELPFUL NOTES ON THIS BEETS RECIPE
You can swap real butter with coconut butter—for my vegan friends. I have used both, and each type of butter works well in this recipe.
A bit of raw coconut crystals adds a perfect subtle sweetness to the beets—optional but recommended. Don't have any, use some maple syrup. If you use the coconut sugar, stir it first into the melted butter, allowing the crystals to dissolve before coating the vegetables with the buttery mixture.
Add pecans because they give you that sweet, crunchy, and earthy texture to each bite. This humble nut is also a powerhouse of vitamins, minerals, and antioxidants. They just complete this dish.
DO YOU HAVE TO PEEL THE BEETS BEFORE ROASTING THEM
In this recipe, I peel, cut, and then roast the beets. But you don't have to. You can remove their skin after cooking and then chop them up. If you decide to leave the skin on before you pop them in the oven, coat the beets with some olive oil for extra flavor, then wrap them in foil pouches (you can cluster three or four beets together) or place them all in a covered baking dish—another option. This method may take a bit longer—40 to 60 minutes. Check the beets regularly after 40 minutes to test their doneness. Simply remove their skin with your fingers under cold running water, it will easily slide off—a few soap washes will take the red beet color off your hands. Now you can chop and prepare the beets with the warm buttery mixture.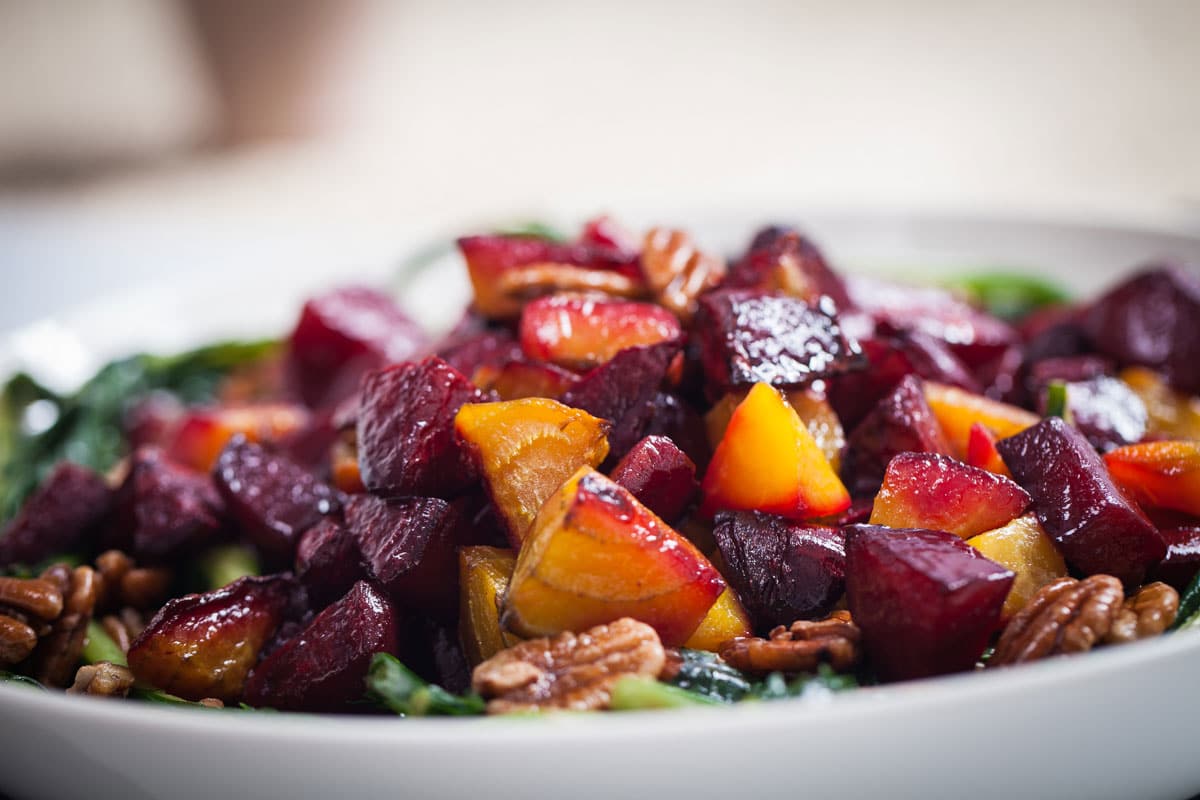 SOME SERVING SUGGESTIONS
Enjoy this oven-baked vegetable dish as-is. It is incredibly filling, nutrient-dense, and I often serve this as the main meal.
But it can quickly become a substantial side dish when served with extra quality proteins such as refried beans (vegan) or rich animal proteins like salmon.
Or make a vegan and vegetarian-friendly macro or nourish bowls when adding a handful of cooked black Japonica rice

or

forbidden rice

to each serving.

Black rice has such a nutty and sweet flavor that you only need a little bit to spice up this dish. It is a perfect meal-in-a-bowl containing dark leafy greens, veggies, healthy fats, proteins, and carbohydrates.
OTHER RECIPES YOU MIGHT LIKE
Want to try this dish later? Then PIN IT to your Vegetarian or Gluten-free board! Come and find me on Pinterest for more great recipes! And don't forget to subscribe to my monthly newsletter!
BUTTERY BEETS WITH SAUTEED DANDELION GREENS AND PECANS
Make this delicious roasted beets recipe with sautéed dandelion greens and natural sweet pecans. Enjoy this beautiful vegetarian/vegan beets recipe as-is or serve with cooked black rice to make a beautiful and filling nourish bowl. Or make it a side dish!
Ingredients
3 ¾ pounds or 1.7 kilograms raw beets, peeled and cubed (small pieces)
8 tablespoons organic butter, or coconut butter (to keep it vegan-friendly.)
2 tablespoons raw coconut crystals or maple syrup
1 standard bushel dandelion greens
1 cup pecans, chopped
3 tablespoons olive oil, divided
Salt to taste
Instructions
Preheat oven to 400 ℉ or 205 ℃.
In a small saucepan, melt the butter over low heat. Stir in the coconut crystals.
Place the beets in a bowl and pour over the butter mixture. Stir until all beets are well coated with the mixture.
Place the coated beets on a large rimmed baking sheet and spread out. Bake for 35-40 minutes. Check the beets after 30 minutes and make sure they don't burn (I usually keep them in for exactly 35 minutes); reserve.
Prepare the dandelion greens and pecans 10 minutes before the end of the beets' baking time (ideal).
Place a medium bowl of cold water next to the stove. In a small saucepan, bring water to a rapid boil. Boil the dandelion greens for 1 to 2 minutes and immediately transfer to the bowl of cold water (blanching). Blanching the greens before preparing, removes some of the dandelions' bitter flavors.
In a medium-to-large sauté pan, heat one tablespoon of olive oil over medium heat. Stir in the pecans and cook for about one minute, stirring occasionally. Add the blanched dandelion greens and coat with 1 to 2 tablespoons of olive oil. Cook and stir for 1 to 2 minutes. Season lightly with salt.
Serving suggestion: Place the sweet and buttery beets in the middle of a large serving plate surrounded by the sautéed dandelion and pecans. Enjoy!
(Note: this post was initially published in November 2016. This post has been updated to include new info and photos)