This is as much a braised fennel as it is a savory peach recipe.
It's a hearty vegetable side dish that offers natural sweet flavors and subtle anise-like undertones in a satisfying vegetable and cardamom seasoned liquid.
An unexpected combination of ingredients makes for one delicious and healthy fennel recipe—with variations!
Jump to: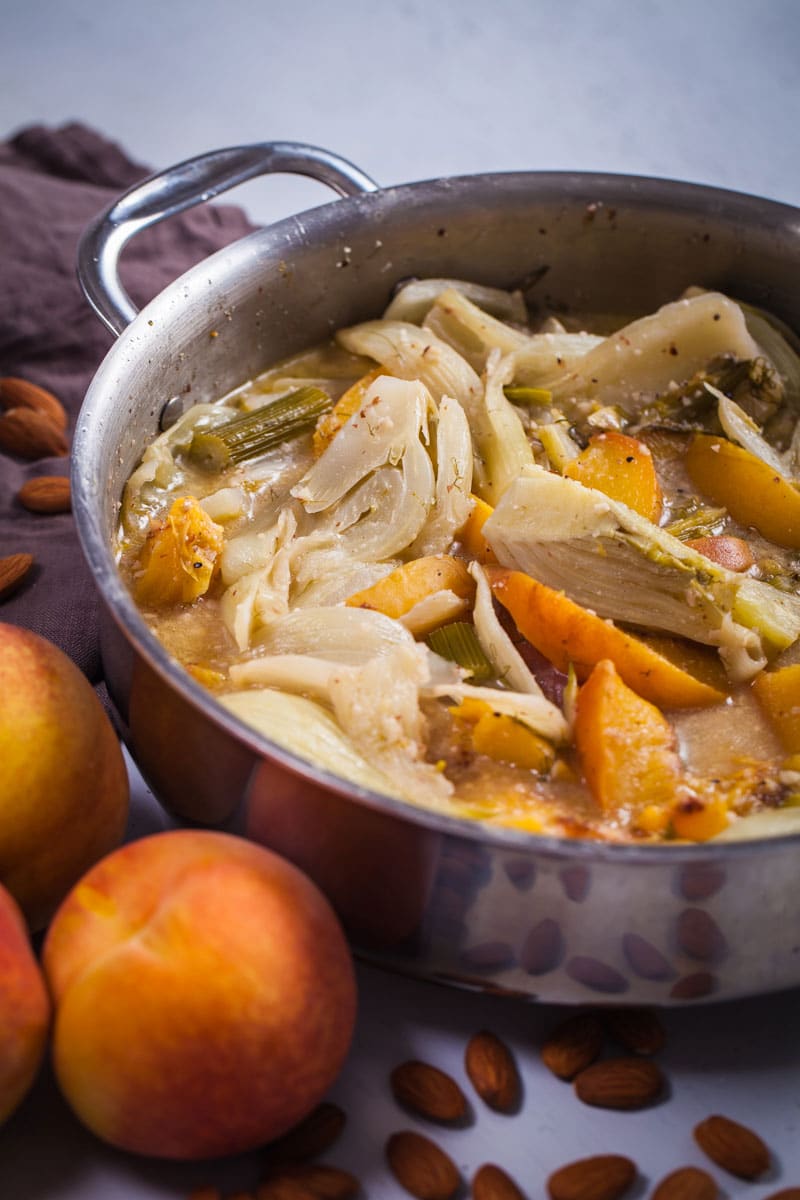 Fennel is one of my favorite vegetables, thanks to my Italian grandmother.
She would slice the fennel bulb into smaller pieces and offer it to us raw after a big dinner meal to aid with digestion—a passed-down food tradition.
I enjoy it more often raw as a snack, added to a grazing board, to add crunchiness to healthy salads, or make a delicious fennel bite as an appetizer.
But, this vegetable tastes even better when cooked until soft and tender.
Braised fennel has a deliciously sweet taste with mild licorice undertones and pairs beautifully with naturally sweet flavors of cooked peaches, nutty almond flour, and hearty seasonings.
Ingredients for this fennel and savory peach recipe
Let's look at some ingredients and how you can swap them based on your diet or what you have in your pantry.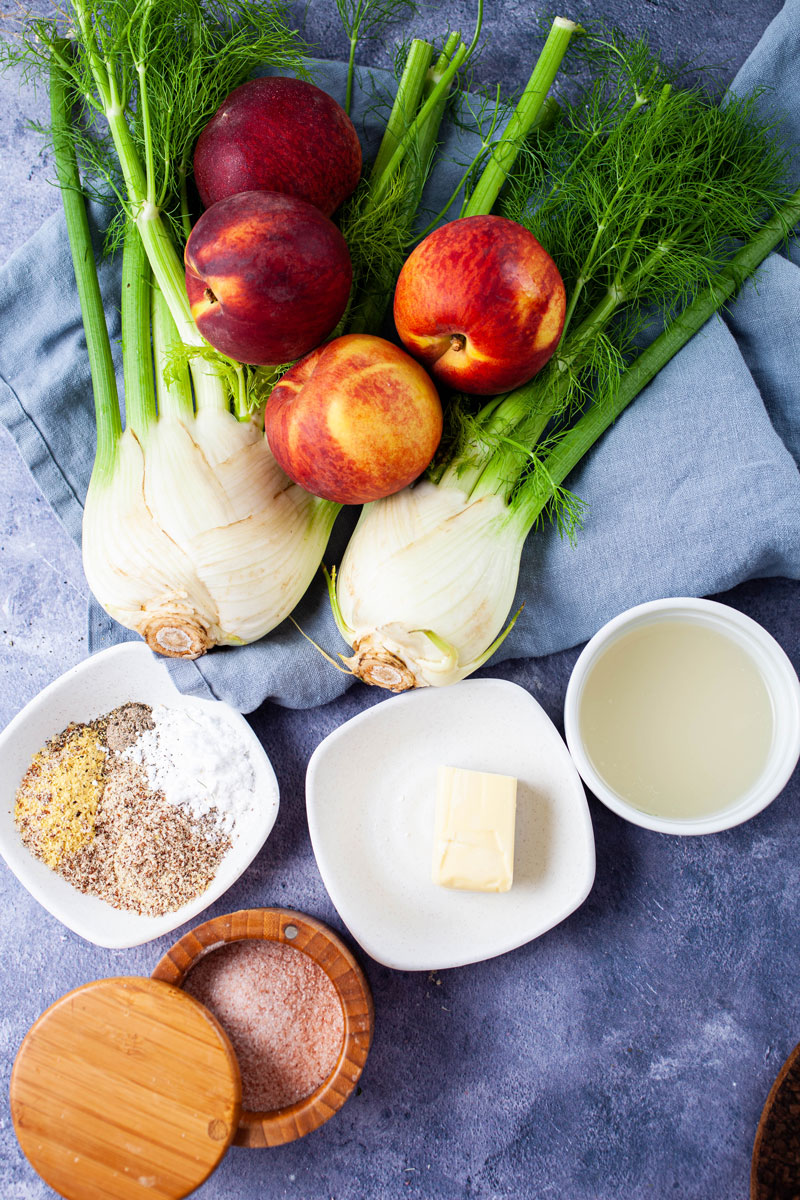 Peaches
If in season, use two fresh and ripe peaches. But frozen peach wedges work just as well, and you don't need to defrost them first.
Cooking with peaches: select the ones on the riper side with a sweet aroma. You know, that sweet peachy smell that is almost impossible to resist.
There also should be a gentle give when squeezed. If the fruits are still firm to the touch, they are not ripe and, therefore, not sweet enough to be used in this fennel recipe.
Butter or olive oil
If you are vegan or trying to avoid dairy products, feel free to use olive oil instead of real butter.
I don't recommend very intense flavored oils or coconut oil.
I have tested this a couple of times and find that butter or olive oil is best here and doesn't overpower the flavors of the braised fennel and peaches.
Note: olive oil also makes it a Paleo-friendly vegetable dish.
Almonds (chopped, meal, or flour)
You can use chopped almonds, almond meal, or almond flour to complement the fennel flavors.
Almond meal or flour will slightly thicken the vegetable sauce.
But note that almond meal has a coarser consistency leaving specks of almond skin (see picture below—it's supposed to be there).
Don't like a grainy texture, use almond flour instead. You still get that nuttiness, but it will act like regular flour to make the vegetable sauce a tad thicker.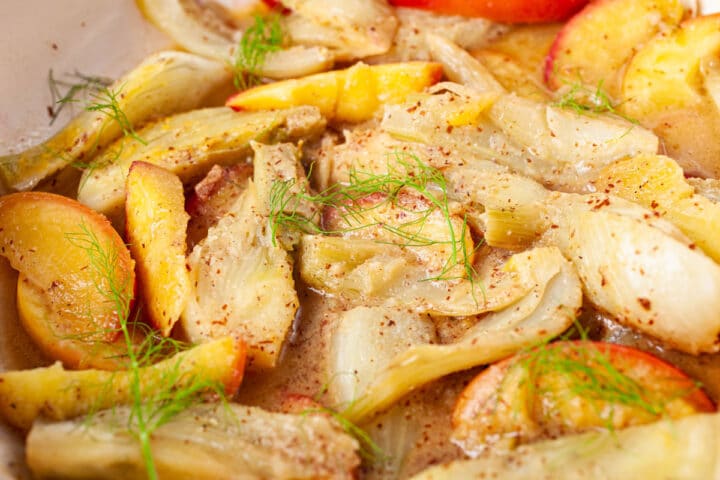 Vegetable seasoning
I love the rich vegetable broth seasoning from Seitenbacher.
Don't have it on hand? Then use either vegetable bouillon powder or nutritional yeast. Add it when you are stirring the liquid to ensure it completely dissolves.
A tad of sweetener (optional)
I prefer to add some Monk fruit sweetener. But feel free to replace it with the same amount of maple syrup or brown rice syrup.
Note: maple syrup is much sweeter and stronger in flavor, so a little goes a long way in this recipe.
Always start with a small amount and taste test before adding more.
Adding a sweetener is optional, though, especially with very sweet peaches.
Liquid
You can use water, but for a richer flavor, use vegetable or chicken stock. If using water, taste and add more vegetable seasoning, if preferred.
How to cut fennel (for this recipe)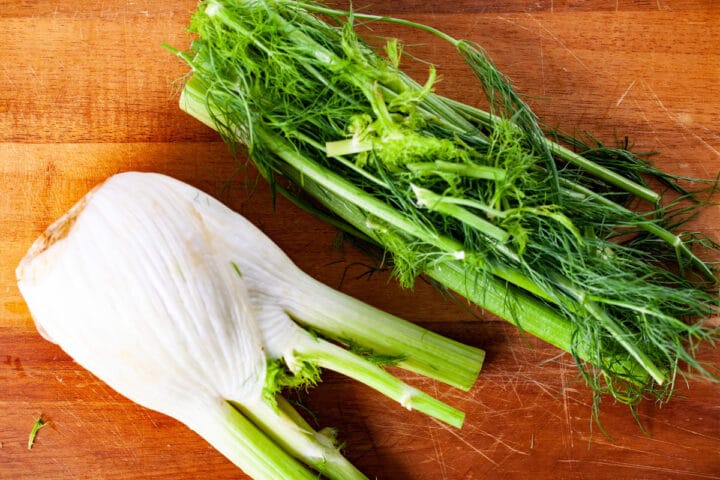 Separate the stalks from the bulbs by cutting at least about 1 inch above the bulb.
Everything about fennel is edible. Remove the wispy fonds and keep for garnish or add to other raw salads with fennel.
You can discard the stalks for this recipe or keep them to flavor chicken stocks, as they are tougher in texture—usually, I chop them and add them to this braised fennel dish.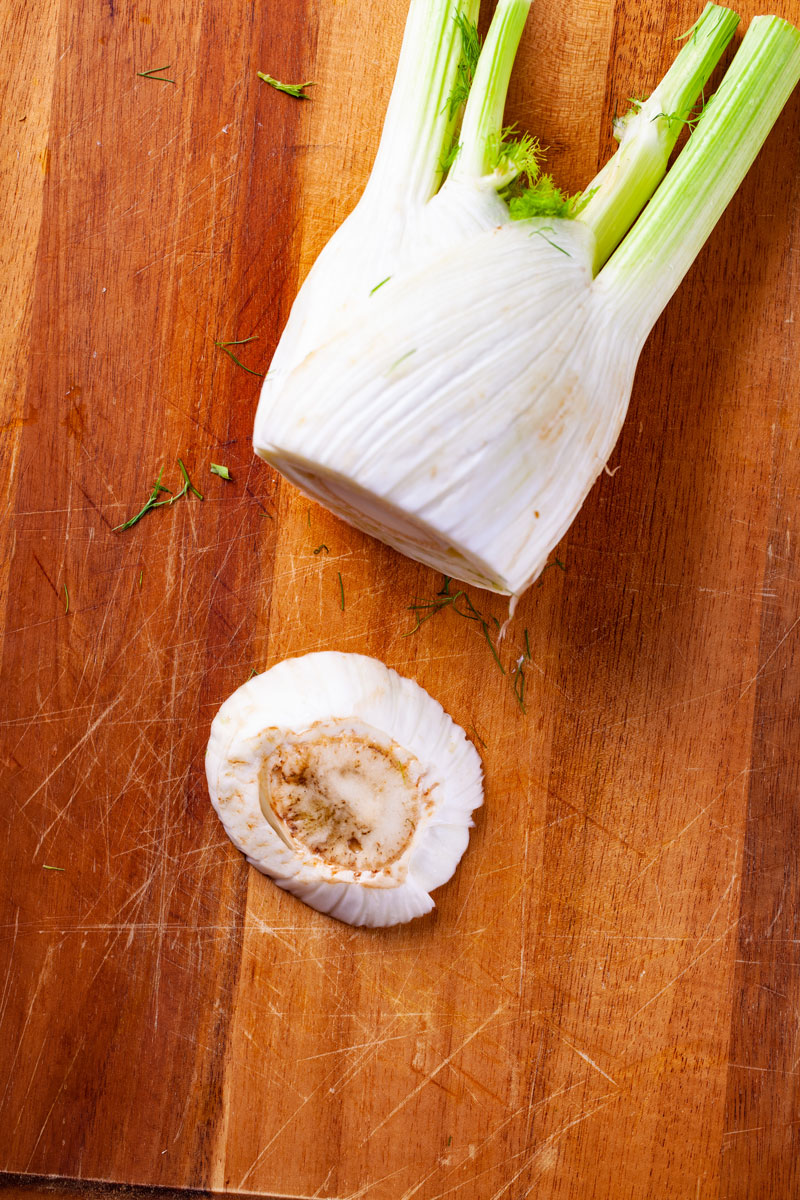 Always remove the root ends of the fennel bulb and discard them.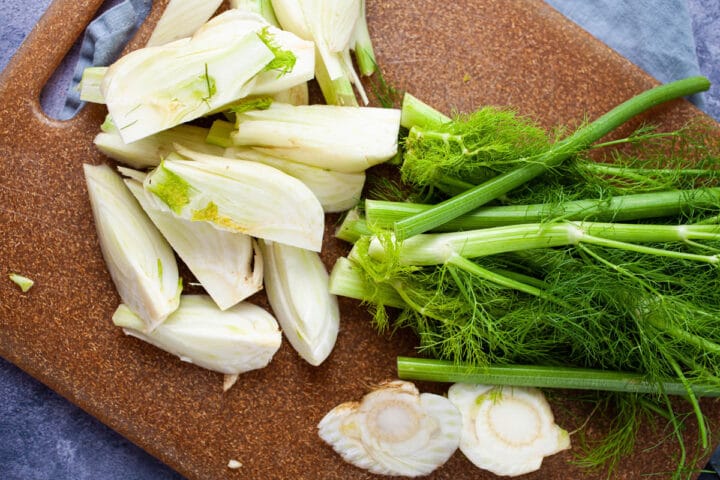 Cut the fennel bulb first lengthwise in half through the core.
Slice each half again lengthwise into quarters and then again each quarter in half—if these pieces are still thick, cut them in half again, always lengthwise.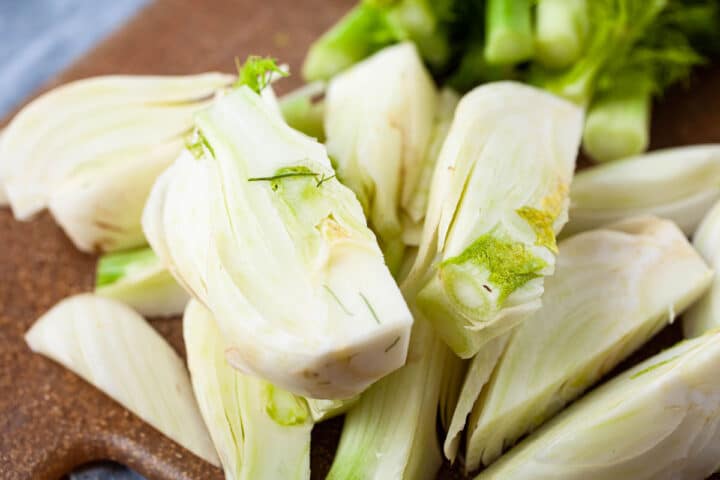 You want to leave the core attached as much as possible, so the fennel pieces don't fall apart during braising.
Note: raw fennel has a beautiful crunchy texture and has high water content. I find it to have a lovely mild sweet flavor with only very subtle hints of anise.
How to braise fennel & cooking with peaches
It is an easy healthy vegetable dish that quickly comes together.
Soften and brown the fennel in butter. Because the fennel has harder outer layers, I first soften and slightly brown them for about 5 to 6 minutes over a higher heat before adding the rest of the ingredients. Adding a few pinches of salt and sweetener helps with flavor development and browning.
Add the peaches. Allow them to soften a bit for a few minutes at medium heat, and add any sweetener of choice.
Add water or stock. Then, add all the remaining seasoning and stir in the almond flour.
Cover and gently simmer over a lower heat for about 20 to 25 minutes. Now it's all about letting the flavors come together. The juicy fresh peaches will completely break down at the end of cooking time, releasing their delightful flavors into the vegetable sauce.
Uncover, taste test, and adjust seasoning or add more almond flour if preferred for a thicker consistency.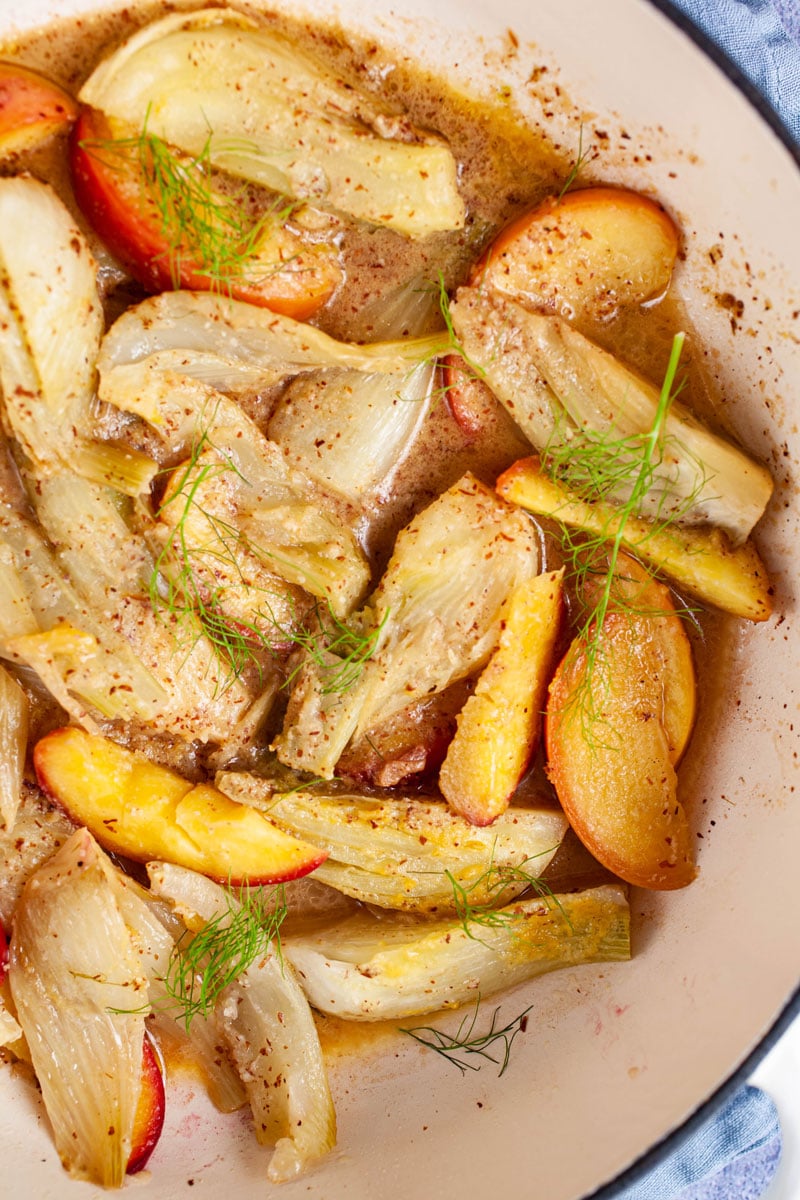 When braised, fennel becomes naturally sweet, tender, and soft—delicious.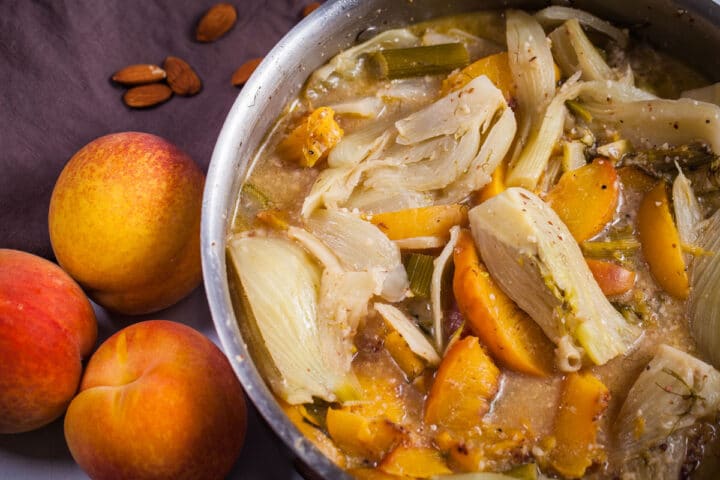 What pairs well with braised fennel and cooked peaches
This delicious vegetable side dish might convert some fennel naysayers. What do you think?
It pairs well with any heartier protein-centric dishes like lamb, cast-iron roast chicken, pork sausage, or oily fish—it tastes excellent with ribs.
For a meatless Monday or vegetarian dish, try it as a side with quinoa or pre-cooked lentils.
Are you looking for other sweet and hearty vegetable dishes?
Here are some more:
HUNGRY FOR MORE and want to stay in touch? Then don't forget to subscribe to my Monthly Newsletter! Enjoy!
📖 Recipe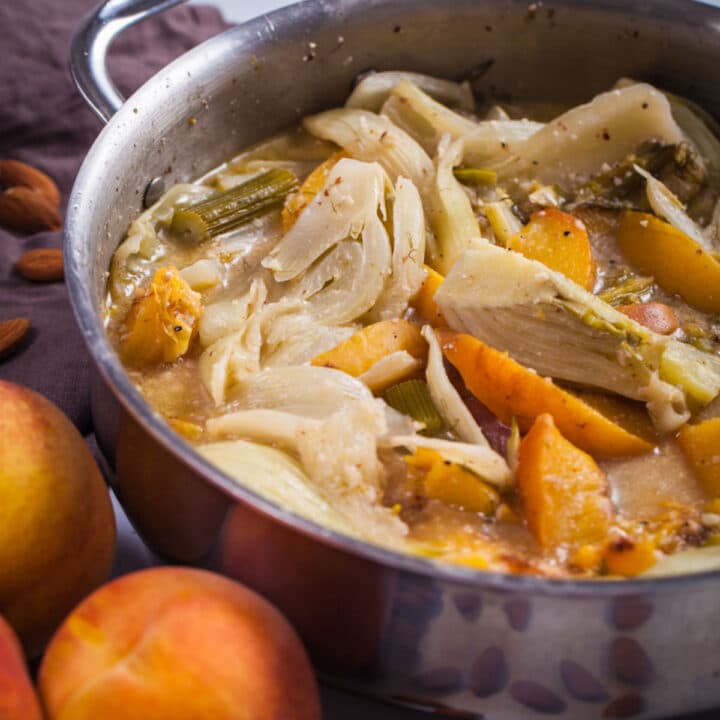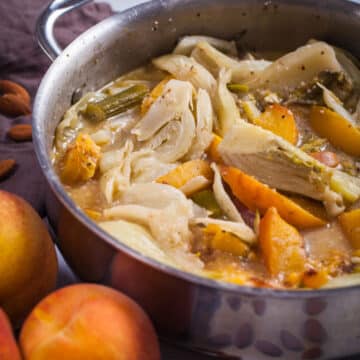 Braised Fennel with Peaches and Almonds
Mariska Ramondino
Delicious braised fennel, cooked with peaches and paired with almond flour—A must-make vegetable dish that goes well with protein-centric dishes like lamb, chicken, or oily fish!
Ingredients
2

large fennel bulbs

1 ½ pounds or 700 grams

2

fresh peaches

or 290 grams of frozen peach wedges

3

tablespoons

real butter or olive oil

to keep it dairy-free and vegan-friendly

1

tablespoon

vegetable broth seasoning

I prefer vegetable broth and seasoning from Seitenbacher—see note

½

teaspoon

salt

or more to taste, and black pepper

1

tablespoon

brown rice syrup

optional, or Monk fruit sweetener or maple syrup—see note

¼

teaspoon

ground cardamom

¼

cup

roasted almonds

chopped or 2 tablespoons almond meal or almond flour—see note

½

cup

water (or vegetable or chicken stock)

110 ml
Instructions
Cut the root ends from the fennel bulbs and discard them. Separate the stalks from the bulbs by cutting about 1 inch above the bulb. Chop the fennel stalks, then quarter the fennel bulbs, and further cut each quarter piece in half.

Cut open the peaches in the center and around the pit. Open the fruits to expose them. Take the pit out and discard it. Slice the peaches further into thin wedges.

In a large sauté pan with a lid, melt the butter over medium-high heat.

Add all the fennel pieces. Cook the fennel for 3 minutes on both sides or until the vegetable is translucent and slightly browned.

Season with a few pinches of salt and a few pinches of Monk fruit sweetener if used.

Lower heat to medium. Add the peach wedges—arrange them in between the fennel pieces.

Cook and stir for 3 minutes to soften the peaches.

Then stir in the syrup or sweetener of choice.

Pour over the liquid, and season with salt, black pepper, vegetable broth seasoning, and cardamom.

Stir in the almond meal or flour—if preferred use chopped almonds.

Cover the pan and let the liquid come to a gentle simmer.

Then reduce the heat to low and further simmer for 20 to 25 minutes. Stir occasionally.

The fennel and the flesh of the peaches should be soft— some peaches might have almost broken down.
Notes
Note on vegetable seasoning: you can also use nutritional yeast instead, or vegetable bouillon powder.
Note on sweetener: brown rice syrup or Monkfruit sweetener will be less sweet than when using maple syrup.
Note on the almond meal: you can use chopped almonds, but an almond meal or flour will slightly thicken the liquid. Also, note that almond meal has a coarser consistency leaving small specks of almond skin (it's supposed to be there). Use almond flour instead if you prefer the finest grind like regular flour.

You can also use the fennel stalks in this recipe or save and use them to make

chicken stock.

You can also use frozen peach wedges and you don't need to defrost them.
Add your own private notes
Whenever you come back to this recipe, you'll be able to see your notes.
Nutrition (% Daily value)
Calories:
212
kcal
(11%)
Carbohydrates:
22
g
(7%)
Protein:
4
g
(8%)
Fat:
14
g
(22%)
Saturated Fat:
6
g
(38%)
Polyunsaturated Fat:
2
g
Monounsaturated Fat:
5
g
Trans Fat:
0.3
g
Cholesterol:
23
mg
(8%)
Sodium:
759
mg
(33%)
Potassium:
651
mg
(19%)
Fiber:
6
g
(25%)
Sugar:
15
g
(17%)
Vitamin A:
664
IU
(13%)
Vitamin C:
17
mg
(21%)
Calcium:
93
mg
(9%)
Iron:
1
mg
(6%)
Disclaimer: This nutritional data is calculated using third party tools and is only intended as a reference.