An Avocado Quinoa Salad with crunchy cucumbers and chopped walnuts, infused with green onions and fresh parsley leaves, accompanied by a creamy lemon dressing. Yes, it's really good. Meal prep it or make it on the spot in as little as 15 minutes for a hearty and healthy lunch, light dinner, or side salad to a bigger meal.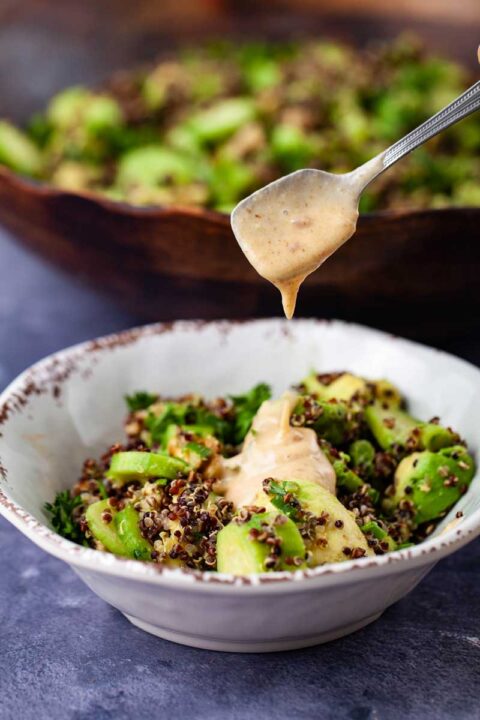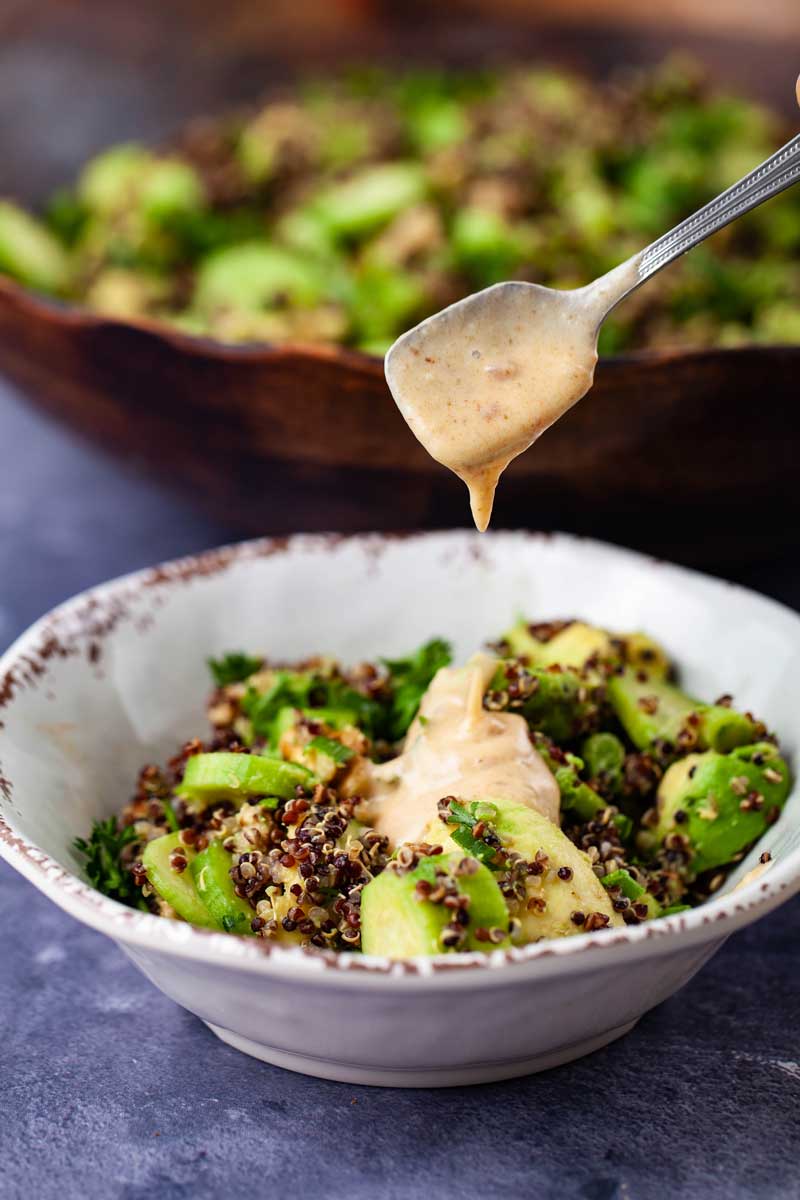 A small confession—I never jumped on the quinoa bandwagon when it first became trendy here in the US. I am not sure if it still bears the same fame now, but let's face it, this "grain" (a seed rather) is now everywhere, pretty cheap, and a great gluten-free and protein-rich nutrient-dense option to incorporate into a healthy lifestyle.
My original disinterest was the sheer thought of rinsing these teeny-tiny seeds—as recommended to remove any bitterness—would always prevent me from opening that quinoa bag sitting for too long in my pantry. Am I alone in this? It always was one of these ingredients that I liked best in dishes I did not have to prepare.
But, as you can see, I got over it. Especially because I do like quinoa, okay, I'll admit, maybe alone it lacks taste. Still, it so deliciously takes on the flavors of other mixed-in ingredients, whether hearty or sweet in flavors, while adding a comforting twist.
And now I just prep and cook a whole bag of it in advance, then store it in the fridge and toss it into my salads whenever I need something more substantial with my greens or vegetable soup, yes even in my breakfast bowls.
And these days, I have been using a cheesecloth or nut bag instead of a fine mesh strainer to rinse these seeds. This makes life so much easier, who knew. And if you still cringe at the thought of it, for a few cents more, you can buy prewashed packages, and to me, they come with no flavor and textural differences.
Quinoa is versatile, and I especially love it in this avocado quinoa salad. And just a little bit of that homemade creamy, lemony dressing lifts everything and makes for one flavorful and comforting lunch, or dinner, or side salad.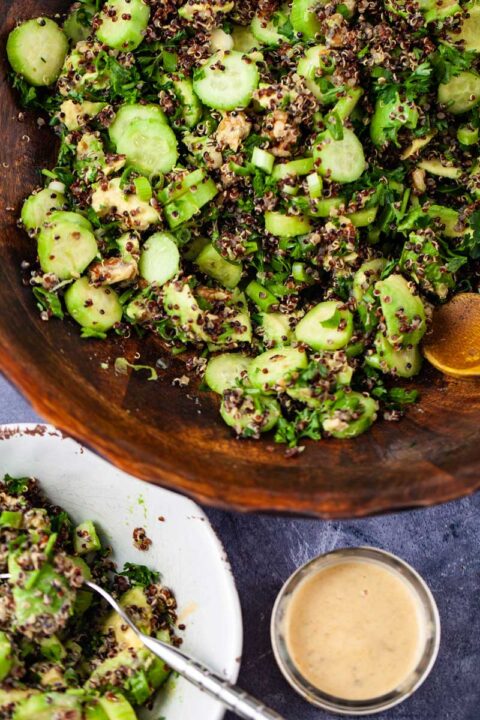 How to cook quinoa plus amount needed
I usually cook one whole (16 ounces/454 grams) bag and only use what is needed for this recipe. You can easily store the rest in the fridge to add to other salads—see my suggestions below—or freeze in the amount that you won't consume right away.
If you are not pre-cooking your "grains," then know that one cup of raw quinoa will give you about two cups of cooked quinoa. Use double the amount of liquid for cooking these tiny seeds.
To add more flavor, I like to stir in a vegetable bouillon or two—if I am using the whole bag—and a few pinches of salt in the water. This is totally optional.
Ingredients for the quinoa salad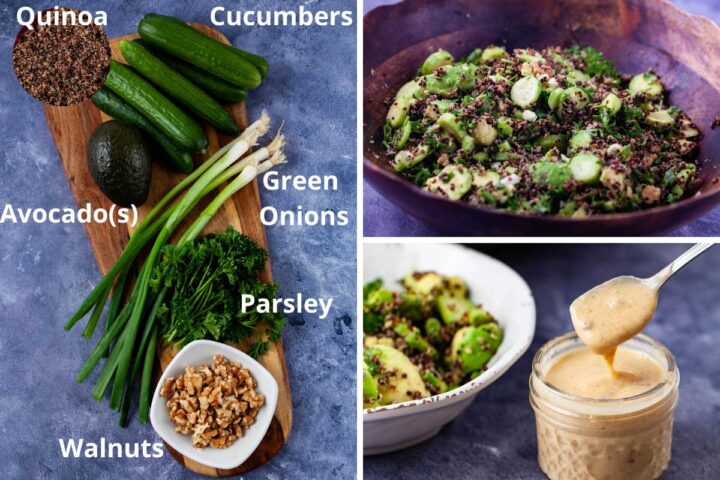 A few notes!
I am somewhat partial to the tri-color blend or red quinoa because I find it richer in taste, chewier and perfect for filling up cold salads. But I imagine that white quinoa or other colors work just as well. Pick your favorite.
I prefer two avocados, but if I am not planning on finishing the salad, then I only toss in the number of avocados my family or I want to enjoy that day. This often happens when I want to meal prep the avocado quinoa salad for quick lunches during the week.
The small Persian cucumbers you can get from Trader's Joe or English cucumbers work best in this dish because they are crunchy and deliciously sweeter than regular cucumbers—they're just better tasting, in my humble opinion.
Ingredients for the quinoa salad dressing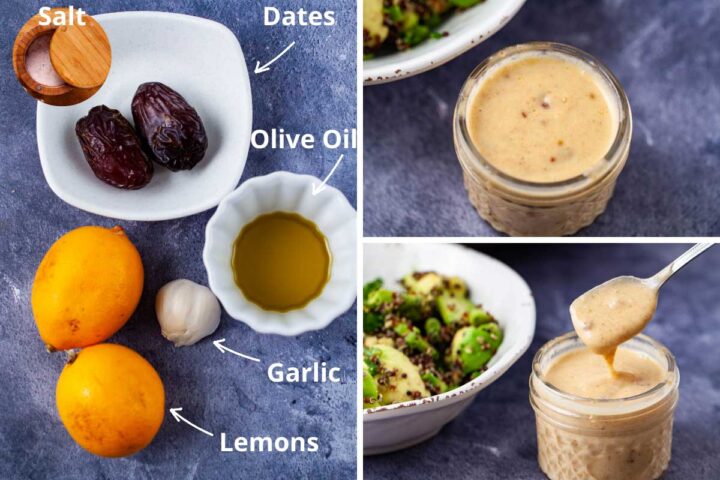 My only suggestion here is to serve the quinoa salad dressing on the side instead of tossing everything together because a small amount goes a long way.
Some people in my family like it extra creamy and lemony, whereas I only use a teaspoon to add sufficient flavor to my avocado quinoa salad.
Meal Prep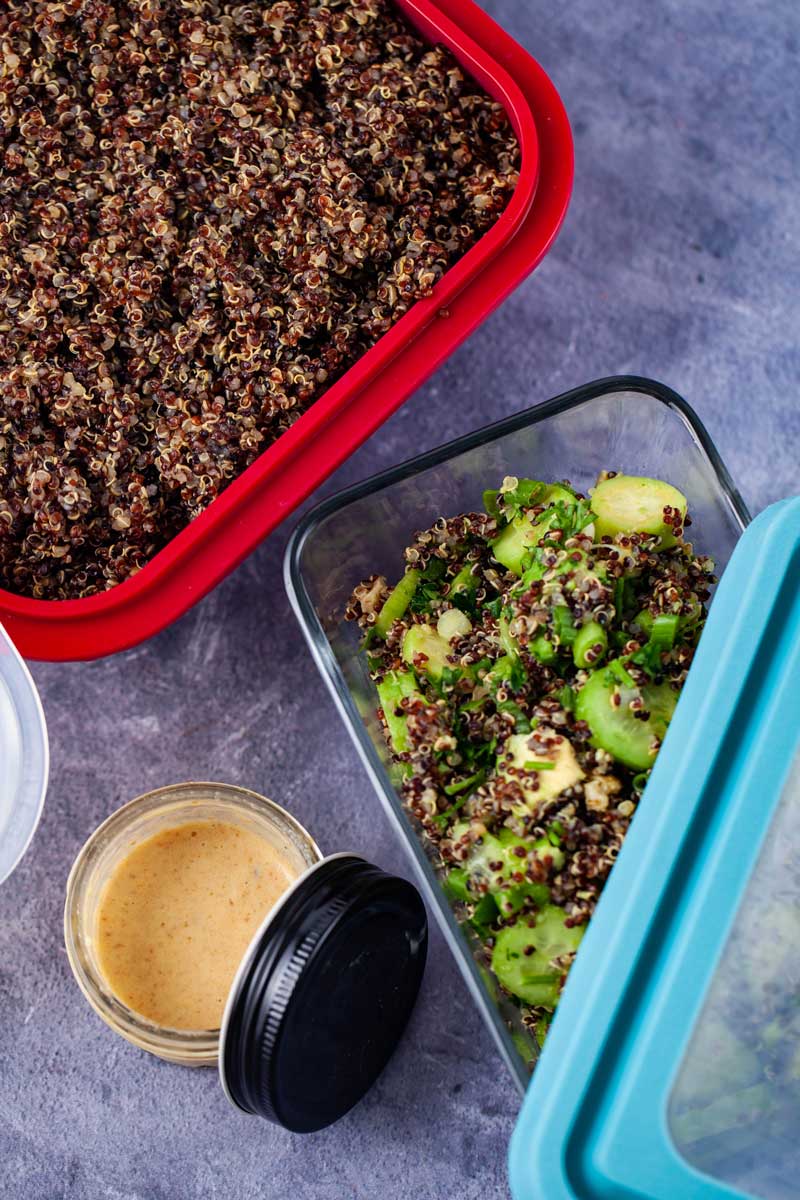 It's an easy recipe for meal prep. The avocado quinoa salad stores easily in the fridge for up to 5 days. And as mentioned before, I store it without the avocados or dressing and only toss that in when ready to enjoy the salad.
The dressing goes into a closed jar and stays good in the fridge for up to 5 days as well.
The pre-cooked quinoa can be stored in the fridge for up to 5 days or once cooled, place into a meal prep container, and store in the freezer for up to two months. When ready to use it, thaw it in the fridge overnight or on the counter for a few hours.
This salad is a filling and veggie-packed lunch, but I have used it before as a side dish for dinner with burgers, or as an addition to baked salmon.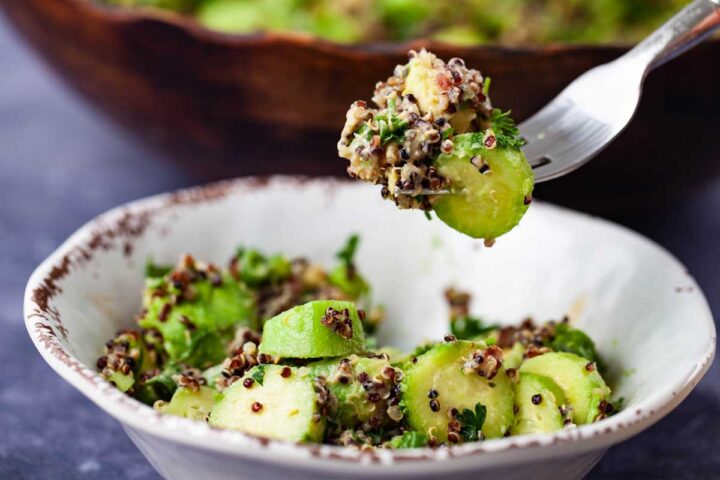 Other quinoa salad ideas
So once you have that pre-cooked quinoa stored in the fridge or freezer, what to do with it? Here are a few more suggestions.
📖 Recipe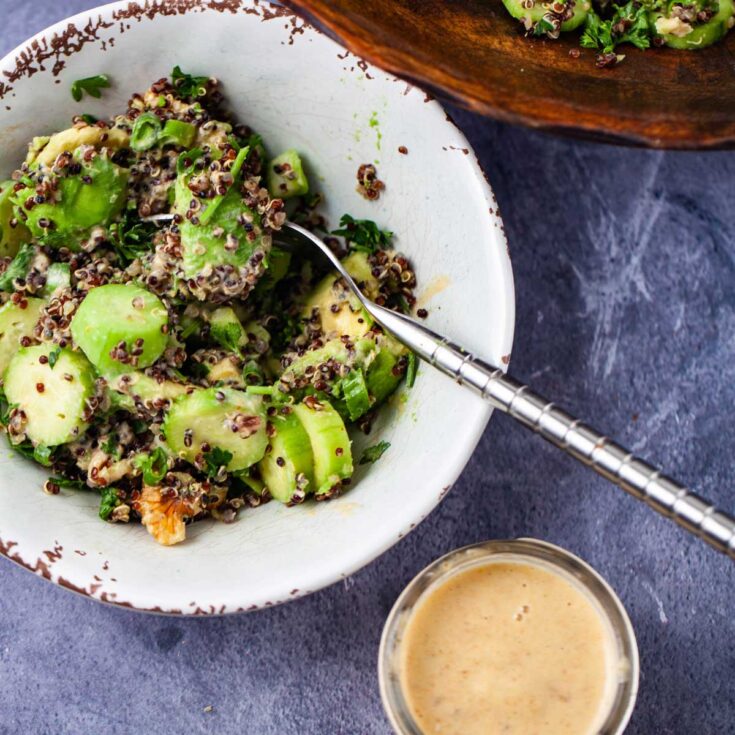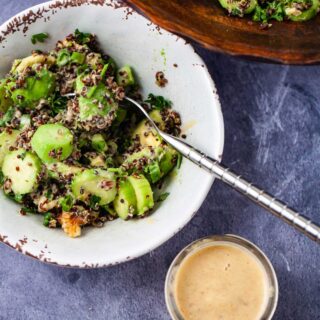 Avocado Quinoa Salad with Creamy Lemon Dressing
Mariska Ramondino
An easy-to-make fresh avocado quinoa salad topped with a creamy lemon dressing and crunchy walnuts—filling and deliciously nourishing.
Ingredients
Salad
2

cups

cooked quinoa

1

pound

Persian or English cucumbers

2

large avocados

peeled and chopped

6

green onions

finely chopped

1

handful

fresh parsley leaves

finely chopped

½

cup

chopped walnuts
Dressing
⅓

cup

fresh lemon juice

or the juice two lemons

3

tablespoons

extra virgin olive oil

2

cloves

garlic

2

large

Medjool dates

Salt to taste
Instructions
In a large salad bowl, combine the cooked quinoa with the cucumbers first. Thein stir in the avocados and the green onions. Lastly, mix in the Parsley and the walnuts; set aside.

For the dressing, add all the ingredients in a blender, then blend for a few seconds or until everything has been pulverized and you have a creamy consistency.

Enjoy and serve with the dressing on the side.
Notes
Meal prep: cook the quinoa according to package instructions. I love the tri-colored or red quinoa, but any quinoa will do. You can prepare this in advance and store the cooked quinoa in an airtight container in the fridge for up to 5 days. How to give quinoa flavor? I love to cook my quinoa by adding a pinch of salt and some vegetable bouillons to the water to give it extra flavor. How to store the creamy lemon dressing? Place the dressing in a closed jar and store it in the fridge for up to 5 days. You can use this dressing for other salads too. How to store the avocado quinoa salad? Not planning on finishing the salad, or you want to make this to prep your lunch for the week in advance, then store the salad separate from the dressing and only use as much dressing as you need per serving. If you plan to keep the salad for longer than a day in the fridge, only add the number of avocados that you'll be eating that day— a perfect lunches-made-ahead nourishing bowl.
Add your own private notes
Whenever you come back to this recipe, you'll be able to see your notes.
Nutrition (% Daily value)
Calories:
331
kcal
(17%)
Carbohydrates:
25
g
(8%)
Protein:
7
g
(14%)
Fat:
25
g
(38%)
Saturated Fat:
3
g
(19%)
Polyunsaturated Fat:
7
g
Monounsaturated Fat:
13
g
Cholesterol:
8
mg
(3%)
Sodium:
51
mg
(2%)
Potassium:
645
mg
(18%)
Fiber:
8
g
(33%)
Sugar:
3
g
(3%)
Vitamin A:
329
IU
(7%)
Vitamin C:
17
mg
(21%)
Calcium:
55
mg
(6%)
Iron:
2
mg
(11%)
Disclaimer: This nutritional data is calculated using third party tools and is only intended as a reference.
PIN IT for later! I always love to hear if you tried out this recipe and if it worked for you. Don't forget to subscribe to my Monthly Newsletter!