This basic poached whole chicken recipe is one of the most painless and rewarding things you can make in your kitchen and perfect for meal prep ingredients on lazy (Sun)days to make wholesome dinners, lunch, or snacks during the week. 
It promises a nutritious broth that can be used in various recipes, like hearty chicken or noodle soups, fall-of-the-bone tender meat that yields plenty of shredded or chopped chicken for salads or sandwiches.
It all adds to a variety of dinner menus, from real simple ingredients and one whole chicken.
Jump to What you get from poaching a whole chicken | Choose a whole bird | Adding vegetables or not | How long to poach a chicken | A few notes on meal prep | Skimming, straining the broth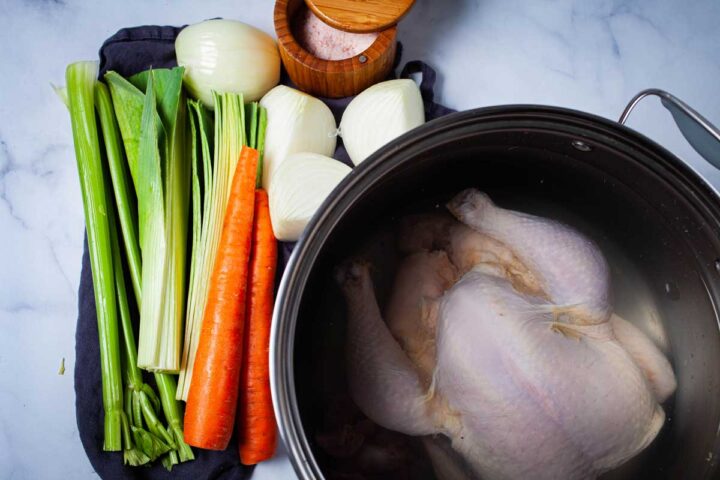 In general, I eat a very plant-rich diet. Yes, I am one of those who utterly loves vegetables—it's the way I was raised. Of course, that doesn't mean that I don't eat meat on occasion, but it has to be worth it like a tender, succulent, flavorful, or as it is with this whole poached chicken, fall-off-the-bone worth it.
I'm a bit nostalgic about this recipe. It still conjures the smell and taste of so many delicious soups and salads my mom would religiously make from it, like Straciatella soup.
Very little is wasted here. The best part for some in my family is nibbling the little marrow out of the soft and easy-to-chew cooked chicken bones—not a pretty sight but so good.
It's the easiest thing in the world to cook, and you can use all parts to produce several healthy meals, which is great if you are into meal prepping some ingredients for the week ahead.
You can get a lot from poaching a whole chicken
There is the meat— It's moist, tender, and easy to remove from the bones once cooked, which you can enjoy as-is or use in salads, sandwiches, veggie dishes, chicken soups...you name it.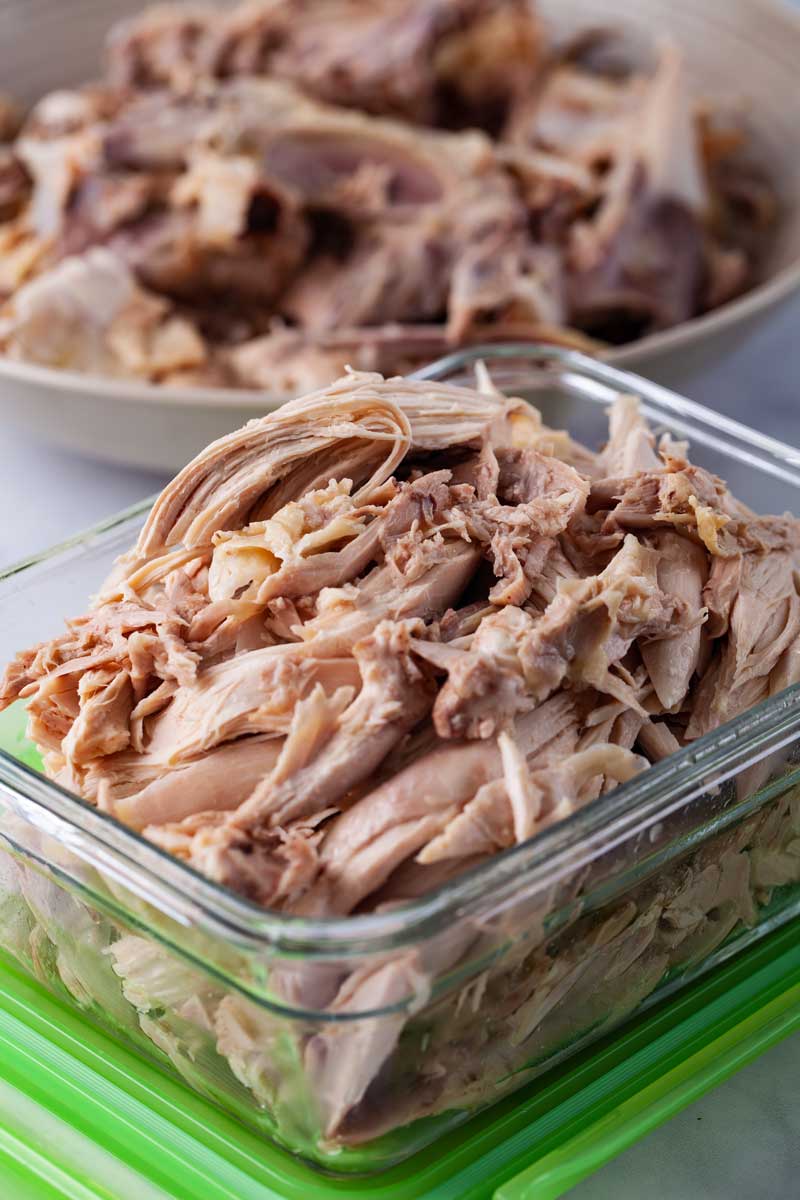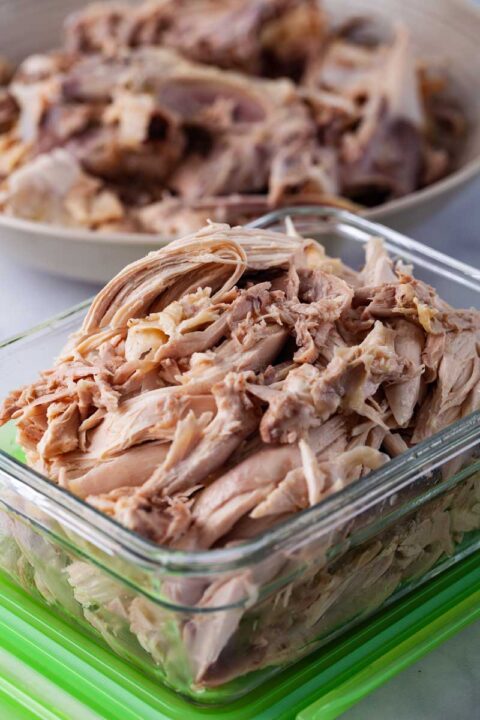 Then there is the broth—which you can make as plain or flavorful as you want. You can use it immediately to make a hearty soup or to give flavor to other dishes, or store it in the fridge or freezer once cooled for later.
What about leftover stock? I imagine you could use the carcass leftovers to make another light stock, but I have never done this. Not much is left after removing all the meat, and we love nibbling on the soft ends of the bones. Besides, the flavor from the meat, fat, and carcass is in the hearty broth, and I don't think that those soft-cooked tiny chicken bones have much left to flavor another stock. But if you are not a bone nibbler, then you could give this a try.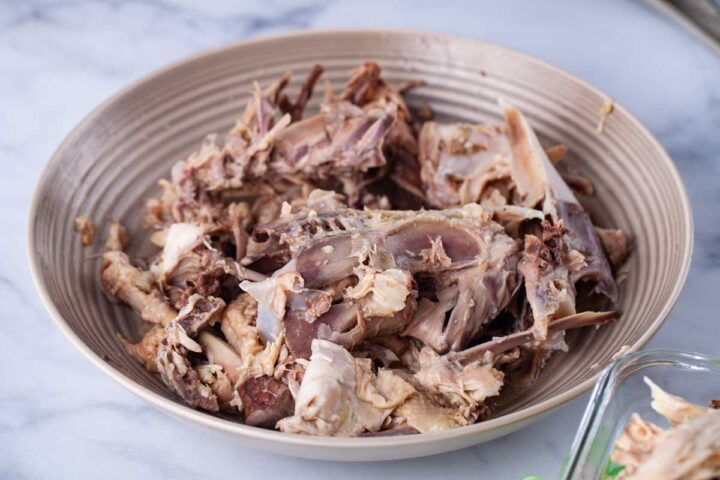 It's a satisfying thing to make in your kitchen and only requires a bit of your attention now and then while it simmers on the stove, and the nutritious broth and soft, luscious chicken meat is so worth eating.
Choose a whole bird
I know, these days, most chickens come at a uniform of 3 to 3 ½ pounds. But if you can, get a 4 to almost five ½-pound one—I get them at my local farmer's market. You are doing the same amount of work, but a larger bird will yield more broth and meat.
Since you are using the whole chicken from its bones to its tissues and fat, try to choose the best quality poultry you can afford—free-range and organic if possible. It plays a role in the taste of the broth and the meat.
Sometimes—more often when you buy poultry directly from a farmer or good butcher—you'll also get the giblets, such as the heart, neck, liver, and gizzards. I add these to the pot, except for the liver—it has a distinctive taste that can overwhelm the flavors of the broth.
If you prefer, single out the liver, refrigerate to pan-fry later with garlic and onions to toss on top of your green salad for a quick lunch.
Also, I don't remove any chicken skin. It's what gives the broth that perfect balance of fat and flavor, adds to a collagen-rich broth, and prevents the meat from becoming dry.
If you really want a lighter broth, then you can refrigerate it overnight. The fat will congeal on top, and you can then skim it off before using it.
Adding vegetables or not
Well, there are several methods that you can choose from, and it all depends on what you have on hand and how you want to flavor the broth.
Adding no vegetables—I usually poach a whole chicken with only adding salt to the water. The broth and meat won't be as flavorful as when you add vegetables and herbs, but there is still a lot going on. The chicken-flavored and collagen-rich broth is perfect as a base for hearty soups where you want to control as much of the flavoring as possible at the time of making your final dishes. And the meat will be silky and soft for deliciously seasoned chicken salads or sandwiches.
More often than not, I make straight away a soup from the broth (after the cooked whole chicken has been removed). So, I'll add freshly chopped vegetables (like carrots, onions, leeks, celery, or whatever the soup recipe calls for). I'll also immediately debone the chicken, shred the meat with some pieces ending up back into the soup while the rest goes in a side salad—that's how it was done growing up.
Add herbs and onions—Want to upgrade your broth so enough flavors are present to enjoy as a nourishing drink? Then add onions, a few garlic cloves, and herbs such as fresh rosemary. Usually, I don't add garlic since my mom never did either, but I'll admit, after having done it a few times, it can add an aromatic flavor that is perfect for the base of brothy soups or adding a bouillon-like flavor to cook rice and beans.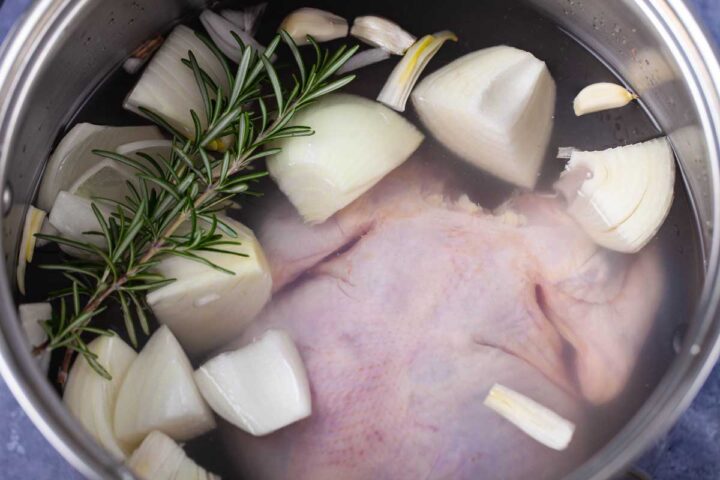 A more frugal way is adding veggie scraps. For example, ends of carrots, leeks onions, and even carrot leaves—all my favorites—can be added initially and then strained and removed afterward.
It's is also a preferable way of using vegetables to make a tastier broth without feeling too guilty of throwing them out before proceeding with fresh vegetable ingredients to finish your (chicken) soup.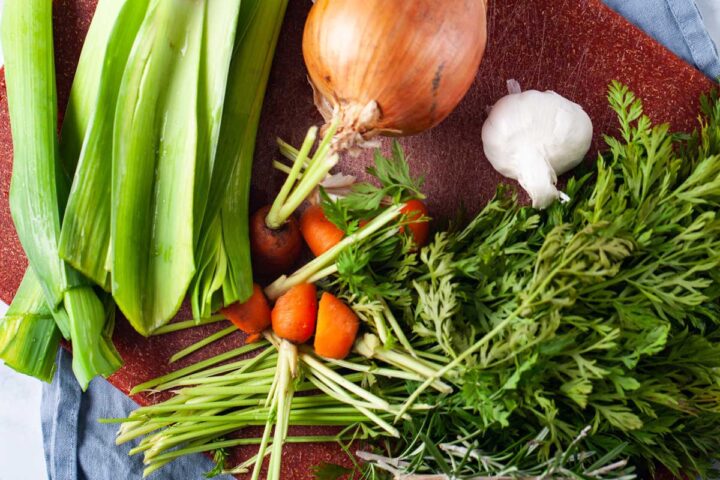 Adding freshly chopped vegetables—You can, of course, add newly chopped vegetables like carrots, onions, leeks, or celery from the beginning to give extra flavor. They're even tasty enough, in my opinion, to enjoy in a cup of broth that same day. But they might be a bit too mushy and not bright enough to use in soup recipes. So I would strain them and use fresh veggies instead.
How long to poach a chicken
It really depends on the size of the bird. I usually bring the water first to a boil over high heat. But then immediately reduce the heat to very low, or I lower it just enough until I can see the occasional bubble breaking through the water.
You have to pay at least attention in the beginning. But once you have that slow tempo of bubbles coming up now and then, you can walk away doing other stuff while keeping tabs on time and checking in occasionally. That slow bubble is really key to getting that beautiful tender meat.
Usually, it takes about 1 to 1 ½ hour, depending on the chicken's size, but I look for super tender meat that's falling off the bone when grabbing it with tongs.
More often than not, the whole chicken might break apart when transferring it out of the pot to a plate, so be prepared with tongs in one hand and a large slotted spoon in the other.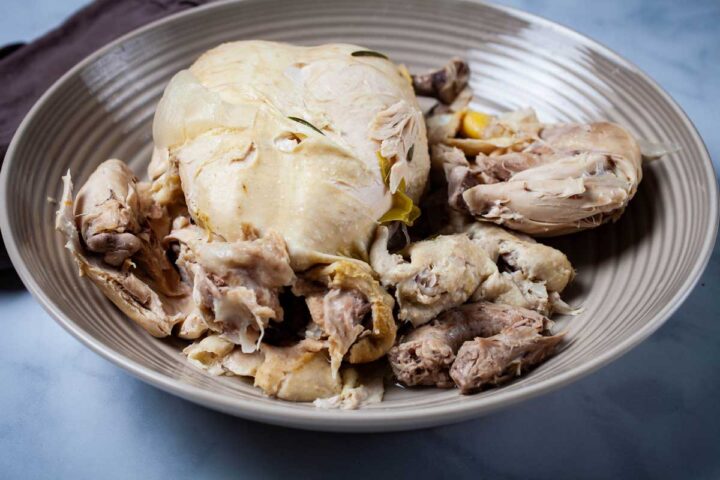 A few notes on meal prep
In my kitchen, the tasty broth turns immediately into a soup for dinner. That can often be as simple as a Straciatella or chicken soup with or without something starchy like noodles or tortellini (Italian dumplings)—omit if you want to keep it low carb.
You can store any leftover soup in the fridge or freezer but without the noodles. You want no mushy mess. It's best to add freshly cooked noodles at the end right before serving.
First, cool down any broth that isn't immediately used and then either refrigerate or freeze in. It's best to remove any vegetables or veggie scraps—if any—place the broth in individual-sized airtight containers, and store it in the refrigerator or freezer for later. Once you're ready to use it in a dish, spoon off the fat that has congealed on top and that has turned solid. I am not too picky about painstakingly removing any tiny chunks of it.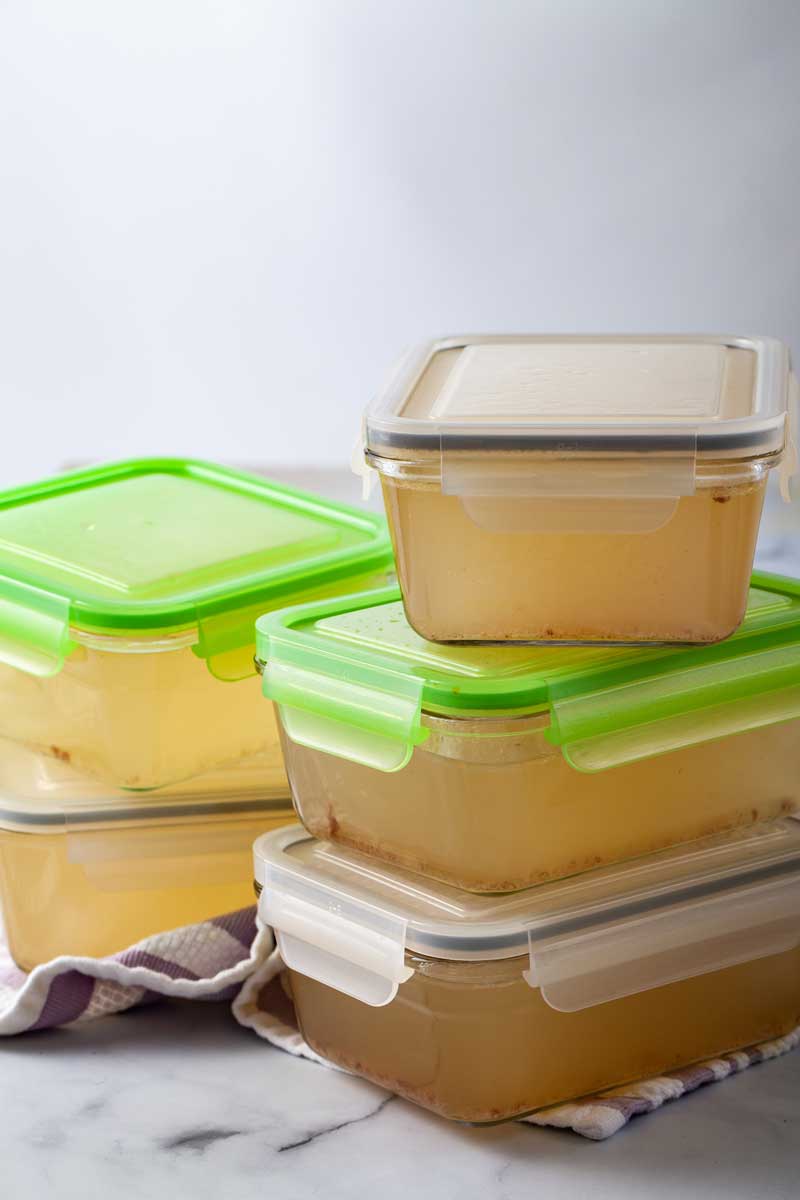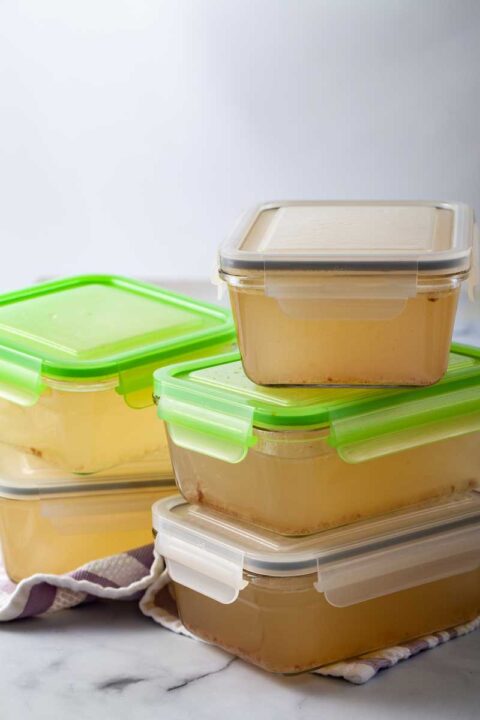 Remove the poached whole chicken from the broth, and let it cool down on a large plate. When cool enough to handle, use your fingers to separate any meat from the bones and skin. You can use a fork to pull the meat apart into shredded chunks, or you can always use a knife to cut it into smaller pieces—whatever you prefer.
A good portion of that shredded chicken can be used in chicken soup or tasty chicken salads, and you can refrigerate extras to fill up other dishes or make sandwiches.
Note on skimming, straining the broth
When slow-poaching a whole chicken, there is sometimes a froth (solid proteins) that rise to the top, and yes, I still have the habit—thank you, mom—of skimming it off with a ladle now and then.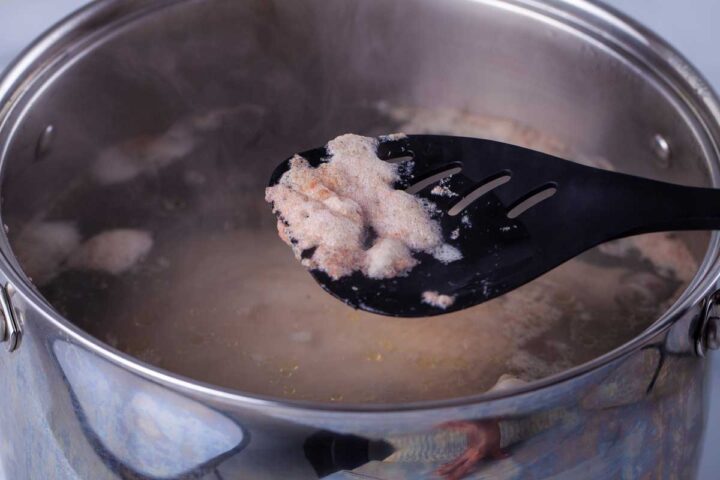 But I am not overly obsessed about it and am less concerned with an utterly perfect strain that might leave some of these bits of protein sink to the bottom. At least not for a (chicken) soup.
But if you want to get it clear, like a consomme type of stock, strain it before it is completely cooled.
What's next? Try this simple chicken salad recipe to use up that shredded chicken, an Asian-inspired buckwheat noodle soup that can use some of this chicken broth, and make this delicious Stracciatella soup.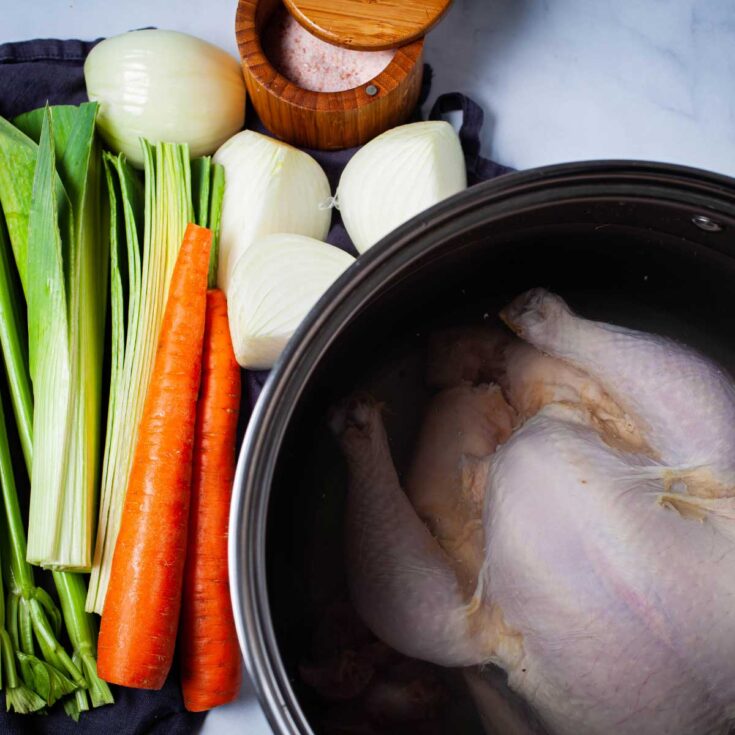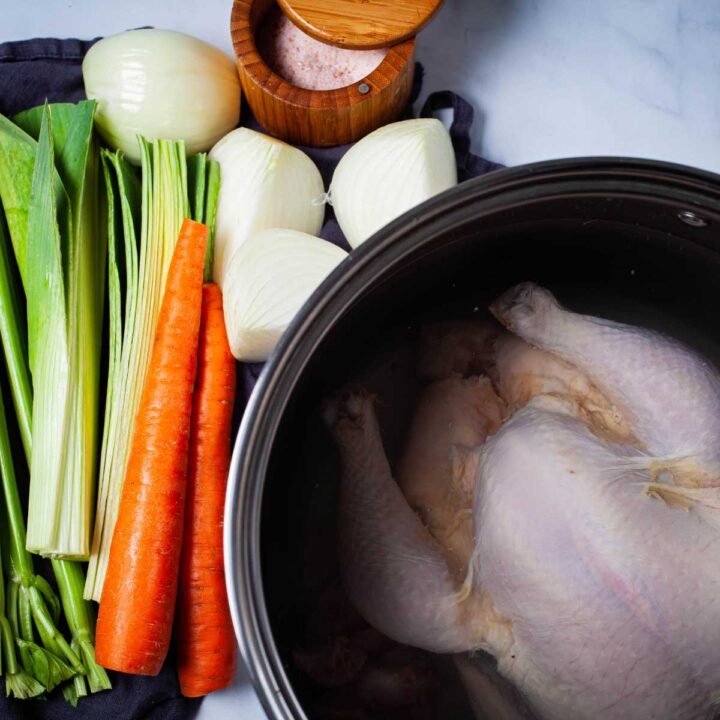 Fall-off-the-bone poached whole chicken
Cook Time:
1 hour
30 minutes
Total Time:
1 hour
40 minutes
A poached whole chicken, one of the easiest things to cook for meal prep. You'll get savory broth for delicious soups and silky shredded chicken for chicken salads or sandwiches.
Ingredients
For the broth
A 3 to a 5 ½-pound whole chicken
1 tablespoon sea or kosher salt
Water
1 yellow onion, peeled and cut into large chunks
2 to 3 cloves of garlic, peeled (optional)
Fresh Rosemary or Thyme leaves
Add Vegetables or veggie scraps—optional
½ to 1 leek, chopped
1 to 2 large carrots, chopped
2 to 3 celery stalks, chopped
Instructions
First, check if the chicken doesn't have any giblets in the cavity. If so, remove it, and set it aside.
Use paper towels to pat-dry the whole bird, including the cavity. Take the giblets out of the small bag and pat-dry as well.
Place the whole chicken and the giblets (except liver-see note 1) in a large, deep stockpot—the chicken has to fit in the pot comfortably.
If using, add either veggie scraps or freshly chopped vegetables and herbs like Rosemary or Thyme leaves, onions, carrots, leeks, and celery. I don't always add garlic, but that's an option too.
Then add enough water to cover the whole chicken with a depth of two inches.
Add one tablespoon of salt.
Cover the pot and bring to a boil on medium/high heat. When the water has come to a boil, lower the heat to a very slow but steady simmer—a few bubbles should rise now and then steadily but gently. Then partly cover the pot.
Cook for about 60 to 90 minutes or until the chicken is fully cooked and the meat almost falls off the bone. Turn over the chicken at least once during the cooking process.
Now and then, you might see a froth (protein scum) coming up to the surface. Skim it off with a ladle and discard.
When done and the chicken is very tender, use tongs (I also like to use a slotted spoon in the other hand to support the chicken from below) to transfer the whole chicken from the pot to a large bowl or shallow container. Cover and set aside until it's cool enough to handle.
Strain the liquid through a sieve and discard any vegetables if used (see note 2).
You can use all or some of it to make a soup or reserve the broth for later.
If you want to reserve it for later, transfer it to individual-sized airtight containers and allow it to cool first before storing it in the fridge or freezer (see note 3).
When the chicken is cool enough to handle, use your fingers to separate any chicken meat from bones and skin. Discard the bones and skin.
Shred big pieces of meat with your hands into smaller chunks, or use a fork to pull the meat apart. Use the meat immediately to make a chicken salad or in sandwiches, or store it in airtight containers in the fridge for up to 3 or 4 days for later use.
Notes
Giblets: I like to reserve the liver for another time, as it can add a distinctive livery flavor to the stock. You can refrigerate to pan-fry later with garlic and onions and toss on top of a green salad for a quick lunch.
Straining the broth: If I use the broth immediately to make a chicken soup or Straciatella, I am less concerned with an utterly perfect strain. If you really want a clear type of stock and want to remove bits of protein that might have sunk to the bottom, then strain it before it is completely cooled using a fine sieve or a colander lined with cheesecloth.
Refrigerate chicken broth for up to 3 days: After refrigeration, a thick layer of fat will have risen to the top of the broth. When ready to use it, always skim off the fat that has congealed on top.
A 4 to 4 ½-pound chicken yields about 5 cups shredded chicken and 16 cups of chicken broth.