Transform these beef short ribs into a tender cooked and full of flavor weeknight dinner.
It is so easy to prepare, and it becomes a hands-off recipe once everything goes into the slow cooker.
When you invest in some good-quality beef short ribs, you want to cook them until they almost fall off the bone.
I often opt to make them in the slow cooker because it's one of the most hand-offs ways of creating incredibly tender beef short ribs.
It's a super simple recipe. First, all surfaces of the meat are generously coated with a quick homemade dry rub—you probably have most of the spices already in your pantry.
Then the ribs go into the crockpot with sweet yellow onions, garlic, and Rosemary—no fancy ingredients, but essential nonetheless.
There is no need to add any liquid or broth.
The ribs are slowly cooked in their own juices and fat, allowing them to soak up all the flavors of the other ingredients until they melt in your mouth, are a tad sweet and spicy, and simply delicious.
How to prepare short ribs
Let's gather the ingredients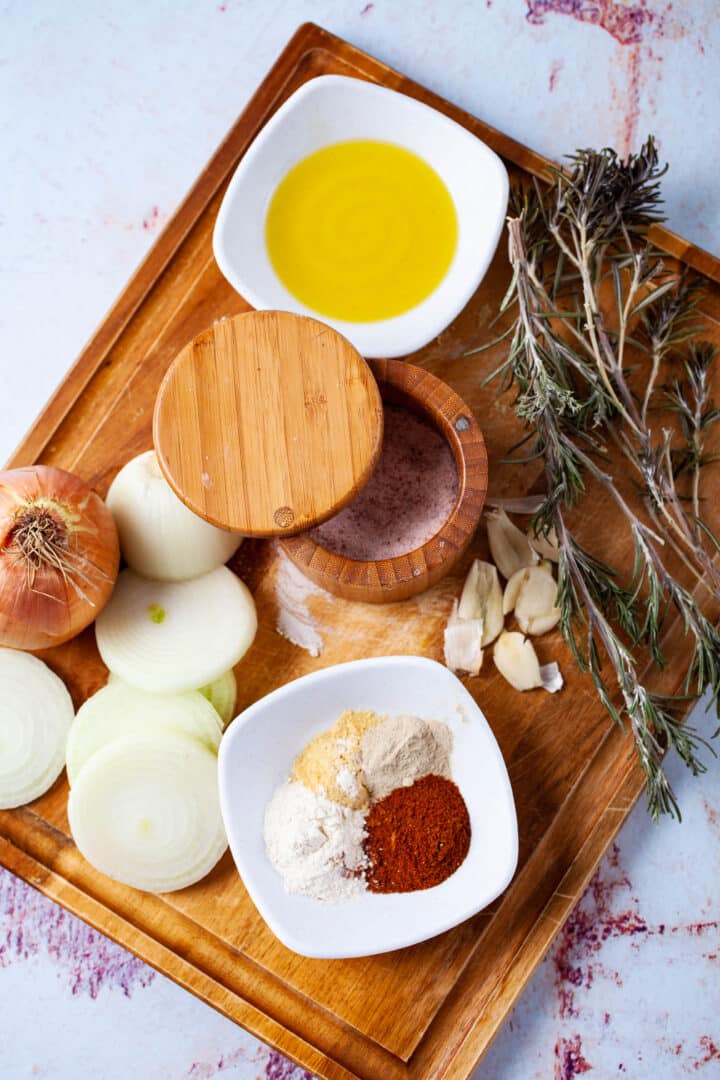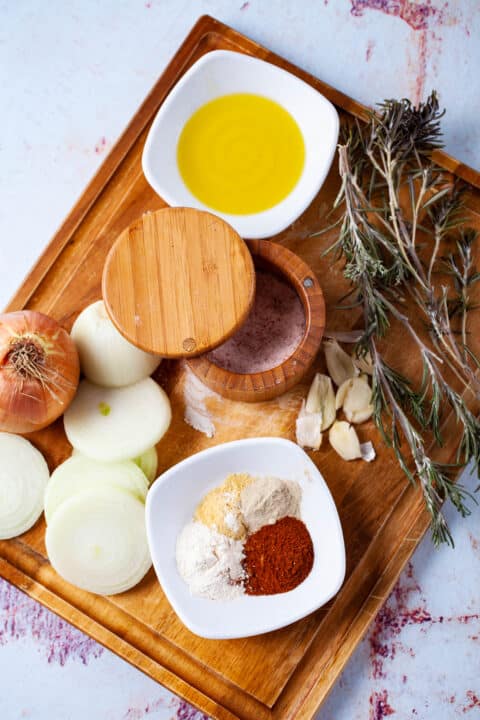 Beef Short Ribs: I like to buy the bone-in, but you can use short ribs with the bone in or without, or a combination of the two. If my local butcher has it on sale, I might even combine beef short ribs with beef back ribs. Count about 9 to 10 pieces to fit snuggly into the slow cooker.
Yellow onions: Most of it will cook away, but this vegetable will add a delicious natural sweet flavor to the sauce and the ribs.
Garlic: you need 4 large cloves, smashed.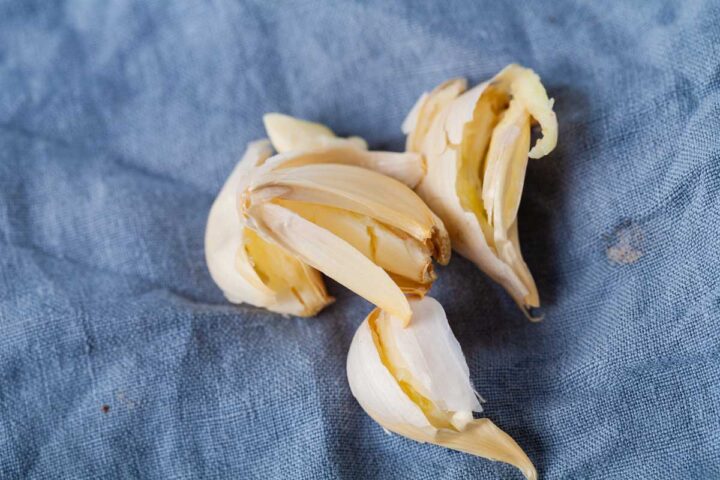 Rosemary sprigs: I highly recommend fresh or dried cracked needles. These sprigs add an almost lemony, mint-like taste that nicely balances the fattiness of the meat.
Homemade dry rub: Sea salt, ground mustard seed, ground white pepper, cayenne pepper, onion powder, and a tad of sugar substitute (see note in recipe) is used to dry rub the ribs and will give them a slightly sweet and spicy flavor.
Extra virgin olive oil: I'm just adding a bit at the bottom of the slow cooker for a fruity and herb-like aroma. If you love ribs with a slightly buttery taste, then replace the olive oil with butter.
How to season the short ribs
These are short ribs bone-in.
I like to pat-dry them with a paper towel and lay them on a flat surface.
See these ridges of fat? It's what will make them incredibly succulent with a bit of patience.
Next, mix all of the spices—ground mustard seed, ground white pepper, cayenne pepper, onion powder, salt, and a tad of sugar substitute—together in a mixing bowl.
One by one, dip the ribs into the spice bowl. Use some pressure to coat all sides generously with the spices. Don't skip the bone ends or any ridges.
When pressing the meat against the rub, try to press firmly, so it saturates every inch of the meat to maximize the flavor.
When done, you should have a bit of the mixed spices left, which we will use at the end.
Let's layer everything in the crockpot
Drizzle the olive oil into the slow cooker. I usually like to use a pastry brush to coat the surface equally.
Take the slices of one onion, and spread them evenly on top of the olive oil—season with a few pinches of salt.
Now, arrange the seasoned short ribs on top of the onions.
See the spaces in between the short ribs? We're filling them up with the rest of the sliced onions.
Snug the onions in between the ribs.
Many of them will cook away, but they will give an incredible natural sweet flavor that the ribs will soak up like a sponge.
Grab the flattened garlic and Rosemary sprigs or needles and add them on top of the ribs.
You can even add some fresh Thyme if you have some.
Take the remaining spice mix and sprinkle it on top.
If you like the ribs to be extra spicy, feel free to add a tad more of the cayenne powder (maybe an extra teaspoon or two).
Look at those beautifully spiced ribs.
Now, secure the lid on the slow cooker, and let everything slowly cook on a high setting for at least 6 hours to get the best and almost fall-off-the-bone short ribs.
And now, look at that goodness. These bone-in beef ribs will melt in your mouth.
Although incredibly tender, you can still hold the bone with your fingers while eating the meat.
For some, the meat might be hanging on for dear life.
Whether you use your hands or fork and knife, I leave it up to you to decide what is the proper way of eating these short beef ribs.
A few tips
You don't need to sear or brown the ribs before slow cooking. Instead, you want them to cook slowly in their natural fatty juices. I know I'm going against the grain here. But these short beef ribs will have an incredible flavor and super tender texture.
I suggest cooking them for 5 to 6 hours in the crockpot on a high setting. They should be soft and juicy but still cling to the bone that easily is separated when pulled. If the timing does not work for you, then slow cook them on low for 8 hours max.
For this recipe, the spicy dry rub does not need to sit on the ribs for a certain amount of time before cooking. Instead, the spices will sink into the meat and build up the flavors during slow cooking.
Once cooled, store any leftovers in an airtight container in the refrigerator for 3-4 days. These beef short ribs are even delicious the next day!
Reheating is easy too. Scrape off any solid grease first, then place in a saucepan, a dutch oven, or anything with a lid. Heat for about 15 minutes or so over medium heat until heated through.
Whatever you decide to serve them with, I suggest spooning some sauce on top of the ribs and any cooked onions.
SERVING SUGGESTIONS
I often pair them with a large, refreshing, and nutritious green salad for dinner that I can quickly prepare in 5 minutes.
Here are some options:
Pair romaine lettuce with half a cucumber, one red bell pepper, and one avocado. Coarsely chop the ingredients and season with a tad of salt, extra virgin olive oil, and apple cider vinegar.
Toss a chopped cucumber with one chopped avocado and a handful of fresh basil leaves, finely chopped. Season the same as suggested above.
Or try these healthy burger salads.
Especially for busy weekdays when you don't want to do a lot of prep work, this is one of the easiest and hands-off short beef recipes that doesn't compromise on flavor.
It's a low-maintenance recipe that also can easily fit into a gluten-free, low-carb (or Keto), Paleo-friendly diet.
You make your side dish as light or as filling as you want.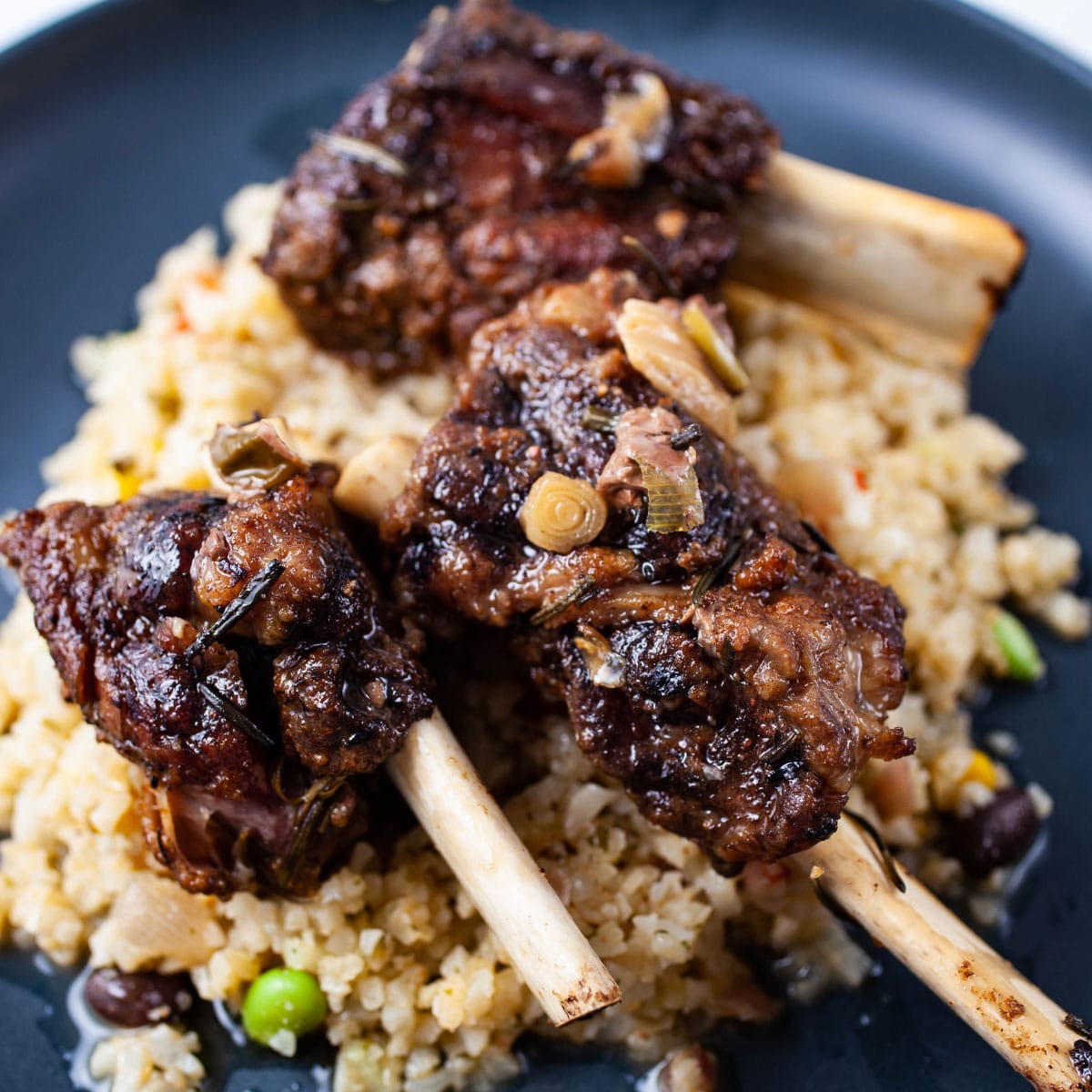 Easy spicy short ribs slow cooker recipe
Additional Time:
6 minutes
Total Time:
6 hours
16 minutes
An easy and healthy beef short ribs recipe (Keto and Paleo-friendly) rubbed with a perfect spice blend and cooked in the slow cooker until deliciously tender. A flavorful family dinner idea that you can easily pair with any vegetable side dish.
Ingredients
4 to 5 pounds or about 2.29 kilograms of bone-in beef short ribs (about 9 to 10 ribs) (see note)
2 teaspoons sea salt (plus a few pinches)
1 teaspoon ground mustard seed
1 teaspoon ground white pepper
2 teaspoons cayenne pepper
2 teaspoons onion powder
2 tablespoons extra virgin olive oil
2 yellow onions (350 grams), peeled and sliced crosswise (see pics), divided
4 large cloves of garlic, peeled
3 fresh whole Rosemary sprigs (full of leaves) or 1 ½ teaspoon cracked needles or 1 teaspoon powdered rosemary
Instructions
Take out the ribs and pat dry with a paper towel, if necessary.
In a small bowl, mix all the spices—salt, ground mustard seed, ground white pepper, cayenne pepper, onion powder, and the sugar substitute.
Dip the ribs one by one into the mixed spice bowl until all sides of the ribs are generously covered with the spice mix (you should still have a bit of spice mix left).
Place ribs on a cutting board and reserve (see note).
Divide the olive oil evenly over the bottom of a minimum 6-quart Crockpot-type-slow-cooker.
Divide the slices of one yellow onion on top of the olive oil.
Season with a few pinches of salt.
Place the seasoned short ribs in the slow cooker on top of the sliced onions. I like to arrange them on their side.
Tuck the remaining sliced onions in between the seasoned ribs. Fill up the spaces evenly in between the ribs.
Sprinkle any remaining spice mix evenly on top of the short ribs and the onions.
With the side of a knife flatten the peeled garlic.
Add on top of the meat in the slow cooker.
Top off with fresh thyme leaves (see note).
Set cooker on high, cover, and cook for 6 hours.
When the ribs are tender, serve with some cooked onions on top and spoon some of the liquid in the slow cooker over the ribs.
Notes
Spiced rubbed beef short ribs: you can cover and refrigerate the ribs for up to one day. But there is no need for the dry rub to sit on the beef ribs. These ribs are cooked slowly in their own fat and juices, so there is plenty of time for the spices to soak into the beef ribs (at least for the first 20 minutes) directly in the slow cooker.
Note on beef short ribs: I prefer the bone-in, but you can use short ribs with the bone in or without, or a combination of the two. If your local butcher has it on sale, you can even combine beef short ribs with beef back ribs.
Rosemary leaves: Use either 3 fresh sprigs, or 1 ½ teaspoon cracked dry needles. Feel free to throw in some fresh thyme as well.
Vegetable pairing ideas: see post
Note on crockpots
If you haven't invested in a slow cooker yet, I highly recommend getting one. You have many budget-friendly options, and it has become my go-to kitchen staple for busy weeknights.
It is so easy to spend a little time in the morning or at lunch to prep your ingredients, and then 6 to 8 hours later, you have the perfect dinner ready!
Healthy cooking doesn't get any easier than that. It is especially true for this beef short ribs recipe because I use simple seasoning and ingredients that you most likely already have in your pantry to create an incredible flavor.
Then it all goes into the crockpot to make bone-in ribs incredibly tender.
If you are curious, I use a simple slow cooker from Hamilton Beach and have had this one for a couple of years.
I didn't put a lot of thought into buying one. Instead, I just looked at an easily programmable kitchen gadget with a 6-quart capacity—ample enough to feed a family of 4 or 6.
Enjoy
Please share, or PIN IT! Always love to hear if you tried out this recipe and if it worked for you. Don't forget to subscribe to my Monthly Newsletter!
This post was originally published in August 2017 and has since been updated with new pictures and new information.