You have to make these gluten-free and refined sugar-free ice cream sandwiches with no-bake cookie dough. The banana-peach ice cream spiced with warm cloves beautifully compliments this chewy almost caramel-like dough that you can't resist!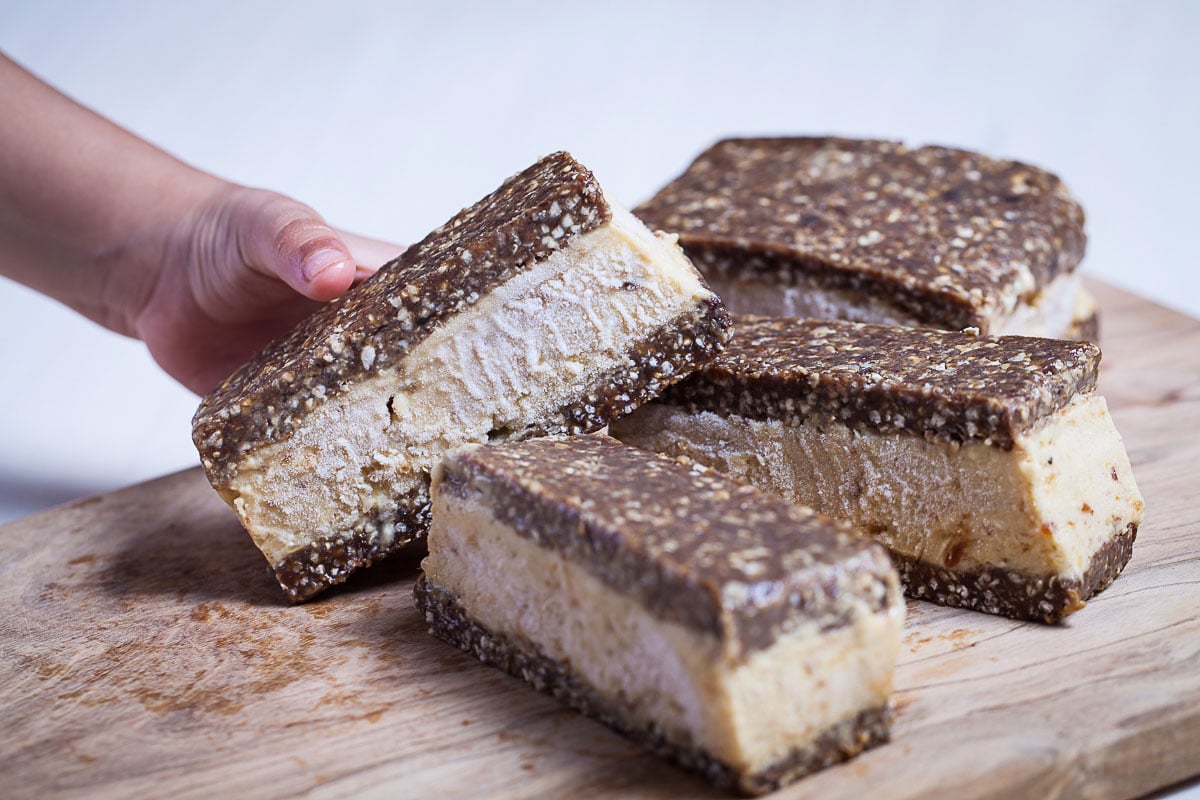 I love these ice cream sandwiches! They are one of my all-time favorite desserts. Everyone who has tried them asked me for the recipe, and they are loved by kids too. Don't let the number of ingredients throw you off because this dessert is quite easy to make. But it is a make-ahead recipe since the no-bake cookie dough has to harden a bit in the freezer. So keep that in mind when you want to make these delicious frozen treats for a party you are throwing. This dessert is a crowd pleaser, whether it is summer or not. There is never a reason to not make these ice cream sandwiches. When I know that I have them in the freezer, I simply cannot resist them.
MAKE THE NO-BAKE COOKIE DOUGH
I want to share a couple of tips to make the cookie dough:
I am using gluten-free steel cut oats, and I am toasting them for 5 minutes over medium heat in melted butter. The key is to make them slightly crisp without burning them. So it is important to stir frequently. They will smell almost like popcorn when done, and they are already a bit sweet due to the coconut shreds, butter, and vanilla extract. When you taste test, they should have a nice crunchy bite to them with a slight vanilla taste.
Feel free to replace the real butter with a dairy-free or vegan butter. You can also use coconut oil.
When you blend the rest of the ingredients in a high-speed blender, make sure that all the whole cloves are entirely disintegrated. Keep mixing and pulsing on the highest setting until they are completely pulverized. You don't want any chunks left that could hurt your teeth. Plus the warm aroma and taste of these spices should be apparent in the cookie dough.
The mixture that comes out of the blender will be extremely hot. So always use a spoon first to add the mix with the toasted oats. When somewhat cooled, you can use your hands to further knead in the oats.
Factor in some time to let the cookie dough harden in the freezer for a couple of hours. I often make it the night before I want to enjoy these frozen treats.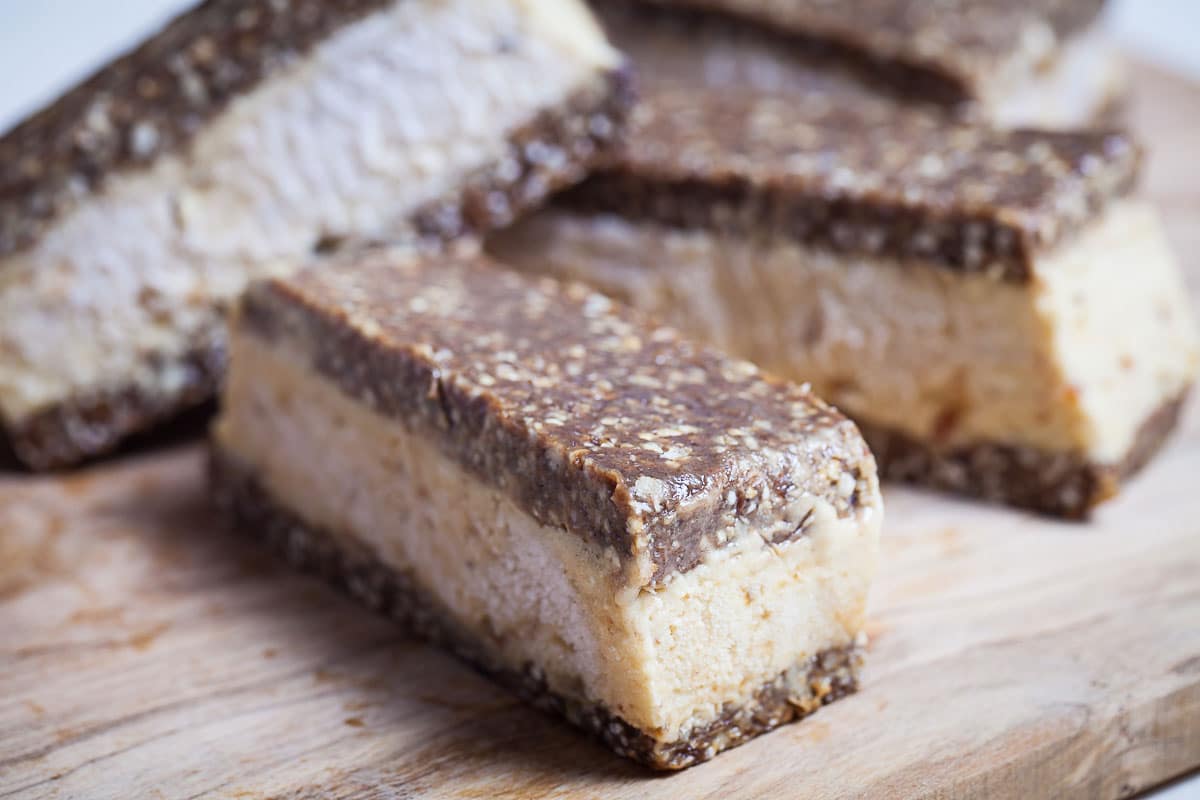 MAKE THE PEACH-BANANA ICE CREAM
In this ice cream sandwich recipe, it is the peaches and the cloves that stand out and give this dessert a unique flavor.
The banana and coconut milk makes it extra creamy
And the dates and (cinnamon) stevia add a perfect non-bitter sweet taste that adults and kids alike will love.
The result is smooth and delicious ice cream with a chewy almost caramel-like cookie dough texture that you can't resist.
Note: in this recipe. I use vanilla cinnamon-flavored stevia drops to add extra sweetness, but that is not necessary. You can use regular stevia drops or powder if preferred.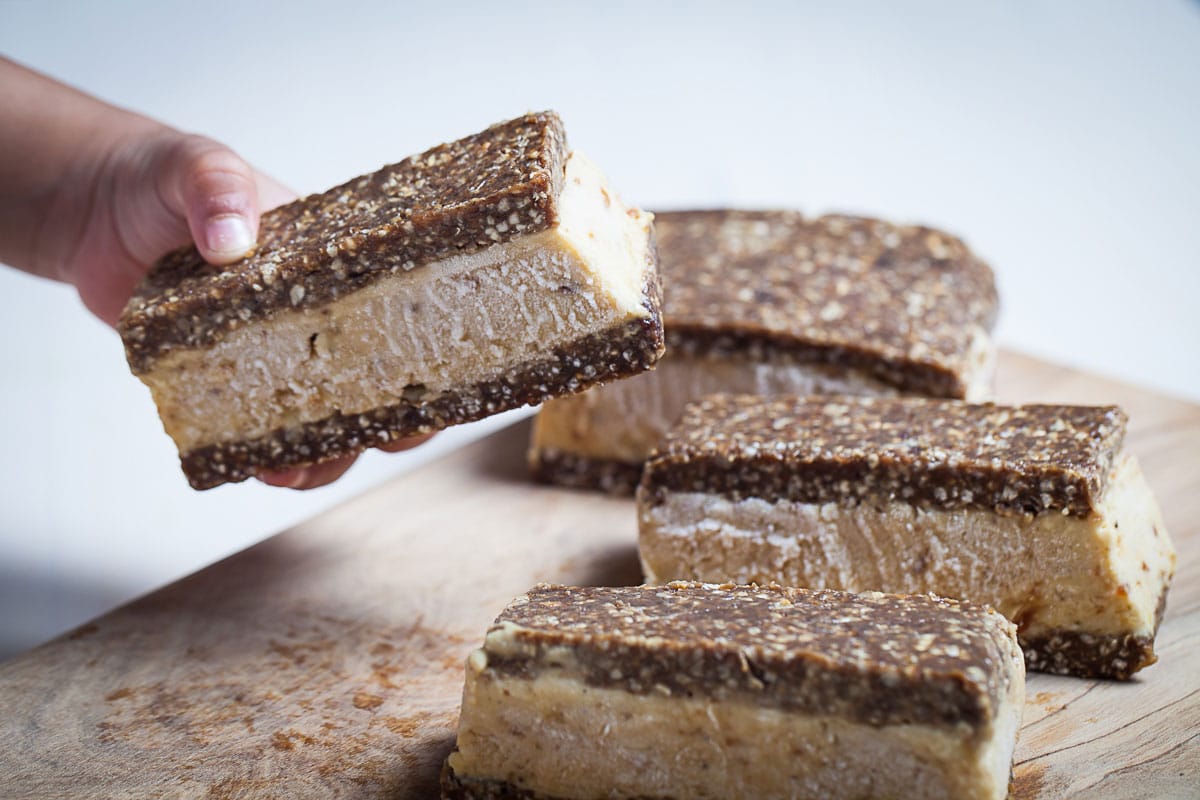 MORE GLUTEN-FREE DESSERTS YOU MIGHT LIKE
If you tried these Peach-Banana Ice Cream Sandwiches, then don't forget to comment below to let me know how it went. You can also FOLLOW ME on Instagram, and Pinterest to see what other fun things I share.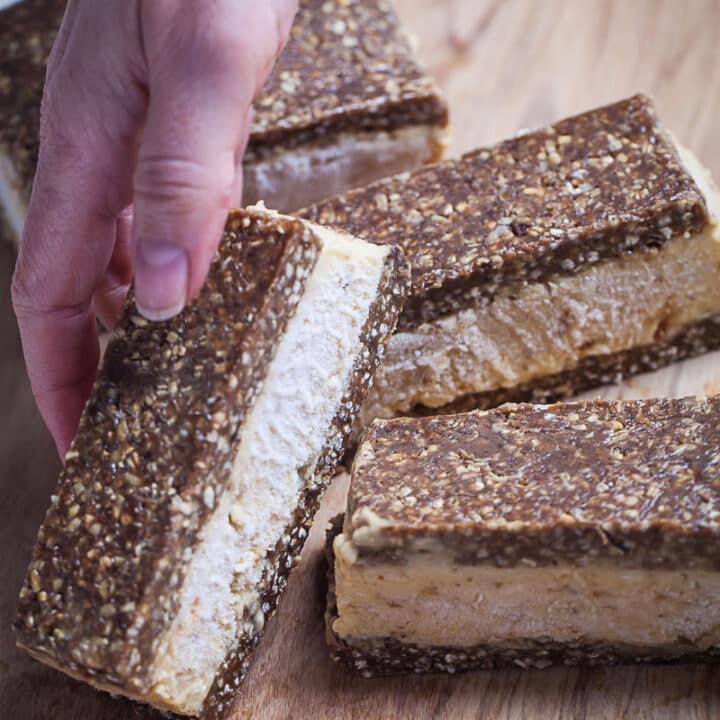 Peach-Banana Ice Cream Sandwiches with Warm Sweet Cloves
Yield:
6 large or 12 small ice cream sandwiches
These homemade gluten-free ice cream sandwiches are made with no-bake cookie dough and refined sugar-free ice cream. Easy to make and irresistibly delicious!
Ingredients
TO MAKE NO-BAKE COOKIE DOUGH
3 tablespoons real butter
1 cup steel cut oats (gluten-free)
⅓ cup fine shred and dried coconut (unsweetened)
2 teaspoons vanilla extract
1 cup black raisins
7 large pitted dates
½ cup sunflower seed butter
7 whole cloves
TO MAKE ICE CREAM
1 frozen banana
1 (16-ounce bag) frozen peaches
7 whole cloves
7 pitted dates
½ cup coconut milk
Instructions
TO MAKE THE COOKIE DOUGH:
In a small saucepan, melt the butter over medium heat. Stir in the oats, coconut shreds, and vanilla extract (the ingredients will immediately absorb the butter). Cook and stir for 4 to 5 minutes or until oats are lightly toasted. Stir continuously and ensure that the oats do not burn. Remove from the stove, set aside.
In a high-speed blender or Vitamix, add the raisins, dates, seed butter, cloves, and stevia drops. Start blending first at the lowest setting, then immediately change the speed setting to high. Use the tamper tool to rotate the ingredients. Blend until you have a beautiful brown and sticky cookie dough. Transfer the brown mixture to a large bowl (be careful, the mixture might be hot) and add the reserved toasted oat mixture. Knead the oat mixture completely into the cookie dough. First, combine everything with a spoon. When the cookie dough mixture is somewhat cooled down, start kneading with your hands.
Transfer the whole content to a 9-inch square baking pan lined with parchment paper. Use your hands to start pressing the dough evenly across the entire bottom of the pan, shaping it into a rectangle shape. Place in the freezer for at least 2 hours or overnight.
TO MAKE THE ICE CREAM:
Add all the ingredients in the same high-speed blender or Vitamix. Break the banana up into smaller pieces for easy blending. Blend on highest setting until smooth, creamy and no chunks are left. Use a tamper to rotate the ingredients.
Take the cookie dough out of the freezer and let sit for a minute at room temperature. Cut the square dough in half. Use a spatula to top one-half of the dough equally with the ice cream. Place the other half of the dough on top to form one giant ice cream sandwich. Use your spatula to scrape off any ice cream that is sticking out. Place back into the freezer and let harden overnight or for at least 2 hours.
When hardened, take out the giant ice cream sandwich and let sit for a minute at room temperature. Cut into six equal rectangular pieces or smaller pieces of 12. Use a bread knife to cut through the dough. Enjoy immediately or store in the freezer.