This no-bake tart is a quick and adaptable dessert. It is versatile enough to serve at a dinner party or just at home with family and friends. Each bite will give you a mouthwatering burst of flavors that will satisfy a more worldly appetite. It is simply a beautiful and easy tart recipe that you won't be able to resist! And just for the fun of it, we made a small video on how to make this recipe—see at the end. Give it a thumbs up if you enjoyed watching it!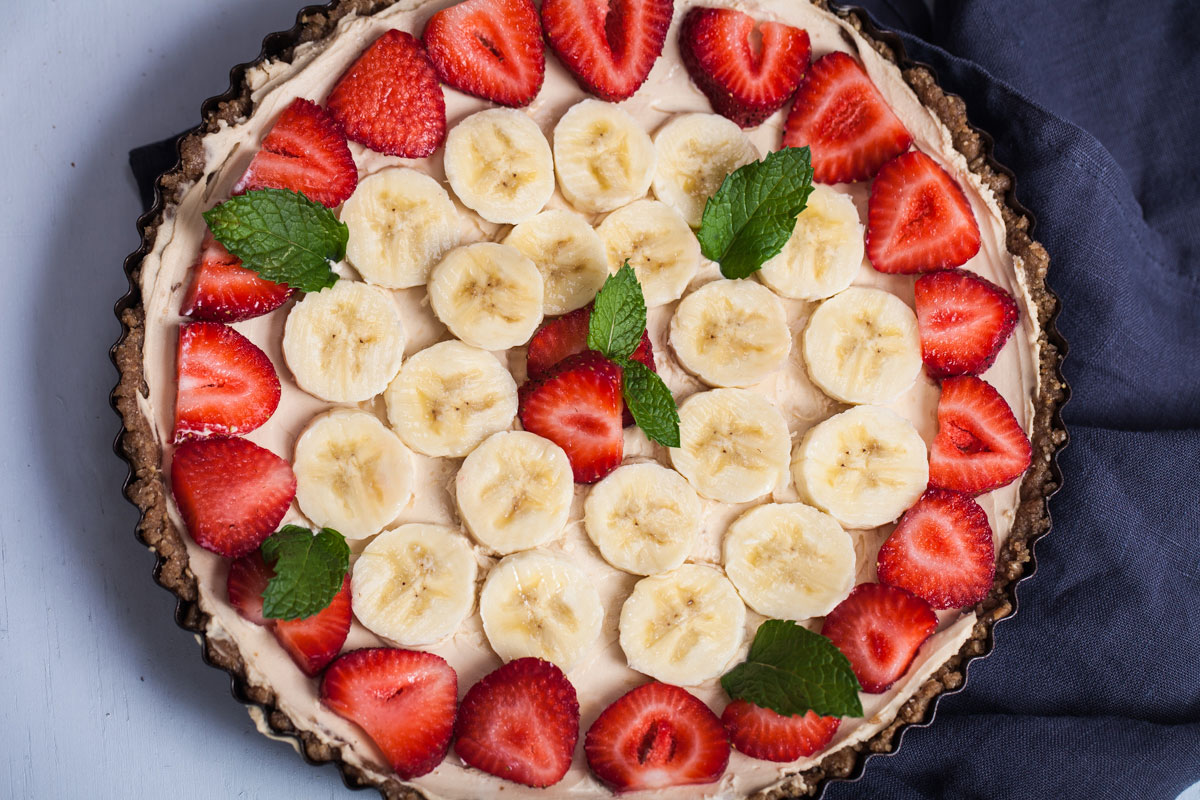 You are going to love this tart because:
You can whip it up in no time.
The crust has a rich caramel-like and nutty flavor, and I am using only dates to sweeten it with a hint of vanilla extract.
A tad of salt and fresh ginger lift and balance the overall flavors.
The topping is deliciously creamy from the mascarpone with that subtle hint of Amaretto.
Also, this recipe is so easy to adapt.
Make this tart with what you have in your pantry, choose different toppings, or add a tad more of the Amaretto Liqueur.
Let's make it!
A FEW NOTES ON THE NO-BAKE TART INGREDIENTS
The crust is chewy, mildly sweet with a little salty, and refreshing aftertaste—due to the ginger. If preferred, choose different types of nuts/seeds, You can either use cashews with pumpkin seeds or pair two cups of pecans, or hazelnuts with half a cup of raw almonds. Either way, you want to add that fresh ginger to add warmth and some tangy freshness. I only use Medjool dates to add natural sweetness with a hint of caramel.
The filling is delightfully creamy with the right amount of sweetness from the fresh fruits. You will love how a layer of bananas and some amaretto add extra richness. The recipe for the filling calls for only one tablespoon of amaretto—which you can hardly detect when the flavors come together. So feel free to add two to three tablespoons if you love more of the liqueur taste.
The topping: I use beautiful red raspberries if I want to make the tart super fancy while hiding sliced bananas under the layer of mascarpone—it is hard to make sliced bananas festive. But if you are going to serve it the same day, you can use extra bananas and your choice of berries as a topping to create a family weekend tart—bananas pair so well with the liqueur (see picture.) Garnish it with some fresh mint leaves to add a contrasting color.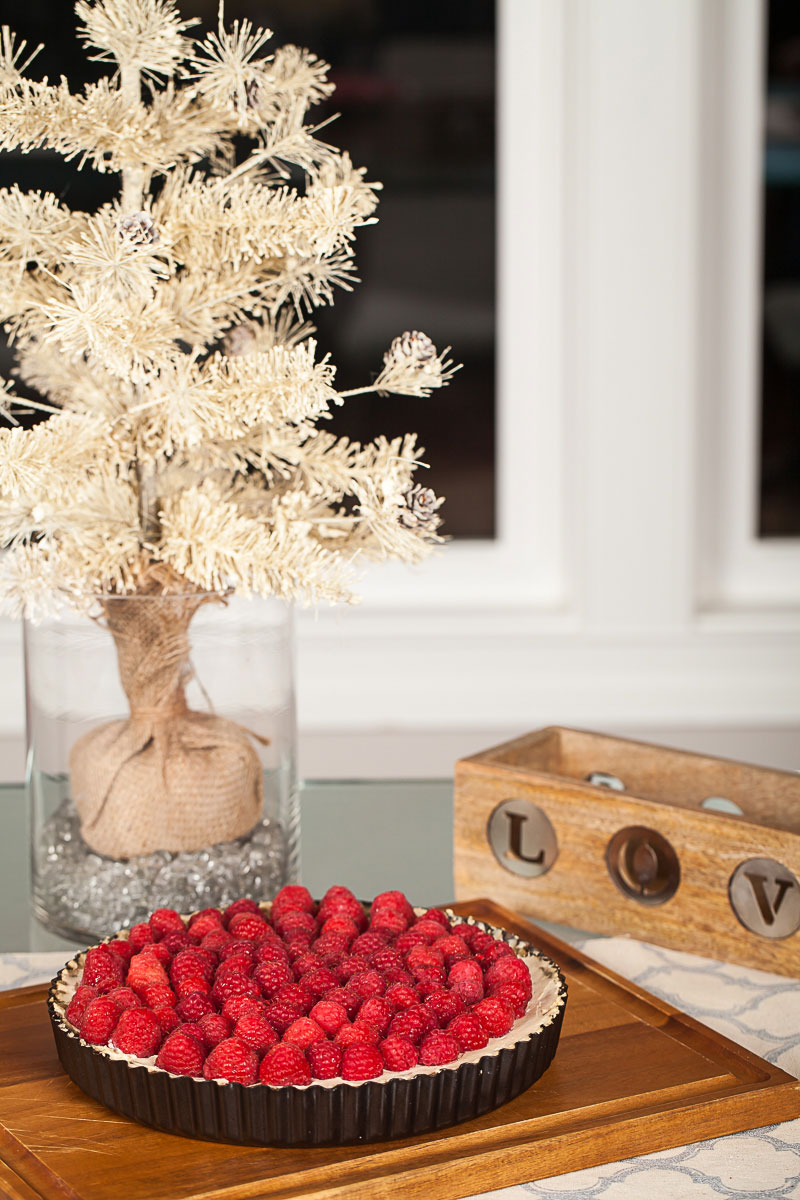 HOW TO MAKE AN APPLE-COFFEE TOPPING FOR THIS NO-BAKE TART
Berries can be quite expensive in fall and winter. Although fresh organic strawberries remain reasonably priced all year long—at least in some places. I usually don't mind spending a bit more on fresh berries if I make the tart for the Holidays or an upcoming event. But you can also make a delicious coffee-apple topping (see picture.)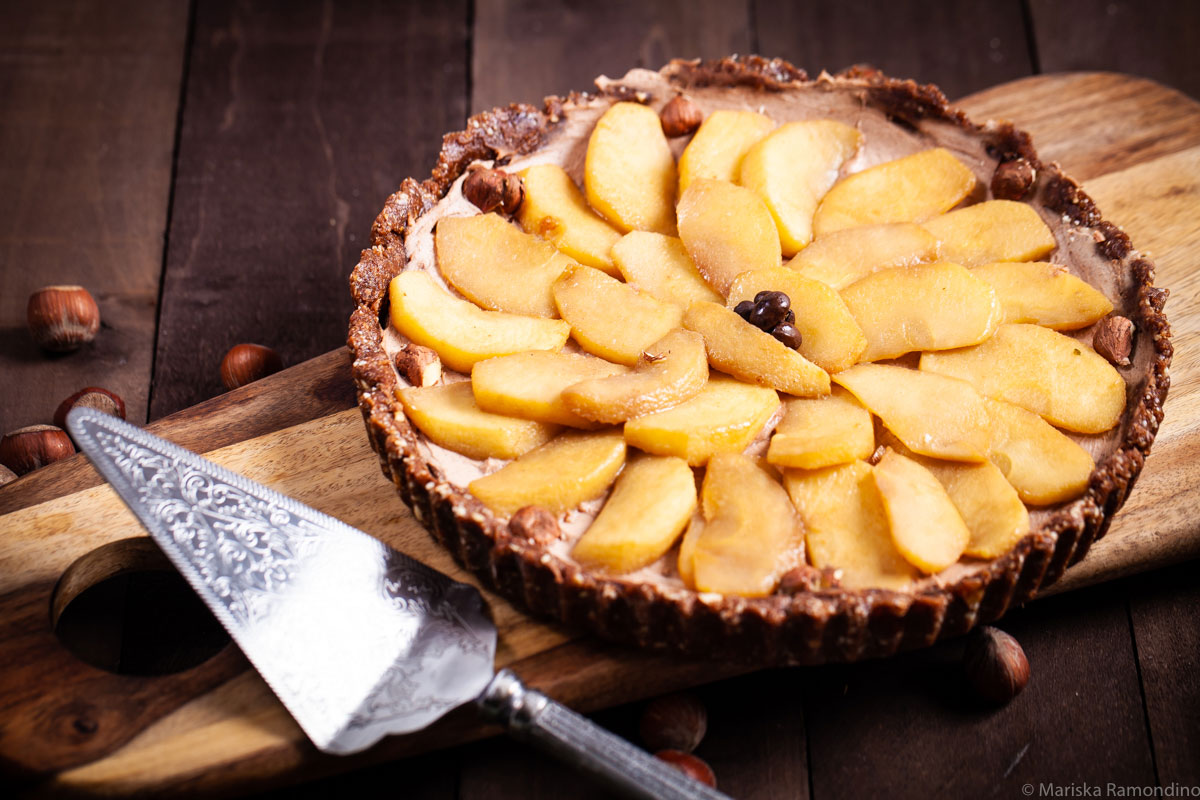 And here is the alternative recipe
Core, peel, and slice about 2 to 3 apples crosswise into ¼ inch slices (assuming that each apple gets you about 12 slices.)
In a large skillet, melt one tablespoon (coconut) butter. Add the apple slices; three tablespoons brewed coffee, ¼ teaspoon Stevia powder or coconut sugar to taste
Cook and gently stir until apple slices are tender (about 7 to 8 minutes)
Let it cool and neatly arrange the apple slices on top of the mascarpone tart with some coffee beans and nuts to garnish
MORE EASY, HEALTHY AND FESTIVE DESSERTS OR DRINKS YOU MIGHT LIKE
If you make them, share it on Instagram @mychefsapron (#MYCHEFSAPRON) so that I can see your creations! Or PIN IT for later and follow me on Pinterest to see what other fun things I share. Don't forget to subscribe to my monthly newsletter! Enjoy!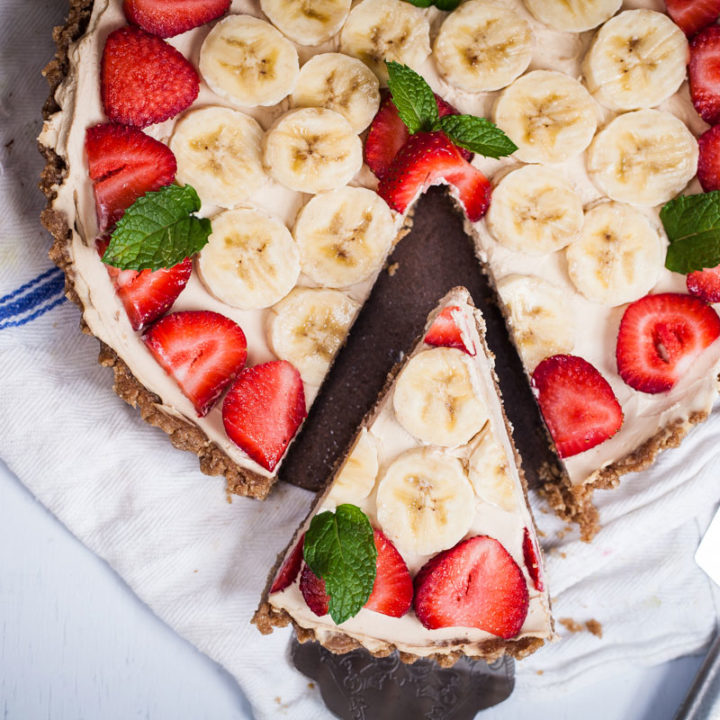 NO BAKE MASCARPONE FRUIT AND AMARETTO TART
This is an easy and delicious no-bake tart versatile enough to serve at a dinner party or enjoy at home with family and friends. It looks beautiful on a festive table. And it is also extremely adaptable and can be made with different fruit toppings and flavors. Enjoy!
Ingredients
TO MAKE THE CRUST:
2 cups cashews
1 cup steel-cut oats (gluten-free)
½ cup pumpkin seeds
½ teaspoon salt
½ teaspoon fresh grated ginger
1 teaspoon vanilla extract
7 Medjool dates
¼ cup coconut oil
TO MAKE THE FILLING AND TOPPING:
16 ounces or 455 grams mascarpone
3 tablespoons raw coconut crystals or coconut sugar
1 tablespoon amaretto liqueur (or more as desired)
2 bananas, peeled and sliced crosswise
1 pound or 450 grams fresh raspberries
Instructions
MAKE THE CRUST:
Place cashews, oats, seeds, and salt in a high-speed blender. Coarsely chop for a couple of seconds on medium speed.
Pause the blender. Add ginger, vanilla extract, dates, and coconut oil. Blend everything on the highest speed setting until completely pulverized and have obtained a sticky and smooth mixture—use a temper to rotate the ingredients around the blade.
Transfer the mixture immediately to a 9-inch tart pan and evenly press into the pan (careful because it can be hot). The crust should feel sticky and oily. Cover and reserve in the refrigerator while making the tart filling.
MAKE THE FILLING AND TOPPING:
Mix the mascarpone on low to medium speed (level 4)—using a hand or stand mixer. Gradually add the coconut crystals and amaretto. Continue to mix on medium speed until thoroughly combined, and the mascarpone turns into a firm, thick consistency (a couple of minutes).
Take the tart crust out of the refrigerator and layer with sliced bananas (or fruit of your choice.)
Transfer the mascarpone mixture on top of the bananas and while pressing down (to hold the banana slices in place) evenly spread the mixture to fill the tart crust.
Top evenly with fresh raspberries (or fruit of your choice.)
Cover and place in the refrigerator for at least 2 hours or overnight before serving.
Keep stored in the refrigerator for up to one week.
(Note: this post was initially published in December 2016. This post has been updated to include new info and photos)