This heart-healthy breakfast cake recipe is an easy bake perfect to enjoy with your cup of coffee for breakfast, brunch, or as an afternoon snack.
Small chunks of walnuts and dried apricots add a lovely sweet surprise to each bite. Enjoy this healthy coffee cake as-is or top your piece with a dollop of your favorite yogurt, jam, or compote—let's bake!
This recipe includes a vegan-friendly option and is dairy-free.
Jump to:
Just like my Date Cake Recipe or Italian Fig Cake, this healthy baked good is perfect either for breakfast or as an afternoon treat.
But this time, I'm using an ancient grain that's high in protein and nutrition-rich and gives this applesauce coffee cake an extra-light texture. Let's make it!
Why you'll love this healthy coffee cake
It quickly comes together, and it's the ideal morning cake that pairs so well with that cup of coffee or tea.
The chopped walnuts add healthy fats and texture, while the dried apricots and a tad of maple syrup make it slightly sweet.
The applesauce replaces any butter in this baked good, making it dairy-free, but it adds plenty of moisture.
Make a fresh batch on Sunday, and then store it in an airtight container to enjoy a piece of healthy coffee cake every day of the week.
Ingredients and some extra notes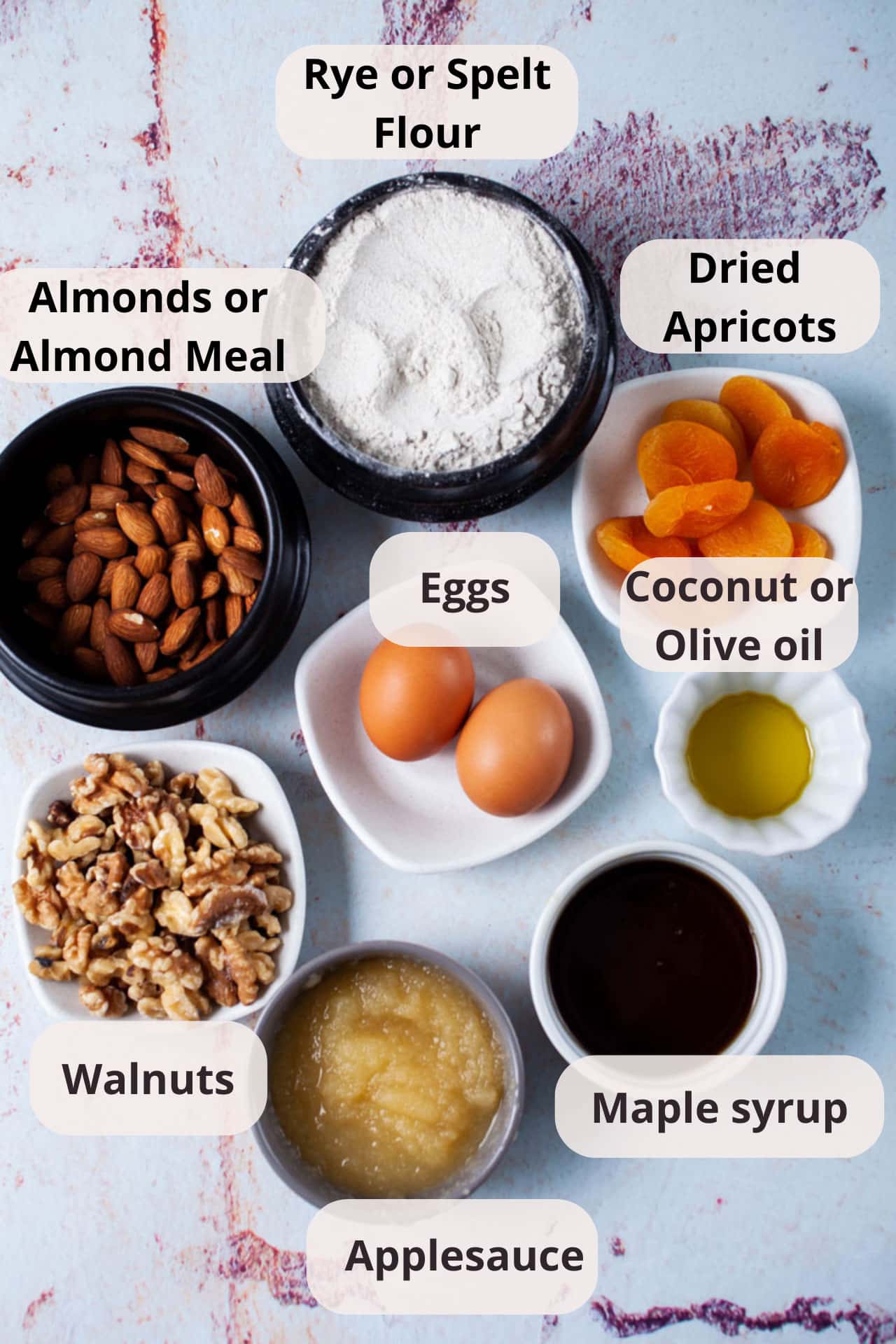 Walnuts & dried apricots: They add natural sweetness, beautiful texture, and flavors—especially the apricots with their faint tartness. However, maybe switch it up with pecans, raisins, or dried prunes.
Eggs: This healthy breakfast cake is dairy-free, but you can easily make it also without eggs and thus vegan-friendly. I give directions in the recipe notes on how to substitute the eggs.
Almond meal: Use this nut meal—not to be confused with almond flour which will change the texture and consistency of the cake—or pulverize roasted almonds into a coarse flour (see recipe note) for an extra lovely buttery undertone.
Rye or spelt flour: These wholesome grains are richly nutritious. I love One Degree Organic Foods, which is more of a light to medium rye flour. You can opt for a darker one like a Bob's Red Mill Organic Dark Rye Flour, but note that it will result in a more intense rye flavor and a denser texture. Another more reasonably priced option is the rye flour from Arrowhead Mills. Feel free to swap this ingredient with Spelt flour., which will give these cake bars a light texture with more complex flavors.
Note: the cake might look a bit darker or lighter in color depending on the choice of flour.
Unsweetened applesauce adds moisture and natural sweetness and is a great butter alternative in this healthy coffee cake recipe.
Coconut or olive oil: I only use a bit to grease the baking pan.
Maple syrup: a little goes a long way to add a mild sweetness.
How to make this healthy breakfast cake
Note: If you don't have an almond meal, quickly grind whole almonds for a few seconds into a meal using a coffee grinder or blender. The texture should be coarse rather than fine.
STEP 1: Whisk the dry ingredients into a bowl (flour, almond meal, and baking powder). Break up any lumps in the flour mix.
STEP 2: Stir in the chopped walnuts and dried apricots until they completely disappear into the flour mix.
STEP 3: Mix the wet ingredients in another bowl (eggs, applesauce, and maple syrup).
STEP 4: Then spoon in the dry ingredients until you have a wet but fairly thick cake batter.
STEP 5: Drop the cake batter into the prepared pan.
Note: Coat the inside of a 9-inch square baking pan with some oil, then shake in a bit of flour (coating all sides) and tap out the excess.
STEP 6: With a spatula, spread it evenly, reaching all sides of the corner.
STEP 7: Bake for about 30 minutes and until golden brown at the top.
Note: Always test if the cake is done by inserting a toothpick in the center. The cake is ready to come out of the oven if it comes out clean.
STEP 8: Let it cool for 5 minutes before removing the cake from the pan.
Note: I like to use a sharp, thin-bladed knife and carefully run it around the cake's edges once cooled to ensure the breakfast cake isn't stuck to the pan and won't break when taking it out.
STEP 9: Cut into nine cake bars, or make them smaller if preferred.
Eat cake for breakfast—Serving ideas
This healthy applesauce cake pairs well with that hot cup of coffee or tea.
If you like it a tad sweeter, slice a cake bar horizontally in half, spread some (coconut) butter and your favorite jam on top—I recommend an apricot jam or orange-flavored spread.
Another option is a dollop of your favorite (cashew) yogurt with extra walnuts.
It is filling, incredibly satisfying, and a smart breakfast-to-go option.
If you pack it for lunch or a snack, just wrap it in baking paper or brown bag it.
More often, we enjoy one as an afternoon snack—it is a lovely cake for tea time.
These cake bars can also become the center of a breakfast board surrounded with healthy fruits, extra nuts, homemade chocolate peanut butter spread, jam and yogurt, and maybe some hard-boiled eggs and cheeses on the side.
Some FAQ
What is almond meal versus almond flour?
An almond meal is usually a coarse grind of whole raw almonds into a flour-like consistency that looks speckled with bits of almond skin. Almond flour is also made from almonds, but the grind is much finer (it almost looks like fine flour with a creamy tan) and is usually made from almonds with the skin removed (blanched almonds). In this bake, you want to use almond meal instead of almond flour to add a rich nutty, and almost buttery texture to these cake bars.
What does applesauce do in this breakfast cake?
Unsweetened applesauce adds moisture and a delicious sweet texture. It also works as a butter alternative in this recipe, not as an egg substitute. So, whether you use two eggs or an egg replacement, always add the same amount of applesauce.
Does an applesauce cake need to be refrigerated?
The simple answer is no. This applesauce cake can be stored in an airtight container at room temperature for several days. It will be fine in the refrigerator for a few days beyond that.
What is rye flour?
It's flour made from milling rye grain—a cereal grain—and comes in different varieties such as light, medium, or dark, depending on how much husk and germ have been removed. This flour is not gluten-free but contains far less gluten than regular or wheat flour and is much easier to digest. I love the taste of rye flour in cakes as it adds an earthy sourness that balances any added sweets. It also adds moisture and therefore results in a denser bake. If you've never baked with rye flour before, I suggest using light rye flour at first, as a darker variation is more intense in flavor but, of course, also more nutritious.
 
What is Spelt Flour?
Unlike rye flour, Spelt flour is a type of grain in the wheat family, although it differs from wheat. It also contains gluten but tends to be more easily tolerated by people sensitive to wheat. This ancient grain is highly nutritious and a complete source of protein. I love baking with this ancient grain because it has a soft sweet flavor that lends to delicious soft cakes without any bitter aftertaste.

What type of dried apricots can I use?
It depends. Go for sun-dried organic Turkish Apricots if you like juicier and sweeter apricots directly dried under the sunlight. They are usually darker in color—more brownish. For a more pronounced sweet-tart flavor, choose Californian apricots—usually more orangy in color and chewy in texture.
Other delicious baked goods to pair with coffee
---
Don't forget to subscribe to my Monthly Newsletter!
Have questions? Simply comment below or message me. If you make this recipe, please leave a comment and a starred review below. Thank you!
---
📖 Recipe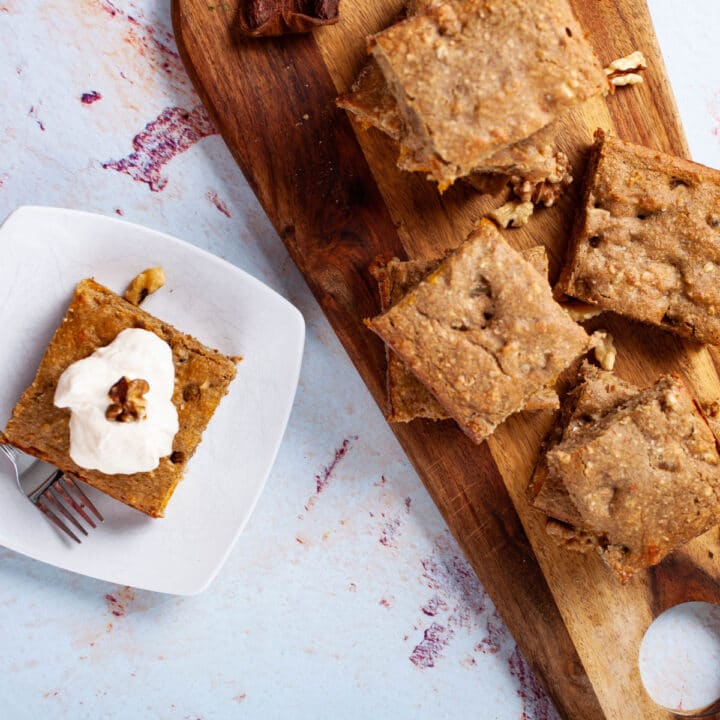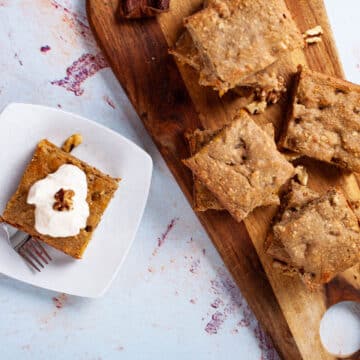 Healthy Breakfast Cake
Mariska Ramondino
This heart-healthy, homemade morning cake recipe is so easy to make. It's dairy-free, made with applesauce, and deliciously filled wit dried apricots and walnuts—a must-make healthy coffee cake.
Equipment
9-inch square baking pan

alternative: 8" x 12" oval casserole
Instructions
Preheat the oven to 350°F/ 180 °C.

In a bowl, combine the flour, almond meal, and baking powder. Use a whisk to sift through the flour and break up any clumps.

Then stir in the dried apricots and walnuts until wholly submerged into the flour mix, set aside.

Combine the eggs (or egg substitute), applesauce, and maple syrup in a separate bowl. Stir until everything is well combined.

With a large (wooden) spoon, fold the reserved flour mixture into the wet ingredients bit by bit until everything is well combined and you get a slow dripping batter.

Coat the inside of a 9-inch square baking pan with some oil, then shake in a bit of flour (coating all sides), and tap out the excess.

Drop the cake batter into the prepared pan and, with a spatula, spread it evenly, so it reaches all sides of the corner.

Bake in the middle of the oven rack for 30 minutes or until a toothpick inserted in the center comes out clean.

Let it cool, then take it gently out of the pan and slice it into squares.

Keep the coffee cake at room temperature in an air-tight container for up to 5 days.
Notes
Egg substitute: for this recipe (replacing two eggs), I used 2 tablespoon Bob's Red Mill gluten-free and vegan egg replacer, mixed with 4 tablespoon of water, and let it sit for one minute to thicken.
Grinding almonds if you don't have almond meal: place whole almonds (raw or toasted) into a food processor, grinder, or blender. Pulse the nuts in short small bursts into fine, coarse sand. Please don't run the blender continuously, as the nuts will release their oil and become nut butter. Using almond meal instead of almond flour adds extra moisture to this fat-free cake.
Storage: It's best to keep the cake in an air-tight container and store it at room temperature for up to 5 days.
Add your own private notes
Whenever you come back to this recipe, you'll be able to see your notes.
Nutrition (% Daily value)
Calories:
302
kcal
(15%)
Carbohydrates:
41
g
(14%)
Protein:
8
g
(16%)
Fat:
14
g
(22%)
Saturated Fat:
1
g
(6%)
Polyunsaturated Fat:
7
g
Monounsaturated Fat:
4
g
Trans Fat:
0.004
g
Cholesterol:
36
mg
(12%)
Sodium:
112
mg
(5%)
Potassium:
358
mg
(10%)
Fiber:
5
g
(21%)
Sugar:
18
g
(20%)
Vitamin A:
324
IU
(6%)
Vitamin C:
1
mg
(1%)
Calcium:
122
mg
(12%)
Iron:
2
mg
(11%)
Disclaimer: This nutritional data is calculated using third party tools and is only intended as a reference.