This is a healthy squash soup recipe that is easy to make, yet incredibly filling and satisfying. Hearty vegetables and spices beautifully blend into this creamy soup, which is also naturally gluten-free and vegan. So, let's dig in.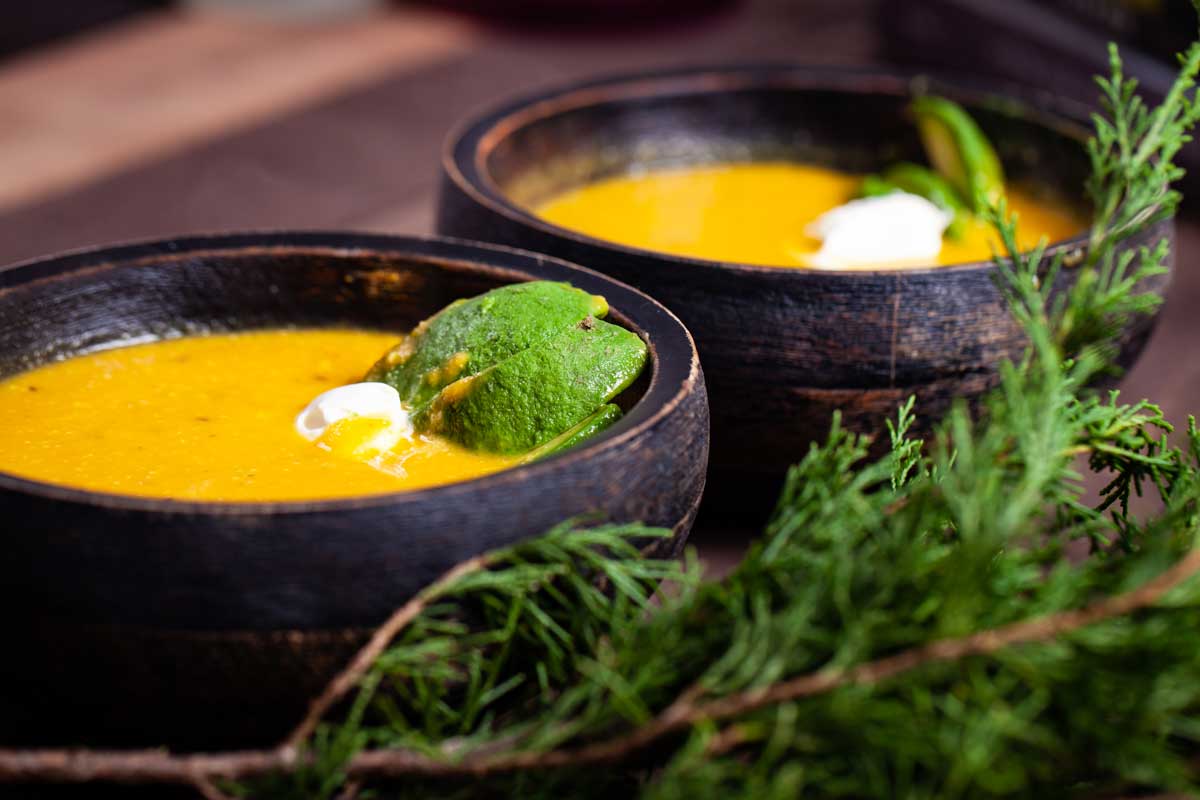 I love this soup recipe because it is super simple. The flavors beautifully come together in one pot. You can adjust the seasoning to make it more naturally sweet, a tad spicier, or perfectly balanced between the two. But before you jump to the recipe, let's cover some notes.
HOW TO MAKE SQUASH SOUP—INGREDIENTS
Kuri Squash
If you have never tried this sweet squash, you are going to be pleasantly surprised by its wonderfully smooth texture and almost chestnut-like flavor. It is more hollow inside than your regular butternut squash, but a medium-sized Kuri will get you about four cups of cubed squash, more or less—seeds removed.
Onions, Garlic, and Bell pepper
These vegetables add extra sweet and hearty flavors.
Go for a red or orange bell pepper as they are naturally sweeter and complement the color of the squash.
I prefer yellow onions, but scallions or shallots will work just as well.
Vegetable Broth
Vegetable broth immediately adds extra flavor. But you can use water instead and add one or two vegetable bouillon cubes. Make sure to taste test and add more seasoning if needed.
Salt, Black pepper, Curry powder, Caraway fruits
It is a seasoning combo that makes this soup extremely hearty with a spicy touch.
Prefer a more seasoned soup, then add more curry powder.
Caraway fruits are one of my favorite seasonings. They stimulate the appetite and help with digestion. But I particularly love their subtle sweet, almost anise-like flavor that beautifully balances the curry powder.
Almonds, Coconut cream, and Avocado
Blending in almonds adds heart-healthy fats, proteins, and makes the soup naturally creamy.
I sometimes like to add a tad of coconut cream for a silkier texture, but that is optional.
Another favorite garnish is slices of avocado.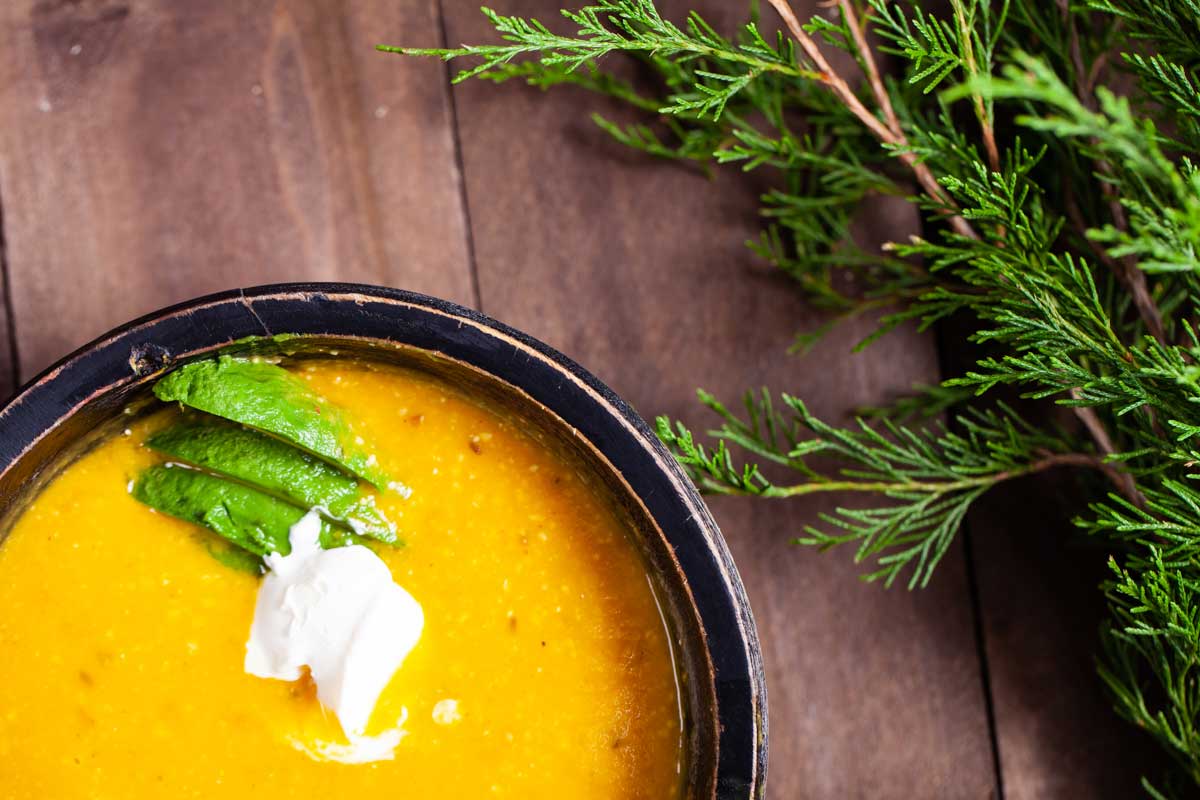 WHICH SQUASH IS BEST FOR THIS SOUP
Don't have any Kuri? Then use butternut squash instead, or another one of my favorites for this soup is Kabocha squash. Just know that out of the bunch, Kabocha is a lot sweeter—almost sweet potato-like. So, increase the amount of curry powder if you wish to keep the same balance of spiciness.
SQUASH SOUP FOR BABY RECIPE
With a few adjustments, this recipe can become a healthy vegetable soup for babies and toddlers who can enjoy solid foods.
Remove the curry powder, pepper, and almonds (if you have an allergy concern.) Or wait at least until they turn one to introduce these spices slowly.
Skip the salt or add only a few pinches. Babies don't need it nor care for it. I remember not introducing salt to my daughter until she became one. It all depends on what your toddler is already consuming.
You can add more squash to make the soup thicker or even blend in some avocado slices upon serving.
Turn the soup into easy meals by freezing it into individual sizes without any garnishes. Once you take it out, reheat directly from frozen over the stove in a small pan until it is warm (not hot) enough to feed your toddler. At this point, you can puree in an avocado.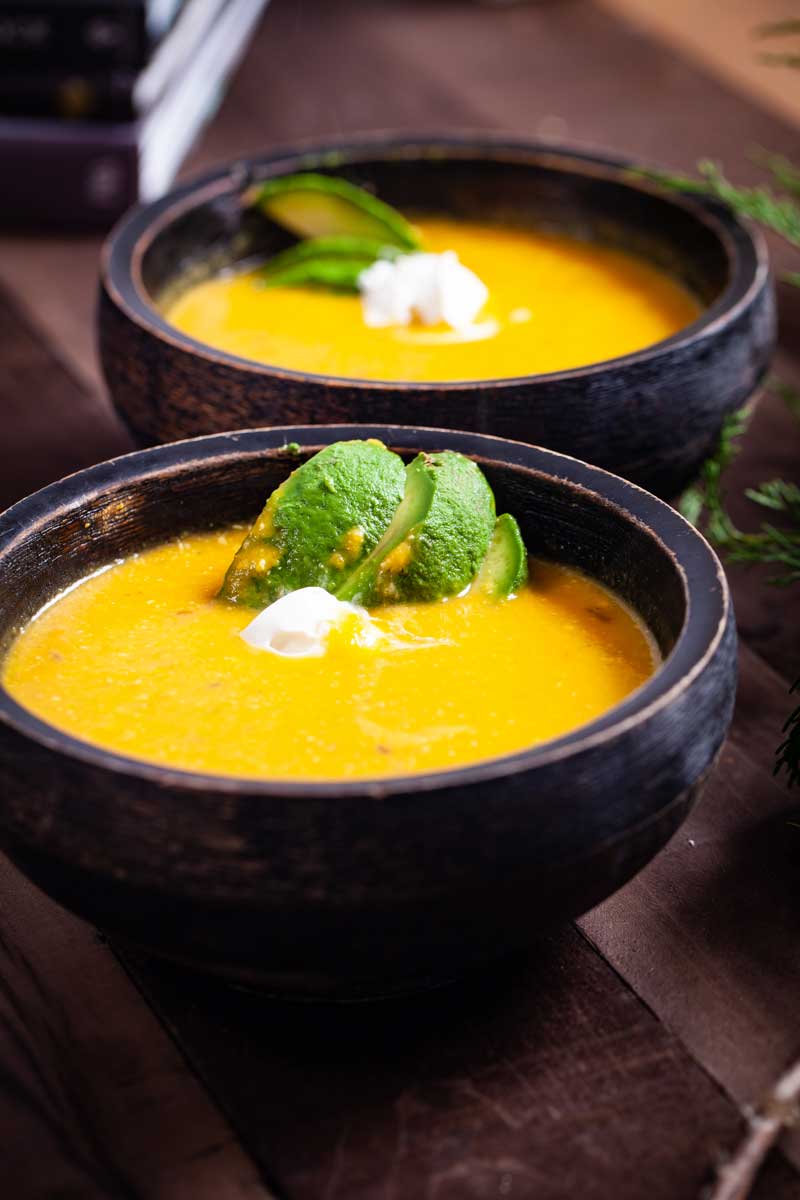 WHAT TO SERVE WITH BUTTERNUT SQUASH SOUP
Because the soup is incredibly filling, I would keep it light and straightforward. So, here are a few side dishes that go well with this soup.
MORE HEALTHY SOUPS YOU WILL LOVE
Here are some other comforting and healthy soups that I think you are going to love as well!
Did you make this recipe? Tag @mychefsapron on Instagram and hashtag it #mychefsapron. Follow me on Facebook if you prefer to hang out there. Or PIN IT for later and follow me on Pinterest to see what other fun things I share. Don't forget to subscribe to my monthly newsletter! Enjoy!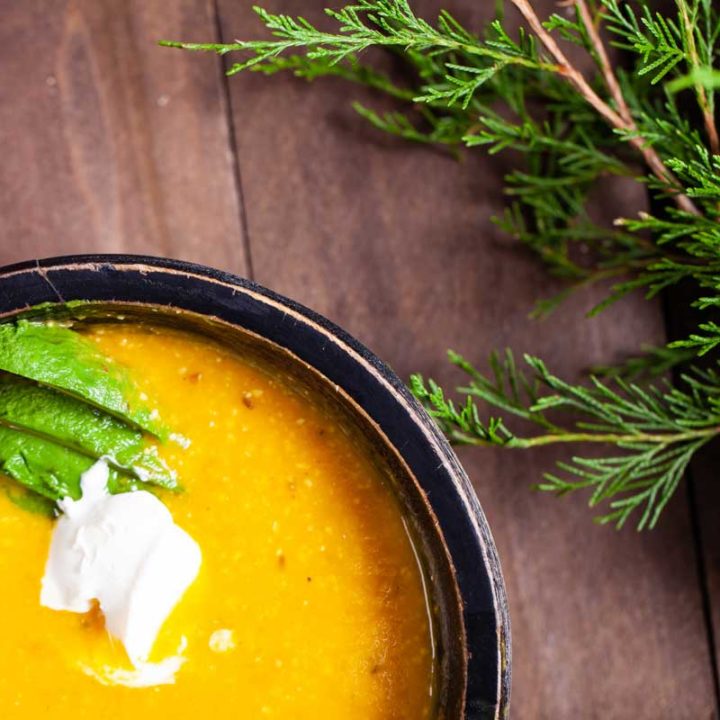 RED KURI SQUASH SOUP RECIPE (DAIRY-FREE)
Yield:
4 to 6 Servings (about 10 to 11 cups)
A healthy and hearty squash soup recipe that is also super easy to make—creamy, satisfying, and incredibly filling. Enjoy a bowl for lunch or dinner with a salad on the side or farmer's bread for dipping.
Ingredients
2 tablespoons olive oil
2 small yellow onions, diced
2 cloves garlic, minced
Salt and black pepper
1 Kuri Squash (or butternut or kabocha squash), cubed (about 4 cups
1 red or orange bell pepper, diced
½ teaspoon curry powder
1 avocado, peeled and sliced for garnish (optional)
Instructions
In a large pot, heat the oil over medium heat. Add the onions and garlic. Season with 1 teaspoon of salt and pepper to taste. Cook and stir for 5 minutes or until the onions are soft (not browned.)
Stir in the squash and bell pepper—season with curry powder. Cook and stir for 5 minutes together with the onions. Then add the vegetable broth—season with caraway fruits and ½ tsp salt. Bring to a gentle simmer, partly covered, and cook for 20 minutes or until the squash is soft—stir frequently.
Remove from the heat and add the almonds. Use an immersion blender to puree the soup until smooth. You can also transfer the soup in two batches into a traditional blender and puree until smooth (be extremely careful not to fill the blender too full with a hot liquid.) Add more salt or pepper to taste, if needed.
Stir in the coconut cream while the soup is still hot (optional) or serve a small teaspoon on top to garnish with some avocado slices (see picture.)