This beautiful sizeable green kale apple salad is full of flavors, combining sweet with hearty while the texture is creamy and crunchy at the same time.
Massaging this famously healthy vegetable with a hearty homemade Avocado Pesto is going to make you enjoy a kale salad in a whole new way.
It is nourishing, super healthy, delicious, and easy to prepare!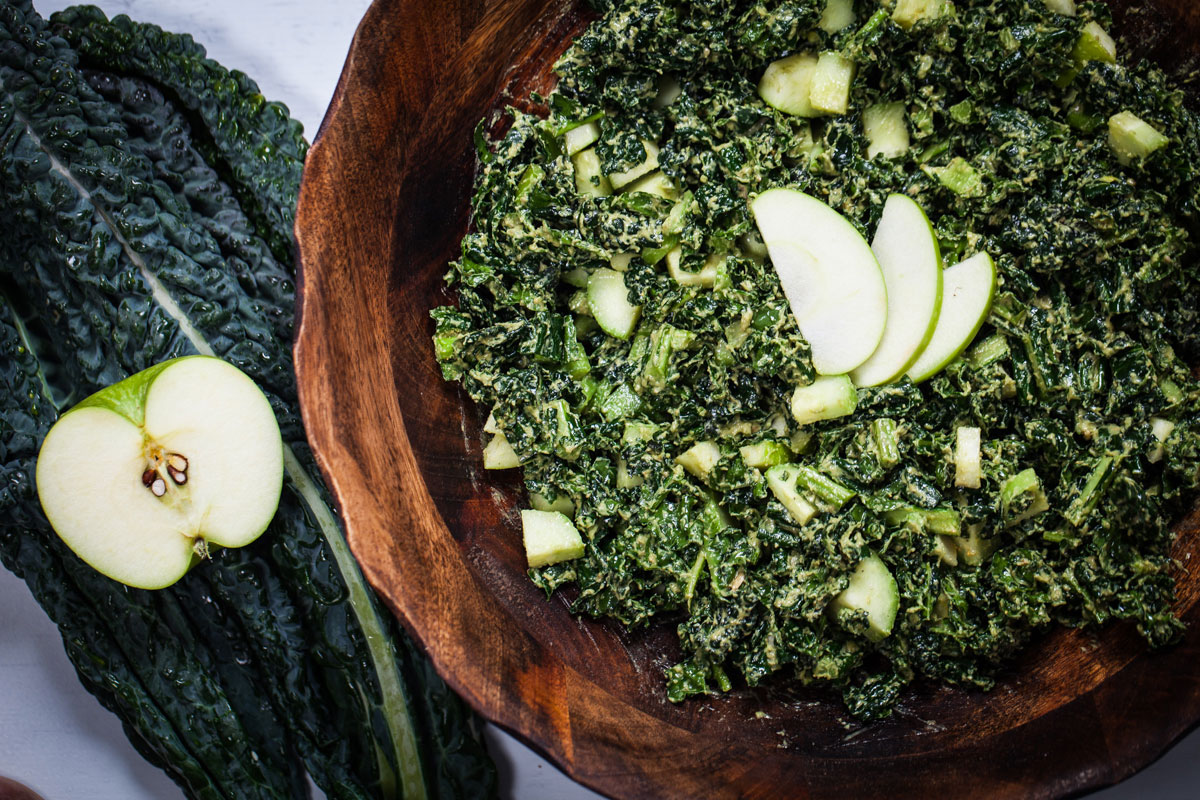 I love large green salads and regularly serve them at the dinner table. If you know a couple of tasty salad recipes, dinner or lunch ideas become a whole lot easier. A healthy sharing portion like this recipe can be ready in less than 15 minutes and pairs with just about anything.
Make a healthy kale salad—notes
How to buy kale
For raw salads, I use either baby kale leaves or the Lacinato, best known as the dinosaur kale, because I find their taste slightly sweeter than the curly kale.
You have to find out for yourself which one you prefer. Occasionally I enjoy curly kale too, but I use it more often in soups.
Whatever type of kale you pick,
Always choose fresh bunches with deep colors;
Avoid leaves that appear to have dried out.
The stems should be plump and juicy.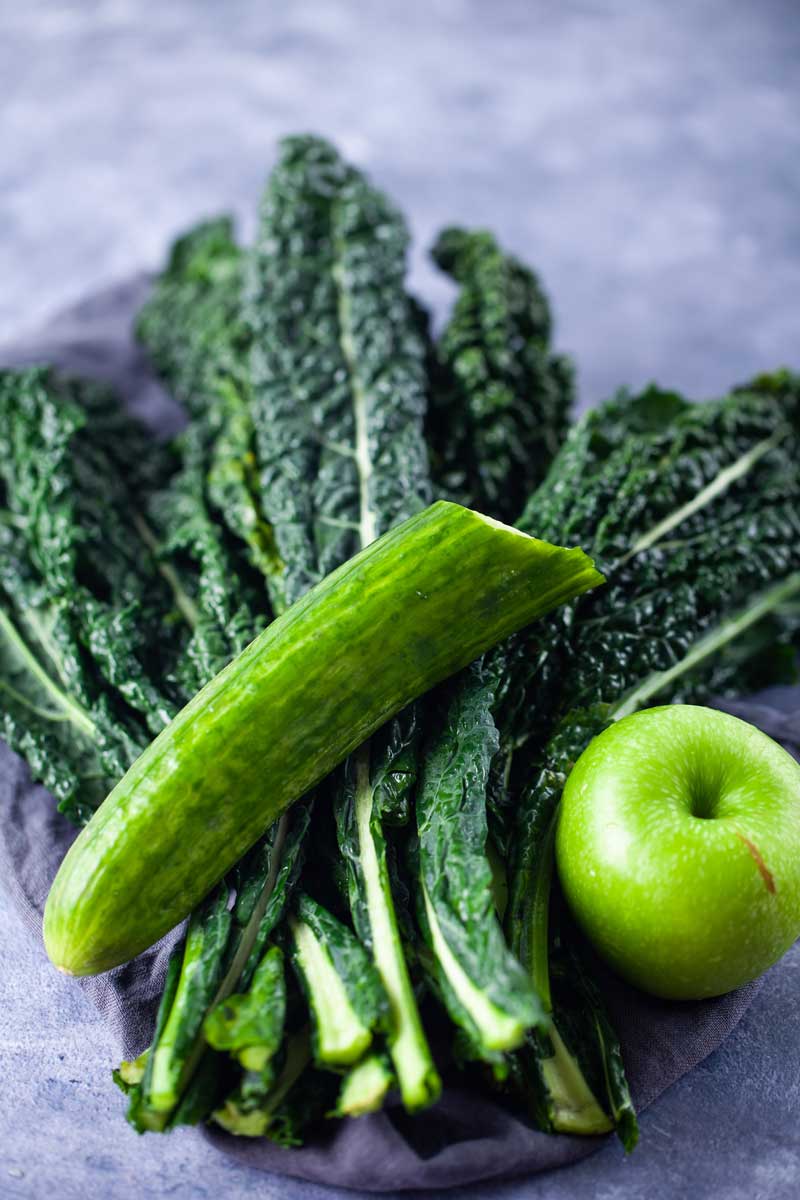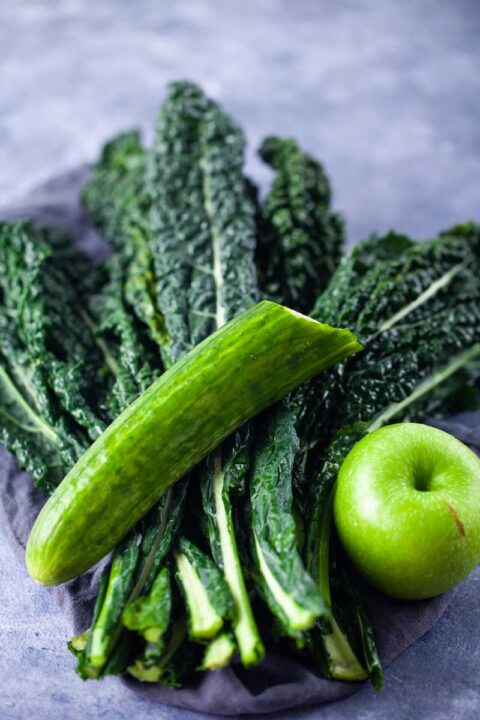 Prep and chop the kale
First, remove the stems from the kale leaves. And there are several ways you can do this:
You can place each kale leaf flat on a kitchen board and cut along the stem with a knife, separating it from the leafy parts.
You can also hold the top of the stem with one hand and, with the other, run your fingers along either side of the stem, ripping the leaves off in one swooping motion. A bit more imprecise, but it saves time (see picture A below).
Or grab the stem with one hand and tear off the leafy parts first on one side, then switch hands and do the other side, staying close to the stem while your hands moving along down the leave until you reach the end—a bit gentler but equally effective (picture B).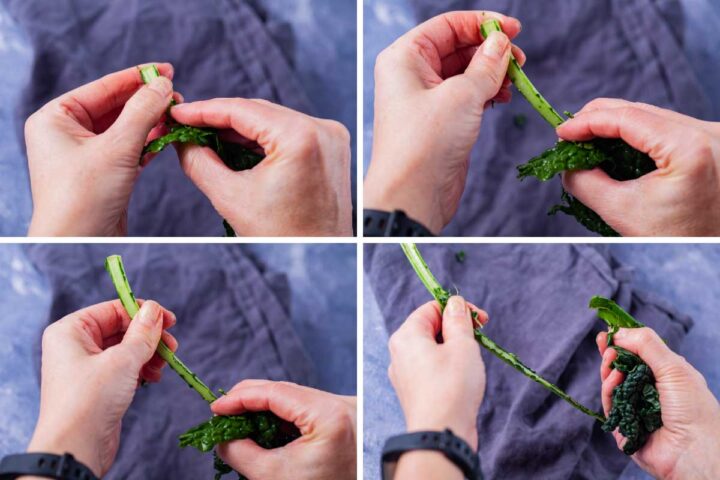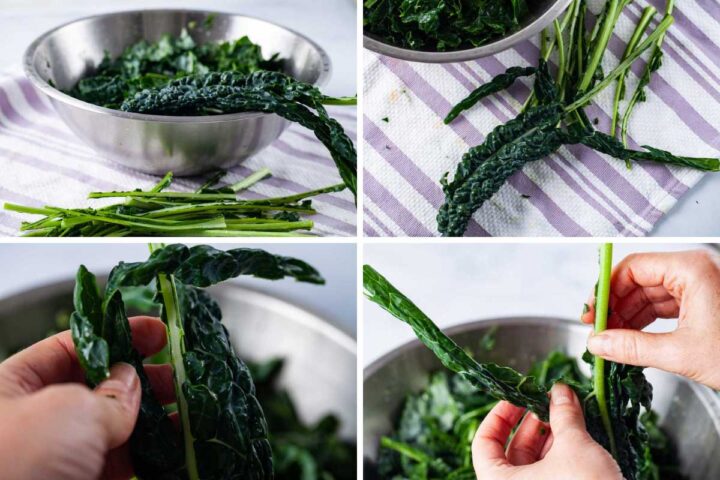 The texture is as important as the flavor. Kale leaves taste weird when not chopped—just my humble opinion. I prefer to cut or shred them into small pieces, and then this vegetable becomes so much easier to massage and combine with other ingredients.
Note: sometimes I only remove the bulkier and larger portion of the stems—it's a bit difficult to chew. When finely chopped, the thinner fleshy stalks can add great crunchiness to the salad. It is, of course, a personal preference.
Always massage the kale
It takes only a few minutes to massage the kale with pesto dressing or some olive oil using your hands, and it ultimately changes its structure. It brings out the sweetness of this vegetable and makes harder or crunchier parts softer and lighter.
Toss in some apples or other crunchy fruits or vegetables
There are so many great ingredients that you can add to a kale salad:
Like chopped hard cheese, nuts, etc.
But my favorites are green apples or pomegranate seeds.
The sweet and slightly sour taste of these fruits surprisingly pops into your mouth and compliments the dark leafy greens.
I also toss in cucumbers in this salad, which add a refreshing and more cooling taste, especially when paired with a homemade creamy pesto recipe.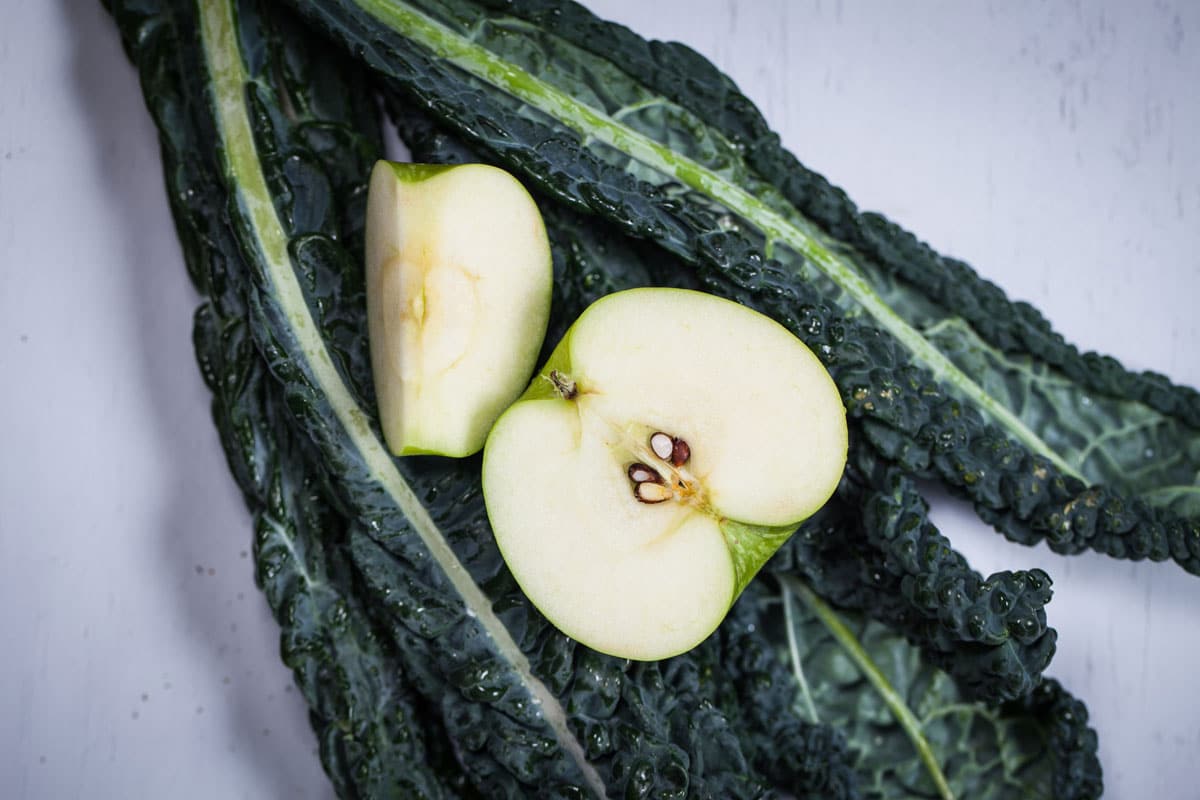 Dressing for kale salad
There are two ways I often enjoy crunchy raw kale at home. Either with a simple olive oil-based dressing or with a homemade Basil Pesto recipe. They both are super easy to make and take almost no time to put together. So, let's have a look.
An oil-based dressing
Massage the kale in a little bit of olive oil (about one to two tablespoons) for a couple of minutes to soften its texture.
Add a little bit of salt to taste.
Then add some lemon juice (about one tablespoon)
Toss in the cucumber and apple pieces, and you already have a great salad.
A creamy pesto dressing
More often than not, I like to massage it in my homemade pesto recipe made with fresh avocado and other hearty ingredients to make the kale super creamy.
This recipe is put together in minutes, so I always make it ad hoc.
But feel free to make it ahead and enjoy whenever you want to add some pizzazz to raw salads or plates of pasta.
Store in an airtight container or sealed mason jar and refrigerate for up to 3 or 4 days.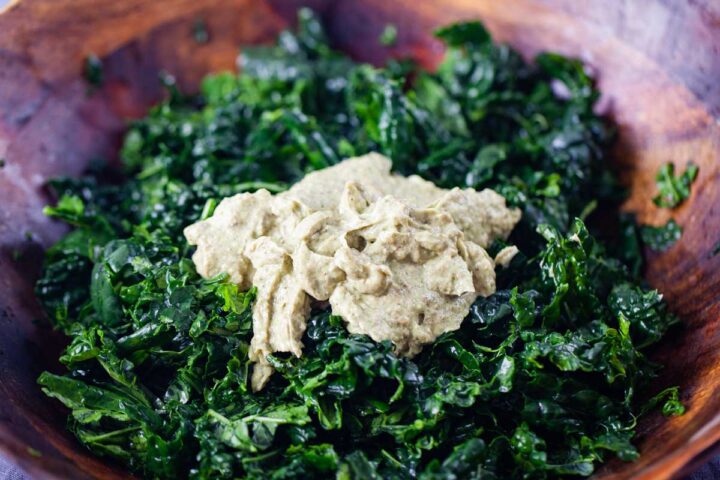 Pesto ingredients
Avocado: this is the base of this (vegan) pesto dressing, and it is all you need to make it super creamy.
Garlic: the amount will not overpower the taste, but it is just enough to give it a little zip.
Roasted, salted sunflower seeds: it replaces nuts in this dressing but still gives you that mild nutty flavor. Roasted seeds enhance the overall taste.
Extra virgin olive oil: you can go a bit lighter on the olive oil if preferred, but this sauce needs a bit to compliment the herbal flavors and help coat the vegetables.
Lemon juice: adds a bright, refreshing citrusy element.
Dried Basil: when you have fresh sweet Basil on hand, feel free to use a few leaves instead. But if not, dried Basil works just as well. It will be a tad mintier in flavor.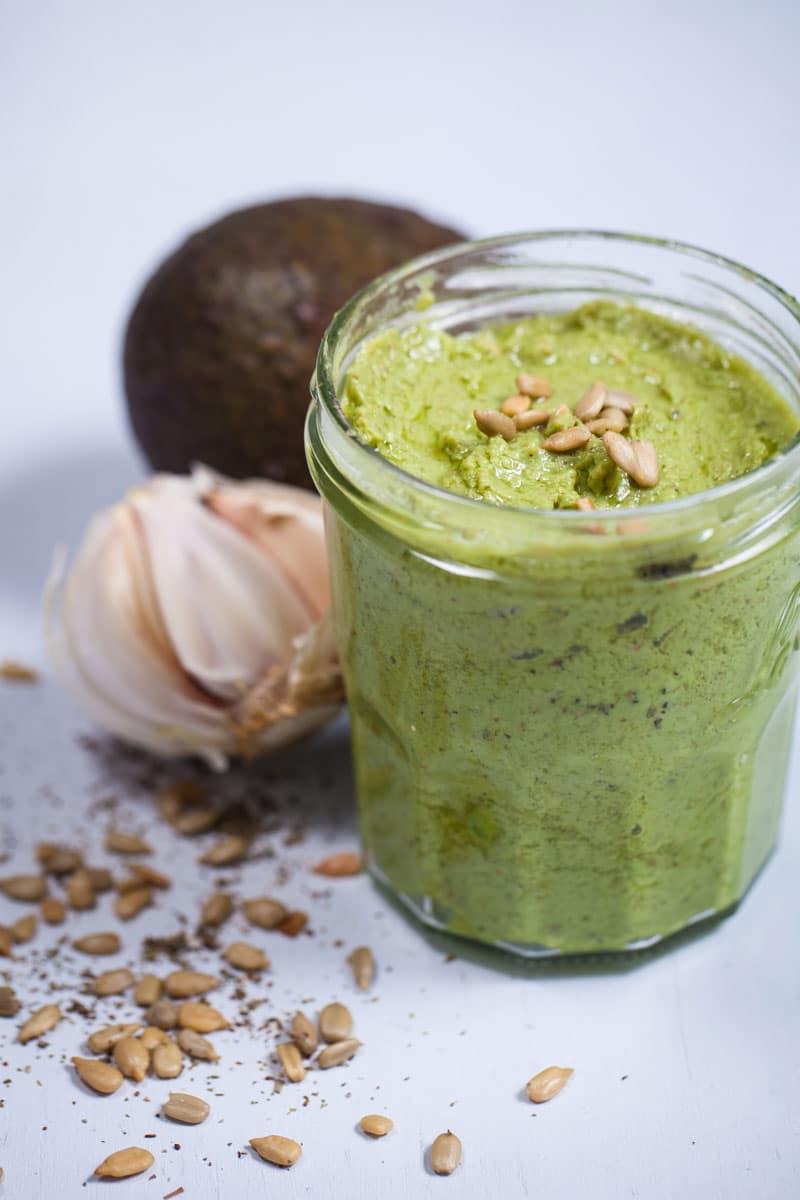 A few words about kale nutrition
Kale is a member of the nutritious cruciferous vegetables and is packed with essential vitamins, especially vitamins A, K, C, and B vitamins. It is notably rich in the mineral manganese. But it is also an excellent source of calcium. I include this vegetable regularly into my family's diet, mainly because it is one of the few dark greens that are exceptionally versatile. It is also a sturdy vegetable that withstands heat well and, therefore, great to add to soups or make kale chips.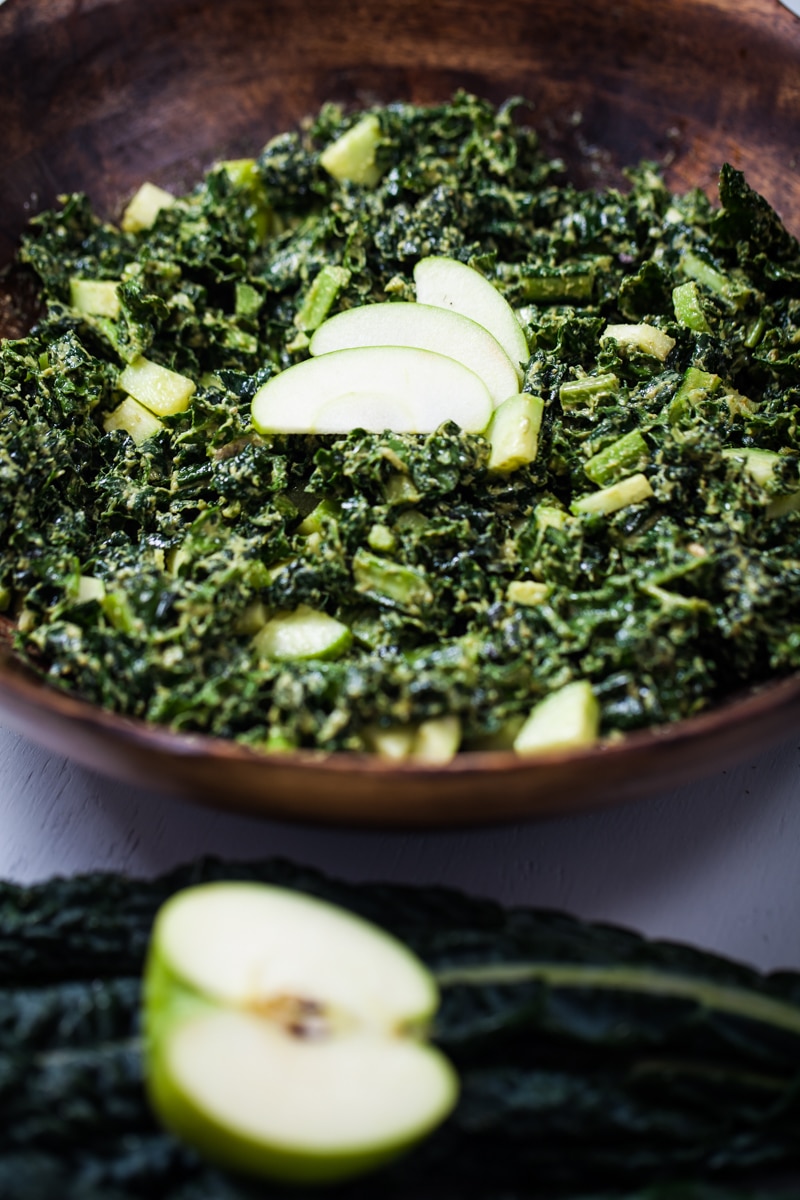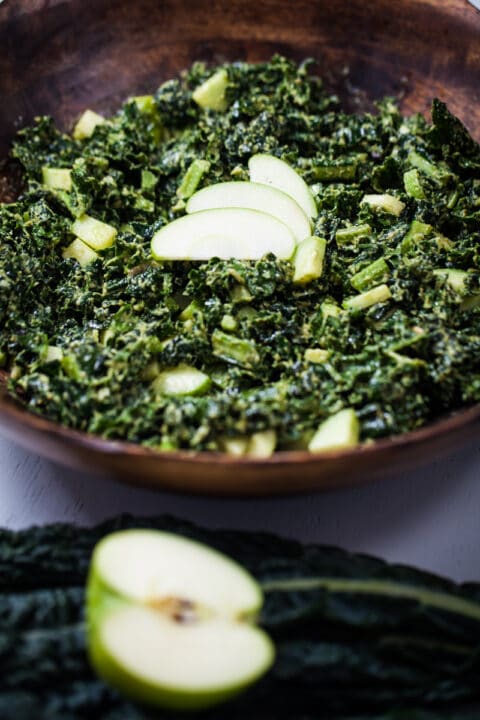 Serving ideas
This kale apple salad is one of my favorite raw green side dishes, and I often enjoy it with:
If you follow a low carb, paleo diet, this is one of the kale salad recipes you want to have in your kitchen repertoire. Note: if you are on a ketogenic diet, omit the apple or choose to add only half of it!
I hope you will enjoy this recipe and also check out some of my other salads or healthy and refreshing bites like the Citrusy Kale, Fennel, and Salmon Salad with Mozzarella, my nourishing Mango Avocado salad, or The Fennel Cucumber Bites with Creamy Tuna.
Want to try this apple kale salad? Then PIN IT to your Vegetable or Gluten-free board to save for later! Come and find me on Pinterest for more great recipes! And don't forget to subscribe to my monthly newsletter! Enjoy!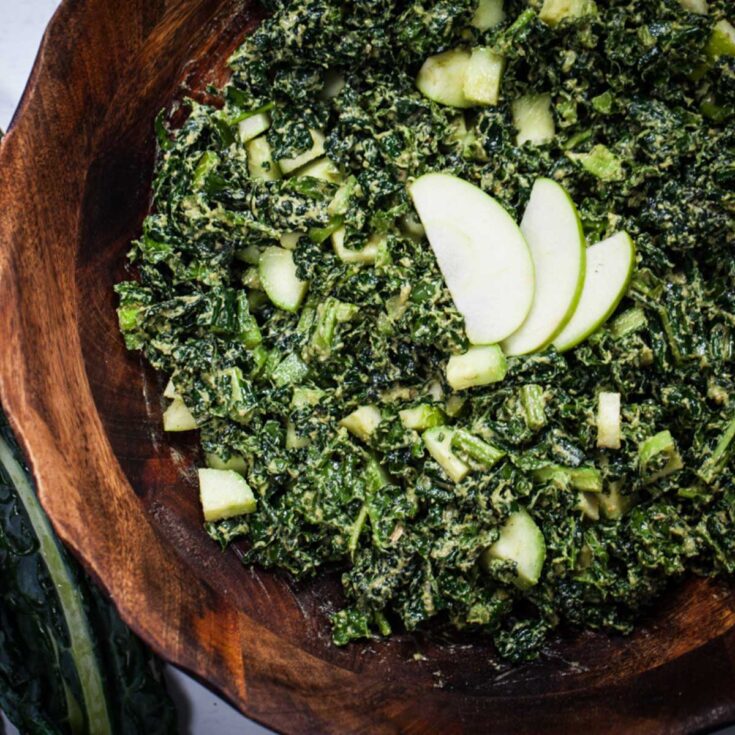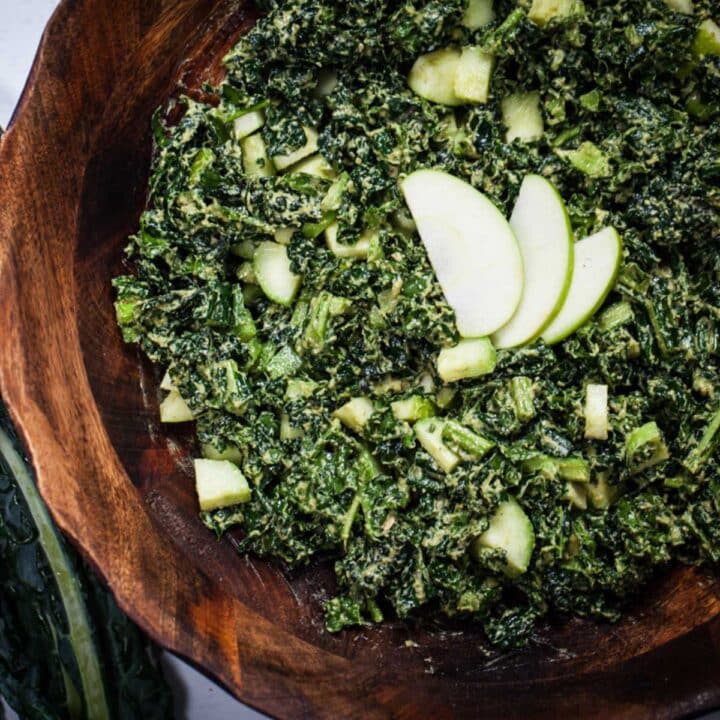 KALE-APPLE SALAD WITH CREAMY AVOCADO PESTO
Massaged with homemade avocado pesto, slightly sweetened with green apples, and filled with crunchy cucumbers, this kale salad is filling and incredibly satisfying!
Ingredients
TO MAKE THE PESTO:
1 Avocado
2 cloves garlic, peeled
2 tablespoons roasted, salted sunflower seeds
4 tablespoons extra virgin olive oil
½ lemon, juiced
1 tablespoon dried Basil
TO MAKE THE SALAD
1 large bunch Dinosaur Kale (or more as preferred), finely chopped
1 green apple, chopped
½ European cucumber, peeled and chopped
Sea salt to taste
Instructions
MAKE THE PESTO:
Place all the ingredients in a blender or food processor.
Blend on high speed until you have a beautiful green paste, set aside.
MAKE THE SALAD:
Place the kale in a large bowl.
Add the avocado pesto and start massaging the green paste into the kale to soften the vegetable until the pesto is evenly divided (less than one minute.)
Add the cucumber and apples. Toss to combine.
Taste test and season with a few pinches of salt, if preferred (optional.)
Serve immediately and enjoy!
Notes
Add only ½ apple if you prefer your salad less sweet.
Nutrition Information:
Yield:

4
Serving Size:

1
Amount Per Serving:
Calories:

313
Total Fat:

24.7g
Saturated Fat:

4.1g
Sodium:

100mg
Carbohydrates:

24.1g
Fiber:

6.4g
Sugar:

8.2g
Protein:

4.3g
Disclaimer: This nutritional data is calculated using third party tools and is only intended as a reference.
(Note: this post was initially published in May 2018. This post has been updated to include new info)