These veggie fritters are full of flavor with sweet and tender leeks, a touch of turmeric, and nutty garbanzo bean flour—savory, crunchy, gluten-free, Paleo, and vegan-friendly, and incredibly easy to make. Pair it with a 5-minute cilantro-lime sauce recipe for dipping and a delicious bite.
I have a love for leeks, especially when tenderized in some olive oil and adequately seasoned. They become deliciously sweet but still maintain that mild-onion-like taste that goes so well in savory dishes. And although usually a great addition to flavor soups and many entrees, in this recipe, they are the star. I have made these veggie fritters before with all-purpose flour, but garbanzo bean flour brings the best out of tender leeks. It creates softer cakes, nicely contrasting the crispy edges and its beany, almost nutty flavor pairs well with this vegetable. Dip them in my homemade cilantro-lime sauce, and you get the perfect bite.
As with any recipe, you can adapt the seasoning, change up a few ingredients, or make it more than just an appetizer.
ALTERNATIVE INGREDIENTS AND SEASONING
Leeks can sometimes be a bit pricy or harder to get, depending on the season and location.
Scallions, on the other hand, are more common to find and often cheaper.
Although a bit stronger in flavor than leeks, they still work great in this recipe.
So, throw in a bunch of scallions and add fewer leeks—still good.
Don't have turmeric powder on hand, add some curry powder, or leave it out.
Or make it a tad spicier, if preferred, with 1/2 teaspoon cayenne pepper and only seasoned with salt and pepper.
A GREAT APPETIZER WITH A HOMEMADE SAUCE
This recipe serves as a great appetizer when paired with a refreshing sauce. And it looks incredibly inviting on any table. I have included my simple cilantro-lime dip that comes together in 5-minutes and contains:
Garlic: adds a beautiful pungent taste
Fresh cilantro: adds a slightly spicy, refreshing flavor that pairs beautifully with the lime
Lime: brings the citrusy notes out of the cilantro—can be substituted with lemon
Olive oil: try to go for extra virgin olive oil that has a slightly spicy taste.
Roasted sunflower seeds: you can go for salted or unsalted. Their nutty and roasted flavor enhances the taste—it is delicious.
Nutritional yeast or parmesan-like cheese: Creates a creamy texture and a bolder taste
A pinch of salt: for seasoning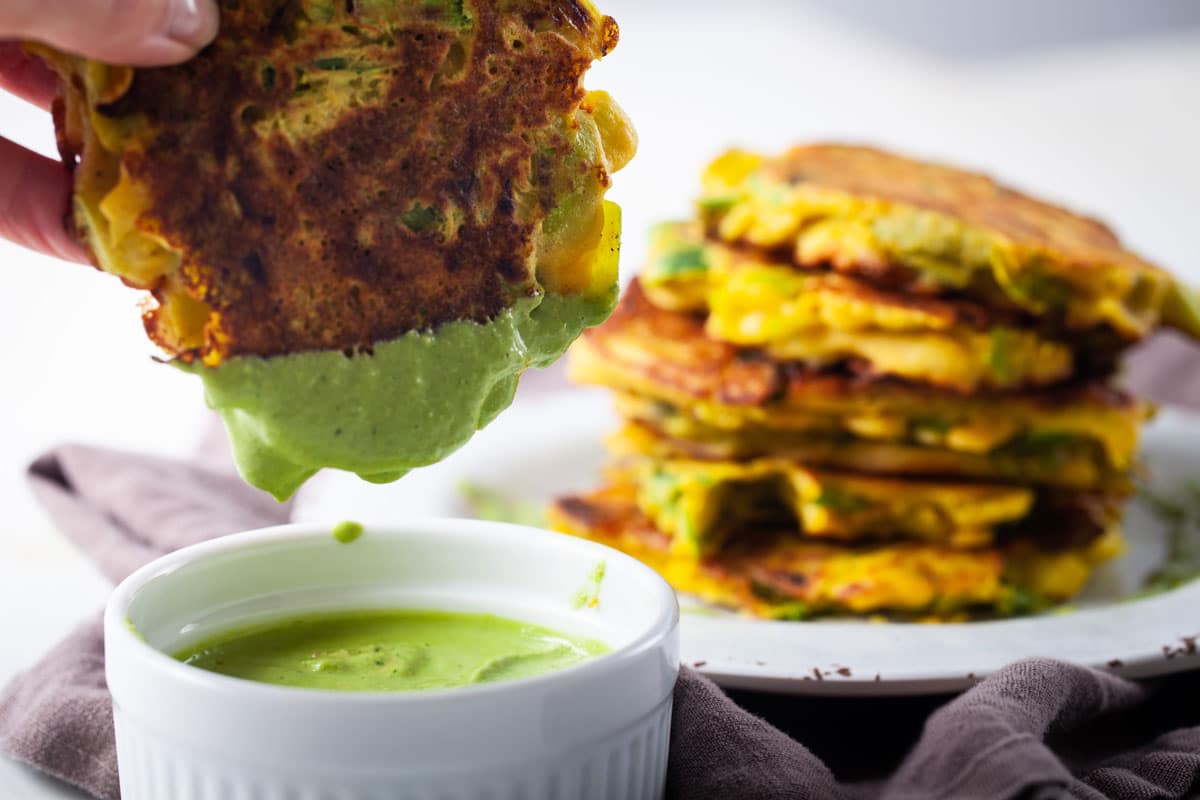 VEGGIE FRITTERS FOR BREAKFAST
If you have any leftovers the next day, then these vegetable cakes will tease you in the morning when opening the fridge. Reheat them in the pan or microwave for a few seconds to make a quick breakfast. Or better yet, pair them with scrambled eggs or a fried egg (if not vegan.)
I also love them with a softened plantain—you should try it.
WHAT TO SERVE WITH THESE VEGETABLE CAKES FOR LUNCH OR DINNER
Yep, I have made them even for lunch or dinner. This leek recipe contains healthy plant-based proteins due to the chickpea flour and tastes good with other vegetable side dishes. Here are a few suggestions to make these vegan leek fritters a full meal:
Have questions? Let me know in the comments below. Enjoy!
Yield:

About 13 small or 8 large vegetable fritters
Savory Vegetable Fritters with Cilantro-Lemon Sauce
Savory and crispy vegetable fritters with sauteed leeks, garbanzo bean flour, and a touch of turmeric—gluten-free, Paleo and vegan-friendly!
Ingredients
To Make the Vegetable Fritters
About 1 pound leek, thoroughly cleaned and chopped
1 1/2 cups garbanzo bean flour
1 1/3 cups water at room-temperature
1 teaspoon salt
1 teaspoon turmeric powder
4 tablespoons olive oil, divided
Salt and Pepper to taste
To Make Cilantro-Lemon Sauce
1 garlic, peeled
1 cup chopped fresh cilantro leaves
Juice of one lime or lemon
1 tablespoon extra virgin olive oil
1/4 cup roasted sunflower seeds
2 tablespoons nutritional yeast (vegan) or Parmesan cheese, or any other aged hard cheese of choice
A pinch of salt
Instructions
How to Make The Vegetable Fritters
Trim off and discard the root ends and any dried or browned ends of the leek greens. Cut the leeks lengthwise in half and then slice them crosswise into bite-sized pieces; set aside.
In a separate bowl, mix the flour with water to make a thick yet liquid mixture. Stir in the salt, turmeric powder, and chopped leeks until well combined; set aside.
Coat the bottom of a large skillet with two tablespoons of olive oil and heat over medium heat. Stir in the leeks—cook and stir for 5 to 10 minutes, or until tender—season to taste with salt and pepper. You can add some nutritional yeast at this point if preferred.
Transfer the sauteed leeks into the batter and stir until everything is well combined.
Coat the same skillet over medium heat with one to two tablespoons of olive oil. Ladle in small amounts of batter—a large tablespoon for small or 1/2 cup for large fritters—and flatten slightly with a spatula. Try not to crowd the pan. Cook for 3 to 5 minutes on each side or until golden brown. Transfer the fritters to a plate. Repeat until all batter has been used—only add more oil if needed.
How to Make the Cilantro-Lemon Sauce
Place everything in a high-speed blender or food processor. Blend on high until you get a beautiful green paste. Transfer to a small bowl or ramekin and serve with the veggie cakes—will last up to 5 or 7 days in the fridge in an airtight container.