This healthy plantain breakfast is satisfying and nutritious —I am talking about eggs and plantains; it's a sweet and savory combo that screams comfort food. The best part? You only need a few ingredients and 10 minutes. And you can switch things up—to keep your morning meals interesting—and ditch the eggs for crunchy and creamy toppings or if you wish to keep it vegan-friendly.
Jump to Plantain and Egg | What color are plantains when ripe | How to cook plantains in the microwave | Plantains for breakfast with crunchy toppings | My favorite green fruit salad as a side dish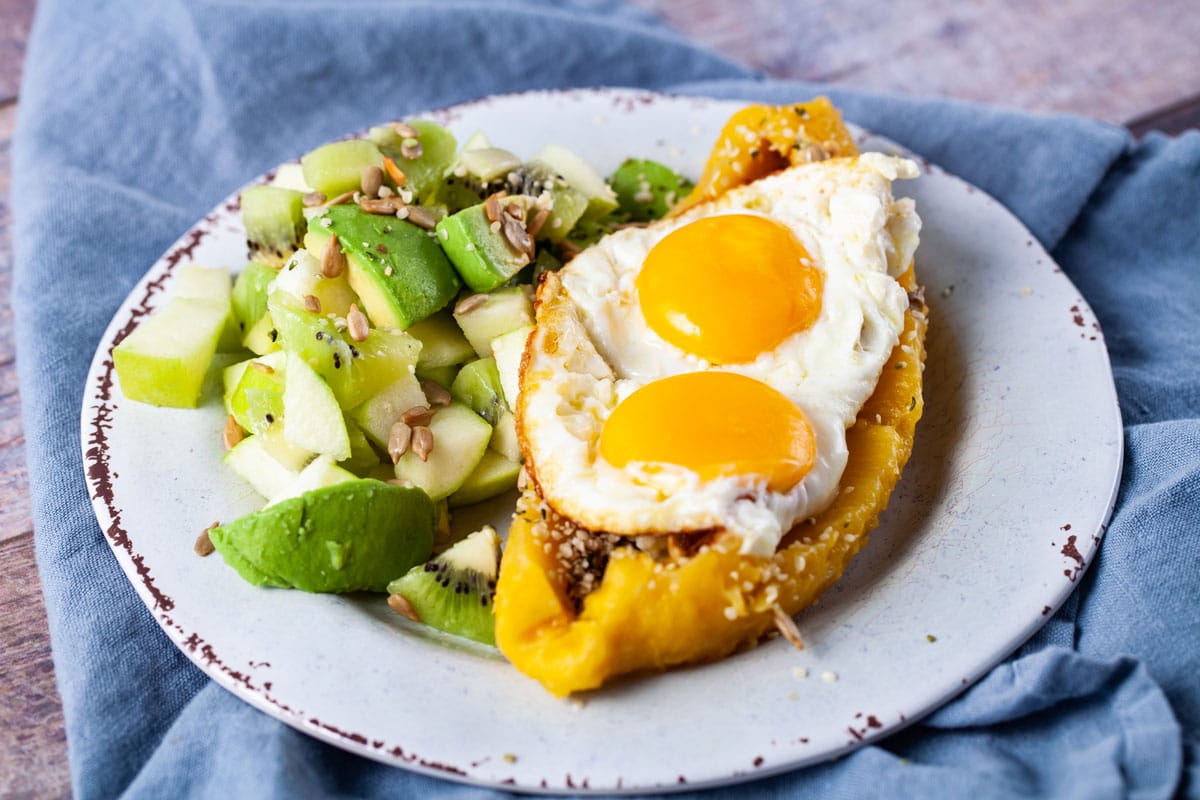 I can't get full credit for this recipe. During one of my visits too many years ago, my parents in law made this plantain cooked in a microwave topped with fried eggs and seeds. I was hooked. It's definitely a switcheroo on the eggs and potatoes, and I loved how soft the plantain came out.
Not to sound snobbery, but my microwave only runs on those rare occasions I forget to defrost something in the fridge or want to reheat up something quickly—even then, I often use the stove.
And although heating food using a microwave has its downsides, quickly cooking a plantain in it makes totally sense. You are more or less steaming it in its own peel—why didn't I think of that?
Well, I ran with it. And over the years, I have slightly added some ingredients and made it my own. There's the creamy and crunchy green fruit salad that I often make to vamp up this plantain breakfast dish—even worthy of a light lunch. Then, there are all the toppings replacing the fried egg now and then for a vegan-friendly morning meal.
Whether you enjoy this recipe for breakfast, lunch, or as a post-workout replenishment,
It is healthy;

super easy to make;

packed with tons of nutrition;

And filled with gratifying flavors;
Plantain and Egg
Here is what we're making
Microwaved sweet plantains, ready in about 3 to 5 minutes;

A sunny-side-up egg or two—you can opt for egg whites only or make it vegan-friendly with healthy toppings (see below);

A few seeds for their health benefits.

A teaspoon of either avocado oil, extra virgin olive oil, or coconut oil.
This homemade wholesome breakfast is perfect for busy mornings, but if you want to make it extra filling, pair it with a delicious green fruit salad, and it adds no additional cooking time.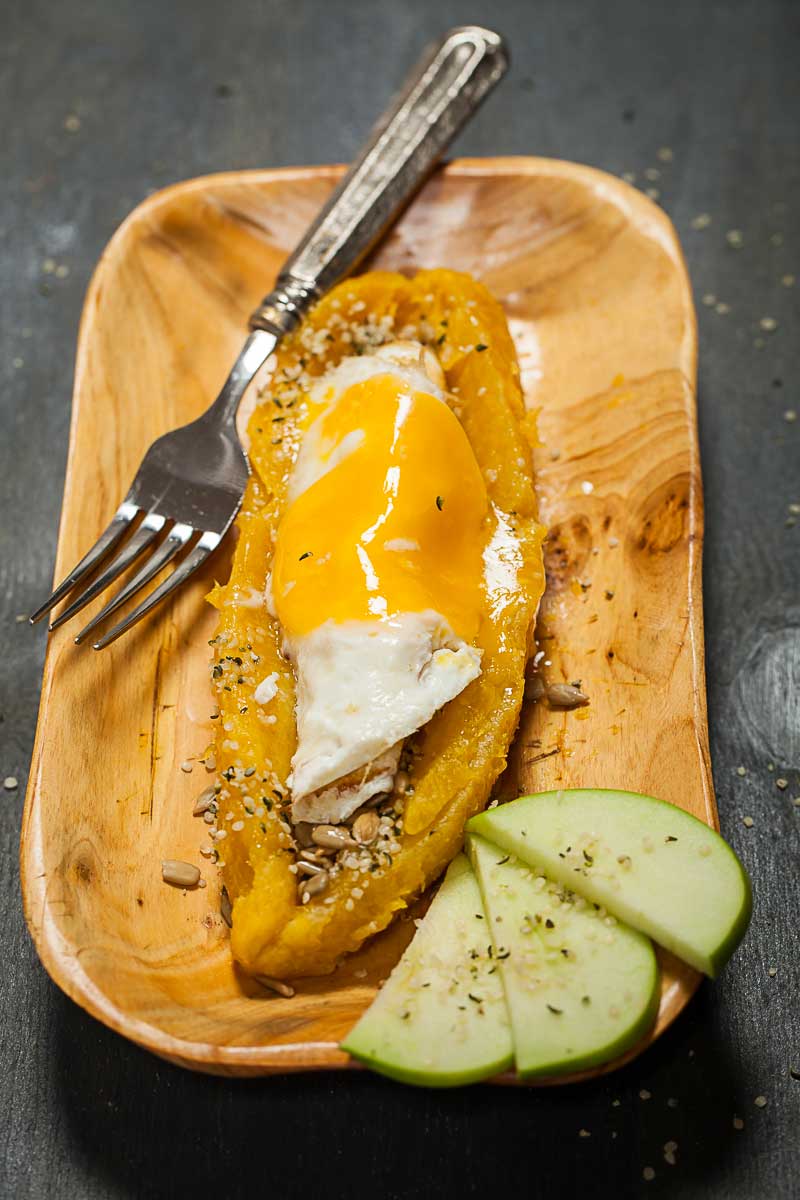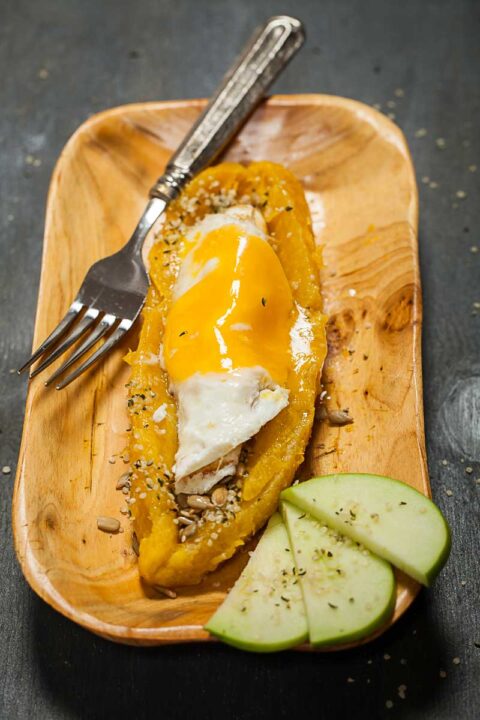 Healthy seeds and other toppings
Hemp seeds and

sunflower kernels

not only provide the right type of fats and extra protein, but I also love the nutty flavor in contrast to the hearty egg and sweet plantain;

And although they are my usual food toppings for this simple plantain breakfast;

I have experimented with adding nuts, raisins, crunchy homemade granola, and even a spoon of nut butter;

Also, I love to pair it with some fruit on the side—green apples are my favorite.
Make a green fruit salad

as a side dish
All you need is

one green apple

a kiwi, peeled

and half of a peeled ripe avocado
Chop and combine everything while your egg is frying and sprinkle some extra seeds on top. Granny Smith apples and a kiwi are deliciously refreshing, while the avocado adds that indulgent texture. It's perfect for those days when you are a bit more hungry than usual and need an extra boost of energy to get out of the door.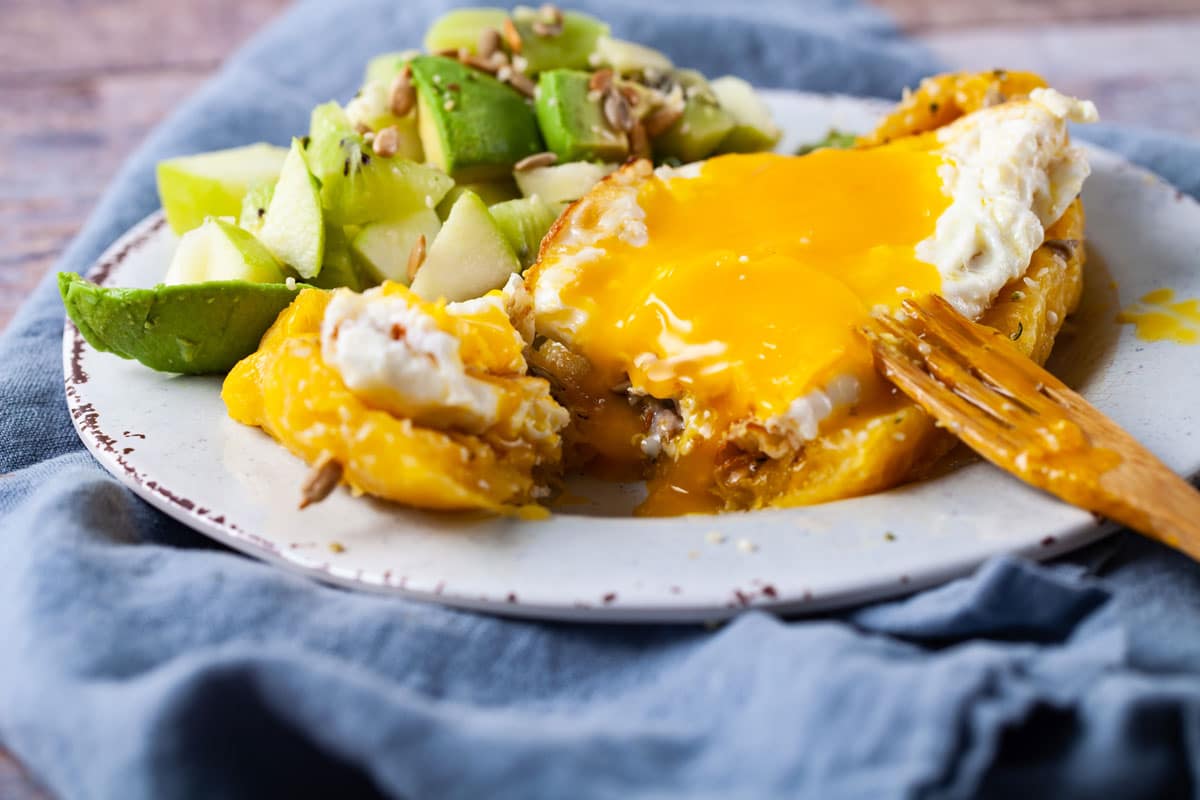 What color are plantains when ripe
Plantains are starchy fruits that are now very common to find in

almost every store. Like bananas, they have become a staple in my household.
Often, the produce section carries them when they are still green or green-yellowish on the outside. I can find them more readily in a ripened yellow state in the summer months or sometimes even with dark brown spots.
Green plantains have a more starchy taste and are used to make savory dishes—think of the beloved tostones. But for this recipe, we want them ripened and thus sweeter in taste and softer in texture.
Blackened plantains are very sweet, but I find them a bit too mushy.
I enjoy them the most when deliciously sweet but still slightly firm to the touch. So, I go for plantains with yellow skin—maybe some brown spots here and there—that have the sweet aroma of bananas and feel soft yet not mushy when placing some pressure on it with your thumb.

If you only find green plantains in-store, then further ripen them by placing them at home in a large brown bag at room temperature. A fair warning, it can take anywhere from a few days to a week or more before plantains are ripe and wonderfully sweet. It all depends on the season and temperature. Lately, I have been adding some

apples

in the bag, which seems to speed up the process.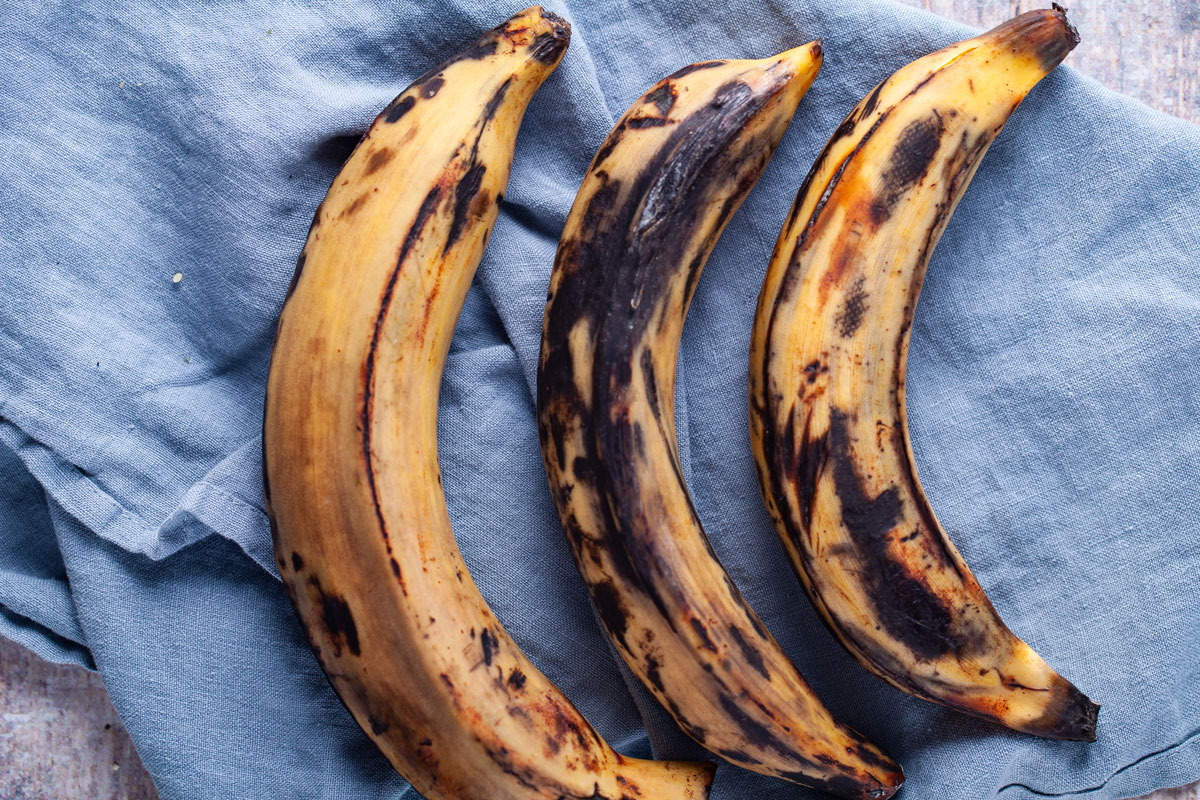 How to cook plantains in the microwave
You can quickly cook ripe and unpeeled plantains for this breakfast for a couple of minutes in the microwave. It depends on your microwave settings, but it takes anywhere from 3 to 5 minutes on a high setting until your plantain is soft and thoroughly cooked.
First, cut off the ends with a pairing knife.

Then core the skin and cut a slid lengthwise into the flesh—do not cut all the way through. The deep lengthwise cross-section cut assists with the cooking process, and the shape of a boat makes it easier to dress it up with your favorite toppings.

Wrap the fruit first in a paper towel and wet it with water. It ensures that the plantain does not dry out. Place it in the microwave for 3 minutes or up to 5 minutes if you want it softer.

Once done, use a towel to unwrap paper towel and open up the fruit's peel—because it will be scorching.

Let it cool a bit before peeling it carefully.

P

lace the peeled plantain on a plate, cut side facing up. Now you can add your fried egg, toppings and fruit salad on the side.
Plantains for breakfast—other topping ideas
Everything is vegan about this dish, except the egg. Switch it up and replace the egg with some of the following:
Your favorite (cashew) yogurt

with crunchy granola.

Chopped nuts

like Brazil nuts, walnuts, or almonds.
Roasted sunflower kernels, bee pollen, pumpkin seeds, raisins, or flax seeds.
Other toppings (optional): nut or seed butter, a drizzle of homemade jelly or apple butter/sauce.
This plantain breakfast is ready in 10 minutes, and I know I might be biased, but this is an incredibly satisfying breakfast, so worth making. Enjoy!
Note: Just double or triple, etc. the ingredients for large portions!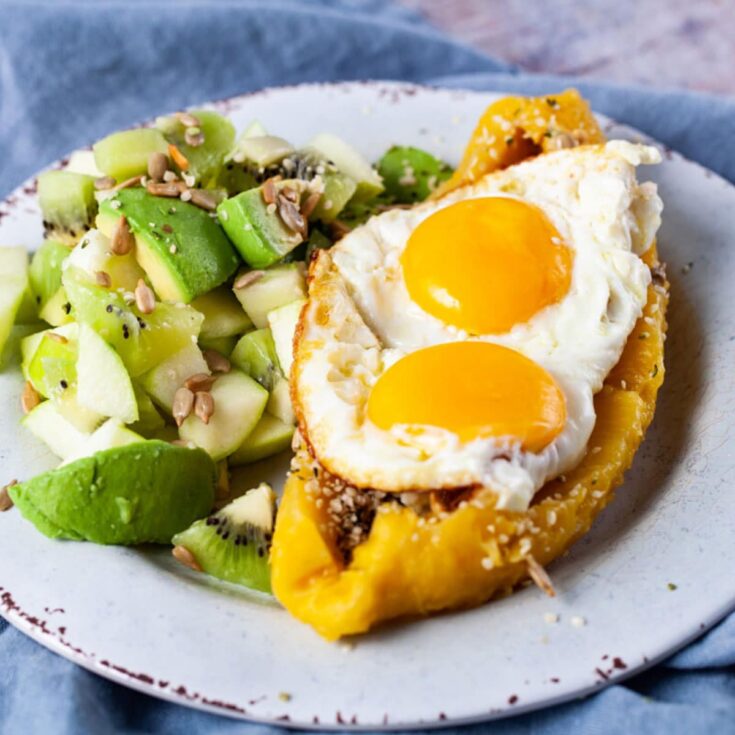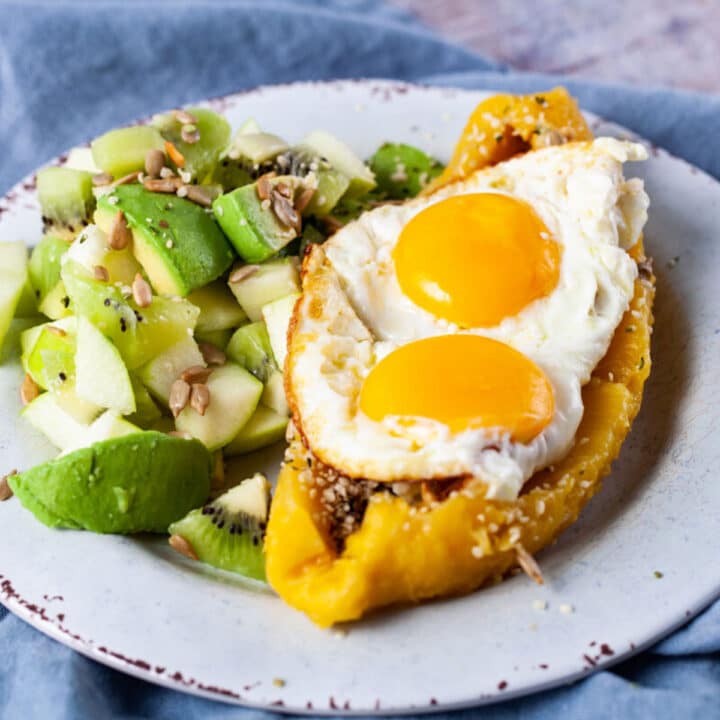 Healthy Plantain Breakfast
A satisfying, quick, and healthy plantain breakfast you can make any time you want something nutritious yet have little time to cook. Enjoy it with fried eggs and a fruit salad on the side, or make it vegan-friendly with hearty toppings!
Ingredients
To make plantain for breakfast
1 large and ripe plantain
1 teaspoon hemp seeds (optional)
1 teaspoon roasted and unsalted sunflower kernels
1 teaspoon extra virgin coconut oil or olive oil, plus more to coat the pan (you can also use avocado or macadamia oil)
1 large egg or two
To make the fruit salad
1 green apple, cored and chopped
1 kiwi, peeled and chopped
½ avocado, peeled and chopped
Instructions
Make plantain for breakfast
Cut the ends of the plantain and discard the ends (don't peel yet). Then create lengthwise a cross-section cut (don't cut all the way through only halfway).
Wrap the unpeeled fruit with a large paper towel and lightly wet it on all sides with some water.
Place the wrapped plantain in the microwave and cook for three minutes—5 minutes if you like your plantain extra soft. When done, let it sit for another minute to cool a little.
In the meantime, take a small non-stick frying pan. Coat the bottom with a small amount of coconut or olive oil and heat over medium heat.
Gently crack open the egg above the skillet, letting the egg pour into the pan. Reduce the heat to medium-low—season to taste with salt and pepper. Cook the egg until the white has set, but the yolk is still runny (sunny side up egg).
Take the wrapped plantain out of the microwave (be careful as it can still be hot). Unwrap and carefully remove the fruits' peel. The plantain should be soft and mushy.
Discard the peel, place the cooked fruit on a small plate, cut side up, and gently open the fruit (creating a boat form).
Divide first the hemp seeds and sunflower kernels over the plantain.
Coat with coconut oil (optional but recommended) and slide the egg on top, allowing the yolk to run over the plantain.
Enjoy with your favorite cup of coffee, tea, or Yerba Matte!
Serve with a green fruit salad on the side (optional)
Combine the chopped fruits and arrange them on the plate next to the plantain.
Sprinkle with extra hemp seeds or sunflower kernels.
Notes
Other toppings (optional): nut or seed butter, sesame seeds, raisins, crushed nuts, pumpkin seeds, a drizzle of homemade jelly or apple butter/sauce, your favorite yogurt, crunchy granola.
Recommended Products
As an Amazon Associate and member of other affiliate programs, I earn from qualifying purchases.
Nutrition Information:
Yield:

1
Serving Size:

1
Amount Per Serving:
Calories:

303
Total Fat:

12.2g
Saturated Fat:

6.4g
Cholesterol:

186mg
Sodium:

77mg
Carbohydrates:

44.4g
Fiber:

3.5g
Sugar:

19.9g
Protein:

8.7g
Disclaimer: This nutritional data is calculated using third party tools and is only intended as a reference. The data does not include the fruit side salad.
Note: this post was initially published in June 2017. This post has been updated to include new info and photos
PIN IT for later! Don't forget to subscribe to my Monthly Newsletter!