This insanely easy recipe for flourless chocolate cake is one you must have in your recipe repertoire, especially if you're big on chocolate flavors and berries all wrapped up in healthy baking.
This low-carb (gluten-free, Paleo and Keto-friendly) cake is moist, beautifully chocolatey, and perfect for the lazy baker.
Jump to:
Why I love this flourless cake so much
I love simple dessert recipes and anything that combines a chocolate flavor with berries—one of my favorite combos.
Oh yes, there are a lot of healthy low-carb flourless chocolate cakes out there, but if you are into super easy, not too sweet, healthy flourless baking, then this cake is for you.
It's pretty easy and fast to make – baking flourless can sometimes be tricky. These cakes have a more fragile structure that often ends in a collapsed center. I wanted to develop a super easy method for baking a low-carb cake with fairly simple ingredients. Before I got it right, it took a bit of testing—well, 6 cakes and a kitchen full of cacao powder dust. But now, it always works out.
You could totally make this without a stand mixer, blender, or beater: just your standard kitchen bowls, whisk, or utensils.
It will yield eight servings. And although I often make it a casual treat for us during the week—it's my favorite—you can make this a fancy enough dessert for a dinner party.
It's beautifully moist with a layer of strawberries – Each bite is soft, and the mixed-in berries settle at the bottom, creating a lovely texture and sweet surprise.
It has a great flavor without being overly sweet. A confession: I'm not too fond of overly indulgent baked goods, and this dessert gives you that nice balance of fixing your chocolate cravings while staying within the realm of nutritional baking.
You don't need any special equipment. That's the beauty of this flourless chocolate cake. You can entirely concoct this by hand with a bowl and a whisk—well, and you need a baking pan and maybe an extra bowl, but you get my drift.
Everyone loves this cake. I have to make this when everyone is out of the house, so this cake gets the proper time to cool.
It can easily fit on a brunch table too. It's one of those healthy desserts to enjoy with your cup of coffee or healthy iced latte during Sunday brunch.
Let's gather the ingredients.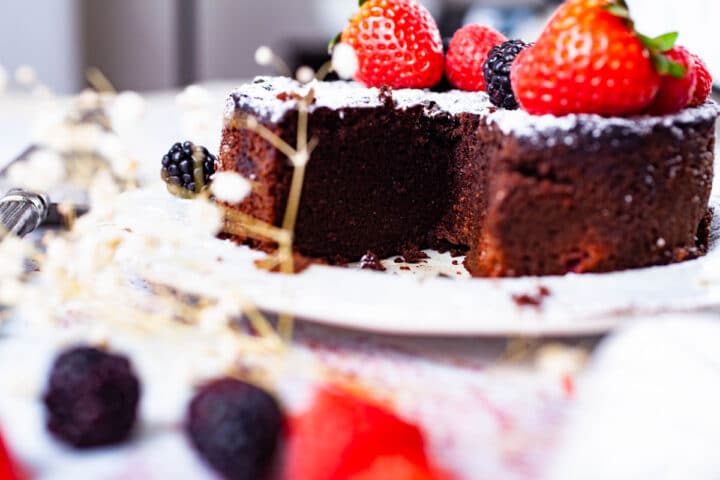 Ingredients & Substitutions
Mascarpone cheese (or cream cheese)
There is such an ease in handling mascarpone, which adds a rich, naturally sweet component to this baked good.
I'm also relying on its fat content to help stabilize a flourless and gluten-free cake.
To soften it a bit, you want to get the cheese out of the fridge about 15 minutes before baking.
Then whisk by hand until smooth and all clumps have disappeared. That's it!
You can replace this with cream cheese if you can't find mascarpone—check out the section Cream Cheese instead of Mascarpone below for more info.
Melted butter
Another source of fat to help bake this flourless chocolate cake.
But despite these fatty sources, this is not your typical decadent cake—It's rich and smooth but with a fairly light structure.
Count in a bit extra to grease the baking pan.
Eggs
This cake recipe uses three large fresh eggs loosely beaten with a whisk.
Usually, I take them out of the fridge and leave them on the counter for about 15 minutes or until they no longer have the fridge's chill.
Can you use cold eggs straight from the fridge? Yes, it will still work. Just know that your cake batter will be thicker, and you might need to count in some extra baking time.
Almond flour
To obtain airiness in the cake, I recommend blanched almond flour made with almonds without the skin.
It has a lighter and fluffier texture than your regular almond meal and, therefore, is a better choice for baking cakes.
Cacao powder
It's what will give you that deep chocolate flavor, but it also acts here partly as a gluten-free "flour." Always use unsweetened cacao powder!
Baking soda
Because of its acidity, cacao powder will react with a bit of baking soda, making this flourless chocolate cake more stable.
Sweetener
Erythritol & Monkfruit sweetener is a great low-carb sugar substitute that works well in this recipe.
And if you want to dress up the cake with powdered sugar, I recommend this powdered sugar replacement.
Note: the key is always to allow the cake to completely cool so that any aftertaste of low-carb sugar substitutes disappears.
Fresh Berries
Some sweet strawberries go into the baking batter. To garnish the cake, I suggest combining any extra fresh berries of your choice.
How to make this flourless low-carb cake
Prep the baking pan
Coat the inside of the baking pan generously with butter, then shake in a bit of cacao powder (coating all sides), and tap out any excess.
You can always line a round baking pan with parchment paper, using pre-cut round paper sheets or cutting the rounds yourself.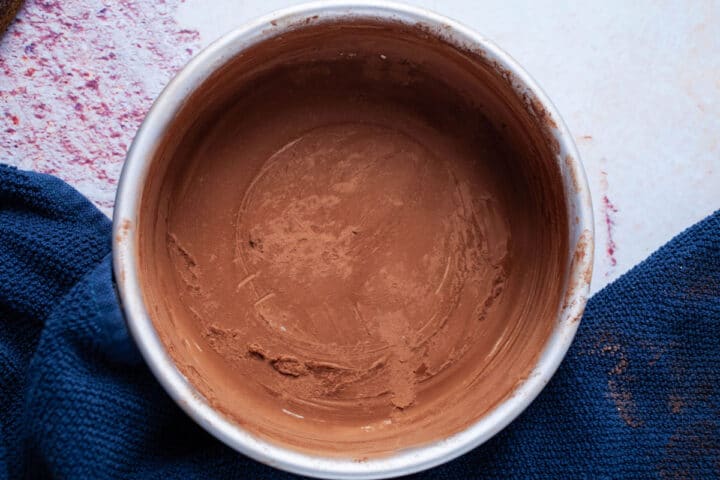 Combine the dry ingredients
The almond flour, cacao powder, and baking soda go into one mixing bowl.
Sometimes, these alternative flour options can have some lumps or feel a bit compacted if stored for a while.
Loosen it up by mixing them with a whisk. Then, if you still have a few stubborn bigger lumps left, you can disperse them with the pressure of the back of a fork.
Mix the wet ingredients and sweetener
The mascarpone gets whisked until smooth. It should be relatively painless and quick.
Then the beaten eggs and low-carb sugar substitute get mixed in until well combined.
Mix the chocolate batter
Add the creamy wet ingredients to the dry flour mix. Whisk everything together until you have a smooth brown chocolatey batter. That's it.
Add in the Strawberries
It's totally optional but highly recommended. Most strawberries will settle at the bottom of the cake, creating a lovely sweet, subtle surprise.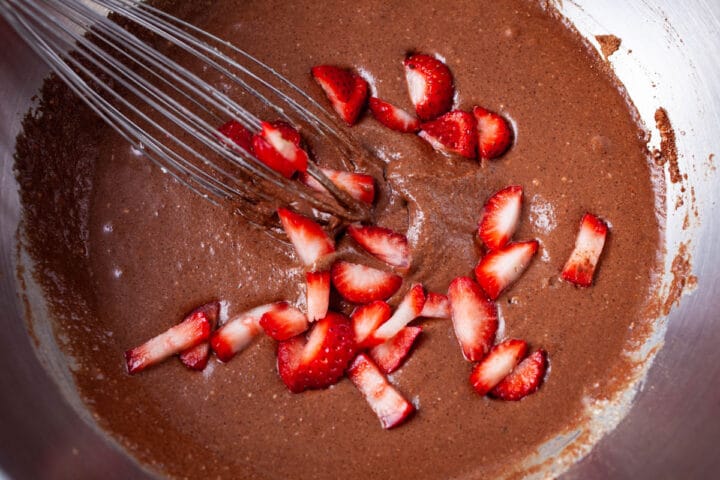 Bake the cake
Pour the batter into the pan. The first picture below shows that the top looks a bit mounted.
Tap the bottom of the pan a few times against the counter to even out the cake batter and eliminate any major air bubbles—it should look more evened out, like in the second picture.
Bake for 45 minutes at 350 °F (180°C) until the top feels solid.
Alternatively, you could also use an 8×4 inch loaf pan instead. Again, you'll get the same cake texture in a different form.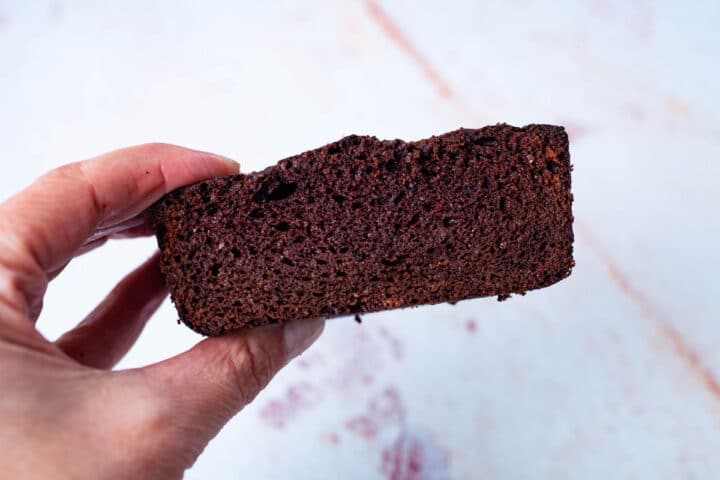 Cream cheese instead of mascarpone
Yes, you can make this low-carb cake also with cream cheese. I've done it many times myself.
The only way to soften the cream cheese quickly with no effort is by microwaving it in increments of 5 to 10 seconds until soft enough to be mixed with the rest of the ingredients.
But, if you have a stand or an electronic hand mixer, you can also beat the cream cheese straight from the fridge on medium-high until creamy (see picture below)—it should only take a minute.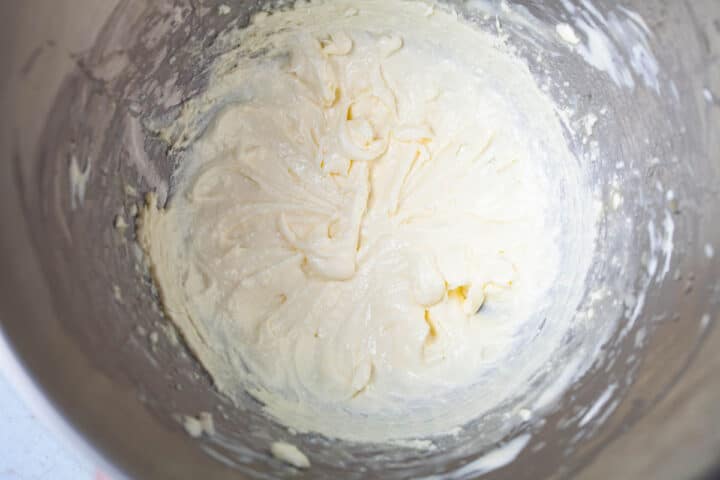 Storage
It keeps well for 3 to 4 days in an airtight container at room temperature. But if it's very hot where you live, pop it in the fridge—it's good for at least 5 days.
You can serve it straight from the fridge.
Related Flourless Recipes
Flourless peanut butter cookies come in different tasty variations: chocolatey and almond flavor. Plus, I also have tested and shared an egg-free and vegan version. They are genuinely a good-feel baked treat.
HUNGRY FOR MORE and want to stay in touch? Then don't forget to subscribe to my Monthly Newsletter! Enjoy!
📖 Recipe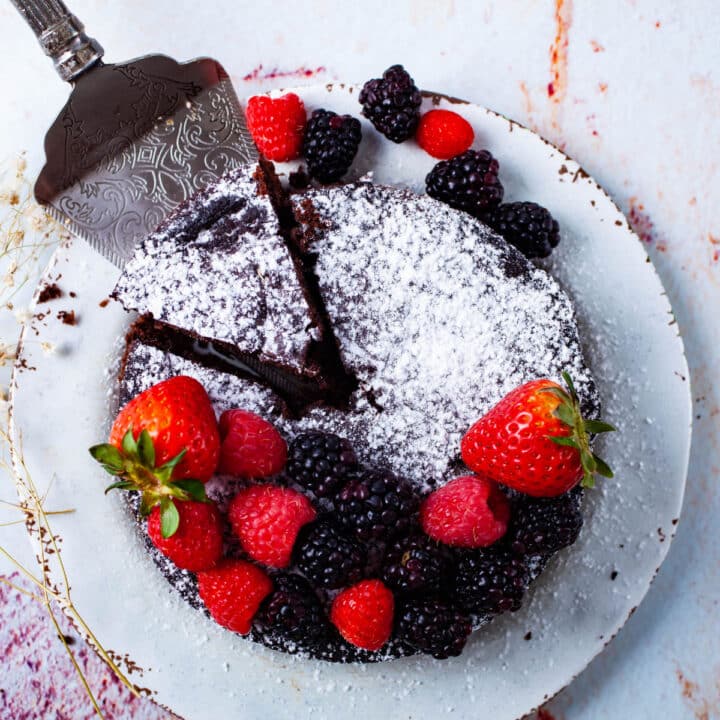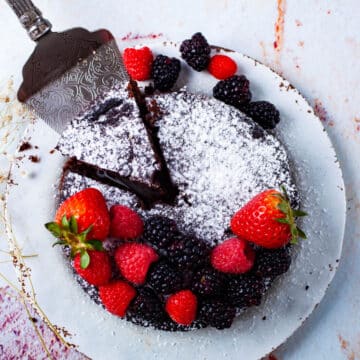 Low Carb Flourless Chocolate Cake
Mariska Ramondino
A delicious flourless chocolate cake that is also gluten-free, low carb (KETO-friendly), and incredibly addictive. It's very easy to make and with a few fresh berries, this healthy low-carb cake is perfect for any occasion.
Ingredients
2.2

ounces

mascarpone cheese

60 grams (can use cream cheese)

4

tablespoons

butter, plus more to grease the baking pan

55 grams

3

eggs

lightly beaten

1

cup

almond flour

100 grams

¼

cup

cacao powder, plus more to prepare the baking pan

20 grams

½

teaspoon

baking soda

½

cup

+ 2 tablespoons Erythritol & Monkfruit sweetener

(130 grams) or ¾ cup + 2 tablespoons powdered Monkfruit sweetener with erythritol

½

cup

chopped fresh strawberries

depending on their size, about 3 strawberries

Extra fresh berries of your choice and powdered Monkfruit sweetener for decoration and garnish.
Instructions
Before you plan to bake, take the mascarpone cheese and butter out of the fridge and leave it on the counter for about 15 minutes to soften. Do the same with the eggs until they no longer have the fridge's chill.

Preheat the oven to 350 °F (180°C)

Butter the baking pan, then shake in a bit of cacao powder (coating all sides) and tap out the excess; reserve.

Combine the almond flour, cacao powder, and baking soda in a bowl. I like to use a whisk to sift and remove any big lumps. Set aside.

Add the mascarpone cheese and melted butter to a mixing bowl and whisk until smooth.

Add the lightly beaten eggs, followed by the sweetener. Whisk until you have a beautifully soft, creamy texture.

Combine the dry ingredients into the wet ingredients—you can use the same whisk or fold with a spatula.

Lastly, stir in the chopped fresh strawberries.

Pour the batter into the prepared and reserved baking pan.

Tap the bottom of the pan a few times against the counter to even out the cake batter and eliminate any major air bubbles.

Bake for 45 to 47 minutes, or until the middle is firm to the touch and an inserted toothpick comes out clean.

Let the cake cool before removing it from the baking pan. It does not have to be thoroughly cooled but enough to have settled in its form. Otherwise, the cake will break.

Dust with powdered Monkfruit sweetener (optional) and garnish with fresh berries of your choice (highly recommended).
Notes
Flour lumps: if a whisk can't get rid of the bigger lumps, simply use a fork to flatten them and fluff up the flour mixture. Melted butter: I prefer to place the butter on the stove in the smallest pan and over the lowest heat setting until completely melted. You can do this while combining the dry ingredients, but keep an eye on it and remove it from the stove as soon as melted. Checking readiness of baked cake: I always suggest slowly opening the oven door (not abruptly), so you won't chock the cake with a wave of cold air. Open the oven door enough to check if the cake is done. Add a few extra minutes to the baking time if the center still feels soft. 45 minutes always works with my oven. Remove the cake from the baking pan: To remove the cake, use a shape knife to go around the edges of the pan, ensuring the cake is sufficiently loosened on all sides. Then place a large enough plate on top of the baking pan and gently turn it around. Next, tap the bottom of the pan gently a few times until the cake falls on the plate. Next, place the small cake on a large spatula, and with the support of your other hand, turn the cake gently around. Baking time: Besides the 15 minutes preparation time, count in some extra time to soften the mascarpone cheese out of the fridge and extra time to cool the cake before serving. Important: this cake still needs to develop its flavor during cooling time. Layer cake: Double the recipe and bake in separate pans if you want to turn this into a layer cake. Storage: store for 3 to 4 days in an airtight container at room temperature. But if it's very hot where you live, then pop it in the fridge—good for up to 5 days. You can serve it straight from the fridge.
Add your own private notes
Whenever you come back to this recipe, you'll be able to see your notes.
Nutrition (% Daily value)
Calories:
158
kcal
(8%)
Carbohydrates:
14
g
(5%)
Protein:
5
g
(10%)
Fat:
14
g
(22%)
Saturated Fat:
6
g
(38%)
Polyunsaturated Fat:
0.4
g
Monounsaturated Fat:
2
g
Trans Fat:
0.2
g
Cholesterol:
67
mg
(22%)
Sodium:
113
mg
(5%)
Potassium:
63
mg
(2%)
Fiber:
2
g
(8%)
Sugar:
1
g
(1%)
Vitamin A:
299
IU
(6%)
Vitamin C:
4
mg
(5%)
Calcium:
45
mg
(5%)
Iron:
1
mg
(6%)
Disclaimer: This nutritional data is calculated using third party tools and is only intended as a reference.