On a hot summer day, it's time to make cold brew coffee at home and enjoy a refreshing morning drink to get your day started.
It's super easy to make, no special equipment needed, and you can easily make a big batch in advance with the coffee beans you love.
Learn all the tips to make the perfect cold-brew coffee concentrate!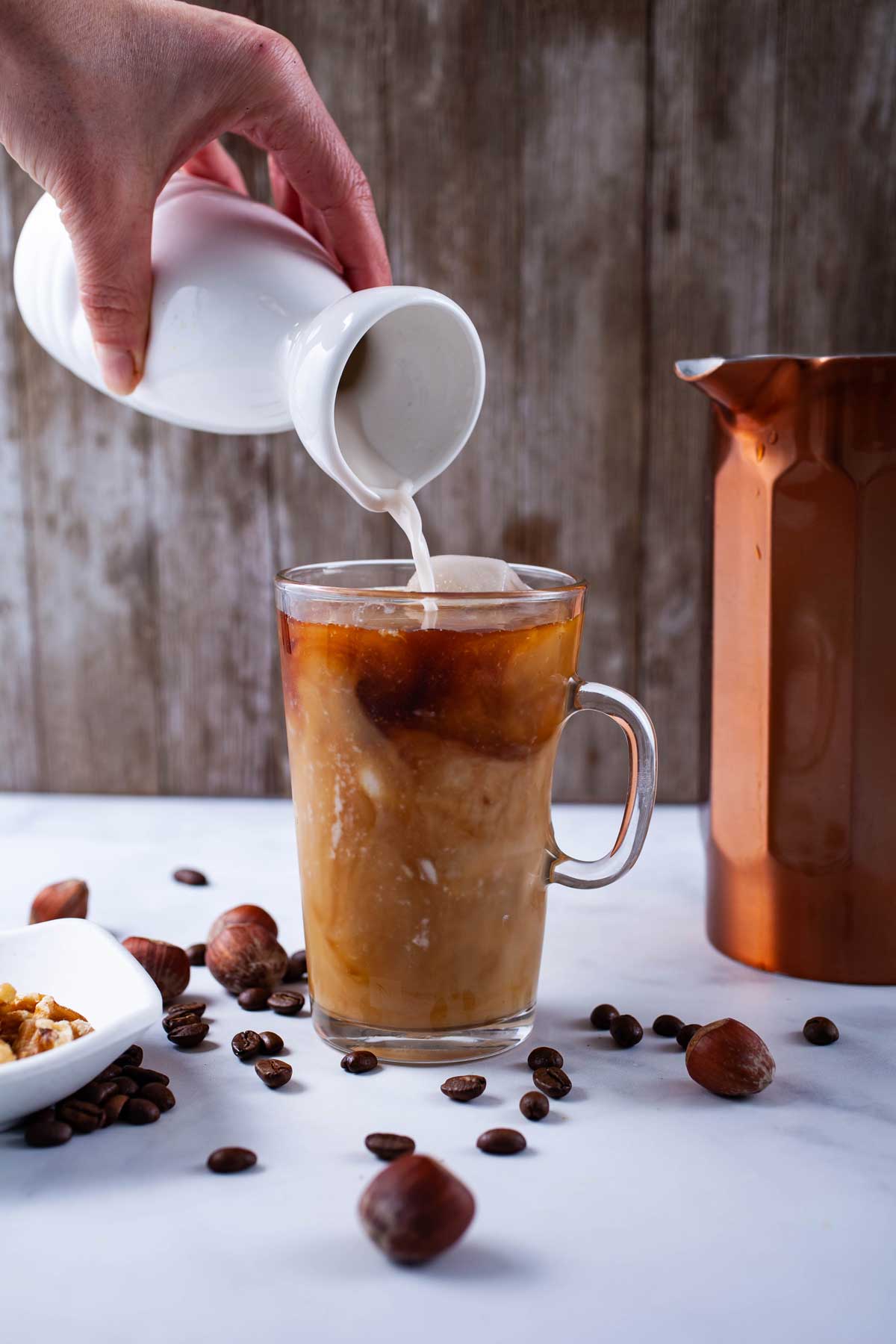 I am very much into cold coffee when the temperature rises. And this cold brew coffee recipe is one of my favorite ways to make it at home.
Enjoy a smooth, rich, bold cup for breakfast with your favorite fluffy oat pancakes. Take it to work, to the gym, or make it whenever you need a pick-me-up drink!
I often enjoy mine black. But nothing is to stop you from turning it into a healthy coffee smoothie, some of these amazing healthy coffee desserts, or flavored cold brew latte.
Let's make a big batch of a perfect brew together, so you are set for the week.
Jump to:
Why You Should Make a Cold Brew Coffee At Home
I highly encourage you to make your own cold-brewed concentrate:
It has bright and rich flavors.
It's smooth, refreshing, and tastes so pleasantly calm.
It has a lower acidity than a regular iced coffee, with many nuanced flavors and less bitter notes.
You can pour enough to last you a few days or up to one week.
It's all made with tools that you probably already have in your kitchen.
It's easy to make & budget-friendly.
What Is a Cold Brew & Is It The Same As Iced Coffee?
Cold brew concentrate is an iced coffee, but its brewing process and flavors are very different from turning a regular hot brew into an iced drink.
Cold brew coffee is made with room temperature water, usually poured over coarse coffee grounds, soaked for 12-24 hours for a more robust coffee flavor, and then strained.
And depending on the coffee-to-water ratio, you can make it quite concentrated, which you then can dilute based on taste with water or your favorite milk.
Iced coffee is more of a flashed chilled method turning a regular, albeit a bit stronger, hot brewed coffee into an iced caffeinated drink with (flavored) ice cubes.
It's excellent when you like all the bitter compounds in your iced coffee that generally comes with your hot cup of Joe.
Today, we're making a cold brew recipe! Let's go over some basics and give you a great starting point!
What Kind Of Roast
Choosing a coffee brand and the type of roast is very personal, and depending on your location, the varieties available might differ.
I suggest using a roast you love and are already used to drinking. It's the perfect base.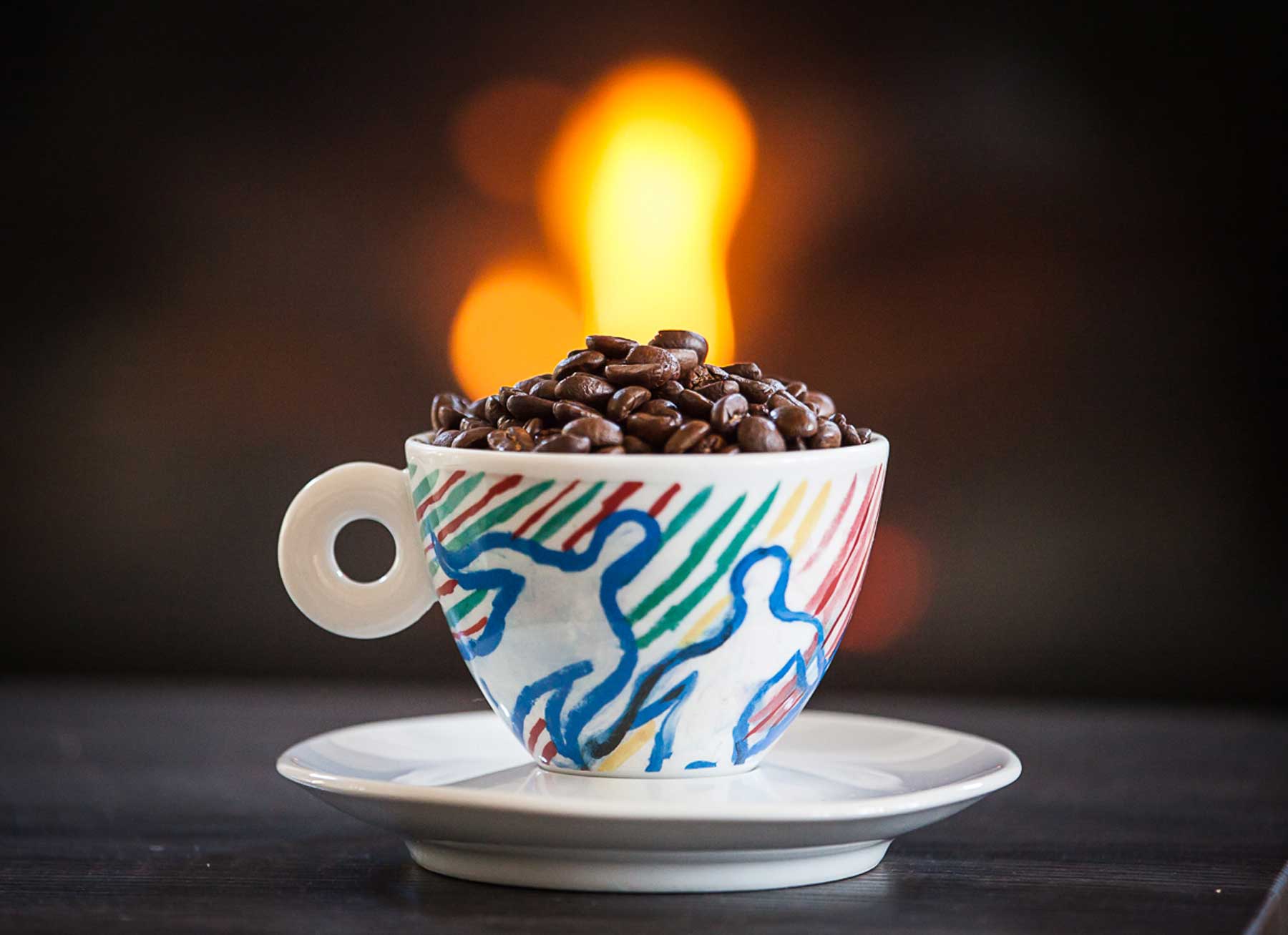 But there are a few things I've learned by testing this out:
Normally, I like a light roast for a hot cup, but I find this too weak to make a delicious cold brew coffee—the taste of coffee was almost absent.
I suggest going for a medium to dark roast over lighter roasts.
You can also blend a medium to dark roast with coffee flavors that work well together.
If you enjoy the fruity notes of a lighter blend, you will get the best results by making it more concentrated —going for a 1:3 coffee-to-water ratio and brewing it longer.
Note: If in doubt, use a larger quantity of coffee to brew initially because you can always dilute it AFTER. Unfortunately, there isn't much you can do when your cold brew concentrate is too light after steeping for so many hours.
The Grind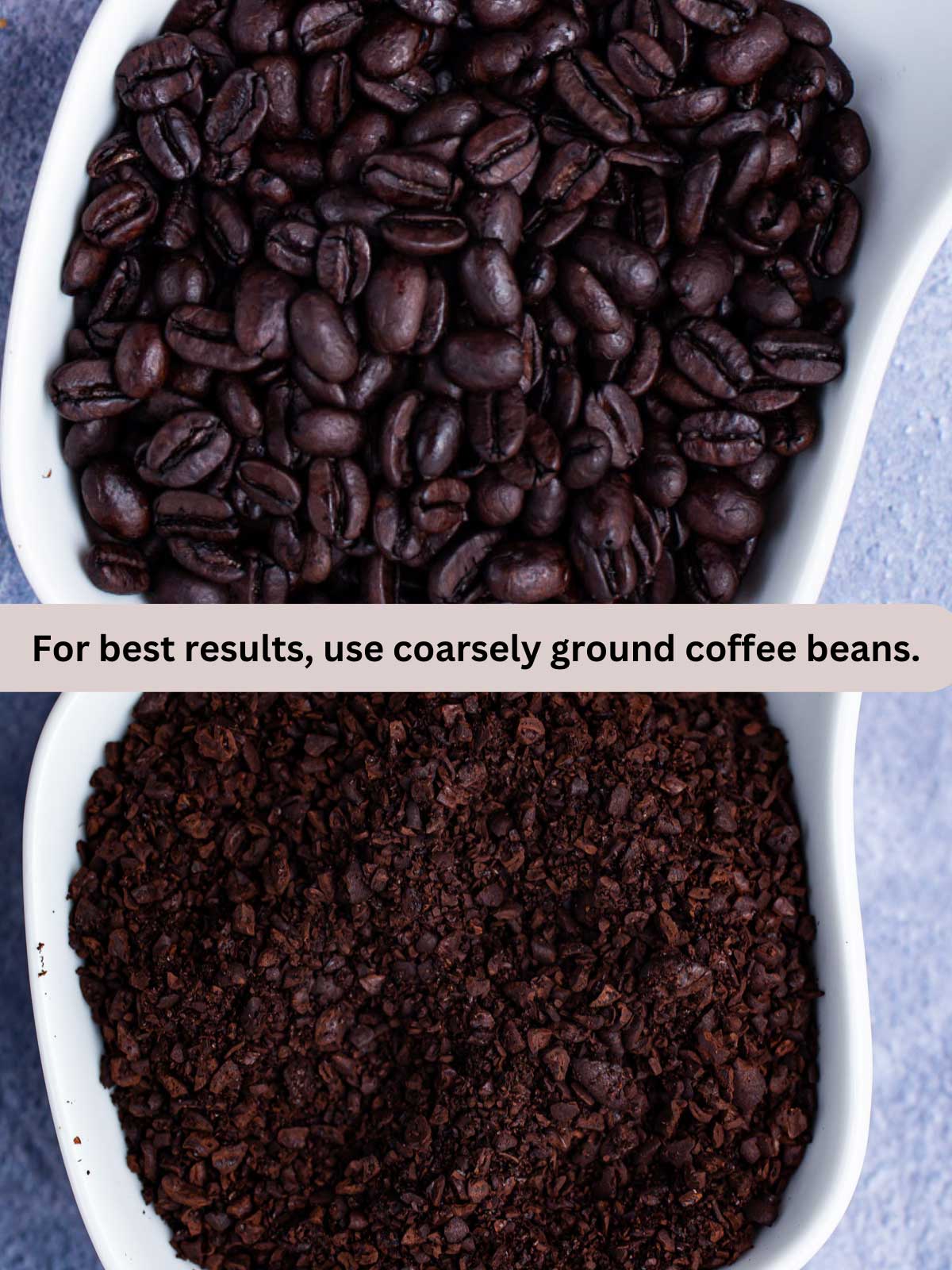 I took the advice of some local coffee aficionados and coarsely ground my beans for the best cold brew concentrates.
The less-dense coffee grounds allow the water to flow more easily than with a fine grind and extract all those aromatic, sweeter flavors from the beans.
Buy whole beans and freshly ground them yourself whenever you need a batch. It produces the best flavor regardless of how you make your coffee and stores better.
You can use a coffee grinder and use the coarse setting.
If You Don't Have a Coffee Grinder
Use a blender or Vitamix instead. Just grind in quick short bursts for 3-5 seconds on a medium-high speed (or choose "grinder" if you have that option). Do this for about 30 seconds or 6 times total. This technique produces a nice coarse grind and gets the job done.
Most grocery stores now allow you to grind their coffee with their big grinder machines (choose the coarsest setting or French Press option).
If you buy coffee at your local coffee shop, you can always ask the barista to ground the beans for you to make a cold brew coffee.
The Cold Brew Coffee To Water Ratio
When you ask regular cold coffee brewers or do some research online, you'll see that not everyone agrees on the coffee bean-to-water ratio.
You have some suggesting a 1:3, 1:4, or 1:5 coffee-to-water ratio. Some even recommend carefully weighing the coarsely ground coffee in ounces. The ideal ratio is very personal.
I keep it simple and use 1 cup (80 grams) of coffee beans, then coarsely grind them for every 4 cups of water (946 ml).
It produces a pleasant and balanced coffee taste, perfect for this healthy iced coffee recipe.
Note: Ground coffee takes up almost the exact amount of space as whole beans. So the weight ratio is one-to-one.
Ingredients
See the recipe card for full information on ingredients and quantities.
Here is what you need to make this cold brew coffee concentrate recipe: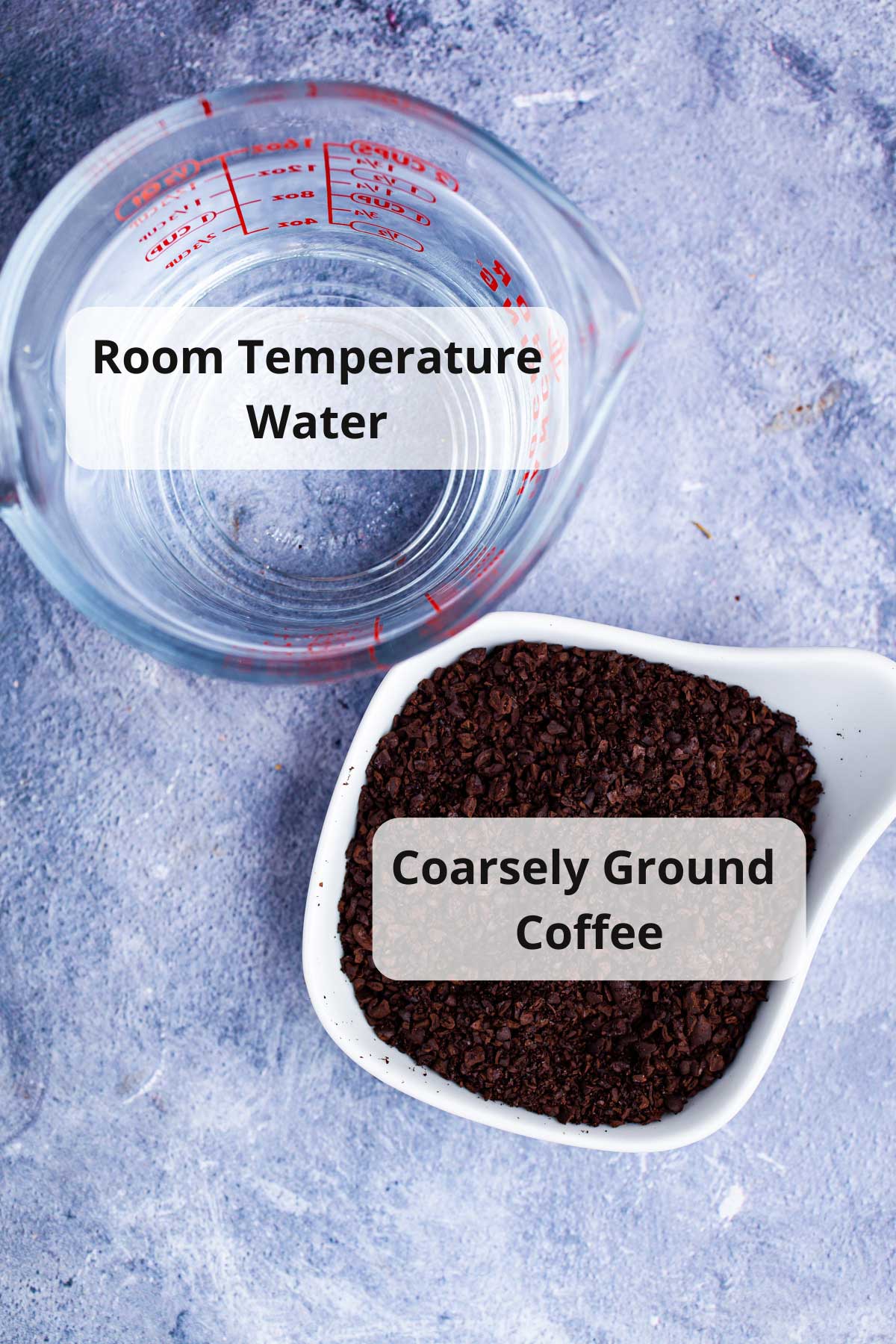 How To Make Cold Brew Concentrate
See the full recipe with measurements in the recipe card.
They're really super simple steps: Combine with water, cover, and steep!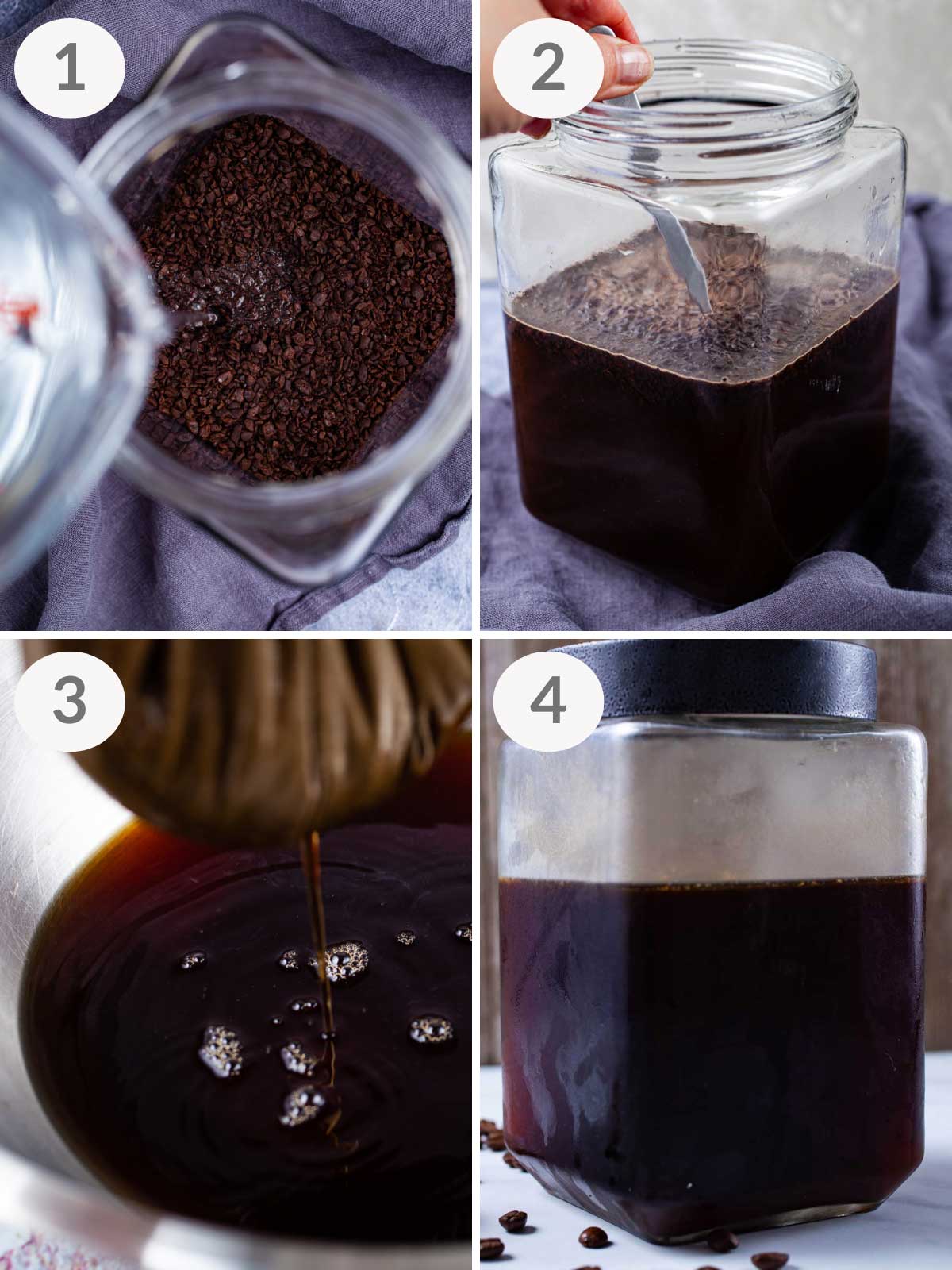 Step One (Picture 1 above) - Place your coarsely ground coffee beans in your large enough vessel with a lid. Pour in the recommended amount of water.
Step Two (Picture 2 above) - Stir for a few minutes until thoroughly mixed and you have wet all the coffee beans. Cover your large pitcher and store it at room temperature to steep (18 hours).
Step Three (Picture 3 above) - Strain the coffee. You have a few options (more on that later).
Step Four (Picture 4 above) - Enjoy a glass over ice cubes or store it in the refrigerator.
Note: Use a French press, a large mason jar, a pitcher for storage, or whatever is available in your kitchen with a lid or cover that is large enough to hold the beans and the water.
Recommended Steeping Time
Again, personal preference and how strong your coffee beans are come into play here. You can go up to 24 hours, but anywhere between 12 to 18 hours is enough for me.
You got to test this out a bit for yourself. Maybe check in after 12 hours. If it tastes too watered, then go for 15 to 18 hours, and so forth for maximum flavor.
I'll let my cold brew steep at room temperature as it will give a slightly stronger taste.
How To Strain The Coffee
You don't need any fancy equipment, and there are different ways of doing this, so here are some options:
Note: I like to save the coffee grounds and use them as a body scrub in the shower—a bit messy but so good for the skin. Sometimes I sprinkle it onto my garden soil and rake it a bit. It's an excellent fertilizer for my acid-loving plants.
Storage
After straining out the cold brew coffee, store it covered in the fridge for up to one week.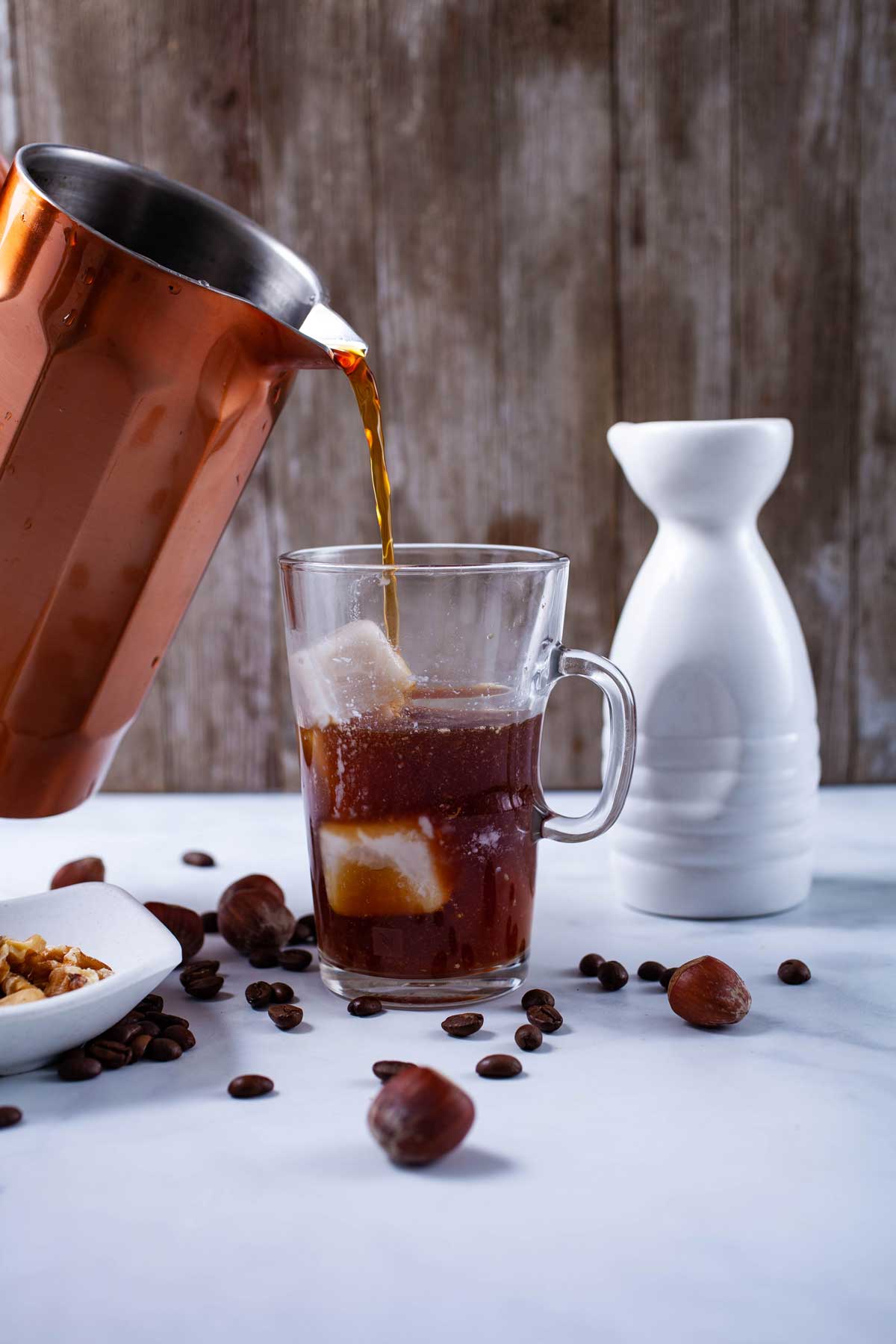 Now that your cold brew coffee is ready add it to a glass filled with ice and enjoy it with your favorite cream or sweetener.
Alternative Flavors
Take your cold brew drink to the next level with some of these healthy alternative flavors:
Use flavored coffee beans. A salted caramel flavor is my favorite.
Add your favorite flavored creamy milk or milk substitute for that little bit of sweetness (I love a touch of coconut cream or vanilla-flavored nut milk).
Stir in some ground spices like cinnamon, cardamom. Pumpkin spice, allspice, cloves, gingerbread spice, or masala chai spices are other options to play around with. Start with ⅛ of a teaspoon, taste test, and work your way up.
Other options are sugar-free vanilla extract.
Use honey or maple syrup as a sweetener, either alone or with some cacao powder for that chocolatey coffee flavor ((or flavored collagen powder, my favorite).
Dunk in my homemade Biscoff cookies to release their spices and sweetness into your cold brew coffee—delicious.
And don't forget to use some of that cold brew concentrate to make a cold brew latte.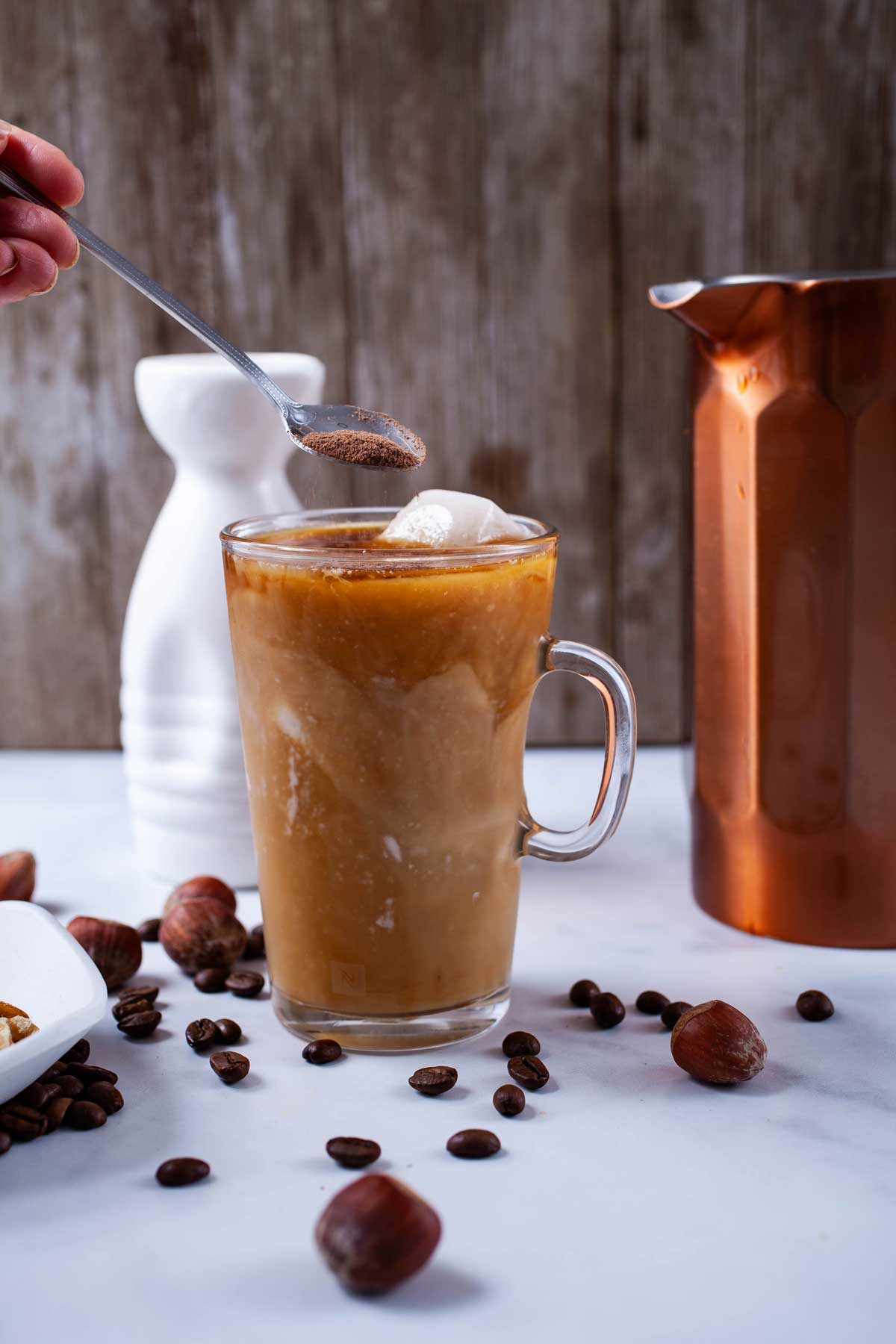 Skip the local coffee shop and make your own cold-brew coffee at home! It's so much better and cost-effective.
Pro tip: I prefer buying a brand that locally roasts organic coffee beans. If you have yet to find your favorite type of coffee or are ready to try something new, check out these top 25 best coffee brands for inspiration.
Recipe FAQs
Can I use decaf coffee beans?
Yes. If you don't want the jolt of caffeine but like the taste of a smooth glass of coffee, then a decaf cold brew is for you.

I use the same coffee-to-water ratio for the cold brew process as with regular coffee but feel free to experiment.

Maybe go for a stronger 1:3 ratio at first. I love this Organic Buzz Free Decaf.
Can I double the recipe?
Yes, of course. Make as much as you need. Just make sure that you have a big enough vessel or use multiple vessels at once.

It's a great recipe to make in advance if you want to entertain guests that are coffee lovers.
Do I cut the cold brew concentrate with water once it is ready? 
This comes down to your preference.

Although a concentrated brew, I usually don't add any water. You can serve it over ice or add your favorite milk or cream to dilute it a little.

But, taste test, and if it is too strong for you, add as much water as you need to bring it up to your favorite level of coffee strength.
I only have ground coffee. How much ground coffee equals one cup of whole beans?
1 cup of whole beans is equal in volume to 1 cup of ground coffee. If you have a scale, measure 80 grams of beans for 4 cups of water.

Can I make a cold brew with fine ground or preground coffee?

I prefer the natural sweet smoothness of a cold brew coffee made with coarsely ground beans.

However, if it is inconvenient for you, or you only have fine preground coffee beans, go ahead. Try it. I'm all about experimenting and testing things out.

You might even enjoy some of the bitter compounds in your iced coffee that generally comes with your hot cup of Joe.

Here are a few suggestions:

--> Go initially for a shorter, like 8-12 hours brew time, as it might result in a stronger flavor profile.

--> A fine grind may produce more bitter flavors, so start with less coffee (¾ cup). You can always work your way up—or if already too strong, then add more water or milk of your choice.

--> Maybe go for a lighter roast.

--> Also, don't forget that with a finer grind, you'll need to use a fine filter like a paper coffee filter over a sieve or a French press maker that can strain preground coffee.

--> Find more tips for using fine-ground coffee to make your own cold brew concentrate.
More Recipes You Might Like
---
Don't forget to subscribe to my Monthly Newsletter!
Your shares and ratings are valuable to me and so much appreciated. It'll help me create more content you and others can enjoy!
---

Now it's time to make your own smooth concentrate because cold brew coffee tastes amazing!
📖 Recipe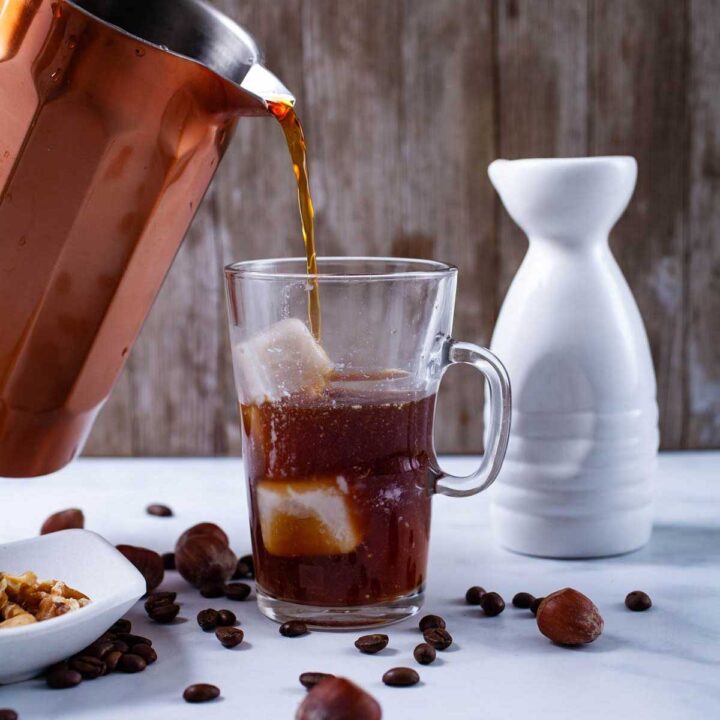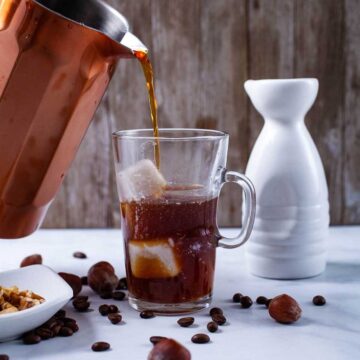 How To Make Cold Brew Coffee At Home
Mariska Ramondino
On warmer days, it's time to make cold brew coffee at home and enjoy a refreshing morning drink to get your day started. It's super easy to make, no special equipment needed, and you can easily make a big batch in advance for the week with the coffee beans you love.
Ingredients
1

cup

whole coffee beans freshly and coarsely ground

80 grams

4

cups

of water

946 ml
Instructions
Place the coffee grounds in a one-quart pitcher or similar vessel. Make sure that you can cover it, even if it's with some plastic wrap. Make sure that all the water and the coffee grounds can fit, and you can store it in the fridge.

1 cup whole coffee beans freshly and coarsely ground

Pour the water over the coffee grounds.

Stir to combine for a minute or until all the coffee grounds are thoroughly wettened.

Cover and let it steep at room temperature for 12 to 24 hours. 18 hours is my sweet spot.

When ready to strain the coffee, place a nut milk bag over a large deep bowl (see other filter options in note).

Pour the coffee concentrate into the milk bag.

Close the bag, and use your hands to let the coffee steep and drip out entirely into the bowl.

Discard the coffee grinds or use them as a body exfoliator or fertilizer for acid-loving plants.

Transfer the cold brew into a pitcher with a lid—you can also use the same vessel in which the coffee grounds have steeped, but rinse it out first.

Refrigerate and store for up to one week.

To serve: Fill a tall glass with ice and pour over the cold brew. If desired, leave enough room for milk or cream or dilute with water if too strong. Enjoy as-is, or add your favorite flavors or sweeteners.
Notes
Alternative options to strain your cold brew
Alternatively, if you don't have a nut milk bag, use a thin coffee filter or fine cheesecloth and place it into a sieve or fine-mesh strainer over a large deep bowl. Pour coffee concentrate through the prepared sieve into the bowl. For more options, see the post.
Although not necessary, cold brew coffee is super easy to make with a cold brew coffee maker.
Coffee To Water Ratio
My favorite ratio is 1:4 (coffee to water ratio). It's a great starting point. But feel free to adjust based on preference and make your cold brew more robust or weaker.
Weighing The Coffee Beans
Know that 1 cup of whole coffee beans weighs the same as 1 cup of ground coffee beans.
Coarsely Grinding The Coffee Beans
Grind the beans with a coffee grinder on the coarsest setting. Alternatively, you can use a blender and pulse on a medium to high setting for 3-5 seconds for about 30 seconds total. Or ask a locate roaster to grind your beans on a French Press setting. Most local grocery stores have a grinder with a French Press setting.
Add your own private notes
Whenever you come back to this recipe, you'll be able to see your notes.
Nutrition (% Daily value)
Serving:
1
cup
Calories:
5
kcal
Sodium:
12
mg
(1%)
Calcium:
7
mg
(1%)
Disclaimer: This nutritional data is calculated using third party tools and is only intended as a reference.