Healthy, fluffy oat flour pancakes are the perfect weekend brunch but also easy enough to make on a weekday morning.
In 20 minutes, they can be on your breakfast table. They are whipped up with 100% gluten-free oat flour and are only naturally sweetened.
It's wholesome, nutritious, and incredibly satisfying!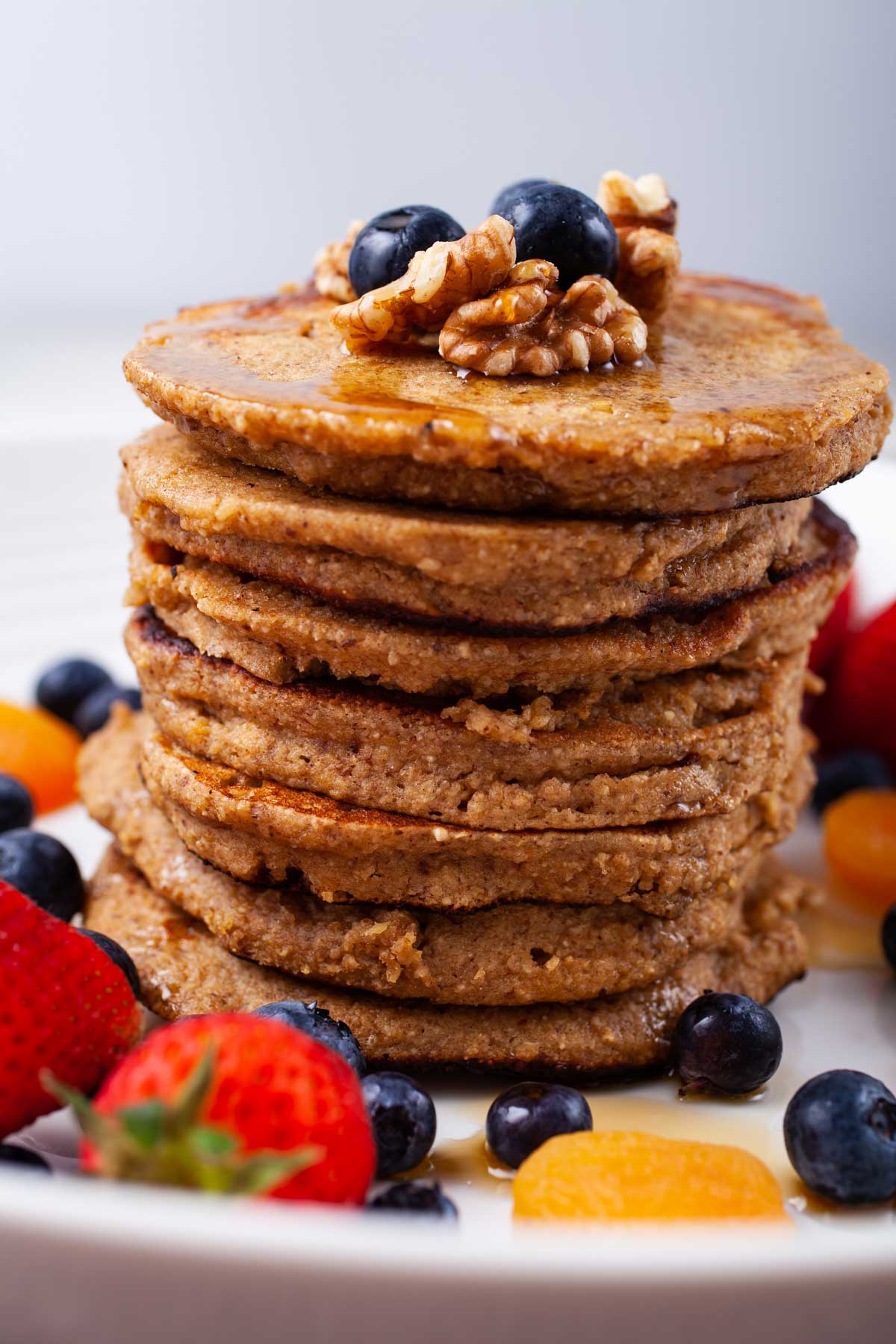 Fluffy pancakes are one of the most favorite things my family loves to eat on lazy Sunday mornings.
These oat pancakes are light in texture like my Plantain Pancakes and will give you long-lasting energy all day long!
Any leftovers are a perfect grab-and-go breakfast the next day or two.
Jump to:
Why This Recipe Works
Healthy: They're gluten, dairy-free and a much healthier option than traditional pancakes. 100% oat flour adds many healthy nutrients and great flavor.
Easy: You can make them in 20 minutes or less.
Naturally sweetened: Just like my gluten-free brownies or oat bliss balls, they are sweetened with dried fruits only, complementing the nutty flavor of oat flour.
Let's make them!
Ingredients & Notes
See the recipe card for full information on ingredients and quantities.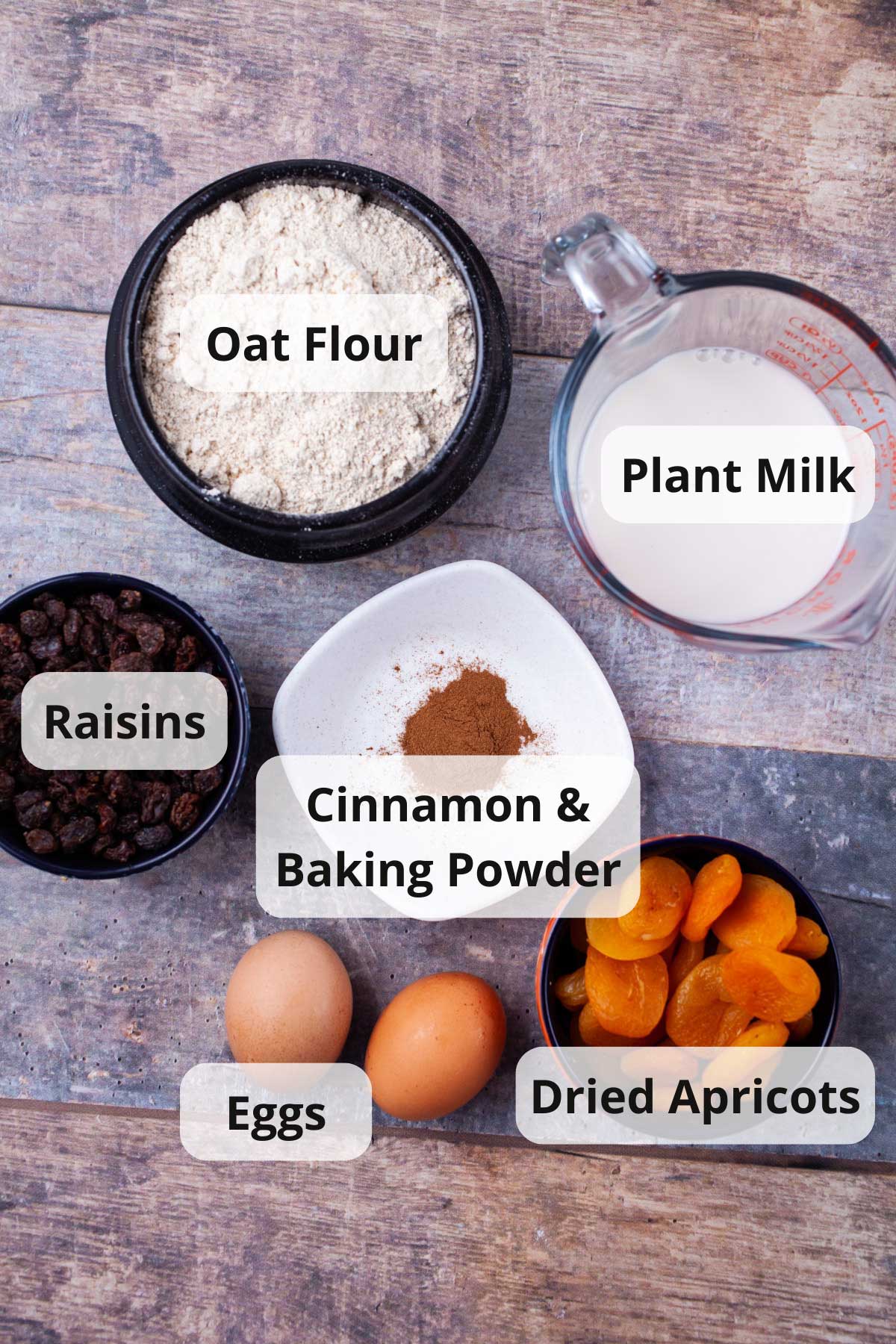 Oat flour: Use store-bought or pulse gluten-free steel-cut or old-fashioned rolled oats in a high-speed blender into homemade oat flour.
Note: It's more cost-effective to buy this whole grain in bulk and double its use as flour for making these oat flour pancakes or baking goods like oat flour doughnuts or healthy oatmeal raisin cookies.
Cinnamon powder: It adds a warm flavor complementing the dried fruits in these naturally sweet, healthy pancakes.
I use Organic Ceylon Cinnamon Powder—which is more aromatic and flavorful, in my opinion, than Cassia!
Baking Powder: It creates a fluffier pancake.
Dried fruits: What I love most about these homemade pancakes is that they are sweet on their own and taste incredible, even without toppings. And that is because I naturally sweeten the pancake batter with pureed brown raisins and (Turkish) apricots.
Note: The dried fruits are not visible in the oat flour pancakes as they are blended into a sweet puree combined with plant milk. But the result is a fruity, sweet flavor with a hint of tanginess.
Plant milk: Choose your favorite plant milk. I prefer cashew, oat, or almond milk.
Eggs: You'll need two large fresh eggs.
Coconut oil: It's to grease the pan. Feel free to swap this with a different type of oil or butter.
How To Make Oat Flour Pancakes
See the full recipe with measurements in the recipe card.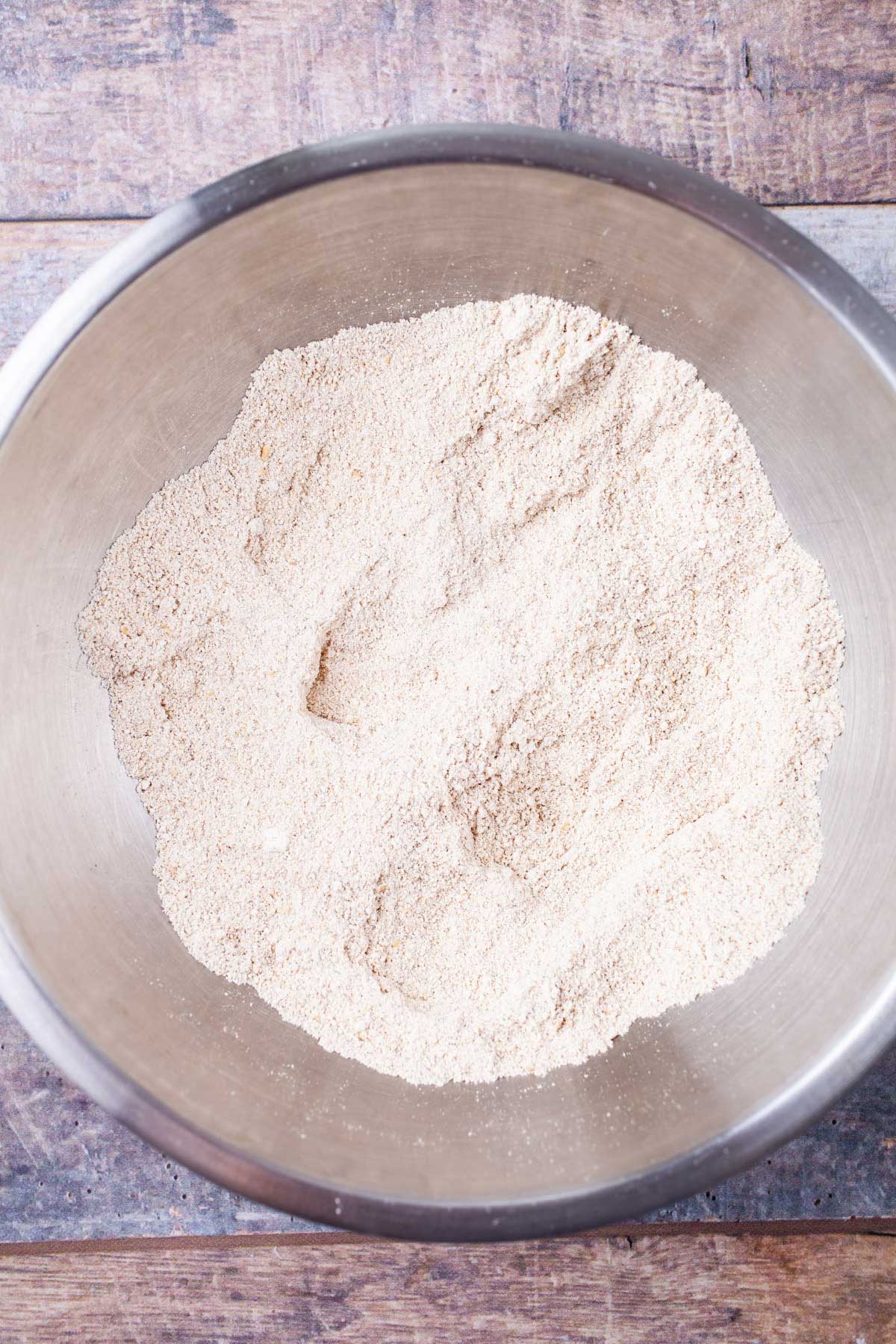 Step 1: In a large bowl, whisk oat flour, cinnamon, and baking powder. Set aside.
Step 2: In a high-speed blender, blend dried fruits and plant milk into a sweet paste.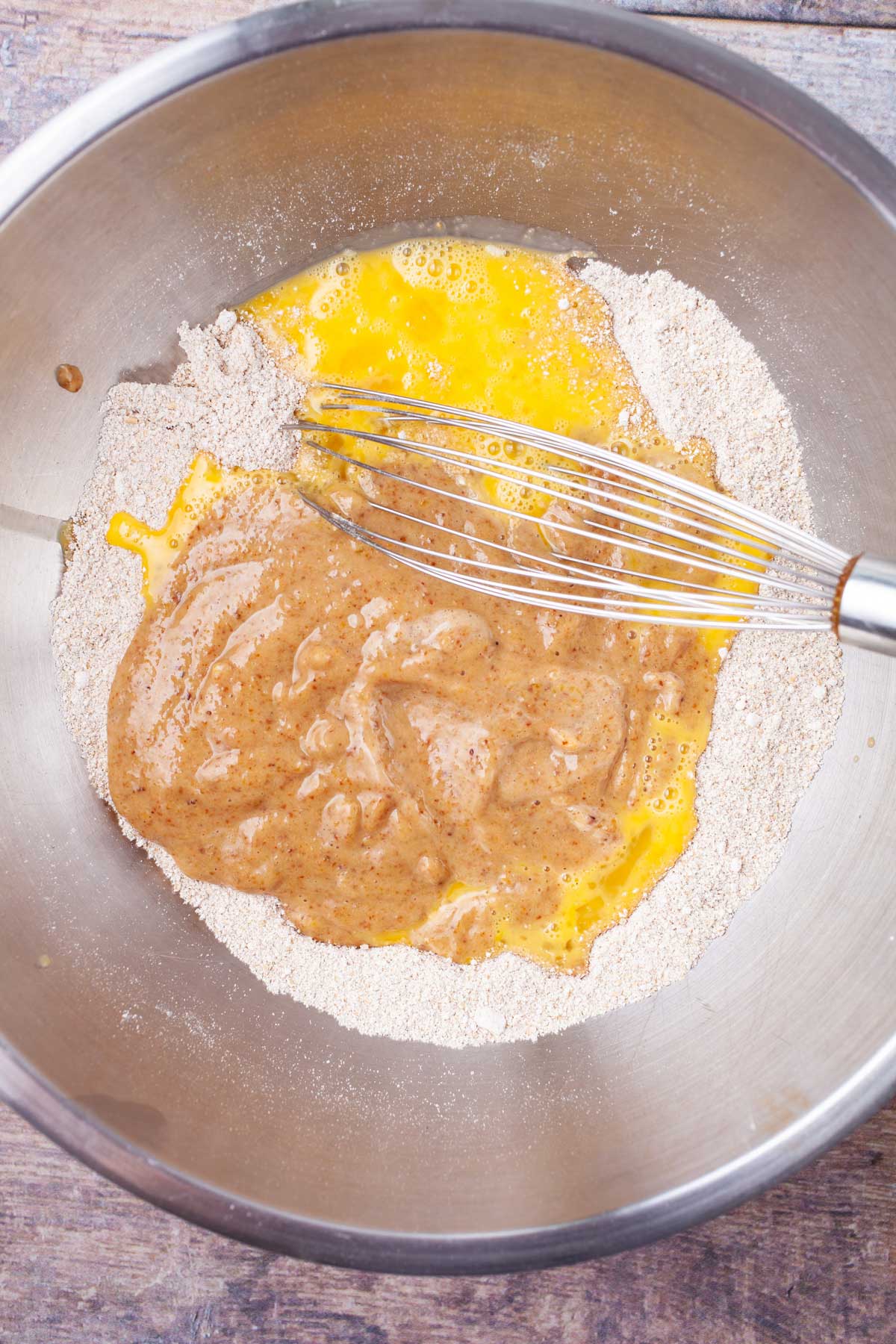 Step 3: Add beaten eggs and paste to the dry ingredients.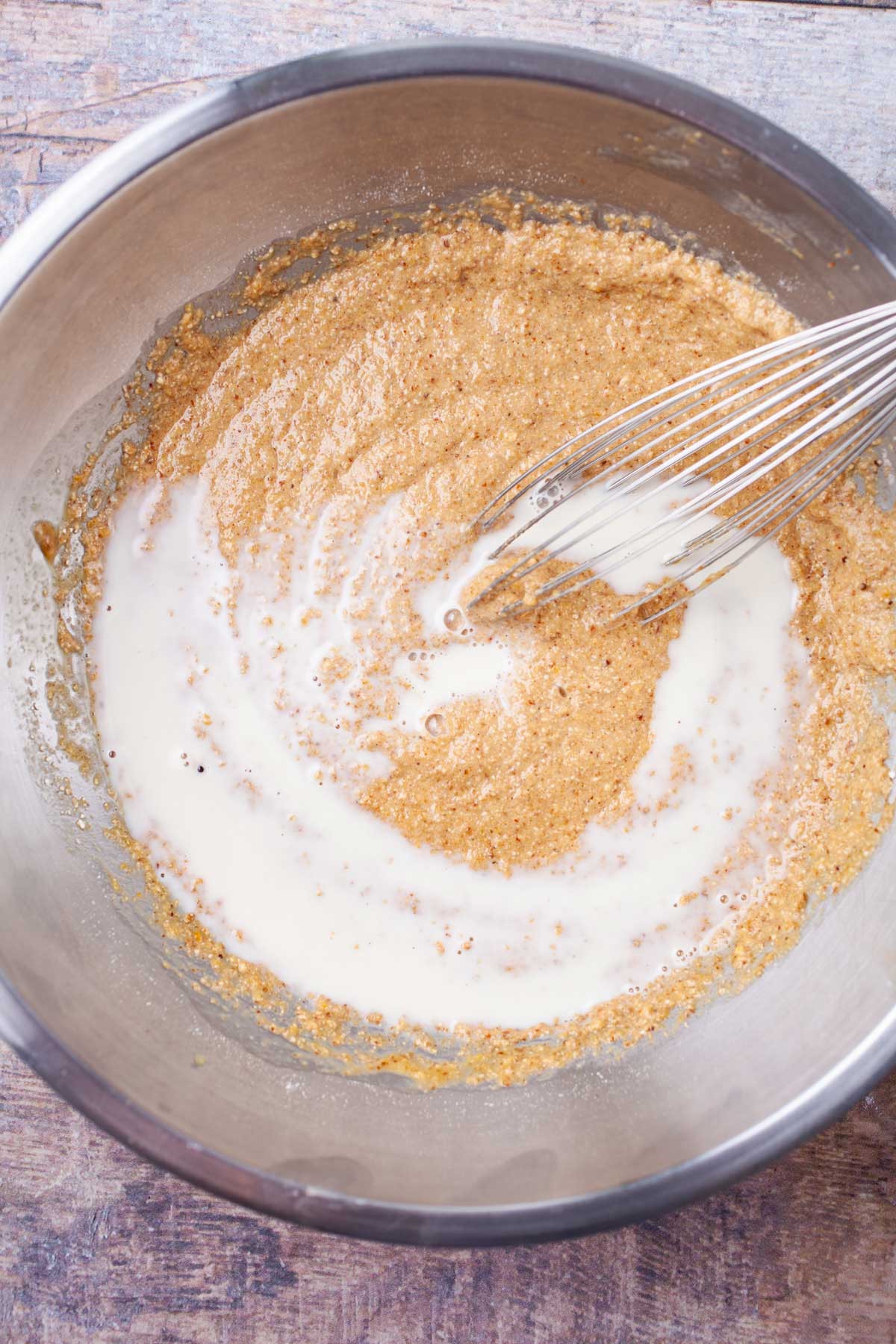 Step 4: Combine dry with wet ingredients and add ¼ cup of extra plant milk.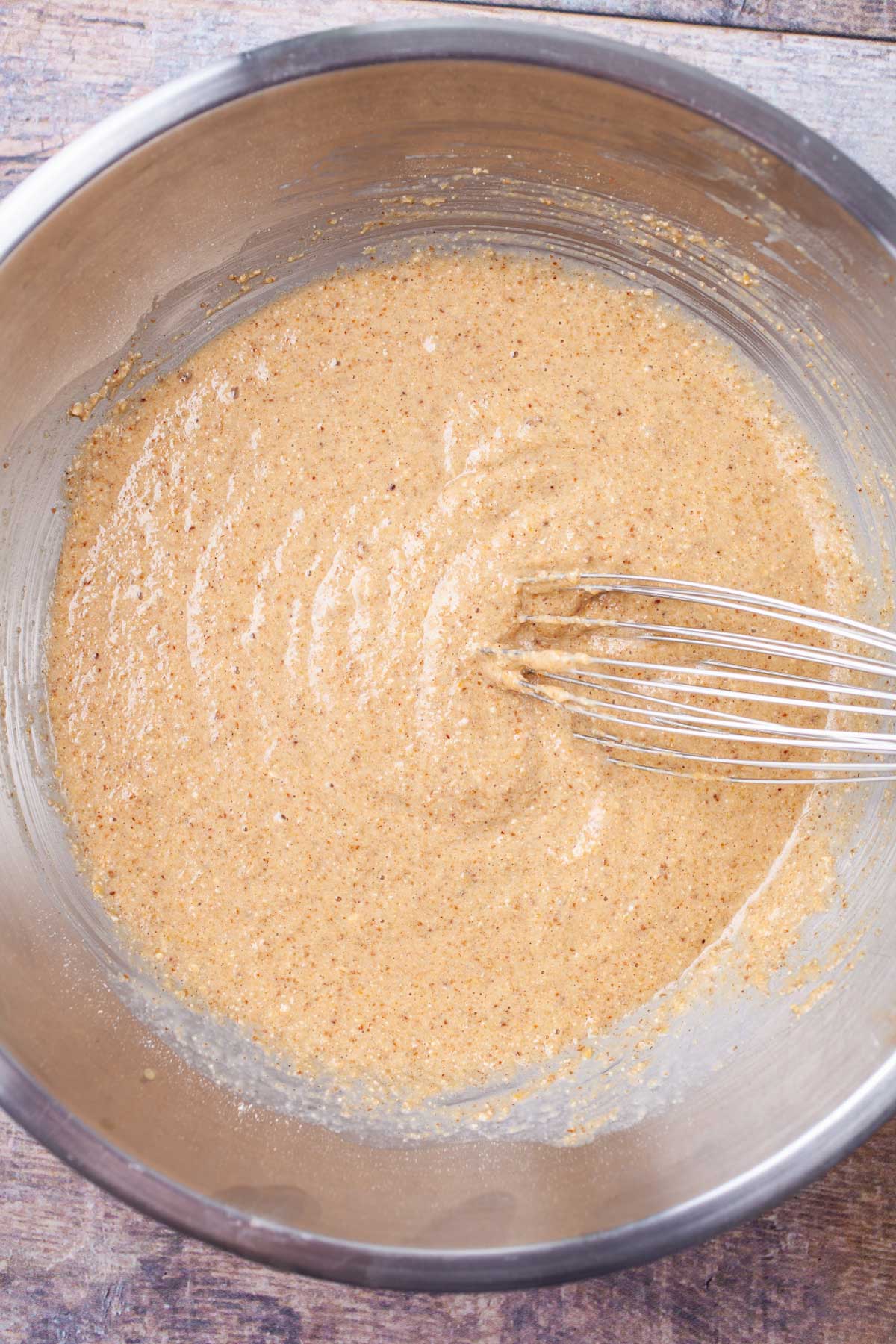 Step 5: Stir well to combine.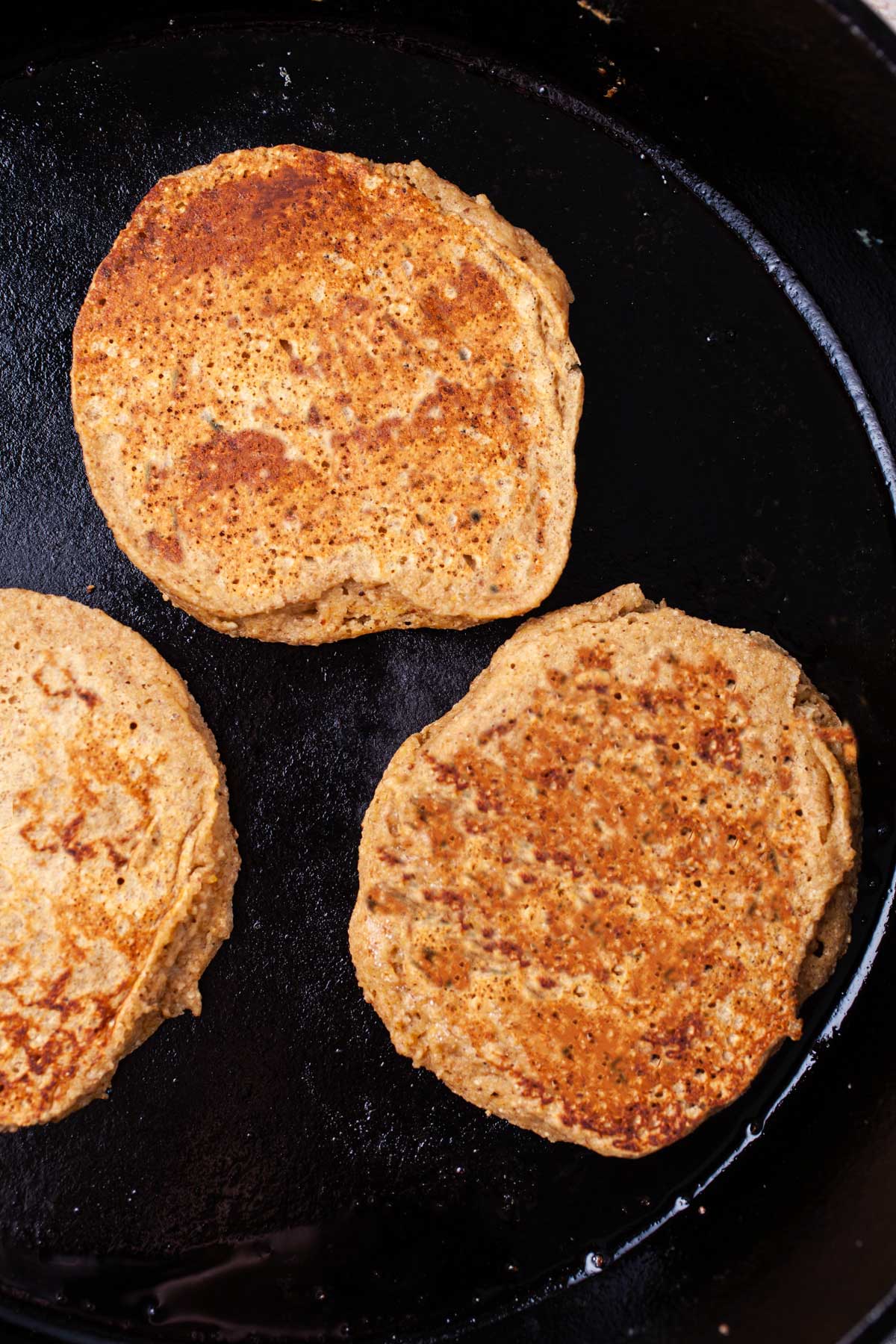 Step 6: Add oil to a large nonstick skillet. When hot, cook the pancakes until golden brown on both sides.
Helpful Tips
Use a whisk to combine the dry ingredients, so they get evenly distributed. Also, it will fluff up the flour and remove any lumps.
Don't flip the pancakes too soon, or they will otherwise fall apart. Wait until the edges start firming up and small bubbles form at the top.
If allergic to coconut oil, use avocado, olive oil, or butter (not dairy-free).
There is no need to let the batter rest.
For best results, use a large non-stick skillet. If you are using a cast-iron pan, which I prefer, warm it up first for 5 minutes to get them evenly browned.
These healthy oat flour pancakes are already plenty sweet and don't rely too much on toppings/syrups for adding sweetness.
Healthy Topping Ideas
Here are just a few suggestions:
A drizzle of maple syrup with fresh berries is our favorite.
We also love sliced bananas and extra chopped dried apricots with almonds or walnuts.
A dollop of creamy (vegan) fruit yogurt.
Or a spoon of (homemade) jam, chia jam.

These sweet oat flour pancakes pair well with something savory, like your favorite cheese.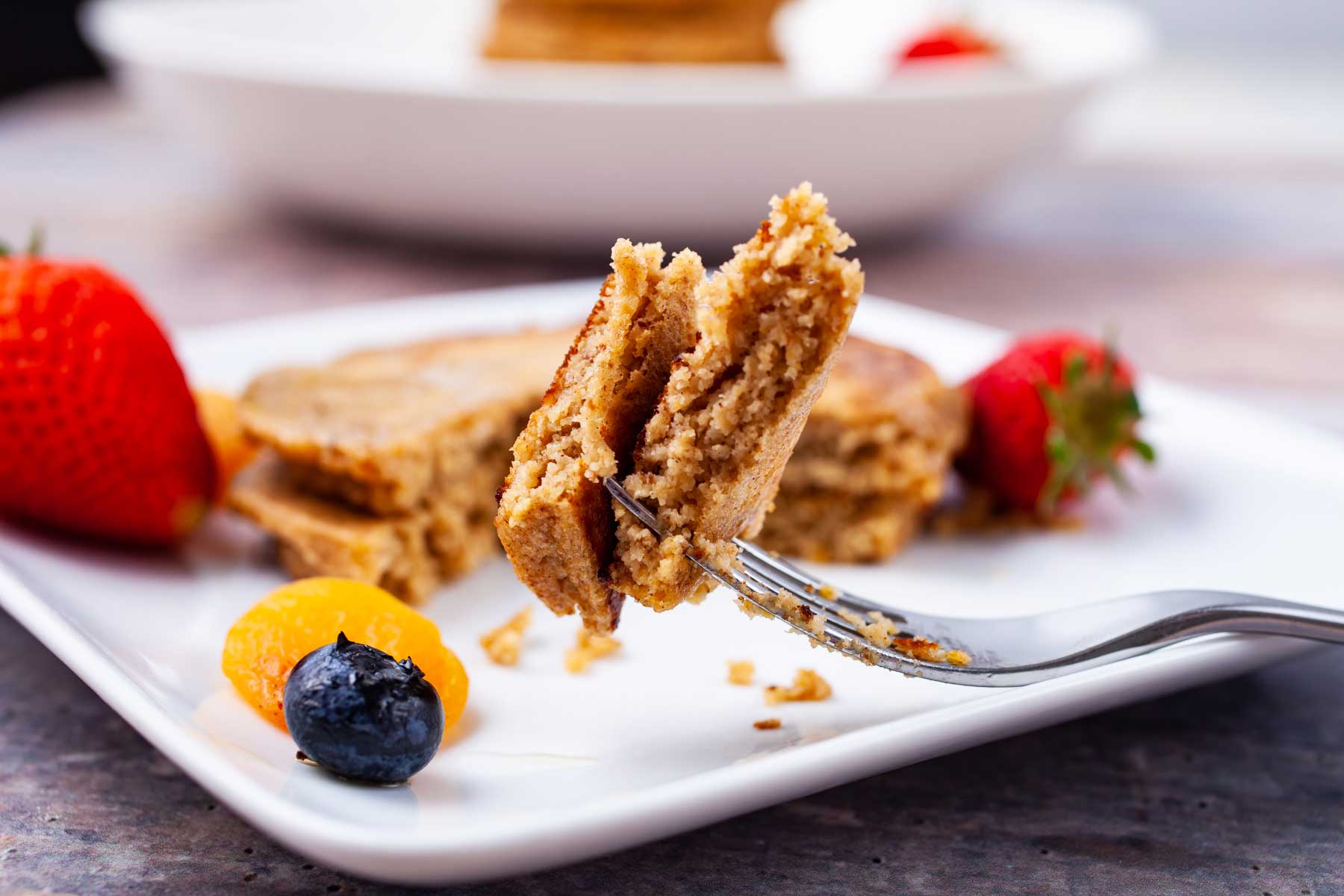 Storing Instructions
Leftovers go in the fridge in an airtight container and are good for up to 5 days.
Reheating instructions: Set a small pan on your stove over low heat and flip the pancakes until warm—it only takes a few minutes.
It heats them nicely without any fuss. You could even add cheese at this point and let it melt slightly.
I prefer this method over a microwave for 30 seconds as they will become soggy.
More Fun & Easy Breakfast Recipes
---
Don't forget to subscribe to my Monthly Newsletter!
Your shares and ratings are valuable to me and so much appreciated. It'll help me create more content you and others can enjoy!
---
📖 Recipe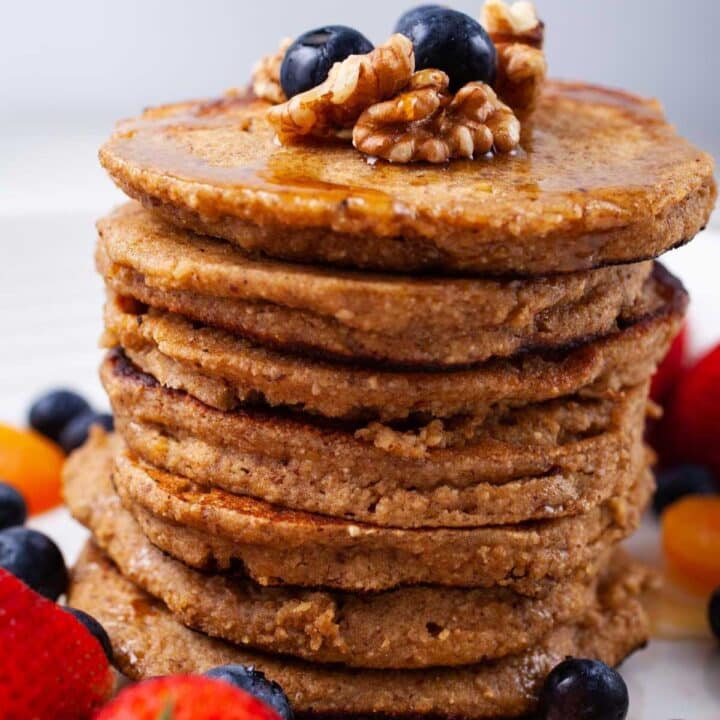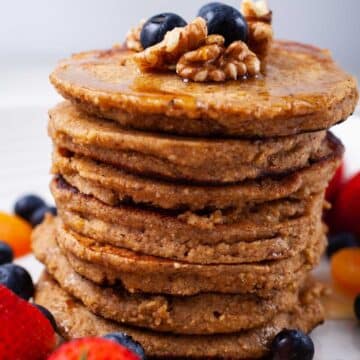 Fluffy Oat Flour Pancakes (Healthy, Easy & Gluten-free)
Mariska Ramondino
These healthy oat flour pancakes are easy, deliciously fluffy, incredibly satisfying, gluten-free, and dairy-free—it's the perfect breakfast bite!
Instructions
In a bowl, combine the oat flour with the cinnamon and baking powder. Set aside.

1 ⅓ cups oat flour (gluten-free)—see note,

1 teaspoon cinnamon powder,

2 teaspoons Baking Powder (gluten-free)

In a high-speed blender, add the raisins, apricots, and 1 cup of plant milk.

½ cup black raisins,

½ cup dried apricots,

1 ¼ cups plant milk, divided

Blend into a puree. Start on a low setting and work your way up to a high-speed setting.

Add the pureed fruits and beaten eggs to the bowl with the dry ingredients. Combine with a wooden spoon until you have a beautiful pancake batter with no lumps.

Stir in ¼ cup of plant milk to make the batter a tad more runny.

Warm a large skillet over medium heat and melt ½ teaspoon coconut oil. Drop in ¼ cup of the pancake batter. You can usually bake about three at the same time.

Cook until the edges become solid and the surface starts forming bubbles, and the bottom is golden.

Gently flip and cook the other side until golden brown (about 2 minutes).

Remove from the skillet and repeat with the remaining batter. Grease the bottom of the skillet with another ½ teaspoon of coconut oil.

Serve warm with your favorite toppings and maple syrup (optional)
Notes
Helpful Tips:
Warm the pan for 5 minutes over medium heat to brown the oat flour pancakes evenly if you use a cast-iron pan.
Use a whisk to combine the dry ingredients and fluff the flour to break up any lumps. 
These pancakes are already naturally sweet, so they don't require a lot of maple syrup (or other syrups). 
These pancakes also taste delicious with a salty topping like cheese or slightly cooled down.
Plant milk: you can use almond, cashew, or oat milk.
Oat flour: I usually pulse 1 cup of gluten-free steel-cut oats in a blender to obtain 1 ⅓ cups of oat flour. But you can also use store-bought oat flour or blend rolled oats (about 1 ½ cups of rolled oats will give you a little over a cup of oat flour.) If you want to blend oats as needed for recipes, I suggest using a food scale. I always try to include weights in my recipes so you can measure the weight of the oats that you'll need.
Add your own private notes
Whenever you come back to this recipe, you'll be able to see your notes.
Nutrition (% Daily value)
Serving:
1
pancake
Calories:
150
kcal
(8%)
Carbohydrates:
26
g
(9%)
Protein:
5
g
(10%)
Fat:
3
g
(5%)
Saturated Fat:
1
g
(6%)
Polyunsaturated Fat:
1
g
Monounsaturated Fat:
1
g
Trans Fat:
0.004
g
Cholesterol:
41
mg
(14%)
Sodium:
153
mg
(7%)
Potassium:
260
mg
(7%)
Fiber:
3
g
(13%)
Sugar:
5
g
(6%)
Vitamin A:
353
IU
(7%)
Vitamin C:
1
mg
(1%)
Calcium:
147
mg
(15%)
Iron:
2
mg
(11%)
Disclaimer: This nutritional data is calculated using third party tools and is only intended as a reference.