These gluten-free oat energy balls are my favorite. They have a slightly chewy, nougat-like texture and a heavenly hint of caramel taste—who can resist that! It is packed with healthy fats and proteins. Perfect for breakfast, a post-workout snack, or a quick dessert. But they also can become a beautiful fall treat that brightness any Holiday table. A spiced pumpkin bite you will love!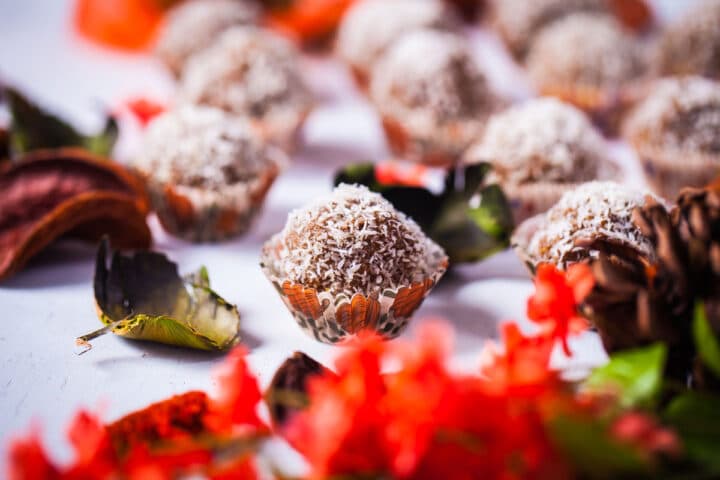 These energy balls were born accidentally.
I was trying to come up with a recipe for a pumpkin pie crust. But when my lovely food testers at home couldn't get enough of the chewy caramel-tasting base of the pie I knew I had to make this super easy recipe into a healthy bite.
These dates energy balls are now one of our favorite treats at home.
When refrigerated, they develop that lovely nougat-like texture
With natural caramel-like flavors from the Medjool dates
I make them with gluten-free steel-cut oats, lightly toasted in butter.
And they are deliciously spiced with pumpkin pie spice.
The best part is that by swapping some ingredients, you can quickly change this gluten-free snack into a nut-free or vegan one.
Change up the spices—I give you some options.
Or make them beautifully festive for the Holiday table.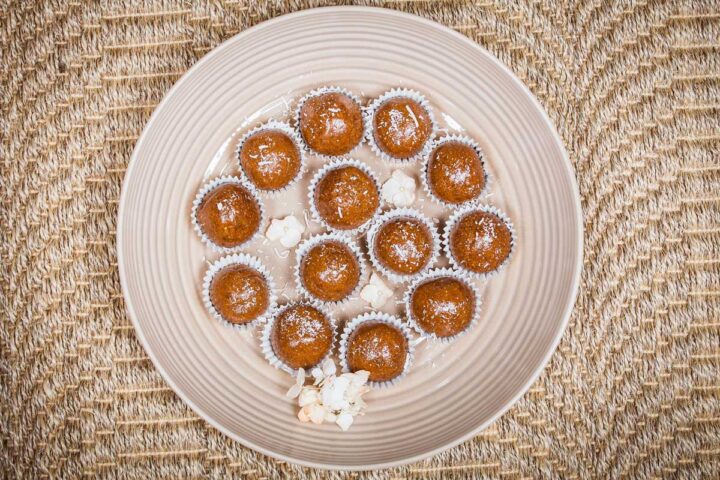 Let's have a look!
A few notes
Toasting the Oats
For about 4 to 5 minutes, toast the raw oats in some melted butter over medium-low heat until they are a few shades darker.
They will smell almost like popcorn—no kidding.
It gives them a lovely crunchy texture with a buttery consistency and makes them easy to process in the blender.
You want to go for steel-cut oats because it adds a depth of flavor, rich nuttiness, and a subtle sweetness to these energy bites.
If preferred, you can add one tablespoon of coconut sugar while toasting—optional, but perfect if you want to make these treats into a Holiday worthy bite.
Allow the oats to cool just a tad before you process them into the blender.
But don't cool completely. The toasted grain might harden into clumps, and then it will be hard to get them out of the pan.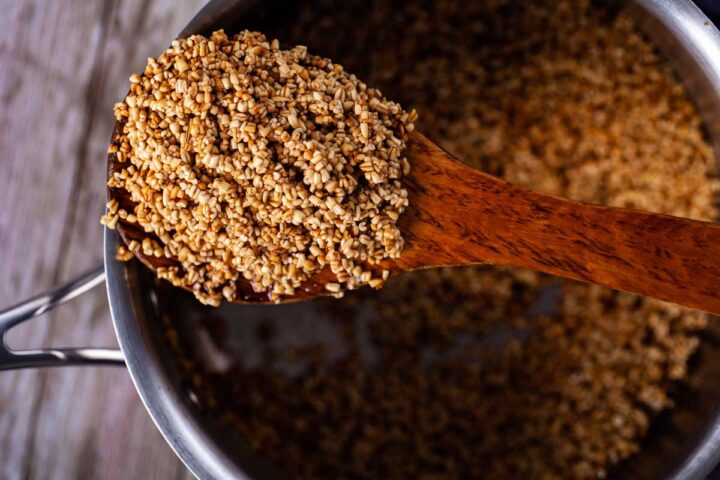 Blending all the ingredients
Use a Vitamix, a Nutribullet type of blender, or a food processor.
I recommend adding in the toasted oats first to ensure that they will be completely processed.
The mixture should have a beautiful smooth consistency.
Note: The color of the mixture may vary and turn out darker based on the color of the toasted oats, the color of raisins, and the type of dates or nuts used.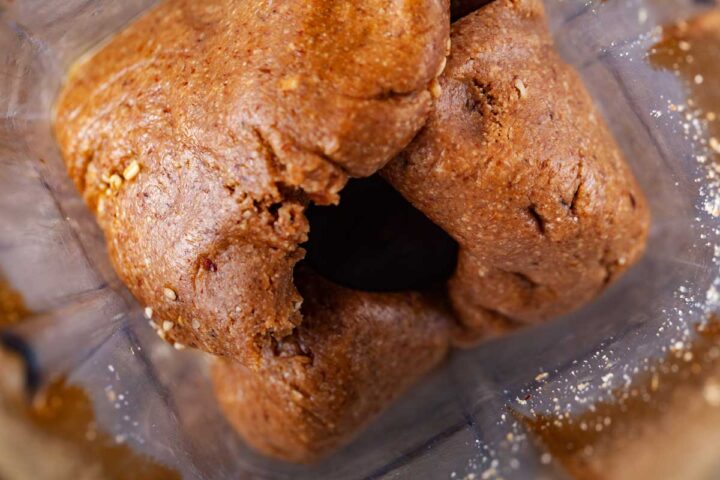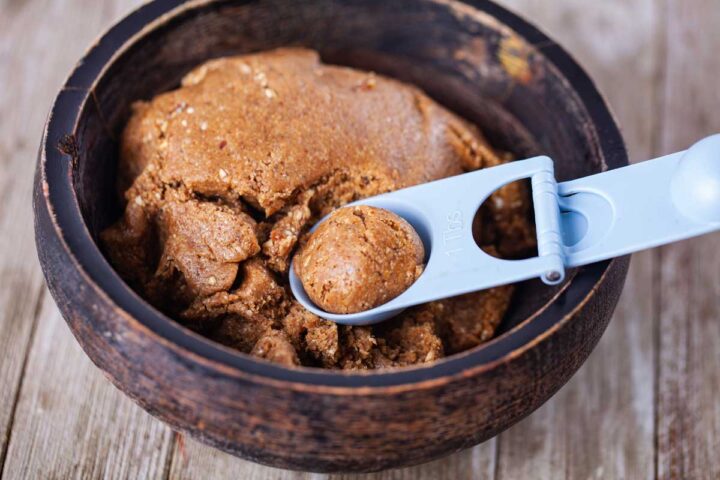 Alternative Ingredients
Nuts versus nut butter
I usually make these energy balls with cashews and pecans. Don't have any on hand? Use almond butter instead.
Note: if you opt for a nut or seed butter instead of nuts, the texture might turn out slightly softer—depending on the type of nut butter you use.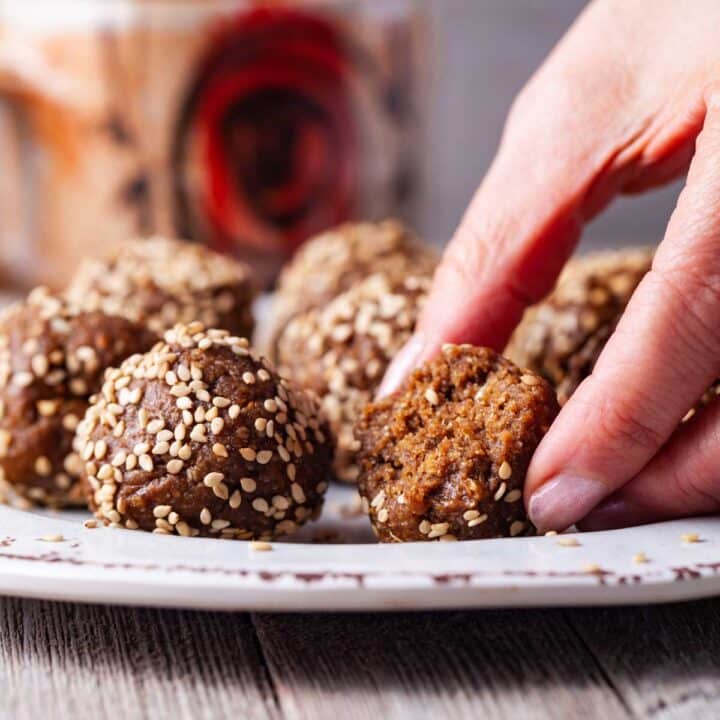 Make it nut-free
For those who have nut allergies, sunflower butter is a great alternative, and I have used it many times myself in this recipe.
Make it dairy-free or vegan-friendly
To make it vegan-friendly, you only have to swap real butter for coconut butter or coconut oil.
Other spices you can use
Want to change it up?
Use Dutch Speculoos instead—it gives you that same warm autumn smell and tastes that Pumpkin Pie spice can do.
They also taste incredible when adding some Chai spices.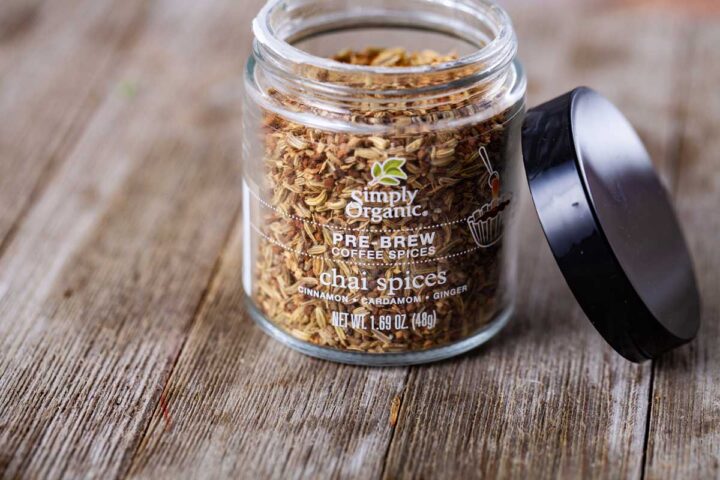 Adjust the level of sweetness
The Medjool dates and half a cup of black raisins usually are enough to sweeten these snacks naturally.
But feel free to pump up the number of raisins to one cup.
Or add about a tablespoon of coconut sugar or a few pinches of Stevia according to your taste to the oats while you toast them for a sweeter experience.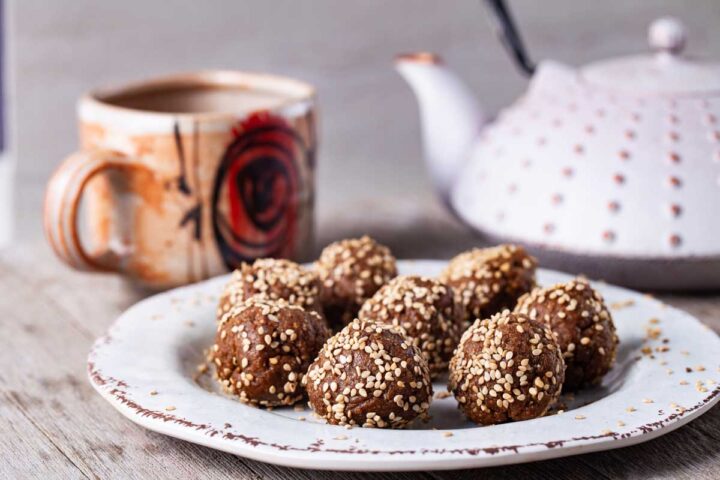 Make it a Festive Treat
During the Holidays, I serve them in mini cupcake holders, and they become a beautiful treat that nobody can resist. A healthy pumpkin pie spiced treat I feel good about offering this season.
Roll the small balls in unsweetened shredded coconut, and they look even prettier.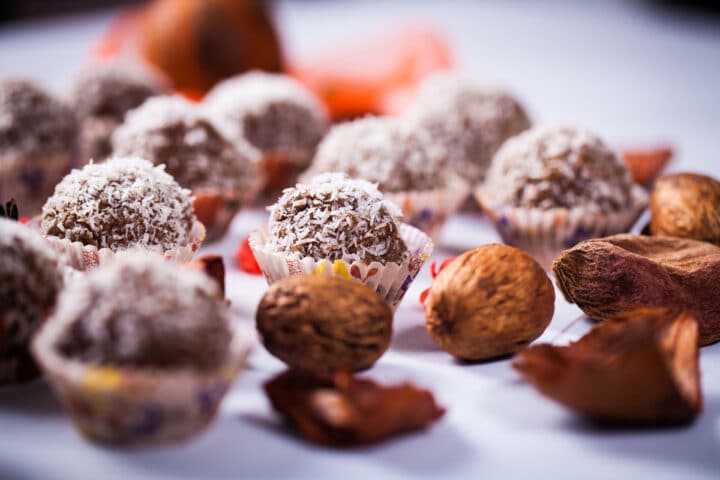 I hope you enjoy these healthy treats as much as my family does!
More healthy treats you might want to try
You might also like my Creamy Coconut and Protein-rich dark chocolate covered bites. Or my Rice Crispy Cupcake Treats—the healthy way, of course. They are super fun to make with your kids too. Or try these No Flour Peanut Butter Cookies—they are a real treat
Sharing is caring, so don't forget to PIN IT! Always love to hear if you tried out this recipe and if it worked for you. Don't forget to subscribe to my Monthly Newsletter!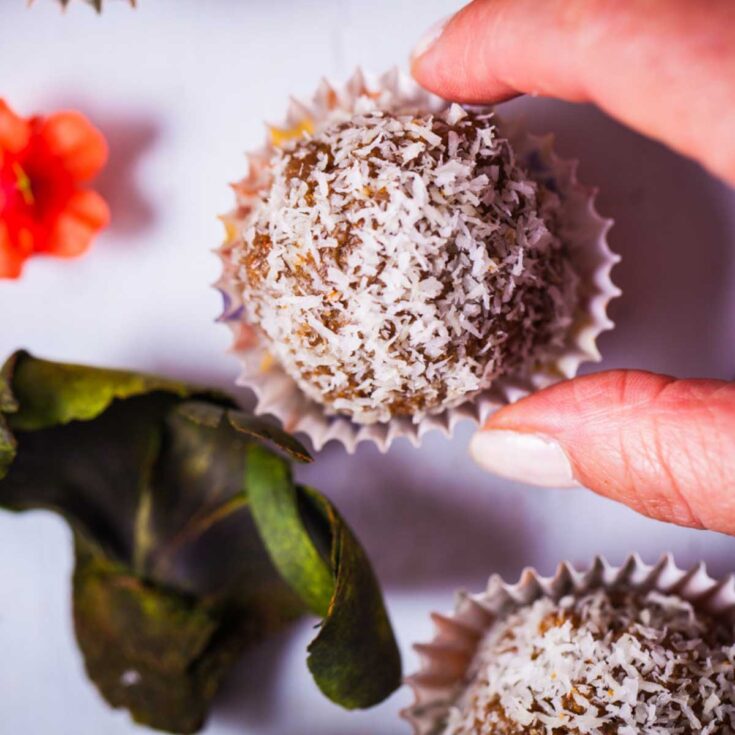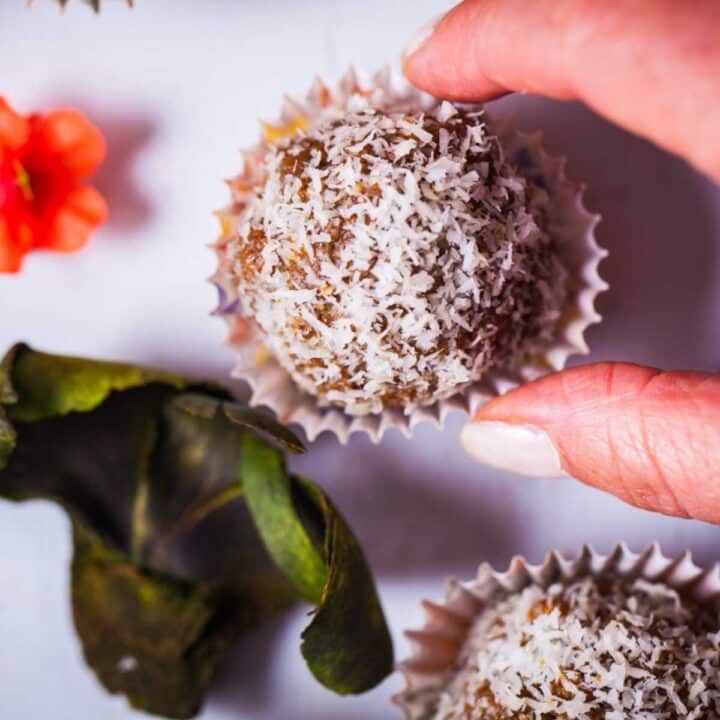 PUMPKIN PIE SPICE ENERGY BALLS
Yield:
About 18 to 20 Energy Balls
These delicious energy bites with pumpkin pie spice, dates, raisins, and oats (gluten-free, with a vegan-friendly option) are irresistible. Pair them with your favorite cup of coffee or tea, or make them festive to join the Holiday table.
Ingredients
4 tablespoons pure butter (I love Kate's Creamery 100% pure butter), or coconut butter/oil (to keep it dairy-free and vegan-friendly)
½ cup whole cashews
½ cup pecans
½ to 1 cup black raisins
15 fresh, pitted Medjool dates (about one cup packed)
Instructions
In a saucepan, melt the butter or coconut oil over medium-low heat, then bring to a gentle simmer.
Stir in the oats and combine them with the butter.
Cook the oats for about 4 to 5 minutes, frequently stirring, or until they are lightly toasted (you can hear the oats pop a little at the end.) Stir often because the oats can burn quickly! Remove the pan from the stove.
Allow the oats to cool a little.
In a blender (or food processor), add the toasted oats, then the pumpkin pie spice, nuts, raisins, and dates.
Blend until a smooth batter is formed. If using a Vitamix, mix using a high-speed setting while using the tamper to push the ingredients around. Then continue to blend until you have a beautiful brown and smooth mixture. You'll be using the tamper to process the thick mixture through the blades.
Take the mixture immediately out of the blender and transfer into a bowl (be careful, it can be hot.)
When cool enough to handle, roll a spoonful into a small ball and repeat until all mixture is used.
Enjoy immediately or store in the fridge in an airtight container!
Nutrition Information:
Yield:

20
Serving Size:

1
Amount Per Serving:
Calories:

167
Total Fat:

8g
Saturated Fat:

3g
Unsaturated Fat:

5g
Cholesterol:

6mg
Sodium:

42mg
Carbohydrates:

24g
Fiber:

3g
Sugar:

15g
Protein:

2g
Disclaimer: This nutritional data is calculated using third party tools and is only intended as a reference.
This post was originally published in November 2016 and has been updated with new pictures and more information.