These steel-cut oats energy balls come together in as little as 20 minutes with 7 simple ingredients and get you a whopping 25 delicious bliss balls.
They are only sweetened with dates and dry fruits, contain healthy fats, and are gluten-free, refined sugar-free, and vegan.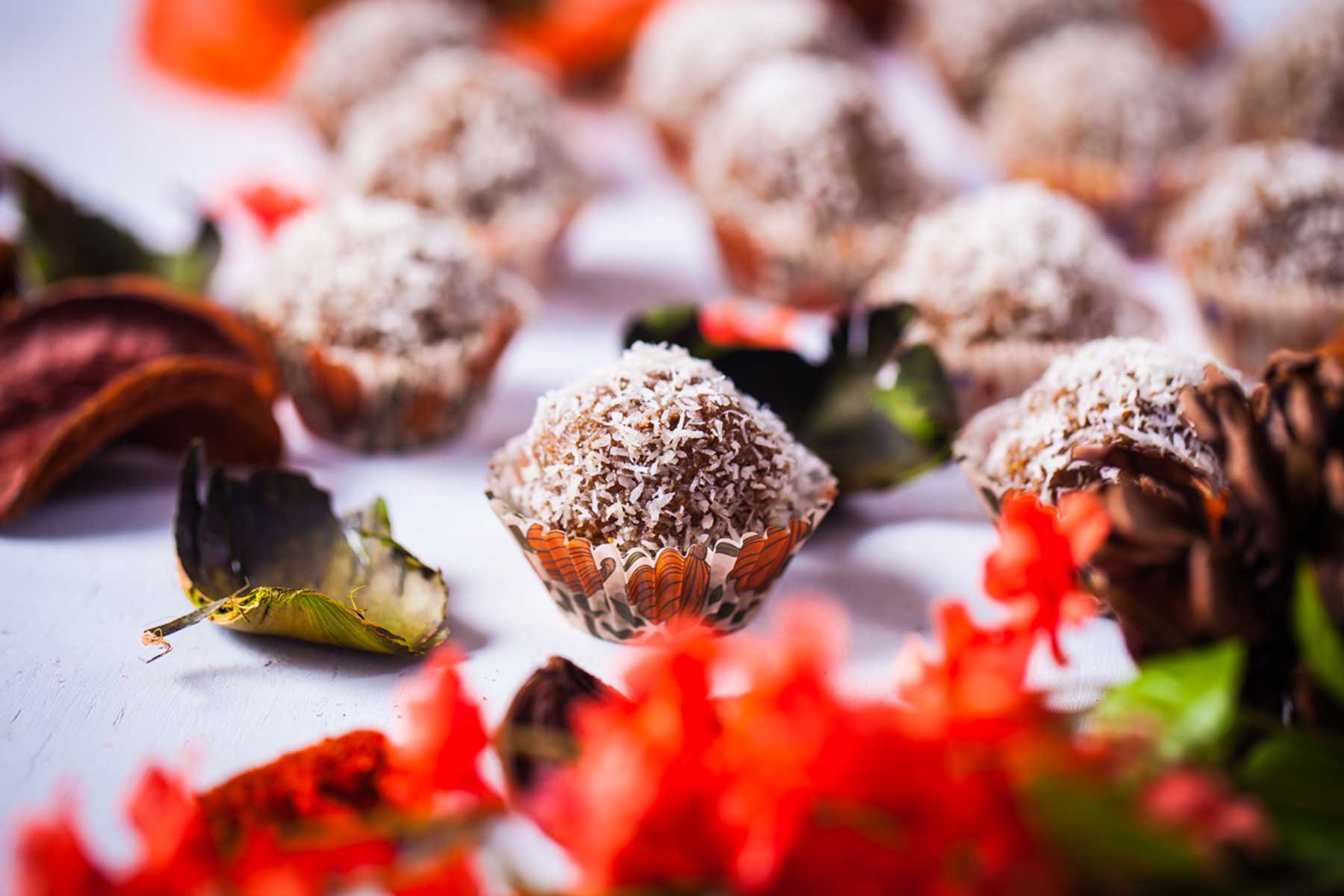 We absolutely love these healthy bliss balls made with steel-cut oats.
Like my Crunchy Steel-Cut Oats Granola Recipe, the oats get toasted before they are used to make these snack balls.
They are so easy to make, and the flavors are amazing. Dates add a lovely natural caramel-like taste, and just like my Date Brownies are the perfect natural sweetener—no added sugar.
I even love them paired with my cup of coffee for a quick breakfast treat, and they definitely give you an energy boost. 
Let's make them.
Jump to:
Why You'll Love This Energy Ball Recipe
Satisfying: These no-bake energy bites have a natural caramel-like flavor and make a great snack or even dessert.
Easy to make: You can even make a big batch because they stay well for a few weeks in the fridge or longer in the freezer.
So adaptable: Make them nut-free for nutritious school snacks, play around with warm spices and flavors, or dress them up as a beautiful fall treat that brightens any Holiday table. 
Healthy: This delicious snack is made with wholesome ingredients and no refined sugars, which makes it a healthier treat when enjoyed in moderation.
Ingredients
See the recipe card for full information on ingredients and quantities.
You only need a few main ingredients to make these steel-cut oats energy balls and turn them into easy snacks or healthy desserts.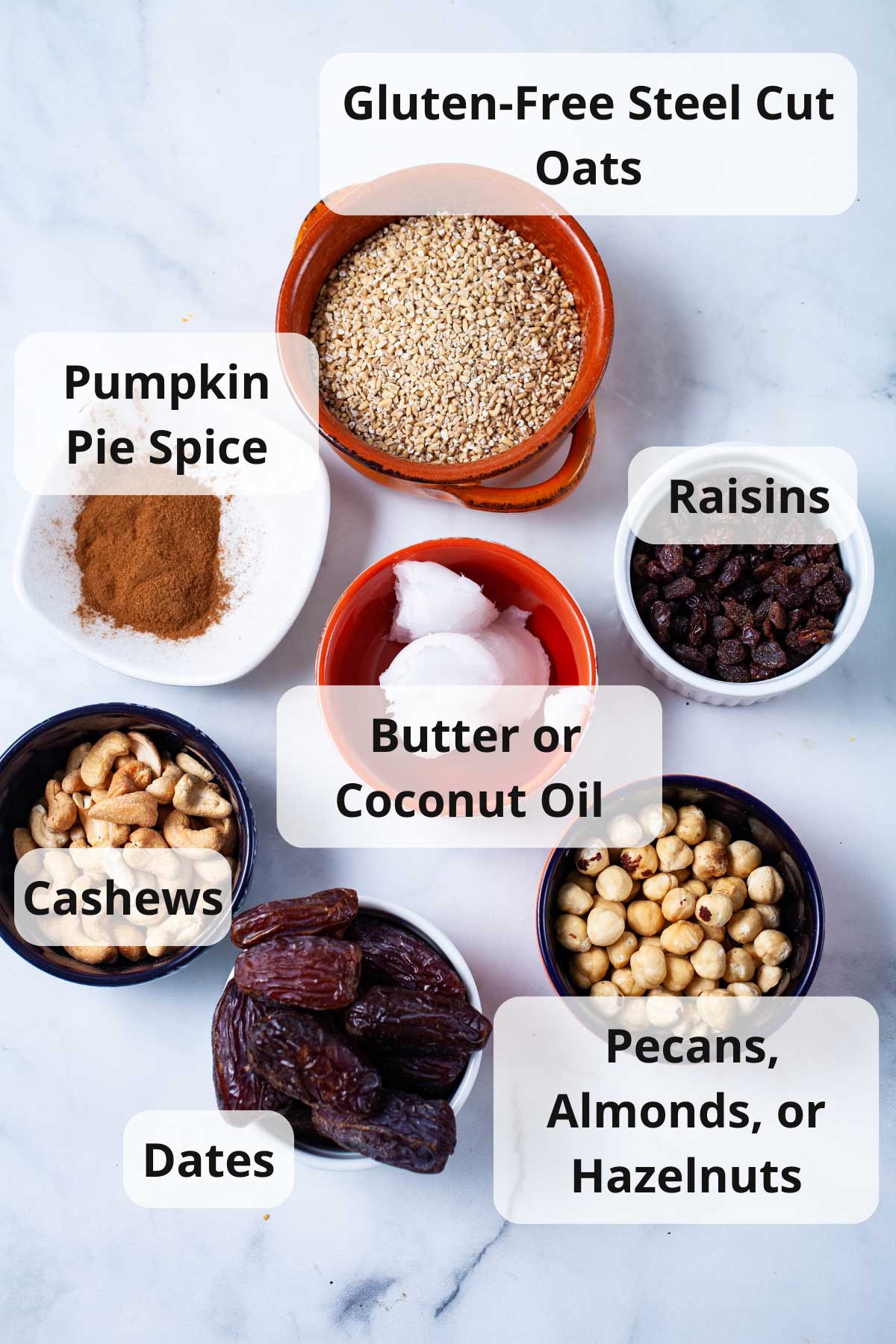 Coconut oil: To keep it dairy-free and vegan-friendly, use solid coconut oil.
Gluten-free steel-cut oats: They add a depth of flavor, rich nuttiness, and subtle sweetness to these energy bites. It's also a great source of fiber.
Spices: For extra flavor, add pumpkin pie spice.
Nuts: A medley of nuts like whole cashews, pecans, almonds, or hazelnuts.
Dried fruits: Medjool dates and black raisins add the perfect natural sweetness. Like my Date Cake, dates will also add an amazing flavor.
Step-By-Step Instructions
See the full recipe with measurements in the recipe card.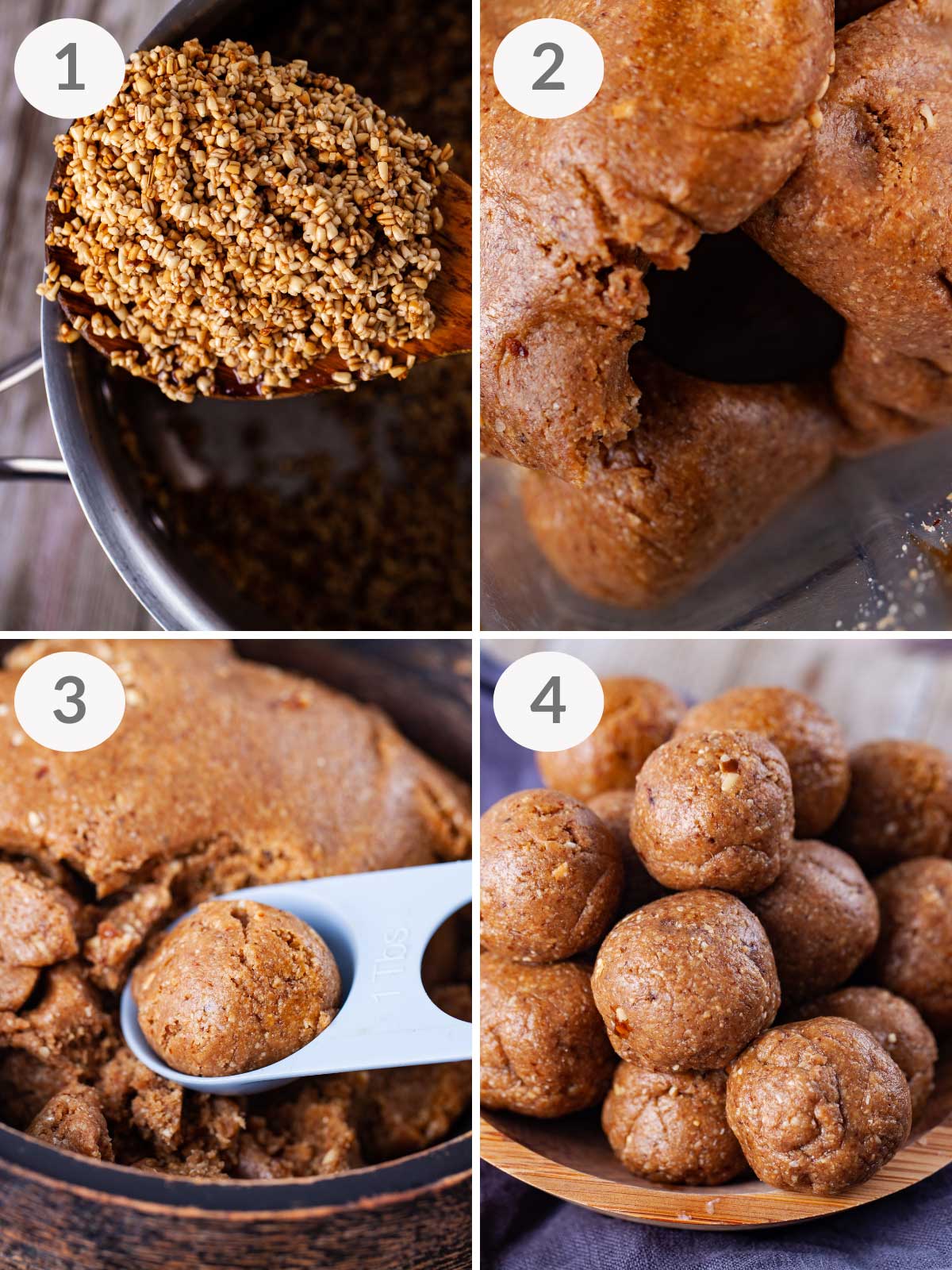 Step One (Picture 1 above) - Toast the raw oats in some melted coconut butter over medium-low heat until they are a few shades darker and crunchy. 
Step Two (Picture 2 above) - Blend the toasted oats with the rest of the ingredients, with the oats at the bottom of the blender or food processor, until you have a beautiful smooth consistency.
Step Three (Picture 3 above) - Transfer the mixture to a large bowl. Use a cookie scoop or one tablespoon measurement of the mixture and roll it into a little ball. Repeat until done.
Step Four (Picture 4 above) - Let them cool in the fridge before serving. It is best to place them separately on a large plate to prevent sticking. Chilling is optional but highly recommended because these bliss balls slightly harden and develop a lovely nougat-like texture.
Note: Alternatively, coat them with coconut shreds (desiccated coconut) or seeds before chilling. If you want to store them immediately for later, place them in an airtight container, preferably separated with parchment paper between each layer.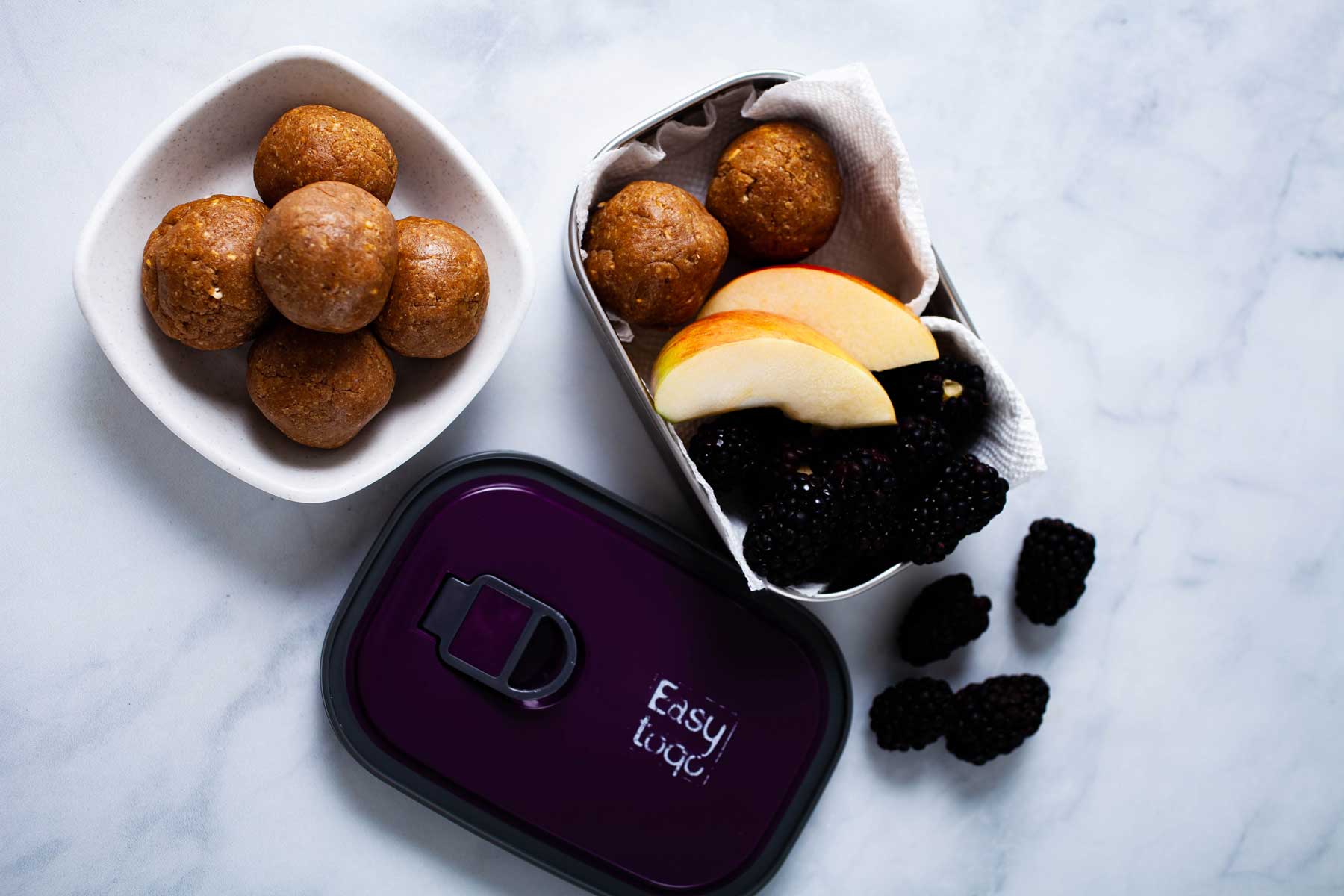 Variations To Make These Bite-Sized Bliss Balls
Different types of nuts: Use other nuts you like, such as almonds, hazelnuts, pecans, or macadamia nuts.
Make it nut-free: For those who have nut allergies, sunflower seeds or sunflower butter are a great alternative, and I have used it many times myself in this recipe.
Butter: If dairy is not an issue, you can use butter to toast the oats instead of coconut oil.
Other spices or flavor combinations: Instead of pumpkin pie spice, choose cinnamon powder, Dutch Speculoos similar to my Biscoff Cookies, or play around with  Chai spices, apple pie spice, or unsweetened cocoa or cacao powder.
Adjust the level of sweetness: For the sweet tooth, adjust the amount of dates or raisins. Or toast the steel-cut oats in some butter and a little bit of coconut or brown sugar. For a less sweet snack, leave out the raisins and use only the dates.
Note: The color of the mixture may vary based on the color of the toasted oats, the type of natural sweetener, and the nuts used to make these gluten-free steel-cut oats energy balls.
Substitutions
Nut butter: Don't have any nuts on hand? Creamy nut butter, like almond or cashew butter or seed or tahini butter, can work but will make the texture of these steel-cut oats' energy bites softer.
Other dried fruits: Try dried figs, prunes, apricots, cherries, or only use dried raisins instead for a different flavor. At home, we prefer Medjool dates, raisins, or dried apricots. Of course, the flavors will differ based on what you choose, so pick a dried fruit you love.
Other add-ons: Before you refrigerate these little energy bites, roll them a few times through a bowl filled with sesame seeds, fine unsweetened coconut flakes, hemp seeds, and ground flax seeds. They'll stick to the energy balls and add a nice nutritional touch.
Make them festive-looking: Serve these vegan bliss balls in mini cupcake holders to become the best version of themselves during the Holidays.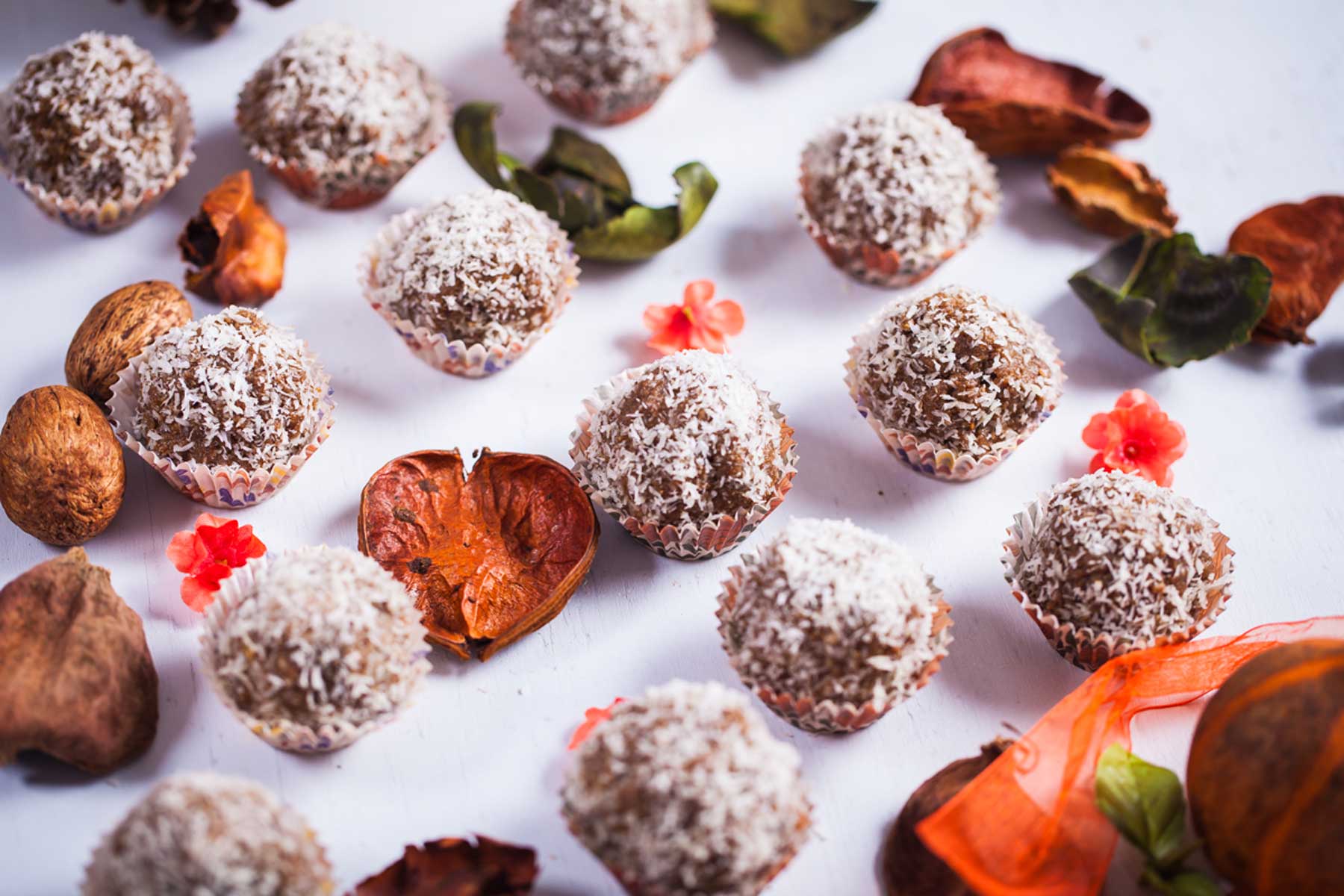 Recipe FAQs
How long do steel-cut oats energy balls last?
These date bliss balls stay well for a few weeks in the fridge or a few months in the freezer.

However, you do have to let them sit on the counter after freezing so they can soften a bit before serving.
Can I double batch or meal prep these date balls?
Yes. You can even triple batch. They're a lovely rotational make-ahead snack because they are easy to pull together, store well, and are portable.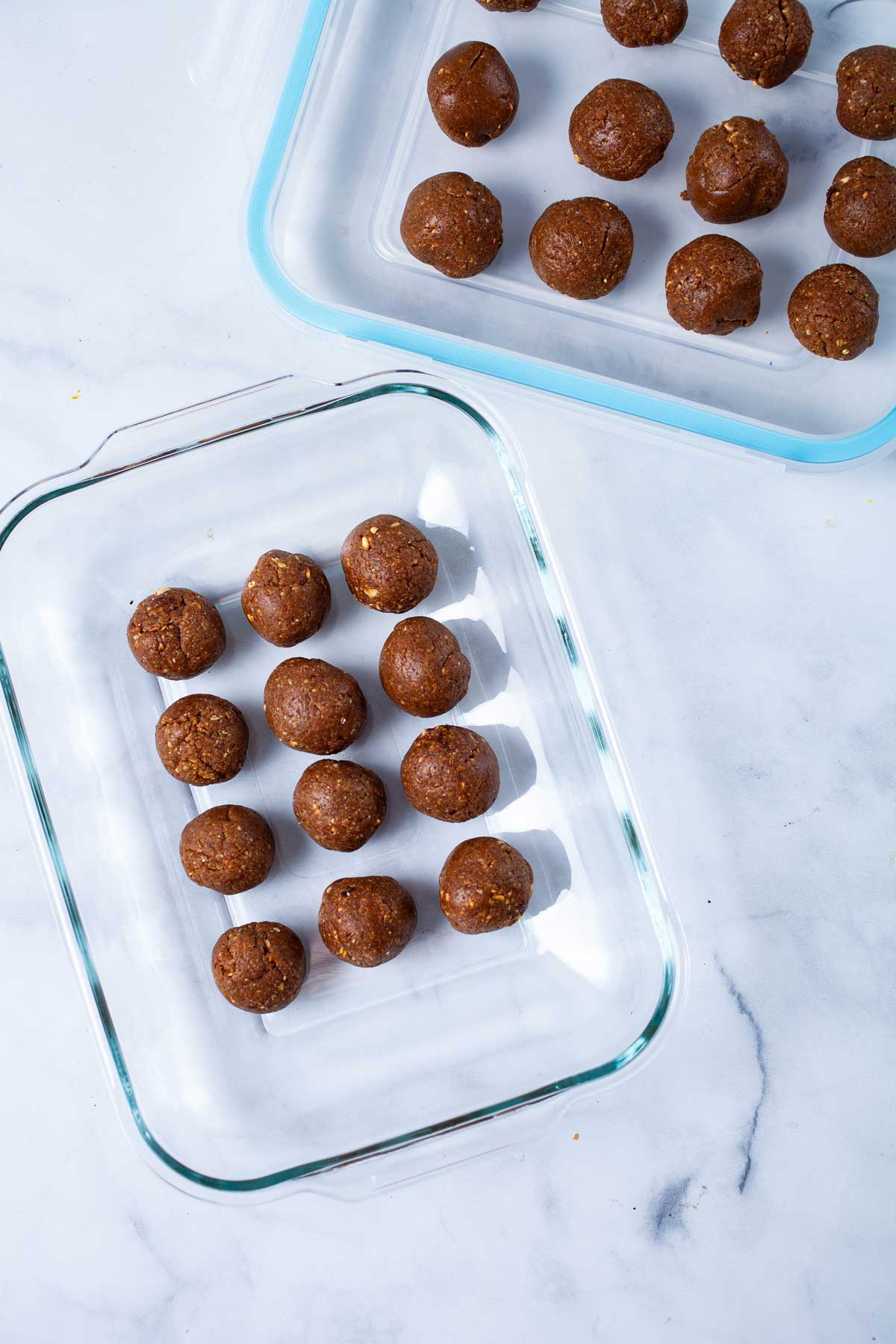 More Tasty Snack Recipes You Might Like
---
Don't forget to subscribe to my Monthly Newsletter!
Your shares and ratings are valuable to me and so much appreciated. It'll help me create more content you and others can enjoy!
---
These steel-cut oat energy balls are the perfect snack or no-bake treat and prove that the best things come in small bites.
📖 Recipe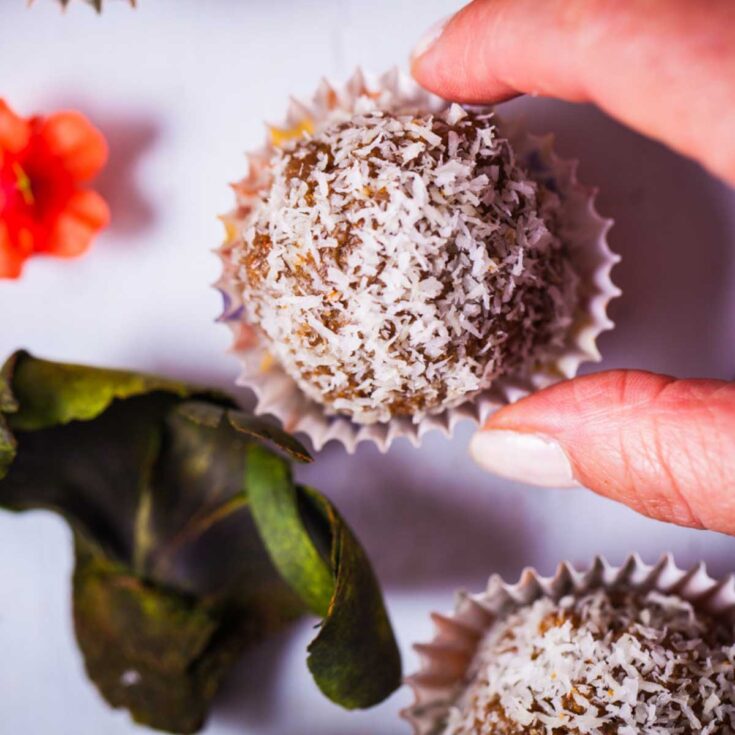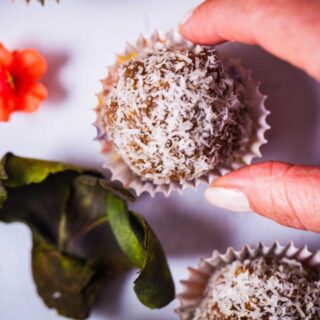 Toasted Steel-Cut Oats Energy Balls With Dates
Mariska Ramondino
These gluten-free bliss balls contain a warm spice and are naturally sweetened with dates, raisins, and toasted steel-cut oats. They are the perfect snack and so adaptable. Enjoy them with your favorite cup of coffee or tea, or make them festive to join the Holiday table.
Ingredients
4

tablespoons

pure butter (I love Kate's Creamery 100% pure butter), or coconut butter/oil (to keep it dairy-free and vegan-friendly)

70 grams

1

cup

gluten-free steel-cut oats

160 grams

2 ½

teaspoons

cinnamon spice

or Pumpkin Pie spice for fall flavors

½

cup

whole cashews

70 grams

½

cup

pecans

80 grams

½

cup

black (jumbo) raisins

90 grams

10

fresh, pitted Medjool dates (about one cup packed)

235 grams
Instructions
In a saucepan, melt the butter or coconut oil over medium heat.

4 tablespoons pure butter (I love Kate's Creamery 100% pure butter), or coconut butter/oil (to keep it dairy-free and vegan-friendly)

Stir in the oats and combine them with butter or coconut oil.

1 cup gluten-free steel-cut oats

Cook the oats for about 5 to 7 minutes, frequently stirring, or until they are lightly toasted (you can hear the oats pop a little at the end.)

Stay with the oats because they can burn quickly! Remove the pan from the stove.

Allow the oats to cool a little.

In a blender (or food processor), add the toasted oats, then the cinnamon spice, nuts, raisins, and dates.

2 ½ teaspoons cinnamon spice,

½ cup whole cashews,

½ cup pecans,

½ cup black (jumbo) raisins,

10 fresh, pitted Medjool dates (about one cup packed)

Blend until you have a smooth brownish mixture.

If using a Vitamix, mix using a high-speed setting while using the tamper to push the ingredients around. Then continue to blend until you have a beautiful brown and smooth mixture. You'll use the tamper to process the thick mixture through the blades.

Take the mixture immediately out of the blender and transfer it into a bowl (be careful, it can be hot).

When cool enough to handle, roll a spoonful into a small ball and repeat until all mixture is used.

Enjoy immediately or store in the fridge in an airtight container!
Notes
Storage: They stay well for up to two weeks in the fridge in an airtight container or 3 months in the freezer. Let them sit on the counter for a bit after freezing so they can soften before serving. Nuts: Instead of cashews or pecans, you can use a medley of nuts you have on hand. Almonds and blanched hazelnuts are a great substitute here. Nut butter can work as well, but the texture of the energy balls will be softer instead of chewy. Nut-free: Sunflower or tahini butter are great alternatives. Spices & flavors: Change it up by using different spices like Dutch Speculoos, Chai, Pumpkin Pie spice, apple pie spice, or cacao or unsweetened cocoa powder for a more chocolatey taste (read energy ball variations in the post). Medjool dates alternatives: Dried figs, dried prunes, dried apricots, dried cherries, or only raisins. I love Medjool dates as they give these energy bites that lovely caramel-like taste. Nutritional information: Calculated using almonds, cashews, and coconut oil.
Add your own private notes
Whenever you come back to this recipe, you'll be able to see your notes.
Nutrition (% Daily value)
Serving:
1
energy ball
Calories:
96
kcal
(5%)
Carbohydrates:
13
g
(4%)
Protein:
2
g
(4%)
Fat:
5
g
(8%)
Saturated Fat:
2
g
(13%)
Polyunsaturated Fat:
1
g
Monounsaturated Fat:
2
g
Trans Fat:
0.1
g
Cholesterol:
5
mg
(2%)
Sodium:
15
mg
(1%)
Potassium:
93
mg
(3%)
Fiber:
2
g
(8%)
Sugar:
7
g
(8%)
Vitamin A:
72
IU
(1%)
Vitamin C:
0.04
mg
Calcium:
14
mg
(1%)
Iron:
1
mg
(6%)
Disclaimer: This nutritional data is calculated using third party tools and is only intended as a reference.