These delicious no-bake rice crispy treats are super easy to make. They are also a much healthier option to serve at a kid's party or as a weekend treat. A homemade recipe that is already gluten-free and refined sugar-free, but one you can also easily customize to become vegan-friendly and nut-free. Present them in cute cupcakes, and you have the perfect crunchy sweet bite.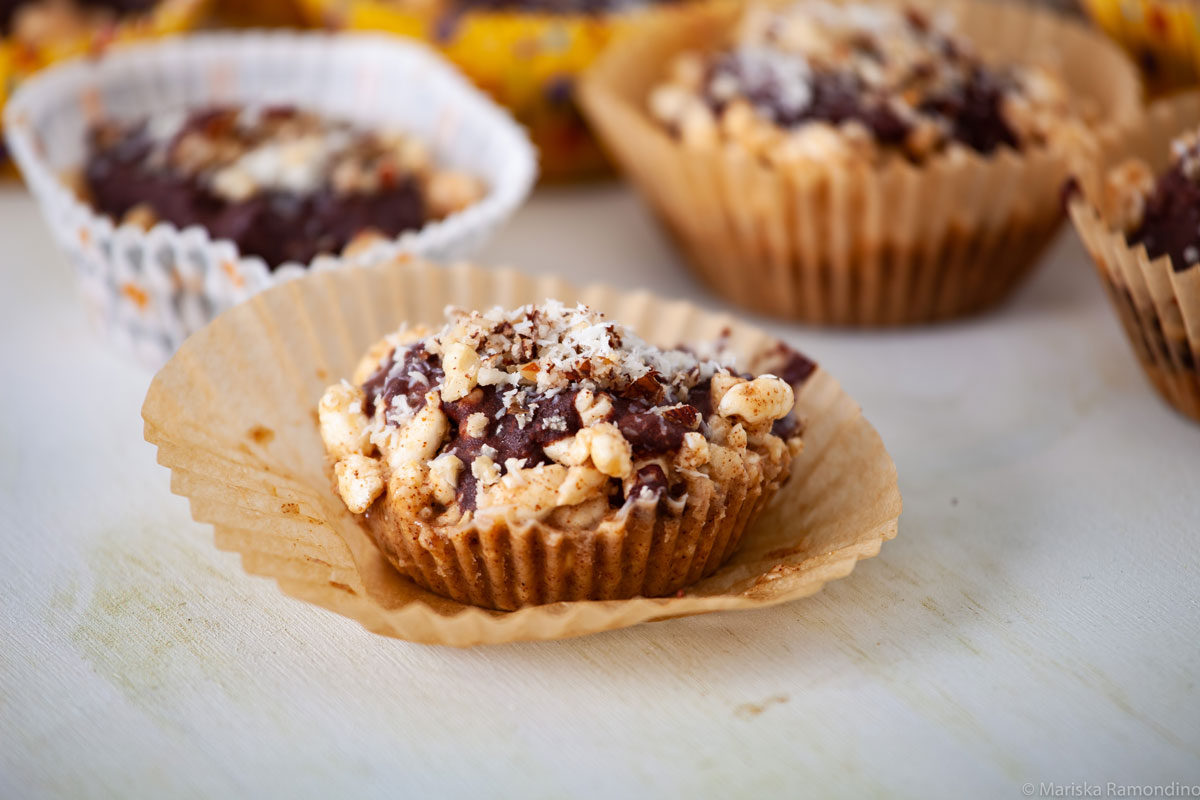 I love coming up with some ideas for easy-to-make treats that are also a lot healthier to serve at parties, during the Holidays, or just when you want something special for the weekend. They are also super fun to prepare if you have kids that love to help you in the kitchen. It's a no-bake, no fuss kind of dessert but one that everyone will love. And with just a few swaps of ingredients, you can easily customize this recipe. Or better yet, dress them up with some Halloween cupcake wrapper and toppers, and you have yourself a spooky treat! Let's make them!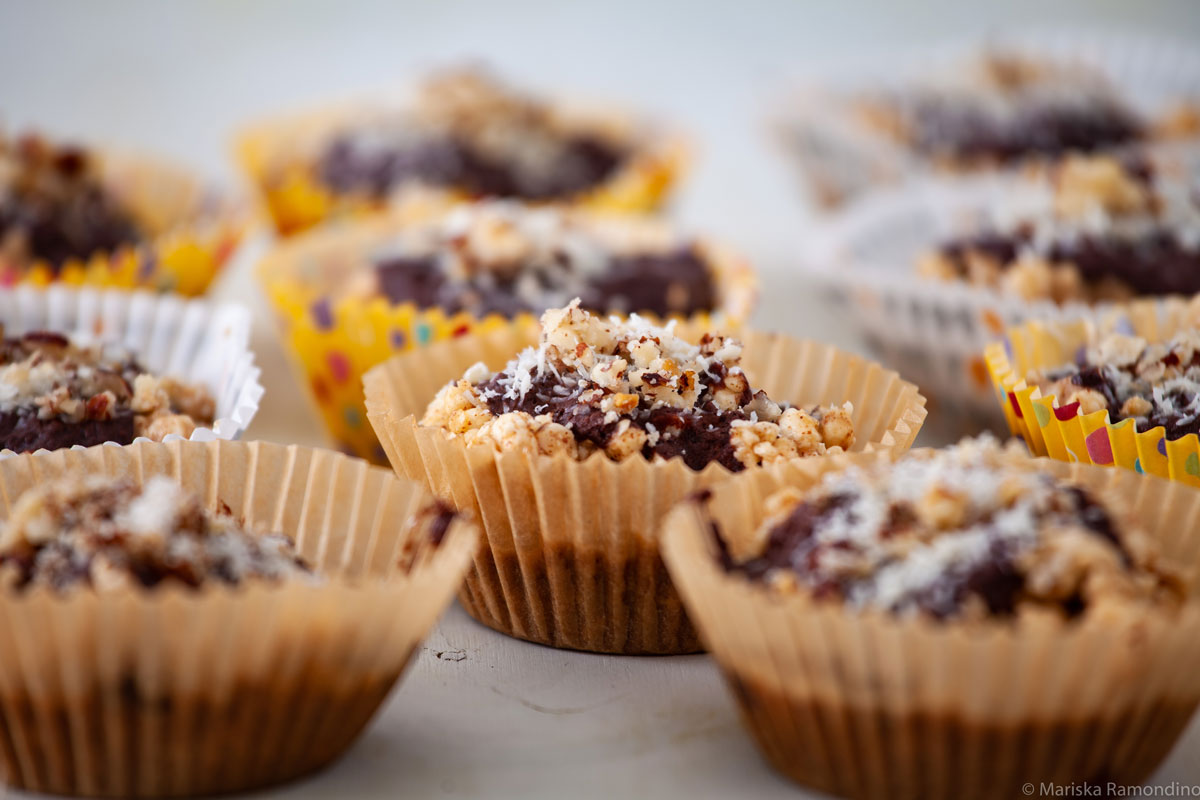 RICE CRISPY CUPCAKE TREATS—A FEW NOTES
Crunchy Rice rolls/rollers—I usually buy mine at a local Asian store. But you can get them in regular stores now or online. You want to opt for something that only contains a few ingredients and only sweetened with brown rice syrup or cane syrup. Here is a vegan-friendly option for those who have a hard time finding one locally.
The recipe calls for three cups of crumbled rice rolls. Simply take a large bowl and with your hands, start pressing into some rice roll until they have broken into small rice pieces. Typically 4 to 5 rice rolls is enough to gather about three full cups crunchy rice bits. But it all depends on the brand you buy and how large one roll is.
The sweetener—if you want to keep it vegan-friendly, then stick with maple syrup; otherwise, raw honey is another excellent choice. You only need two tablespoons—the rice rollers are already slightly sweet.
Dark chocolate—You don't need to add a chocolate topping, but it does add a nice contrasting texture—and who doesn't love some chocolate. I love a sugar-free version (if on sale) or a very dark one with at least 70% of cocoa.
Muffin pan—you can use one for ease, but you can just add the rice mixture directly into cupcake wrappers. Just make sure that you place them on top of a hard surface, like a cutting board, to easily transfer them in one swoop into the fridge or freezer.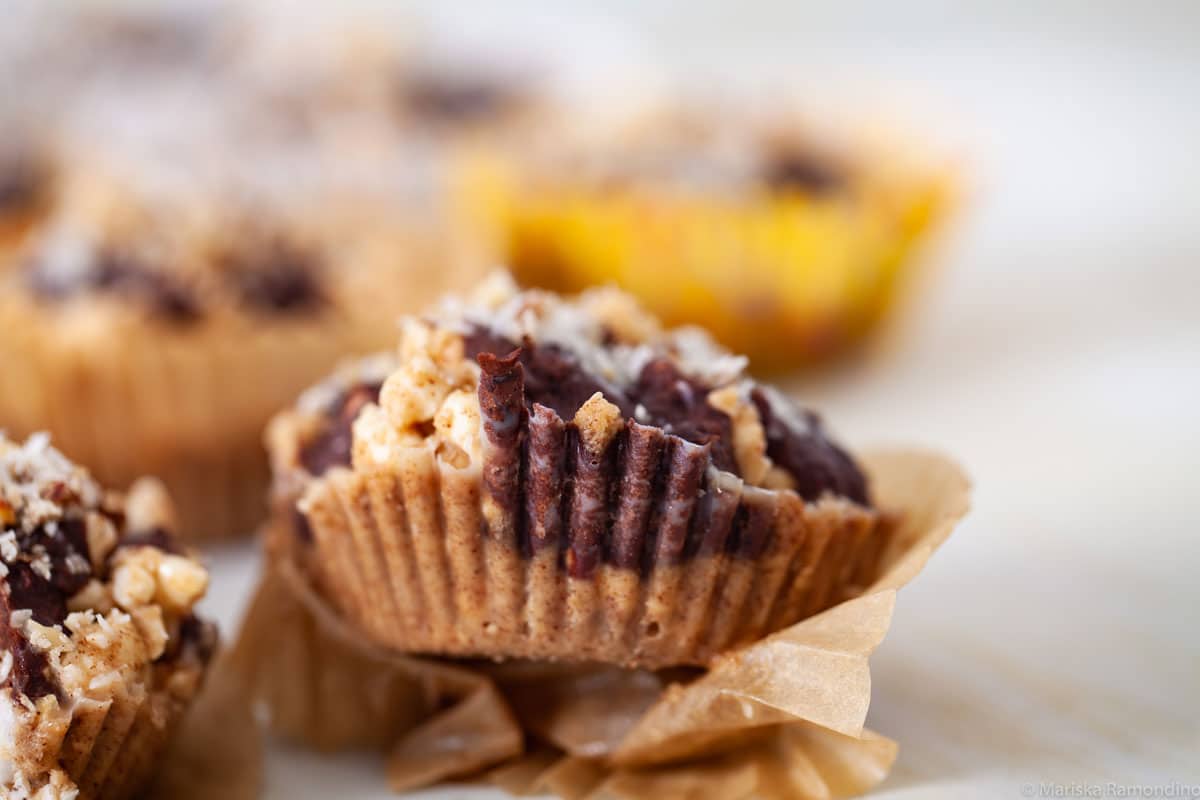 TOPPING IDEAS FOR THESE RICE CRISPY TREATS
Go for anything you like. Here are a few suggestions that I usually use.
Fine coconut shreds
Chopped nuts like cashews, hazelnuts, or Brazil nuts (avoid if you want to keep your treat nut-free)
Finely chopped dried fruits like apricots, apples, or pineapple
Enjoy!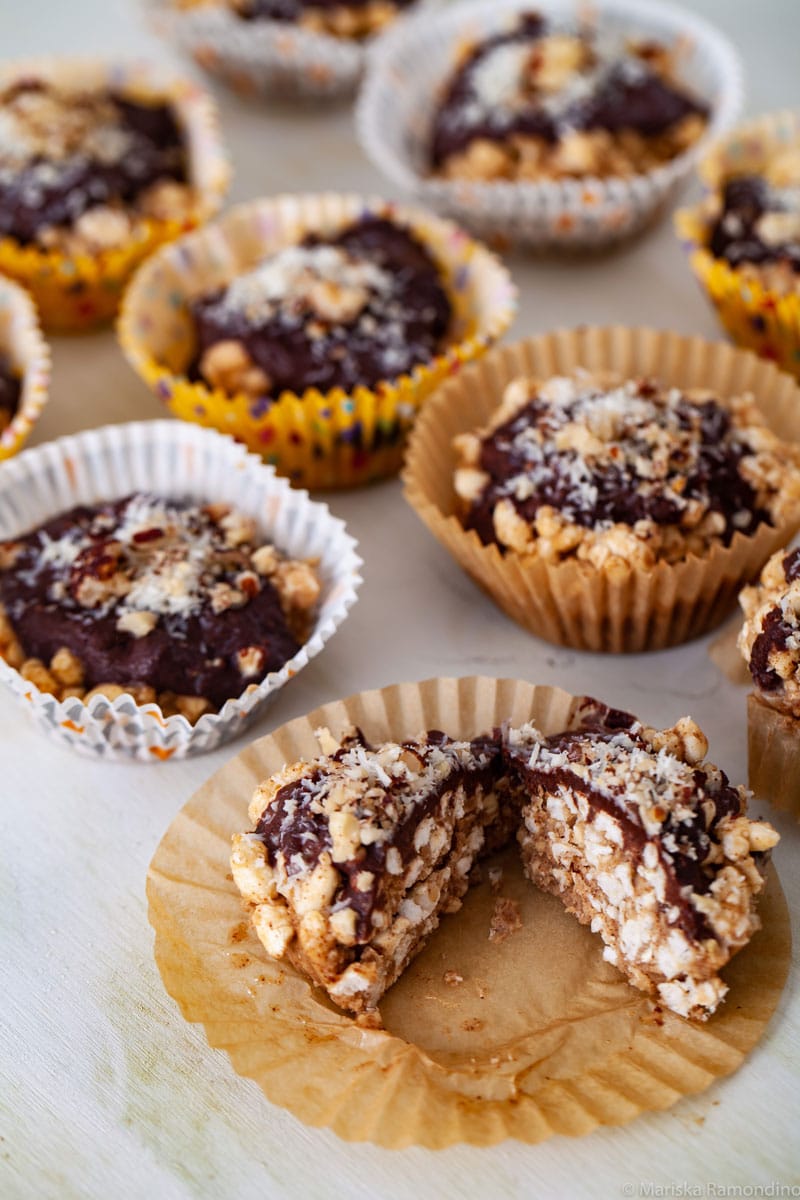 MORE NO-BAKE TREATS YOU MIGHT LIKE
Have questions? Simply comment below or message me. Also, don't forget to stay connected either on Instagram, Facebook, and Pinterest to see what other fun things I share.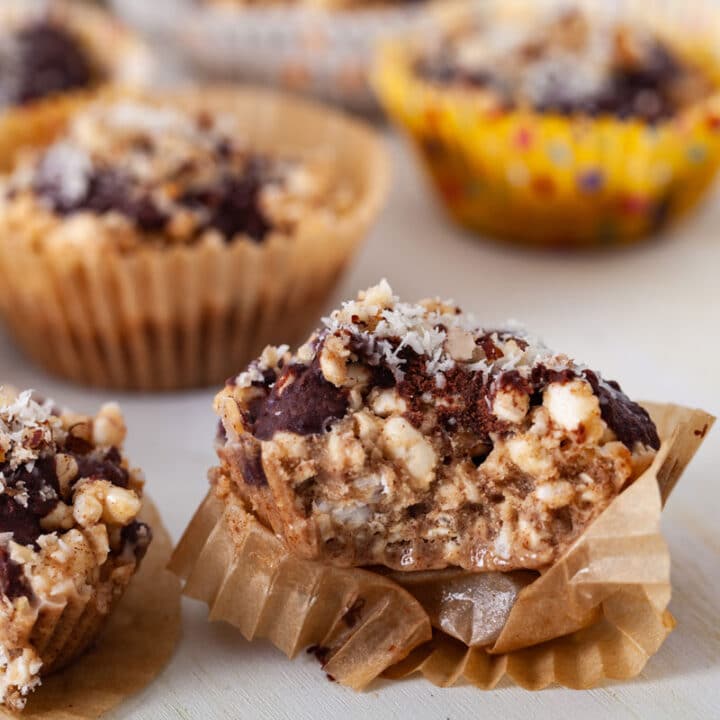 RICE CRISPY CUPCAKE TREATS
Yield:
About 12 rice crispy cupcake treats
Homemade and healthier rice crispy treats that taste delicious. They are also gluten-free, refined sugar-free and presented as cute cupcakes bites (with vegan-friendly option.)
Ingredients
3 cups crumbled crunchy rice rolls (about 4 to 5 rolls)
⅓ cup coconut oil
1 cup creamy almond butter
2 tbsp raw honey or maple syrup (vegan-friendly)
1 cup sugar-free dark chocolate (or with at least 70% cocoa)
2 tbsp coconut cream or plant milk
Fine coconut shreds and chopped nuts of choice to garnish
Instructions
Place the rice crumbs in a medium-sized bowl, set aside.
In another small bowl, combine the coconut oil, almond butter, and the sweetener of choice. Mix everything well with a hand mixer.
Pour the almond mix over the rice crumbs. Then gently stir well until all crumbs are sufficiently coated, and you get one sticky mixture—you can do this gently with your fingers.
Place paper cupcake holders in a 12-cup muffin pan. Then divide the mixture evenly into the lined cupcake molds (about two tablespoons per cup); set aside.
In a small saucepan, add the dark chocolate and the coconut cream. Over low heat, stir continuously until the chocolate has melted. Then remove from the heat. Spoon the melted chocolate equally over the rice crispy treats.
Sprinkle on top of each cupcake some fine coconut shreds and finely chopped nuts of your choice.
Place immediately in the fridge (for about 2 to 3 hours) or freezer (for about an hour), or until the rice crispy treats have hardened.
Keep stored in the refrigerator for up to one week or freezer for longer.