Easy and healthy rice crispy treats topped with chocolate—a much healthier option to serve at a kid's party or as a weekend indulgence.
They're made with Kamut Puffs for a firmer texture and a richer flavor.
They're also refined sugar-free, and you can easily customize this recipe to make them vegan-friendly and gluten-free.
Present them in cute cupcakes, and you have the perfect crunchy sweet bite.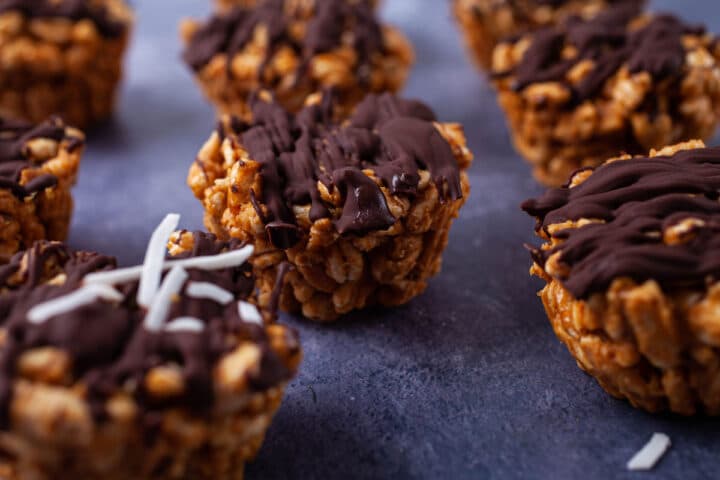 Jump to:
Recipe Features
How to make healthier rice crispy treats without marshmallows—ridiculously easy.
The recipe includes Kamut puffs for a crispier, firmer texture and more wholesome flavor.
Naturally sweetened with either raw honey or brown rice syrup.
Made with crunchy peanut butter, you can easily swap it for almond butter (crunchy or creamy) or any other flavored nut butter.
Created in the form of a cupcake for easy handling.
And deliciously topped with dark chocolate for a richer experience.
Let's make them!
Ingredients & Equipment—Notes
Kamut Puffs—Kamut puff cereal adds a crunchier bite and a fuller flavor. They tend to be a bit thicker than your regular (brown) rice cereal. But they are not gluten-free (see substitutions in my recipe notes).
You can find them easily in the cereal aisle. I buy mine often online or in Whole Foods.
Nut butter—crunchy peanut butter adds an intense peanut taste, and I usually go for a salty version—substitute for creamy or different nut butter. Swapping this ingredient will determine the overall flavor of your rice crispy treat.
Sweetener—if you want to keep it vegan-friendly, then stick with brown rice syrup; it's sticky, but you might need an extra tablespoon because it is less sweet. Otherwise, raw honey is another excellent choice.
Dark chocolate—adding a chocolate topping is optional, but it does add a nice contrasting texture—and who doesn't love some chocolate? I love a sugar-free version (if on sale) or a very dark one with at least 70% of cocoa.
Coconut Cream—A small amount helps melt the chocolate, give it a beautiful shine, and tone down its intense cocoa flavors.
Equipment—this unique cupcake recipe calls for a muffin pan and muffin liners. It allows for the rice crispy treats to hold their shape when you firmly press down the prepared Kamut puffs and helps obtain a firm texture.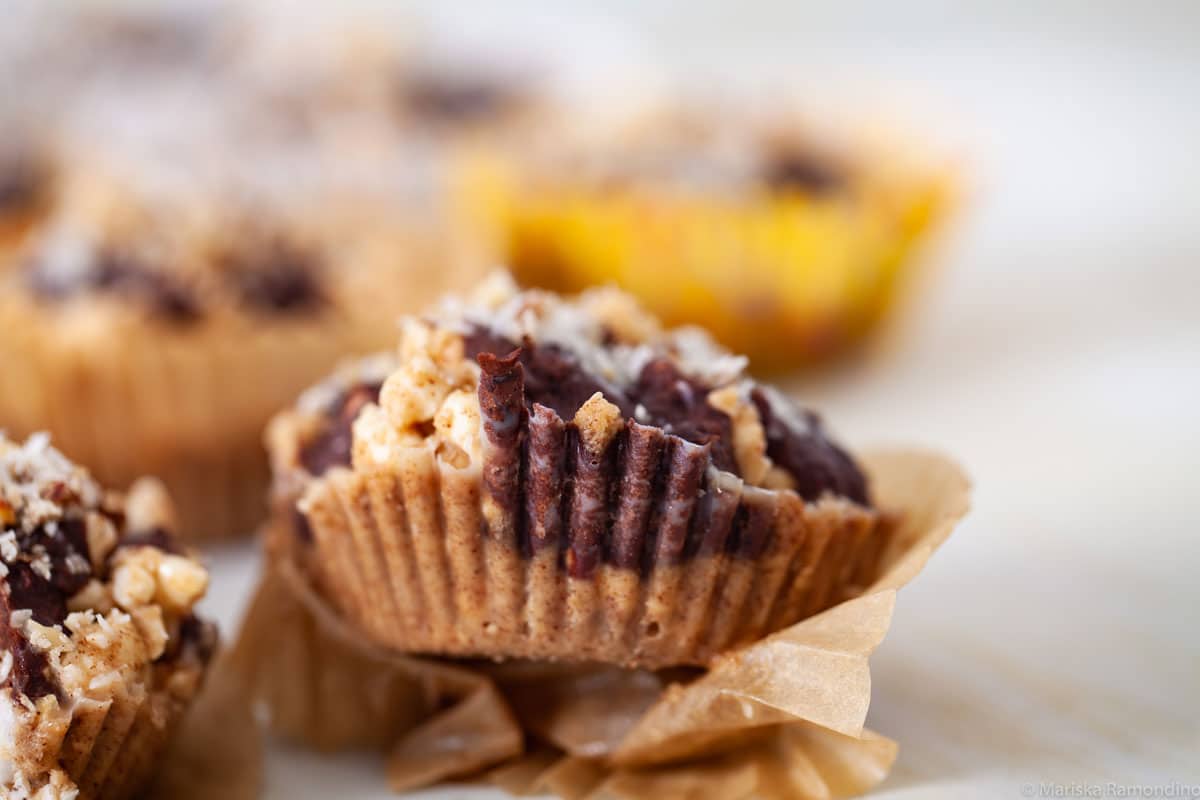 How to make healthier rice crispy treats (step-by-step)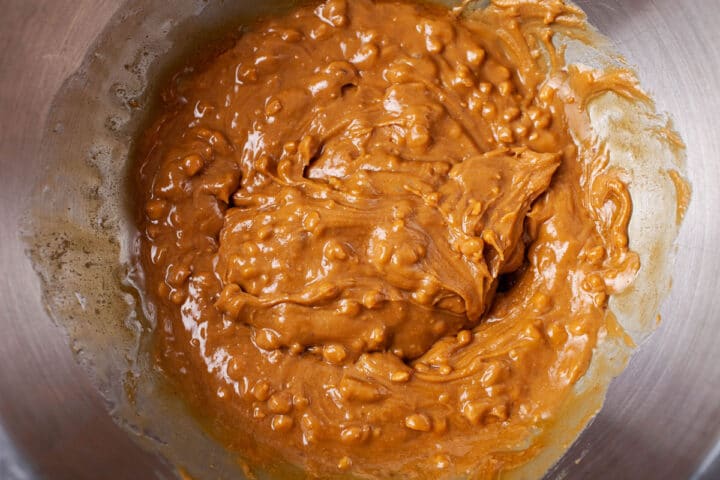 Stir 2 tablespoons of the honey or brown rice syrup in the peanut butter until well combined.
Loosen up any big chunks of the nut butter until you get a more even consistency.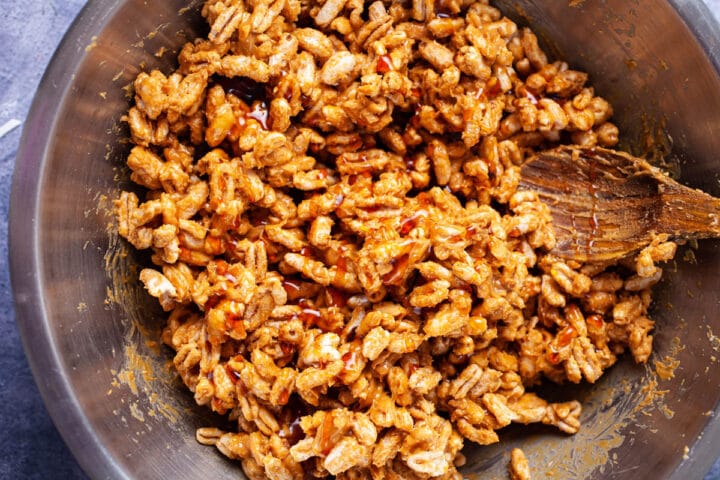 Add the Kamut puffs to the peanut butter mix in batches and stir well until the cereal is evenly coated.
Drizzle one extra tablespoon of honey or brown rice syrup on top and stir it in to make the puffs extra sticky.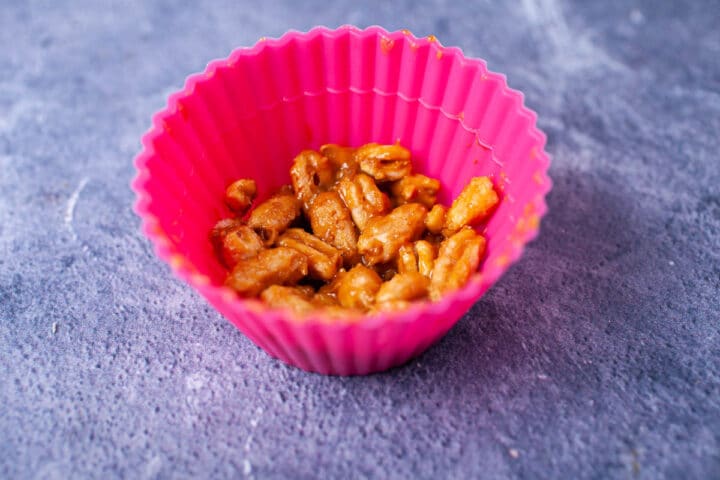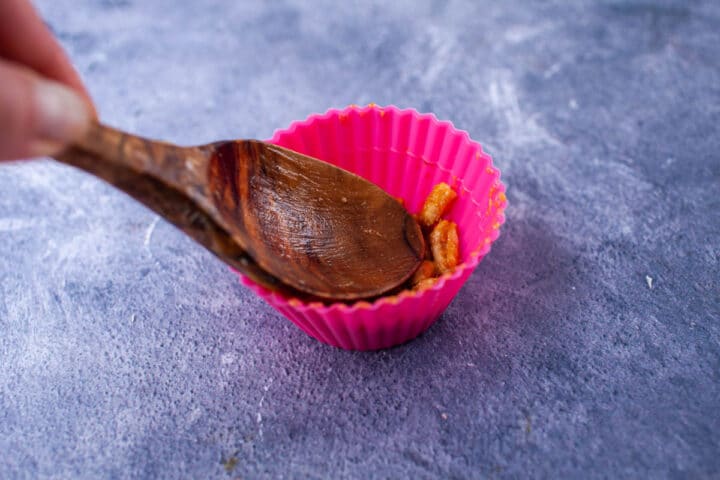 Start by filling a cupcake liner with ½ tablespoon of the coated rice crisp cereal.
Then press firmly down with the back of a large spoon until they are tightly packed inside before adding the next tablespoon.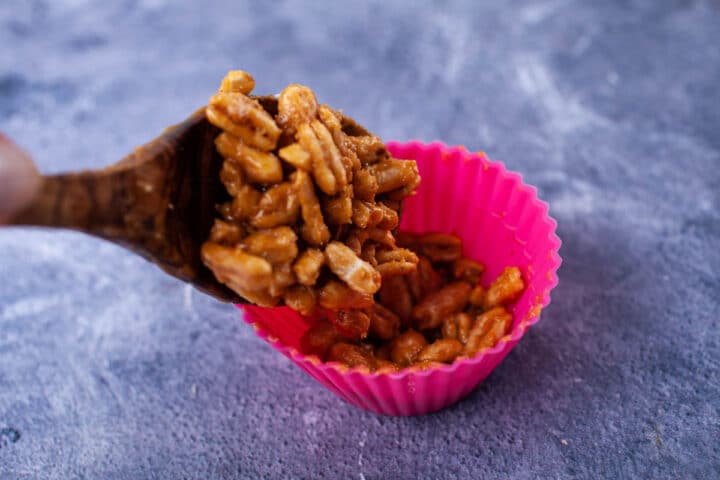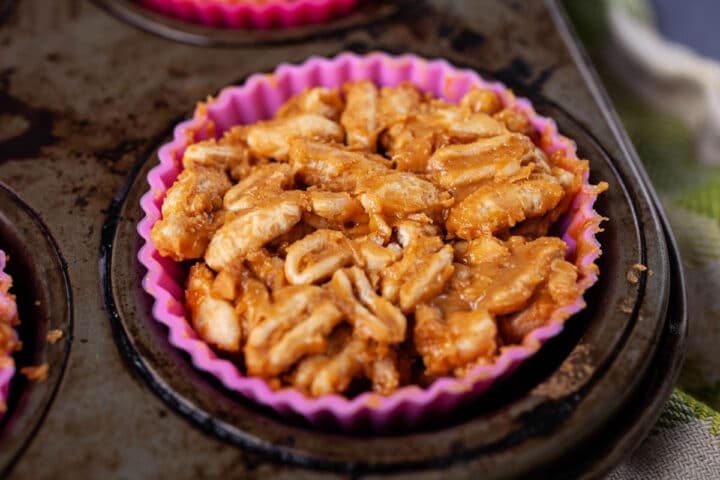 Continue to add and press down the rice crips cereal until the cupcake is full and the cereal is firmly packed inside.
Note: It's easier to place the cupcake liners in a muffin pan to keep a consistent form. Use reasonably sturdy cupcake liners if you don't have a muffin pan.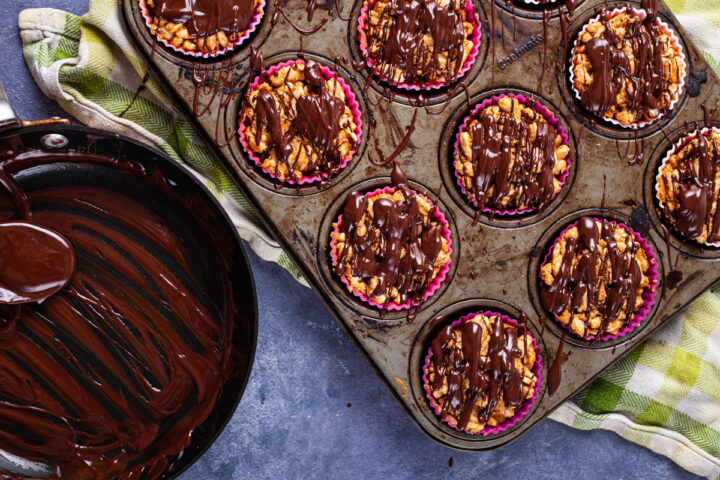 Melt chocolate and coconut cream in a small saucepan over the lowest heat setting, stirring continuously until smooth.
Take a spoon and drizzle the melted chocolate over the rice crispy cupcakes in a streaking motion until all melted chocolate mixture is used up.
Immediately store them in the freezer and harden for about 4 hours.
Note: if you don't use a muffin pan, place the crispy rice treats on a large cutting board to drizzle the chocolate over the cupcakes.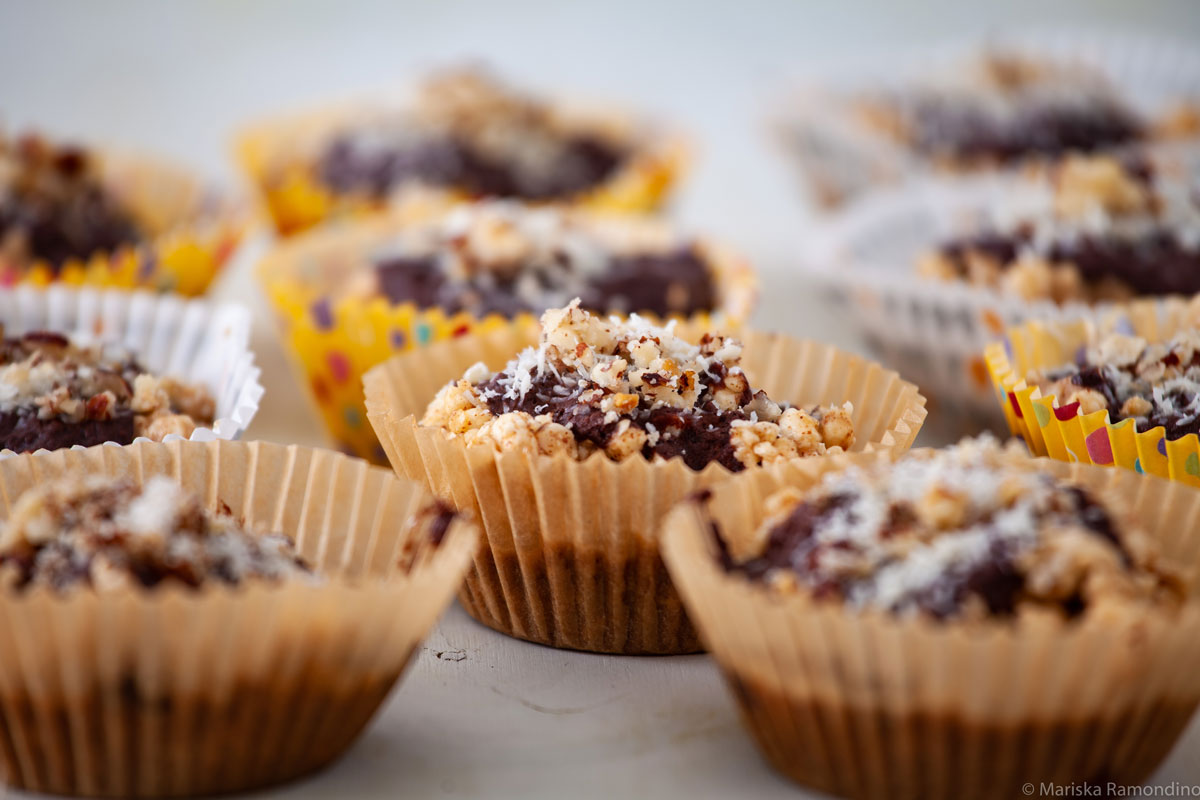 Optional: garnish with chopped nuts of your choice and coconut shreds.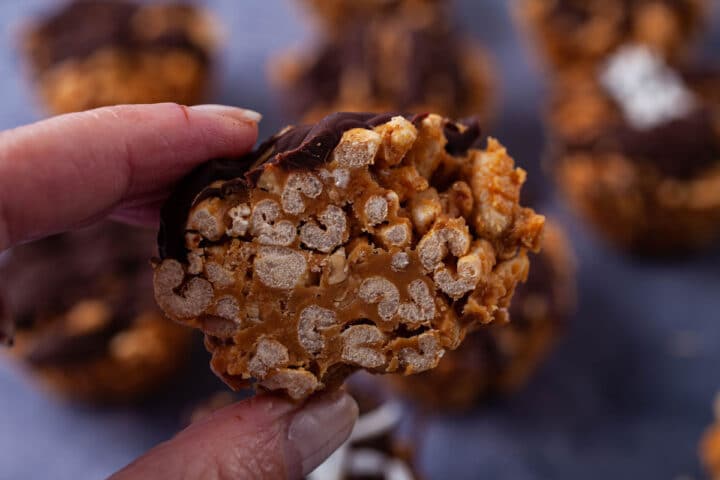 Take them out of the cupcake liners when ready to serve.
Full of delicious sweet and salty peanut flavor,
With a touch of dark chocolate.
Topping ideas
Go for anything you like. Here are a few suggestions:
Fine coconut shreds
Chopped nuts like cashews, hazelnuts, or Brazil nuts
Finely chopped dried fruits like apricots, apples, or pineapple
Storage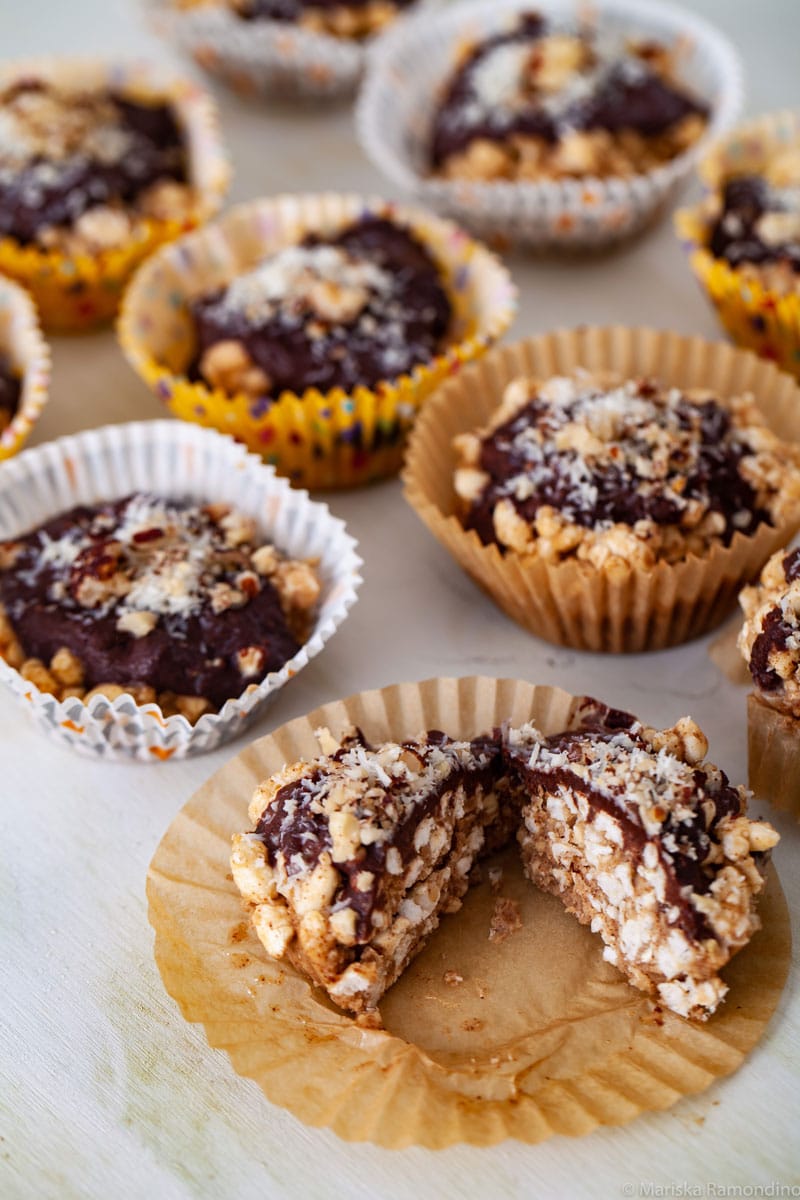 Keep in the freezer until ready to eat for up to six weeks.
More no-bake treats you might like
Have questions? Simply comment below or message me. Also, don't forget to stay connected by subscribing to my Monthly Newsletter.
📖 Recipe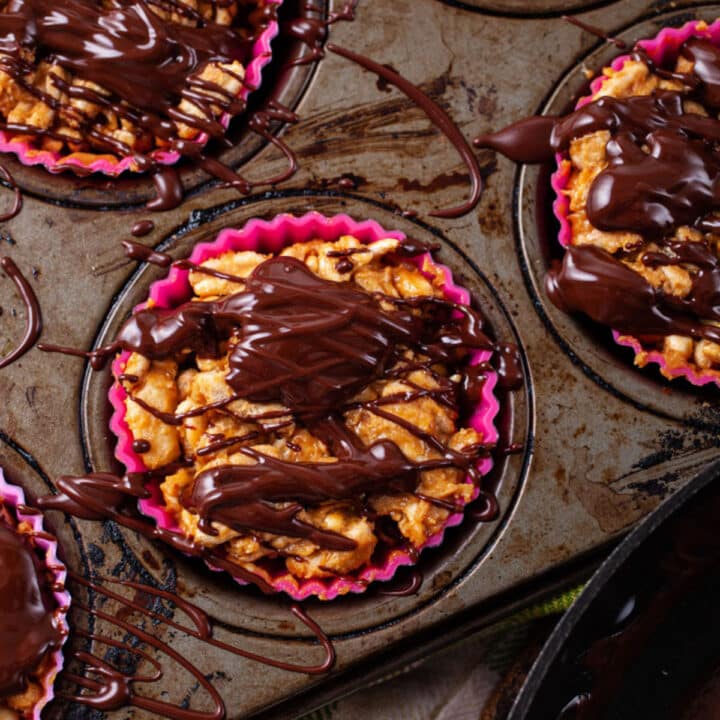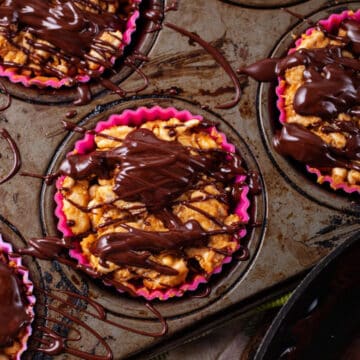 Rice Crispy Treats Cupcakes
Mariska Ramondino
Homemade and healthier rice crispy treats made with Kamut puffs, honey, nut butter, deliciously covered with chocolate and served in the form of a cupcake.
Instructions
In a medium-sized bowl, mix the nut butter with two tablespoons of honey until smooth and well combined.

Add in batches the Kamut puffs to the nut butter mixture. It's best to use a large spoon to gently stir in the cereal until every grain is well coated with the nut butter mix.

Drizzle one tablespoon of honey (or brown rice syrup) on top of the coated Kamut puffs and gently stir it in—you should have one sticky mixture.

Then divide the Kamut puff mixture evenly into the lined cupcake molds.

Start with ½ tablespoon, firmly pressing the sticky Kamut puffs down the bottom of the cupcake liner with the back of a spoon, before adding another ½ of a spoon, etc.

Repeat the firm but gentle pressing of the coated Kamut with each batch until you have generously filled the cupcake holder—repeat with the rest.

Place the filled muffin pan in the freezer, reserve.

In a small saucepan, add the dark chocolate pieces and the coconut cream.

Over lowest heat setting, stir continuously until the chocolate has melted—the coconut cream will give the melted chocolate a beautiful glossy look and a softer flavor.

Then remove from the heat.

Take the muffin pan with the rice crispy treats out of the freezer.

Take a spoon of the melted chocolate and make a waving motion to create chocolate streak over each rice crispy treat—it's okay if some of these chocolate streaks fall onto the muffin pan instead.

Continue until all melted chocolate is used up. You should have a generous amount of chocolate covering each rice crispy treat

Sprinkle on top of each cupcake some fine coconut shreds and finely chopped nuts of your choice (optional).

Place immediately in the freezer for 4 hours or until the rice crispy treats have sufficiently hardened.

Keep stored in the freezer and only remove them when you ready to eat them.

Remove the cupcake liner and enjoy your rice crispy treat.
Notes
Substitutions:
To make it gluten-free: use gluten-free brown rice cereal crisp
To replace peanut butter: use almond butter or any other preferred or flavored nut butter. Feel free to use creamy nut butter instead of crunchy.
To make it vegan-friendly use brown rice syrup (you can also use maple syrup but brown rice syrup is much stickier and better at holding the puffs together.
Add your own private notes
Whenever you come back to this recipe, you'll be able to see your notes.
Nutrition (% Daily value)
Serving:
1
cupcake
Calories:
212
kcal
(11%)
Carbohydrates:
17
g
(6%)
Protein:
6
g
(12%)
Fat:
14
g
(22%)
Saturated Fat:
4
g
(25%)
Polyunsaturated Fat:
3
g
Monounsaturated Fat:
6
g
Trans Fat:
0.003
g
Cholesterol:
0.2
mg
Sodium:
106
mg
(5%)
Potassium:
227
mg
(6%)
Fiber:
3
g
(13%)
Sugar:
8
g
(9%)
Vitamin A:
3
IU
Vitamin C:
0.03
mg
Calcium:
16
mg
(2%)
Iron:
3
mg
(17%)
Disclaimer: This nutritional data is calculated using third party tools and is only intended as a reference.