A small adaption to a family recipe makes for juicy and tender gluten-free (no breadcrumbs) meatballs! They're cooked in an authentic and easy-to-make homemade tomato sauce and simmered long enough for all the flavors and seasoning to come together.
Enjoy them with a satisfying bowl of (gluten-free) spaghetti or pasta,
Zucchini noodles for a low carb dinner,
Pair them with a fresh green salad or
Enjoy with roasted vegetables.
Plus, having extra tomato sauce in the fridge means that a quick meal is at the ready or the base for a great recipe is already prepared, and you'll have endless easy dinner ideas!
My father's side of the family is originally from Italy. So I grew up learning how to make some beautiful homemade South Italian dishes (rooted in Calabria).
And I think it is long overdue to share my favorite way of making Italian meatballs in tomato sauce. These are recipes I learned from my mom, who in turn learned them from my Italian grandmother. And no matter what new dishes I create, these classics will always remain a favorite in my household.
When it comes to making the meatballs, I deviated a little bit from how my grandmother used to make them with just a few adaptations:
I use a whole egg instead of egg yolks.
I omit the fresh breadcrumbs because you don't need them—I prefer no breadcrumbs, gluten-free meatballs (they taste even better, in my opinion).
Instead, I add more Parmesan cheese to get moist low-carb meatballs that won't fall apart.
It's a straightforward recipe, as it should be. But let me share some notes that might come in handy when making these Italian classics with a twist!
How to cook tender meatballs in sauce
Yes, I cook meatballs in the sauce without browning them first—it must be a Southern Italian thing. I've been watching the making of meatballs in Italian tomato sauce since I was....well...very little. And my family always dropped them right into the simmering sauce to get that mouthwatering tender texture, and it makes the tomato sauce taste better too.
But there are some important basic steps to keep the meatballs from falling apart and to get that non-grainy yet moist texture. So, let's go over them so you can enjoy them for dinner tonight.
Pick the right ground meat
My personal favorite is ground beef. Although my grandma often used pork or a mixture of both. But then again, my grandparents raised their own pigs on a strict vegetarian diet—times have changed a few things.
Her custom was also to add in some pork ribs, combined with meat balls.
It's well known that fattier meat yields more tender meatballs. So, if you're making beef meatballs, then don't go for extra lean.
80% lean beef meat is best, in my opinion, because it will render soft meatballs and a healthier tomato sauce.
The binder in no breadcrumbs meatballs
Since these meatballs have no breadcrumbs or any type of flour, the egg and the grated parmesan cheese are used here as a binder.
The extra moisture of the egg and the fat content of the cheese are all great tools for keeping meatballs tender and moist during cooking.
But too much moisture will make the meatballs soggy. So for 2 to 3 pounds of meat, stick with one large egg and one cup of grated parmesan cheese.
Another trick to having no breadcrumbs meatballs hold their shape is to keep your meat as cold as possible. It helps with forming them, and they won't lose as much fat before cooking them in the sauce.
Once the meat is shaped, pop the meatballs back into the fridge while you attend to the sauce, or make them while the sauce is already simmering on the stove.
The seasoning
My grandma kept things simple by using a tad of salt and freshly ground pepper. Because the meatballs also will extract the flavors of the seasoned tomato base.
But, it's the fragrant Parsley and minced garlic mixed into the meat and cheese that add incredible flavor. I often opt for one cup of chopped fresh parsley instead of half a cup for two pounds of beef. But, a fair warning, I am a parsley lover!
The amount of salt used in the meat mixture is, of course, a suggestion. But I often find that half a teaspoon is enough for the given amount of meat because the Parmesan cheese already adds salt, and you'll also salt the tomato sauce.
Don't overwork the meat
Or so I've always been told—I can still hear the kitchen voices ring through. I only learned later that this advice affects the meatball's texture.
The best meatballs are rolled with your hands—another one of those past voices. It's the quickest way to work in all the ingredients and handle the ground meat swiftly.
Then, gently and loosely form equally-sized meatballs from the meat mixture.
Wet your hands a little or coat them with a tad of olive oil for easy rolling.
Don't pack them too tightly cause that affects their texture and can make them too chewy.
The ingredients will yield about 10 to 14 large meatballs. But you definitely can get more if you make them smaller.
Place them back into the fridge if you still have to start the tomato sauce, so the meatballs stay cold, or make them while the tomato sauce is simmering on the stove.
How and how long to cook meatballs in sauce
Gently stir them in the simmering basic tomato sauce. At this point, the meat is still raw and fragile. So add the meatballs one by one until nicely divided into the pot and almost entirely covered by the red sauce!
Beef meatballs take a bit longer to become tender, so let them simmer for at least one to one and a half hours, preferably two hours. It's one of those weekend recipes that you can easily and fairly let simmer unattended on the stove while you curl up on the sofa and read a book or do other things around the house.
Pork meatballs only need about 45 minutes of simmering in the sauce.
Always check one or two of the meatballs before serving to be sure that that they are completely cooked through.
Make an easy authentic tomato sauce
A homemade tomato sauce recipe is comforting and extremely satisfying. It is all in the tomatoes, the quality of the olive oil, the beautiful fragrances of Basil and Oregano using garlic and shallots as the base of your sauce.
It doesn't take much to make a tasty sauce other than a few essential ingredients and allow the flavors to come together gently.
There are so many different ways of making a tasty Italian tomato sauce. While traveling through Italy, I enjoyed some fantastic homemade pasta sauces deeply rooted in family traditions and their origins. But this simple tomato sauce recipe is the one I grew up with and still make today—other than using fresh tomatoes from the garden.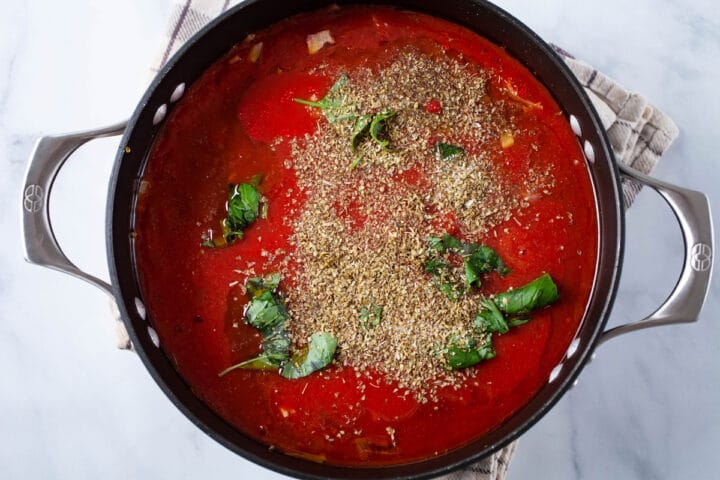 Let's look at the base of this sauce
Despite the simplicity in making a basic tomato sauce, it does require a bit of your attention, especially in the beginning to build up the flavors.
In addition, what you add and what type of (canned) tomatoes you use can create different variations of the same sauce.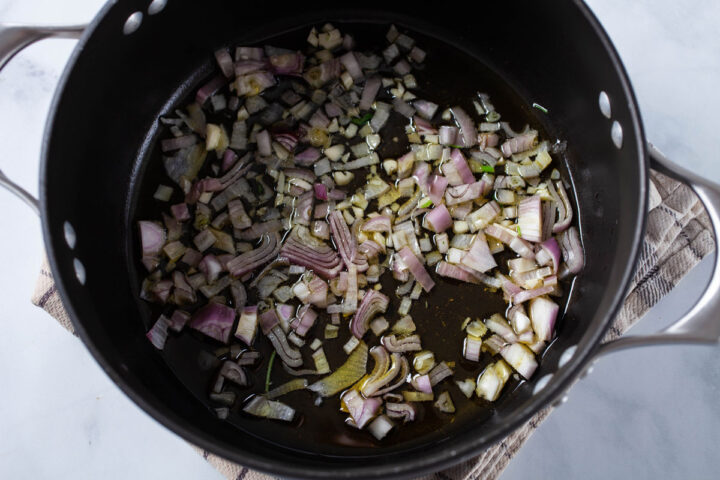 First, I cook and stir the garlic and shallot for 10 seconds in the heated olive oil. It is done to merely release their aromas, giving the sauce that fantastic fragrant base. Don't let the garlic brown because it can give the sauce a sour taste.
My grandmother used her tomatoes from her garden, and every year she went through cooking and bottling them. However, that isn't always an option for me either. I think Jovial, whether diced, crushed, whole peeled, or strained, makes some of the best canned tomatoes. Their tomatoes are sweet, organic, and sourced from small family farms in Italy! Other great brands are Pomi or Bionaturae—all are readily available at most grocery stores or online. Whatever your preference, choose a brand that has salt-free, sugar-free canned tomatoes that are not diluted with water.
Basil is the primary herb in this sauce, but when the tomatoes taste overly sweet, the right amount of oregano beautifully balances their flavors. I highly recommend adding it!
I prefer to make the sauce and simmer it briefly for 15 minutes on low heat while preparing the meatballs.
How to thicken tomato sauce
Nothing beats a good steady simmer over the stove to build a rich tomato flavor and thicken a good tomato sauce. I always keep my pot half-covered, allowing some of the liquid to evaporate.
A longer cooking period concentrates the sauce flavors, and that is especially the case when you add meatballs to the mix.
The sauce slowly softens the meatballs and enhances their flavors, while in turn, the meat deeply flavors the sauce.
Note: If you prefer a smooth tomato sauce versus chunky, like my dad, let the sauce first simmer to build the flavors. Then remove the pot from the stove, transfer the meatballs to a bowl, and carefully hand mix until you get the desired consistency.
What to serve with Italian meatballs and tomato sauce
Here are a few of my favorite suggestions:
We love them paired with pasta, of course. An excellent gluten-free brand we enjoy at home is pasta from Jovial.
oven-roasted vegetables such as (sweet) potatoes, broccoli, cauliflower, or cauliflower mash
a large green Romaine lettuce or a cucumber avocado salad, seasoned with salt, apple cider vinegar, and olive oil
black Japonica rice or quinoa
Any leftover tomato sauce can also be used to make this thick-crusted Sicilian-style pizza.
Raw or sauteed zucchini as a low-carb meal option.
In my house, there is really no specific rule for what to serve with meatballs. I have even served them as an antipasto on a Friday evening or get-togethers with cucumber and fennel bites and lupines (coming to the blog soon).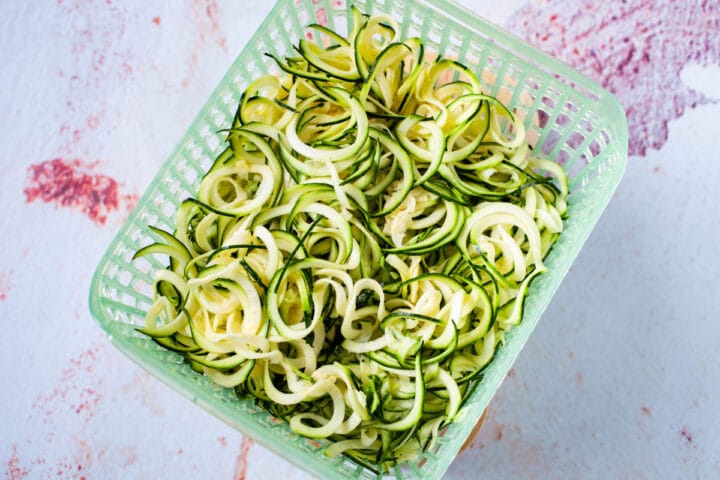 How to saute zucchini noodles for extra flavor: Over medium heat, heat one tablespoon of olive oil. Cook and stir one or two cloves of garlic, minced for 10 seconds to release their aroma. Add in the zucchini noodles. Cook and stir for 2 to 4 minutes until al dente. Season to taste with dried oregano. No need to add salt, as it might make the zucchini watery. Plus, the tomato sauce and some extra parmesan cheese add plenty of salt.
How to store meatballs and tomato sauce!
In the fridge:
Allow for the meatballs and the sauce to cool completely.
Then any leftovers go in an airtight container(s).
They can be stored in the fridge for up to 5 days—the sauce can go even longer up to 7 days.
Freezing:
Or freeze in for more extended use (I use it up within the month)
Now it is time for you to make them!!! Mangia, Mangia!
Have questions? Comment below or message me. Also, don't forget to SUBSCRIBE to my monthly newsletter.
You might also like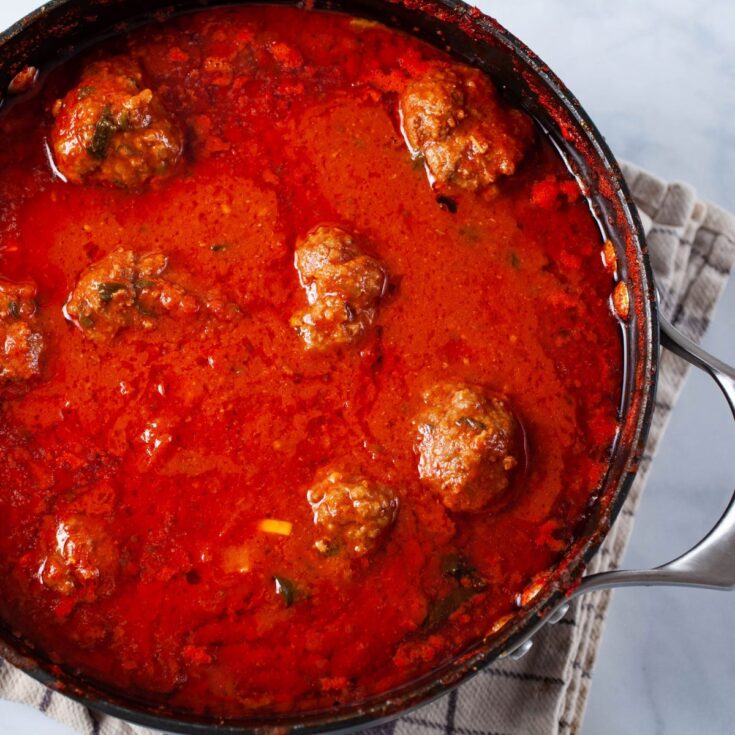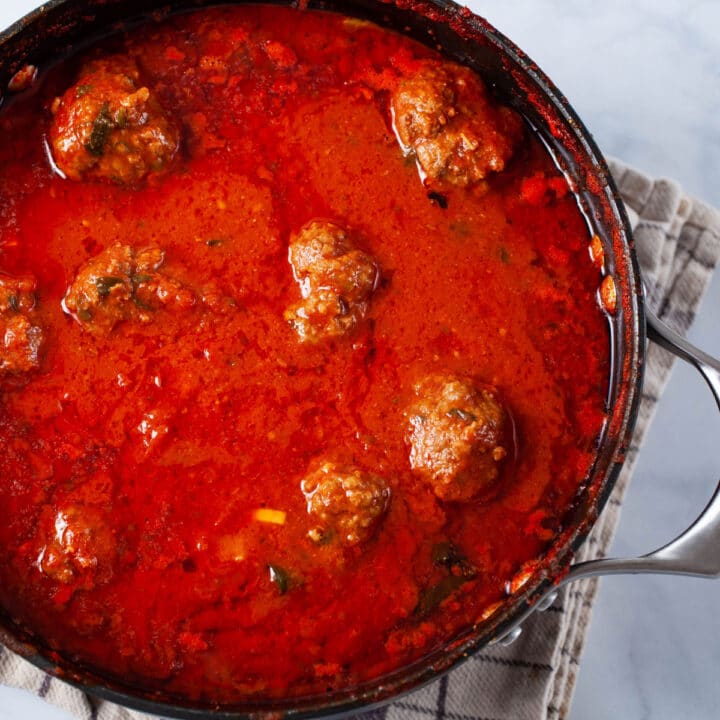 Tender Italian meatballs in tomato sauce
Yield:
About 6 ½ cups tomato sauce and about 10 large or 14 smaller meatballs
Total Time:
2 hours
30 minutes
Delicious authentic Italian meatballs made in a homemade tomato sauce!
Ingredients
TO MAKE THE MEATBALLS:
2 pounds ground beef
1 egg
2 to 3 cloves garlic, minced
1 cup grated Parmesan cheese
½ cup finely chopped Parsley
½ teaspoon salt
Freshly ground black pepper (I use about ½ teaspoon)
TO MAKE TOMATO SAUCE:
6 tablespoons olive oil
1 shallot or scallion, finely chopped
1 clove garlic, minced
2 (18.3-ounce) bottles whole peeled tomatoes
1 (24-ounce) bottle strained tomatoes
4 whole leaves fresh Basil
1 tablespoon dried oregano
Salt and pepper
Instructions
MAKE THE MEATBALLS:
Place the meat in a large bowl. Then, with your fist, make a little dent in the center of the ground beef.
Add the egg, garlic, parsley, and cheese — season with salt and pepper.
Mix the ingredients by kneading with your hands just until they're combined. Don't overwork the meat. Instead, just combine the ingredients for tender meatballs.
Divide the mixture into 10 or 14 pieces. Roll each piece into a ball; store it in the fridge, and proceed to make the tomato sauce.
Make the tomato Sauce:
In a large pot, heat the oil over medium heat. Add the shallot and garlic—Cook and stir for 10 seconds to release their aroma. Do not let the garlic and shallot brown.
Add the whole peeled tomatoes and crush them into small chunks with a wooden spoon. Bring to a steady simmer.
Simmer for 15 minutes, with the pot partially covered. Stir frequently.
Stir in the strained tomatoes, basil, oregano—season to taste with salt and pepper.
Cover the pot and bring the sauce again to a steady simmer for a couple of minutes to further break down the tomatoes and allow the flavors to come together.
Taste and see if the sauce needs a little bit more salt.
Then gently transfer the reserved meatballs to the tomato sauce.
Keep the sauce at a gentle, low simmer with pot half-covered for about 30 to 40 minutes (for pork meatballs) or at least 1 ½ to 2 hours for beef meatballs or a mix containing beef.
Stir occasionally or as needed.
The meatballs should be cooked through and for tender.
Notes
Tomato sauce: Don't brown the shallot and garlic as this might give a sour taste to the sauce.
Meatballs: If you make them first, then store them in the fridge to keep them cold while making the base of the tomato sauce. Or make them while the tomato sauce is already simmering on the stove and then immediately add them to the sauce.
Storage: Allow for the meatballs and the sauce to cool completely. Then any leftovers go in an airtight container(s). They can be stored in the fridge for up to 5 days—the sauce can go even longer, up to 7 days.
Freezing: Or freeze in for more extended use (I use it up within the month)
Nutrition Information:
Yield:

14
Serving Size:

1
Amount Per Serving:
Calories:

272
Total Fat:

19g
Saturated Fat:

6g
Trans Fat:

1g
Unsaturated Fat:

11g
Cholesterol:

77mg
Sodium:

444mg
Carbohydrates:

3g
Fiber:

1g
Sugar:

1g
Protein:

20g
Disclaimer: This nutritional data is calculated using third party tools and is only intended as a reference.
(Note: this post was initially published in March 2019. This post has been updated to include new info and photos)