This old family recipe makes flavorful and tender Italian meatballs (no breadcrumbs needed)! 
They're cooked in an authentic easy-to-make homemade Italian tomato sauce and simmered long enough for all the flavors and seasoning to come together.
Here is everything you need to know about authentic Italian meatballs in a homemade red sauce!
My father's side of the family is originally from Italy. So I grew up learning how to make some beautiful homemade South Italian dishes (rooted in Calabria).
And I think it is long overdue to share my favorite way of making our traditional Italian meatballs in tomato sauce.
No matter what new recipes I create, this classic handed-down recipe will always remain a favorite in my household.
Love meatballs? Then also try my tender Curry Bison Meatballs.
Jump to:
Why you'll love this recipe
It's straightforward to make, as it should be.
Although we're cooking the meatballs in the sauce over the stove, it's a relatively hands-off process.
Most importantly, you won't get enough of the amazing flavors of this tomato sauce—It's finger-licking good.
And the home-style meatballs are tender, moist, and so flavorful—you can't beat the homemade stuff.
Plus, having Italian meatballs in tomato sauce in the fridge means the base for a great recipe is already prepped, and you'll have endless easy dinner ideas!
Let me share some notes that might come in handy when making this Italian classic!
No breadcrumbs in Italian meatballs
When it comes to making the meatballs, I deviated a little bit from how my late grandmother used to make them with just a few adaptations:
I use a whole egg instead of egg yolks.
I omit the fresh breadcrumbs because you don't need them—I prefer no breadcrumbs. Yep, they're gluten-free meatballs and taste even better, in my opinion).
Instead, I add more Parmesan cheese to get moist low-carb meatballs in a tomato sauce that won't fall apart.
Note: I only saw my grandmother add breadcrumbs to rework old baked bread.
Ingredients to make the meatballs
Pick the right ground meat: My personal favorite is ground beef. Although my grandma often also used pork or a mixture of both.
Fattier meat yields more tender beef meatballs. So, don't go for extra lean. 80% lean beef meat is best to render soft meatballs and a healthier tomato sauce.
Egg: adds moisture and acts as a binder.
Garlic: minced garlic is a must for flavorful Italian meatballs.
Grated parmesan cheese: the fat content of this amazing flavorful cheese keeps the meatballs tender and moist during cooking.
Parsley: this fragrant herb adds incredible flavor. I often opt for one cup of chopped fresh parsley instead of half a cup for two pounds of beef. But, a fair warning, I am a parsley lover!
Seasoning: Salt and freshly ground pepper. I often find that half a teaspoon is enough to add to the suggested amount of ground meat because the Parmesan cheese already adds salt, and you'll also salt the tomato sauce.
The best way to form meatballs
Roll with your hands. It's the quickest way to work in all the ingredients and handle the ground meat swiftly.
Gently and loosely form equally-sized meatballs from the meat mixture.
Wet your hands a little or coat them with a tad of olive oil for easy rolling.
Don't pack them too tightly cause that affects their texture and can make them too chewy.
Place them back into the fridge if you still have to start the tomato sauce so the meatballs stay cold, or make them while the tomato sauce is already simmering on the stove.
Note: The ingredients will yield about 10 to 14 large meatballs. But you definitely can get more if you make them smaller.
How to cook meatballs in sauce until tender
Yes, I cook meatballs in the sauce without browning them first—it must be a Southern Italian thing.
I've been watching the making of meatballs in Italian tomato sauce since I was....well...very little.
And my family always dropped them right into the simmering sauce to get that mouthwatering, tender texture. It makes the tomato sauce taste better too.
But there are some basic steps to keep the meatballs from falling apart and get that non-grainy yet moist texture.
So, let's go over them so you can enjoy them for dinner tonight.
How to keep meatballs from falling apart in the sauce
You can do a few things while preparing the meatballs to ensure they don't fall apart once they go into the tomato sauce.
Don't add too much moisture
Since these meatballs have no breadcrumbs or flour, the egg and the grated parmesan cheese are used here as a binder.
Their extra moisture and fat content will keep the meatballs tender and moist during cooking.
But too much moisture will make them soggy. So for 2 to 3 pounds of meat, stick with one large egg ( two small ones) and one cup of grated parmesan cheese.
Apply this tip even when you decide to add some breadcrumbs.
Keep the meat as cold as possible
Another trick to having meatballs hold their shape is to keep your meat as cold as possible.
It helps to form them, and they won't lose as much fat before cooking them in the sauce.
Once the meat is shaped, pop the meatballs back into the fridge while you attend to the sauce, or make them while the sauce is already simmering on the stove.
Don't overwork the meat
Or so I've always been told—I can still hear the kitchen voices ring through. I only learned later that this advice affects the meatball's texture.
The best meatballs are rolled with your hands—another one of those past voices. It's the quickest way to work in all the ingredients and handle the ground meat swiftly.
Add meatballs to a simmering sauce & don't overstir
When ready to add them to the tomato sauce, stir them in when the sauce has already come to a simmer.
At this point, the meat is still raw and fragile. So add the meatballs one by one until nicely divided into the pot and almost entirely covered by the red sauce!
Just give them one or two gentle stirs. That's it. Now let them gently simmer, pot-half-covered. And keep an eye on the sauce.
How long to cook raw meatballs in sauce
BEEF MEATBALLS take a bit longer to become tender, so let them simmer for at least one to one and a half, preferably two hours.
PORK MEATBALLS only need about 45 minutes of simmering in the sauce.
Always check one of the meatballs before serving to ensure they are thoroughly cooked through.
Note: It's one of those weekend recipes that you can easily let simmer unattended on the stove while you curl up on the sofa and read a book or do other things around the house. Just keep an eye on it.
Ingredients to make an easy authentic tomato sauce
This homemade tomato sauce recipe is comforting and extremely satisfying.
It doesn't take much to make a tasty sauce other than a few essential ingredients and allowing the flavors to come together gently.
It is all in the tomatoes, the quality of the olive oil, and the beautiful fragrances of Basil and Oregano using garlic and shallots as the base of your sauce.
Note: There are many ways to make a tasty Italian tomato sauce. While traveling through Italy, I enjoyed some fantastic homemade pasta sauces deeply rooted in family traditions and their origins. But this simple tomato sauce recipe is the one I grew up with and still make today.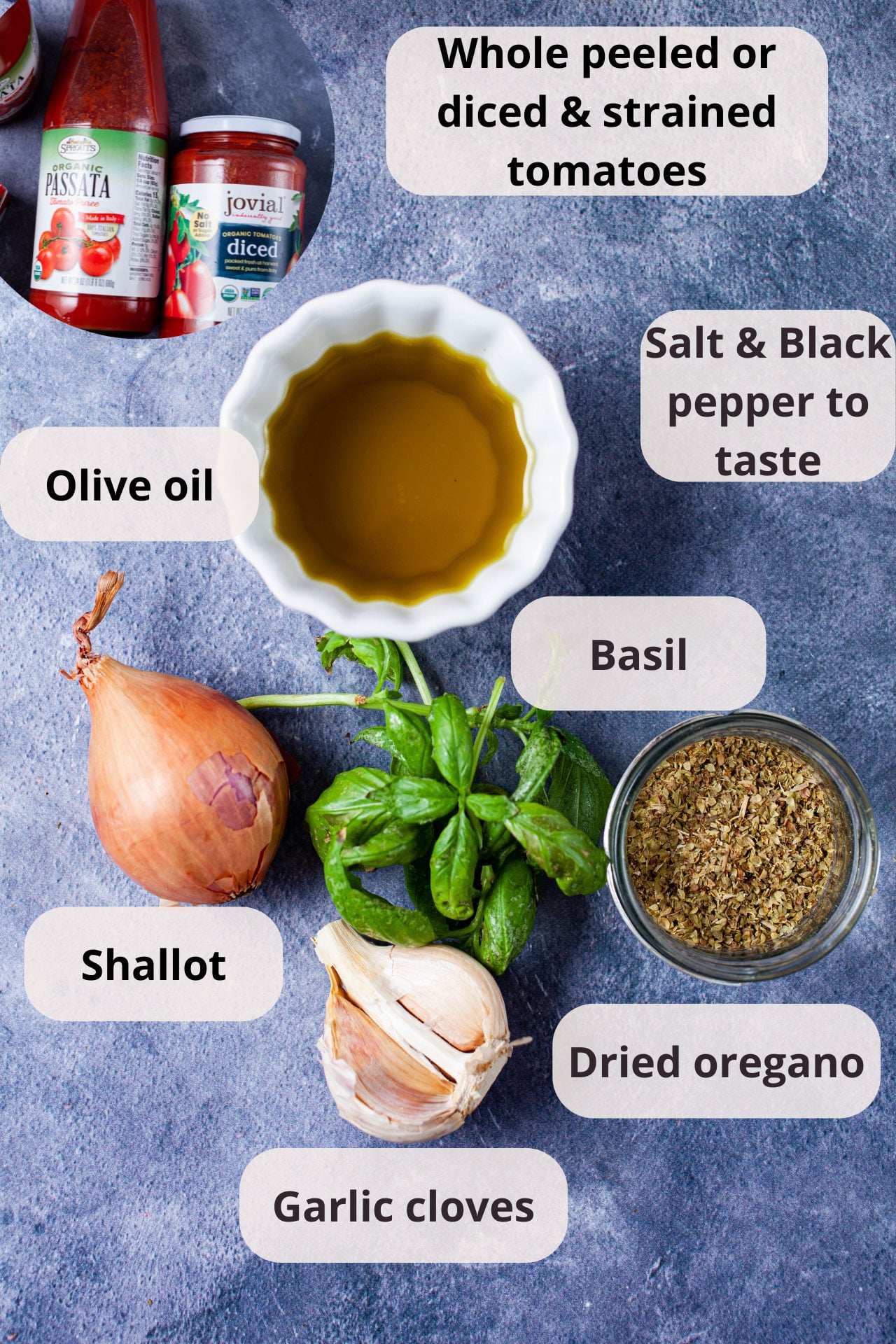 Tomato sauce recipe steps (Sugo di Pomodoro)
The simplicity of making a basic tomato sauce requires a bit of your attention, especially in the beginning to build up the flavors.
In addition, what you add and what type of (canned) tomatoes you use can create different variations of the same sauce.
STEP 1: cook and stir the garlic and shallot for 10 seconds in the heated olive oil to merely release their aromas, giving the sauce that fantastic fragrant base.
Don't let the garlic brown because it can give the sauce a sour taste.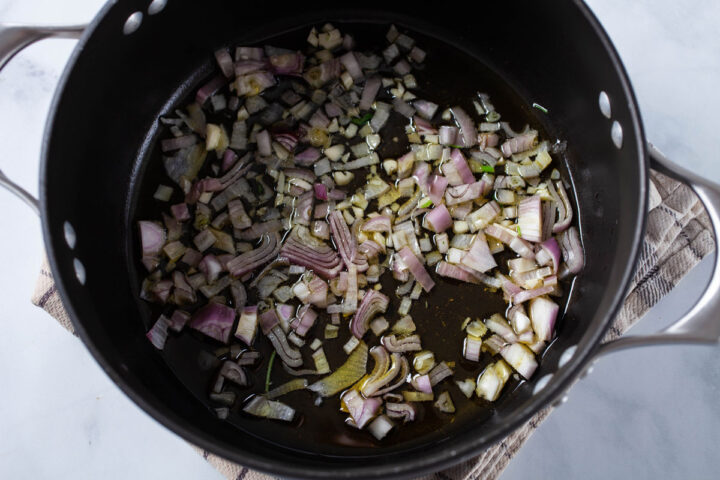 STEP 2: Add the tomatoes and season with torn Basil leaves, oregano, salt, and pepper.
Basil is the primary herb in this sauce, but when the tomatoes taste overly sweet, the right amount of oregano beautifully balances their flavors. I highly recommend adding it!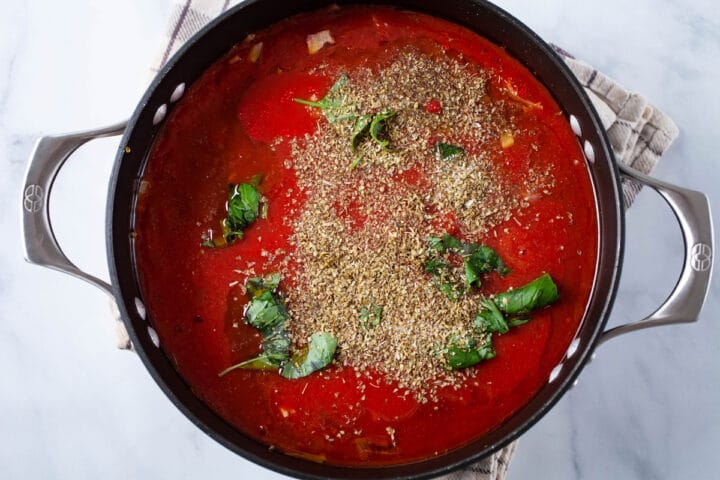 STEP 3: Let the sauce come to a gentle but steady simmer and cook for 15 minutes. Then change to a low heat setting while preparing or adding the meatballs.
How to thicken tomato sauce
Nothing beats a steady simmer over the stove to build a rich tomato flavor and thicken a good tomato sauce.
Keep your pot half-covered, allowing some of the liquid to evaporate.
An extended cooking period also concentrates the sauce flavors, especially when adding meatballs.
Note: If you prefer a very smooth texture, let the tomato sauce first simmer to build the flavors. Then remove the pot from the stove, transfer the meatballs to a bowl, and carefully hand mix the sauce until you get the desired consistency.
Serving suggestions
In my house, there is really no specific rule for what to serve with these homestyle meatballs in tomato sauce.
Here are a few of my favorite suggestions:
Storage suggestions
In the fridge:
Allow for the meatballs and the sauce to cool completely.
Then divide the sauce and meatballs into portion-controlled airtight containers.
They can be stored in the fridge for up to 5 days—the sauce can go even longer, up to 7 days.
In the freezer:
Let the sauce cool completely.
Store in freezer-safe containers.
Best to label the containers with a date.
Freeze and use within 6 months.
FAQ
Do you need to put sugar in tomato sauce?
Not if you use good canned tomatoes. A good tomato sauce requires naturally sweet tomatoes, so go for the best-canned whole and strained tomatoes you can find. Brands like Pomi, Jovial, and Bionaturae never have let me down. Their tomatoes are sweet and sourced from sustainable farming in Italy! All are readily available at most grocery stores or online. Whatever your preference, choose canned tomatoes that are salt-free, sugar-free, and not diluted with water.
Do Italians use canned tomatoes?
Absolutely. My grandmother often used her own grown sweet tomatoes, and she went through cooking and bottling them every year. But she always had extra canned tomatoes from her favorite store brands in her pantry.
Now you know all the secrets to make good meatballs and a finger-licking good red tomato sauce. It is time for you to make them!!! Mangia, Mangia!
Also Recommended
---
Have questions? Simply comment below or message me. If you make this recipe, please leave a comment and a starred review below. Thank you!
Don't forget to subscribe to my Monthly Newsletter!
---
📖 Recipe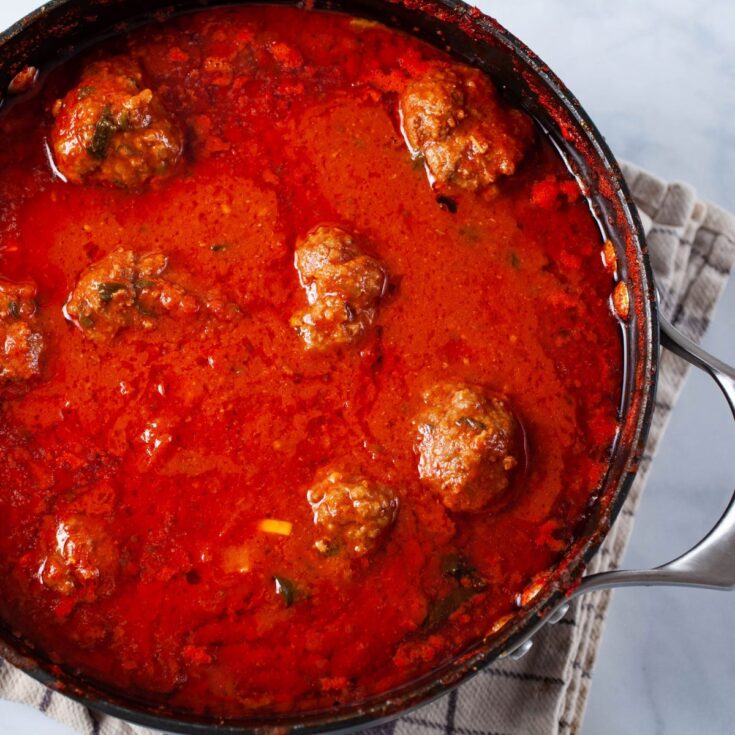 Italian Meatballs in Tomato Sauce
Mariska Ramondino
Delicious authentic Italian meatballs made in a homemade tomato sauce!
Ingredients
To Make the Meatballs
2

pounds

ground beef (80 to 85% lean ground beef)

908 grams

1

egg

2 to 3

cloves

garlic

minced

1

cup

grated Parmesan cheese

90 grams

½

cup

finely chopped Parsley

anywhere from 25 to 30 grams

½

teaspoon

salt

Freshly ground black pepper

I use about ½ teaspoon
To Make the Tomato Sauce
6

tablespoons

olive oil

1

shallot or scallion

finely chopped

1

clove

garlic

minced

2

bottles

whole peeled tomatoes

18.3 ounces or 520 grams each

1

bottle

strained tomatoes

24 ounces or 680 grams

4

whole leaves fresh Basil

1

tablespoon

dried oregano

Salt and pepper
Instructions
Make the Meatballs
Place the meat in a large bowl. Then, with your fist, make a little dent in the center of the ground beef.

Add the egg, garlic, parsley, and cheese — season with salt and pepper.

Mix the ingredients by kneading with your hands just until they're combined. Don't overwork the meat. Instead, swiftly combine the ingredients for tender meatballs.

Divide the mixture into 10 or 14 pieces. Roll each piece into a ball; store it in the fridge, and proceed to make the tomato sauce.
Make the Tomato Sauce
In a large pot, heat the oil over medium heat. Add the shallot and garlic—Cook and stir for 10 seconds to release their aroma. Do not let the garlic and shallot brown.

Add the whole peeled tomatoes and crush them into small chunks with a wooden spoon. Bring to a steady simmer.

Simmer for 15 minutes, with the pot partially covered. Stir frequently.

Stir in the strained tomatoes, basil, oregano—season to taste with salt and pepper.

Cover the pot and bring the sauce again to a steady simmer for a couple of minutes to further break down the tomatoes and allow the flavors to come together.

Taste and see if the sauce needs a little bit more salt. Lower the heat if necessary to bring to a gentle simmer.

Then carefully place the reserved meatballs one by one into the simmering tomato sauce.

Give it one or two gentle stirs enough to divide them into the pot. The meat is still raw and fragile, so don't over stir.

Keep the sauce at a gentle, low simmer with pot half-covered for about 30 to 40 minutes (for pork meatballs) or at least 1 ½ to 2 hours for beef meatballs or a mix containing beef.

15 to 20 minutes in, you can gently stir occasionally or as needed until the meatballs are cooked through and tender.
Notes
Tomato sauce: Don't brown the shallot and garlic, as this might give a sour taste to the sauce.
Whole peeled tomatoes have the thinnest consistency, and they are the best choice for a tomato sauce that simmers beyond 45 minutes. They will slowly break down and thicken the sauce without becoming too thick or too sweet. But diced tomatoes can also work if you choose to make pork meatballs in tomato sauce or just the sauce with a simmer time of 30 to 45 minutes max.
Meatballs: If you make them first, then store them in the fridge to keep them cold while making the base of the tomato sauce. Or make them while the tomato sauce is already simmering on the stove, and then immediately add them to the sauce.
Please see all the helpful tips in the post on keeping meatballs from falling apart in the sauce.
Storing in the fridge:

Allow for the meatballs and the sauce to cool completely.
Then divide the sauce and meatballs into portion-sized airtight containers.
They can be stored in the fridge for up to 5 days—the sauce can go even longer, up to 7 days.

Storing in the freezer:

Let the sauce cool completely.
Store in freezer-safe containers.
Best to label the containers with a date.
Freeze and use within 6 months.
Add your own private notes
Whenever you come back to this recipe, you'll be able to see your notes.
Nutrition (% Daily value)
Calories:
497
kcal
(25%)
Carbohydrates:
14
g
(5%)
Protein:
27
g
(54%)
Fat:
38
g
(58%)
Saturated Fat:
12
g
(75%)
Polyunsaturated Fat:
2
g
Monounsaturated Fat:
19
g
Trans Fat:
1
g
Cholesterol:
112
mg
(37%)
Sodium:
746
mg
(32%)
Potassium:
870
mg
(25%)
Fiber:
3
g
(13%)
Sugar:
7
g
(8%)
Vitamin A:
797
IU
(16%)
Vitamin C:
25
mg
(30%)
Calcium:
221
mg
(22%)
Iron:
5
mg
(28%)
Disclaimer: This nutritional data is calculated using third party tools and is only intended as a reference.